Viking runestone linked to fears of climate change: study
Runologist Henrik Williams, Uppsala University, is one of the researchers in the interdisciplinary project on a new interpretation of the famous Rök runestone.
STOCKHOLM
(AFP)
.-
One of the world's most famous runestones is now believed to have been erected by Vikings fearing a repeat of a previous cold climate crisis in Scandinavia, a new study said Wednesday. The Rok stone, raised in the ninth century near the lake Vattern in south central Sweden, bears the longest runic inscription in the world with more than 700 runes covering its five sides. It is believed to have been erected as a memorial to a dead son, but the exact meaning of the text has remained elusive, as parts are missing and it contains different writing forms. The stone refers to the heroic acts of "Theodoric," which some scholars believe refers to Theodoric the Great, a sixth century ruler of the Ostrogoths in what is now Italy. Researchers at three Swedish universities now suspect the inscriptions are more of an allusion to an impending period of extreme winter, as the person who erected the stone tried to put their child's death into a larger perspective. ...
More
The Best Photos of the Day
French architects want Notre-Dame roof rebuilt in wood
Pace Gallery announces representation of Beatriz Milhazes
A Polish museum turns to the right, and artists turn away


This picture taken on January 6, 2020 shows Notre-Dame Cathedral in Paris, which was partially destroyed when fire broke out beneath the roof on April 15, 2019. Philippe LOPEZ / AFP.



PARIS (AFP).- French architects want the roof of the fire-ravaged Notre-Dame cathedral to be rebuilt in wood and not in metal or concrete. One of the heads of the country's biggest architects' body said reconstructing the roof in anything other than the original wood would be a mistake. The intervention by Eric Wirth of the Guild of French Architects comes amid controversy over French President Emmanuel Macron's wish for the spire of the 13th-century monument to be given a "contemporary" touch. "The most modern and ecological material today is wood," Wirth said Wednesday, which, as well as being more fire-resistant than the alternatives, also traps carbon, he insisted. His comments come after the army general put in charge of the restoration, Jean-Louis Georgelin, dismissed reports that the massive roof would be redone in oak as nothing more than "lobbying" by the wood industry. ... More



Beatriz Milhazes, Bala de leite em roxo e azul ultramar, 2017. Collage on paper, 140 cm x 100 cm. © Beatriz Milhazes. Photo: Manuel Águas & Pepe Schettino.



NEW YORK, NY.- Marc Glimcher, CEO and President of Pace, today announced that Brazilian artist Beatriz Milhazes has joined the gallery's roster of leading international contemporary artists. Pace will cooperate with Milhazes's existing galleries Fortes D'Aloia & Gabriel, Max Hetzler, and White Cube to offer a comprehensive global network through which to further the artist's career. Beatriz Milhazes's (b. 1960, Rio de Janeiro) work bursts with a chromatic and freeing vitality. Renowned for her visual language rooted in painting, collage, and printmaking, she draws on her native Rio de Janeiro. Her use of color and geometry is mined from place—the botanical gardens and the Tijuca forest near her studio, the surrounding city, its ocean front, and the cultural motifs of Brazil—and from memory. "My challenge has always been the same. I'm interested in life and my surroundings, but to make it work as a p ... More



Malgorzata Ludwisiak, the previous director of the Ujazdowski Castle Center for Contemporary Art in Warsaw, Poland on Dec. 20, 2019. Anna Liminowicz/The New York Times.

by Alex Marshall



WARSAW (NYT NEWS SERVICE ).- Piotr Bernatowicz is one of the most talked about figures in Poland's art world this winter, for one reason: Many artists say he's about to destroy a leading Warsaw art museum. On Jan. 1, Bernatowicz, 46, became director of the Ujazdowski Castle Center for Contemporary Art, a reconstructed palace in the city center. For the past 30 years, the museum has put on shows by Poland's leading experimental artists and hosted work by international stars like Barbara Kruger, Nan Goldin and Kara Walker. Its exhibitions have often had a political dimension. One current show, for instance — a retrospective of work by Karol Radziszewski (through March 29) — addresses the experiences of gay men in Eastern Europe. But, in interviews, artists and curators ... More
Buck Henry, who helped create 'Get Smart' and adapt 'The Graduate,' dies at 89
The Met acquires works by Pakistani artist Lala Rukh
Climate change threatens Afghanistan's crumbling heritage


Buck Henry at the private party after the premiere of the movie FIST, 1978. Photo by Alan Light.



NEW YORK, NY (NYT NEWS SERVICE ).- Buck Henry, a writer and actor who exerted an often overlooked but potent influence on television and movie comedy — creating the loopy prime-time spy spoof "Get Smart" with Mel Brooks, writing the script for Mike Nichols' landmark social satire "The Graduate" and teaming up with John Belushi in the famous samurai sketches on "Saturday Night Live" — died Wednesday in Los Angeles. He was 89. A friend, Dianne V. Lawrence, said Henry's wife, Irene Ramp, had called her to tell her of the death. Ramp told The Washington Post that the cause was a heart attack. The entertainment news site Deadline said he died at Cedars-Sinai Medical Center, citing an unidentified family member. As a personality and a performer, Henry had a mild and unassuming aspect that was usually in contrast with the pungently satirical or broadly slapstick material he appeared in — and often wrote. Others in the room always seemed to make more noise. Indeed, for almo ... More



Lala Rukh (Pakistani, 1948–2017). Mirror Image 1, 2, 3 (detail), 1997. Mixed media on graph paper. The Metropolitan Museum of Art, Purchase, Tia Collection Gift, 2019. Courtesy of the Estate of Lala Rukh and Grey Noise, Dubai.



NEW YORK, NY.- The Metropolitan Museum of Art announced today the acquisition of two important works by the Pakistani artist and activist Lala Rukh (Lahore, 1948–2017): the collage Mirror Image, 1, 2, 3 (1997) and the digital animation Rupak (2016). The works were purchased by the Museum with funds from the Tia Collection, part of the private foundation's commitment to enabling the acquisition of works by South Asian female artists for The Met's Department of Modern and Contemporary Art. The Tia Collection's support of the Museum began in 2018 with the gift of Ranjani Shettar's installation Seven ponds and a few raindrops (2017). The Met also announced that the Estate of Lala Rukh has gifted the Museum a group of six posters to compliment the acquisition of Mirror Image, 1, 2, 3 and Rupak. Rukh created the posters, which call for the equal rights ... More



This photograph taken on November 16, 2019 shows the empty seat of one of the two Buddha statues destroyed by the Taliban in 2001 in Bamiyan. Mohammad ALI SHAIDA / AFP.

by Pierre Celerier



BAMIYAN (AFP).- After bearing the brunt of jihadist dynamite and looting by thieves, the archaeological treasures of Afghanistan's Bamiyan province are facing a new and possibly more daunting threat: climate change. Nestled in the heart of the Hindu Kush mountains, the Bamiyan valley's picturesque cliffs -- where centuries-old Buddha statues were destroyed by the Taliban in 2001 -- still contain a network of caves housing temples, monasteries, and Buddhist paintings. The valley is also home to the silk-road era Shahr-e Gholghola fortress and the Shar-e Zohak citadel to the east. Experts say that a pattern of dry spells followed by heavy rain, and larger than usual spring snowmelts is putting this historic art and architecture at risk of destruction. Afghan officials warned in a 2016 United Nations report that ... More
The most technologically advanced motor car to come out of Britain pre-WW2 for sale
Nationalmuseum Sweden acquires 'Adam in Paradise' by Kristian Zahrtmann
The Metropolitan Museum kicks off 150th anniversary by inviting all to share "Met Stories"


Quite possibly the finest example on the market today and a real jewel for any collection it was unearthed after forty years' barn storage.



LONDON.- This stunning pre-war 1939 Lagonda V12 Drophead Coupe will be sold for an estimate of £300,000 to £400,000 at the next H&H Classics sale at Duxford on March 18th 2020. Quite possibly the finest example on the market today and a real jewel for any collection it was unearthed after forty years' barn storage and subsequently treated to an exhaustive 'chassis up' restoration with input from the likes of LMB Racing, Bishop Gray and Mel Cranmer. This Lagonda was the most technologically advanced motor car to come out of Britain pre-WW2. A Lagonda press release from August 1937, states: 'Of the half-dozen patrician motor cars still remaining on the world market, none ever inherited such a rich patrimony of design as the 12-cylinder Lagonda. The new car is no mere recapitulation of a good - but tired - design in terms of 1937. It is a new-born ... More



Kristian Zahrtmann, Adam in Paradise, 1914. Photo: Anna Danielsson/Nationalmuseum.



STOCKHOLM.- Nationalmuseum has acquired the painting Adam in Paradise by the Danish artist Kristian Zahrtmann. It is one of a group of erotic depictions of men which were perceived at the time as being too provocative and ended up in private collections where they have been out of sight for the general public. Thanks to the acquisition, the painting will be one of only a few to be given a permanent place in public. The painting by Kristian Zahrtmann (1843-1917) was produced in 1914. It portrays Adam on his own, surrounded by the fruits and flowers of the Garden of Eden. The motif is essentially biblical but at the same time clearly erotic. When the painting was exhibited in 1914 at Den Frie Udstilling in Copenhagen, it was met with scathing criticism and was regarded as being too provocative and unconventional to be purchased for state collections. "I think even now Adam in Paradise is a painting that can still challenge ... More



Met Stories includes a monthly video series and an opportunity for the public to submit personal stories, photos, and videos about experiences related to the Museum. Courtesy of The Metropolitan Museum of Art.



NEW YORK, NY.- Today, as part of The Metropolitan Museum of Art's yearlong 150th-anniversary celebration, the Museum launched Met Stories, a project to collect and share personal stories related to The Met. The initiative includes a 12-part, monthly video series featuring a range of stories—serious, comedic, endearing, quirky, solemn, and more—to show how each visitor experiences The Met in their own way, whether it is a memory of a once-in-a-lifetime visit, an everyday encounter with art, a first date, or a school trip. The public is also invited to submit personal stories in the form of writing, photos, and videos using social media (hashtag #MyMetStory) or through a form on The Met's website. The Met will share select submissions on its social media channels and website throughout the year. Max Hollein, ... More
Long-time Minneapolis Institute of Art Curator Patrick Noon retires
Sotheby's unveils 'Mario Buatta: Prince of Interiors'
RISD Museum receives gift of artworks from Avo Samuelian and Manuel Gonzalez


During his 22-year tenure at Mia, he played a pivotal role in the reinstallations of collections during both the 1998 and 2006 museum expansions.



MINNEAPOLIS, MN.- The Minneapolis Institute of Art today announced that Patrick Noon, senior curator of paintings and Elizabeth MacMillan Chair of the Department of Paintings, has announced his retirement, effective January 31. During his 22-year tenure at Mia, he played a pivotal role in the reinstallations of collections during both the 1998 and 2006 museum expansions. His acquisitions brought considerable depth to the museum's holdings, with the addition of some 200 paintings, including such spectacular works as Claude Lorrain's Pastoral Landscape, Alexander Roslin's Comtesse d'Egmont Pignatelli, Wilhelm List's Young Woman in Undergarments, Nicolas de Largilliere's Portrait of Charles-Leonor Aubry, Marquis de Castelnau, Albert Joseph Moore's Battledore, Théodore Rousseau's View of Mont Blanc from La Faucille, Sir Nathaniel Dance-Holland's Portrait of Olive Craster, and Eugène Delacroix's Still Life ... More



A chinese export black and gold lacquer bureau cabinet, circa 1730. Estimate: $50/80,000. Courtesy Sotheby's.



NEW YORK, NY.- Sotheby's unveils nearly 1,000 items on offer in Mario Buatta: Prince of Interiors, an auction dedicated to the personal collection of interior designer legend Mario Buatta. Most influenced by the understated elegance of Colefax & Fowler and the doyenne of exuberant American décor, Sister Parish, Mario Buatta reinvented the English Country House style stateside for clients such as Henry Ford II, Barbara Walters, Malcolm Forbes, Mariah Carey, Patricia Altschul and for Blair House, the President's guest quarters. The collection features works emerging from Buatta's Upper East Side apartment in New York City and the William Mason House, an historic gothic-style home in Thompson, Connecticut, as well as many pieces that have long been admired in showhouse rooms and shelter magazines over the years. Sotheby's auction will be held on 23 & 24 January, during one of the busiest weeks in the New York market calendar ... More



Patricia Treib (b. 1979), Motifs, 2008. Oil on canvas, 167.6 x 127 cm (66 x 50 inches). Gift of Avo Samuelian and Hector Manuel Gonzalez 2019.83.15. Museum of Art, Rhode Island School of Design, Providence.



PROVIDENCE, RI.- The RISD Museum announces a significant gift of 66 contemporary artworks from collectors Avo Samuelian and Manuel Gonzalez. Thirty-three works were brought into the collection in December 2019 joining a similar gift to the museum of 33 works in 2017. Both gifts expand the museum's Contemporary Art and Prints, Drawings, and Photographs collections considerably, introducing works by Uri Aran, Jessica Jackson Hutchins, Lothar Hempel, Jordan Nassar, and Paul P; additional works by Karla Black, Jim Lambie, and Tony Feher strengthen the RISD Museum's commitment to artists already in the collection. Also of note are works by RISD alumni and faculty including David Scanavino, David Benjamin Sherry, and Patricia Treib that further develop the museum's representation of figures who have helped define the school's reputation. "The works donated by Avo and Manuel have made an immediate ... More
Quote
Painting is a way of being. Jackson Pollock
---

This 11,000-Year-Old Piece of Wood is More Than it Seems
---

Flashback
On a day like today, English sculptor Barbara Hepworth was born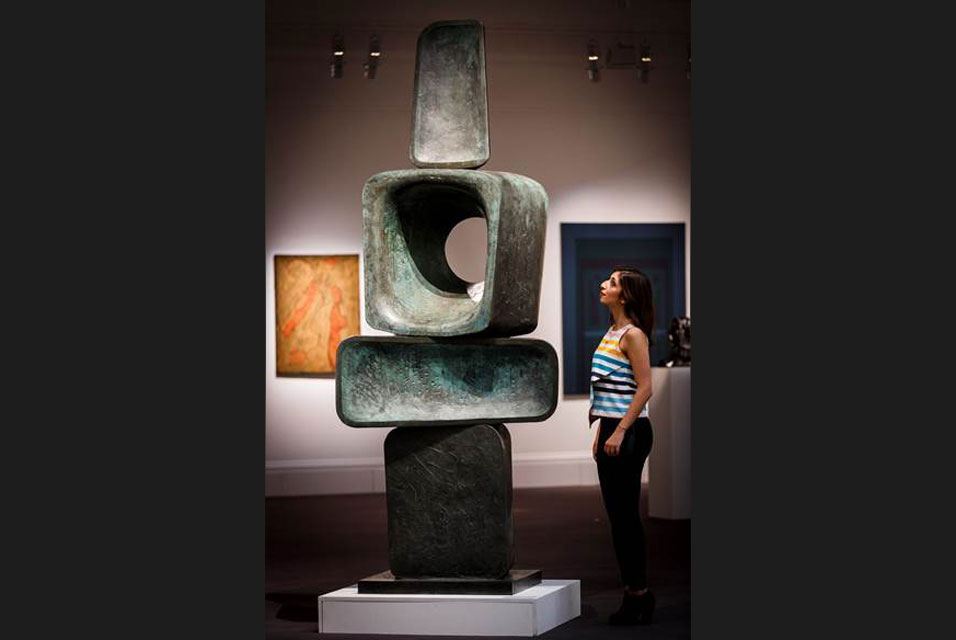 January 10, 1903. Dame Jocelyn Barbara Hepworth DBE (10 January 1903 - 20 May 1975) was an English artist and sculptor. Her work exemplifies Modernism and in particular modern sculpture. She was one of the few female artists of her generation to achieve international prominence. Along with artists such as Ben Nicholson and Naum Gabo, Hepworth was a leading figure in the colony of artists who resided in St Ives during the Second World War. In this image: Dame Barbara Hepworth, Parent I, conceived in 1970, number 2 of the 4 individual casts that were made of each of the nine figures (est. £2,000,000-3,000,000). Photo: Sotheby's.
---

Museums, Exhibits, Artists, Milestones, Digital Art, Architecture, Photography,
Photographers, Special Photos, Special Reports, Featured Stories, Auctions, Art Fairs,
Anecdotes, Art Quiz, Education, Mythology, 3D Images, Last Week,

.
Royalville Communications, Inc
produces: