Italy says ancient statue in U.S. museum was stolen, not lost at sea
Visitors view the "Doryphoros," an ancient replica of a treasured Greek statue at the Minneapolis Institute of Art, May 13, 2022. A court in Italy has ordered the return of the classical antiquity that was purchased by the museum almost four decades ago. Jenn Ackerman/The New York Times.

by Elisabetta Povoledo
TORRE ANNUNZIATA
.-
The account has long been that a shipwreck in the ancient past had sent a precious Roman marble statue — a rare copy of a fifth century B.C. depiction of the "Doryphoros," or spear bearer — into the depths of the seas off Italy. That was the account given in the late 1970s when the statue materialized out of the blue at the Glyptothek in Munich, the city's museum of ancient Roman and Greek art. A dealer had lent it to the museum in anticipation of a possible sale, and the story he told then was of a statue that had been rescued from the ravages of seawater and held in a private collection, where for decades it escaped attention. And that was the account endorsed by officials of the Minneapolis Institute of Art when they purchased the statue for $2.5 million in 1986 and installed it as a signature artifact in a showcase gallery. But now Italian authorities are pushing the Minneapolis museum to return the work, asserting it was actually illegally excavated from a ...
More
The Best Photos of the Day
Spectacular View of Verona worth £11 million at risk of leaving UK
RM Sotheby's sells the most valuable car in the eorld for €135 million
Astrup Fearnley Museet opens an exhibition dedicated to the work of Synnøve Anker Aurdal


Bernardo Bellotto, called il Canaletto (Venice 1721–1780 Warsaw), A View of Verona with the Ponte delle Navi, about 1745–47 (detail). Oil on canvas, 133.3 x 234.8 cm.



LONDON.- A rare early masterpiece by Italian painter Bernardo Bellotto is at risk of leaving the UK unless a buyer can be found. Dating from the mid-18th century and measuring over two metres wide,View of Verona with the Ponte delle Navi marks an important turning point in the young Bellotto's career as he began a series of journeys around Italy and received his first royal commission for Charles Emmanuel III (1701-1773), King of Sardinia and Duke of Savoy in 1745. This is the first of Bellotto's paintings to be recorded in Britain and its pair is now at Powis Castle. None of his works currently in this country represent the artist's career so dramatically and beautifully, and the importance of the work to British art cannot be overstated. Arts Minister Lord Parkinson of Whitley Bay said: This rare painting is a masterpiece for its impressive ... More



The 1955 Mercedes-Benz 300 SLR Uhlenhaut Coupé has been sold at auction for a record price of €135 million to a private collector.



LONDON.- A 1955 Mercedes-Benz 300 SLR Uhlenhaut Coupé from 1955 has been sold at auction for a record price of €135,000,000 to a private collector. The car, which is one of two created in 1955, has always been regarded as one of the great jewels of motoring history, but few ever imagined that it would be offered for sale. One of just two prototypes built by the Mercedes-Benz racing department, the car is named after its creator and chief engineer, Rudolf Uhlenhaut, and is considered to be one of the finest examples of automotive engineering and design, often cited as being 'the most beautiful car in the world' by automotive experts and enthusiasts worldwide. The remarkable 300 SLR was based on the hugely successful W 196 R Grand Prix car which won two World Championships in the hands of Juan Manuel Fangio, but with its engine enlarged to 3.0 litres for sports car racing. The ... More



Synnøve Anker Aurdal, Solen, 1968. Tangen Collection. Photo: Vegard Kleven.



OSLO.- This year's summer exhibition is devoted to Synnøve Anker Aurdal (1908–2000), one of Norway's foremost textile artists. The presentation features works from the Astrup Fearnley Collection alongside key pieces loaned from other collections in Norway, a number of which have rarely or never before been shown in public. Together, these works illustrate the full breadth of Anker Aurdal's production from the early 1940s to the late 1990s and provide a unique insight into an important and pioneering oeuvre that was widely acclaimed in its time and remains powerful and relevant today. With her deep knowledge of both Norwegian weaving traditions and contemporary art discourse, Anker Aurdal was a leading figure in the field of textile art. After initially working with traditional craft techniques, she ventured into the realm of fine art, where she found widespread recognition and contributed significantly to the unders ... More
Exhibition features four painters who were active in Los Angeles or the Bay Area in the 1950s and 1960s
Rediscovered Imperial Chinese seal emerges at auction after 3 decades on family bookshelf in France
Vangelis, composer best known for 'Chariots of Fire,' dies at 79


Emerson Woelffer (American, 1914–2003), Pont Neuf, 1970. Lithograph, 30 x 22 in. (76.2 x 55.9 cm) Norton Simon Museum, Anonymous Gift, 1972 © Estate of Emerson Woelffer.



PASADENA, CA.- The Norton Simon Museum presents Alternate Realities, an exhibition focusing on four groundbreaking painters who were active in Los Angeles or the Bay Area in the 1950s and 1960s: John Altoon, Richard Diebenkorn, Frank Lobdell and Emerson Woelffer. Each of these artists worked in a style closely associated with Abstract Expressionism, but they did not reject representation outright. Instead they forged a productive dialogue between the two modes, incorporating references to recognizable imagery and emphasizing the artist's own process as an alternate approach to realistic depiction. John Altoon (1925–1969), a trained illustrator, developed idiosyncratic arrangements that allude to body parts, organic objects, even a pair of striped pants, while refusing to cohere into legible narratives. His Ocean Park Series #8 (1962), named for the street in Santa ... More



Set to be offered as a star lot of Sotheby's Asian Arts Auction in Paris on 16 June
with an estimate of €100,000-150,000. Courtesy Sotheby's.



PARIS.- An imperial seal, commissioned by the Emperor Qianlong some centuries ago and inscribed with a special motto, has been discovered in a family home in France – where it was sitting on the bookshelf for many years. It will now make its debut at auction as one of the leading lots of Sotheby's Asian Arts auction in Paris on 16 June. The jade seal had been gifted to the current owner by her godmother – whose family had passed it down to her – and had been safely stowed in their bookcase for more than thirty years. It was not until the owner was preparing to move to a new house – and the bookcase was to be sold – that they made the decision to value a few of the objects that had adorned its shelves. Among them, this magnificent dragon, an object she could always remember owning but one that she thought was simply a more commonplace Asian sculpture. However, upon contacting Sotheby's specialist ... More



A master of the synthesizer, he won an Oscar for that film's score, and his memorable theme song became a No. 1 pop hit.



NEW YORK, NY.- Vangelis, a Greek film composer and synthesizer virtuoso whose soaring music for "Chariots of Fire," the 1981 movie about two British runners in the 1924 Summer Olympics in Paris, won the Academy Award for best original score, died Tuesday in Paris. He was 79. The cause was heart failure, said Lefteris Zermas, a frequent collaborator. A self-taught musician, Vangelis, who was born Evangelos Odysseas Papathanassiou, recorded solo albums and wrote music for television and for films including "Blade Runner" (1982), "Missing" (1982) and "1492: Conquest of Paradise" (1992). But he remains best known for scoring "Chariots of Fire." The most familiar part of that score — modern electronic music composed for a period film — was heard during the opening credits: a blend of acoustic piano and synthesizer that provided lush, pulsating accompaniment to the sight of about two dozen young men running ... More
Vitra Design Museum hosts The Luis Barragán Archive
Regen Projects opens its first exhibition with Kevin Beasley
Pair of silver thrones from India go on view at the Nelson-Atkins


Luis Barragán, Capuchin Convent Chapel in Tlalpan, Mexico City, 1954–1963. Freestanding cross near a stained-glass transept window designed by Mathias Goeritz, photograph by Armando Salas Portugal. © Barragan Foundation / VG Bild-Kunst, Bonn 2022.



WEIL AM RHEIN.- Luis Barragán (1902–1988) is widely regarded as the most important Mexican architect of the twentieth century. Since 1996, the architect's professional estate has been in the care of the Barragan Foundation, located in Birsfelden, Switzerland. Over the past two decades, a small team of researchers under the leadership of architectural historian Federica Zanco has systematically evaluated and catalogued the archival documents within the framework of a thorough analysis of Luis Barragán's oeuvre. As part of a newly established partnership between the Barragan Foundation and the Vitra Design Museum, this material is now moving to new premises on the Vitra Campus in Weil am Rhein, Germany. With the aim of facilitating further scholarly investigation and cooperation with other institutions, the Barragán Archive joins the museum's archival holdings from the estates of such pro ... More



Kevin Beasley, Site IV, 2022. Polyurethane resin, raw Virginia cotton, housedresses, t-shirts, confetti t-shirts, altered t-shirts, confetti housedresses, 74 x 55 1/2 x 2 inches (188 x 141 x 5.1 cm) © Kevin Beasley, Courtesy the artist and Regen Projects.



LOS ANGELES, CA.- Regen Projects is presenting On site, the gallery's first exhibition with Kevin Beasley. This is Beasley's first solo gallery show in Los Angeles. With a multidisciplinary practice that incorporates sculpture, drawing, installation, sound, music, and performance, Beasley probes the material and cultural conditions that shape our perception of history. His ability to alchemize ordinary material— specifically personal artifacts and articles of clothing—into sculptures that are simultaneously transcendent and familiar has placed him at the vanguard of artistic and cultural thought. This exhibition presents an ambitious new sound sculpture in the form of a modified utility pole that rises high into the gallery. A focal point of the exhibition, the work provides a source of light as well as sound, which emanates from a network of speakers placed throughout the space and on the rooftop. Consisting of field recordings ... More



Royal Throne, 1911. Molded and carved silver sheet, wrapped around a wood core, with silk velvet, brocaded silk and horse or ox tail. 59 1/16 x 31 1/2 x 35 7/16 inches (150 x 80 x 90 cm). Purchase: William Rockhill Nelson Trust through the George H. and Elizabeth O. Davis Fund. 2013.10.2.1



KANSAS CITY, MO.- A pair of ornate silver thrones with an intriguing history have ben revealed at The Nelson-Atkins Museum of Art in Kansas City. Silver Splendor: Conserving the Royal Thrones of Dungarpur, India presents the dazzling royal assemblage following a multi-year conservation effort to bring them to their original glory, a process that is documented for visitors with a video in the exhibition. "These magnificent thrones demonstrate the power and grandeur of India's historical rulers," said Julián Zugazagoitia, Menefee D. and Mary Louise Blackwell CEO & Director of the Nelson-Atkins. "Yet along with tradition, we also see change. Created by an Indian king during the British Colonial era in India, the thrones combine both European and Indian design and imagery." In 1911, King George V was crowned Emperor of India in a lavish ceremony in Delhi. Also in 1911, this pair of silver thrones was ... More
Marshall Arisman, illustrator who found beauty in violence, dies at 83
Largest exhibition to date dedicated to the artist, activist, educator, and founder of El Museo del Barrio opens in N.Y.
Exhibition at the Museum of the City of New York transports visitors to pre-digital New York


In an image provided by Meg Laubi, the prolific painter and illustrator Marshall Arisman with some of his works in 2014. Meg Laubi via The New York Times.

by Annabelle Williams



NEW YORK, NY.- Marshall Arisman, an illustrator whose provocative and often violent work appeared in The New York Times, Playboy and other major periodicals from the 1960s onward, died April 22 in Manhattan. He was 83. His wife, Diane Ito Arisman, said the cause was heart failure. Arisman was also the founder of the Illustration as Visual Essay program (formerly Illustration as Visual Journalism) at the School of Visual Arts in Manhattan. He started teaching at the school in 1964, began the program in 1984 and was its chair until his death. Both Arisman's art and his teaching practice were characterized by his capacity for storytelling, his friend and colleague Steven Heller, a former art director at the Times, said in an interview. He was, Heller said, "the kind of teacher ... More



Raphael Montañez Ortiz, Children of Treblinka, 1962.



NEW YORK, NY.- El Museo del Barrio is presenting Raphael Montañez Ortiz: A Contextual Retrospective, from April 14 to September 11, 2022, the first large-scale exhibition dedicated to the artist, activist, educator, and founder of El Museo del Barrio, since 1988. Curated by El Museo's chief curator, Rodrigo Moura, and guest curator Julieta González, the exhibition spans several decades of his production, from the 1950s to the early-2020s, in different media such as film, painting, photography, video installations, documents, and assemblages. This is the largest exhibition-to-date dedicated to the artist. "This show offers an especial opportunity to experience a full arc of Montañez Ortiz trajectory and attests the radicality of his oeuvre. Throughout his career, this true pioneer bridged his artistic practice with a unique vision as an educator and activist, of which El Museo is the most lasting result," says Moura. Raphael Mo ... More



Model of RCA Building by Owen H. Ramsburg. Wurts Brothers, March 27, 1934. Reproduction Museum of the City of New York. Wurts Bros. Collection. Gift of Richard Wurts,



NEW YORK, NY.- A new exhibition at Museum of the City of New York takes visitors on a visit to pre-digital New York, where analog innovations, professions, and industries fueled the city's growth and status. On view from May 20, 2022-December 31, 2022, Analog City: New York B.C. (Before Computers) presents more than 100 photographs and once-pioneering objects, from rotary phones to pneumatic tubes, offering an opportunity for visitors to reflect on the city's history of progress and interact with many of the inventions that led the way for contemporary networks and industries. "New York has always been a city on the cutting edge, and this exhibition allows us to marvel at both how advanced these analog tools were in their time, and how far we've now progressed in the Internet era," ... More
Quote
How often my Soul visits the National Gallery, and how seldom I go there myself. Logan P. Smith
---

Ernie Barnes' 'The Sugar Shack' | Artist Auction Record | Christie's
---

Flashback
On a day like today, Belgian author and illustrator Hergé was born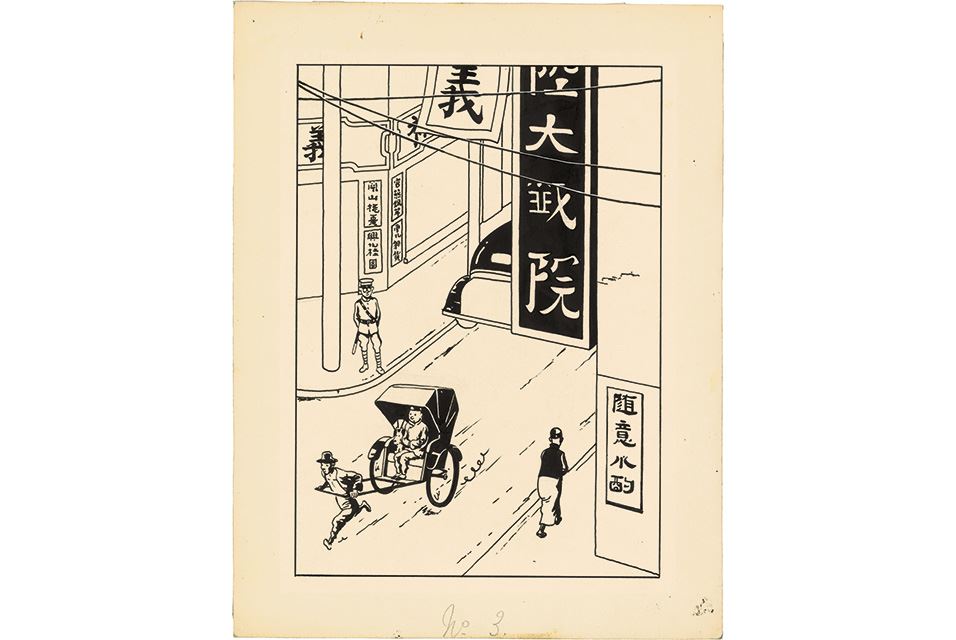 July 22, 1907. Georges Prosper Remi (22 May 1907 - 3 March 1983), known by the pen name Hergé, was a Belgian cartoonist. He is best known for creating The Adventures of Tintin, the series of comic albums which are considered one of the most popular European comics of the 20th century. In this image: Georges Remi aka Hergé, Le Lotus Bleu, 1936, vendu 1,1 M€ / 1,25 M$ / 9,6 MHK$ (estimate : 1 000 000 - 1 500 000 € / 8 600 000 - 13 000 000 H$K) © Hergé/Moulinsart 2015.
---

Museums, Exhibits, Artists, Milestones, Digital Art, Architecture, Photography,
Photographers, Special Photos, Special Reports, Featured Stories, Auctions, Art Fairs,
Anecdotes, Art Quiz, Education, Mythology, 3D Images, Last Week,

.
Royalville Communications, Inc
produces: