Bruised by war-related boycott, Artforum seeks a reset
Artforum's annual "Year in Review" issue began arriving to subscribers a week later than usual.

by Zachary Small
NEW YORK, NY
.-
A skeleton crew of editors needed to take a hacksaw through the December issue of Artforum magazine. There were only a few weeks between the sudden firing of its editor-in-chief and a print deadline for the glossy's annual "Year in Review" issue. The fallout had been swift when Artforum's owner fired the editor, David Velasco, after the magazine published an open letter about the Israel-Hamas war that supported Palestinian liberation and initially omitted mention of the victims of the Hamas attack on Oct. 7. At least six members of the editorial team resigned and nearly 600 writers signed letters boycotting the magazine and its sister publications, including ARTnews and Art in America. Regular contributors such as critic Jennifer Krasinski and art historian Claire Bishop requested to have their articles pulled from the December issue. Others such as filmmaker John Waters, curator Meg Onli and artist ...
More
The Best Photos of the Day
Songtsam Luxury Boutique Hotel Group continues as presenting sponsor for Asia Week NY 2024
Go for the gold! Turner Auctions + Appraisals presents estate jewerly & gold coins on December 16
Georgia Museum of Art receives eight awards at SEMC


Songtsam Linka Retreat Lake Basong Tso on the holy Lake Basong Tso. (Courtesy, Songtsam Group).



NEW YORK, NY.- For the fifth year in a row, Asia Week New York Association has announced that Songtsam Group, the award-winning luxury boutique hotel collection, and Destination Management Company, located in the Chinese provinces of Tibet and Yunnan, will continue its sponsorship of of Asia Week New York, which runs from March 14th-22nd in 2024. "We are delighted that Songtsam continues on as our Presenting Sponsor," says Asia Week New York chairman Brendan Lynch. "We value their dedication to Asian art and culture and deeply appreciate their ongoing support." "Songtsam is pleased to announce its fifth year of sponsoring Asia Week New York," says Florence Li, Songtsam's Director of International Sales & Marketing. "As a passionate collector of Chinese, Himalayan, and Southeast Asian art, Baima Duoji, the Founder and Chairman of Songtsam Group, remains dedicated to fostering the synergy between our luxury brand ... More



An Emerald, Diamond and 14k Gold Ring. Centering a rectangular-cut emerald weighing approximately 3.90 carats, good color, lightly included, flanked by 10 round brilliant-cut diamonds; estimated total diamond weight: 0.50 carat; weighing approximately 5.1 grams; size: 6 1/2 +. Estimate $1,500-$2,000.



SAN FRANCISCO, CA.- Turner Auctions + Appraisals presented Estate Jewelry & Gold Coins on Saturday, December 16, 2023, at 10:30 am PST. Featuring over 105 lots from several estates, these items are ideal for holiday jewelry gift-giving to others (or to treat oneself!) or perhaps for long-term investment, in the case of gold coins. Jewelry offerings include necklaces, rings, bracelets, pendants, brooches, and earrings. Most are 14k, 18k or white gold, blackened silver, or platinum; most are set with gemstones such as diamond, emerald, ruby, sapphire, amethyst, pearl, tourmaline, garnet, opal, turquoise, moonstone, and/or lapis lazuli. Some pieces are antique or vintage. Among the other jewelry items are micro-mosaic brooch-pendants; lava cameos and earrings; unstrung ... More



Tricia Miller, right, receiving the SEMC Museum Leadership Award from Zinnia Willits, SEMC executive director.



ATHENS, GA.- The Georgia Museum of Art at the University of Georgia received eight different awards from the Southeastern Museums Conference (SEMC) for its outstanding work. The awards were announced at SEMC's annual meeting, held Nov. 13 – 15, 2023, in Louisville, Kentucky. Tricia Miller, the museum's deputy director of collections and exhibitions and head registrar, received SEMC's Museum Leadership Award in recognition of her many years of service and generosity to the field. Initiated in 1994, this award recognizes mid-career museum professionals who have shown significant advancement within the profession by leadership in museum activities at his or her institution, within the museum profession as a whole, and especially in the southeast region. Award eligibility requires 10 years of experience as a museum staff member and a minimum of five years ... More
Museum-quality art by Group of Seven, Emily Carr, Helen McNicoll, Clarence Gagnon and others sell beyond expectation
"Good Impressions" on view at Reynolda House through October 27, 2024
German cultural scene navigates a clampdown on criticism of Israel


Frederick H. Varley's Sun and Wind, Georgian Bay, 1916 or 1920 drew heated and unprecedented bidding, driving the price to a record-breaking $984,000, the highest amount ever paid for any artwork by the artist, and more than 10 times the high-end, pre-auction estimate of $90,000.



TORONTO.- One of Canada's preeminent, most-well known and extensively-exhibited private collections of historical Canadian art has become the highest-grossing single private collection of Canadian art to ever sell at auction, achieving $36.6 million and setting 29 artist records. The collection, sold in a series of three landmark sales with Cowley Abbott beginning in the fall of 2022, had its final sale Wednesday night in Toronto at the Globe and Mail Centre and online at cowleyabbott.ca. Across the three sales, nine artworks sold in excess of $1 million with 115 of the 150 works of art sold exceeding ̶ and often doubling, tripling and more ̶ the high-end, presale auction estimate (all results are inclusive of the buyer's premium). Expertly curated over 60 years, the collection was rich in rare, prime example and museum-quality paintings, drawings and sculptures ... More



John Singleton Copley, Portrait of Mrs. Daniel Rogers (Elizabeth Gorham Rogers), 1762, Wake Forest University, Hanes Collection, Gift of Philip and Charlotte Hanes.



WINSTON-SALEM, NC.- "Good Impressions: Portraits Across Three Centuries from Reynolda and Wake Forest" is on view at Reynolda House Museum of American Art in the Northwest Bedroom Gallery of the historic house. The exhibition will be on display through October 27, 2024. Portraits are often taken at face value—as accurate representations of a person's appearance, sometimes removed by decades or centuries. But portraits are often the products of delicate negotiations between artist and subject. Sometimes they flatter, exaggerating the sitter's beauty or rich attire. Sometimes they capture the subject engaged in his or her occupation, whether pausing during study or painting in his or her studio. Sometimes they celebrate an auspicious occasion, such as a recent engagement or the imminent birth of a child. This exhibition features three centuries of portraits of men and women, Black and White, solitary and companionate, classic and m ... More



Exterior view of the Museum Folkwang, designed by British architect David Chipperfield (2010).

by Alex Marshall



NEW YORK, NY.- Museum shows were canceled. A book prize was suspended. And some artists were banned from applying for a major commission. This all happened recently in Germany because of concerns that the artists involved support a boycott of Israel, a position that the German Parliament has designated as antisemitic and which can be punished by the withdrawal of public funding. Yet in the heightened atmosphere since the Hamas terrorist attacks of Oct. 7, arts administrators are also increasingly concerned over artists whose public comments about Israel have nothing to do with a boycott, including accusing the country of war crimes or describing it as an "apartheid" state. Officials have been combing through social media posts and open letters, some going back more than a decade. And they have been calling off projects as a result. Billions of dollars flow annually through museums, theaters and cultural exchange programs in ... More
'Dominique White: When Disaster Strikes' now exhibiting at Kunsthalle Münster, Germany
World-renowned couture designer Guo Pei to feature at Auckland Art Gallery
Black Rock Sénégal partners with Phillips' Dropshop to offer prints by Kehinde Wiley


Dominique White, Can We Be Known Without Being Hunted, 2022. Cinders of the Wreck Installationsansichten im Triangle - Astérides, Marseille, Frankreich, 2022. Courtesy the artits, Triangle - Astérides and Veda. Photo: Auréliane Mole.



MUNSTER.- With When Disaster Strikes, Kunsthalle Münster is staging Dominique White's first solo show in a German art institution and, consequently, is presenting her work in Germany for the very first time. White's sculptures are a play on memory and metamorphosis. In her unpredictable forms, the disappeared makes its entrance into the space in the Kunsthalle. Her sculptures function as materialisations of Blackness beyond its subjective boundaries, as beacons or containers of an ignored civilization. Dominique White addresses Blackness in terms of both its conceptual and material implications. Her works function as abstract commemorative sculptures that appear as if they have ... More



Guo Pei, Collection_ An Amazing Journey in a Childhood Dream, Autumn_Winter 2007. © Guo Pei. Photograph by LIAN Xu, courtesy of LIAN Xu.



AUCKLAND.- A highly anticipated international exhibition profiling the work of couture designer Guo Pei openes today at Auckland Art Gallery Toi o Tāmaki. Guo Pei: Fashion, Art, Fantasy 郭培:时装之幻梦 opens Saturday 9 December with a weekend of special events. Be transported from the fashion runway into the Gallery to encounter more than 60 of Guo Pei's creations up close. The exhibition, which is exclusive to Auckland Art Gallery, presents the designer's most innovative and captivating pieces created between 2005 to 2020. Tātaki Auckland Unlimited, Director of Auckland Art Gallery Kirsten Lacy is thrilled to bring the extraordinary work of Guo Pei to New Zealand audiences for the first time. 'This exhibition celebrates one of the ... More



Portrait of Marie-Agnès Diene.



NEW YORK, NY.- Phillips and Black Rock Sénégal are partnering in releasing original signed editions of Kehinde Wiley's Portrait of Marie-Agnès Diene through Dropshop. Since 5 December at a complete set of 30 prints was released, benefiting the renowned residency program launched by the artist. Portrait of Marie-Agnès Diene marks a significant addition to Wiley's oeuvre, as it represents his first female portrait to be featured in a charitable print edition. Founded in 2019 by Wiley, Black Rock is a dynamic multidisciplinary artist-in-residence program dedicated to fostering creative exchange and dialogue through the African diaspora. All net proceeds from the Drop will benefit the celebrated program, which has hosted over 60 international artists in Dakar, Sénégal. Black Rock Sénégal's mission is to support new artistic creation through collaborative exchange and to incit ... More
Important kashmir unheated sapphire and diamond ring sells for $1.29M at Hindman
Sports memorabilia and more in Michaan's December gallery auction
Danish Photographer captures rare natural phenomenon in Søren Solkær: Sort Sol


An Important Kashmir Unheated Sapphire and Diamond Ring. Containing one cushion shaped sapphire measuring approximately 12.66 x 10.43 x 7.24 mm and weighing approximately 8.90 carats with two straight baguette diamonds weighing approximately 0.80 carat total. Mounted in platinum. Ring size 5 1/2. Stamp: SPAULDING & CO. Gross weight: 3.60 dwt.



CHICAGO, IL.- An important Kashmir unheated sapphire and diamond ring (lot 275) more than quadrupled its presale estimate selling for $1.29 million, headlining Hindman's Important Jewelry auction. The ring was the crown jewel of the exceptional collection of Marguerite Hark, of Chicago and Surfside, Florida and the top lot of the December 6 auction, which achieved a total sale price of $4.4 million. The sapphire ring managed to vault past already lofty expectations buoyed by substantial interest from all manner of bidder. Eleven phone bidders battled absentee, floor, and online bidders for the better part of five minutes. Bidding rose ... More



1937 All-Star Multi-Signed Baseball featuring the signatures of New York Yankee all-time greats Babe Ruth, Joe DiMaggio, and 19 other players.



ALAMEDA, CA.- Michaan's Auctions December Gallery on Friday, December 15th, features numerous exciting historical items from our sports memorabilia department in addition to fine examples from jewelry and fine art. The auction is led by two autographed baseballs, a 1937 All-Star Multi-Signed Baseball featuring Babe Ruth and Joe DiMaggio, as well as a Michael Jordan signed Bulls Jersey. Also included is a Juvenia yellow gold wristwatch, Reed and Barton Marlborough silver flatware set, and an untitled work by experimental ceramicist John Mason. The auction is led by a 1937 All-Star Multi-Signed Baseball ($8/12,000) featuring the signatures of New York Yankee all-time greats Babe Ruth, Joe DiMaggio, and 19 other players. Also on offer, is a 1956 Cleveland Indians Autographed Team Ball ($1/1,500), featuring numerous Cleveland Guardian Hall of Fame ... More



Søren Solkær: Sort Sol #75, Aiguamolls de l'Empordá, Catalonia, Spain. Image courtesy of the artist.



SEATTLE, WA.- The National Nordic Museum will be presenting Søren Solkær: Søren Solkær: Sort Sol, showcasing the exquisite works of internationally celebrated Danish photographer Søren Solkær. Søren Solkær: Sort Sol features recent work by Søren Solkær (b. 1969), who rose to prominence in the early 2000s with his penetrating portraits of legendary performers such as Björk, Metallica, Paul McCartney, the White Stripes, and Amy Winehouse, among others. The subjects of the photographer's present work are music makers of another sort. In his photographic series Sort Sol, Solkær studies the murmuration of starlings. The term "murmuration" derives from "murmur," or the soft sound of the starlings' flight calls and fluttering wings as they move together midair. Starling murmurations take myriad forms—from abstract to representational and may function as an open call to join the evening roost and provide protection ... More
Quote
I am unable to make a servile copy of nature. Henri Matisse
---

Inside Hubert Guerrand-Hermès' Elegant Collection | Great Collectors | Sotheby's
---

Flashback
On a day like today, the Valentino Garavani Virtual Museum opened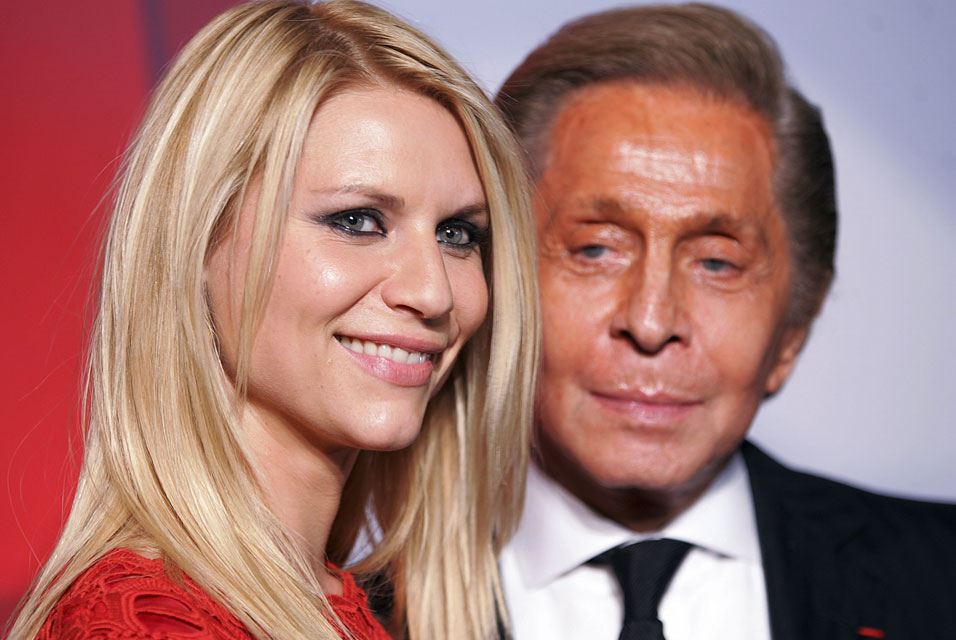 December 09, 2011. NEW YORK, NY.- U.S. actress Claire Danes and Italian fashion designer Valentino arrive at a party to celebrate the opening of a virtual museum dedicated to him, in New York, December 7, 2011.
---

Museums, Exhibits, Artists, Milestones, Digital Art, Architecture, Photography,
Photographers, Special Photos, Special Reports, Featured Stories, Auctions, Art Fairs,
Anecdotes, Art Quiz, Education, Mythology, 3D Images, Last Week,

.
Royalville Communications, Inc
produces: