Dutch National Museum of Ethnology exhibits Aztec masterpieces
A worker installs a sculpture of the Aztec deity Chalchiuhtlicue, dating from the 16th century, at the National Museum of Ethnology in Leiden on July 26, 2021. The National Museum of Ethnology exhibits Aztec masterpieces. Some of them can be seen for the first time outside Mexico. Sander Koning / ANP / AFP.
LEIDEN
.-
Life-sized warriors carved from stone, mythical human-animal figures, intricate gold jewellery, and a full-size 3D print of the sun stone: all this and more will be on display in
Museum Volkenkunde
's Aztecs, the first exhibition about the Aztecs ever to be staged in the Netherlands. This year it is 500th years since the Aztec Empire fell to Spanish colonialists. This in fact made the Dutch and the Aztecs fellow countrymen, for at that time both served the Spanish king. Aztecs is an exhibition full of unique collection highlights that have never previously left Mexico, which dissects the myths surrounding this empire that was once believed to have been lost. A must-see for the whole family. Featuring some amazing collection highlights, the exhibition reveals the daily life of the Aztecs and their sophisticated culture. Yet the Spanish painted the Aztecs as a bloodthirsty people, in order to justify their own cruel practices. A gre ...
More
The Best Photos of the Day
Londoners were promised a hill with a view. They got a pile of scaffolding.
Australia to return 'stolen' art to India
Marian Goodman announces new partners and leadership structure


Visitors ascend the Marble Arch Mound, a new temporary attraction, next to Marble Arch in central London on July 28, 2021. Tolga Akmen / AFP.

by Alex Marshall and Isabella Kwai



LONDON (NYT NEWS SERVICE).- Advance publicity for the Marble Arch Mound — London's newest visitor attraction — suggested that an Arcadian landscape would be created in the middle of the city, with spectacular views over Hyde Park. A huge artificial hill, more than 80 feet high, would rise at one end of Oxford Street, London's busiest shopping district. Costing around 2 million pounds, or about $2.7 million, design renderings suggested that it would be covered in lush trees and that visitors would be able climb to the top — and "feel a light breeze" against their skin. The hill was part of a 150 million-pound plan by Westminster Council to lure visitors back into the center of the city after the pandemic. In May, Time Out, London's main listings magazine, described it as "visually arresting/bonkers." The reality ... More



Tamil Nadu, India The dancing child-saint Sambandar, 12th century, purchased 2005.



SYDNEY (AFP).- Australia will return 14 artworks to India, including at least six believed to have been stolen or illegally exported, the National Gallery announced Thursday. The Canberra gallery identified the works -- which include sculptures, photographs and a scroll -- as either stolen, looted or of unknown origin. The collection is composed largely of "religious and cultural artefacts" worth a total of about US$2.2 million, including some dating back to the 12th century. Gallery director Nick Mitzevich told AFP the works were set to be returned to the Indian government within months. "It's a relief that they can be returned to the Indian people, and it's a resolution for the National Gallery to close a very difficult chapter of our history," he said. Thirteen of the works are connected to alleged trafficker Subhash Kapoor, a former Manhattan art dealer who was the subject of a massive US federal investigation known as Operation Hidden Idol. Kapoor, who is awaiting trial, denies ... More



Marian Goodman. Photo: Thomas Struth.



NEW YORK, NY.- Marian Goodman announced today a new partnership structure and leadership plan for Marian Goodman Gallery. Philipp Kaiser, who currently serves as Chief Executive Director of Artists and Programs, has been named President and Partner. Executive Directors Emily-Jane Kirwan, Rose Lord, Leslie Nolen, and Junette Teng have been named as Partners. Marian Goodman herself will take on the position of Chief Executive Officer. An advisory committee will support the Partners in overseeing the Gallery's ongoing stewardship and program development. The committee comprises Managing Director Elaine Budin, Executive Directors Aebhric Coleman (London) and Nicolas Nahab (Paris), Director of Finance Beatrice Wang-Coslick, and the Gallery's Director of Communications and Events Linda Pellegrini. Marking an important next step as the Gallery looks to its future, these appointments are a natural progression of the roles each has been play ... More
Dutch unearth Roman canal, road near UNESCO heritage sites
Solo show with new paintings by Antone Könst opens at Marianne Boesky Gallery
Penn State's Palmer Museum of Art breaks ground on new home


The canal -- more than 10 metres (33 feet) wide -- and road were uncovered last week near the eastern city of Nijmegen.



THE HAGUE (AFP).- Dutch archaeologists said on Wednesday they have unearthed a Roman canal and road near ancient military camps that were this week listed on UNESCO's list of World Heritage sites. The canal -- more than 10 metres (33 feet) wide -- and road were uncovered last week near the eastern city of Nijmegen, a major Roman-era settlement with permanent military bases that were awarded the UNESCO status. They are believed to have been built and used by the Roman military, according to RAAP, the country's largest consultancy for archeology and cultural history. Nijmegen is on the Rhine, the border of the Roman Empire at the time, it said in a statement, adding that the discovery was "unique" for that region of the country. Many Roman soldiers were stationed along the river and the canal probably linked Nijmegen and the Rhine and was used to transport troops, supplies and building materials. ... More



Antone Könst, Tulips, 2021. Oil on canvas, 78 x 60 1/4 in. 198.1 x 153 cm. Courtesy of the artist. Photo: Lance Brewer.



ASPEN, CO.- Marianne Boesky Gallery is presenting Dear Future, an exhibition of new paintings by Antone Könst. The artist's new group of works capture the emotive impact and uncontainable energy of an indefinite future, shifting his portrayed characters between moments of hope, dread, tension, and humor. Dear Future is on view July 29 – September 12, 2021 on the second floor of the gallery's space in Aspen. Könst's paintings are rooted in figuration, presenting people, animals, and even inanimate objects that are imbued with personified feeling and life. As a starting point for his works, Könst frequently calls back to archetypal and art historical imagery, sourced from studied explorations of classical painting, sculpture, pop culture, and lived experience. The exhibition is interspersed with these references, such as the symbolic and luminous depictions of rising and setting suns that embody the drama of William Blake ... More



View of the main entry plaza of the new Palmer Museum of Art at Penn State. Architect: Allied Works. Rendering: Courtesy of MIR.



UNIVERSITY PARK, PA.- Construction of the new building for the Palmer Museum of Art at Penn State has begun. The Museum will directly neighbor the H.O. Smith Botanic Gardens in The Arboretum at Penn State, replacing the current facility on campus. The new 71,000-square-foot Museum, projected to open in the fall of 2023, will substantially boost accessibility to the University's art collections for students, faculty, staff and the public. Seamlessly integrating art, architecture and nature and sited within a landscape similar to those that inspired many of the American works in its renowned collection, the new Museum will nearly double the space for the display, study and stewardship of art. The innovative and versatile design features a series of interlocking pavilions clad in regional stone that evokes the geology of central Pennsylvania. In keeping with Penn State's commitment to environmental sustainability, ... More
Christie's to offer a private collection of important baseball memorabilia
Do Ho Suh exhibits at London Mithraeum Bloomberg SPACE
D.C. philanthropist Michelle Smith's couture collection to be presented by Hindman Auctions this September


The collection has been assembled over the last 25 years, and features iconic players, teams, and moments in the history of Major League Baseball with specific focus on items of scarcity. © Christie's Images Ltd 2021.



NEW YORK, NY.- Christie's and Hunt Auctions announce a historic offering from a single owner private collection of baseball memorabilia and trading cards entitled "Extra Innings: A Private Collection of Important Baseball Memorabilia." A live sale will take place on October 7 at Christie's Rockefeller Galleries in New York, and an online sale will run from September 24 through October 8. The collection has been assembled over the last 25 years, and features iconic players, teams, and moments in the history of Major League Baseball with specific focus on items of scarcity. Highlights of the auction include a Babe Ruth professional model hat worn during his 1927-28 Bustin Babes barnstorming Tour ($200,000-$400,000) and an important Babe Ruth Professional Model Baseball ... More



Installation view. Photo by Marcus Leith, courtesy Bloomberg SPACE © Do Ho Suh.



LONDON.- London Mithraeum Bloomberg SPACE is presenting its latest contemporary art commission, Proposal for Sach'ŏnwang-sa (2021), by Do Ho Suh. The installation examines memory, psychic space and modes of survival. The commission is inspired by the resonance between the Roman Temple of Mithras, on which Bloomberg SPACE is situated, and the ancient Korean Temple, Sach'ŏnwang-sa, built circa 670 AD. Installed directly above the Mithraeum, according to the North-facing aspect of the original Korean temple, Suh's large-scale structure offers a poetic reimagining of Sach'ŏnwang-sa. Just as the London Mithraeum explores the practices and symbols associated with the cult of Mithras, Suh's exhibition invites audiences to consider the architecture, purpose and meaning of one of ancient Korea's most significant, but enigmatic, archaeological sites. Marrying close analysis of Sach'ŏnwang ... More



J. Mendel Gold-Tipped Russian Sable Hooded Jacket. Estimate: $3,000 - $5,000.



CHICAGO, IL.- Hindman Auctions will present A Life in Couture: The Collection of Michelle Smith, Washington, D.C. on September 21. This offering from the collection of renowned Washington, D.C. philanthropist Michelle Smith will include garments by top designers including Christian Dior, Halston, Stephen Burrows, J. Mendel, and Ralph Rucci, and will illustrate Smith's carefully curated selection of outstanding designs, a majority of which were custom made for her. Smith cultivated a lifestyle of elegance and refinement in all categories, including collecting fine art and luxury goods. The auction demonstrates how she likewise built a remarkable collection of couture clothing and developed relationships with these leading fashion designers. The sale uniquely offers buyers the opportunity to acquire rare pieces of contemporary haute couture, seldom offered at auction. Spanning more than 50 years and highlighting work by celebrated ... More
Markus Döbeli's first solo presentation with Marc Jancou Contemporary on view in Rossinière
Greece's first underwater museum opens ancient world to dive tourists
The National Academy of Design announces the launch of the Eastman Johnson Catalogue Raisonné


Installation view of Markus Döbeli: Paintings and Watercolours, Offsite: Marc Jancou Contemporary, Rossiničre, Switzerland, Photo: Julien Gremaud.



ROSSINIČRE.- Marc Jancou Contemporary is presenting Markus Döbeli: Paintings and Watercolours, the Swiss painter's first solo presentation with the gallery. The exhibition, which runs until the 29th of August, brings together a selection of the artist's larger works on canvas and a number of smaller watercolour works on paper. Spanning a period of about ten years the works on show reveal the artist's single-minded approach to painting. Introspective and meditative, making their presence felt but at the same time appearing rather elusive, Döbeli's paintings are characterised by relatively translucent areas of colour which blend into one another seamlessly, with no sharp or definite outlines giving the impression they have occurred rather than having been produced, applied even. Döbeli's works present an uncompromising take on abstraction that allows little room for speculation on any possible links to representation. T ... More



Scuba divers visit the underwater museum in the Aegean Sea, off the coast of the Greek island Alonissos on July 20, 2021. WILL VASSILOPOULOS / AFP.

by Will Vassilopoulos / Gwenaëlle Souyri



ALÓNNISOS (AFP).- Emerging from the crystal-clear turquoise waters of the Aegean Sea, Hans-Juergen Fercher has just returned from his fourth dive to where mounds of 2,500-year-old wine pots mark the site of an ancient shipwreck -- and Greece's first underwater museum. "This is a combination of diving and archaeological diving. It's diving into history," says the 48-year-old psychiatrist after pulling himself onto the deck of the Triton dive boat. "It makes it special and unique." The museum beneath the waves at Peristera, a rocky outcrop off the island of Alonissos, opened in 2020, though the site has been largely mothballed until now due to Covid-19 restrictions. As Greece opens up its vital tourism industry, the site offers an example of a new and more sustainable source of revenue. Divers like Fercher and Danish ... More



Eastman Johnson (1824-1906), Self-Portrait, ca. 1859-1860. Oil on canvas, 30.38 x 25 in. Collection of the National Academy of Design.



NEW YORK, NY.- The National Academy of Design is pleased to announce the launch of the virtual Eastman Johnson Catalogue Raisonné on July 29, in recognition of the anniversary of the artist's birthday. In this first phase, the catalogue raisonné is focused on American artist Eastman Johnson's paintings. Subsequent phases will include the artist's drawings and prints. Founded and directed by Dr. Patricia Hills, project managed by Abigael MacGibeny, and stewarded by the National Academy of Design, the Eastman Johnson Catalogue Raisonné (EJCR) is based on Dr. Hills's decades-long research on Johnson's artwork, which dates to the 1972 monographic exhibition of his work at the Whitney Museum of American Art. Celebrating the artist's substantial contributions to the development of American genre and portrait painting throughout the latter half of the nineteenth century, this catalogue raisonné is a vast and intricate online resource designed ... More
Quote
Go on working, freely and furiously, and you will make progress. Paul Gauguin
---

The Giacometti: A Family of Creators
---

Flashback
On a day like today, English sculptor Henry Moore was born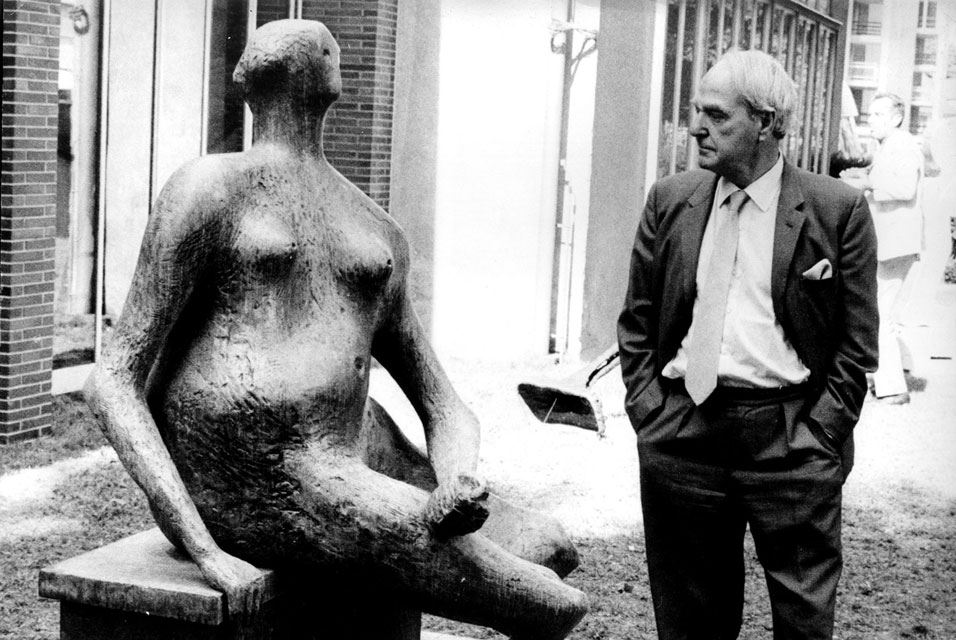 July 30, 1898. July 30, 1898.- Henry Spencer Moore OM CH FBA (30 July 1898 - 31 August 1986) was an English sculptor and artist. He was best known for his semi-abstract monumental bronze sculptures which are located around the world as public works of art. In this image: English Sculptor Henry Moore stands beside his sculpture "Seated Nude" on display as part of the "Art 70" show in Basel, Switzerland, June 9, 1970. Moore represented Britain in the show.
---

Museums, Exhibits, Artists, Milestones, Digital Art, Architecture, Photography,
Photographers, Special Photos, Special Reports, Featured Stories, Auctions, Art Fairs,
Anecdotes, Art Quiz, Education, Mythology, 3D Images, Last Week,

.
Royalville Communications, Inc
produces: