Georgia Museum of Art presents highlights from Princeton University Art Museum collection
John Singleton Copley (American, 1738 – 1815), "Elkanah Watson," 1782. Oil on canvas, 149 × 121 centimeters. Princeton University Art Museum. Gift of the estate of Josephine Thomson Swann (y1964-181).
ATHENS, GA
.-
As the Princeton University Art Museum constructs a new building (set to open in 2024), more than 100 works of American art from its collection are traveling the country. The exhibition "Object Lessons in American Art" premiered at the
Georgia Museum of Art
at the University of Georgia from February 4 to May 14, 2023. Spanning the 18th century to the present, "Object Lessons" features works of Euro-American, African American and Native American art and illustrates how fresh investigations and contemporary perspectives can inform and enrich its meaning. With these objects, the exhibition asks fundamental questions about artistic significance and how meaning changes across time, place and context. Following its appearance in Georgia, the exhibition will travel to the Florence Griswold Museum, Old Lyme, Connecticut, and the Speed Art Museum, Louisville, Kentucky. Organized by Karl Kusserow, the Princeton Univer ...
More
The Best Photos of the Day
Eli Wilner & Company completes hand-carved replica of the Resolute Desk
Lucy Lacoste Gallery exhibits a very special suite of five porcelain sculptures by Dimitri Hadzi
The Met receives gift of Francesco Salviati's painting of Bindo Altoviti


Eli Wilner & Company artisans create a hand-carved replica of the Resolute Desk, the elaborately carved oak desk used in the Oval Office.



NEW YORK, NY.- Eli Wilner & Company announces the completion of their fifth hand-carved replica of the Resolute Desk, the elaborately carved oak desk used in the Oval Office. The Resolute desk is a large, nineteenth-century partners' desk often chosen by presidents of the United States for use in the White House as the Oval Office desk. It was a gift from Queen Victoria to President Rutherford B. Hayes in 1880 and was built from the timbers of the British Arctic Exploration ship HMS Resolute. The Resolute was a British Arctic Exploration ship that set sail in April 1852 to search for the missing British explorer Sir John Franklin, who left Britain in 1845 in search of the Northwest Passage through the Canadian Arctic. The Resolute became trapped in the Arctic ice in 1853. In 1855 an American whaling ship found HMS Resolute adrift and sailed it back to New London, Connecticut. HMS Resolute was completely ... More



Dimitri Hadzi, Three Generations, 1998 Side I. Porcelain. Height Dimensions, tallest to shortest: 23.5", 19", 14.5", 14.5" , 4.5".



CONCORD MASS.- Dimitri Hadzi (1921 – 2006) is among the most distinguished modernist sculptors, known for his mythic and monumental sculpture in bronze and stone commissioned for public spaces such as the JFK Center at Government Center Boston, Avery Fisher Hall at Lincoln Center and St. Paul's Church in Rome. His sculpture is powerfully abstract and expressionist in character, fusing themes of antiquity with the modern. In addition to bronze sculpture, he worked in clay, primarily in the early days of his career and especially toward the end, as well as doing painting and printmaking. Dimitri Hadzi's contribution to the international language of sculpture continues to influence and inspire through permanent installations and collections, and exhibitions worldwide. Lucy Lacoste Gallery is showing Three Generations, (23.5 inches at the tallest height) a very special suite of five porcelain sculptures made c. 1998 ... More



Francesco Salviati (Francesco de' Rossi), (Italian, 1510–1563). Bindo Altoviti, ca. 1545. Oil on marble. 34 5/8 × 28 3/4 in. (88 × 73 cm). The Metropolitan Museum of Art, Gift of the Assadour O. Tavitian Trust, 2022 (2022.460). Photograph © Bruce M. White, 2020



NEW YORK, NY.- The Metropolitan Museum of Art announced today that it has received a gift of an exceptional oil painting by celebrated Italian artist Francesco Salviati (1510–1563). Executed on a one-inch thick marble slab, the arresting portrait depicts Bindo Altoviti (1491–1557), a powerful Florentine banker and one of the most significant political opponents to the Medici rulers. The monumental work is the first painting on marble acquired by The Met. It is a gift from the trust of Assadour "Aso" O. Tavitian. "The artistic importance and historic magnitude of this painting cannot be overstated," said Max Hollein, Marina Kellen French Director of The Met. "Salviati's work is simply extraordinary, both in its material aspect, on marble, and in its painterly execution. The sumptuous portrait brilliantly captures the subject's immense ... More
Nationalmuseum acquires three French garden views
Florence Arquin Collection to be presented at Hindman
Court upholds charges against ex-Louvre chief in art trafficking case


Alexandre Dunouy: La Fontaine du Bocage, view of the park at Ermenonville (detail). Oil on paper mounted on canvas. NM 7608. Photo: Anna Danielsson/Nationalmuseum.



STOCKHOLM.- Nationalmuseum has acquired three views of French gardens and parks painted in the latter half of the 18th century byLouis-Gabriel Moreau and Alexandre Dunouy. Building on the proud tradition of topographical depictions in 17th-century French art, these artists catered to the early Romantic penchant for dense foliage and picturesque dilapidation. The park at Ermenonville features in two of the paintings, one of which shows the philosopher Jean-Jacques Rousseau picking flowers. One of Rousseau's disciples was Marquis René-Louis de Girardin, who in 1766 began constructing a landscaped park on his estate at Ermenonville, 40 km northeast of Paris. For the marquis, landscape gardening represented a blend of art and poetry, where drawings or paintings served ... More



Wolfgang Paalen (Austrian/Mexican, 1905-1959), Untitled, 1943. Estimate: $40,000-60,000.



CHICAGO, IL.- On February 10th, Hindman will explore the stories behind figural surrealism and magical realism from Mexico to the Midwest in Figuratively Speaking. Anchoring the 95-lot auction will be 21 avant-garde and surrealist works previously owned by noted artist, collector, critic, and educator Florence Arquin, a close friend of Frida Kahlo and Diego Rivera, from the Carol Williams Collection. The collection features a number of works that Arquin received as gifts, highlighting the important friendships she built with many revered artists during her time living in Latin America. Examples include works by Wolfgang Paalen, Alice Rahon, and Diego Rivera, among others that are from pivotal artistic moments. "Arquin had an extraordinary impact wherever she went, from Chicago to Mexico, and beyond," commented Hindman Vice President & Senior Specialist of Fine Art Joseph ... More



Jean-Luc Martinez, who led the Louvre from 2013 to 2021, outside the museum in Paris on June 23, 2020. Martinez is fighting charges of complicity in fraud and money laundering, part of an inquiry into the illegal sale of Egyptian artifacts. (Julien Mignot/The New York Times)



PARIS.- The Paris appeals court upheld charges of complicity in fraud and money laundering against the former president of the Louvre on Friday, in a case involving trafficked Egyptian artifacts that shocked the art world when it embroiled the man who used to lead France's most famous museum. Jean-Luc Martinez, 58, who was president and director of the Louvre from 2013-21, was charged in May as part of a yearslong inquiry by French police into a network of looters, traffickers and antiquities experts believed to be selling looted relics to museums and art galleries. Martinez's lawyers had applied to have the charges dismissed in hopes of removing him from the complex and tortuous case, in which other archaeology experts ... More
Getty Museum presents 'Connections: Asia'
Chequers attic sale at Bonhams
Hauser & Wirth shows Gunther Förg's final series made between 2005-2010


Cranes, 1772, Maruyama Ōkyo (detail). Six-panel screen; ink, color, and gold leaf on paper, 67 1/4 × 137 3/4 × 3/4 in. Los Angeles County Museum of Art, Gift of Camilla Chandler Frost in honor of Robert T. Singer, L.2022.205.1



LOS ANGELES, CA.- Getty Museum presents Connections: Asia, featuring five exceptional works of Asian art on loan from the Los Angeles County Museum of Art (LACMA) and displayed alongside European paintings and sculpture in the Getty's collection. "The Getty Museum is delighted to be able to showcase a selection of outstanding works of Asian art from the collections of LACMA, presented in visual dialogue with European art in our permanent collection galleries," says Timothy Potts, Maria Hummer-Tuttle and Robert Tuttle Director of the J. Paul Getty Museum. "While LACMA's new space is under construction, this provides a rare opportunity to display some outstanding works from their collection and to highlight both the connections and distinctions between the arts ... More



A Charles X gilt and patinated bronze sunflower clock Early 19th century. Photo: Bonhams.



LONDON.- Chequers has served as the country house retreat of British Prime Ministers since 1921 after it was given to the nation by Sir Arthur Lee for that specific purpose. Over the past century the attics at Chequers – as in many country houses – have become filled with items which are no longer used and are taking up valuable space. The Trustees – the house is owned and administered by the Chequers Charitable Trust – have decided to dispose of some of these unused items which will be offered as part of Bonhams Collections sale in London on Tuesday 21 March 2023. The funds raised will be ploughed back into the charitable trust specifically for the repair and maintenance of the house and its collections. Harvey Cammell, Global Director of Valuations and Private Collections said: "Over the last century successive Prime Ministers have entertained statesmen and stateswomen from around the world at Chequers, and the sale ... More



Günther Förg © Estate Günther Förg, Suisse / DACS 2023. Courtesy the Estate Günther Förg, Suisse.



LONDON.- Günther Förg was a prolific painter, sculptor, graphic designer and photographer whose daring conceptual works incorporate and critique tropes of the sprawling movement known as modernism. This exhibition, in the North Gallery of the London space, displays Förg's Spot Paintings, the artist's final series made between 2005 – 2010 before he stopped painting in 2010 after suffering a stroke. Named the Tupfenbilder series after the German word for 'spot paintings,' this body of work celebrates the act of painting, drawing on Förg's earlier painterly practice but reimagining his previous explorations in innovative ways. In the artist's own words, 'I think painting is a resilient practice; if you look through the history of painting it doesn't change so much and we always see it in the present. It is still now.' In these works, the brushstroke itself becomes the main protagonist, representing an ultimate return to expressive painting ... More
Roberts Projects announces Amoako Boafo book release
Historic New England acquires a jewelry design collection
White Cube opens the first UK exhibition by artist duo TARWUK


The first monograph on the sinuous, exhilaratingly colorful and pattern-filled portraiture of Amoako Boafo.



LOS ANGELES, CA.- Roberts Projects announced the release of Amoako Boafo. Ghanaian painter Amoako Boafo has built a practice synthesizing the ways that art both reflects and perpetuates the power of representation. Amoako Boafo is the first monograph to comprehensively examine the artist's career to date. Exclusively portraying individuals from the diaspora and beyond, Boafo invites a reflection on Black subjectivity, diversity and complexity. His portraits, notable for their bold colors and patterns, celebrate his subjects as a means to challenge portrayals that objectify and dehumanize Blackness. As Boafo has stated, "the primary idea of my practice is representation, documenting, celebrating and showing new ways to approach Blackness." "It's very autobiographical, and it's about constructing your own identity." – Paul Schimmel The monograph includes essays by leading voices ... More



Historic New England adds jewelry design material to its collection.



BOSTON, MASS.- A newly acquired collection from the Frank N. Nathan Company and the Church Company illustrates Boston's thriving jewelry industry in the late nineteenth and early to mid-twentieth centuries. From ancient times to today, jewelry has been worn as a mode of self-expression or to convey social status, to indicate religious beliefs or political views, or for the sheer enjoyment of a beautiful object. The Nathan and Church designs complement Historic New England's jewelry collection and provide additional information about consumer taste, the design process, and the materials used in jewelry making. This new collection contains eighty-three mounted and unmounted pencil and watercolor drawings from the two companies that beautifully illustrate designs for rings, brooches, and pendants dating from 1928 to 1960. Many of the design drawings contain handwritten information, such as buyer names ... More



TARWUK, KLOSKLAS_tejivc, 2022. Acrylic, epoxy clay, steel, resin and aluminium, 46.4 x 30.6 x 26.9 cm | 18 1/4 x 12 1/16 x 10 9/16 in. © TARWUK.. Photo © White Cube (David Westwood).



LONDON.- White Cube Mason's Yard is presenting 'Posadila sam kost u zimskom vrtu', the first UK exhibition by artist duo TARWUK (Bruno Pogačnik Tremow and Ivana Vukšić, both born 1981). Working as a single entity, TARWUK have created an installation comprising a new group of sculptures, paintings and works on paper. The exhibition's title, which loosely translates to 'I planted a bone in the winter garden', is a poetic statement that reflects the artists' point of departure: the dichotomy of nature in its unbridled state, and the cultivation of an ordered 'garden'. In taking the garden as a symbol of man's labour and innate struggle – as object and ornament, enclosure and stage – the gardener, or artist, becomes caretaker of a subconscious terrain. TARWUK form part of a generation who came of age during the Yugoslav wars of the 1990s. Though now living and working ... More
Quote
An artist must possess Nature. Henri Matisse
---

Margarita Cabrera: Blurring Borders - Curator Interview
---

Flashback
On a day like today, English painter Margaret Fownes-Luttrell was born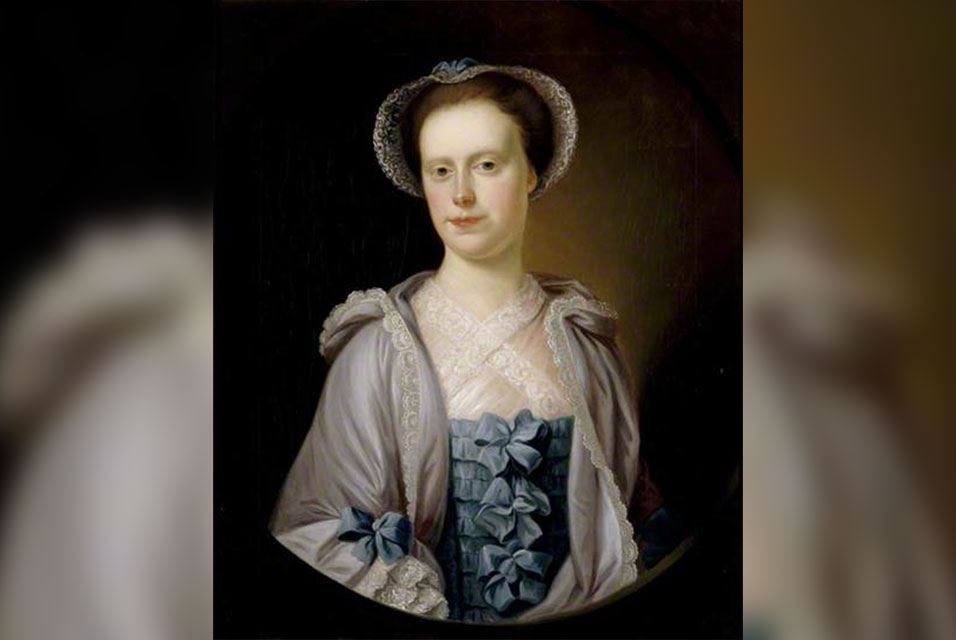 February 07, 1726. Margaret Fownes-Luttrell[a] (7 February 1726 - 13 August 1766) was an English artist and wife of Henry Fownes Luttrell. Two of her paintings are part of the Dunster Castle collection, now property of the National Trust. She was the heiress of Dunster Castle, under the stipulation in her father's will that her husband should take the additional surname of Luttrell. Four portraits of her exist in Dunster castle and a fifth at Bathealton Court. In this image: Margaret Luttrell (1726-1766), Mrs Henry Fownes Luttrell.
---

Museums, Exhibits, Artists, Milestones, Digital Art, Architecture, Photography,
Photographers, Special Photos, Special Reports, Featured Stories, Auctions, Art Fairs,
Anecdotes, Art Quiz, Education, Mythology, 3D Images, Last Week,

.
Royalville Communications, Inc
produces: