What New York looked like during the 1918 flu pandemic
In a photo provided by the National Archives, clerks in New York work with masks on during the 1918 flu pandemic. The Spanish flu raced through crowded tenements and neighborhoods, killing more than 20,000 New Yorkers. National Archives via The New York Times.

by Michael Wilson
NEW YORK
(NYT NEWS SERVICE)
.-
The wire arrived in New York City from an incoming ship at sea, announcing that 10 of its passengers and 11 crew members were ill. So a team of doctors and officials waited at a Brooklyn pier to greet the Norwegian vessel Bergensfjord and, with it, the first cases in the city of the deadliest pandemic in modern human history. It was Aug. 11, 1918. The ship docked, the sick were rushed to nearby hospitals, and the pier was placed under quarantine. Everything appeared to be under control. Then more sick arrived. The illness spread, racing through crowded neighborhoods and tenements. The numbers rose slowly at first, then soared as if swept in on a huge wave — a pattern eerily familiar 102 years later. It was the Spanish flu, and it would kill tens of millions of people worldwide, including 675,000 people in the United States. In New York City, more than 20,000 died, at a rate of 400 to 500 a day at its apex. It was a bracing death toll — and yet city leaders saw it as a sign of ...
More
The Best Photos of the Day
Gropius Bau announces the digital launch of an exhibition by Lee Mingwei
Lacoste/Keane Gallery opens an exhibition of ceramics by Jeff Shapiro
Bill Withers, soul legend who sang 'Lean on Me' and 'Lovely Day,' dies at 81


Lee Mingwei, Fabric of Memory 2006–present. Mixed media interactive installation. Wooden platform, wooden boxes, fabric items. Installation view Lee Mingwei and His Relations, Mori Art Museum, Tokyo, 2014. Photo: Fuminari Yoshitsugu, courtesy: Mori Art Museum.



BERLIN.- Lee Mingwei's installations and performances often operate both within the logic of material exchange and outside its limits by offering immaterial gifts: "I see my works also in this way: sharing the gift of song, the gift of contemplation or the gift of exchange with a stranger," Lee Mingwei notes. Rooted in the space of intimate experiences and encounters with others, a key aspect of Lee's work is for participants to be in the same space, where two or more people can share moments together, from sleeping to dining, from mending clothes to conversing with each other. He has now worked together with the Gropius Bau team to create an intimate experience for participants despite being physically separated. To accompany the launch of the ... More



Jeff Shapiro, Sculptural Vessel, Oribe Reborn. Stoneware, 21 x 12 x 7.5".



CONCORD, MASS.- Lacoste/Keane Gallery announces Jeff Shapiro: A Creative Journey April 4 - 25, 2020, currently available online, the fifth solo exhibition of this internationally recognized ceramic artist at Lacoste Keane Gallery. In addition, a Video Walkthrough of the show will be available by April 4 on the gallery's website as well as the Artist Talk by April 5. The exhibition celebrates the artist's long involvement with the Gallery including his curation of five major themed exhibitions, two of which were collaborations with the Museum of Fine Arts Boston and the Ceramic Department at Harvard University. This is the first time for Shapiro to show works from two new series: Oribe Reborn and Ice Flow. Seemingly different in surface color and effect, the two series have much in common. Both are fired first in the anagama tunnel kiln and then subsequently fired at least once more in other kilns with thick applications of glaze; Oribe for ... More



Bill Withers at Will Rogers Memorial Park in Beverly Hills, Calif., on Sept. 2, 2015. Jake Michaels/The New York Times.

by Andrew Marszal, with Maggy Donaldson



LOS ANGELES (AFP).- Bill Withers, the legendary performer who delivered timeless hits like "Ain't No Sunshine" with silky yet funkified vocals and came to define 1970s soul, has died. He was 81 years old. The Grammy-winning artist behind the beloved "Lean on Me" succumbed to heart complications, according to his family, which said it was "devastated" over the loss. "A solitary man with a heart driven to connect to the world at large, with his poetry and music, he spoke honestly to people and connected them to each other," they said. "In this difficult time, we pray his music offers comfort and entertainment as fans hold tight to loved ones." The artist's recording career lasted just 14 years -- he released his final album in 1985 -- but his hits that melded gritty southern blues with smooth ... More
Phoenix Art Museum appoints new Sybil Harrington Director and CEO
How Coronavirus is changing the art & collectables auction market
Online-only sale features paintings of women across Southeast Asian cultures


Tim Rodgers is currently Director of The Wolfsonian–Florida International University (FIU) in Miami. Photo: Lynton Gardiner.



PHOENIX, AZ.- Phoenix Art Museum announced today that it has appointed Timothy R. Rodgers, PhD, to serve as the Museum's Sybil Harrington Director and CEO. Rodgers, who is currently Director of The Wolfsonian–Florida International University (FIU) in Miami, will assume his role at PhxArt, the leading and largest art museum in the southwestern United States, after July 1, 2020. Rodgers has deep roots in Arizona; prior to taking the helm of The Wolfsonian–FIU, Rodgers served for six years as Director of the Scottsdale Museum of Contemporary Art and Vice President of the Scottsdale Cultural Council. He was selected following a national search led by a committee appointed by the Museum's Board of Trustees and which included current and past Trustees and community leaders. Rodgers ... More



Pontus Silfverstolpe, one of the two Swedish founders of the business, says that it is clear that the impact of the Covid 19 virus is having a transforming, and speeding up effect on the online art auction industry.



LONDON.- Barnebys, the biggest online search engine for art and collectables for sale at auction is logging daily changes imposed by the impact of the Coronavirus. Pontus Silfverstolpe, one of the two Swedish founders of the business, says that it is clear that the impact of the Covid 19 virus is having a transforming, and speeding up effect on the online art auction industry. He says: "If this virus had hit us 20 years ago it would have been game over for the industry which relied absolutely on traditional face to face auctions with a small amount of telephone bidding. But thanks to the arrival of the internet and online technology and many agile auction houses who saw early on the opportunities provided in the online sphere, the industry will ... More



Nguyen Trung (Vietnamese, born 1940) Lady, 2008. Oil on canvas. Photo: Bonhams.



HONG KONG.- Bonhams' online-only fine Southeast Asian arts sale – Ritual + Culture Online – will be open for bidding between 3 and 22 April 2020. The sale features more than thirty 20th century paintings, celebrating the diverse cultures and distinctive rituals in Southeast Asian countries including Indonesia, Vietnam and Burma. Among the highlights is a curated group of paintings depicting the mesmerising beauty of women in Southeast Asia, as well as the crucial roles they play in society. This group of works is led by Hanoi (pictured front) by French artist Alix Aymé, who had travelled in and painted extensively in Asia. The painting features a classic street scene with a Vietnamese mother strolling along a path, her baby nestled by her hips, as the city Hanoi – depicted by Aymé as a verdant sub-tropical paradise – comes into spring. C ... More
Controversial Soviet-era statue removed in Prague
French orchestra plays on through virus confinement
Elite pulp artists celebrated in Heritage illustration art auction


Workers load on a truck the statue of Soviet general and Marshal of the Soviet Union Ivan Stepanovic Konev as it is made ready for removal on April 3, 2020 in Prague. Michal Cizek / AFP.



PRAGUE (AFP).- Prague authorities on Friday said they had removed a controversial Soviet-era statue, despite protests from Moscow, to make way for a World War II memorial. The Russian embassy on Friday protested the removal of the bronze statue of Soviet general Ivan Konev, terming it an "unfriendly" act of "vandalism by unhinged municipal representatives." While Konev is regarded as a hero in Russia, many Czechs see him as a symbol of Soviet-era oppression. He led Red Army troops that liberated Prague from the Nazis in 1945, but he was also in charge of Operation Whirlwind, which crushed the anti-Soviet Hungarian Uprising of 1956. Prague district 6 mayor Ondrej Kolar told the Czech CTK news agency that Konev's statue would be placed in a "museum dedicated to the history of the 20th century in Czechoslovakia." Pro-Russian Czech President ... More



It can be seen here



PARIS (AFP).- A French orchestra has found a way around the coronavirus lockdown to record a 51-instrument rendition of Ravel's Bolero. One by one. Alone in their kitchens, lounges or dining rooms, individual Orchestre national de France (ONF) musicians played as their mobile phones recorded their parts in Maurice Ravel's thrilling orchestral score. Then the magic: a technician jigsawed the bits together into a video mosaic to create a near flawless, combined performance of woodwinds, brass, percussion and strings. "I would never have imagined synchronising the sound of instruments not playing together," said Dimitri Scapolan, a Radio France video editor in charge of the project. The ONF is one of two orchestras of Radio France. "When I overlapped all the pieces recorded by the cellphones on my computer, to my great astonishment, everyone was in perfect harmony," he told AFP. "All I had to do was to adjust the levels a bit and add some resonance -- it mixed itself. It was a pleasure." ... More



Patrick Nagel (American, 1945-1984), Untitled, 1982. Acrylic on canvas, 40 x 30 inches. Estimate: $60,000 - $80,000.



DALLAS, TX.- An extraordinary selection of artwork used on pulp magazine covers, from artists like Virgil Finlay, Margaret Brundage, Hugh Joseph Ward and Norman Saunders, are among the top attractions in Heritage Auctions' Illustration Art Auction April 24 in Dallas, Texas. The 414-lot sale also will include artwork by legendary pin-up artists, including Patrick Nagel, Gil Elvgren and Alberto Vargas, as well as an impressive array from the Golden Age of Illustration Art. "Pulp art is enormously popular right now," Heritage Auctions Vice President Todd Hignite said. "This sale offers a very strong selection from some of the most popular and important Pulp artists, some classic images from the genre. The range of images offers elite collections for Pulp collectors of all levels." The auction includes three Weird Tales Magazine covers: Virgil Finlay The Thief of Forthe, Weird Tales magazine cover, July 1937 (estimate: $20,000-30, ... More
Steidl publishes 'Hans Danuser: Darkrooms of Photography'
Tate launches new video tours of major exhibitions
Zimmerli Art Museum offers new tools for visitors with sensory-related disorders


Cooling Tower Basin. Photographed in atomic power plants, reactor research facilities, and in interim storage facilities for highly radioactive waste.



NEW YORK, NY.- This book presents an overview of the work of Swiss photographer Hans Danuser over the last 35 years and places it in wider artistic and social contexts. At the end of the 1970s Danuser substantially contributed to the "reinvention" of photography as an artistic medium and shaped its development through the myriad possibilities of the analogue darkroom. In 1980 Danuser began his breakthrough cycle "IN VIVO," whose 93 black-and-white photos address taboos then prevailing in the research and power centers of industrial society in Europe and the USA prior to the fall of the Berlin Wall, the break-up of power blocs and the rise of globalization. Topics that influence and transform society have been the focus of Danuser's subsequent large-format, and often site-specific installation works. With an emphasis on content and media-specific research, Danuser's photos furth ... More



Free online tour of Andy Warhol at Tate Modern launches on 6 April. © Tate Photography.



LONDON.- Tate today announces the release of two new films offering audiences the chance to step inside the gallery's latest exhibitions and explore remarkable works of art from the comfort of their own home. Published on Tate's website and YouTube channel this month, viewers around the world can enjoy free curator-led video tours of the much-anticipated Andy Warhol and Aubrey Beardsley exhibitions. Specially recorded following the closure of Tate's galleries due to coronavirus, but before current restrictions were implemented, the films offer unique perspectives from Tate experts as they take visitors through the empty galleries, allowing special access to major art works on loan from public and private collections across the globe. Available to view online from Monday 6 April, the Tate Modern team of Gregor Muir, Director of Tate's Collection of International Art, and Fiontán Moran, Assistant Curator, share behind-the-scenes insights into the gallery's recently opened ... More



Zimmerli Art Museum at Rutgers University is certified sensory inclusive.



NEW BRUNSWICK, NJ.- The Zimmerli Art Museum at Rutgers University-New Brunswick is the first art museum in New Jersey to offer specialized tools to help visitors on the autism spectrum enjoy their visit without stressful sensory overload. The museum is collaborating with KultureCity, a nonprofit that has also worked with MetLife Stadium, to offer the training and materials needed to provide a more positive experience for those with autism, PTSD or other conditions that may cause sensory overload. Free sensory inclusive bags available to use during visits include fidget tools (handheld objects that can be squeezed and manipulated to help focus the user's sense of touch), cue cards that people with verbal impairments can use to communicate their needs and moods, noise-cancelling headphones and weighted lap pads to help direct the user's feeling of their center of gravity. "A common misperception is that autism is just a beha ... More
Quote
Art is the incomprehensible density of cosmic forces compressed into a small space. D. Bomber
---

Francis Bacon: Late Paintings Opening Day Lecture with Curator Alison de Lima Greene
---

Flashback
On a day like today, French painter and poet Maurice de Vlaminck was born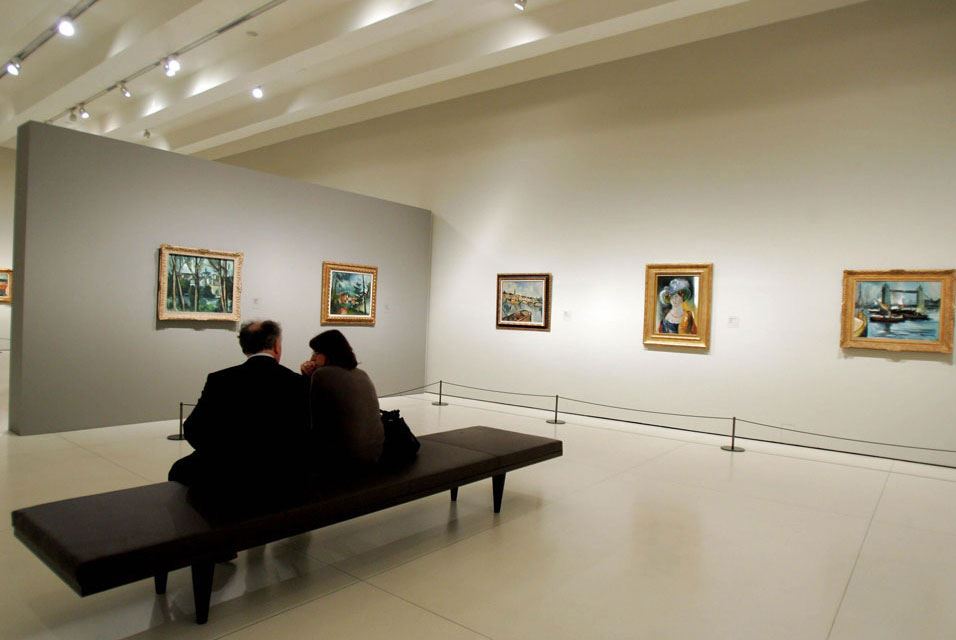 April 04, 1876. Maurice de Vlaminck (4 April 1876 - 11 October 1958) was a French painter. Along with André Derain and Henri Matisse he is considered one of the principal figures in the Fauve movement, a group of modern artists who from 1904 to 1908 were united in their use of intense colour. In this image: CaixaForum Barcelona, "la Caixa" Community Projects exhibited in 2009 "Maurice de Vlaminck, a Fauve Instinct: Paintings from 1900 to 1915".
---

Museums, Exhibits, Artists, Milestones, Digital Art, Architecture, Photography,
Photographers, Special Photos, Special Reports, Featured Stories, Auctions, Art Fairs,
Anecdotes, Art Quiz, Education, Mythology, 3D Images, Last Week,

.
Royalville Communications, Inc
produces: