Botticelli sold for $45.4 million at Sotheby's auction
Sandro Botticelli's "The Man of Sorrows." A long-overlooked painting regarded for decades as the work of Sandro Botticelli's studio assistants sold at Sotheby's in New York on Thursday for $45.4 million with fees. Courtesy Sotheby's.

by Scott Reyburn
NEW YORK, NY
.-
A long-overlooked painting regarded for decades as the work of Sandro Botticelli's studio assistants sold at Sotheby's in New York City on Thursday for $45.4 million with fees, kick-starting this year's cycle of headline-grabbing prices for trophy artworks at auction. Now billed as a "seminal masterpiece" by the Italian renaissance master, Botticelli's tempera-on-panel "The Man of Sorrows," a solemn half-length depiction of the resurrected Christ, was the standout work in a 55-lot sale of old master paintings and sculpture Thursday. Certain to sell for at least $40 million, thanks to a minimum and prearranged "irrevocable bid" from a third-party guarantor, the painting attracted two further bidders. The winning bid, which was not the guarantor's, was taken by a Sotheby's old masters specialist, Elisabeth Lobkowicz, in New York. The contest took six minutes, with the bidders tendering tentative $100,000 increments. "It was ...
More
The Best Photos of the Day
Edel Assanti opens an exhibition of works by Noémie Goudal
Xavier Hufkens opens an exhibition of portraits by Alice Neel
albertz benda presents the U.S. debut exhibition of Malian artist Famakan Magassa


Installation View of Noémie Goudal: Post Atlantica at Edel Assanti, 2022 © Will Amlot, courtesy Edel Assanti.



LONDON.- Edel Assanti is presenting Noémie Goudal's Post Atlantica, the inaugural exhibition at the gallery at 1 Little Titchfield Street, designed by London based architects Sanchez Benton. Installed across three gallery spaces, Post Atlantica is the most expansive exhibition to date of Goudal's eponymous series, following presentations of recent chapters at Le Grand Café Centre d'Art Contemporain, Musée Delacroix, Paris Gare de l'est and Frieze London. The exhibition combines a monumental sculptural installation with films, photographs and a series of ceramic sculptures produced during the artist's ongoing residency at Manufacture Nationale de Sèvres (France). Goudal's latest body of work unravels an artistic dialogue with the field of paleoclimatology, analysing climate and geology from the vantage point of "deep time" to acquire an understanding ... More



Alice Neel, Peter Homitzky, 1963. Oil on canvas, 126.5 × 90.3 cm, 49 3⁄4 × 35 1⁄2 in. Courtesy the Estate of Alice Neel and Xavier Hufkens, Brussels. Photo: HV-studio.



BRUSSELS.- A new exhibition of portraits by Alice Neel (1900–1984) brings twentieth-century America to life through faces old and young. Painted over a fifty-year period, this thoughtfully selected group of paintings includes many never previously exhibited works, illuminating the creative evolution of her oeuvre across the decades. From babies, infants and teenagers to friends, lovers and patrons, and from the affluent to the poor, everyone was of equal interest and merit to Neel. By pairing portraits of youth with the elderly, we are led to reflect on life's most meaningful questions: when do we become who we are? And how have we changed? Seeing who we are includes striking examples of Neel's ability to capture even the youngest sitters' inner psyche. Sheila (1937) is a rare early work depicting the daughter of José ... More



Famakan Magassa [b. 1997], Soif de sourire, 2021. Acrylic on canvas. 28 3/4 x 24 inches, 73 x 61 cm. Courtesy of the artist and albertz benda, New York.



NEW YORK, NY.- albertz benda opened Famakan Magassa: SOIFS, the U.S. debut of Malian artist Famakan Magassa, on view from January 27 through February 26, 2022. Magassa presents a selection of new, unexhibited works from his incisive ongoing series entitled 'SOIFS,' or 'thirsts'. The first iterations of this series were developed in collaboration with Floreal Duran of 5Mondes Gallery and presented at the L'Institut Français du Mali, Bamako and La Cité internationale des Arts, Paris in 2021. First conceived by the 24-year-old artist while enmeshed in one of Abidjan's frequent traffic jams, Magassa's 'thirst,' is not the immediate, most literal need for water - though it is a crucial issue in his native Mali and throughout much of the world. These are thirsts anchored in society, spanning from the literal to the allegorical: ... More
From pedestal to petri dish, Liz Larner makes sculptures for a new era
NEA announces American Rescue Plan grants to arts organizations
Don Wilson, who gave the Ventures their distinctive rhythm, dies at 88


Liz Larner, No M, No D, Only S & B, 1990. Sand, stone, bark, painted leather. 13 x 16 x 80 inches (33 x 40.6 x 203.2 cm). Walker Art Center, Minneapolis. T. B. Walker Acquisition Fund.

by Karen Rosenberg



NEW YORK, NY.- Liz Larner's exuberant midcareer survey at SculptureCenter begins with a bang, or a few of them: a motorized steel ball, tethered to a rotating column, smashes into the gallery wall. The piece is called "Corner Basher," and its speed is controlled by the viewer; turning the dial all the way up results in an increasingly loud and frequent thwacking noise, a growing dent in the architecture and a gleeful sense of transgression. Not everything in the show is as forceful as "Corner Basher" (1988), but other works also play up underused spaces in ways that can seem just as rebellious: the thick industrial chains that curve around the wall in "Wrapped Corner," for instance, or the nylon and silk cords that extend to the upper reaches of SculptureCenter's soaring main ... More



More than $57 million in funding will support the recovery of the arts and culture sector.



WASHINGTON, DC.- The National Endowment for the Arts today announced it has recommended American Rescue Plan awards totaling $57,750,000 to 567 arts organizations to help the arts and cultural sector recover from the pandemic. The organizations may use this funding to save jobs, and to fund operations and facilities, health and safety supplies, and marketing and promotional efforts to encourage attendance and participation. The full list of recommended awards, sorted by city/state, is available on arts.gov. "Our nation's arts sector has been among the hardest hit by the COVID-19 pandemic. The National Endowment for the Arts' American Rescue Plan funding will help arts organizations rebuild and reopen," said Dr. Maria Rosario Jackson, chair of the NEA. "The arts are crucial to helping America's communities heal, unite, and inspire as well as essential to our nation's economic recovery." Grants are recommended to ... More



He was a founder, with Bob Bogle, of what has been called the best-selling and most influential instrumental band in rock 'n' roll history.

by Neil Genzlinger



NEW YORK, NY.- Don Wilson, co-founder of the instrumental rock group the Ventures, whose twanging, hard-driving sound, propelled by his dynamic rhythm guitar, led to hits like "Walk — Don't Run" and helped shape the surf music of the early 1960s as well as influencing generations of guitarists, died Saturday at a hospital in Tacoma, Washington. He was 88. His daughter Staci Layne Wilson confirmed the death. Don Wilson and Bob Bogle formed the group that became the Ventures in the late 1950s and had been having modest success performing in the Seattle area when, with Nokie Edwards on bass and Skip Moore playing drums, they recorded "Walk — Don't Run" in March 1960. It was their version of a song by jazz guitarist Johnny Smith that had previously been recorded by Chet Atkins. They had already released one 45 rpm ... More
Tina Kim Gallery announces representation of the Pacita Abad Art Estate
Ortuzar Projects presents a survey of over sixty toys, paintings, drawings, and sculptures by Joaquín Torres-García
Board Chairman and longtime friend and supporter of Dallas Museum of Art William M. Lamont Jr. dies


Pacita Abad, I Have One Million Things to Say, 2002. Oil, painted muslin cloth stitched on canvas. Work courtesy the Pacita Abad Art Estate. Photo: Pioneer Studios. In the collection of M+, Hong Kong.



NEW YORK, NY.- Tina Kim Gallery is pleased to announce the representation of the Pacita Abad Art Estate. The late Pacita Abad (1946-2004) was a Filipino American artist with a sweepingly global set of life experiences. An early transnational painter, Abad participated in over 150 solo and group exhibitions in the US, Asia, Africa, Europe, and the Caribbean during her peripatetic, 32-year career. In the past two years, her work has been included in the 11th Berlin Biennale, 13th Gwangju Biennale, and the 4th Kathmandu Triennale. She has also received solo exhibitions at the Museum of Contemporary Arts and Design, Manila in 2018, as well as at Spike Island in Bristol in 2020, and currently at the Jameel Arts Center, Dubai. Abad is the subject of a major traveling survey, opening at the Walker Arts Center in 2023. Her work has been collected by the Tate, UK; M+ Museum, Hong Kong; the National ... More



Joaquín Torres-García, Hombre Gris (Grey Man), 1925. Painted wood (four pieces), 6 1/8 x 2 3/4 x 8 1/4 inches (15.5 x 7 x 21 cm) (AO 1907) Courtesy of the Estate of Joaquín Torres-García and Ortuzar Projects, New York.



NEW YORK, NY.- Ortuzar Projects is presenting Joaquín Torres-García: Toys, a survey of over sixty toys, paintings, drawings, and sculptures by the Uruguayan artist. Focused on the fifteen-year period from 1917–1932 in which he was actively making and marketing handmade wooden toys, the exhibition positions these objects made for children as a primary component of the artist's practice, as well as fundamental to the development of his theories of Universal Constructivism. Torres-García's interests in toys can be traced back to his teaching activities as a young artist in Barcelona. Employed in 1907 as a teacher by the Mount D'Or school, Torres-García was exposed to the radical new pedagogies of Maria Montessori and Friedrich Fröbel, influenced in particular by the latter's notions that it is through play that children learn to establish a link ... More



Mr. Lamont and his wife, Mary Noël Lamont, were dedicated supporters of many of the Museum's initiatives. Courtesy of Dallas Museum of Art.



DALLAS, TX.- The Dallas Museum of Art greatly mourns the passing of William "Bill" M. Lamont, Jr., Chairman of the DMA's Board of Trustees and a longtime friend and supporter of the Museum. A beloved friend and inspiring leader, Mr. Lamont was known for his steady leadership, wise counsel, and love for the institution, along with his quick wit and charm. His deep and personal commitment to the work and mission of the DMA has shaped the Museum into the strong institution it is today. Mr. Lamont's contributions to the Museum of time, expertise, and support over the years were many. He has served on the Board of Trustees since 2013 and was elected Chairman in 2018. Since 2004, when Mr. Lamont first joined the Board's Budget and Finance Committee, the Museum greatly benefited from his extraordinary expertise and dedication. Most recently, Mr. Lamont's constant and calm direction during the Museum's ... More
Martin Parr Foundation opens 'Intersectional Geographies' curated by Jacqueline Ennis-Cole
Ruth Bader Ginsburg's personal library achieves more than $2.3M at Bonhams
Vegas man gets record $12 million for USA's 1st silver dollar


David Severn's 'The Pit of Nations: Black British Coal Miners' was commissioned by Norma Gregory to explore and give voice to representations of black miners' stories in the UK.



BRISTOL.- This new exhibition brings together a selection of artists and photographers whose diverse work raises awareness of the complex relationships between the most pressing concerns of our time. 'Intersectional Geographies advocates for a deeper understanding of multi-faceted overlaps between protecting and sustaining our planet's ecosystems and the people situated within diverse geographical contexts, whether they be mining communities, rural landscapes, and/or home environments… The exhibitions asks questions, opens dialogue, and stimulates conversations that are representative of our time. Thus, creating a visual aesthetic and an atmospheric experience that will undoubtedly evoke empathy, knowledge, understanding and deeper insights'. Curator Jacqueline Ennis-Cole. The term 'intersectionality' was coined by Black feminist Kimberlé Crenshaw to describe the multiple and overlapping ... More



Ruth Bader Ginsburg's Annotated Copy of the 1957-58 Harvard Law Review. Sold for US$100,312.50 inc. premium. Photo: Bonhams.



NEW YORK, NY.- Drawing in more bidders than any other auction in Bonhams history (live or online), The Library of Justice Ruth Bader Ginsburg online sale completed Thursday as a white glove sale, with every lot selling well beyond its pre-sale estimate. Leading the sale was the standout performance of Ginsburg's heavily annotated copy of the 1957-58 Harvard Law Review, the year that she was a member, which sold for $100,312.50 inc. premium shattering its pre-sale estimate of $2,500 - 3,500. The total hammer price (inc. premium) achieved for this white glove sale was $2,354,510. The sale featured 162 lots of books and ephemera from the legendary justice's private library, a record of her evolution from student (and voracious reader) to lawyer and law professor, to judge and finally, Justice of the United States Supreme Court. Notably, the library contained a large selection of presentation copies on various subjects inscribed by the author ... More



Believed by many rare coin researchers to be the first silver dollar struck by the United States Mint, this 1794-dated dollar has been purchased for a record $12 million by GreatCollections Coin Auctions of Irvine, California from Las Vegas, Nevada collector Bruce Morelan. Photo: GreatCollections Coin Auctions.



LAS VEGAS, NEV.- A Las Vegas, Nevada resident has sold his prized possession, a superb condition silver dollar made in 1794 that many rare coin experts believe is the first silver dollar ever struck by the United States Mint. It has been purchased for a record $12 million by GreatCollections Coin Auctions of Irvine, California. Vegas business executive Bruce Morelan paid $10,016,875 for the acclaimed rare coin in 2013, a record at the time, and exhibited it across the country and in Europe. One of the coin's previous owners was Amon G. Carter Sr. (1879-1955) of Texas, a former publisher of the Fort Worth Star-Telegram newspaper. Ian Russell, president of GreatCollections, said, "Because of its sharpness of detail, researchers believe this coin was specially struck, perhaps as a presentation of the country's ... More
Quote
All painting is an accident. Francis Bacon
---

AFPR---Meet The Artists: Ini Archibong
---

Flashback
On a day like today, Dutch painter Hendrick Avercamp was born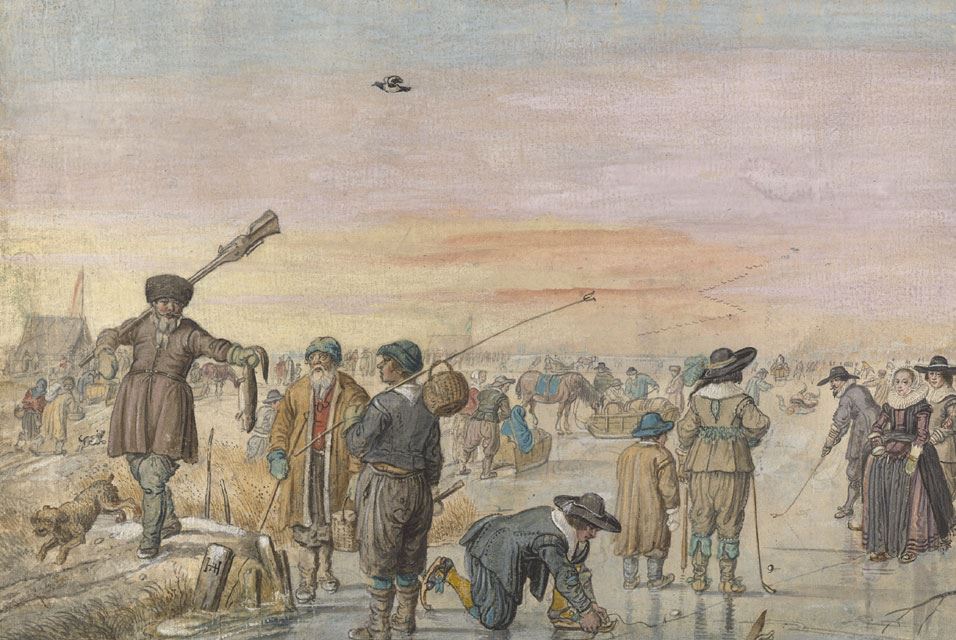 January 27, 1585. Hendrick Avercamp (January 27, 1585 (bapt.) - May 15, 1634 (buried)) was a Dutch painter. Avercamp was born in Amsterdam, where he studied with the Danish-born portrait painter Pieter Isaacks (1569-1625), and perhaps also with David Vinckboons. In 1608 he moved from Amsterdam to Kampen in the province of Overijssel. Avercamp was mute and was known as "de Stomme van Kampen" (the mute of Kampen). In this image: Hendrick Avercamp, IJsgezicht met jager die een otter toont. Rijksmuseum Amsterdam.
---

Museums, Exhibits, Artists, Milestones, Digital Art, Architecture, Photography,
Photographers, Special Photos, Special Reports, Featured Stories, Auctions, Art Fairs,
Anecdotes, Art Quiz, Education, Mythology, 3D Images, Last Week,

.
Royalville Communications, Inc
produces: