Toomey & Co. Auctioneers to hold 'Fine Art + Furniture & Decorative Arts' sale
Femme au Fleurs (Woman with Flowers), circa 1903. Estimate $20,000-30,000.
OAK PARK, ILL
.-
On Sunday, March 14,
Toomey & Co. Auctioneers
will conduct a Fine Art + Furniture & Decorative Arts sale, featuring over 400 lots of fine and decorative artworks, furniture, art pottery, lighting, metalwork, jewelry, and more. Represented in the auction are various luminaries of art and design from the early 20th century and before from Chicago, across America, and abroad. Logistical details for the sale and bidding instructions are provided in depth below. Two paintings by French artists stand out in fine art: post-impressionist Henri Martin's pointillist portrait, Femme au Fleurs (Woman with Flowers), circa 1903 ($20,000-30,000 estimate), is a light-filled composition presenting a robed figure holding a bouquet and Ernest Guérin's triptych, Penmarc'h, Bretagne ($3,000-5,000), shows a rural church scene with an expansive horizon. Paintings by Americans include Dana Ripley Pond's finely rendered Portrait of Two Girls, 1 ...
More
The Best Photos of the Day
Amy Sherald directs her Breonna Taylor painting toward justice
'Mythological Passions' launches the Museo del Prado's temporary exhibition programme
In Japan, his disaster art saves lives


Artist Amy Sherald at her Baltimore studio, Oct. 19, 2017, after she was commissioned to paint the former first lady Michelle Obama. Justin T. Gellerson/The New York Times.

by Robin Pogrebin



NEW YORK (NYT NEWS SERVICE).- Typically, Amy Sherald's gallery would handle the sale of her artwork to a collector or an institution. But when it came to her portrait of Breonna Taylor — the 26-year-old medical worker who was shot and killed by police officers in Louisville, Kentucky — Sherald herself wanted to see that particular painting all the way home. "I felt like it should live out in the world," Sherald said. "I started to think about her hometown and how maybe this painting could be a Balm in Gilead for Louisville." Sherald believed the painting should be seen by people where Taylor died as well as by a broader audience. And she intended the proceeds from her sale of the painting to advance the cause of social justice. In an unusual arrangement that has ... More



Paolo Veronese, Perseus and Andromeda. Oil on canvas, 260 x 211 cm c. 1575-80 Rennes, Musée des Beaux-Arts.



MADRID.- For Alejandro Vergara, Chief Curator of Flemish and Northern Schools Painting at the Museo del Prado: "Our intention with this exhibition is to come closer to ways of feeling and thinking learned from the classical writers which defined European culture in the 16th and 17th centuries. The idea that beauty, desire, love and sex are closely interconnected and that we are at their mercy, as with are with nature, is part of that culture." Mythological Passions offers an unrepeatable survey of mythological love through the work of the greatest representatives of European painting. In Greek and Roman mythology love, desire and beauty are closely interconnected and rule the lives of the gods and men. The texts that refer to those themes, including Homer's Iliad and Odyssey, Ovid's Metamorphoses and Virgil's Aeneid, were highly esteemed by Renaissance and Baroque artists who aimed to represent them with pro ... More



A "Zero Yen house" designed by Kyohei Sakaguchi. Kyohei Sakaguchi via The New York Times.

by Eric Margolis



KUMAMOTO (NYT NEWS SERVICE).- A week before the artist, author and architect Kyohei Sakaguchi planned to move into one of his celebrated "zero yen" houses, built from recycled materials, the catastrophic 2011 earthquake struck Japan. A tsunami engulfed the Tohoku region and the Fukushima Daiichi nuclear power plant collapsed. He had recently begun treatment for bipolar disorder. Overwhelmed, he left Tokyo and headed back home to the verdant coastal city of Kumamoto in southwest Japan, and abandoned the recycling project. But what started off as artistic abandonment in fact marked an artistic shift. "After the earthquake, I got very depressed and suicidal, and I started to think about how to really care for myself," Sakaguchi said in a phone interview. "That's when I started to publish my phone number." It was the birth of a new suicide help line, directly to ... More
Sotheby's to offer exceptional Vietnamese masterpieces from the Madame Dothi Dumonteil collection
On a newly designed digital platform, Asia Week New York opens with a virtual preview of major highlights
'Golden Mummies of Egypt' exhibition opens at the North Carolina Museum of Art


Mai Trung Thu, Lady writing a poem, ink and gouache on silk, 1943, 73 x 50.3 cm. Estimate: HK$3,200,000 – 4,000,000. Courtesy Sotheby's.



HONG KONG.- This spring, Sotheby's will present a remarkable single owner grouping Les Souvenirs d'Indochine: The Madame Dothi Dumonteil Collection, which brings together four rare and exquisite works from the golden age of Vietnamese Modern art. The collection will be offered at the Modern Art Evening Sale on 18 April. Led by Mai Trung Thu's Portrait of Mademoiselle Phuong, the collection features works by pioneering artists who established a new canon of Vietnamese art, elevating traditional crafts and mediums to modern forms of expression. Painted in 1930, Portrait of Mademoiselle Phuong stands as one of the most significant works by the artist to ever appear at auction – an extremely rare oil painting which was one of the few pieces selected for the 1931 Exposition Coloniale Internationale in Paris, and was featured in the iconic 1993 film The Scent of ... More



Ten Leaves from the Shahnameh (illustrated: Rostam kills the White Demon) Iran (Shiraz), circa 1570. Opaque watercolour and gold on paper. Leaf: 44 x 29 cm each leaf. Courtesy:Prahlad Bubbar.



NEW YORK, NY.- Asia Week New York is delighted to present a Virtual Preview of ancient and contemporary treasures from the Far East on Thursday, March 11 at 5:00 p.m. (EST); 2:00 p.m. (PST). To reserve, click here. To celebrate this exciting occasion, a panel of distinguished guest speakers will provide a preview of Asian art in their respective fields on a newly designed digital viewing room. They include: Maxwell K. Hearn, Douglas Dillon Chairman of the Department of Asian Art, Metropolitan Museum of Art, Olivia Hamilton, Specialist, Head of Department, Chinese Works of Art at Christie's New York, Katherine Martin, Chairperson, Asia Week New York and Managing Director, Scholten Japanese Art, and Eric Zetterquist, principal, Zetterquist Galleries, New York. "On behalf of everyone involved with Asia Week New York, I extend my ... More



Installation view.



RALEIGH, NC.- The North Carolina Museum of Art announced the opening of Golden Mummies of Egypt from the Manchester Museum in England, the exhibition's first appearance at an American art museum. On view through July 11, 2021, it features eight extraordinary gilded mummies and more than 100 related objects including papyri, jewelry, ceramics, and deities that connect the domestic, daily sphere of these Greco-Roman Egyptians to the religious world of the gods. Golden Mummies of Egypt explores beliefs about the afterlife during the relatively little-known era when Egypt was part of the Greek and Roman worlds (circa 300 B.C.E.–200 C.E.). In a series of lavishly illustrated thematic sections, it showcases the outstanding collections of the Manchester Museum to allow visitors to examine life for the wealthy in multicultural Roman Egypt, where diverse Egyptian, Roman, and Greek communities and cultural influences were ... More
New Yorkers rediscover city's pandemic-deserted tourist spots
New book features letters addressed by Édouard Manet to his friend the artist Félix Bracquemond
400-year-old Rubens masterpiece unveiled after extensive conservation work


People visit the Brooklyn Bridge in New York City on February 26, 2021. Kena Betancur / AFP.



NEW YORK (AFP).- New Yorkers are taking advantage of the absence of tourists during the pandemic to visit iconic sites in the Big Apple that they would normally avoid. At 10:00 am (1500 GMT) on a recent Friday, barely ten people were on Liberty Island's roughly 200-metre (650-ft) promenade, staring up at the Statue of Liberty. In normal times, even although it is not peak season, hundreds of tourists would be posing for selfies in front of the copper icon of freedom. Alexander Lumbres, a student at City University of New York, has been to the island 20 times before, but never been able to enjoy a crowd-free view of the statue. "It was really hard for me to take pictures. Usually, we would go around the backside, just to get like a proper picture with the family and everything," he said. Roughly 67 million tourists visited New York City in 2019. In 2020, visitor numbers were a third of that, and most came before the pandemic began ravaging the city in the ... More



Manet to Bracquemond: Newly Discovered Letters to an Artist and Friend. £35.00.



LONDON.- This engrossing study publishes letters addressed by Édouard Manet (1832–1883) to his friend the artist Félix Bracquemond (1833–1914). The correspondence is beautifully presented here for the first time by Jean-Paul Bouillon, whose lifelong occupation with Bracquemond's life and work has enabled him to situate the mostly undated letters accurately and discuss their contents in the context of both artists' careers. Bracquemond and Manet probably met around 1860, at a time when Manet was beginning to take an interest in the potential of printmaking for disseminating his work. Both were among the founders of the 'Société des Aquafortistes' in 1862 and in these years Manet must have relied heavily on Bracquemond, the outstanding engraver of his generation, for his first attempts in the technique. The new interest in etching had a fierce supporter in Charles Baudelaire, who figures besides the two artists in Henri Fantin-Latour's Homage ... More



Peter Paul Rubens The Rainbow Landscape probably 1636 (detail) © Trustees of The Wallace Collection, London.



LONDON.- The National Gallery's newly restored masterpiece by Peter Paul Rubens, An Autumn Landscape with a View of Het Steen in the Early Morning, probably 1636, will go on public view following extensive work by our conservation team. Het Steen will be unveiled this spring at the Wallace Collection's exhibition (21 April 2021 – 15 August 2021) where it will be reunited with its pendant, The Rainbow Landscape, probably 1636 (The Wallace Collection) after being apart for over two centuries. The magnificent landscape paintings depict Rubens's beloved manor home and estate, Het Steen, in Antwerp, which was bought the year before he made the two pictures; a purchase made possible due to the wealth and status he had gained as a hugely successful artist and diplomat. Although originally intended as a pair, these panoramic masterpieces parted ways upon arrival in London in 1803, with one entering ... More
Slotin Folk Art Auction announces highlights included in its 'Spring Self-Taught Art Masterpiece Sale'
Almine Rech opens the first posthumous exhibition of Korean artist Kim Tschang-Yeul
Immersive van Gogh experiences bloom like sunflowers


Antonio Esteves – "Tiger." Collection of Gary Davenport. The painting is one of the highlights of Slotin Folk Art Auction's Spring Self-Taught Art Masterpiece Sale on April 24.



BUFORD, GA.- The secondary market for folk art is red hot, even amid an historic pandemic, and Slotin Folk Art Auction expects prices to stay strong, possibly even climbing, at its Spring Self-Taught Art Masterpiece Sale on April 24, 2021. Co-owner Steve Slotin bases that positive projection on the fact that Slotin Folk Art's Fall Self-Taught Art Masterpiece Sale on Nov. 14 was one of the auction house's most successful in nearly three decades of conducting sales, with total revenues of $1.48 million. Also fueling his confidence is that he has scoured the country, but especially the Southeast, for the best classic pieces that will comprise the 350-lot sale. "The spring sale is going to be an almost encyclopedia of folk art, and I think everyone will enjoy it," Slotin said. "It's the only place in the county where you can find the breadth of self-taught, outsider, folk art in one location." Many of the str ... More



Kim Tschang-Yeul, Waterdrops, 1996. Oil and acrylic on canvas, 55 x 46 x 2 cm. 21 5/8 x 18 1/8 x 3/4 in. Image courtesy: © The Estate of Kim Tschang-Yeul - Courtesy of the Estate and Almine Rech - Photo: Melissa Castro Duarte.



LONDON.- Almine Rech London is presenting 'Water Drops', the first posthumous exhibition of Korean artist Kim Tschang-Yeul (1929-2021). The exhibition spans the career of Kim Tschang-Yeul's work, conceived to celebrate the full scope of his artistic legacy. The hyper-realistic waterdrops, synonymous with the Korean artist Kim Tschang-Yeul, stand alone. Glistening, plump and precious, Kim has a prodigious sensitivity to the poetics of water. To follow Gaston Bachelard, 'the material imagination of water is a special type of imagination.' [1] If an element has universally been ascribed the high value of purity, it follows that it must be powerful. As Bachelard said, 'It is not infinity which I find in waters but depth.' [2] Kim's lifelong commitment to the element in its constituent form—the waterdrop—suggests a similarly profound connection. ... More



Immersive Van Gogh Chicago. Photo: Michael Brosilow.

by Christina Morales



NEW YORK (NYT NEWS SERVICE).- For all those Vincent van Gogh fans who once stood cheek-by-jowl at the Museum of Modern Art to get a selfie in front of "The Starry Night," there are, suddenly, increasing opportunities to just about bathe in the painting. Immersive experiences that turn the walls and floors of an exhibition space into a kind of van Gogh dream world have popped up in Chicago and St. Petersburg, Florida. More are coming to Atlanta, Houston, Indianapolis, Los Angeles, Phoenix, San Francisco, Seattle, Philadelphia and Charlotte, North Carolina. Boston, Dallas, Miami and New York are getting two "experiences" apiece, created separately by some of the half-dozen companies that are now engaged in producing immersive van Gogh shows. "In a world of competition, of course, people will try to replicate," said Rob Kirk, head of traveling experiences at Grande ... More
Quote
Everyone must have heard of Giotto, and how as a painter he surpassed all others. Sachetti
---

Endangered Species, The $ and the Queen - Andy Warhol's 1980s Designs
---

Flashback
On a day like today, English sculptor and illustrator Anthony Caro was born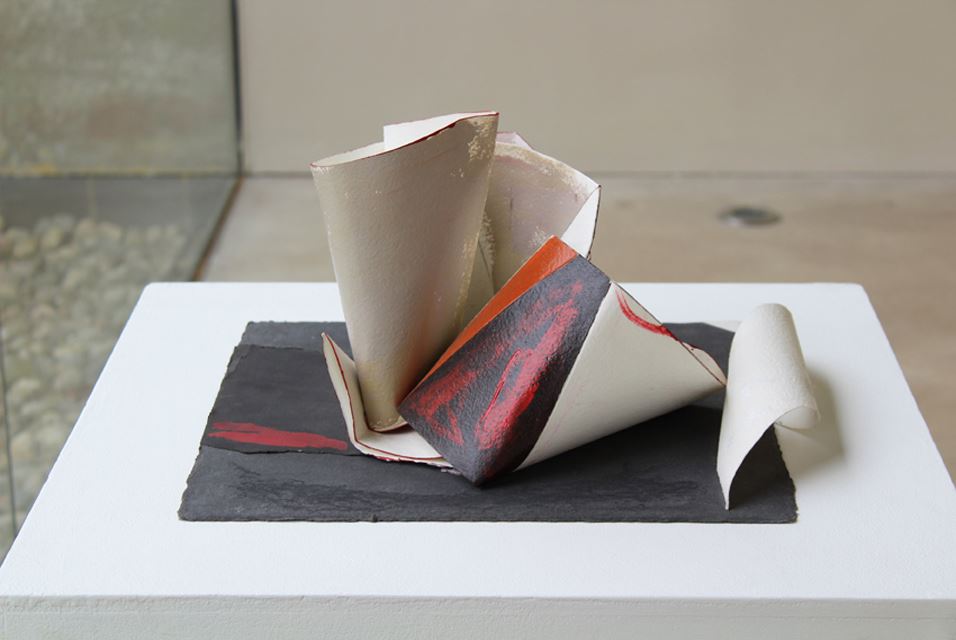 March 08, 1924. Sir Anthony Alfred Caro OM CBE (8 March 1924 - 23 October 2013) was an English abstract sculptor whose work is characterised by assemblages of metal using 'found' industrial objects. His style was of the modernist school, having worked with Henry Moore early in his career. He was lauded as the greatest British sculptor of his generation. In this image: Anthony Caro, Paper Like Steel, installation view.
---

Museums, Exhibits, Artists, Milestones, Digital Art, Architecture, Photography,
Photographers, Special Photos, Special Reports, Featured Stories, Auctions, Art Fairs,
Anecdotes, Art Quiz, Education, Mythology, 3D Images, Last Week,

.
Royalville Communications, Inc
produces: