The Hermitage Amsterdam reopens with an exhibition about knights and the Romanovs
An employee points to the medieval triptych 'The Adoration of the Magi' by Hugo van der Goes, for the exhibition "Romanovs under the spell of the knights" at The Hermitage Museum in Amsterdam on October 28, 2020. The exhibition of more than 250 objects gives an impression of the Middle Ages fascination of the Russian court. Remko de Waal / ANP / AFP.
AMSTERDAM
.-
The Hermitage Amsterdam
reopened with a brand new exhibition, Tsars and Knights – The Romanovs' Love Affair with the Middle Ages. The museum is proud to be able to present a very extensive, international art collection during the corona pandemic. Through more than 250 objects from the European medieval art collection and the Arsenal of the State Hermitage in St Petersburg, the exhibition tells tales of tsars and knights. Several highlights from these collections are shown in the Netherlands for the first time. They bring the Middle Ages – and its nineteenth-century revival in Europe and at the Russian court – to life, with knights and ladies, courtly love and tournaments. The impressive design is simultaneously heroic and romantic. The highlight is a spectacular hall of knights with a tournament setting in which mounted knights are engaged in a joust. Through collaborations with well-known historian Herman Pleij, ...
More
The Best Photos of the Day
Mauritshuis first gigapixel museum in the world
Prehistoric mega-shark raised its young in nurseries: study
'A love letter to Detroit,' on vellum and chrome


Mauritshuis Second Canvas app (smartphone).



THE HAGUE.- From today, as well as being able to visit the Mauritshuis in person, you can also experience it in a new lifelike virtual environment. The museum is the first in the world to have been fully digitised in gigapixel format. By bringing this together with the Maurithuis's existing Second Canvas app, the wonderful stories behind the paintings are also revealed and you can zoom in on the brushstrokes. No fewer than 36 masterpieces, including all the Vermeers, four Rembrandts, three Jan Steens, Fabritius's Goldfinch and The Bull by Paulus Potter, can all be enjoyed in exquisite detail. The Second Canvas tour in gigapixel format makes the Mauritshuis accessible to everyone around the world. Wander through the rooms of the former city palace and explore the museum, right down to the smallest details. Let yourself be captivated by the paintings and discover details you have never seen before. The Mauritshuis is continually looki ... More



The reliance of Megalodon on nurseries may have contributed to the end of their 20-million-year reign, according to the research.

by Eléonore Hughes



PARIS (AFP).- The largest sharks ever to have roamed the oceans parked their young in shallow, warm-water nurseries where food was abundant and predators scarce until they could assume their title as kings and queens of the sea. But as sea levels declined in a cooling world, the brutal mega-predator, Otodus megalodons, may have found fewer and fewer safe-haven coastal zones where its young could safely reach adulthood, researchers reported Wednesday in The Royal Society journal Biology Letters. Indeed, the reliance of Megalodon on nurseries may have contributed to the end of their 20-million-year reign, according to the research. Otodus megalodon -- sometimes classified as a Carcharocles megalodon -- took 25 years to become an adult -- "an extremely delayed sexual ... More



Benjamin Colman, the associate curator for American art at the Detroit Institute of Arts, next to a Corvette Stingray Racer and Ed Ruscha's painting, "Standard Station, Amarillo, Texas," in Detroit, Nov. 4, 2020. Nick Hagen/The New York Times.

by Norman Mayersohn



NEW YORK (NYT NEWS SERVICE).- Of the myriad treasures that might draw a sightseeing car lover to Detroit, one potential attraction is notably missing: a major public museum collection dedicated to the automobile. America's Motor City offers many compelling reasons for a visit, but it really has nothing like the Petersen Automotive Museum in Los Angeles; the LeMay in Tacoma, Washington; or the well-known car displays in Indianapolis, Philadelphia or Reno, Nevada. A measure of relief from that drought has arrived in the form of "Detroit Style: Car Design in the Motor City, 1950-2020," an exhibition at the Detroit Institute of Arts that opened in November and runs through June. A dozen autos, ... More
Iconic or sexist? Palm Springs mulls a Marilyn Monroe statue
Best art books of 2020
Photographers donate prints of music artists to raise money for Stagehand at Prints For Music


In this file photo Seward Johnson's 26-foot-tall sculpture of Marilyn Monroe, in her most famous wind-blown pose, on Michigan Ave. Friday, July 15, 2011 in Chicago.

by Jori Finkel



PALM SPRINGS (NYT NEWS SERVICE).- Politicians in Palm Springs, California, view "Forever Marilyn" — a giant sculpture of Marilyn Monroe, with her white skirt blown up above her waist — as a fun, nostalgic tourist attraction. But local cultural leaders are painting it as sexist and sensationalist, and they are speaking out against the city's plans to move the sculpture to a site next to the Palm Springs Art Museum. From 2012 to 2014, the sculpture, by Seward Johnson, presided over downtown Palm Springs. This month, the City Council voted via a Zoom meeting to bring it back, with financing from a local hotel consortium, and place it on Museum Way, the street leading to the museum. The museum's director, Louis Grachos, has urged Council members to reconsider, calling the ... More



The art critics of The New York Times select their favorites from this year's crop of art books. Jonathan Bartlett/The New York Times.

by Roberta Smith, Holland Cotter, Jason Farago and Siddhartha Mitter



NEW YORK (NYT NEWS SERVICE).- The long stretches of pandemic lockdown this year have afforded the chance to spend as much time reading about art as looking at it, which may account for the number of text-intensive recommendations on our lists. At the same time, with access to "live" art still limited, images on the pages of some books below will let you create your own private museums-at-home, and they'll be pretty glorious. — HOLLAND COTTER 'Peter Saul: Professional Artist Correspondence, 1945-1976' — Edited by Dan Nadel (Bad Dimension Press): Epistolary autobiographies are possible only if one writes letters often and well — like the maverick painter Peter Saul. This book contains over 100 letters from his correspondence with his parents and his first dealer, ... More



Mick Jagger by Derek Ridgers.



LONDON.- Over 100 iconic prints of world renowned music artists taken by globally celebrated photographers including Rankin, Tony McGee and Jill Furmanovsky are going on sale today. Available for £95 each, the sale represents a once-in-a-lifetime opportunity to own a piece of music history, with many of the prints usually unavailable to buy. 100% of proceeds go to Stagehand - the only UK charity specifically dedicated to providing hardship funding for live music crews who have fallen on tough times. Available from today for a limited four week period, expect a mix of established photography names, from Gerry Mankovitz and Pooneh Ghana to Adrian Boot and Ki Pharaoh. The eclectic range of artists represented in the photographs include David Bowie, Coldplay, Arctic Monkeys, Bob Marley, Mick Jagger, Yeah Yeah Yeahs, Marina Diamandis, The Streets, Florence and the Machine, Liam Gallagher, Jonny Greenwood, Beth Ditto, Tina Turner, Brett Anderson, Alice Cooper, Sting, Stormzy, Kate Nash ... to name j ... More
Land-art installation by Michel Comte: The first stage of 'The Centre of the World' will be completed in 2021
Alexandra Tolstoy: An Interior by Sibyl Colefax & John Fowler 100% sold by lot
A soaring monument to beauty in China is stirring passions. Mostly anger.


The multi-media artist, climate campaigner and photographer is currently working on an artwork so large that once complete it will be visible from space.



LONDON.- Located in Upper-Mesopotamia, roughly 20 kilometres from the present-day border with Syria, Harran lies at the heart of where mankind first bonded in settlement. Archaeological remains – such as those at the site of Göbekli Tepe very close by – demonstrate the earliest signs of civilisation as we know it: where the cultivation of crops and the domestication of animals first came into practice and the first connections between religion and architecture were formed. The city, populated by the Sabians—a community of star worshippers, was a vital trading post in the ancient world. Its geographical location provides an outstanding view of the constellation of Orion. Constructed here were the world's first observatory and university, of which the great archway still stands today. Much later, in the 9th century AD, Harran was the leading city within the Arabic world for the production of celestial globes. ... More



An English grey-painted pine dolls house, second half 20th century. Estimate £1,000-2,000. © Christie's Images Ltd 2020.



LONDON.- Christie's announces the results of the online auction Alexandra Tolstoy: An Interior by Sibyl Colefax & John Fowler which took place online from 4 – 25 November. The auction achieved £606,125, with the pre-sale low estimate of £155,400 being exceeded threefold with competitive bidding across categories. At closing the sale attracted successful buyers from more than 10 countries. The collection included approximately 130 lots from Alexandra's former London townhouse in Chelsea, where she lived with her family for eleven years until recently, including English furniture, lighting, porcelain, works of art, lighting, rugs and carpets all of which were carefully and lovingly curated by Alexandra working with Emma Burns and Daniel Slowik, Directors at Sibyl Colefax & John Fowler Interiors. Benedict Winter, Head of Sale comments, 'This sale achieved fantastic results across the board, selling at ... More



A still-unfinished plaza in front of the statue of Yang Asha, a mythical ancestress, in the Chinese province of Guizhou, Oct. 30, 2020. Keith Bradsher/The New York Times.



JIANHE (NYT NEWS SERVICE).- Yang Asha smiled serenely down at the craggy emerald landscape, her hand outstretched in welcome. She appeared unmoved by the condemnation her presence has ignited in China; she is, after all, made of gleaming stainless steel and bigger than the Statue of Liberty. To officials in her corner of China, the statue of Yang Asha, a goddess of beauty, serves as a tribute to the rich culture of the local people and, they hope, a big draw for sightseers and their money. To many others in China, she is another white elephant in a country full of expensive monuments, gaudy tourist traps and wasteful vanity projects that draw money away from real problems. Those critics point to the statue of Guan Yu, a general from antiquity, in the city of Jingzhou, where he also towers higher than the Statue of Liberty and wields an enormous polearm ... More
Museum to record Londoners' Covid dreams
Carved limestone from ancient Chinese caves could reach $60,000 in Heritage Asian Art Auction
Uniforms from Little Bighorn Medal of Honor winner headed to Heritage Auctions


Men's nightgown, or banyan, made of Spitalfields or English silk dating to the 1730s. © Museum of London.



LONDON (AFP).- The Museum of London on Thursday announced a project to collect the dreams of Londoners during the coronavirus pandemic as a way to document the impact of the crisis. The lives of inhabitants of the British capital have changed "not just in the day to day" because of the pandemic, but also "in relation to how we sleep and dream", the museum said. The project, dubbed "Guardians of Sleep", will look to collect the dreams in the form of oral histories. It will also explore what insight dreams might offer into mental health and ways of coping with external stresses, especially in times of crisis. According to a King's College London/Ipsos MORI survey in June, the global Covid-19 crisis can trouble the mind not just during waking hours but also during sleep. The Museum of London is launching the initiative in partnership with the Museum of Dreams based at Western University in Canada. ... More



A Chinese Carved Limestone Seated Figure of Maitreya Buddha. Estimate: $40,000 - $60,000.



DALLAS, TX.- A beautiful carved limestone figure from a wall fragment in the Longmen Caves in Henan province could bring $60,000 or more in Heritage Auctions' Fine & Decorative Asian Art Auction Dec. 11. "We are proudly presenting a variety of fine and decorative Asian works of art, including snuff bottles, jade carvings, fine dynastic ceramics, important paintings and calligraphy etc.," Heritage Auctions Asian Art Consignment Director Moyun Niu said. "This auction also features a group of scholar's objects, from naturally sculpted Suzhou scholar's rocks to exquisitely carved Zitan brushpots." A Chinese Carved Limestone Seated Figure of Maitreya Buddha, Longmen Grottoes, Luoyang, Henan Province, Northern Wei Dynasty (estimate: $40,000-60,000) originally was part of a wall fragment south of Luoyang, where it has been suggested that related examples would have stood in niches along the northern ... More



A Uniform, Kepi and Assorted Artifacts Identified to Henry W. Mechlin, Medal of Honor [MOH] Winner at Little Bighorn (estimate: $15,000+).



DALLAS, TX.- A trove of military treasures from the Civil War through World War II, as well as memorabilia from elite private collections, are among the prizes up for grabs in Heritage Auctions' Arms & Armor, Civil War & Militaria Auction Dec 6. "This is an exceptional opportunity for collectors to add rare and historically important pieces from fresh-to-market collections like the Calvin Packard collection and the Bill Bentham collection," Heritage Auctions Historical Arms & Armor Consignment Director David Carde said. "This auction includes rare U.S. Cavalry and militaria treasures, making it a great opportunity to own a piece of U.S. history, from the Civil War through World War II." Collectors who prize historically significant correspondence will find plenty of options in the collection of Calvin Packard, a teacher-turned-Civil War memorabilia dealer in Ohio who ... More
Quote
A man like Picasso studies an object as a surgeon dissects a corpse. Guillaume Apollinaire
---

Albrecht Dürer's Striking Moment of Divine Intervention
---

Flashback
On a day like today, Italian sculptor and architect Jacopo Sansovino died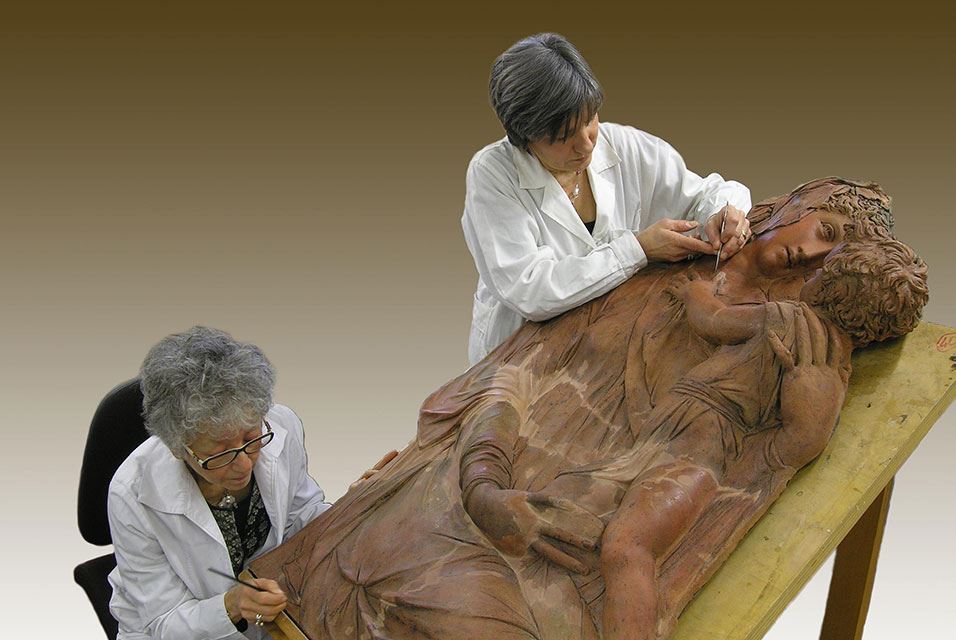 November 27, 1570. Jacopo d'Antonio Sansovino (July 2, 1486 - November 27, 1570) was an Italian sculptor and architect, known best for his works around the Piazza San Marco in Venice. Andrea Palladio, in the Preface to his Quattro Libri was of the opinion that Sansovino's Biblioteca Marciana was the best building erected since Antiquity. Giorgio Vasari uniquely printed his Vita of Sansovino separately. In this image: Two restorers work on Jacopo Sansovino's Madonna and Child, which was presented after its restoration at the Lab Opificio Pietre Dure, Florence, 10 November 2010.
---

Museums, Exhibits, Artists, Milestones, Digital Art, Architecture, Photography,
Photographers, Special Photos, Special Reports, Featured Stories, Auctions, Art Fairs,
Anecdotes, Art Quiz, Education, Mythology, 3D Images, Last Week,

.
Royalville Communications, Inc
produces: