Giambologna and the Fountain of Morgan Le Fay - A new restoration initiative supported by Trinity Fine Art
Morgan Le Fay by Giambologna / Fountain of Morgan Le Fay, Villa Il Riposo-Chianti Region.
LONDON
.-
Carlo Orsi, owner and director of London gallery
Trinity Fine Art
is supporting the restoration project titled "Giambologna E La Fata Morgana" which is dedicated to restoring the architecturally and artistically important complex known as "Fonte della Fata Morgana" ("Fountain of Morgan Le Fay"). The Fountain was built by Bernardo Vecchietti in the second half of the 16th century inside the grounds of Villa Il Riposo, his summer home in the heart of the Chianti area in the foothills of Fattucchia. It is a unique example of garden architecture which oscillates between nymphaeum and grotto and which was built in order to house Giambologna's statue of Morgan Le Fay which was sculpted early in his career (1573-74) when he was newly arrived in Italy from Flanders and was still relatively unknown. This fountain complex where the Vecchietti family ...
More
The Best Photos of the Day
Academy Museum And Margaret Herrick Library receive the world's most comprehensive pre-cinema collection
Sotheby's to offer rare Rembrandt biblical scene, starring alongside Botticelli in January Masters Week Auctions
Heavy rains trigger collapse at Yemen's newly restored museum


Bull's Eye Magic Lantern. Steel, paint, and glass, c. 18th century, Great Britain, from the Richard Balzer Collection, gift of Patricia S. Bellinger. Photo: Joshua White/JW Pictures © Academy Museum Foundation.



LOS ANGELES, CA.- The Academy Museum of Motion Pictures announced that it, along with the Academy's Margaret Herrick Library, is the recipient of the Richard Balzer Collection, widely considered to be the world's foremost collection of pre-cinematic optical toys and devices. Comprising more than 9,000 objects—including magic lanterns, magic lantern glass slides, prints, praxinoscopes, figurines, paintings, peepshows, shadow puppets and theaters, and more, dating as far back as China's Ming Dynasty—the Balzer Collection provides the Academy Museum an unparalleled resource for telling the full story of the development of motion pictures. "The magic of the movies began with a sense of wonder at seeing still images come to life," Jessica Niebel, Exhibitions Curator at the Academy Museum of Motion Pictures said. "No one was more dedicated than the late Richard Balzer to the marvelous history ... More



Painted at the height of his artistic powers in 1646, Abraham and the Angels is 1 of only 2 Old Testament scenes by the artist remaining in private hands. Last sold at auction in 1848 for Ł64. The painting is estimated to sell for $20/30 million. Courtesy Sotheby's.



NEW YORK, NY.- Sotheby's announced that an extraordinary and rare biblical scene by Dutch Golden Age master Rembrandt van Rijn will be a highlight of their annual New York Masters Week sale series in January 2021. Measuring just 6 ˝ by 8 ⅜ inches (16 x 21cm), Abraham and the Angels is a profoundly beautiful, gem-like painting on panel from 1646 that stands among the finest works by Rembrandt ever to come to auction. The painting last appeared at auction in London in 1848, when it sold for Ł64, and returns to the block this January with an estimate of $20/30 million. The work was recently the principal subject of an exhibition at the Frick Museum in New York in 2017 dedicated to Rembrandt's depictions of Abraham from the Book of Genesis. Of the total 136 biblical paintings Rembrandt produced, the present ... More



A picture shows a view of a historic building within the National Museum complex of Yemen's third city of Taez. AFP.



TAEZ (AFP).- Heavy rains have triggered the collapse of parts of the newly restored National Museum in Yemen's third city Taez, in the latest loss to the country's cultural heritage after years of war. Established as an Ottoman palace, then a residence for one of Yemen's last kings, the building became a museum in 1967 but has since been bombed and its collections pilfered. It was partially restored in 2019, but a recent deluge caused the entrance hall to give way last week, with the facade and the rooms inside reduced to rubble. "One of the main entrances collapsed... as a result of the heavy rainfall which poses a threat to all cultural and historical sites," the museum's director Ramzi al-Damini told AFP, urging the international community to intervene to protect Yemen's heritage. The bloody five-year-old conflict pits pro-government forces, backed by a Saudi-led military coalition, against the Iran-backed Huthi rebels who have conquered much of the country's north, including ... More
Phillips 24/7 Online Sale to include works by Yoshitomo Nara, Yayoi Kusama, MR., Banksy, KAWS and Daniel Arsham
Xavier Hufkens announces the representation of Sayre Gomez
20 etchings and engravings by Rembrandt on view at the San Diego Museum of Art


Yoshitomo Nara, Broken Treasures. Image courtesy of Phillips.



HONG KONG.- Phillips announced the second edition of 24/7, an online-only sale featuring contemporary art, limited editions and photographs. Launching live on 9 October and closing on 19 October, 24/7 will offer 120 lots including works by established, in-demand artists such as Yayoi Kusama, Yoshitomo Nara, Banksy and KAWS, as well as a strong selection of works by rising stars such as MR., Buff Monster and Matt Gondek. Further 24/7 highlights include a group of works by trending South East Asian artists such as Marina Cruz, Roby Dwi Antono and Alex Face. Delissa Handoko, Head of Online Sales, Hong Kong, Phillips, said, "Following the success of Phillips' two cross-category online auctions assembled by our Asia team this year, we are excited to present the second edition of 24/7. The first 24/7 sale launched in October 2019 and was a resounding success, achieving an impressive sell-through rate of 97%. The ... More



Waxing / Facial / Mani-Pedi / Blow-out, 2020.



BRUSSELS.- Sayre Gomez has risen to prominence in recent years with his semi-fictionalised and photorealistic paintings known as X-scapes. Executed in a wide range of techniques, including trompe l'oeil, airbrushing, stencilling and those used to paint Hollywood sets, his work is inspired by the urban landscape of Los Angeles. Many of his paintings feature the housing, road signs, billboards and landmarks that form the backdrop to long car rides around the city. Gomez will often combine sumptuous natural phenomena with industrial and commercial elements that reflect an altogether grittier side of life, thereby lending his work a temporal aspect. Gomez synthesizes his observations into hyperreal images that challenge our ability to differentiate between authenticity and simulation: a cityscape that feels true-to-life might just as easily be an artificial construction. In this way, he explores the increasingly tenuous link between our everyday ... More



Rembrandt Harmensz van Rijn. Self-portrait, Etching at a Window, 1648. Etching, drypoint, and burin on laid paper. Museum purchase with funds provided by the Helen M. Towle Bequest. 1947.64.d.



SAN DIEGO, CA.- The San Diego Museum of Art is presenting the extraordinary artistic accomplishment of Rembrandt and 17th-century painters and printmakers from the Dutch Republic in Rembrandt and Printmaking in the Netherlands, an exhibition including approximately 20 etchings and engravings by Rembrandt from the Museum's permanent collection and on loan from the important Rembrandt collection of the University of San Diego (USD). The exhibition is now on view at The San Diego Museum of Art through January 3, 2021. Unlike contemporaries, Rembrandt's etchings were not reproductive of his paintings and are considered individual masterpieces. Rembrandt was among the greatest innovators in the history of art, producing masterpieces of painting, draftsmanship and printmaking. Some of the works have never been ... More
Exhibition of works by forty American artists bring the United States to the Netherlands
Gagosian opens an exhibition of paintings by Mary Weatherford
Ketterer Kunst announces highlights included in the Autumn Auctions


Hank Willis Thomas, 'A Suspension of Hostilities', 2019, 1969 Dodge Charger, 452 x 194,5 x 140 cm, Courtesy of the Artist and Kayne Griffin Corcoran, Los Angeles.



AMERSFOORT.- On 3 November, Americans go to the polls to elect their new president: either Donald Trump or Joe Biden. A pivotal moment in a politically and socially divided country. Kunsthal KAdE has set out to discover what position artists are adopting in these charged times. In the exhibition, This Is America | Art USA Today, almost forty American artists bring the United States to the Netherlands in the form of paintings, photographs, murals, documentation and installations. Their work addresses current issues like identity, city culture, climate change, and 'Trump'. The exhibition takes place from September 26, 2020 until January 3, 2021. What is it like to be an artist in the US in these troubled times?  In summer 2019, exhibition curator Robbert Roos set off on an American road trip. Driving coast to coast and back again, he talked ... More



No. 4000, 2017–18. Flashe and neon on linen, 112 x 99 in. 284.5 x 251.5 cm. © Mary Weatherford. Photo: Fredrik Nilsen Studio. Courtesy Gagosian.



LONDON.- Gagosian is presenting Train Yards, an exhibition of paintings by Mary Weatherford. This is her first solo exhibition with the gallery in London. Weatherford roots abstract painting in subjective experience, evoking urban and rural environments while experimenting with internal painterly dynamics around light, color, and gesture, as well as the relationship between a painted surface and various three-dimensional addenda. Preparing each canvas with a mixture of gesso and marble dust, she conjures a wide range of chromatic and textural effects. In her best-known works, sponged grounds of vinyl-based emulsion on heavy linen panels are surmounted by one or more carefully shaped and placed neon-filled glass tubes. Weatherford began using neon in 2012, inspired by the illuminated signs that lined the streets of Bakersfield, California, ... More



Ernst Ludwig Kirchner, Unser Haus, 1918-1922. Oil on canvas, 91 x 120 cm / 35.8 x 47.4 inches. Estimate: € 500,000-700,000 / US$ 550,000-770,000.



MUNICH.- It is a great document of a successful artistic transition: Ernst Ludwig Kirchner's oil painting "Unser Haus" comes directly from the artist's estate. For the first time ever on the auction market, it will now be called up in the Autumn Auctions at Ketterer Kunst on December 11/12. The interesting question is if it is going to break the million euro line. Ernst Ludwig Kirchner lived in the Grisons farmstead just below the Stafelalp together with his spouse Erna Schilling. "Unser Haus", also known as the "Haus in den Lärchen", is one of the earliest works from his Davos days and illustrates the incipient stylistic transition from the "Metropolitan Expressionism" of his time in Dresden and Berlin to more simplified rural motifs. The colorful work makes the artist's deeply felt content and an increasing assertiveness in a life both eventful and fragile almost tangible. It will ... More
Madeline Hollander selected for 2020 BMW Open Work Commission by Frieze
Astronomicum Caesareum - one of the most stunning, significant, scarcest books of the 1500s - heads to auction
Estorick Collection of Modern Italian Art opens "Italian Threads: MITA Textile Design 1926-1976"


Madeline Hollander, Heads/Tails, installation view, Bortolami, New York, 2020.



LONDON.- Today Frieze and BMW have named Madeline Hollander as the artist selected for the 2020 BMW Open Work commission. Launched in 2017 and curated by Attilia Fattori Franchini, BMW Open Work is a major artistic initiative bringing together art, design and technology in pioneering multiplatform formats. Hollander will present the commission in two phases, as an interactive digital platform and livery intervention during Frieze Week in London 2020, and as a live, site-specific installation at Frieze Los Angeles 2021. Additionally, a series of handdrawn preparatory studies for the installation will be shown on Frieze Viewing Room. This year Frieze London and Frieze Masters introduce a hybrid format of online and offline activity, with Frieze Viewing Room taking place alongside an expanded programme of Frieze Week activity across London. Together, Frieze Viewing Room and Frieze Week in London will form a significant moment ... More



[Petrus Apianus]. Astronomicum Caesareum. [Ingolstadt: In aedibus nostris, May 1540]. First edition of the "most spectacular contribution of the book-maker's art to sixteenth-century science" (Owen Gingerich).



DALLAS, TX.- "The most spectacular contribution of the book-maker's art to sixteenth-century science was without doubt the Astronomicum Caesareum of Petrus Apianus." This is how Owen Gingerich begins his 1971 essay on Apianus' folio presented to the Emperor Charles V in 1540. Gingerich certainly knows better the most the folio's import and worth: He is Professor Emeritus of Astronomy and of the History of Science at Harvard University and a senior astronomer emeritus at the Smithsonian Astrophysical Observatory. Gingerich reiterates in plain language the countless encomiums that preceded his essay. Even a brief glance at the resplendent folio by Apianus – or Apian, as he was also known – verifies all that Gingerich and countless other academics and collectors have penned about Astronomicum ... More



Enrico Paulucci delle Roncole (1901–1999), Part of Auguri 1954 calendar, 1953. Offset lithograph on paperboard, 30 x 100 cm.



LONDON.- Italian Threads, which was due to open at London's Estorick Collection in spring, has been rescheduled and will now run from 30 September 2020 until 17 January 2021. Italian Threads showcases 50 years of bold MITA commissions produced for world art fairs, private homes, clubs and ocean liners, encompassing the avant-garde movements of the day from Futurism to Abstract Expressionism. Founded in Genoa in 1926, MITA (Manifattura Italiana Tappeti Artistici) was a celebrated Italian textile firm that earned its reputation by collaborating with some of Italy's most talented artists and designers. Among these were Gio Ponti, Fortunato Depero, Arturo Martini, Emanuele Luzzati, Arnaldo Pomodoro, Giň Pomodoro and Ettore Sottsass Jr. Organized in collaboration with the Wolfsoniana – Palazzo Ducale Fondazione per la Cultura, Genoa. Reflecting the expert craftsmanship and full diversity of MITA's ... More

The Sculpture Garden Created by Paul and Jeannette Haim | Christie's

Flashback
On a day like today, film star James Dean died in a road accident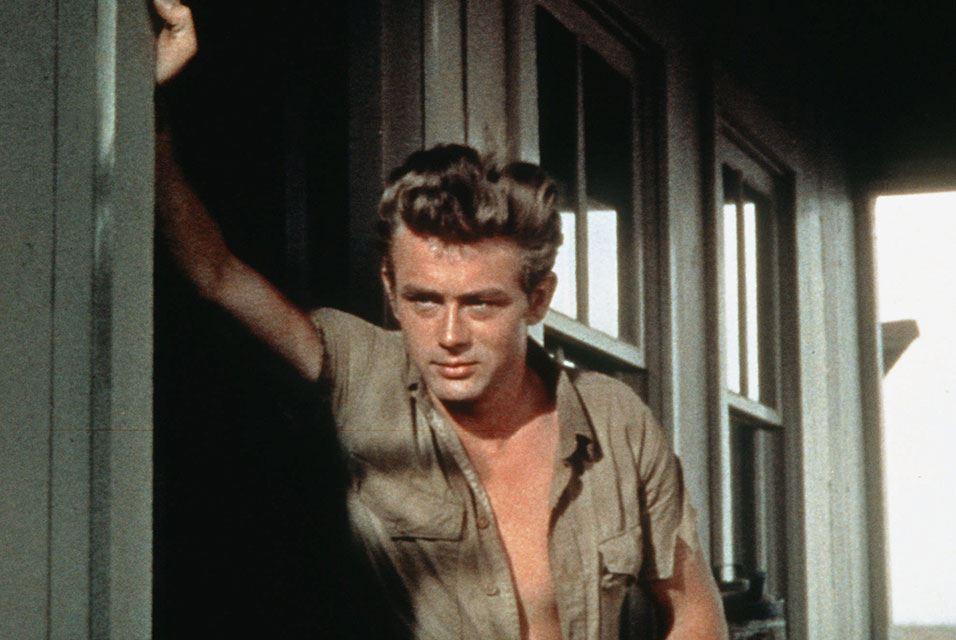 October 30, 1955. James Byron Dean (February 8, 1931 - September 30, 1955) was an American film actor. He is a cultural icon, best embodied in the title of his most celebrated film, Rebel Without a Cause (1955), in which he starred as troubled Los Angeles teenager Jim Stark. The other two roles that defined his stardom were as loner Cal Trask in East of Eden (1955), and as the surly ranch hand, Jett Rink, in Giant (1956). Dean's enduring fame and popularity rests on his performances in only these three films, all leading roles. His premature death in a car crash cemented his legendary status. In this image: Actor James Dean is seen in a scene from the Warner Bros. 1956 epic, "Giant." Years after the making of the movie, teenagers are still trying for the cool that was James Dean, the poster boy for the tortured netherworld between child and adult.
---

Museums, Exhibits, Artists, Milestones, Digital Art, Architecture, Photography,
Photographers, Special Photos, Special Reports, Featured Stories, Auctions, Art Fairs,
Anecdotes, Art Quiz, Education, Mythology, 3D Images, Last Week,

.
---
Royalville Communications, Inc
produces: