The Allure of Antique Persian Camelhair Carpets (Part 2)
High Collectible SERAB CAMELHAIR, Northwest Persian 6' 4" x 11' 8" from the 3rd quarter of the 19th Century.

By Jan David Winitz, President & founder
Claremont Rug Company
OAKLAND, CA
.-
In Part One, I introduced camelhair rugs, a little-known subgroup of antique Persian carpets that has always been extremely popular among my clients at
Claremont Rug Company
. I also covered at length the two villages accounting for the greatest number of these luxurious pieces, the Northwest Persian village of Bakshaish, the creator of magnificent, evocative room size carpets, and Serab, a major center for runners and corridor carpet weaving. In hues from blonde to chocolate brown, undyed camel hair imbues an immediate earthy quality to a rug's aesthetic, that speaks, I believe, to a subliminal part of us that yearns for connection to the natural world. To this day, camelhair rugs have escaped proper appreciation of their contribution to the panoply of antique Oriental carpets, because they were a minor part of the oeuvre of a small number of weaving centers. ...
More
The Best Photos of the Day
The Huntington gets hip
Michelangelo's inspiration among Vatican 'secrets' revealed
Christie's opens 'Four Centuries │ Four Seasons' - a private selling exhibition


Made in L.A. 2020: a version. Installation view at The Huntington Library, Art Museum, and Botanical Gardens, San Marino. Photo: Joshua White / JWPictures.com.

by Robin Pogrebin



SAN MARINO (NYT NEWS SERVICE).- The juxtaposition is striking. In one gallery, Thomas Gainsborough's classic 18th-century oil painting, "The Blue Boy," gazes out from the ornate walls, having just undergone an extensive restoration. In another gallery, an installation by Los Angeles artist Monica Majoli explores Blueboy magazine, one of the earliest gay publications in the United States, through sultry images of scantily dressed young men. When did the Huntington get hip? This is not the institution you thought you knew for its beaux-arts mansion, imposing research library and elegant botanical gardens, including one inspired by Suzhou, China. It's now also a hub for cutting-edge contemporary art. For the first time, the Huntington Library, Art Museum and Botanical Gardens has joined the Hammer Museum in presenting the biennial, ... More



In this file photo a person takes a photo of Michelangelo's David, one of the world's most famous statues, after cleaning by Italian restorers from the "friends of Florence association" on February 29, 2016 at the Galleria dell'Accademia in Florence, where the statue has been kept since 1873. ALBERTO PIZZOLI / AFP.



VATICAN CITY (AFP).- The Belvedere Torso inspired Michelangelo but is often ignored by visitors rushing to the Sistine Chapel, an oversight the Vatican Museums hope to resolve with a new video series launched Tuesday. The Torso, a fragmentary Greek marble statue more than 2,000 years old, is the subject of the first of 12 monthly videos designed to showcase the "secrets, little-known stories and curiosities" hidden among the papal collections. Believed to be of the Greek hero Ajax in the act of contemplating suicide, the Torso was housed in the Colonna Palace on the Quirinal Hill and later moved to the Vatican's Octagonal Court. It was studied by generations of artists, including Michelangelo, who would spend hours before it every day and used it as his ... More



Robert William Vonnoh, Jardin en Fleurs, oil on canvas. Painted circa 1890. © Christie's Images Ltd 2021.



NEW YORK, NY.- To welcome the Spring, Christie's is hosting a special Private Selling exhibition at Rockefeller Center and online from 17 April until 21 May inspired by the Four Seasons represented in art from the 17th century to now through works by Salomon van Ruysdael, Jules Breton, August Rodin, Claude Monet, Winslow Homer, and Matthew Wong, among others. Entitled Four Centuries | Four Seasons, the exhibition is comprised of 23 works of art. For millennia, the change of season has dictated the rhythm of humanity's existence and been represented by artists keen to celebrate the beauty of the environment as it adapts. For 250 years Christie's has helped steward some of humanity's greatest artistic treasures across generations and cultures and has committed to building a sustainable business so that great natural beauty can inspire future generations. It is fitting that the exhibition is being held now ... More
Palmer Museum of Art opens exhibition of dynamic abstract art
Spring Native American Art Auction nets nearly $1M at Cowan's Auctions
How the artists behind 'Shtisel' brought Akiva's journey to life


Alma Thomas, Hydrangeas Spring Song, 1976 (detail). Acrylic on canvas, 78 x 48 inches.
Philadelphia Museum of Art, 125th Anniversary Acquisition.



UNIVERSITY PARK, PA ( ).- The Palmer Museum of Art at Penn State announced the opening of Mark Makers: The Language of Abstraction. Organized by the Palmer, this special exhibition brings together paintings, drawings, and prints by notable twentieth-century artists who engaged with the natural world through their art even as they moved into the abstract and away from overtly recognizable content. Featured in the exhibition are several loans from the Philadelphia Museum of Art, including a major canvas by Alma Thomas, a Black artist who worked for nearly four decades as an art teacher in the public schools of Washington, D.C. She later launched a critically acclaimed career as an abstract painter in 1960. "This is an outstanding opportunity to see a major painting by one of the country's great abstract artists," said Erin M. Coe, director of the ... More



Edith Claymore (Miniconjou, 1858-1910) Attributed, Cheyenne River Pictorial Tobacco Bag. Sold for $100,000.



CINCINNATI, OH.- Cowan's April 16 Native American Art auction achieved a price of $997,265, beating its presale estimate by more than $250,000. The sale offered a wide selection of Native art and artifacts from every region of North America and spanning prehistory through the 19th century. "It was great to see the market remain strong after a surprisingly robust 2020," said Danica Farnand, Cowan's Senior Specialist and Director of Native American Art. "It just goes to show that there is a growing interest in these remarkable pieces and I am so happy to see them going to places I know they will be truly appreciated." Highlighting the auction was an Edith Claymore (Miniconjou, 1858-1910) attributed Cheyenne River pictorial tobacco bag (lot 109) that sold for $100,000 against a presale estimate of $40,000 - $60,000. The 34-inch bag was made of sinew-sewn, softly tanned deer hide and featured ... More



The artist Menahem Halberstadt in Tel Aviv, Israel, April 12, 2021. To capture the tensions faced by a young ultra-Orthodox artist, the creative team behind the hit Israeli TV show "Shtisel" hired two painters who understood the stakes. Michal Chelbin/The New York Times.

by Marisa Mazria-Katz



NEW YORK (NYT NEWS SERVICE).- In the middle of the night in a Jerusalem alleyway, a black-hatted yeshiva principal stands before a blazing mass of canvas. He has just set fire to his youngest son's paintings — portraits of the son's deceased wife — and he is somberly watching them burn. Oil, it seems, is a great accelerant. It's a Hasidic bonfire of the vanities with a touch of 21st-century cancel culture: a distillation of artistic, cultural and Oedipal tensions at the heart of the Israeli series "Shtisel," which explores the quiet intricacies of a Haredi Jewish family's ultra-Orthodox life in Jerusalem. In Season 3, which arrived to Netflix last month, Akiva's paintings — especially the portraits of his wife, Libbi (Hadas ... More
Solo exhibition of paintings by Sooki Raphael on view at ROSEGALLERY
Jim Steinman, 'Bat Out of Hell' songwriter, dies at 73
National Gallery of Art acquires iconic photograph by Dora Maar and work by photographer Susan Hiller


Sooki Raphael Sparky & Squirrel, 12 x 12 inches.



SANTA MONICA, CA.- ROSEGALLERY is presenting These Precious Days, a solo exhibition of paintings by Sooki Raphael, on view from 10 April until 10 May, 2021. Sooki Raphael leaves her canvas as colorful as she has led her life. With many creative endeavors —- from clothing to ceramics to a long career in the film industry — Raphael has contributed to numerous projects, busily attending to the arts through a multiplicity of avenues. After a 2018 diagnosis of pancreatic cancer and the Woolsey Fire in Malibu, Raphael turned her focus toward painting, using her colorful palette as an "expression of a renewal of spirit and life" as she healed alongside the scorched landscape of the Malibu and Topanga hills. Raphael painted the works on view over the last three years in her Topanga home and in the Nashville home of author Ann Patchett, with whom she weathered the 2020 Covid-19 pandemic. In the eponymous ... More



Lena Hall and Bradley Dean in "Bat Out of Hell" in New York, Aug. 1, 2019. Emon Hassan/The New York Times.



NEW YORK (NYT NEWS SERVICE).- Jim Steinman, who wrote all the songs on "Bat Out of Hell," Meat Loaf's operatic, teenage-angst-filled 1977 debut album, which remains one of the most successful records of all time, died Monday in Danbury, Connecticut. He was 73. His longtime manager, David Sonenberg, announced the death. He said that Steinman had a stroke four years ago and that his health had recently been declining. Steinman had a wide-ranging resume that included writing Bonnie Tyler's 1983 No. 1 hit "Total Eclipse of the Heart" and serving as Andrew Lloyd Webber's lyricist on "Whistle Down the Wind" (1996). But his career-defining achievement was "Bat Out of Hell," a record that no major label wanted but that has now sold tens of millions of copies. Although the various lists of the top sellers differ in how they ... More



Dora Maar, Père Ubu, 1936. Gelatin silver print, 24.13 × 17.78 cm (9 1/2 × 7 in.) National Gallery of Art, Washington. Gift of J. Patrick and Patricia A. Kennedy © 2020 Artists Rights Society (ARS), New York / ADAGP, Paris 2020.110.1



WASHINGTON, DC.- Père Ubu (1936) by Dora Maar (1907–1997) is an iconic photograph of the surrealist movement. This exceptional print has recently been given to the National Gallery of Art by J. Patrick and Patricia A. Kennedy. It joins two other works by Maar already in the collection and strengthens the National Gallery's holdings of surrealist photography. Compelling and repellent, Maar's unusual portrait of a bizarre animal with a flat, angular head, elephantine ears, and curved arms with claw-like appendages is meant to evoke the monstrous, dictatorial lead character from Alfred Jarry's controversial absurdist play Ubu Roi (1896). Maar's creature highlights the bestial nature of Jarry's antihero, whose greed, cruelty, and vulgarity were manifested ... More
Phaidon announces an in-depth survey of the life and work of Jim Hodges
PIASA to offer an Art Deco Mystery Clock by Cartier
Scholars grieve loss of priceless antiquities in Cape Town fire


Jim Hodges by Jane M. Saks, Robert Hobbs, Julie Ault, Tim Hailand. June 30, 2021 | $49.95 | Paperback | 160 pages | 200 col illus. | 9.9 in x 11.4 in.



NEW YORK, NY.- Contemporary American artist Jim Hodges (b.1957) addresses issues such as memory, love, and the human condition in a multifaceted practice that includes photography, painting, and sculpture. His use of everyday objects like boulders and denim, coupled with the adoption of transitory shapes like spiderwebs, speaks to the ways in which nature refracts personal experiences into collective ones. Mysterious, beautiful, poetic, and conceptually complex, Hodges' work has the rare quality of being simultaneously thought-provoking and visually beautiful. Hodges' monograph is the latest in Phaidon's Contemporary Artist series, which celebrated its 25th anniversary in 2020. For a quarter of a century, Phaidon's Contemporary Artists series has been at the forefront of documenting the fascinating, varied and complex universe of contemporary art, providing authoritative and extensively illustrated studies of today's most important artists. Every title ... More



Art Deco Mystery Clock. Rock crystal, onyx, marble, rhodonite and silver. Circa 1930. Signed: Cartier Paris. Estimate: 400 000 / 600 000 €. © Studio Sebert.



PARIS.- As part of the Jewelry and Watches sale on May 19, PIASA will present a mysterious Art Deco clock made by Cartier in the early 1930s. For the first time at auction, this clock whose hands seem to float magically in the dial is a true rediscovery. This mysterious clock had not appeared on the market since its creation by the Cartier Paris workshops. This exceptional piece comes from the private collection of auctioneer and Academician Maurice Rheims. In 1912, when he was only 28 years old, the watchmaker Maurice Couët followed in the footsteps of the famous illusionist Jean-Eugène Robert-Houdin and developed the system of mysterious clocks that were to become the mythical object of the House of Cartier. It is a true miracle of watchmaking: the hands are attached to a rock crystal disc with a serrated metal edge that is operated by a rack and pinion system hidden in the frame of the case. While the disc is in motion, the hands ... More



Firefighters try, in vain, to extinguish a fire in the Jagger Library, at the University of Cape Town, after a forest fire came down the foothills of Table Mountain, setting university buildings alight in Cape Town, on April 18, 2021. RODGER BOSCH / AFP.

by Linda Givetash



CAPE TOWN (AFP).- It was no ordinary library. The University of Cape Town's Jagger Reading Room, destroyed by a runaway fire this week, was a beacon of African history and intellect. The African studies section of the 1930s library was engulfed by flames on Sunday when a fire sparked on the foothills of the city's iconic Table Mountain spread to the nearby campus. Parquet-floored and lined with columns, the vast room housed a unique collection of African books and archives under its domed ceiling. The more than 85,000 books and 3,000 films were renowned across the continent and beyond. Academics and alumni voiced their distress on Tuesday as university staff started assessing the extent of the damage. "The library is the heart of a university," said Cameroonian ... More

Cassandra Explains it All

Flashback
On a day like today, Russian-French illustrator Erté died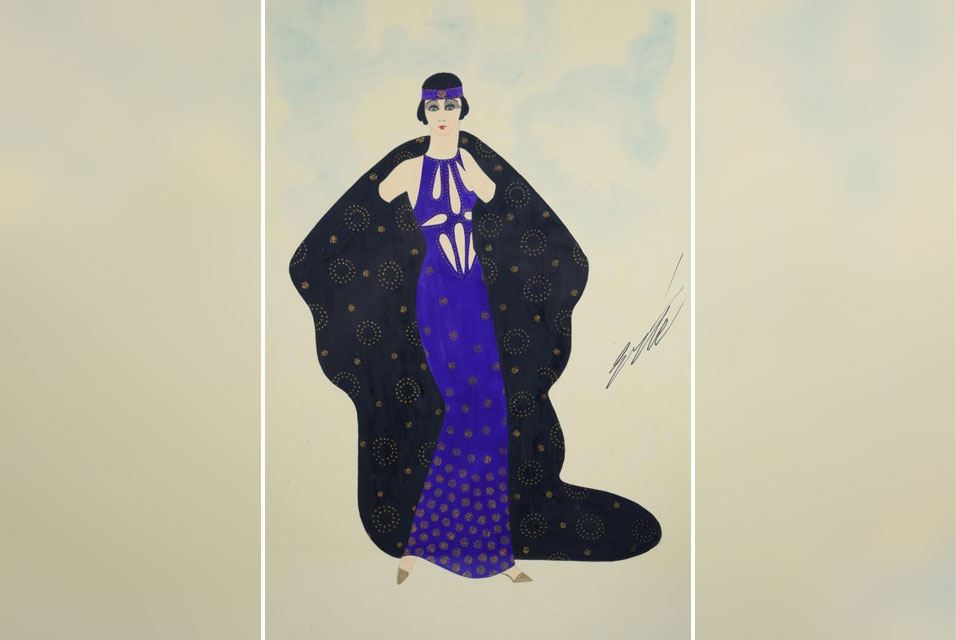 April 21, 1990. Romain de Tirtoff (23 November 1892 - 21 April 1990) was a Russian-born French artist and designer known by the pseudonym Erté, from the French pronunciation of his initials. He was a diversely talented 20th-century artist and designer who flourished in an array of fields, including fashion, jewellery, graphic arts, costume and set design for film, theatre, and opera, and interior decor.
---

Museums, Exhibits, Artists, Milestones, Digital Art, Architecture, Photography,
Photographers, Special Photos, Special Reports, Featured Stories, Auctions, Art Fairs,
Anecdotes, Art Quiz, Education, Mythology, 3D Images, Last Week,

.
---
Royalville Communications, Inc
produces: