British Art Fair launches SOLO CONTEMPORARY
Paul Stolper, Susie Hamilton, 'Antique-Time'. Acrylic-on-canvas, 148 x 208 cm.


LONDON
.-
British Art Fair
announces the launch of SOLO CONTEMPORARY - a new platform at the 2022 fair dedicated to showing the very best contemporary British art. Ten of Britain's leading contemporary art dealers have been invited to exhibit in a dedicated space on the second floor of London's Saatchi Gallery for British Art Fair. Each SOLO CONTEMPORARY dealer will be showing the work of one artist. This addition to British Art Fair (now in its 31st edition) is the brainchild of the fair's new owner Will Ramsay, in collaboration with artist-curator Zavier Ellis. British Art Fair has a history of successfully supporting the careers of artists, from the Post-war and Modern British artists through to the YBAs. The SOLO CONTEMPORARY artists are the latest to be shown under the British Art Fair umbrella, putting their work in the spotlight of this niche marketplace. ...
More
The Best Photos of the Day
Rare Artemisia Gentileschi painting acquired for Norway's National Museum
Lark Mason Associates sale of furniture, fine and decorative arts now live on iGavelAuctions.com
Christie's celebrates contemporary art during Paris+ by Art Basel


"Judith and her Maidservant with the Head of Holofernes" (1639 or 1640). Photo: The National Museum / Børre Høstland.



OSLO.- A rare painting by Artemisia Gentileschi is now on display at the National Museum of Art, Architecture and Design in Oslo. The work Judith and her Maidservant with the Head of Holofernes (1639 or 1640) was recently acquired by the Norwegian DNB Savings Bank Foundation for the National Museum. It is unusual for a work by Artemisia Gentileschi to have no uncertainties concerning dating and attribution. In this painting, Artemisia Gentileschi name is visible in the sword held by the Judith figure on the left side. The painting was previously only known through a black and white photograph, so experts could not conclude that it was a work by Gentileschi until the original revealed the signature. As the canvas is too fine to have been weaved in Italy, it is possible to conclude that the painting must have been painted during the period Artemisia Gentileschi spent at the court ... More



The Birth of the Virgin, 1503, Woodcut, Albrecht Durer (1471-1528).



NEW YORK, NY.- Lark Mason Associates announced that their Furniture, Fine and Decorative Arts on igavelauctions.com went live on September 22 through October 11. Among the 250 lots offered is an important collection of fine 18th century Venetian furniture and mid-20th century pieces by Eero Saarinen and Charles Eames. Running concurrently is Rugs and Carpets from the Collection of Barry MacLean, which goes live on October 4 to 22. "We are delighted to present this eclectic sale of furniture, paintings and decorative arts, which dates from the 18th century through the mid-20th century," says Lark Mason. "It's rare to have such a fine quality group of Venetian furniture come up for sale." According to Mason, the auction also includes a large selection of rugs as well as mid-century furniture. "This is an ideal opportunity for design aficionados s to acquire furnishings at accessible estimates." Among ... More



François-Xavier Lalanne (1927-2008), Gorille De Sûreté II, 1996, 155 x 103 x 95 cm, 1 500 000-2 500 000 € © Christie's Images Limited. © Christie's Images Ltd 2022.



PARIS.- At the very first edition of Paris + par Art Basel in October, Christie's will present a series of sales and exhibitions devoted to modern and contemporary art. Like every year at the International Contemporary Art Fair in Paris, Christie's will be holding two 20th/21st Century Art sales, Avant-Garde(s) including Thinking Italian and Art moderne, on 20 and 21 October, the highlight of which will be a magnificent painting by Joan Mitchell, Untitled, estimated at €4-6m. Thinking Italian, a sale dedicated to post-war Italian art that was launched in London in 2000, is to be held in Paris for the first time. Christie's is therefore part of the new Parisian dynamic in which the first edition of Paris + par Art Basel is taking place. An exhibition celebrating the work of François-Xavier and Claude Lalanne will be held at Kering's headquarters. ... More
Modern Art opens an exhibition of new work by Peter Halley
Freeman's Asian Arts Auction offers coveted huanghuali furniture
Villanova University will open a campus-wide exhibition of new work by Cole Sternberg


Throughout the 1980s and 1990s, Peter Halley's paintings and extensive writings about the ever-growing digitisation of cultural, artistic, and social life established him as a leading figure of the Neo-Conceptualist movement in New York City.



LONDON.- Modern Art announces an exhibition of new work by Peter Halley at its Helmet Row gallery. This is Halley's second solo exhibition with Modern Art. Throughout the 1980s and 1990s, Peter Halley's paintings and extensive writings about the ever-growing digitisation of cultural, artistic, and social life established him as a leading figure of the Neo-Conceptualist movement in New York City. In his paintings and writings, Halley described the increasingly isolated built environment through his uniquely invented language of ​'cells', ​'prisons' and ​'conduits'. These central motifs were a means of thinking through the French Post-Structuralist ideas of Michel Foucault and Jean Baudrillard – among others ... More



A pair of finely figured Chinese huanghuali yolk-back armchairs. The pair (Lot 143) is offered at an estimate of $80,000-120,000.



PHILADELPHIA, PA.- Freeman's has announced the catalogue for its October 18 Asian Arts auction, now available online. Ben Farina, Head of Freeman's Asian Arts department, said, "I am delighted that the sale is led by a pair of finely figured Chinese huanghuali yolk-back armchairs, a set expertly handcrafted in 17th/18th-century China." The pair (Lot 143) is offered at an estimate of $80,000-120,000. Following the $948,000 sale of a pair of huanghuali armchairs in Freeman's April Asian Arts auction, the present lot brings a highly collectible and richly figured pair of Chinese furniture to market. Farina added, "These chairs are significant not only for their form—which would have been reserved for the most important guest or family members of the highest rank in a wealthy Chinese ... More



A tenuous grip on arctic dreams, Cole Sternberg, 2020



VILLANOVA, PA.- Villanova University will present "thirsty while drowning" a campus-wide exhibition of new work by Cole Sternberg. In the artist and alumnus' first solo exhibition with Villanova, Sternberg will present multiple site-specific installations across the university's many historic buildings and outdoor spaces, as well as a series of the artist's "contemporary plein air" paintings in the newly renovated Villanova University Art Gallery. The sprawling exhibition aims to flood Villanova's campus with Sternberg's multimedia commentary on sustainability. thirsty while drowning will open to the public on Thursday, October 20, 2022, with an opening reception from 4–6 PM, and will be on view through January 18, 2023. Together, the expansive body of work evokes a feeling Sternberg characterizes as that of "the water consuming us," in which "the earth has metaphorically tilted ... More
In Vienna, taking to the hills for wine
Ray Edenton, 'A-Team' studio guitarist in Nashville, dies at 95
On the edge of Delhi, a dynamic cultural scene takes shape


A view of the city of Vienna from Weingut Wailand, at the very top of Nussberg mountain, in Vienna, on Sept. 21, 2022. Florentina Olareanu/The New York Times.

by Valeriya Safronova



VIENNA.- Though Vienna's vineyards are within city limits, they can feel a world away. Among the rows of grapes on the edges of the Austrian capital, the sounds and action of 1.9 million people are replaced by rocky paths, the chatter of crickets and a general calm. That is, until September begins. As fall and the harvest season arrive, the city's residents grasp for one last bit of summer and head by the thousands to the vineyards to spend just a few more weekends drinking and eating in the sun. There to host them are wine taverns known as heurigen — a word that refers to both young wine and to the establishments themselves — and buschenschanken. The latter have to serve their own wine, made from local grapes, and they have to identify themselves by including a pine, spruce or fir branch in their signage (this tradition supposedly goes back to the Middle Ages, when a "wine crier" would mark the cellars where ... More



In a photo provided by Hubert Long Collection shows, guitarist Ray Edenton at a recording session in Nashville in the 1960s. Hubert Long Collection, Country Music Hall of Fame and Museum via The New York Times.

by Bill Friskics-Warren



NASHVILLE, TENN.- Ray Edenton, a versatile session guitarist who played on thousands of recordings by artists such as the Everly Brothers, Charley Pride, Neil Young and Patsy Cline, died Sept. 21 at the home of his son, Ray Q. Edenton, in Goodlettsville, Tennessee. He was 95. His death was confirmed by his daughter, Ronda Hardcastle. A longtime member of Nashville's so-called A-Team of first-call studio professionals, Edenton contributed discreet, empathetic rhythm guitar to myriad hits in a career that spanned four decades. His name was less known than his musicianship, but generations of listeners knew the records he helped make famous, a body of work estimated to exceed 10,000 sessions. Cline's "Sweet Dreams," Webb Pierce's "There Stands the Glass," Kenny Rogers' "The Gambler, ... More



Inside Bana Studio, a vintage tribal jewelry shop, in the Hauz Khas Village in New Delhi in September 2022. Poras Chaudhary/The New York Times.

by Finn-Olaf Jones



NEW DELHI.- "Delhi is a soldiers' town, a politicians' town, journalists', diplomats' town. It is Asia's Washington, though not so picturesque," wrote Jan Morris, the acclaimed British travel writer, half a century ago. "The only culture in Delhi is agriculture," went another put-down. But art and culture follow money, and for the past two decades Delhi has experienced a sea change. Thanks largely to a real estate boom and the rise of the high-tech suburb of Gurgaon, Delhi has doubled its number of high-net-worth individuals in five years, built a metro system rivaling New York City's in size, and nurtured a burgeoning cosmopolitan class. To find where this creative crowd gallery-hops, shops and otherwise chills, go south. The rising neighborhoods of Hauz Khas Village, Lado Sarai and Mehrauli's "Style Mile" teeter on the edge of Delhi's Outer Ring Road, almost equidistant from Gurgaon's call centers and the central city ... More
Sylvie Patry joins kamel mennour as the gallery's Artistic Director
Be wary of King Charles III "pretender" coins, cautions Professional Numismatists Guild
Christie's appoints Gillian Gorman Round CMO


She will begin her new role at kamel mennour on December 2022.



PARIS.- With more than twenty years of experience in the art world behind her, Sylvie Patry has formerly held leading positions in top institutions including the Musée d'Orsay, where she has until now been the Deputy Director for Collections and Curatorial Affairs, and the Barnes Foundation in Philadelphia, where she acted as Gund Family Chief Curator/Deputy Director for Collections and Exhibitions — a rare appointment for a French curator. She notably oversaw developing The Barnes Foundation towards its current configuration, while keeping up a close dialogue with past and present artists. As kamel mennour's Artistic Director, Sylvie Patry will contribute to the conception of new projects, strengthening and expanding the gallery's development in the cultural, contemporary, and publishing spheres. With her many working partners around the world, Sylvie Patry will broaden the gallery's global influence. She will ... More



1953 Royal Mint Queen Elizabeth II penny.



TEMECULA, CA.- New coins depicting King Charles III are expected to be popular with the public and collectors when the Royal Mint strikes and distributes them, according to the Professional Numismatists Guild (www.PNGdealers.org). However, the nonprofit coin dealer's organization cautions that consumers and investors should know the difference between official legal tender and coins issued by countries not part of the United Kingdom or the Commonwealth. When an important new coin design is introduced, many people enjoy collecting examples from the first year of issue, such as the 1953 Royal Mint coins of Queen Elizabeth II or the 1964 United States Mint half dollars depicting President John F. Kennedy. "The marketplace already has advertisements for coins featuring King Charles III that are made by or on behalf of countries that issue non-circulating legal tender money intended only for ... More



She has successfully orchestrated brand transformations and growth, most recently as CEO of luxury beauty brand Kjaer Weis and prior to that at Revlon as Global President of the professional division. © Christie's Images Ltd 2022.



NEW YORK, NY.- Christie's announces the appointment of Gillian Gorman Round as Chief Marketing Officer, based in New York at its Americas headquarters in Rockefeller Center. Reporting to CEO Guillaume Cerutti, Gill will define and lead an innovative global, multi-channel marketing strategy for the company as a member of the senior leadership team. In her global role, Gill will work closely with Christie's executive management group, including its regional presidents and Global Head of Communications, and will partner with the regional heads of marketing and their teams in New York, London, Paris, and Hong Kong. With over 20 years of international experience, Gill has a proven track record in international marketing, leadership and brand building, managing luxury brands across ... More

The Tales amidst Five Mountains: Mesmerizing Modern Landscape Paintings

Flashback
On a day like today, Italian painter Tintoretto was born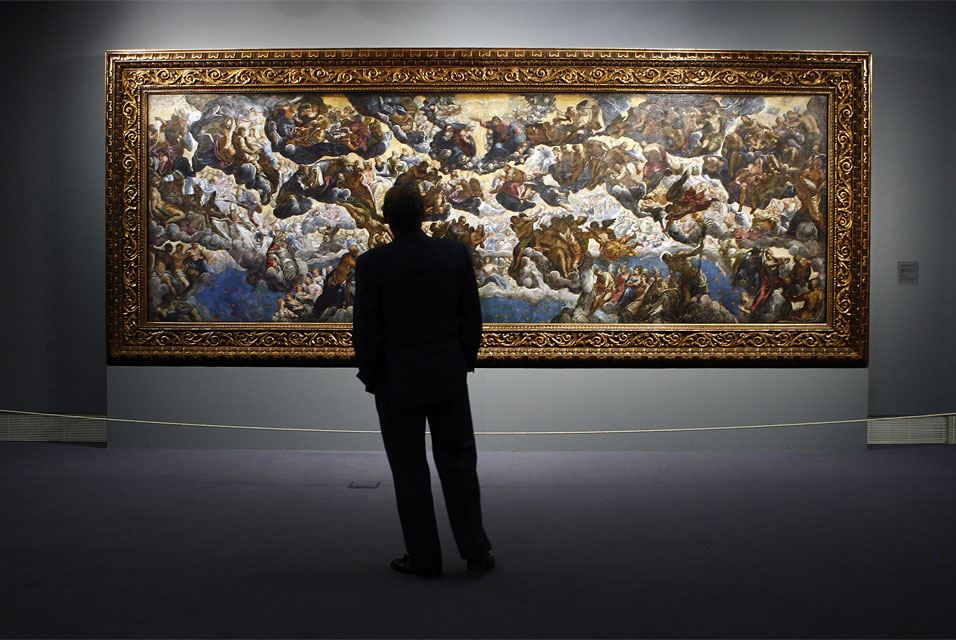 September 29, 1518. Tintoretto (September 29, 1518 - May 31, 1594), real name Jacopo Comin, was a Venetian painter and a notable exponent of the Renaissance school. For his phenomenal energy in painting he was termed Il Furioso. His work is characterized by its muscular figures, dramatic gestures and bold use of perspective in the Mannerist style, while maintaining color and light typical of the Venetian School. In this image: A man looks at 'The Coronation of the Virgin, The Paradise' , a painting by 16th century Venetian artist Tintoretto, on display at the Thyssen-Bornemisza Museum in Madrid, Wednesday, June 7, 2006.
---

Museums, Exhibits, Artists, Milestones, Digital Art, Architecture, Photography,
Photographers, Special Photos, Special Reports, Featured Stories, Auctions, Art Fairs,
Anecdotes, Art Quiz, Education, Mythology, 3D Images, Last Week,

.
---
Royalville Communications, Inc
produces: