World's largest museum for an artist? Munch gets new digs
People walk in the exhibition during a press event at the new Munch museum in Oslo on October 20, 2021. On October 22, 2021, the enormous new Munch Museum opens to the public smack dab in the city centre, in a specially-designed tower that is luxuriously spacious and modern -- and which has already sparked controversy. Beate Oma Dahle / NTB / AFP.

by Pierre-Henry Deshayes
OSLO
.-
To Edvard Munch, they were his children. And like any doting father, he hated the idea of them straying too far from home. Now, more than 26,000 artworks from the master expressionist's "family" -- including his best known piece, "The Scream" -- have moved under one roof in the enormous and custom-built MUNCH museum on the shore of Oslo Fjord. Gone is the old, rundown and poorly secured Munch Museum in the Norwegian capital's outskirts -- from where a version of "The Scream" and another masterpiece, "Madonna", were stolen by armed robbers in 2004. On Friday, the new museum opened to the public smack dab in the heart of Oslo, in a luxuriously spacious modernist building that has sparked much controversy. "This might be the biggest museum for a single artist," museum director Stein Olav Henrichsen says as he gives a tour ...
More
The Best Photos of the Day
New-York Historical Society presents "Scenes of New York City: The Elie and Sarah Hirschfeld Collection"
With splendor and saints, Hispanic Society shows its treasures
Art Institute of Chicago ends a docent program, and sets off a backlash


Charles Burchfield, Backyards in New York, 1916. Watercolor, white gouache, and graphite on paper. Promised gift of Elie and Sarah Hirschfeld, Scenes of New York City. Reproduced with permission of the Charles E. Burchfield Foundation.



NEW YORK, NY.- This fall, the New-York Historical Society presents Scenes of New York City: The Elie and Sarah Hirschfeld Collection, an exhibition of 130 paintings, works on paper in various media, and sculpture from an extraordinary promised gift by philanthropists and art collectors Elie and Sarah Hirschfeld. On view October 22, 2021 – February 27, 2022, the exhibition features many artists new to New-York Historical's collection, including Marc Chagall, David Hockney, Edward Hopper, Jacob Lawrence, Louise Nevelson, George O'Keeffe, Norman Rockwell, and Andy Warhol. "Our gratitude to Elie and Sarah Hirschfeld for the generous gift of their collection is profound," said Dr. Louise Mirrer, president and CEO of New-York Historical. "With works depicting the city's bustling harbor, local eateries, tranquil parks, and sleek skyscrapers, our visitors will have the opportunity to see New York City with new eyes and ... More



Pedro de Mena's bust of "Saint Acisclus," circa 1680, polychrome and gilded wood, which can be seen at the Hispanic Society Museum and Library in New York. Hispanic Society Museum & Library via The New York Times.

by Holland Cotter



NEW YORK, NY.- The Hispanic Society Museum and Library, founded in 1904, is one of New York's cultural gems and, of late, one of its mysteries. Housed in a beaux-arts enclave called Audubon Terrace overlooking the Hudson River in Washington Heights, its gallery walls are famously hung with paintings by Goya, Velázquez and Zurbarán. But the institution has been closed to a walk-in public for nearly five years. Rumors have swirled; people have worried. Located outside the art mainstream, the society is known to have had a hard time pulling foot traffic. Plus, the term "Hispanic," which to the society's founder, Archer M. Huntington, primarily meant Iberian, has changed significantly in scope and meaning in recent decades. Given all this, could the institution hope to survive, economically and politically? ... More



A docent guides a group at the Art Institute of Chicago. Art Institute of Chicago via The New York Times.

by Robin Pogrebin



NEW YORK, NY.- Like many museums around the country, the Art Institute of Chicago has been trying to forge closer ties with the racially and economically diverse city it serves. Museum officials decided that one area in need of an overhaul was its 60-year-old program of volunteer educators, known as docents, who greet school groups and lead tours. So last month the board overseeing the program sent a letter to the museum's 82 active docents — most of whom were white, older women — informing the volunteers that their program was being ended. The letter said that the museum would phase in a new model relying on paid educators and volunteers "in a way that allows community members of all income levels to participate, responds to issues of class and income equity, and does not require financial flexibility to participate." The move has erupted into the latest cultural flashpoint as museums around the country wrestle with making their staffs, boards and programming ... More
Monumental installation by Jaume Plensa unveiled in Jersey City
Italian city defies China bid to scrap dissident's show
Christie's to offer masterpieces from the Volkart Foundation


Jaume Plensa, Water's Soul, 2020. Courtesy Gray Chicago/New York. Artwork © Jaume Plensa Studio. Photo: Timothy Schenck.



JERSEY CITY, NJ.- Gray announced the unveiling of Water's Soul, 2020, a new site-specific sculpture by internationally renowned artist Jaume Plensa. Standing 80 feet tall, Water's Soul is the artist's tallest public sculpture to-date and has been permanently installed in Newport on the Hudson River in Jersey City, New Jersey. Overlooking the Hudson River, Water's Soul depicts the serene face of a young subject holding a finger to her lips in a state of silent contemplation. The sculptural portrait, though monumental in scale, humbly gestures for quietude, a beckoning towards empathetic self-reflection. With great ethereal beauty, Plensa's site-specific installation serves as a tribute to the Hudson River, aligning with the artist's ongoing interest in bodies of water as proxies for humankind. "Water is a marvelous metaphor for humanity," Plensa reflects. "One drop of water is quite alone, like a ... More



File photo of political artist Badiucao at urban art festival Can't Do Tomorrow.



ROME.- An Italian city is going ahead with plans to host an art exhibition by a Chinese dissident despite a request from China's embassy to cancel it, the mayor said in comments published Friday. The exhibition by Badiucao, a cartoonist also known as "The Chinese Banksy", is expected to denounce Chinese political repression and censorship of information on the Covid pandemic. The show, called "China is (not) near," is due to run from November 13 to February 13 in the northern Italian city of Brescia, about 100 kilometres east of Milan. Brescia Mayor Emilio Del Bono told Il Foglio newspaper on Friday that his office would not comply with a request from the Chinese embassy in Italy to scrap it. He said the friendship between the Italian and Chinese people "is not in question", but "I think it is important to show that you can stay friends while criticising some things." The deputy mayor, Laura Castelletti, earlier tweeted that "For us art and freedom of ... More



Alexej von Jawlensky, Renaissancekopf, 1913. Estimate: US$2,000,000-3,000,000. © Christie's Images Ltd 2021.



NEW YORK, NY.- Christie's announced the sale of two important works by Joan Miró and Alexej von Jawlensky from the renowned Volkart Foundation on 11 November in the 20th Century Evening Sale in New York. Founded in Winterthur on 1 February 1951 to commemorate the 100th anniversary of the Gebrüder Volkart trading company, the Volkart Foundation has sponsored cultural, social and environmental projects throughout the world for 70 years, working for an open, solidary and ecologically sustainable society. The proceeds from the sale of these two masterpieces will increase the Foundation's funding, so that more institutions and initiatives can be supported in their important work. Marc Reinhart, president of the Volkart Foundation commented: "The foundation will be using the proceeds from the auction of the two paintings to increase sustainably the Foundation's funds, so that we can even more ... More
Cartoon dreams: Netflix's Japan anime school targets booming demand
'Big John', world's largest triceratops, sells for 6.6mn euros
'He raises the bar for me': 4 artists on the influence of Bob Thompson


This picture taken on June 17, 2021 shows a student drawing at the anime school Sasayuri in Tokyo. Philip FONG / AFP.

by Harumi Ozawa



TOKYO.- Armed with a set of pencils and a feather to sweep away eraser dust, Hitomi Tateno is training the next generation of anime artists at a new Netflix-funded academy as global demand for the Japanese genre soars. From runaway box office triumph "Demon Slayer" to recent Cannes sensation "Belle", anime has shaken off its reputation as a geeky subculture, drawing in hordes of new fans during virus lockdowns. But Japan is facing a shortage of skilled animators, in part because most face years toiling in low-paying jobs to learn the ropes, meaning much of the painstaking frame-by-frame drawing work is outsourced overseas. That's something the US streaming giant thinks it can change with its WIT Animator Academy, which offers a group of junior artists free training and a stipend for living expenses as they learn. George Wada, president of top anime production house WIT Studio, which is running the training with Netflix, compares it to other fast tracks ... More



A worker sorts the ribs of a triceratops ahead of its assembling in a gallery where it is scheduled to be exhibited ahead of its auction sale at Drouot auction house. Christophe ARCHAMBAULT / AFP.

by Charlotte Causit



PARIS.- "Big John", 66-million-years old and the largest triceratops skeleton ever unearthed at eight metres long, was sold at auction to a US collector on Thursday for a gargantuan 6.6 million euros. The final price reached at the Drouot auction house in Paris -- 5.5 million euros before fees -- was well above the expected 1.2 to 1.5-million-euro sale price. Big John's skeleton is 60 percent complete and was unearthed in South Dakota in the United States in 2014 and put together by specialists in Italy. He will now return to the United States and the private collection of the unnamed buyer, whom the auction house said had fallen "in love" with Big John after coming to view him. The buyer beat 10 other bidders, with three in particular driving up the price in the final minutes. "It's a remarkable price," said auctioneer Alexandre Giquello. "I wasn't expecting this," added paleontologist Iacopo Briano who oversaw the sale. ... More



Bob Thompson, Untitled, 1962. Oil on canvas. 48 × 36 in. (121.9 × 91.4 cm). Colby College Museum of Art. Gift of the Alex Katz Foundation. © Michael Rosenfeld Gallery LLC, New York. Photo: Luc Demers.



NEW YORK, NY.- The legacy of the painter Bob Thompson, who died at 28 in 1966, is well out of proportion to his short life. A retrospective now at the Colby College Museum of Art in Waterville, Maine, through Jan. 9, presents a stunning look at a Black painter who looked to the old masters for inspiration; his bold attitude toward art history is summed up in the show's title, "This House Is Mine." Thompson often quotes inspirations such as Goya and Poussin, but his inimitable style is marked by silhouetted figures in bright, solid colors, placed in often-mysterious scenarios in pastoral settings. His treatments of religious themes such as martyrdoms refer obliquely to the Black experience in Jim Crow America; the Kentucky-born artist was just a teenager when Emmett Till was lynched in 1955. A few years later, he moved to New York and joined avant-garde circles, participating in Happenings organized by the likes of Allan Kaprow and painting portraits of writers Amiri Baraka and Allen Gi ... More
Morgan Lehman Gallery opens an exhibition of works by Leah Tacha
The many styles of Emma Amos, and her drive to get free
Platform Project Space opens a two person show by artists Ilse Sørensen Murdock and Jim Condron


Installation view.



NEW YORK, NY.- Leah Tacha's unconventional approach to ceramics makes use of ancient craft techniques as well as recent digital and technological printmaking innovations. These works are meticulously made by hand and exude a certain wobbly touch, and yet are decidedly high-tech, deploying a concoction of found digital imagery in the form of decals. Decals were used in the early 20th century (and still are today), to create mass produced ceramic tablewares, items one might find at a local big box store. Tacha's use of decals creates an entirely different surface to the clay, integrating illusionistic space with physical form. The artist likes to think of her sculptures as conduits for visual materials to inhabit. Each piece becomes a way for her to translate imagery through collage onto a three-dimensional object where the clay and glaze allows for a blistering, beautiful materiality to emerge from the surface. As in the works of John Chamberlain, Tacha's sculptures are objects in space ... More



Emma Amos's "Pompeii (Red)," 1959, an abstract etching that anticipates her forthcoming experiments with color. Emma Amos; University of Georgia via The New York Times.

by Jillian Steinhauer



PHILADELPHIA, PA.- Spend a few hours on social media, and you'll come across heated discussions about who gets to speak for whom. That makes it a good time for an exhibition of art by Emma Amos, a painter, printmaker and weaver who grappled with age-old questions of identity and authority that feel freshly urgent. "Emma Amos: Color Odyssey," a survey of her work organized by the Georgia Museum of Art and now on view at the Philadelphia Museum of Art, comes at an opportune moment. Yet the show is also a lesson about the role that Amos, as a Black female artist, railed against in her life and has been cast in even after her death last year. Curated by the Georgia Museum's Shawnya Harris, and in Philadelphia, Laurel Garber, "Color Odyssey" contains about 60 works. It is an exhilarating survey, ... More



Jim Condron, oil, fur, cement, wood, 5 x 4 x 4 inches, 2017.



BROOKLYN, NY.- Platform is presenting Toss, a two person show by artists Ilse Sřrensen Murdock and Jim Condron. Toss refers to both artists' inventive use of found and salvaged materials to push beyond the traditional rectangle of painting: things left behind are recovered and made active through their practice. Yet even with the use of unconventional materials like socks, fur remnants, plastic caps and cut wood, the artists prioritize concerns of color, texture and space. Jim Condron's original three-dimensional works take a painterly approach to sculpture. Like an intimist painter, there is a history and resonance in the objects chosen as raw material, ranging from socks, yarn and wood, to common household utensils. He combines found items with an immediacy and lack of preciousness towards their original use, resulting in a refreshing new look at their tactile qualities; often materials like fur feel like a brushstroke. So ... More

Studio Tour with Carol Bove

Flashback
On a day like today, Andy Warhol "superstar" Baby Jane Holzer, was born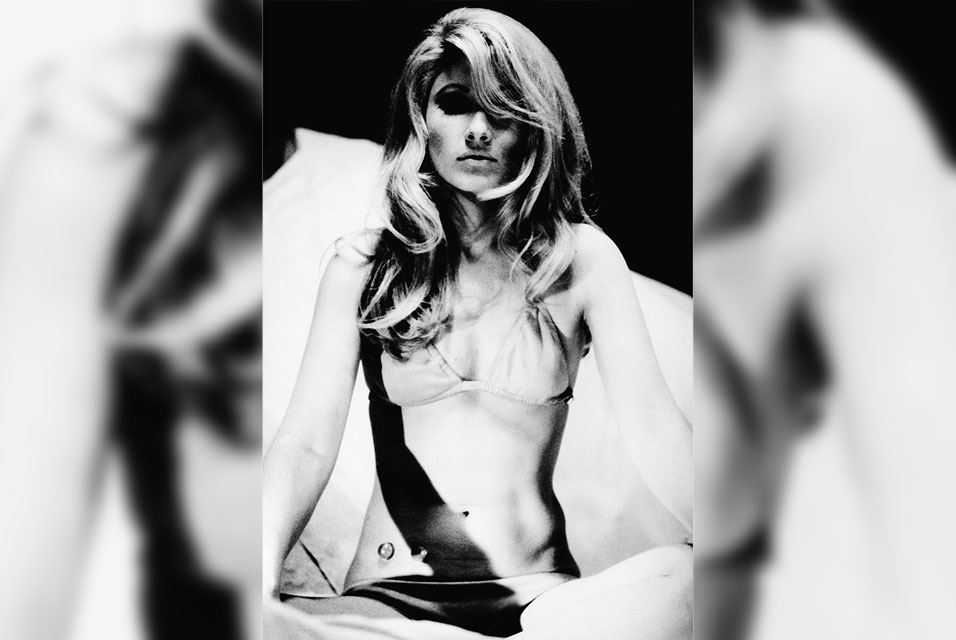 October 23, 1940. Jane Holzer (née Bruckenfeld; born 23 October 1940) is American art collector and film producer who was previously an actress, model, and Warhol superstar. She was often known by the nickname Baby Jane Holzer. Movies she appeared in included Soap Opera, Warhol's Couch (1964), and Ciao! Manhattan (1972). She co-produced the 1985 film Kiss of the Spider Woman. Holzer is the subject of "Girl of the Year" in Tom Wolfe's The Kandy-Kolored Tangerine-Flake Streamline Baby (1965) and is referenced twice in the 1972 Roxy Music song Virginia Plain from the album Roxy Music.
---

Museums, Exhibits, Artists, Milestones, Digital Art, Architecture, Photography,
Photographers, Special Photos, Special Reports, Featured Stories, Auctions, Art Fairs,
Anecdotes, Art Quiz, Education, Mythology, 3D Images, Last Week,

.
---
Royalville Communications, Inc
produces: