Joan B Mirviss LTD features Japanese Modern Art at The Winter Show 2020
Hayashi Kaku (b. 1953). Wave-shaped, carved vessel with platinum overglaze, titled Live in the Ocean, 2018, glazed stoneware with platinum overglaze,14 ¾ x 25 ½ x 6 ½ in. Photo by Richard Goodbody. Image courtesy of Joan B Mirviss LTD.
NEW YORK, NY
.-
The lustrous gleam of gold and silver as both coveted objects and ornaments, all glistening with metallic sheen, has bewitched mankind throughout history. Ceramic works adorned with gold and silver are no exception. Kin to Gin / Gold and Silver: Luster in Japanese Modern Art, to be presented in the booth of
Joan B Mirviss LTD
at The Winter Show 2020, will focus on 20th and 21st century-clay art and the array of styles and forms that serve as surfaces for metallic overglaze that exquisitely complements their inventive forms–– both functional and sculptural. Staring in the 11th century, the passion for ceramics decorated with metallic overglazing became pervasive in Asia, extending eastwards from the Islamic world to China and later, to Japan. The practice, based on Chinese prototypes, was first introduced in the 1640's in Arita by the ceramist Sakaida Kakiemon I (1615-53), who decorated white porcelain vess ...
More
The Best Photos of the Day
Egypt court jails ex- Italian diplomat for smuggling artefacts
Black 'rock' from AD 79 Italy eruption is part of exploded brain
Museum CEO apologizes for handling of staff complaints


Last year, a stolen golden coffin of a Pharaonic priest was unveiled in Cairo after authorities managed to retrieve it from New York.



CAIRO (AFP).- A Cairo criminal court sentenced a former honorary Italian consul to 15 years in jail in absentia on Tuesday for smuggling antiquities out of the country, a judicial source said. Ladislav Otakar Skakal, Italy's former honorary consul in Luxor, attempted to smuggle 21,855 artefacts from various historical eras in 2017, according to the prosecutor general. These included over 21,000 golden coins, 151 miniature figurines, five mummy masks, 11 pottery vessels, three ceramic tiles dating to the Islamic period and a wooden sarcophagus. Italian police found the sizeable loot in a diplomatic shipping container heading from the port city of Alexandria to Salerno in Italy in 2017. Skakal's trial, along with other accomplices, began in September last year. Prosecutors found that the antiquities were smuggled w ... More



This fragment is actually part of an exploded brain. Photo: Pier Paolo Petrone.



ROME (AFP).- It looks like a piece of rock - black, shiny and unexceptional. But Italian anthropologists say the fragment is actually part of an exploded brain from an unfortunate victim of the volcanic eruption of Italy's Mount Vesuvius in AD 79. The discovery -- published on Thursday in The New England Journal of Medicine -- is a rarity in archaeology, and researchers called the find from the ruins of Herculaneum near Pompeii "sensational". Scholars who for years have studied the grisly remains of those trapped by ash, lava and toxic gasses when the volcano erupted in southern Italy were intrigued by a curious glassy material found inside one victim's skull. "In October 2018, I was able to look at these remnants and I saw that something was shimmery in the shattered skull," Pier Paolo Petrone, one of the researchers, told AFP. Petrone, a forensic anthropologist from the University ... More



Timothy Rub, the George D. Widener Director and Chief Executive Officer of the Philadelphia Museum of Art. Photo by Kelly & Massa.

by Robin Pogrebin and Zachary Small



NEW YORK (NYT NEWS SERVICE ).- Timothy Rub, the director and chief executive officer of the Philadelphia Museum of Art on Wednesday apologized to hundreds of employees, saying the institution had made mistakes in the way it dealt with a former manager several female staff members have accused of sexual harassment. Rub's remarks, made at a closed-door, all-staff morning meeting before the museum opened to the public, addressed the allegations that have surfaced against Joshua Helmer, the former assistant director for interpretation at the museum. In 2018, he left and went on to become director of the art museum in Erie, Pennsylvania, where an intern made a similar complaint. On Jan. 10, The New ... More
The Kunsthaus Zürich opens a major solo exhibition by Olafur Eliasson
Obama portraits to tour the nation
Native Americans get a stronger voice in the Mayflower story


Olafur Eliasson. Photo: Franca Candrian © 2020 Olafur Eliasson.



ZURICH.- The Kunsthaus Zürich is presenting a major solo exhibition by Olafur Eliasson. At its centre is a new, space-filling installation that addresses a key issue of our times: the relationship and interplay between human and non-human actors on Earth. The exhibition is exclusive to the Kunsthaus Zürich. Olafur Eliasson (b. 1967) is one of the most important artists working today. In a new, atmospherically dense installation developed specifically for the exhibition at the Kunsthaus Zürich that extends over more than 1,000 m2, the Danish-Icelandic artist speaks directly to the viewer's senses. The central installation is accompanied by new sculptures and light works. Developed in close dialogue between Eliasson and curator Mirjam Varadinis, 'Symbiotic seeing' tackles themes such as coexistence and symbiosis and aims to achieve a fundamental shift of perspective. Eliasson invites us not only to ... More



Former U.S. President Barack Obama stands artist Kehinde Wiley next to his newly unveiled portrait during a ceremony at the Smithsonian's National Portrait Gallery. Mark Wilson/Getty Images/AFP.

by Robin Pogrebin



(NYT NEWS SERVICE ).- The portraits of President Barack Obama and Michelle Obama have become a destination for visitors to the Smithsonian's National Portrait Gallery in Washington ever since they were unveiled in 2018. Next year, the acclaimed paintings — by artists Kehinde Wiley and Amy Sherald — are going on the road with a five-city tour that the museum announced Thursday. "The portraits are going to be shared with people who did not have the opportunity to see them," Sherald said in a telephone interview, adding that for some, visiting the paintings has been something of a "pilgrimage." In mid-May 2021, the portraits will temporarily come down from the walls of the Portrait Gallery, ... More



Cannupa Hanska Luger, who is leading a public art project in Plymouth, England, for the Mayflower commemorations, in Glorieta, N.M. Ramsay de Give/The New York Times.

by Farah Nayeri



LONDON (NYT NEWS SERVICE ).- In 1970, Native American leader Wamsutta Frank James was asked to give a speech at a state dinner in Plymouth, Massachusetts. It had been 350 years since the arrival of the Mayflower, and James, a member of the Wampanoag tribe that has inhabited what is now Massachusetts for 12,000 years, was invited to participate in the commemorations. "This is a time of celebration for you — celebrating an anniversary of a beginning for the white man in America," his speech began. "We, the Wampanoag, welcomed you, the white man, with open arms, little knowing that it was the beginning of the end; that before 50 years were to pass, the Wampanoag would ... More
Kazimir Malevich painting now on view at Zimmerli Art Museum
Ruiz-Healy Art opens exhibitions of work by Jesse Amado and Alejandro Diaz
Kasmin opens an exhibition of paper collages by German surrealist Max Ernst


Kazimir Malevich, Two Peasant Figures, c. 1928-1930. Oil on canvas. Collection of the Encyclopedia of Russian Avant-Garde, Moscow © Encyclopedia of Russian Avant-Garde.



NEW BRUNSWICK, NJ.- The Zimmerli Art Museum at Rutgers is exhibiting the oil painting Two Peasant Women (1928-30) by Kazimir Malevich, a loan from the Moscow-based cultural project Encyclopedia of the Russian Avant-Garde, through May 17, 2020. The painting welcomes visitors at the entrance of the museum's George Riabov Gallery, which features Russian art created from the 14th century to the early 1950s. "We are really honored by this opportunity to supplement the broad Russian art collection of the Zimmerli Art Museum with works of some of the most significant artists of the Russian Avant-Garde," said Irina Pravkina, founder of the Encyclopedia of the Russian Avant-Garde. "The unflagging international interest to this period in Russian art could be explained by the uniqueness of avant-garde artists ... More



Alejandro Diaz, Some of My Favorite Artists, 2019, Acrylic on canvas, 48 x 36 in.



SAN ANTONIO, TX.- Ruiz-Healy Art presents ​Jesse Amado and Alejandro Diaz: Double Pleasure at their San Antonio and New York City galleries. The exhibitions highlight their work in painting and a shared interest in post-conceptual art practices that are grounded in their Mexican-American heritage and ​South Texas aesthetics. The New York exhibition will be on view through March 14, 2020, and the San Antonio exhibition will be on view through March 28, 2020. Jesse Amado and Alejandro Diaz have been friends and colleagues for over four decades and now, for the first time in 26 years, the artists have coinciding exhibitions, which bring their work in conversation with one another. While the artists demonstrate different aesthetic concerns, their distinct works become interconnected through the incorporation of found materials used to convey human experience and an underlying Joseph Beuys ​heritage in their ... More



Max Ernst, Singe, 1970. Gouache, ink and collage on paper, 7 1/4 x 6 inches 18.4 x 15.2 cm 13 1/4 x 12 x 1 1/2 inches, framed 33.7 x 30.5 x 3.8 cm © 2020 Artists Rights Society (ARS), New York/ ADAGP, Paris, France. Courtesy of Kasmin Gallery. Photo by Diego Flores.



NEW YORK, NY.- Kasmin is presenting an exhibition of paper collages by German surrealist Max Ernst (1891–1976). Staged in collaboration with the Destina Foundation, Collages is on view from January 23, 2020, at the gallery's 297 Tenth Avenue location. The exhibition features approximately forty collages on paper, ranging in both scale and subject matter, and spanning 1920 to 1975. Many of the works, with a focus on the 1960s and 70s, have never before been exhibited. According to art historian Werner Spies, nearly everything in Ernst's oeuvre can be traced back to collage. Bringing the fracture and disassociation of post-World War I existentialism into pictorial form, collage complements Ernst's equally novel adoption of frottage and assemblage. The uniquely illusionistic quality ... More
Peter Saul's first solo show with Almine Rech opens in Paris
CSU's Art Museum features Kandinsky, Torres-García and other modern masters
TEFAF releases the first look at TEFAF Maastricht 2020


Peter Saul, Untitled, 2019. Acrylic on canvas, 152,5 x 122 cm. 60 x 48 in © Peter Saul - Photo: Rebecca Fanuele. Courtesy of the Artist and Almine Rech.



PARIS.- Almine Rech is presenting Art History is Wrong, Peter Saul's first solo show with the gallery. Peter Saul (b. 1934, San Fransisco, CA) continues today with his ever-constant exploration of the most pressing issues of the world and art, making him one of the most influential painters for young artists. Saul's work expresses the quintessence of American art. Thousands of kilometres from the epicentre of Pop Art, a movement he affirms he does not belong to, while sharing its themes, Saul offers a more critical dimension, questioning both consumerist and imperialist models. Upon his return to the United States in 1964 he moved to California, the home of 'Funk' art, with which his pictorial, pop, and surrealist practice found an echo. Pop in a different vein, dazzling Funk, his art is a new way of making historical painting with the colors and clashes of today, just as his way of rewriting the masterpieces ... More



Alexandra Exter, Russian, 1882–1949, Costume Design for "Aelita", 1924. Pencil, collage and gouache on paper, Georgia Museum of Art, University of Georgia; Museum purchase with funds provided by the Collectors of the Georgia Museum of Art and Board of Advisors members Robert E. Burton, Randolph W. Camp, Marion E. Jarrell, David W. Matheny, Marilyn D. McNeely, Carl W. Mullis III, Deborah L. O'Kain, and Sarah P. Sams.



FORT COLLINS, CO.- The Gregory Allicar Museum of Art presents two new temporary exhibitions: Cercle et Carré and the International Spirit of Abstract Art, on display in the museum's Griffin Foundation Gallery, January 21 – April 11, 2020; and Simple Truths: Still Life Paintings by Pierre Daura, on display in the museum's Works on Paper Gallery, February 8 – May 16, 2020. General museum hours are Tuesdays through Saturdays from 10 a.m. – 6 p.m., Thursday until 7:30 p.m., and all exhibitions and programs are free and open to the public. The museum is located in the University Center for the Arts at ... More



Songye Figure Wood, metal, fiber and cloth Height 64 cm (25.2 in.) Democratic Republic of Congo - 19th century.



MAASTRICHT.- TEFAF Maastricht has long distinguished itself as the unrivalled destination art fair, where collectors and visitors can discover the broadest range of expertise of any fair globally. TEFAF Maastricht 2020 welcome 280 exhibitors, of which 25 are new. Building on the success of a revitalised selection procedure in 2019, the fair continues to see new blood joining established exhibitors to provide an unparalleled experience for private collectors, museum curators, patrons, art market professionals and art lovers from all over the world. TEFAF Maastricht 2020 takes place at the MECC (Maastricht Exhibition & Conference Centre) from 7 – 15 March 2020 (Early Access 5 March; Preview Day 6 March). Setting TEFAF Maastricht apart from other fairs is the diversity of participating exhibitors, and the objects and works of art they bring to the fair. ... More

Egyptologists Open a Newly-Discovered Pyramid

Flashback
On a day like today, American painter Robert Motherwell was born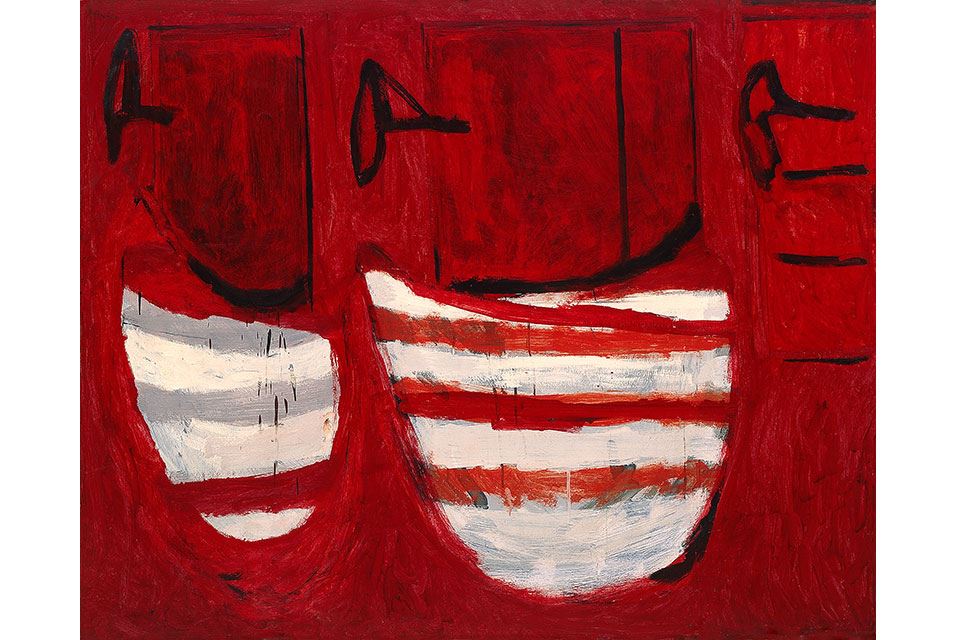 January 24, 1915. Robert Motherwell (January 24, 1915 - July 16, 1991) was an American painter, printmaker, and editor. He was one of the youngest of the New York School (a phrase he coined), which also included Philip Guston, Willem de Kooning, Jackson Pollock, and Mark Rothko. In this image: Robert Motherwell, The Hotel Corridor, 1950. Oil on masonite, 44 x 55 inches, 111.8 x 139.7 cm. © Dedalus Foundation, Inc./ Licensed by VAGA, New York, NY.
---

Museums, Exhibits, Artists, Milestones, Digital Art, Architecture, Photography,
Photographers, Special Photos, Special Reports, Featured Stories, Auctions, Art Fairs,
Anecdotes, Art Quiz, Education, Mythology, 3D Images, Last Week,

.
---
Royalville Communications, Inc
produces: