Whitney Biennial picks 63 artists to take stock of now
The curators Adrienne Edwards and David Breslin. The Whitney Biennial, which opens in April 2022, will lean toward the conceptual, with particular attention to Native artists and the U.S.-Mexico border. Bryan Derballa via The New York Times.

by Siddhartha Mitter
NEW YORK, NY
.-
Even in regular times, organizing the Whitney Biennial is a high-stakes project. The show is a barometer — anticipated and debated for the picture it proposes of tendencies in American art and their public relevance. Participation can turbocharge an artist's career. The exhibition sometimes becomes a lightning rod for political controversy. This time around, the biennial, which opens on April 6, has the burden of responding to the crisis atmosphere, from the pandemic to social protests and political conflict, that has taken hold since the last edition in 2019. "These last few years have been a very dense moment," said David Breslin, a co-organizer of this edition with Adrienne Edwards; both are senior curators at the museum in New York City. "Our hope is that this show permits a taking stock, a way of seeing what we're maybe not at the end of, but in the middle of, and how art can help make sense of our times." On Tuesday the Whitney Museum of America ...
More
The Best Photos of the Day
Baltimore Museum of Art announces 54 acquisitions across encyclopedic holdings
Lark Mason Associates offers up a veritable treasure chest of gold and other U.S. coins and jewelry
Art Basel announces participating galleries, artists, and highlights for 'OVR:2021'


Shahzia Sikander. Empire Follows Art: States of Agitation 9. 2020. The Baltimore Museum of Art: Purchase with exchange funds from the Pearlstone Family Fund and partial gift of The Andy Warhol Foundation for the Visual Arts, Inc., BMA 2021.178.



BALTIMORE, MD.- The Baltimore Museum of Art announced today that it has acquired, through both purchase and gift, approximately 54 objects and suites of works across its encyclopedic holdings. The group captures an incredible range of contemporary production, including works by Mel Bochner, Leonardo Drew, Jacob Lawrence, Shahzia Sikander, Nari Ward, and Marie Watt. The BMA also added to its extensive holdings of historic American and European paintings, sculpture, and prints with a 17th-century etching by Paulus Pontius, a magnificent oil on paper by Weimar-era artist Lotte Laserstein, a bronze by celebrated Harlem Renaissance sculptor Richmond Barthé, and a photograph by Surrealist artist Kati Horna, among other works. ... More



A pair of Jadeite and Diamond Earrings (estimate: $15,000-20,000).



NEW BRAUNFELS, TX.- With nearly 95 lots of gold and other coins, Lark Mason Associates is presenting two auctions–in New York and New Braunfels–featuring a large collection of coins, which date from the 18th to 21st centuries. Now live on igavelauctions.com, through January 25th, the first sale includes a 1787 New Jersey - no sprig above plow camel head copper coin estimated (estimate: $800-1,200); an uncirculated 1884 American one dollar Liberty head - Morgan silver dollar, from the Carson City Mint (estimate: $150-250); four American twenty-dollar double eagle gold coins, each estimated between $1,500 and $4,000; and an American Arts Commemorative gold coin set, 1980-1984 (estimate: $8,000-10,000). In the second sale, now open for bidding through February 8th, 75 lots of gold, silver and other old coins are available. Among the highlights are a Mexican ... More



Pace Gallery, Roberto Matta © Art Basel.



BASEL.- On view from February 9 to 12 and featuring 59 galleries from 21 countries and territories, 'OVR:2021' will exclusively feature works created in 2021, reflecting on the artistic production over the past year. Once again, participating galleries will present tightly curated solo or group exhibitions, showing up to eight works simultaneously. Nine new galleries will join Art Basel's OVR:2021 platform for the first time: Fridman Gallery from New York, imura art gallery from Kyoto, Inman Gallery from Houston, Klemm's from Berlin, Leila Heller Gallery with spaces in Dubai and New York, Nature Morte from New Delhi, Galería RGR from Mexico City, Rele Gallery with spaces in Lagos and Los Angeles, and This is No Fantasy Dianne Tanzer + Nicola Stein from Melbourne. "2021 was a disrupted and disruptive year and many of the works in 'OVR:2021' bear witness to that," Marc Spiegler, Global Director ... More
Exhibition shows how Paul Gauguin and the group of artists around him created an entirely new painterly expression
Sony Music buys Bob Dylan's recorded music
Exhibition honours the work of Denmark's most important female sculptor.


Paul Gauguin, Bonjour, Monsieur Gauguin, 1889. Oil on canvas, 99,5 x 74 cm. National Gallery Prague. Photo © National Gallery Prague 2021.



COPENHAGEN.- Ordupgaard opened the exhibition Gauguin and his Friends, thanks to exceptional loans from leading museums and private art collectors from around the world. The exhibition shows how, at the end of the nineteenth century, Paul Gauguin and the group of artists around him created an entirely new painterly expression. A symbolist painting where dreams, places, and imagination were interwoven in colourful and daring compositions without depth effect. Gauguin wanted to free art from the shackles of naturalism, yearning for a time when life was unspoilt by the dogmas of civilisation. He found inspiration in Brittany in the isolated towns Pont-Aven and Le Pouldu where the primitive lifestyle, deep piety, and folklore of the rural population helped set his art free. This new departure was adopted by a group of young artists known as the Pont-Aven school. The exhibition features several major works by Gauguin never ... More



The transaction for Dylan's albums was made in July, about seven months after he made another deal — with Sony's rival Universal Music — for his songwriting copyrights. William C. Eckenberg/The New York Times.

by Ben Sisario



NEW YORK, NY.- Sony Music has acquired the entire recorded music catalog of Bob Dylan, including all his previous albums and "the rights to multiple future releases," the company announced Monday. Financial terms of the deal were not disclosed. According to a calculation by Billboard, the music trade publication, the rights to Dylan's recordings may be worth about $200 million, based on an estimate of $16 million in annual revenue around the world. When Dylan sold his songwriting rights — which are separate from those for recordings — to Universal Music in late 2020, that deal was estimated to be worth well more than $300 million. In Dylan's case, his songwriting corpus is so valuable because of the thousands of cover versions of his songs that have been made over ... More



Blåskæg, 1903-1905. Gips, bemalet, 52 x 23 x 32 cm, CNM1984-1321, Odense Bys Museer. © Carl Nielsen Museet. Photo. Niels Ulrich Hansen Galleri VENT.



COPENHAGEN.- Way ahead of her time, Anne Marie Carl-Nielsen fought for artistic recognition in a male-dominated profession and for women's right to education and a career. While internationally acclaimed for her sculptures, she was not granted her rightful place in the annals of art history. This special exhibition at the Glyptotek aims to revive her reputation. It is the largest solo exhibition of work by Anne Marie Carl-Nielsen (1863 – 1945) since 1946. Visitors are invited into the artist's studio, where they can discover the preparatory works for her monumental sculptures. It is also an opportunity to get to know this uncompromising artist who, though in great demand and highly acclaimed in her lifetime, was then omitted from history. Using sketches, models and casts, the curator Emilie Boe Bierlich and the theatre designer Christian Friedländer have created an exhibition inspired by the industrial workshop ... More
British Library and University of Westminster announce major research collaboration into Black British music
Sprüth Magers opens an exhibition of works by four leading women artists at Gallery 181
Reynolda announces acquisitions of works by John Singer Sargent and Minnie Evans


British Library Sound Archive.



LONDON.- Today the British Library and University of Westminster announce a new partnership to develop a landmark exhibition exploring the history of Black British music. The exhibition will open at the British Library in 2024, charting and reframing the evolution and influence of Black British musical innovation, cultures and creativity on popular music. The British Library has already begun researching the Library's rich collections alongside the University of Westminster's Black Music Research Unit, to foreground and reposition six centuries of African musical contributions to the UK. This major collaborative undertaking will soon move beyond the national collections to engage with the music industry and broader public in a national conversation on Black British identity through the medium of music. Previously overlooked narratives will be collected to celebrate an inclusive culture and musical history. Mykaell Riley, ... More



Karen Kilimnik, the Delft Castle, 2014. Water soluble oil color on canvas, 45.7 × 35.6 cm / 18 × 14 inches © Karen Kilimnik. Courtesy the artist, Sprüth Magers, and Galerie Eva Presenhuber, Zurich / New York.



SAN FRANCISCO, CA.- Monika Sprüth and Philomene Magers are presenting an exhibition of works by four of the gallery's leading women artists—Cao Fei, Jenny Holzer, Karen Kilimnik and Louise Lawler—at Gallery 181, San Francisco. In each of their bodies of work, art and architecture is self-consciously explored, often with overt references to the work of others. Across paintings, photographs, sculptures and video, they examine the objects and structures that surround, enclose and affect us day-to-day. Each of these artists occupies a key place within both the history of modern and contemporary art and the history of Sprüth Magers: Jenny Holzer and Louise Lawler, whose powerful feminist works began to appear in the late 1970s, often postered around New York City, were part ... More



John Singer Sargent, Mrs. Augustus Hemenway (1890), oil on canvas, Reynolda House Museum of American Art, Gift of Mr. and Mrs. Leslie Baker.



WINSTON-SALEM, NC.- Reynolda House Museum of American Art has announced that Mr. and Mrs. Leslie Baker of Winston-Salem have offered the Museum a portrait of Mrs. Augustus Hemenway by acclaimed portrait artist John Singer Sargent and an untitled drawing by the self-taught African American artist from North Carolina, Minnie Evans. "We wanted to ensure these gifts would be in a place where they could serve the widest possible audience, and Reynolda House is extremely committed to strengthening the community through its educational mission," said the Bakers. "We are excited that the works by Minnie Evans and John Singer Sargent will be used as teaching tools for generations to come." Sargent's portrait of Harriet Hemenway will join another painting by the artist at Reynolda—his portrait of the ... More
"Germaine Richier and colour" opens at Galerie de la Béraudière in Brussels
Sale celebrates 70 years of photographs at Swann
H&H Classics launch a rolling 4x7 timed online auction service to replace the live auctions online


Germaine Richier, Plomb avec verres de couleur, n° 49, 1953. Lead and coloured glass. Unique piece. 42 x 13 x 12 cm. Courtesy Galerie de la Béraudière, Brussels.



BRUSSELS.- Galerie de la Beìraudière is presenting an exhibition of the French artist Germaine Richier that focuses on the use of colour in her works. The scenography will be realized by the Belgian designer Charles Kaisin. A catalogue will be published on this occasion. Germaine Richier, nicknamed 'The Hurricane' by her close friends in reference to one of her sculptures, was born in Provence in 1902. She received classical training in Paris in the studio of Bourdelle (a former student of Rodin), whose technique would have a lasting impact on her artistic practice. Richier was one of the first French sculptors to enjoy international success during her lifetime. By 1952 she had already exhibited in numerous museums in Switzerland, the Netherlands and Germany as well as in the United States and South America. In 1956 she was also the first woman to have a retrospective ... More



Ansel Adams, Oaktree, Snowstorm, Yosemite Valley, silver print, 1948. Estimate $20,000 to $30,000.



NEW YORK, NY.- 70 years ago, Swann Galleries held the first auction dedicated to photography in the United States. The 1952 auction was astonishingly early for a sale devoted to a medium just 113 years old and still finding its artistic footing in the marketplace. Seven decades later, however, the landscape for this diverse and innovative medium has grown dramatically. On Thursday, February 10, Swann will hold a sale of Fine Photographs marking this achievement. The specially curated sale will celebrate the history of the market for photography at auction while exploring the medium's future. Early work includes Charles Marville's Rue des Déchargeurs, de la Rue de Rivoli, circa 1865 ($6,000-9,000), Carleton Watkins's The Pavilion on the Stump, Calaveras Grove, 1878–81 ($8,000-12,000), and Julia Margaret Cameron's Baby Blossom (Alice Keown), circa 1866 ($15,000-25,000). Alfred Stieglitz's Camera Work Number 36, 19 ... More



Just like its Classic Auctions, H&H will guide buyers and sellers through the process, which is essentially the same as the in-person auctions.



LONDON.- H&H Classics are launching a round the clock Online Auction offer to improve service to clients. From this week H&H clients wanting to use the Online Auction service will have it on tap and will not have to wait to fit their car sale or car bid into the previous calendar of H&H Live Auction Online sales. Colette McKay, MD of H&H says: "This new platform is a much smarter, more efficient online service that operates constantly and is available whenever a client wishes to sell or buy. Support for our Online service has grown so significantly we felt that the time had come to offer a year-round service with no down time by offering timed auctions online." H&H Online Auctions are held to the same exacting standards as its Classic Auction events. These rolling, timed auction events close on the second Wednesday of each month and see a constant flow of classic and modern classic cars and motorcycles for buyers ... More

Sotheby's Talks | The Restitution of Nicolas de Largillière's 'Portrait of a Lady as Pomona'

Flashback
On a day like today, French painter Théodore Géricault died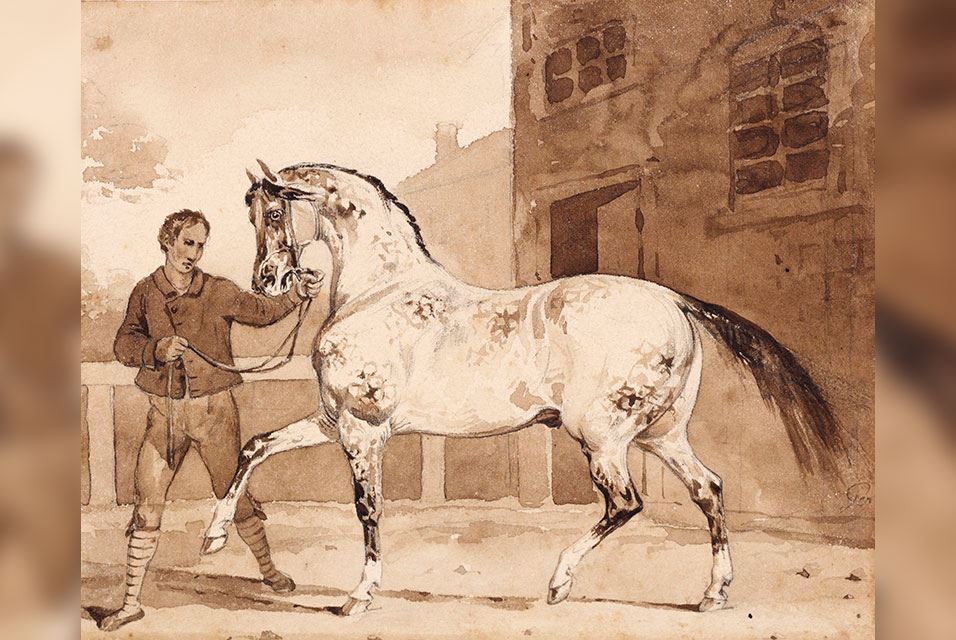 January 26, 1824. Jean-Louis André Théodore Géricault (26 September 1791 - 26 January 1824) was an influential French painter and lithographer, known for The Raft of the Medusa and other paintings. Although he died young, he was one of the pioneers of the Romantic movement. In this image: Gericault, A Dappled Grey Horse Led by a Groom, c. 1820-21. Sepia wash over graphite on paper, 13 x 16 cm.
---

Museums, Exhibits, Artists, Milestones, Digital Art, Architecture, Photography,
Photographers, Special Photos, Special Reports, Featured Stories, Auctions, Art Fairs,
Anecdotes, Art Quiz, Education, Mythology, 3D Images, Last Week,

.
---
Royalville Communications, Inc
produces: