Nuance is difficult when it involves Nazis, a museum finds
The exhibit at the Resistance Museum in Amsterdam was designed to be a more nuanced look at Dutch wartime experiences, but it has been accused of downplaying the heroism of some and the sins of others.

by Nina Siegal
AMSTERDAM
.-
Since 1985, the Resistance Museum here has presented a view of life in Holland during World War II, with displays that focused on the perseverance of a resistance movement in the face of Nazi terror and the daily struggles for food and safety. In recent weeks, though, the museum has unveiled a new display designed to be more inclusive and to illustrate the nuance and complexity of history. The exhibit portrays the lives of victims and perpetrators, bystanders and resisters, "and everything in between," Liesbeth van der Horst, the museum's director, said in an interview. "We wanted to tell the story of all the Dutch people." So in addition to describing the life of Janny Brilleslijper, a Jewish woman who refused the Nazi command to register her "race," the displays also focus attention on Gerard Mooyman, a Dutch teenager "so impressed" by German military propaganda that he signed up to serve with its army at the front. They are two of roughly ...
More
The Best Photos of the Day
A curator unbound: First she was fired. Then she found freedom
Pace opens Kenneth Noland's first solo presentation in London for more than two decades
Exhibition at Glyptotek provides a rare glimpse of the absolute monarchy and lifestyle of a famous pharaoh


Helen Molesworth, who curated "Face to Face: Portraits of Artists by Tacita Dean, Brigitte Lacombe and Catherine Opie," at the International Center of Photography in New York, Jan. 24, 2023. (Daniel Terna/The New York Times)

by Robin Pogrebin



NEW YORK, NY.- Whether walking among outsize portraits of artists such as John Baldessari, Kara Walker and Lawrence Weiner, taken by photographers Catherine Opie and Brigitte Lacombe, or sitting in darkness watching Tacita Dean's mesmerizing film of David Hockney smoking in his studio, curator Helen Molesworth looked the other day as if she were moving among friends. And she was. The show she has organized at the International Center of Photography in Manhattan, New York — "Face to Face: Portraits of Artists by Tacita Dean, Brigitte Lacombe and Catherine Opie" — which opens to the public on Friday, features artists Molesworth has been close to throughout her 25-year career ... More



Kenneth Noland, Glean, 1977. Acrylic on canvas, 93" × 76-1/2" (236.2 cm × 194.3 cm). © The Kenneth Noland Foundation / Licensed by VAGA at Artists Rights Society (ARS), New York, NY. Photo: Tom Barratt.



LONDON.- Pace Gallery opened a solo exhibition of the American abstract painter Kenneth Noland. Stripes/ Plaids/ Shapes, the opening show of 2023, surveys canvases from a significant period in the artist's remarkable career. Marking Noland's first solo presentation in London for more than two decades, this exhibition charts the development of his iconic Stripe paintings of the late 1960s through to his Shape canvases in the early 1980s. A founding member of the Washington Color School – which included figures such as Sam Gilliam, Morris Louis, and Alma Thomas – Noland was instrumental in creating the language of post-war abstraction in the US. His experimental approach to form, material, and colour gave rise to radical works that redefined the notion of painting. Between 1946 and 1948 ... More



Blok med Atens navn, sandsten. Foto Ole Haupt © Ny Carlsberg Glyptotek.



COPENHAGEN.- Join The Glyptotek on a journey to Egypt and the rise and fall of the ancient city of Amarna. The Glyptotek is providing a rare glimpse not only of the absolute monarchy and lifestyle of a famous pharaoh, but also of the lives and dreams of the people of ancient Egypt. The special exhibition 'Amarna – City of the Sun God' will run from 26 January to 18 June 2023. What happens when a new pharaoh takes over as ruler and sets a completely different agenda? He replaces magical animal gods with the sun god Aten, heralding the start of a brand new religion and social structure. The year is 1350 BCE, and we are in ancient Egypt. The pharaoh Akhenaten and his wife Nefertiti are in power. The sun god Aten is now the sole permitted god, and the new cult leads to major social upheaval. The royal couple move 250 km along the Nile and build a magnificent new royal seat - Amarna ... More
Move over Moses and Zoroaster: Manhattan has a new female lawgiver
Getty Research Institute acquires work by Fritz Block
Leo Villareal's first solo exhibition in Switzerland on view at Pace Gallery


The artist Shahzia Sikander with her work "Witness" in Madison Square Park in New York, Jan. 21, 2023. (Vincent Tullo/The New York Times).

by Dan Bilefsky



NEW YORK, NY.- Frenzied commuters in New York City's Flatiron district have been stopped in their tracks in recent days by an unlikely​ ​apparition ​near Moses, Confucius and Zoroaster. Standing atop the grandiose state courthouse is a shimmering, golden 8-foot female sculpture, emerging from a pink lotus flower and wearing Justice Ruth Bader Ginsburg's signature lace collar. Staring regally ahead with hair braided like spiraling horns, the sculpture, installed as part of an exhibition that opened last week, is the first female to adorn one of the courthouse's 10 plinths, dominated for more than a century by now weathered statues representing great lawgivers throughout the ages — all of them men. Shahzia Sikander, 53, the paradigm-busting Pakistani American artist behind the work ... More



The series dedicated to art, architecture, design, and technology of Los Angeles from 1943 to 1954.



LOS ANGELES, CA.- The Getty Research Institute has acquired by donation from The Manfred Heiting Trust twenty-seven complete sets of Kodachrome slides produced by Fritz Block from 1943 to 1954 when he lived and worked in Los Angeles. "Block's aim was not only to produce color photography of aesthetic significance, but also to make color slides for progressive visual education," says Mary Miller, Director of the Getty Research institute. "The development of slide film in the 1940s had led to a range of innovations in pedagogy. Schools, colleges, and universities purchased projectors and set up slide libraries. Block positioned himself to fill the gap of slides readily available for purchase." Block's slides number approximately 6,000, the majority of which were taken with a 35-mm Leica camera. Series topics include arts from underrepresented fields - African Art, Art of the South Pacific, Religious Folk Art, ... More



Installation View, Leo Villareal: Nebulae, Jan 24 – Mar 18, 2023, Pace Gallery, Geneva © Leo Villareal, Geneva, 2022. Photo: Annik Wetter, courtesy Pace Gallery.



GENEVA.- Pace Gallery is presenting Leo Villareal: Nebulae, the American artist's first solo exhibition in Switzerland. Bringing together a suite of eight new wall-based digital sculptures, this presentation coincides with the 2023 edition of artgenève, where the artist will showcase a major installation in the main hall. Nebulae marks Pace's sixth solo exhibition of Villareal's work, underscoring the gallery's commitment to championing contemporary practices that push the boundaries of art and technology. Rooted in art historical language of abstraction, Villareal's practice uses pixels and binary code to create complex, rhythmic compositions. Investigating the capacity of light and code as both medium and subject, Villareal's practice is concerned with the immersive, experiential, and sensorial qualities of perception. Villareal's major projects include his public installation ... More
BAMPFA presents Rina Kimche's first solo exhibition in the United States
Italian artist Roberto Cuoghi's first exhibition with Hauser & Wirth opens in New York
Museum of the Moving Image Executive Director Carl Goodman exiting after 34 years with institution


Rina Kimche: Structure with Canal, 2012; hand-built sculpture with an arbitrary combination of clays; 8 1/2 x 11 1/2 x 4 1/4 in.; BAMPFA Collection, gift of Cathryn M. Cootner, 2021.13.4.



BERKELEY, CA.- The influential Israeli ceramicist Rina Kimche receives her first solo exhibition in the United States next year at the Berkeley Art Museum and Pacific Film Archive. Kimche's eponymously titled solo exhibition at BAMPFA features seventeen sculptures by the 88-year-old artist, who is regarded as an important figure in the Israeli Modernist movement but has rarely exhibited her work in North America. Focusing primarily on work created in the past twenty years of the artist's practice, Rina Kimche includes several sculptures that have never been publicly displayed until now. Noted for the deceptive simplicity of their abstract forms, the sculptures of Rina Kimche (pronounced KIM-kuh) are typically diminutive in scale, recalling the historical forms and styles of Mediterranean clay artifacts as well as the rocky desert landscape of the artist's native Israel ... More



Roberto Cuoghi, SS(XLIIIPs)mm, 2020. Sugar paste, steel structure, Styrofoam, 170 x 80 cm / 66 7/8 x 31 1/2 in. Photo: Sarah Muehlbauer.



NEW YORK, NY.- For his first exhibition with Hauser & Wirth and first New York City solo presentation in nearly a decade, Italian artist Roberto Cuoghi populates the ground floor of the gallery's 22nd Street building with an entirely new body of work. One of the most celebrated, yet enigmatic, artists of his generation, Cuoghi is known for an exacting, almost obsessive, research- and process-driven practice that spans the full spectrum of styles and genres. 'Pepsis'* will debut works from Cuoghi's ongoing, all-consuming project of the same name—a complex, multi-faceted investigation initiated in early 2020 after a fully immersive stay in New York City. Much of this body of work focuses on a rarely explored aspect of his ever-expanding practice, a medium infrequently associated with Cuoghi but central in contemporary art discourse now: painting. 'I've been painting exactly how I've seen that 'one pain ... More



Carl Goodman stands in the Redstone Theater at MoMI (credit: Josefina Fernandez Moran / MoMI).



ASTORIA, NY.- Museum of the Moving Image today announces that Carl Goodman is stepping down from his role as Executive Director on March 3, 2023, after 34 years with the institution. Goodman will assume the role of President and CEO of The Florida Holocaust Museum in St. Petersburg following his departure from the Museum. Goodman joined the Museum as an educator in 1989 and served in a number of capacities including Curator of Digital Media and Senior Deputy Director before his appointment as Executive Director in 2011. Under his twelve-year tenure as Executive Director, the Museum experienced a three-fold increase in annual attendance following the Museum's major expansion and renovation. The Museum acquired a major collection of puppets and other material from the family of Jim Henson, and created a new permanent gallery and exhibition devoted to the work of Henson, while also developing a traveling version of this exhibition that continue ... More
Patricia & Phillip Frost Art Museum-FIU announces four new exhibitions for Spring 2023 showcase
Drawing Room announces its new exhibition 'Noi Fuhrer POLAR'
Artist duo TARWUK join White Cube


Garry Dorsainvil, Untitled, Oil on canvas, Late 20th century, 25.5 x 31.5 inches, Gift of Raymond and Judi Richards.



MIAMI, FLA.- This spring, The Patricia & Phillip Frost Art Museum-FIU unveils a diverse slate of innovative exhibitions that focus on space, place, location and dislocation. They are: Together/Apart: Modern and Contemporary Art of the United States (on view from Jan. 21, 2023 through Feb. 2, 2025) displays the rich collections of the Frost Art Museum and the Wolfsonian Museum-FIU. The exhibition is organized around three themes: "Identity: Expressed, Imagined and Constructed;" "Re-Design: Expressing Identity though Form;" and "Place and Space: Where Identity Lives." This exhibition taps into the rich collections of both museums to showcase works by 20th-century and contemporary artists that tell stories about identity in the U.S. from myriad perspectives. Chitra Ganesh: Dreaming in Multiverse (on view from Jan. 21, 2023 through April 16, 2023) draws on Buddhist and Hindu iconography, science fiction ... More



Noi Fuhrer On Watch, 2022. Charcoal on Paper, 121 x 131 cm. Photo: Helge Mundt, Hamburg. Courtesy: The artist and Drawing Room, Hamburg.



HAMBURG.- In each of Fuhrer's images, there are objects or elements that are accentuated as white spots against the charcoal drawing. In "On watch" (2022), this is the upper edge of a towel that the woman in the bikini is holding up as a screen so that her companion can get changed unseen. It was generated by omissions of the charcoal pencil, by interruptions in the otherwise straight lines drawn downwards. How glaring the edge of the towel appears, almost as if it were not an analogue drawing but the image was glinting at us from a digital display. This effect in the visual perception of the images results from Fuhrer's mechanical drawing technique, with which she sets scenes and images onto the paper that could also have been created by software. As if they were not meticulously drawn by hand. Contemporary people's everyday lives are sustained by constant contact with digital interfaces such as CGI (Computer Generated Imagery) and virtual realities ... More



Working as a single entity since 2014, TARWUK form part of a generation who came of age during the Yugoslav wars of the 1990s.



LONDON.- White Cube announced representation of the New York-based, Croatian artistic duo TARWUK [Bruno Pogačnik Tremow (b. 1981, Zagreb, Croatia) and Ivana Vukšić (b. 1981, Dubrovnik, Croatia)]. Their first solo exhibition in the UK opens at White Cube Mason's Yard on 1 February, and continues until 18 March 2023. Working as a single entity since 2014, TARWUK form part of a generation who came of age during the Yugoslav wars of the 1990s. Now living and working in the U.S., their practice can be understood within the context of the aspirations, struggles and eventual dissolution of the former Yugoslavian state, and its elusive avant-garde. Through painting, sculpture, works on paper and installation, TARWUK combine disparate visual languages to make subtle historical connections and create multi-disciplinary micro-worlds. Their paintings are characterised by a sense of escaping the specifics of time ... More
Quote
I am very depressed and deeply disgusted with painting. It is really a continual torture. Claude Monet
---

Arlene Shechet and Laura Hoptman in Conversation
---

Flashback
On a day like today, Dutch painter Hendrick Avercamp was born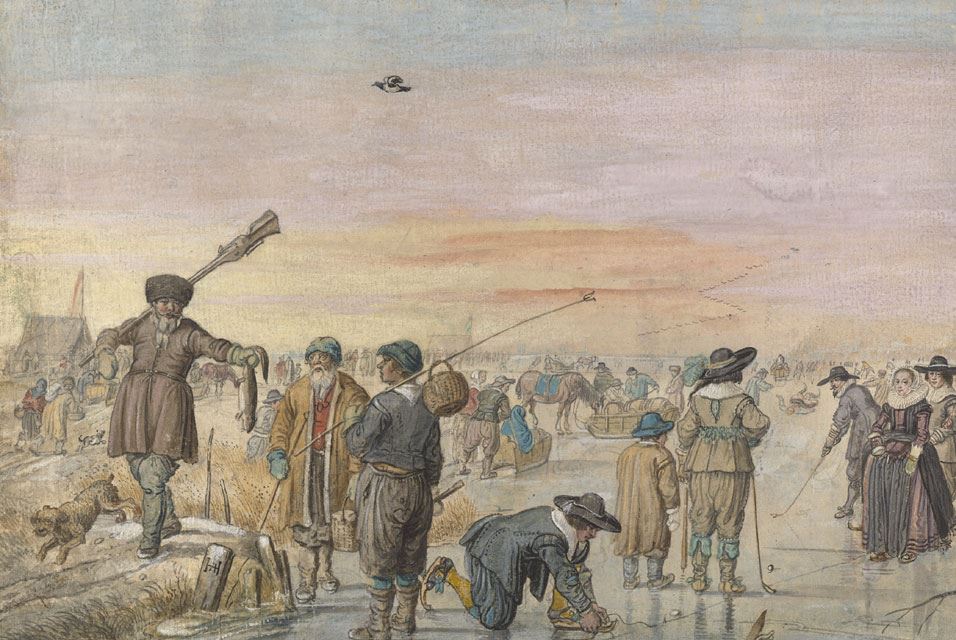 January 27, 1585. Hendrick Avercamp (January 27, 1585 (bapt.) - May 15, 1634 (buried)) was a Dutch painter. Avercamp was born in Amsterdam, where he studied with the Danish-born portrait painter Pieter Isaacks (1569–1625), and perhaps also with David Vinckboons. In 1608 he moved from Amsterdam to Kampen in the province of Overijssel. Avercamp was mute and was known as "de Stomme van Kampen" (the mute of Kampen). In this image: Hendrick Avercamp, IJsgezicht met jager die een otter toont. Rijksmuseum Amsterdam.
---

Museums, Exhibits, Artists, Milestones, Digital Art, Architecture, Photography,
Photographers, Special Photos, Special Reports, Featured Stories, Auctions, Art Fairs,
Anecdotes, Art Quiz, Education, Mythology, 3D Images, Last Week,

.
Royalville Communications, Inc
produces: