VFA....Recent Acquisitions: December 2021- Episode 18
Please click here to view the catalogue of Recent Acquisitions.
NEW YORK, NY
.-
Welcome to VFA……Due to a two month delay caused by the congestion in New York Harbor our 200 page annual catalogue is finally in the mail to our clientele. This has been an extremely frustrating experience and completely out of our hands. However…..we have kept moving forward with our continuous buying addictions and present you with our "Recent Acquisitions" video accompanied by a 35 page digital catalogue. Among our "Recent Acquisitions" is a rare 1938 major canvas by Hananiah Harari that was exhibited and published in the American Abstract Artist's annual exhibition. This work is so contemporary that it could have been painted yesterday. Also included is a small 1935 cubist nude gem by Carl Holty a founder of the group in 1936. Continuing you will see a rare figural 1943 Charles Green Shaw titled "Sunset" that shows Shaw's influence on the later work of Milton Avery. In addition to the members of the AAA Group we have also purc ...
More
The Best Photos of the Day
Lawrence Weiner, artist whose medium was language, dies at 79
Exhibition examines the history of modern homelessness in New York City
Art Basel stages highly successful return to Miami Beach, marking a landmark 2021 edition


The conceptual artist Lawrence Weiner at his studio in New York, Nov. 17, 2018. Weiner, a pioneer of the conceptual art movement who used words as his metier more than any other artist of his generation, died on Thursday, Dec. 2, 2021, at his home in Manhattan. He was 79. An Rong Xu/The New York Times.

by Randy Kennedy



NEW YORK, NY.- Lawrence Weiner, who used language as the material for a vast body of visual art that operated outside the boundaries of poetry and aphorism in a vernacular all its own, sometimes Delphic and generally hopeful about the human condition, died Thursday at his home and studio in Manhattan. He was 79. The Marian Goodman Gallery, which had represented him for more than three decades, announced the death. The gallery did not cite a cause, but Weiner had cancer for several years. A pioneer of the conceptual art movement (a ... More



John Ahearn (b. 1951), project artist, Rigoberto Torres (b. 1960), project artist, Ernestine and Three Friends, 1992. Acrylic on plaster. New-York Historical Society, Gift of Lenox Hill Neighborhood House, 2016.63a–d.



NEW YORK, NY.- The New-York Historical Society presents Art for Change: The Artist & Homeless Collaborative, an exhibition that examines the history of modern homelessness in New York City through the lens of the Artist & Homeless Collaborative (A&HC), a public art project founded in 1990 by multidisciplinary artist Hope Sandrow. The program, which connected women from the Park Avenue Armory Shelter for Homeless Women with artists, curators, and activists, provided a vehicle for the women to tell their stories, work creatively, and build relationships. On view December 3, 2021 – April 3, 2022 in the Joyce B. Cowin Women's History Gallery, the exhibition looks at the transformative potential of art in public and private life through a selection of art projects led by John ... More



Gagosian © Art Basel.



MIAMI, FLA.- The 2021 edition of Art Basel Miami Beach – Art Basel's first in-person fair in the United States since 2019 – brought together 253 leading international galleries from 36 countries and territories, presenting the highest quality of artworks across all media, from painting and sculpture to photography and digital works. 44 galleries joined the fair for the first time this year, including: Central Galeria and Galeria Estação from São Paulo, Curro from Guadalajara, Galeria Patricia Ready from Vitacura, Proyectos Ultravioleta from Guatemala City, Wilding Cran Gallery from Los Angeles, Reyes Finn from Detroit, Daniel Faria Gallery from Toronto, and Gallery Hyundai from Seoul. This year's show was more diverse than ever before and welcomed four first-time participants from Africa, including Afriart Gallery from Kampala; First Floor Gallery Harare with spaces in Harare and Victoria Falls; SMAC Art Gallery ... More
Sikkema Jenkins & Co. now represents Yashua Klos
Exhibition explores the extraordinary breadth of Caribbean-British art over four generations
Rubell Museum unveils new exhibitions


Yashua Klos, The Generosity Of A Hand With No Work To Do, 2021 (detail). Woodblock prints, muslin, paper collage, spray paint, and japanese rice paper on stretched canvas, 60 x 84 x 2 1/4 in (152.4 x 213.4 x 5.7 cm) © Yashua Klos, courtesy of Sikkema Jenkins & Co.



NEW YORK, NY.- Sikkema Jenkins & Co. announced the representation of Yashua Klos. A new work by Klos will be on view at Sikkema Jenkins & Co.'s booth at Art Basel in Miami Beach. The artist's first exhibition at the gallery will be held in fall 2022. Klos' multimedia practice explores themes of identity, memory, and African Americans' relationship to American labor. His large-scale works are created from the intricate formation of woodblock prints, representing ideas of Blackness through multi-dimensional, fragmented portraits. Unlike traditional collage arranged from ready-made source material, Klos creates all his collage material through woodblock printing and monotypes. His work reimagines the Black body as ... More



Installation view.



LONDON.- On view at Tate Britain, Life Between Islands is a landmark exhibition exploring the extraordinary breadth of Caribbean-British art over four generations. It is the first time a major national museum has told this story in such depth, showcasing 70 years of culture, experiences and ideas expressed through art, from visionary paintings to documentary photography. The exhibition features over 40 artists, including those of Caribbean heritage as well as those inspired by the Caribbean, such as Ronald Moody, Frank Bowling, Sonia Boyce, Claudette Johnson, Peter Doig, Hew Locke, Steve McQueen, Grace Wales Bonner and Alberta Whittle, working across film, photography, painting, sculpture and fashion. The exhibition begins with artists of the Windrush generation who came to Britain in the 1950s, including Denis Williams, Donald Locke and Aubrey Williams. It explores the Caribbean Artists Movement, an informal group of creatives like Paul Dash ... More



Genesis Tramaine, Studio view.



MIAMI, FLA.- The Rubell Museum unveiled a robust presentation for its second Miami Art Week in its new home, featuring a slate of exhibitions highlighting three artists-in-residence, newly commissioned work and new acquisitions. Since its debut in December 2019, the Rubell Museum continues to expand its exhibition series and collection highlights with new artwork on view by Natalie Ball, Yayoi Kusama and Kara Walker. With the support of the John S. and James L. Knight Foundation, the Rubell Museum has hosted an acclaimed artist residency program. Past participants include Amoako Boafo (2019), Jonathan Lyndon Chase (2018), Alison Zuckerman (2017), Cy Gavin (2016) Lucy Dodd (2014), Oscar Murillo (2012) and Sterling Ruby (2011). Genesis Tramaine was the Museum's 2020 Artist-in-Residence. Her exhibition Sanctuary encompasses a series of layered portraits created during her six-week residency at the Museum. Guided by her spiritual ... More
Classic Week at Christie's London offers art from antiquity to the 21st century
Charlotte Jackson Fine Art opens an exhibition of works by Helen Pashgian
MASSIMODECARLO opens an exhibition featuring works by McArthur Binion and Sol LeWitt


Two Private Collections of European Ceramics, Gold Boxes and Silver |16 December. The sale comprises Gold Boxes from an American Private Collection and The Robert G. Vater Collection of European Ceramics, Silver and Galanterie. © Christie's Images Ltd 2021.



LONDON.- Classic Week at Christie's London presents art from antiquity to the 21st century, spanning five live auctions and four online-only sales from 17 November to 16 December. The broad array of highlights range from Constable's majestic Salisbury Cathedral from the Bishop's Grounds, an attic red-figured Nolan amphora attributed to Hermonax, an early El Greco masterpiece and the Darwin Family Microscope, to striking art and objects from the collection of Victoria, Lady de Rothschild pairing Johnny Swing's 'Half-Dollar Chair' with works by Dora Maar, Henry Moore and Irving Penn. Rembrandt's illustrious career can be traced through prints including a portrait of him with his wife Saskia alongside his most celebrated landscape The Three Trees, with further highlights including ... More



Helen Pashgian, Untitled, 2021. Epoxy & acrylic, 6.5 x 6.5 x 6.5 in.



SANTA FE, NM.- An exhibition of new works by Helen Pashgian opened at Charlotte Jackson Fine Art on December 3 and will remain through January 3, 2022. Small worlds. From out of the white and gray gallery space, spheres coalesce. Brilliant color. Luminous. Complex. The glowing orbs turn the viewers into satellites: we sail forward, close in, pulled by the gravity of these small condensed globes of pinks, oranges, greens, rust and silver, lavender and blues and then we begin to slowly circle, propelled by the subtle changes and depths of the spheres. Shadows, shapes, glimmers of light spark and shift. Charlotte Jackson Fine Art is presenting an exhibition of five new spherical sculptures by eminent Light and Space movement founder, Helen Pashgian. Each of these poured resin "Presences" (as Pashgian calls them), sits atop a plinth – inviting the viewer to engage from all directions. Those familiar with Pashgian's work w ... More



MacArthur Binion - Sol LeWitt, MASSIMODECARLO, Milan/Lombardia, 26.11.2021 > 15.01.2022 Installation Views by Roberto Marossi. Courtesy MASSIMODECARLO.



MILAN.- MASSIMODECARLO is presenting the exhibition McArthur Binion - Sol LeWitt in collaboration with the Sol LeWitt Estate. In 1973 McArthur Binion moved from Chicago to the heart of the minimalist art scene, New York. In the same year his work was exhibited at Artists Space in a show curated by Sol LeWitt and Carl Andre. Inspired by this encounter, McArthur Binion – Sol LeWitt allows their parallel practices to be seen in direct dialogue for the first time. Shown within the gallery spaces of Casa Corbellini Wassermann, the artists' works share a strongly linear visual language. The formal investigation of the grid, geometry, and a preoccupation with surface offer points of comparison, however it is in the importance they place on the depths beneath a work's surface that the two diverge. Since the 1970s Binion has challenged ... More
Christie's Chinese Ceramics and Works of Art department achieves market leadership in Asia
Andrea Marie Breiling's first exhibition in London on view at Almine Rech
Drawing Room in Hamburg opens an exhibition of works by Johanna Jaeger


A Very Rare and Important Carved Jade Dragon-Form Pendant. Late Warring States Period, circa 300-221 BC. Price Realised: HK$15,250,000/ US$1,967,505. Against the pre-sale low estimate of HK$2,800,000/ US$361,247. © Christie's Images Ltd 2021.



HONG KONG.- On 3 December, Christie's held three live auctions for the category – The Chang Wei-Hwa Collection of Archaic Jades Part III - Spring and Autumn & Warring States Periods, The Songde Tang Collection - Song Dynasty Ceramics, and Important Chinese Ceramics and Works of Art, generating a combined total of HK$351,020,000/ US$45,270,416. Marco Almeida, Head of Chinese Ceramics and Works of Art Department, Christie's Asia Pacific, commented: "We are delighted to wrap up our Autumn Auction week with the outstanding results of our three sales, which not only demonstrate our expertise and commitment to sourcing and offering important private collections and celebrated objects from distinguished collectors, but ... More



Andrea Marie Breiling, Oh The Truth Is A Beautiful Thing, 2021. Spray paint on canvas, 238.8 x 188 cm. 94 x 74 in.



LONDON.- Almine Rech London is presenting Sweet Dreams of Rhythm and Dancing, Andrea Marie Breiling's first exhibition in London and her second solo exhibition with Almine Rech, on view until December 18, 2021. Watch out—I tell myself—be careful what you say, what generalizations you make about Andrea Marie Breiling's work, because what's true of them today may not be so tomorrow. Her art has been changing, growing, expanding so quickly, I'm not sure that even she (let alone I) can keep up with it. This kind of overwhelming energy doesn't burst out very often in the life of an artist, and it's rare that a critic gets to see it happening from up close, so I feel lucky that I got to know this work just at the moment when things were starting to fizz this year. Today she's still working exclusively with spray paint, differently than even a year ago. They are chromatically richer and spatially more ... More



Installation view.



HAMBURG.- In her work, the Berlin-based artist Johanna Jaeger (* 1985 in Heidelberg) makes time and light as the main constituents of the photographic process a conceptual and motivic theme. To this end, she has developed a characteristic pictorial language that revolves around fluid ephemera such as clouds, colour gradients, and the processual dissolution of form; all this ties in with phenomena of light and exposure and also addresses the sedimentation of the solid as a photographic metaphor. In her first solo exhibition clouds & pebbles at the Drawing Room, Johanna Jaeger constructs a framework with the two installation works, sky piece and river pebble (horizontal split_1-∞) (both 2021), thus literally proclaiming the exhibition a "picture space". From this, she unfolds a field of tension for her photographic tableaus as well. The photo series clouds & pebbles (making 2 of 1) (2020) follows on directly from this installation-like setting. In this four-part conceptual still life, Jaeg ... More
Quote
Creative experience foreshadows a new Heaven and a new Earth. Nikolai Berdyaev
---

Peter Brant at the Intersection of Art and Design
---

Flashback
On a day like today, photojournalist Alfred Eisenstaedt was born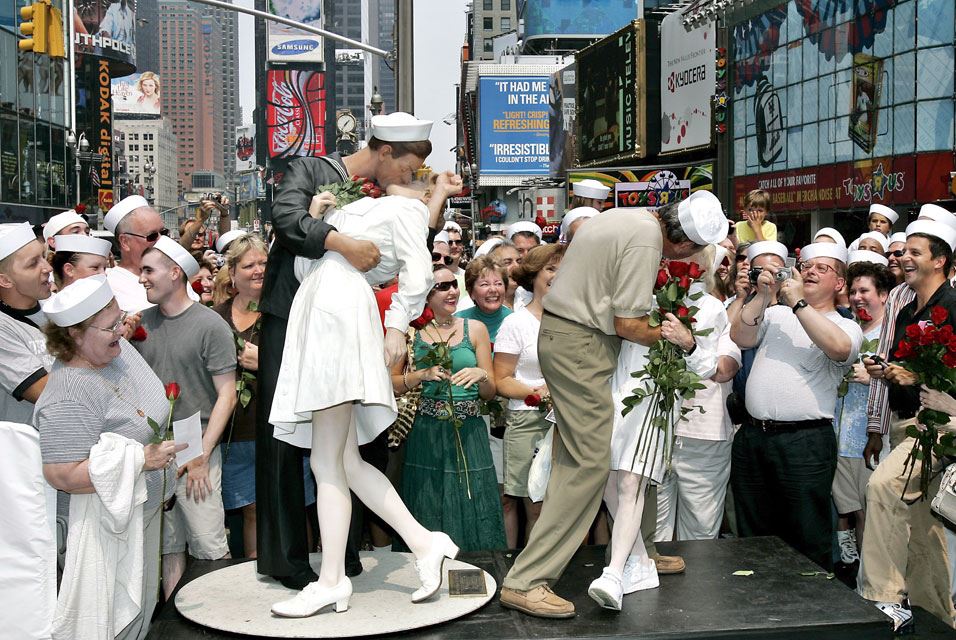 December 06, 1898. Alfred Eisenstaedt (December 6, 1898 - August 24, 1995) was a German-American photographer and photojournalist. He is renowned for his candid photographs, frequently made using various models of a 35mm Leica rangefinder camera. He is best known for his photograph capturing the celebration of V-J Day. In this image: 86 year-old Edith Shain and 78 year-0ld Carl Muscarello recreate the Famous 'Kiss Picture', Sunday 14 August 2005. The original couple in the iconic image, Edith Shain the nurse and Carl Muscarello the sailor, was taken by Alfred Eisenstaedt 60 years ago in Times Square on Victory Japan Day in 1945 to signify the end of World War Two. The Artist Seward Johnson created a life-sized sculpture of the kiss Unconditional Surrender for the event.
---

Museums, Exhibits, Artists, Milestones, Digital Art, Architecture, Photography,
Photographers, Special Photos, Special Reports, Featured Stories, Auctions, Art Fairs,
Anecdotes, Art Quiz, Education, Mythology, 3D Images, Last Week,

.
Royalville Communications, Inc
produces: