He lost a Courbet fleeing the Nazis. His heirs are getting it back.
An undated photo provided by The Fitzwilliam Museum, Cambridge shows Gustave Courbet's "La Ronde Enfantine," painted circa 1862. A panel has recommended that a British museum return the landscape painting to heirs of a Jewish engineer who joined the French Resistance. (The Fitzwilliam Museum, Cambridge via The New York Times)

by Julia Jacobs
NEW YORK, NY
.-
Shortly before the Nazi occupation of France in 1940, a Jewish engineer from a prominent family fled his Paris home with his mother, abandoning their apartment in the city's affluent 16th arrondissement. Among the possessions they left behind was a 19th century painting of a lush forest scene, with children playing under a canopy of trees. As the Nazis took over, the artwork — by Gustave Courbet, the French realist painter — was carried off and reserved for the collection of a top Nazi official, while the engineer, Robert Bing, joined the French Resistance, working to distribute clandestine newspapers on behalf of the movement. A decade after it was stolen, the painting ended up at the Fitzwilliam Museum at Cambridge, where it has remained since. Now, following a decision by a British government panel, the painting is expected to be returned to the heirs of Bing, who died in 1993. The panel's report, released on Tuesday, determined that the artwork had been looted b ...
More
The Best Photos of the Day
The Robin Rice Gallery opens an exhibition of works by Giacomo Piussi
High end jewelry and fine art lead the way at Roland Auctions
National Gallery of Art acquires works by Beatriz Milhazes


Giacomo Piussi, Punk Rocker Girl, 2022. Oil on canvas.



NEW YORK, NY.- The Robin Rice Gallery will present Daylight, an exhibition of 20 paintings by Giacomo Piussi. Come to meet the artist, all the way from Florence, Italy! The opening reception will be held on Wednesday March 29, 2023, from 6pm to 8pm, at 325 West 11th Street, New York, NY. Daylight explores a playful world where dreams and reality meld together to create surreal moments. When engaging with Piussi's work, we enter an arena where we are immersed in childlike delight. We experience snapshot images of a world reduced to its essence, in a seemingly comic-book style that has echoes of Giotto and Paolo Uccello, and even of medieval illuminations. My work is simple: the subject matter is stripped to basics, so all that is engagement, controversy and links to reality is taken away, and what remains is an icon with an aura of philosophical suspension, and a window into the eni ... More



14K Yellow Gold Tiffany Cigarette Case, Estimate $6,000-$8,000.



GLEN COVE, NY.- Roland Auctions NY Saturday, April 1st, 2023 Multi-Estates Auction, will feature hundreds of lots of Fine Art, Decorative Arts, 20th Century Modern, Antique & Vintage Furniture, textiles, silver, Gold and Silver Jewelry, rugs, Collectibles, Asian Art and lighting. Previews will be held on Thursday, March 30th and Friday, March 31st from 10am - 6pm. Fine jewelry and fine art are front and center at this month's auction. High end fine jewelry pieces by many top names will take the spotlight this month, with Roland offering a stunning GIA Certified Diamond & Platinum Ring, marquise diamond in platinum setting; diamond 3.34 carats, F color, SI2. Report #5175040. Platinum setting size 7 1/2, with two (2) 50-point diamond baguettes. Estimate $20,000-$30,000, a David Webb 18K Gold & Mabe Pearl Ring, yellow gold ring featuring a 20mm pearl in a large octagonal ... More



Beatriz Milhazes, Romantico americano, 1998 (detail). Oil on canvas, overall: 187.96 x 220.03 cm (74 x 86 5/8 in.). National Gallery of Art, Washington. Gift of Tony Podesta Collection, Washington, DC. 2023.4.1



WASHINGTON, DC.- The work of Beatriz Milhazes (b. 1960), one of Brazil's most celebrated contemporary artists, reveals her deep engagement with her native country's complex colonial history, characterized by the meeting of Indigenous, African, and European cultures. Milhazes's work also brings visual forms related to Brazil's vernacular arts, such as ceramics and textiles, into conversation with those drawing from the tradition of modernist abstraction. Her signature, brightly colored circles and curvilinear forms overlap and intersect with organic shapes and floral motifs that reference the ornately patterned costumes of carnaval. The National Gallery of Art has acquired Romantico americano (1998), generously given by Tony Podesta. Milhazes made this work using a ... More
Ernie Barnes leads Swann sale with 'Daddy'
CARBON 12 presents Amba Sayal-Bennett's third solo exhibition with the gallery
Sadie Coles opens an exhibition of works by Richard Prince


Ernie Barnes, Daddy, acrylic on cotton canvas, 1973. Estimate $250,000 to $350,000.



NEW YORK, NY.- The spring offering of African American Art will take place on Thursday, April 6, featuring a broad range of scarce and significant art from the Harlem Renaissance to the Post-War and Contemporary. Ernie Barnes headlines the sale with Daddy, circa 1970. The painting, which depicts a joyful scene of a father with his son perched upon his shoulders, is an important oil-on-canvas work that captures the artist's expressive figuration of the 1970s that often displayed moments of everyday life in action ($250,000-350,000). Additional figurative works include Hughie Lee-Smith's beautiful The Ribbon, circa 1960—a quintessential mid-career oil painting showcasing his unique vision of a modern, existential landscape with Surrealist undertones ($120,000-180,000), as well as one of Lee-Smith's few known nude works with Nude, oil on board, 1949 ($30,000-40,000). A beautiful example of Eldzier Cortor's late career oil painting with Trilogy No. I, oil on canvas, ... More



Amba Sayal-Bennett, Strike Root, 2023. Powder coated mild steel, PLA, magnets, fabric, rope, 139 x 93 x 33 cm. 54 3/4 x 36 1/2 x 13 in.



DUBAI.- Marking CARBON 12's 87th exhibition and Amba Sayal-Bennett's third solo exhibition with the gallery, the artist presents a series of new works. Coinciding with Art Dubai 2023, the exhibition, Architectures of Excess, continues Sayal-Bennett's exploration of translation, boundaries, and migration. Amba Sayal-Bennett is a British-Indian artist working across drawing, projection, and sculptural installation. Her practice explores how methods of abstraction are exclusionary and performative, crafting boundaries between what is present, manifestly absent, and othered. Her recent work focuses on the architectural legacies of Modernism, tracing the migration of rational forms across the ocean to places such as Chandigarh in the Punjab, where her maternal grandparents were born. Using translation as method, she explores the movement of bodies, knowledge and form across different sites, processes inherent to the diasporic experience. Centr ... More



The exhibition coincides with the artist's acclaimed survey exhibition, entitled SAME MAN, at the Louisiana Museum of Modern Art, Humlebæk, now on view until 10 April 2023.



LONDON.- Opening in March 2023, Richard Prince presents his seventh solo exhibition at the gallery, entitled Everyday, a body of recent paintings that expand his iconic Joke Paintings series. In Everyday, Prince replicates the jokes of Rodney Dangerfield (1921-2004), the renowned American stand-up comedian best known for disarming one-liners that captured an everyman humour in the banal or a self-deprecating loss of face. Prince, known for his collection of counter-cultural material, acquired an index of the comic's jokes. Just my luck I was at the airport when my ship came in is the joke repeated in many of the exhibition works, retraced verbatim across several paintings. Prince knowingly subjects the joke to scrutiny, the repetition adding to its hopeless melancholy. In other paintings, the roster of one-liners and throwaway gags at first sight deliver their intended punch. Yet reframed in abstract perpetuity on canvas ... More
Bonhams presents an exhibition dedicated to works by Lynne Drexler in New York
Chiswick Auctions announces results of the Specialist Watches sale
'Portraits of Dogs from Gainsborough to Hockney' opens at The Wallace Collection


Lynne Drexler (1928-1999), Untitled, 1960. Photo: Bonhams.



NEW YORK, NY.- Bonhams is presenting Lynne Drexler: Play of Color, a private-selling exhibition, public view now through April 14 in New York. Featuring 29 works by the lyrically abstract American painter, the exhibition charts the evolution of Lynne Drexler's (1928-1999) signature style from early to mid-career through precursory works on paper, works on board, and oil paintings. Drexler was an inimitable 20th century artist whose charged work and life exuded a vitality that is now experiencing overdue, renewed art historical and market interest. The exhibition is curated by gallerist and art consultant, John Kenneth Alexander, a longstanding champion of the artist. Trained by Robert Motherwell and Hans Hofmann, Drexler toiled in the Abstract Expressionist-dominant New York in the 1950s. While her embrace of "push-pull" color theory is evident in her work, mosaic fields that exude vitality and establish atmospheric depth, Drexler ... More



Auctions such as this always offer the chance to pick up a nearly new branded watch at a price way below retail.



LONDON.- The Specialist Watches sale at Chiswick Auctions on March 22 included a number of very special modern issues – including a diver's watch made for MI5 employees. Direct from family member who worked with the Security Service was an extremely rare Breitling stainless steel automatic Superocean Steelfish. It has the MI5 Security Service crest to the dial at the nine o'clock position and appropriate engraving to the case back. These were made in 2009 e in a limited edition of just 900 pieces to mark 100 years since the creation of the Secret Service in 1909. It came for sale with box, papers, extra bracelet links and tags and sold at £4,750. One fortunate collector bid £13,750 for a limited edition Chopard LUC tourbillion with a 60 hour power reserve. This was number 64 of only 150 made in 2011 with a titanium case and bezel. The openwork window displays ... More



More than any other nationality perhaps, the British have both commissioned and collected portraits of dogs.



LONDON.- A much anticipated and truly magnificent exhibition of dog portraits – postponed due to the pandemic in 2020 – will finally go on display at The Wallace Collection next year (29 March – 15 October 2023). Portraits of Dogs from Gainsborough to Hockney explores our devotion to four-legged friends across the centuries. Through carefully selected paintings, sculptures, drawings, works of art and even taxidermy, the exhibition highlights the unique bond between humans and their canine companions. Dog portraiture developed as an artistic genre contemporaneously with its human counterpart – dogs are represented in the earliest cave paintings alongside humans – and it flourished, particularly in Britain, from the seventeenth century onwards. More than any other nationality perhaps, the British have both commissioned and collected ... More
'Famakan Magassa: Insatiable Animal' now on view at albertz benda
MVPs in multiple pop culture categories best-sellers at Hake's Premier Auction
New Orleans Museum of Art appoints Redell Hearn as new Chief Educator


Famakan Magassa [Malian, b. 1997]. La ballade, 2022. Acrylic on canvas. 57 1/2 x 49 1/2 inches | 146 x 125.5 cm.



LOS ANGELES.- albertz benda is thrilled to announce Famakan Magassa: Insatiable Animal, the artist's first solo exhibition in Los Angeles and his second with the gallery, on view from March 22 - April 15, 2023. This exhibition will present an incisive cycle of acrylic paintings that examine correspondences between fact and fiction, truth and falsity, meaning and ambiguity. This will be Magassa's first solo presentation following his winning of the 2023 Norval Sovereign African Art Prize. Magassa casts himself in the role of the griot – traveling poets, musicians, and storytellers who maintain a tradition of oral history in parts of West Africa – drawing meaning from the irrationality and unpredictability of life. The works in Insatiable Animal often contradict or elaborate on reality, delving into personal fantasy and allegory. Compositions are at times populated by grotesque ... More



Authentic circa-1920 Type I original photograph of Babe Ruth from his first New York Yankees season, credited to Paul Thompson, one of the premier baseball photographers of the early 20th century. Size: 6.5in x 8.5in. PSA/DNA authenticated and encapsulated. Sold for $78,529 against an estimate of $20,000-$35,000



YORK, PA.- Hake's served up a pop culture feast at their March 21-22 Premier Auction, with one exciting rarity after another eliciting pre-sale comments like, "I've never seen one of those in the marketplace before" or "I never even knew that piece existed." Closing at $2,570,000 inclusive of buyer's premium, the two-day event was led by heavy hitters from the baseball, political memorabilia, Star Wars, comic art and vintage toy categories. Many items powered past their high estimates, and some set new world auction records along the way. Leading the list of top 10 prices realized was a 1-inch version of the elusive 1920 Cox/Roosevelt jugate button. One of only six of its type known to exist, and likely ... More



The New Orleans Museum of Art announces the appointment of Dr. Redell Hearn to the newly created position of Chief Educator.



NEW ORLEANS, LA.- The New Orleans Museum of Art announces the appointment of Dr. Redell Hearn to the newly created position of Chief Educator. On Monday, February 6, Hearn officially began her position, which leads the museum's Learning and Engagement department, including programming, partnerships, and community engagement initiatives. Hearn brings over two decades of experience in museums and higher education with an emphasis on creating new digital and in-person learning practices—from curriculum development for internships to supporting institutional efforts to expand community engagement. "We are thrilled that Dr. Hearn is bringing her expertise to NOMA, where she will work to ensure we are fulfilling our mission to inspire lifelong learning through the arts with our communities here in New Orleans and beyond," said Susan M. ... More
Quote
The statue is then beautiful when it begins to be incomprehensible. Ralph Waldo Emerson
---

50 Years New in Asia: The Making of a Joan Miró
---

Flashback
On a day like today, French painter Georges Seurat died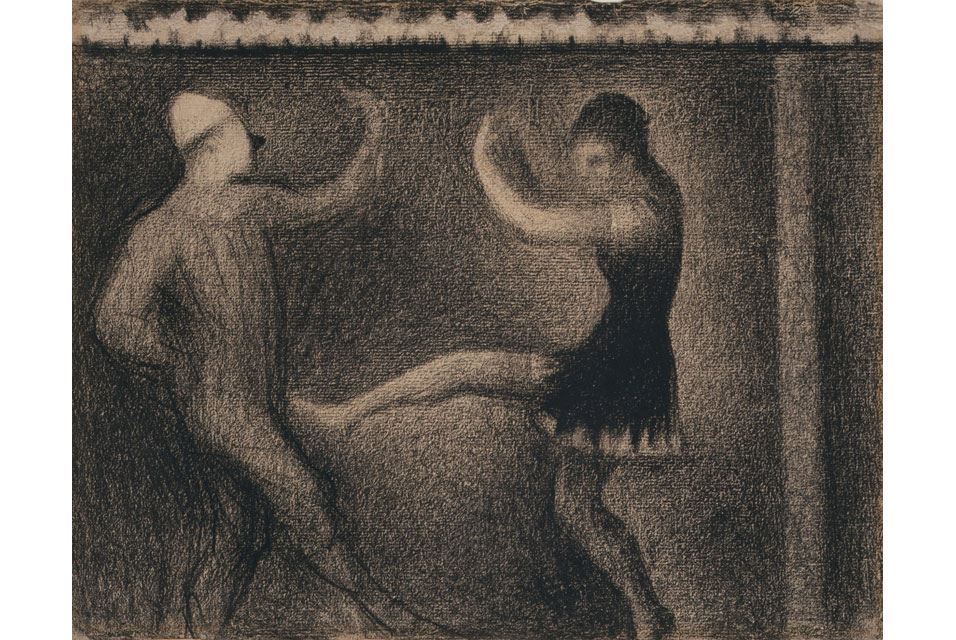 March 29, 1891. Georges-Pierre Seurat (December 1859 - 29 March 1891) was a French post-Impressionist painter and draftsman. He is noted for his innovative use of drawing media and for devising the painting techniques known as chromoluminarism and pointillism. In this image: Georges Seurat (French, Paris 1859-1891 Paris), Pierrot and Colombine Ca. 1886–88. Conté crayon on paper, 9 3/4 x 12 3/8 in. (24.8 x 31.2 cm). Kasama Nichido Museum of Art.
---

Museums, Exhibits, Artists, Milestones, Digital Art, Architecture, Photography,
Photographers, Special Photos, Special Reports, Featured Stories, Auctions, Art Fairs,
Anecdotes, Art Quiz, Education, Mythology, 3D Images, Last Week,

.
Royalville Communications, Inc
produces: