Three-year old Mtoto, Africa's earliest known human burial
This handout picture released on May 4, 2021 by the CNRS-University of Bordeaux, shows archaelogists at the Panga Ya Saidi site, north of Mombasa, Kenya, where the remains of a 3-year-old child named by the scientists "Mtoto" (meaning 'child' in Swahili) and buried inside a deliberately dug pit, were discovered. The discovery of the oldest burial site in Africa, dated at 78,000 years old, has just been revealed in the journal Nature by an international team including several researchers from the CNRS (French National Centre for Scientific Research). Francesco d'ERRICO, Alain QUEFFELEC / UNIVERSITY OF BORDEAUX / CNRS / AFP.
PARIS
(AFP)
.-
A child no older than three laid to rest sideways in an earthen grave 78,000 years ago, legs carefully tucked up against its tiny chest, is the earliest known human burial in Africa, researchers reported Wednesday. The sunken pit, in a cave complex along the coast of Kenya, was bereft of ornaments, offerings or ochre-coloured clay carvings found in the region's more recent Stone Age graves, they detailed in the journal Nature. But "Mtoto" -- Swahili for "child" -- had been wrapped in a shroud with her or his head resting on what was probably a pillow, "indicating that the community may have undertaken some form of funerary rite", said lead author Maria Martinon-Torres, director of the National Research Centre on Human Evolution, in Burgos, Spain. The extraordinary find highlights the emergence of both complex social behaviour among Homo sapiens, and cultural differences across populations of modern humans in Africa and beyond. Fragments of the child's bones were dug up at the Panga ya ...
More
The Best Photos of the Day
A wide-roaming and personal meditation on Dürer and his art
Sanford Biggers opens at Rockefeller Center with Art Production Fund
Købke's portrait of Carl von Nutzhorn joins the collections of Nationalmuseum


"Albert and the Whale: Albrecht Dürer and How Art Imagines Our World" by Philip Hoare. Illustrated. 296 pages. Pegasus Books. $28.95.

by John Williams



NEW YORK (NYT NEWS SERVICE).- Philip Hoare began his career writing books about subjects like Noël Coward and Oscar Wilde. He has become a much stranger, singular thing: an obsessive chronicler of the sea, and specifically of whales. Beginning with "Leviathan or, The Whale" (2008), Hoare wrote three consecutive books — all personal, allusive and circuitous — about the ocean and its inhabitants. His new book, "Albert and the Whale," combines his interests. It's a summary-defying blend of art history, biography, nature writing and memoir. The book's central figure — the one from which Hoare's centrifugal energies radiate — is German artist Albrecht Dürer. The book's marine angle, initially anyway, is a beached whale that Dürer traveled to see but never saw; perfectly ... More



Artist Sanford Biggers poses for a photo as his 25 foot bronze sculpture titled 'Oracle' is unveiled at the Fifth Avenue entrance to the Channel Gardens at Rockefeller Center on May 05, 2021 in New York City. New York Governor Andrew Cuomo announced pandemic restrictions to be lifted on May 19. Cindy Ord/Getty Images/AFP.



NEW YORK, NY.- This spring, multiple disciplinary artist Sanford Biggers transforms Rockefeller Center with several public art exhibitions, including the highly anticipated monumental Oracle sculpture. Presented by Art Production Fund and Rockefeller Center, in partnership with Marianne Boesky Gallery, and several years in the making, Biggers is the first artist invited by Rockefeller Center for a multimedia survey exhibition campus wide from May 5 to June 29, 2021. The 25-foot bronze sculpture titled Oracle, commissioned by Art Production Fund for installation at the Fifth Avenue entrance to the Channel Gardens, is the cornerstone of Biggers' takeover and welcomes visitors to the installation. ... More



Christen Købke, Carl von Nutzhorn, 1830 (detail). Photo: Cecilia Heisser/Nationalmuseum.



STOCKHOLM.- Nationalmuseum has acquired a portrait drawing of the two-year-old Carl von Nutzhorn, created by the Danish Golden Age artist Christen Købke in July 1830. Depictions of children are considered to be among Købke's most important works and his pencil portraits are complete works of art in their own right, comparable to any oil painting. The image of the little Carl von Nutzhorn is not only unusually intimate, but is also one of the artist's earliest known commissioned portraits of its kind. In the early 1830s, Christen Købke (1810–1848) attempted to establish himself as a portrait painter, probably to secure income. But although Købke had hoped for a flurry of orders, he was initially forced to settle for painting relatives and family members. He had a great many of them, but this did not make him a wealthy man because they were not in the habit of paying. Instead, like the Frenchman Jean Auguste Dominique Ingres, ... More
Exhibition of works by Alma Allen span two of Kasmin's locations in Chelsea
In New Orleans, an art break hotel
Billie Zangewa makes art where the light is best


Installation view.



NEW YORK, NY.- Kasmin is presenting an exhibition of work by sculptor Alma Allen (b. 1970) spanning two of the gallery's locations in Chelsea, New York. The presentation in the Kasmin Sculpture Garden constitutes the artist's first ever exhibition dedicated to large-scale outdoor sculpture. The exhibition continues at 514 West 28th Street with over twenty small-scale bronzes—works that function as both articulations of the polymorphous nature of Allen's sculptural alphabet and as proposals for future large-scale works. By contextualizing these works amongst one another, the presentation demonstrates the variety of embodied forms that find expression through the artist's hand. Allen's connection to the natural world and its expressive possibilities goes back to his childhood in Utah, where a close proximity to the desert allowed the artist stretches of time roaming, whittling wood, and hand-carving stones that he ... More



Shana Betz and Walker Babington with their daughter, Willa, in the lobby of Travelers New Orleans on April 9, 2021. Rory Doyle/The New York Times.

by Lila Allen



NEW ORLEANS (NYT NEWS SERVICE).- Don't call Travelers New Orleans a bed-and-breakfast. For one thing, there's no breakfast (for now, anyway). For another, the phrase "conjures images of lace curtains and doilies," said Ann Williams, who, with her mate, Chuck Rutledge, and a few other partners opened the nine-room, frippery-free inn in the Lower Garden District last month. Williams said she preferred to call Travelers New Orleans "an artist-run hospitality venture." The lodging is overseen by resident artists, who live on the building's third floor. In exchange for their work (around 20 hours a week) on front-of-the-house jobs such as turning beds and advising guests about local attractions, they receive a furnished room, utilities, studio ... More



Billie Zangewa, Self-Care Sunday, 2020 (detail) Hand-stitched silk collage, 47.64 x 25.25 inches / 121 x 64 cm.

by Stephen Wallis



NEW YORK (NYT NEWS SERVICE).- Rootless is how artist Billie Zangewa recalls much of her childhood, growing up in Malawi, Zimbabwe and Botswana in the 1970s and '80s. Her father was an engineer who helped build electrical-power systems across southern Africa, and her family moved around a lot. "I went to, like, seven primary schools," said Zangewa, now based in South Africa. "And I lived in houses where the personal touch just wasn't there. Home didn't really exist for me. It was more like a memory, a fantasy." Now, home is at the center of Zangewa's art: tapestries of silk fabrics hand-stitched into collages that depict intimate moments from her life as a Black female artist and a single mother, sometimes — not least during ... More
Christie's announces live sale of Latin American art
Love letters and the tortured inheritance of the Little Prince
Doyle to auction Impressionist & Modern art on May 12


Cundo Bermudez (1914-2008), La cena. Oil on burlap, 43¼ x 37½ in. Painted in 1958. Estimate: $150,000-200,000. © Christie's Images Ltd 2021.



NEW YORK, NY.- Christie's will present the live sale of Latin American Art on May 19, 2021 in New York. The sale will include a range of works from modern and contemporary masterpieces to finest examples of 17th and 18th-century Spanish colonial painting. Highlights from this season will include exceptional works by Rufino Tamayo, Tilsa Tsuchiya, Francisco Toledo, Fernando Botero, Joaquín Torres-García, Claudio Bravo and Sergio Camargo. The sale will be headlined by Rufino Tamayo's Naturaleza muerta (estimate: $1,800,000-2,500,000), an arresting early work by the artist that refreshingly reimagines the traditional still life subject. Naturaleza muerta reveals Tamayo's love of the European avant-garde from Pablo Picasso and Georges Braque to Giorgio de Chirico and the legacy of Cubism as well as his commitment to visualizing his Mexican identity. Spread across Tamayo's abundant table is a variety of vessels and fruits, most not ... More



French aviator, poet and war hero Antoine de Saint-Exupery's "The Little Prince" is said to have sold more than 200 million copies in 450 different translations since it was first published in 1943.

by Hugues Honore



NEW YORK (AFP).- It was a romance that helped inspire one of the great works of 20th-century fiction and a bitter conflict between his heirs, but a new book of Antoine de Saint-Exupery's love letters suggests a reconciliation may finally have been achieved. French aviator, poet and war hero Antoine de Saint-Exupery's "The Little Prince" is said to have sold more than 200 million copies in 450 different translations since it was first published in 1943. Much of the story hinges around the mysterious star-travelling prince's relationship with a rose -- delicate and demanding -- that he has been tending on his home planet. Saint-Exupery's real-life rose was Consuelo Suncin, a Salvadoran artist who cut a swathe through high society in Latin America and beyond before marrying him in 1930. Now, more than 160 of their letters ... More



Arshile Gorky (Armenian/American, 1904-1948), Still Life, 1928, Signed and dated, Oil on canvas, 20 7/8 x 16 inches (53 x 40.6 cm). Est. $50,000-70,000.



NEW YORK, NY.- Doyle's auction of Impressionist & Modern Art on Wednesday, May 12 at 11am will showcase fine European and American paintings, drawings and sculpture from the late 19th and early 20th centuries. The offerings will span Academic and Barbizon art through Impressionism and Post-Impressionism to German Expressionism and early Modernism. The public is invited to the exhibition on view May 8-10 at Doyle, located at 175 East 87th Street in New York. The catalogue may be viewed online at DOYLE.com. The beloved Surrealist Arshile Gorky is often referenced for his great influence on the Abstract Expressionist movement that would begin roughly at the time of his untimely death. From 1928, a still life painting echoes prototypical hallmarks the AbEx artists would embrace: a lush color palette, and a loose, gestural style (est. $50,000-70,000). Considered one of Norway's most important artists ... More
6 design books that celebrate a world of artifacts
Broadway is reopening. But not until September.
Almine Rech opens "Salon de Peinture" exhibition


"Mid-Century Modernism and the American Body: Race, Gender, and the Politics of Power in Design" by Kristina Wilson. Via The New York Times.

by Eve M. Kahn



NEW YORK (NYT NEWS SERVICE).- Artisans and designers, including Japanese temple builders, female silversmiths and African American midcentury modernists, are rescued from obscurity (or simply appreciated from afar) in six insightful new books. More than 1,000 lustrous Victorian vessels appear in "Majolica Mania: Transatlantic Pottery in England and the United States, 1850-1915" (Yale University Press, $300, 972 pages), the catalog for a traveling exhibition opening this fall at the Bard Graduate Center in the New York City borough of Manhattan and already online. Dozens of scholars contributed essays about ceramics makers, from central England's venerable Wedgwood to Manhattan's forgotten James Carr. The companies flooded international markets with wares known under the umbrella term "majolica." The designs were as ... More



Karen Olivo as Satine in "Moulin Rouge! The Musical" at the Al Hirschfeld Theater in New York, June 12, 2019. Sara Krulwich/The New York Times.

by Michael Paulson



NEW YORK (NYT NEWS SERVICE).- Gov. Andrew Cuomo says that most pandemic capacity restrictions will ease in two weeks. Mayor Bill de Blasio says he wants the city to fully reopen on July 1. But Broadway, a beacon for tourists and an engine for the economy, is not quite ready to turn on the stage lights. Most shows are not planning performances until September or later. But there are signs of life: Cuomo said Wednesday that Broadway shows would start selling tickets Thursday for full-capacity shows with performances starting Sept. 14. Why the four-month wait? With as many as eight shows a week to fill, and the tourists who make up an important part of their customer base yet to return, producers need time to advertise and market. They need to reassemble and rehearse casts who have been out of work for more than a year. ... More



Claire Tabouret, Makeup (green dots), 2021. Acrylic on wood panel, 61 x 46 cm. 24 x 18 in.



NEW YORK, NY.- In July 1573, Veronese was put on trial for heresy before Venice's Tribunal of Inquisition because the latter considered that the former's Last Supper was not in keeping with its subject. When Veronese was asked about the reason why he depicted characters other than Christ and the twelve Apostles, he answered: 'If in a painting there is space left over, I fill it with figures from my imagination. [...] My commission was to make this picture beautiful according to my judgement, and it seemed to me that it was big and capable of holding many figures.' Veronese eventually had to rename his painting to The Feast in the House of Levi, originally executed for the refectory in the Venetian church of Santi Giovanni e Paolo, now in the collection of the Gallerie dell'Accademia. As Anthony Blunt argued, Veronese thought 'in terms of beauty not of spiritual truth, and his object was to produce a magnificent pageant painting, not to illustrate a religious ... More
Quote
The cypresses are always occupying my thoughts. Vincent van Gogh
---

Modernity and Patriotism In Childe Hassam's Iconic Flag Paintings
---

Flashback
On a day like today, Russian painter and architect Viktor Hartmann was born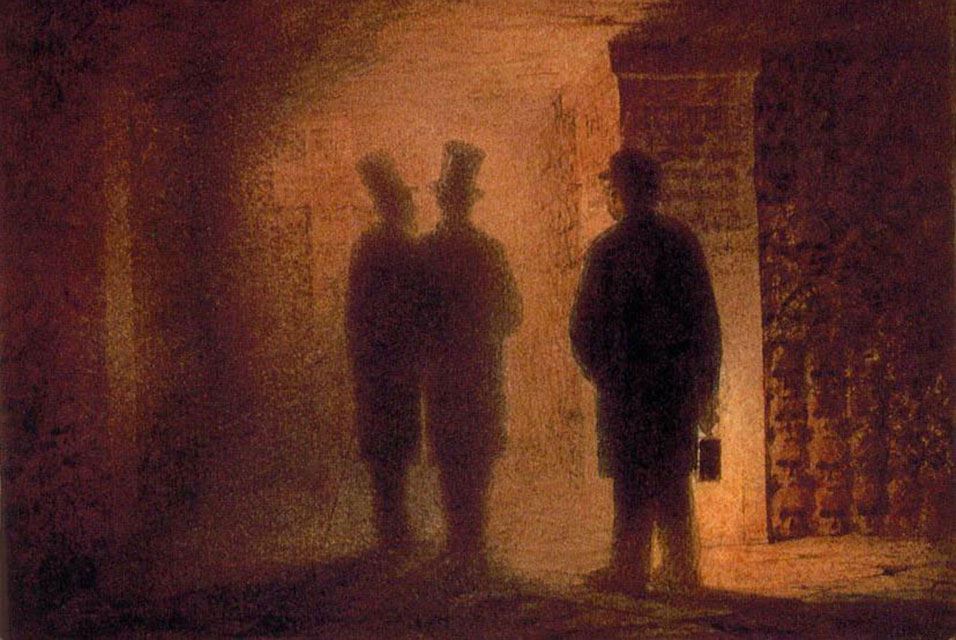 May 05, 1834. Viktor Alexandrovich Hartmann (5 May 1834, Saint Petersburg - 4 August 1873, Kireyevo near Moscow) was a Russian architect and painter. He was associated with the Abramtsevo Colony, purchased and preserved beginning in 1870 by Savva Mamontov, and the Russian Revival. In this image: The Paris Catacombs.
---

Museums, Exhibits, Artists, Milestones, Digital Art, Architecture, Photography,
Photographers, Special Photos, Special Reports, Featured Stories, Auctions, Art Fairs,
Anecdotes, Art Quiz, Education, Mythology, 3D Images, Last Week,

.
Royalville Communications, Inc
produces: