Frederick Douglass, seen up close
An image provided by Tubyez Cropper, Beinecke Library, artifcats of Frederick Douglass' personal collection owned by Beinecke Library of Yale University Library. Yale has acquired a renowned private collection relating to the abolitionist and orator, including rarely seen family scrapbooks that offer a window onto his complicated private life. Tubyez Cropper, Beinecke Library via The New York Times.

by Jennifer Schuessler
NEW YORK
(NYT NEWS SERVICE)
.-
In 2006, historian David Blight had just given a talk about Frederick Douglass in Savannah, Georgia, when he was introduced to Walter Evans, a retired surgeon and collector. Evans invited him to stop by the house and see his Douglass collection. Blight was cautiously intrigued. But later, as Evans began laying out some carefully rebound scrapbooks on his dining room table, he was stunned to see page after page of newspaper clippings, letters and personal reminiscences of the escaped slave who became one of the most famous men in 19th-century America. They were the Douglass family scrapbooks, carefully assembled and annotated by Douglass' sons — and all but unknown to scholars. "I was astonished," Blight recalled in an interview. "I'm not even sure I knew what I was seeing at first." Evans put it a bit more vividly. "I could see David's head exploding," he said. The trove became a seedbed for Blight's Pulitzer Prize-winning 2018 bio ...
More
The Best Photos of the Day
Phillips' white glove Evening Sale of 20th Century & Contemporary Art realizes $41,135,750
Kunsthaus Zürich opens 'Smoke and mirrors. The Roaring Twenties'
Simon Lee Gallery, Hong Kong opens an exhibition of new works by Gary Simmons


New auction records set for three artists including Titus Kaphar, Christina Quarles, and Ali Banisadr. Image courtesy of Phillips.



NEW YORK, NY.- Joan Mitchell's 1962 Noël achieved a remarkable $11 million, demonstrating a robust market for her work, hailing from her early years in Paris when she innovated with slashing brushstrokes and emotive drip techniques. Gerhard Richter's 1994 Abstraktes Bild (801-3) was a rare-to-market work from the height of his abstract period and achieved $3,680,000. The successful inclusion of Maxfield Parrish's 1921 Humpty Dumpty recontextualized this figurative and nearly surrealist painting in the oeuvre of realism and 20th century art movements, a positioning trailblazed by Phillips last year with the inclusion of Norman Rockwell in a 20th Century & Contemporary Sale. Basquiat's Victor 52448 is a remarkable example of a work from later in the artists' oeuvre and one of the largest works on paper by the artist. This work demonstrates Phillips' repositioning of Basquiat's market with a record sale of his work from 1987, proving that masterworks ... More



Fabian Marti, Cosmic Giggles Series (IX), 2010. Collage, gelatin silver prints (photogram) One-off, 59 x 46 cm. Kunsthaus Zürich, 2010, photo: Courtesy of the artist and the Peter Kilchmann Gallery, Zurich © Fabian Marti.



ZURICH.- From 3 July to 11 October 2020 the Kunsthaus Zürich presents a major themed exhibition on the 1920s: 'Smoke and Mirrors. The Roaring Twenties'. For the first time since the 1970s, an art exhibition sets up a transnational dialogue between Bauhaus, Dada, New Objectivity and the design and architecture icons of modernism. Meanwhile, art practitioners from the 21st century revive the disruptive spirit of the inter-war years to produce surprising new works of their own. The 1920s were a decade of both progression and backlash. A catastrophic world war followed by a pandemic with remarkable parallels to the current corona crisis awakened people's thirst for life. At no time in the 20th century was the desire for change more intense. Urban visions were created and cities grew at breakneck speed. Conventional role models in society and family were questioned and upended; ... More



Gary Simmons, Untitled (Watch Tower No. 4), 2019. Signed and dated on verso. Gouache and charcoal on paper. Unframed: 80.1 x 66 cm (31 1/2 x 26 in.). Courtesy the artist and Simon Lee Gallery. © Gary Simmons.



HONG KONG.- Simon Lee Gallery, Hong Kong announced a presentation of new works by Gary Simmons, comprising drawings and a painting, which continue the artist's ongoing exploration into the politics of race and identity through his signature 'erasure drawings'. In this new series, Simmons positions seemingly benign images of lighthouses and watchtowers in comparison to one another in terms of function and as metaphors for surveillance in the US. Alternately symbols of hope and oppression, the light house acts as a point of arrival and an emblem of safety, while conversely, the watch tower is a metaphor for the omnipotent hand of the law and a revealing symbol for the American prison system. While the act of erasure renders the imagery ghostly and uncertain, the viewer is nonetheless struck by the clear divergence between looking to a light house and being surveyed ... More
Galerie Thaddaeus Ropac opens an exhibition of new paintings by Jules de Balincourt
Margaret Morton, photographer at home with the homeless, dies at 71
Marianne Boesky Gallery opens dual-artist exhibition of Thornton Dial and Jasmine Little


Portrait of Jules de Balincourt in his studio, Brooklyn, 2020. Photo John Spyrou.



PARIS.- Galerie Thaddaeus Ropac is presenting an exhibition of new paintings by Jules de Balincourt. This latest series of abstract landscapes, initiated over a year ago and finalised during the first half of 2020, express a desire for both physical and emotional escape. Mixing intimate and large formats, many of these paintings convey the soothing presence of nature and manifest the need for a shelter far from the world we live in. Created while Jules de Balincourt was splitting his time between Costa Rica, where he has been living partially for the past 20 years, and Brooklyn, where he has spent the last few months in lockdown, the paintings result from a personal reflection on the possibilities of isolation. The title of the exhibition 'There are more eyes than leaves on the trees' derives from a vernacular Costa Rican proverb, which conveys the notion that as isolated as you may be, everyone is always aware ... More



For decades people lived in a two-mile freight tunnel under Riverside Park, until Amtrak evicted them in the mid-1990s. Ms. Morton photographed Larry, a resident, making a meal. Photo: Margaret Morton.

by Penelope Green



NEW YORK (NYT NEWS SERVICE).- From her apartment on East 10th Street in Manhattan, Margaret Morton had a front row view of the homeless encampments that engulfed Tompkins Square Park in the late 1980s. As she walked to work at Cooper Union, where she was a professor, she began to photograph these improvised structures, showing the ways people were moved to make themselves at home even when they had so little. When the city bulldozed the park in late 1989, scattering those who lived there, Morton followed them and spent the next 10 years documenting their world and that of others on the margins, not only telling their stories but also advocating for their welfare. The author Philip Lopate, who described ... More



Thornton Dial, Wondering Lady Figures Out What It Takes, June, 1998. Conte crayon and charcoal on paper, 30 x 22 inches. Framed dimensions: 33 1/2 x 25 inches © 2020 Estate of Thornton Dial / Artists Rights Society (ARS), New York.



ASPEN, CO.- Marianne Boesky Gallery is presenting a dual-artist exhibition of works by Thornton Dial and Colorado-based artist Jasmine Little. The presentation focuses on Dial's works on paper created between 1991 – 2005 and four new stoneware vessels by Little. The exhibition is on view July 2 through September 13, 2020, at the gallery's space in Aspen, Colorado. Dial and Little's works are also being featured in an online viewing room to accompany the exhibition on the gallery's website. Shown together, Dial's works on paper and Little's stoneware vessels explore their distinct approaches and interest in iconography. The works on view highlight both artists' facility in portraying narrative structures through their chosen medium and create a dialogue around ideas of ownership, ... More
Tramaine de Senna installs a new commission in Antwerp's main historic park
The unsung heroes of fashion, now mostly unemployed
Nikolai Fadeyechev, elegant Bolshoi dancer, is dead at 87


Tramaine de Senna, Figure of Color, bronze and pigmented wax, 2020. Photography Tom Cornille, courtesy Kunst in de Stad - Middelheim Museum.



ANTWERP.- Public Figure is a new series of artist's commissions for the public space of Antwerp's main historic park (Stadspark). For this first edition, artist Tramaine de Senna (1981, U.S., lives and works in Antwerp) was invited to create a new bronze sculpture that will be on view for one year amongst the other "figures" in the park. Public Figure is an initiative of Kunst in de Stad – Middelheimmuseum. Since its inauguration in 1869, the park is adorned with statues and monuments depicting or celebrating noted historical figures such as painters and poets, monarchs and military men. Now, under the moniker of Public Figure, a disused stone plinth offers contemporary artists a yearly opportunity to add new figures to this public space. By doing so, these new artworks respond to questions about the meaning of public representation today: Who or what ... More



Saint Laurent fall winter collection during the Ready To Wear Fashion Show in Paris on Sept. 24, 2019. Valerio Mezzanotti/The New York Times.

by Vanessa Friedman, Elizabeth Paton, Jessica Testa and Guy Trebay



NEW YORK (NYT NEWS SERVICE).- In a pre-coronavirus world, hundreds of editors, clients, stylists and celebrities would have converged on Paris this weekend, clacking over the cobblestones in their kitten heels for the couture shows. Those singular displays of fashion art — handmade clothes custom-ordered by the very few — represent equal parts creative laboratory, artisanal expertise and visual extravaganza. For many, they are also a major employment opportunity. You may see models in gowns on Instagram and hear of the famous names responsible for the updos and cat eyes, but making that perfect 20 minutes happen also demands an army of independent contractors, largely unknown — and, now that the shows have gone digital, largely unemployed. Here, a ... More



Nikolai Fadeyechev in Swan Lake in Moscow, 1956. Photo: RIA Novosti archive.

by Anna Kisselgoff



NEW YORK (NYT NEWS SERVICE).- Nikolai Fadeyechev, one of the Bolshoi Ballet's greatest dancers, who was hailed for his distinctive noble style and his chivalry as a partner to the Russian company's leading ballerinas from the 1950s to the '70s, died June 23 in Moscow. He was 87. His death, from heart failure, was announced by the Bolshoi Theater. As an artist, Fadeyechev was one of a kind. In a company acclaimed for its athletic male dancers, he chose to be an elegant and eloquent presence. When audiences were introduced to the Bolshoi in London in 1956 and New York in 1959, both the public and critics were stunned by the bravura of the male dancers and the virtuosity and emotional depth of ballerinas like Galina Ulanova and Maya Plisetskaya. Fadeyechev was favored as a partner by both, in no small part because he showed off his ballerinas and did ... More
Beyond Broadway, the show does go on
Intersect Art and Design announces 100 exhibitors from 26 countries for Intersect Aspen
Berkshires museums announce reopening plans


Scott Naas, who play Jesus, is unmasked during The Great Passion Play, a large-scale production adapted from the Christian Gospels, in an outdoor amphitheater in Eureka Springs, Ark. on June 27, 2020. Beth Hall/The New York Times.

by Michael Paulson



NEW YORK (NYT NEWS SERVICE).- Inside a former firehouse in Richmond, Virginia, a lone actor performs "The Picture of Dorian Gray" for audiences as small as two. In a Denver parking lot, theatergoers in cars watch, through their windshields, four performers costumed as grasshoppers. On a 600-acre property in Arkansas, a cast of about 130 re-enacts the story of Jesus for several hundred ticket-holders spread across a 4,000-seat outdoor amphitheater. The coronavirus pandemic has shuttered Broadway through the end of the year (at least), and the nation's big regional theaters and major outdoor festivals have mostly pivoted to streaming. But even as infections surge in the United States, many theaters are finding ways to ... More



Sharif Bey, Choir Singer: Bass, 2020. Earthenware, nails and mixed media, 20 x 10 x 10 inches, 51 x 25.5 x 25.5 cm. Signed and dated. Courtesy of albertz benda.



NEW YORK, NY.- Intersect Art and Design announces the exhibitor list for Intersect Aspen (formerly Art Aspen). Intersect Aspen is the new name of the reenvisioned art fair. It will be an online-only event in 2020 due to COVID-19, and will resume its physical presence in Aspen in 2021. The online viewing room will include 100 exhibitors from 26 countries, and will be live from July 22-26, 2020 at www.art-aspen.com. Becca Hoffman, Managing Director of Intersect Art and Design says, "We are pleased to have seen a very positive and enthusiastic response from a diverse group of regional, national, and especially international exhibitors. Galleries are excited about regional art fairs and their connectivity to communities known for their support and engagement in art and culture, such as Aspen. Our debut edition of Intersect Aspen has a totally fresh approach and will present a dynamic selection of artworks from a broad and globally engaged ... More



Pia Camil (Mexican, b. 1980), Telluride Tunic, 2015. Stitched fabric, installed: 84 1/2 x 105 x 3 3/4 in. Courtesy of the artist and Blum & Poe, Los Angeles/New York/Tokyo © Pia Camil. Photo: Art Evans.



NEW YORK (NYT NEWS SERVICE).- Three major cultural institutions in the Berkshires will reopen this month, following the green light from Massachusetts Gov. Charlie Baker, who said Thursday that the state would move into Phase 3 of its reopening plans. In a joint statement, Mass MoCA, the Norman Rockwell Museum and the Clark Art Institute outlined the programming changes and social-distancing measures they will be taking to ensure visitors can return to the museums safely. Mass MoCA, which has performing arts venues, will reopen July 11 and plans to resume some smaller performances starting July 18. The galleries at the Norman Rockwell Museum and Clark Art Institute will reopen July 12. Each museum will require ticketing reservations for staggered entry, and face coverings indoors. The institutions are also planning to use visitor information ... More
Quote
I love plastic idols. Andy Warhol
---

Design in Crisis | At Home with Christie's
---

Flashback
On a day like today, Belarusian-French painter Marc Chagall was born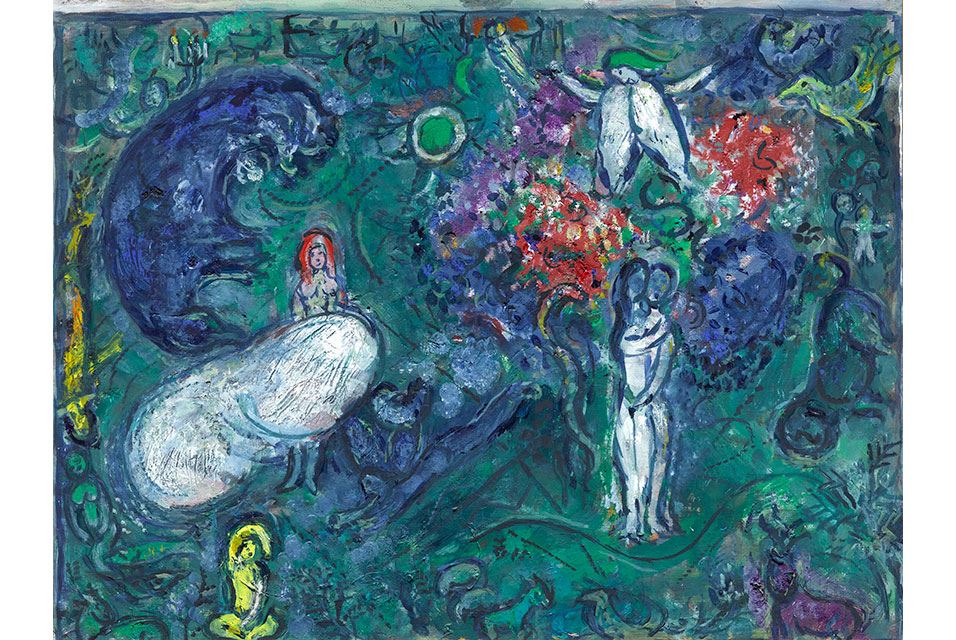 July 06, 1887. Marc Zakharovich Chagall (6 July [O.S. 24 June] 1887 - 28 March 1985) was a Russian-French artist of Belarusian Jewish origin. An early modernist, he was associated with several major artistic styles and created works in virtually every artistic format, including painting, book illustrations, stained glass, stage sets, ceramic, tapestries and fine art prints. In this image: Marc Chagall, Paradise, 1961. Oil on hardboard. H: 43.5 cm, W: 58 cm. Musée National Marc Chagall, Nice © RMN-Grand Palais (Musée national Marc Chagall) / Gérard Blot / ADAGP, Paris - SACK, Seoul, 2018.
---

Museums, Exhibits, Artists, Milestones, Digital Art, Architecture, Photography,
Photographers, Special Photos, Special Reports, Featured Stories, Auctions, Art Fairs,
Anecdotes, Art Quiz, Education, Mythology, 3D Images, Last Week,

.
Royalville Communications, Inc
produces: