Artists ask MoMA to remove Philip Johnson's name, citing racist views
The Philip Johnson Glass House in New Canaan, Conn., April 15, 2016. A group of more than 30 prominent artists, architects and academics are casting a light on the more unsavory part of Johnson's legacy, demanding in a letter published online on Nov. 27, 2020, that institutions such as the Museum of Modern Art and the Harvard Graduate School of Design remove the name of the architect, who died in 2005, from their spaces. Jane Beiles/The New York Times.

by Sarah Bahr
NEW YORK
(NYT NEWS SERVICE)
.-
Philip Johnson was one of the most influential architects of the past century, chameleonic in each of his roles as a New York power broker, art collector and creator of his "Glass House," a celebrated landmark of modernist design in Connecticut. He also championed racist and white supremacist viewpoints in his younger years. Johnson's Nazi sympathies, for example, have been well documented, and he spent the years after World War II trying to distance himself from them. Now a group of more than 30 prominent artists, architects and academics are casting a light on the more unsavory part of Johnson's legacy, demanding in a letter published online Nov. 27 that institutions such as the Museum of Modern Art and the Harvard Graduate School of Design remove the name of the architect, who died in 2005, from their spaces. "There is a role for Johnson's architectural work in archives and historic preservation," the Johnson Study Group, a largely anonymous ...
More
The Best Photos of the Day
Christie's Post-War & Contemporary Art Day Sale totals $48,955,125
'We all survived': Wuhan artists keep virus memories alive
Benny Andrews: A life in portraits


The sale's top lot, Wayne Thiebaud's Nine Cupcakes (detail), which sold for $2.9 million. © Christie's Images Ltd 2020.



NEW YORK, NY.- Christie's December 3rd Post-War & Contemporary Art Day Sale, Featuring The Collection Of Morton And Barbara Mandel achieved a total of $48,955,125/ £36,560,960/ €40,326,739/ HKD$377,784,396, bringing the running total for 20th Century Week to $168.2 million. The auction was led by Wayne Thiebaud's Nine Cupcakes, 2009, which realized $2,910,000, followed by two portraits of Marilyn Monroe by Andy Warhol from the Foundation Mireille and James Lévy, which sold for $1,818,000 and $1,698,000 respectively. The Collection of Morton and Barbara Mandel, sold to benefit the Jack, Joseph & Morton Mandel Foundation was represented by the first 82 lots of the sale, and when combined with Picasso's Femme debout, which sold earlier in the week, the collection reached $14.8 million. The group was highlighted by Ad Reinhardt's Red Painting, 1950, which achieved $1,050,000 and Jackson Pollock's Untitled, 1953, which so ... More



A graffiti artist, in a store where supplies are sold to make graffiti, prepares his bag with spray paint cans in Wuhan on November 22, 2020. Hector RETAMAL / AFP.

by Dan Martin / Lan Lianchao



WUHAN (AFP).- A melancholy guitar melody intertwines with an ethereal beat as wild-haired singer Lu Yan intones his hometown's feelings into a microphone: "Virus in Wuhan. We all survived." In music, graffiti, even comics, Wuhan artists are beginning to pay homage to their city with works referencing its coronavirus suffering, punishing 76-day lockdown, and subsequent rebirth. "Wuhan's people made a great sacrifice for the whole nation and world," Lu said of the song's intended message. The song, "WUHAN2020", is the title track of the pandemic-themed debut album by Wuhan synth-rock trio Hardcore Raver in Tears, conceived and written remotely while the bandmates were separated during the lockdown. Stress and cabin fever provided inspiration. "I was worried the world would end," said Lu, after singing through a black mask during a rehearsal in a Wuhan ... More



Benny Andrews (1930-2006), Janitors at Rest, 1957-58. Oil on canvas with paper and painted fabric collage, 50 x 36 inches / 127 x 91.4 cm, signed.

by Roberta Smith



NEW YORK (NYT NEWS SERVICE).- Benny Andrews once defined his artistic ambition as a desire to represent "a real person before the eyes." The phrase is the subtitle of a momentous exhibition at the Michael Rosenfeld Gallery in Manhattan. "Benny Andrews: Portraits, a Real Person Before the Eyes" brings together 28 of the artist's imposing depictions of friends, family and artists, the most ever shown together. Made over the course of 35 years with a technique he called "rough collage," these riveting, eccentric images combine painted motifs with added pieces of canvas and paper, bits of printed fabric and carefully placed fragments of garments. Andrews (1930-2006) was the son of an impoverished Georgia sharecropper who taught him to draw as a child. The skill became an essential tool that compensated for the school ... More
John Edmonds and the allure of Africa
Sean Connery's Dr. No gun sold for $256,000 at Julien's Auctions Icons & Idols Trilogy: Hollywood
Masterworks by Les Lalanne, Wendell Castle and more to highlight Sotheby's 'Design Week' in New York


Photographer John Edmonds, whose first museum solo show, "A Sidelong Glance," is at the Brooklyn Museum, stands in the Bedford-Stuyvesant neighborhood of Brooklyn, Nov. 25, 2020. Elias Williams/The New York Times.

by Arthur Lubow



NEW YORK (NYT NEWS SERVICE).- Young photographer John Edmonds traveled to Ghana last January, searching for something he couldn't name. Having recently begun collecting and photographing African sculpture, he thought the trip would lead to a greater self-knowledge. "I'm an African American using African objects, so it was important to me to understand the source," he said during an interview in Brooklyn. The pieces he'd been studying were masks and figurines crafted for the tourist market, raising questions of authenticity that were linked in a complicated way to racial consciousness. He was also navigating the minefield of cultural appropriation: Would such decorative art assume a different significance when used by an African, an African American ... More



The top-selling item of the event was the Walther PP handgun, used by legendary actor Sir Sean Connery in his acting debut as James Bond, 007, in the very first Bond film to come to screen, Dr. No (EON Productions, 1962), which sold for $256,000.



LOS ANGELES, CA.- Julien's Auctions held Icons & Idols TRILOGY: Hollywood, the world-record breaking auction house to the stars' Hollywood memorabilia event of the season, on Wednesday, December 3, 2020 live in Beverly Hills and online at www.JuliensAuctions.com. Over 500 items of costumes, props, memorabilia and personal items owned and used by Hollywood's most legendary icons as well as historical pieces from blockbuster films and television's greatest classic series were offered. The top-selling item of the event was the Walther PP handgun, used by legendary actor Sir Sean Connery in his acting debut as James Bond, 007, in the very first Bond film to come to screen, Dr. No (EON Productions, 1962), which sold for $256,000. In the cinematic debut of the character of James Bond, Connery uses this hero weapon throughout the film and helped ... More



A Unique "Structure Végétale aux Oiseaux et Papillons" Chandelier by Claude Lalanne (estimate $800,000/1.2 million). Courtesy Sotheby's.



NEW YORK, NY.- Sotheby's presents highlights from their marquee winter sales of Important Design and Dreaming in Glass: Masterworks by Tiffany Studios on 10 December, as part of their Design Week auctions in New York. All of the works from both sales will be on view by appointment in Sotheby's New York galleries beginning this Saturday, 5 December, alongside A Celebration of Art Deco: Masterworks from the Collection of Dr. Stephen E. Kelly Evening Sale and Day Sale. This season's sale presents a curated survey of Design from the last century, from notable examples of American Arts & Crafts and French Art Deco to outstanding pieces of Contemporary Design. An exceptional selection of sculptures and furniture by Claude and François-Xavier Lalanne are led by a Unique "Structure Végétale aux Oiseaux et Papillons" Chandelier (estimate $800,000/1.2 million). Created in 2008, this chandelier is a classic example of how Claude Lal ... More
Galería Elvira González opens its first exhibition dedicated to the Catalan ceramist Josep Llorens Artigas
Scotiabank CONTACT Photography Festival announces highlights of its 25th edition
Contemporary western artist Theodore Waddell opens an exhibition at the Gerald Peters Gallery


Installation view.



MADRID.- Galería Elvira González is presenting Llorens Artigas. Cerámicas, the first exhibition at the gallery dedicated to the Catalan ceramist. Josep Llorens Artigas (Barcelona, 1892 - Gallifa, 1980) is one of the main renovators of western ceramic art. Driven by the noucentista2 spirit of Barcelona, by the resurgence of ceramic in France and by his exhaustive study of the Song dynasty ceramics, Artigas moved to Paris in 1923, where he was surrounded by artists and ceramists that stimulated him to reach a unique style, with a perfect domain of the discipline. Throughout his career, which he dedicated almost entirely to ceramics, Artigas focused on eliminating the decoration of the vases and achieving the maximum quality and beauty in his refined work of glazing. This exhibition gathers together a careful selection of pieces from different stages from 1936 and ... More



Enjoying Cotton Candy, 1970. Courtesy of the Canadian National Exhibition Archives, Slide Collection.



TORONTO.- Scotiabank CONTACT Photography Festival today announced highlights of the 25th anniversary edition of the city-wide event spanning the month of May 2021. Artists from Canada and around the world present lens-based works in exhibitions, site-specific installations and commissioned projects at museums, galleries, and public spaces across Toronto. The preliminary list of artists includes Sara Angelucci, Dana Claxton, Susan Dobson, nichola feldman-kiss, Sasha Huber, Onyeka Igwe, Erik Kessels & Thomas Mailaender, Emmanuelle Léonard, Sebastein Miller, Esmaa Mohamoud, Isabel Okoro and Timothy Yanick Hunter, Frida Orupabo, Jon Sasaki, and Rehana Zaman. Artist and educator Logan MacDonald will curate a multi-artist public project, and Toronto ... More



Theodore Waddell, Winter Horses #14. Oil and encaustic on canvas, 66 x 72 inches.



SANTA FE, NM.- The Gerald Peters Gallery is presenting a one man exhibition with contemporary western artist, Theodore Waddell. The exhibition features new and classic paintings by Waddell and is available to view in person and online. A digital and soft cover catalog is available. For over five decades, Theodore Waddell has pursued his passion for art. His work, now iconic of contemporary American Western painting, is collected by museums and owned privately and publicly across the globe. His abstract impressionistic paintings of horses and cattle dotting the rural Idaho and Montana landscape reflect the American experience of living in the West and his love of the land. The bold brushstrokes, luscious textures, colors and generous layering of impasto work in his paintings create glimpses of the ... More
Justin Schiller's history-spanning collection of children's literature heads to auction
Exhibition at Sainsbury Centre explores the intersecting paths of two great 20th century artists
Roslyn Oxley9 Gallery opens two new exhibitions


Jacob and Wilhelm Grimm. Kinder- und Hausmärchen. Göttingen: Dieterich, 1837.



DALLAS, TX.- In 1956, upon the occasion of L. Frank Baum's 100th birthday, Justin Schiller loaned to Columbia University impossible-to-find copies from the author's Land of Oz series. At the time, Schiller, the sole son of antique-hunters, was all of 12 years old. That head start — which began with little Justin browsing New York City's "Book Row" along 4th Avenue, his pocket full of nickels — "propelled me into the rare-book scene," Schiller says. He had begun collecting at 8, and by 1960 Columbia University's favorite pre-teen had already become one of the world's preeminent experts in and collector of children's literature. Sixty years later, after decades as a seller of rare and wonderous books for kids and the grown-ups who raised them, Schiller brings his breathtaking assemblage of extraordinary rarities to Heritage Auctions for a one-day event spanning centuries. The Dec. 16 auction, titled Once Upon a Time: Rare ... More



Henry Moore, Bill Brandt, 1948 © Bill Brandt / Bill Brandt Archive Ltd.



NORWICH.- This major exhibition traces the parallel and intersecting careers of two leading artists of the 20th century. The photographer Bill Brandt (1904–1983) and sculptor Henry Moore (1898–1986) first crossed paths during the Second World War, when they created images of civilians sheltering in the London Underground during the Blitz. These photographs by Brandt and drawings by Moore today rank among their most iconic works. The exhibition is organised by the Yale Center for British Art in partnership with The Hepworth Wakefield and is curated by Martina Droth, Deputy Director and Chief Curator of the Yale Center for British Art. The exhibition brings together almost 200 works including significant sculpture, iconic photographs and drawings, little-known photo collages and rare original colour transparencies. Bill Brandt | Henry Moore reveals the interdisciplinary range of these two artists, exploring how ... More



Tom Polo floral footsteps, 2020. Acrylic and Flashe on canvas, 182 x 138 cm.



SYDNEY.- Roslyn Oxley9 Gallery is presenting a cross-generational exhibition, A Painting Show featuring new works by three of Australia's most important painters working today. All three artists are expressive, gestural and considered in their mark making - masterful colourists conjuring up vivid, fantastical realms, yet their unique styles have paved their way as distinct voices within the Australian and international art world. Paintings by Tom Polo, Gareth Sansom and Jenny Watson are exhibited within the unique context of the last month of 2020 where the fibres of society are strained. Within a social fabric of distanced inter-personal relationships, disconnection and technological interfaces dominating modes of communication, painting allows us to take space and stand still. The process of viewing painting is an intimate act, enabling one to stop momentarily and lean in close, to pay attention to minute ... More
Quote
The human image has never been forgotten in the arts. Germain Richier
---

Wish You Were There
---

Flashback
On a day like today, French impressionist painter Claude Monet died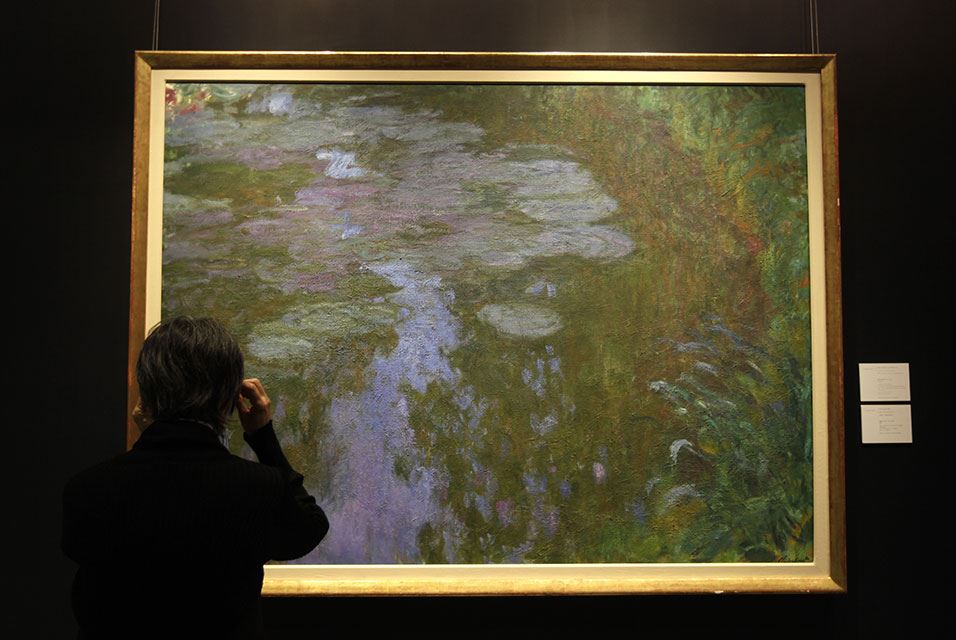 December 05, 1926. Claude Monet (14 November 1840 - 5 December 1926) was a founder of French impressionist painting, and the most consistent and prolific practitioner of the movement's philosophy of expressing one's perceptions before nature, especially as applied to plein-air landscape painting. The term Impressionism is derived from the title of his painting Impression, Sunrise (Impression, soleil levant). In this image: A visitor looks on a painting by French artist Claude Monet (1840-1926) entitled Nympheas during a press preview in Hong Kong, China, 27 May 2011. The painting was expected to fetch in excess of 17 to 24 million GBP (19 to 27 million Euro), at auction at Christie's London Impressionist Modern Paintings on 21 June 2011.
---

Museums, Exhibits, Artists, Milestones, Digital Art, Architecture, Photography,
Photographers, Special Photos, Special Reports, Featured Stories, Auctions, Art Fairs,
Anecdotes, Art Quiz, Education, Mythology, 3D Images, Last Week,

.
Royalville Communications, Inc
produces: