New work by Van Gogh discovered
Study 'Worn out' in Van Gogh Museum 2 - Credit Jelle Draper
AMSTERDAM
.-
The Van Gogh Museum
has discovered a new work by Vincent van Gogh: Study for 'Worn out' from 1882. Emilie Gordenker (Director of the Van Gogh Museum): 'As a centre of expertise dedicated to the work of Vincent van Gogh and his contemporaries, we're delighted with this discovery and are very happy to have made a contribution to our specialist field. It's quite rare for a new work to be attributed to Van Gogh. We're proud to be able to share this early drawing and its story with our visitors.' Study for 'Worn out' is a preliminary study for the 1882 drawing Worn out, one of the most powerful figure drawings from Van Gogh's period in The Hague. The artist described how the drawing came about in detail in letters to his brother Theo and to his friend Anthon van Rappard. The discovery of the preliminary study, which is no less impressive than the final drawing, offers exception ...
More
The Best Photos of the Day
'Crazy dream': Macron unveils wrapped Arc de Triomphe
Desert camel carvings dated to around 7,000 years ago
Gagosian announces the representation of Donald Judd and Judd Foundation


Bulgarian-born Christo had dreamt of wrapping the war memorial since living nearby in the 1960s GEOFFROY VAN DER HASSELT AFP.



PARIS.- French President Emmanuel Macron unveiled a surreal and spectacular sight in Paris on Thursday: the entire 50-metre-high Arc de Triomphe wrapped in fabric, fulfilling the long-held dream of late artist Christo. The imposing war memorial has been wrapped in 25,000 square metres (270,000 square feet) of silver-blue recyclable polypropylene. It is the signature of Bulgarian-born artist Christo, who died last year, and his wife and collaborator Jeanne-Claude. They had dreamt of sheathing the monument since renting a nearby apartment in the 1960s, but neither lived to see their strange vision come to life. "We spare a thought for Christo and Jeanne-Claude," said Macron as he inaugurated the artwork from atop the monument. "They would have been moved since it is the culmination of a 60-year dream," the president said. He was flanked by Paris mayor (and rival for the presidency next year) Anne Hidalgo, as well as former New York mayor Michael Bloomberg. ... More



Panel 12, showing the body, legs and base of the neck of an adult camel with a possible young equid to the left. © M. Guagnin & G. Charloux.



PARIS.- Life-sized carvings of camels and horses hewn into rock faces in Saudi Arabia could be around 7,000 years old, according to new research that suggests they are significantly older than previously thought. The 21 reliefs, which were only recently discovered, are heavily eroded and were initially estimated in 2018 to be some 2,000 years old based on similarities with artworks found in Petra in Jordan. But the new research by Saudi and European institutions used a variety of different methods, including analysing tool marks and erosion patterns as well as x-ray technology, and suggests the reliefs are around 7,000 to 8,000 years old. This would mean that the area of carvings, known as the Camel Site, "is likely home to the oldest surviving large-scale (naturalistic) animal reliefs in the world," the study said. In the era that it was created, the region would have looked very different to the arid landscape of today, with a savannah-like grassland dotted with lakes and ... More



Donald Judd in his architecture studio, Marfa, Texas, 1993 © 2021 Judd Foundation / Artists Rights Society (ARS), New York. Photo: © Laura Wilson. Courtesy Judd Foundation and Gagosian.



NEW YORK, NY.- Gagosian announced the representation of the work of Donald Judd and Judd Foundation. The partnership underscores the gallery's more than forty-year commitment to critical artists of the twentieth and twenty-first centuries. Donald Judd (1928–1994) produced visual and written work that shifted the course of modern art. Starting out as a painter in the 1950s, he began making three-dimensional works in the early 1960s, aiming to make objects that were free of the illusionism associated with painting. The aluminum, plexiglass, and plywood objects utilized the neutrality of their industrial mediums, and Judd's production methods emphasized schematic variation and spatial definition through form. His interdisciplinary focus included architecture as well as furniture, and he was a prolific critic and essayist whose writing clarified his own artistic intentions as well as insightfully reflected ... More
Pace opens an exhibition of the final paintings that Thomas Nozkowski completed before his passing
Glenstone Museum presents multidisciplinary installation of artworks by Arthur Jafa
Exhibition focuses on two generations of Günther Förg's 'Gitterbilder' (Grid Paintings)


Thomas Nozkowski, Untitled (9-69), 2019 (detail). Oil on linen on panel, 22" × 28" (55.9 cm × 71.1 cm). © Estate of Thomas Nozkowski, courtesy Pace Gallery.



NEW YORK, NY.- Pace Gallery is presenting Thomas Nozkowski: The Last Paintings, an exhibition of the final paintings that Thomas Nozkowski completed before his passing in 2019. Marking the artist's eighth show with the gallery since joining it in 2008, the exhibition features 15 works which Nozkowski rendered in oil on linen on panel between 2015 and 2019. Each painting showcases the enigmatic and uniquely variegated visual language for which Nozkowski was critically celebrated over his more than 40-year career. Seen together for the first time, they are also a culmination of the artist's exploration of line, form, and color, and at the artist's favored scale of 22 x 28 inches, the paintings invite close and sustained viewing. Richly hued and textured condensations that eschew any unifying style, they are deeply absorbing worlds unto themselves, and collectively celebrate the artist's oeuvre. On the occasion ... More



Arthur Jafa, Big Wheel VI, 2018. Chains, rim, hubcap, and tire, 101 x 101 x 41 inches (256.5 x 256.5 x 104.1 cm) tire © Arthur Jafa. Courtesy of the artist and Gladstone Gallery, New York and Brussels.



POTOMAC, MD.- Glenstone Museum opened an installation by Arthur Jafa consisting of recent video, sculpture, and photography. The multidisciplinary ensemble, selected by the artist and presented in Room 6 of the Pavilions, is the first solo museum exhibition of Jafa's work in the Washington, D.C. area. Arthur Jafa (b. 1960, Tupelo, MS) is an artist and filmmaker who collects and collages a range of content and textures—including video clips from YouTube, sci-fi movies, archival still images, digital animations, snippets of sporting events, and police dashcam footage, among others—to create a cinema that, in his own words, "replicates the power, beauty, and alienation of Black music." Jafa is creating a new installation of his work at Glenstone, drawn primarily from the museum's collection and shown together for the first time. "In 2020, we joined nearly a dozen other museums in a landmark ... More



Günther Förg, Untitled, 2006. Acrylic on canvas, 195 x 165 cm / 76 3/4 x 65 in. © 2021 Estate Günther Förg, Suisse / Artists Rights Society (ARS), New York. Courtesy Estate Günther Förg, Suisse and Hauser & Wirth. Photo: Bernhard Strauss.



LOS ANGELES, CA.- Hauser & Wirth is presenting the first solo exhibition of Günther Förg (1952 – 2013) in Los Angeles. On view from 14 September 2021 through 9 January 2022 in the South Gallery, the exhibition focuses on two generations of Förg's 'Gitterbilder' (Grid Paintings) and marks the return of one of the most significant German artists of the postwar generation to California after nearly thirty years. The formal conversation at play in the exhibition foregrounds Förg's deep art historical roots while celebrating his distinctively sensuous approach to gestural abstraction—a hallmark of his multifaceted five-decade career. Having pioneered a visual language that simultaneously exemplifies and subverts the tenets of modernism, Förg's prolific body of work ranges from painting and ... More
Exhibition focuses for the first time on Max Bill's artistic network
Solo exhibition explores photographer's earliest work from the 1960s-70s
Exhibition focuses on new and recent large-scale paintings created over the last two years by Marina Adams


Max Bill, kontinuität, 1946/1982. Poliertes Kupfer, vergoldet, 41 x 36 x 48 cm. max bill georges vantongerloo stiftung, haus bill zumikon, angela thomas und erich schmid, Courtesy Hauser & Wirth © Angela Thomas Schmid / 2021, ProLitteris, Zurich.



BERN.- The Swiss artist Max Bill was an architect, artist, designer, theorist and also an outstanding networker. As a young man he founded new artistic groups such as 'gruppe z' and 'die augen', joined the established movement 'Abstraction-Création' in Paris, organised exhibitions and published essays. The exhibition max bill global focuses for the first time on Bill's artistic network and demonstrates the important part played by international contacts in the development and reception of the 'homo universalis'. Max Bill was one of the most influential figures in design and art in the mid-20th century. As a painter, sculptor, architect, designer, graphic artist and typographer, and also as a theorist, collector, curator, publicist, teacher, politician ... More



Black Panther Party member, Captain Bobby Bowens of the Richmond office at a Free Huey rally at Defermery Park, Oakland CA, 1968. from, "The Lost Negatives," photographs by Jeffrey Henson Scales Credit: Jeffrey Henson Scales.



NEW YORK, NY.- Claire Oliver Gallery announced the gallery's debut solo exhibition by photographer Jeffrey Henson Scales, In A Time of Panthers: The Lost Negatives. The exhibition features 20 photographs from the 1960s including Scales' earliest forays as a photographer during the electrifying summer of 1967 when at age 13 with his paternal grandmother he toured the Midwest to see relatives. As a Black teenager, he saw the poverty and oppression of Northern Black communities and when he returned to Oakland, CA became immersed in photographing the milieu of the Black Panther movement in Northern California. The images chart the emergence of his awakening as a documentary photographer as well as a Black ... More



Marina Adams, X Factor, 2020 (detail)



LONDON.- American artist Marina Adams presents the second instalment of her two-part exhibition at Stephen Friedman Gallery on 17 September 2021. 'Wild Is Its Own Way' focuses on new and recent large-scale paintings created over the last two years. Expansive in scale, Adams' work explores colour, form and movement in a bold unabashed fashion. This presentation of Adams' paintings will continue during Frieze London and until 30 October 2021. This project follows Adams' highly acclaimed solo exhibition at Modern Art Museum of Fort Worth, Dallas, Texas in autumn 2020. Investigating the power of paint, line and colour, Adams sketches compositions in charcoal before allowing experimentation whilst working. Her paintings are a study in contrasts and unlikely pairings. Adams approaches her work with a startling minimal colour palette deployed with maximum energy. She brings into play meticulous organization offset ... More
Dancers from the deep sea shine on the UN for climate week
Heritage Auctions puts 19th century photographs in focus for eye-opening September auction
Seeking art that expands the possibilities for a troubled world


The Superflex founders, from left, Bjornstjerne Christiansen, Rasmus Nielsen and Jakob Fenger in Copenhagen on Sept. 13, 2021. Carsten Snejbjerg/The New York Times.

by Arthur Lubow



NEW YORK, NY.- A little-known but crucial agent of carbon removal from the atmosphere — the siphonophore, which lives in what is known as the twilight zone of the sea — will be highlighted during U.N. Climate Week in a video projection from a Danish arts collective. The siphonophore is a bizarrely beautiful creature. Like a coral reef, it is composed of individual parts, known as zooids, which perform specialized functions. "Some are digesters, some are swimmers, some are reproducers," Heidi Sosik, a senior scientist at the Woods Hole Oceanographic Institution, said. "But they all get together. It is an interesting metaphor for humanity to think about." Next week, Sept. 21-24, in a light projection more than 500 feet high on the entire northern facade of the U.N. Secretariat building, a siphonophore will perform a sinuous, pulsating ... More



Henry Dixon (British, 1824-1893), Views in Mysore: Temple of Belaru (Entrance), 1865. Albumen print, 13-1/2 x 9-5/8 inches. Estimate: $5,000 - $6,000.



DALLAS, TX.- We seemingly spend every second of every day scrolling past infinite images filling the screens perched on our decks and held in our hands. We no longer look at our own family photos; we see everyone else's, endlessly looped in a world where everyone with a phone fancies themselves an Annie Leibovitz, Ansel Adams or Olan Mills. No moment goes uncaptured now; no memory gets left behind. Now try to imagine a world in which the only image of a person or place was an artist's interpretation — a painting, print or sculpture. That was the world before the invention of photography in 1839, and not long after that photographers were sending home images of people and places half a world away. Photography shrank the universe, making the unimaginable tangible, the faraway front and center. Heritage Auctions' In Focus: 19th Century Photographs auction, now open for bidding and closing Sept. 28, revisits that pivotal moment in human history. Inde ... More



Simone Leigh's "Sentinel." The shock of the pandemic is being channeled into artistic creations that offer global range and historical insight. It's something to look forward to. The Solomon R. Guggenheim Foundation; Photo by David Heald via The New York Times.

by Siddhartha Mitter



NEW YORK, NY.- The world is broken. Humans shuffle in place, burdened and anxious, glued to tiny screens, living fossils in an archaeology of traumas — racial, economic, ecological — that all seem activated at once. Faced with a pandemic, political and economic leaders have proven unequal to the challenge of steering their people, and the planet, to safety. The playbook is empty. They have defaulted to mediocrity, surveillance, the algorithm. This compound failure is a failure of imagination. But if the powerful have run out of ideas beyond clinging to wealth and control in the face of catastrophe, art reminds us that there are other options. And so this season more than ever, I am looking to art that refuses to abdicate: exhibitions and projects ... More
Quote
The reason for my painting large canvases is that I want to be intimate and human. Mark Rothko
---

Breathtaking Sea-To-Sea Mansion on Paradise Island Bahamas | Damianos Sotheby's International Realty
---

Flashback
On a day like today, Indian painter M. F. Husain was born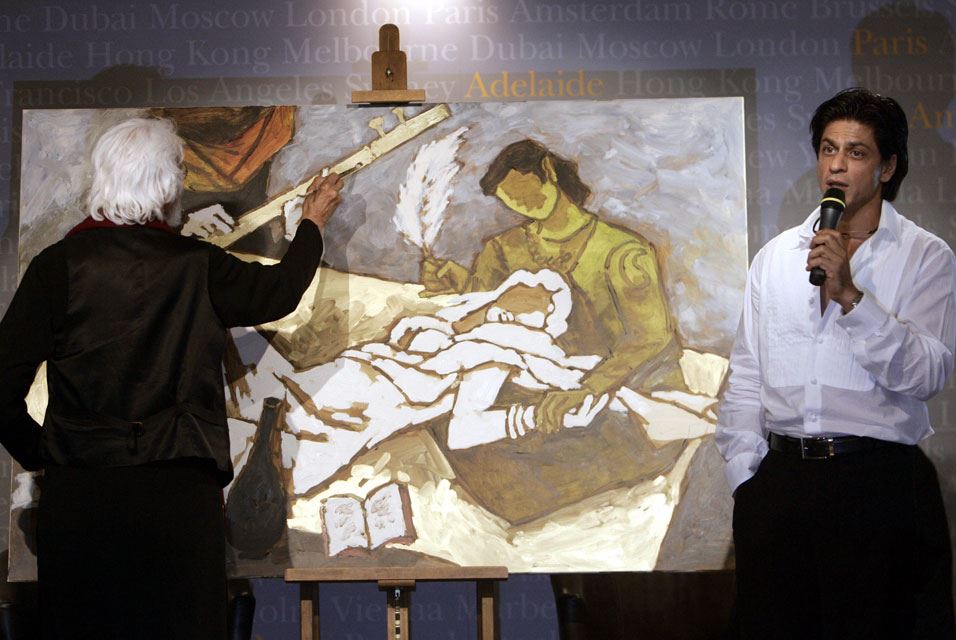 September 17, 1915. Maqbool Fida Husain (17 September 1915 - 9 June 2011) commonly known as MF Husain, was an Indian painter. Husain was associated with Indian modernism in the 1940s. A dashing, highly eccentric figure who dressed in impeccably tailored suits, he went barefoot and brandished an extra-long paintbrush as a slim cane. He never maintained a studio but he spread his canvases out on the floor of whatever hotel room he happened to be staying in and paying for damages when he checked out. In this image: M.F. Husain, India's most famous artist finishes off a canvas he painted together with Shah Rukh Khan, right, one of India's biggest movie stars, during a fund-raising auction in a central London's auction house, Thursday June 7, 2007. The pair, two of India's biggest cultural brands, painted the piece that was to be sold in the auction along with other works by both established Indian masters and a newer generation of artists.
---

Museums, Exhibits, Artists, Milestones, Digital Art, Architecture, Photography,
Photographers, Special Photos, Special Reports, Featured Stories, Auctions, Art Fairs,
Anecdotes, Art Quiz, Education, Mythology, 3D Images, Last Week,

.
Royalville Communications, Inc
produces: