Inside the Met's plans for a major Karl Lagerfeld show
André Leon Talley, left, with Anna Wintour and the designer Karl Lagerfeld in Dallas, Texas, on Dec. 10, 2013. Mark Graham/The New York Times.

by Vanessa Friedman
NEW YORK, NY
.-
Karl Lagerfeld, the culturally omnivorous, furiously prolific designer of Chanel, Fendi and his own line, who died in 2019, was, throughout his career, resolutely focused on the future. Obsessed, even. He believed, he once told The New York Times, in the "old German dictum: 'no credit on the past.'" He had no truck with hagiographic exhibitions of designer careers. Indeed, during a press preview for the opening of the Chanel show at Costume Institute of the Metropolitan Museum of Art in 2005 (he refused to attend the show itself), he announced, straight up: "I dislike retrospectives." A few years later he declared to the Times, "I don't want to see all those old dresses." But the powers that be of fashion apparently believe that, when it comes to Lagerfeld's legacy, everyone else does. In May, four years after his death, Lagerfeld is getting the biggest show of all: the next Metropolitan Museum of Art Costume Institute blockbuster. Jus ...
More
The Best Photos of the Day
Exhibition at National Gallery marks the centenary of the birth of Lucian Freud
Pace opens an exhibition of new work by the Chinese conceptual artist Hong Hao
Christie's "Post-War to Present" totals $25.8 million


Lucian Freud, Girl in a Green Dress, 1954 Oil on canvas, 32.5 x 23.6 cm. Arts Council Collection, Southbank Centre, London © The Lucian Freud Archive. All Rights Reserved 2022 / Bridgeman Images.



LONDON.- This landmark exhibition is being staged by the National Gallery to mark the centenary of the birth of the major 20th-century artist Lucian Freud (1922–2011.) This first significant survey of his paintings in 10 years brings together a large selection of his most important works from across seven decades – spanning early works such as 'Girl with Roses' (British Council Collection) from the 1940s; to Reflection with 'Two Children (Self-Portrait)' (Museo Nacional Thyssen-Bornemisza, Madrid) in the 1960s and right through to his famous late works, such as 'The Brigadier', 2003–4 (Private Collection.) Freud's celebrity has often overshadowed approaches to the artist's work and the historical contexts in which it was made. This exhibition seeks to present new perspectives on Freud's art, focusing on his tireless and ever-searching commitment to the medium of painting. From ... More



Hong Hao, It is Not a Big Problem, 2022. Oil, acrylic and molding material on canvas, 47-1/4" × 70-7/8" × 2-3/8". © Hong Hao, courtesy Pace Gallery.



HONG KONG.- Pace is presenting an exhibition of new work by the Chinese conceptual artist Hong Hao at its Hong Kong gallery. On view from September 30 to November 10, the presentation spotlights mixed media paintings that the artist has created in the past two years. This includes his 2022 series Micro Sentence, which is being shown to the public for the first time in Pace's exhibition in Hong Kong, as well as the latest works from Hong's most representative Reciprocating and Everchanging Appearance series, and his acclaimed The Realm of Matters series of recent years. As one of the most active conceptual artists in China since the late 1990s, Hong is known for his dexterous and witty handling of readymade materials, invigorating the Chinese contemporary art scene with his practice. Hong's artistic approach and intervention to society and the public sphere always starts with the individual, gradually developing a self-suffici ... More



Sam Gilliam (1933-2022), Idylls I, signed and dated 'Sam Gilliam 70' (on the reverse); titled 'IDYLLS I' (on a label affixed to the reverse), acrylic, metallic paint, crayon and synthetic cable on unstretched canvas, installation dimensions variable: 76 x 61 in. (193 x 154.9 cm.), Executed in 1970. Price realized: $756,00. © Christie's Images Ltd 2022.



NEW YORK, NY.- Thursday, 29 September, Post-War to Present kicked off the fall season of contemporary art sales at Christie's New York, with lively and engaged bidders participating online, on the phones and in-person in the Rockefeller Center saleroom. The auction totaled $25,755,534, 89% sold by value, selling 107% hammer above low estimate. The Post-War to Present sale was foregrounded a group of seventeen contemporary artworks donated by artists and galleries and sold to benefit FLOURISH: Art for the Future, an initiative by Bridget Finn of Reyes | Finn Gallery. The group was 100% sold, totaling $1,430,730, achieving 179% against low estimate, with proceeds funding research to cure STXBP1 disorders. Leading the group was Three Ghee ... More
François Ghebaly announces the representation of Maia Ruth Lee
MACRO - Museum of Contemporary Art of Rome opens an exhibition of works by Diego Perrone
Detroit Institute of Arts' "Van Gogh in America" presents landmark exhibition featuring 74 works by the iconic artist


Maia Ruth Lee, Bondage Baggage 4, 2018, Rope, tape, tarp, suitcase, bedding, clothes, 67 x 35 x 21 inches, (170 x 89 x 53 cm).



LOS ANGELES, CA.- Working across painting, sculpture, photography and film, Maia Ruth Lee has crafted an elegant visual lexicon that takes on the complexities of the self in times of dissonance and globalization that can now be seen at François Ghebaly. Lee was born in Busan, South Korea, grew up in Kathmandu and Seoul, spent over a decade in New York City, and recently moved to Salida, Colorado. Migration lies at the core of her experience. In her practice, Lee brings this cross-border perspective to bear in works that often evoke wayfinding in the form of maps, atlases, and banners. An underlying interest in language, translation, symbols, and signs runs throughout her work, frequently expressed in her use of India ink, a medium commonly associated with calligraphy. The body, too, is an enduring concern for Lee, whose bound baggage and textile sculptures metaphorically visualize the accumulations ... More



Diego Perrone, Untitled, 2016, Glass casting. 28.75 x 35.5 x 11.25" / 73 x 90.2 x 28.6cm. Photo: Andrea Rossetti.



ROME.- Laid out as a vertiginous landscape, Diego Perrone's exhibition at MACRO – Museum of Contemporary Art of Rome brings together 20 years of the Italian artist's multi-media output as well as five new works in the form of two work/displays, a distortion of the space, a video and a photographic series. Formally slippery and at times hypnotic, the artist's work amplifies and exasperates images and gestures to explore the extremes of "moments" in time and of the nature of the materials he chooses to employ. In this way there is an attempt to create images out of absences, working with archetypes and with the stuff of dreams. The title of the show, which translates to Rainy slope that whips the tongue offers a glimpse onto how Perrone looks at the world. The exhibition is seamlessly divided into different constellations of works, each one narrated by descriptions written by the artist; some, such as the red- ... More



Vincent van Gogh (Dutch, 1853–1890). Self Portrait, 1887. Oil on artist board mounted to wood panel; 13 3/4 × 10 1/2 in. (34.9 × 26.7 cm). Detroit Institute of Arts, City of Detroit Purchase, 22.13.



DETROIT, MICH.- On the centenary of its status as the first public museum in the United States to purchase a painting by Vincent van Gogh, the Detroit Institute of Arts presents a landmark exhibition that tells the story of the artist's rise to prominence among American audiences. Van Gogh in America features paintings, drawings, and prints by the Dutch Post-Impressionist artist. The exhibition runs from October 2, 2022 to January 22, 2023, featuring 74 original Van Gogh works. Visitors can experience the defining moments, people, and circumstances that catapulted Van Gogh's work to widespread acclaim in the United States. The exhibition's presence in Detroit – and more generally, in the Midwest – holds special significance. The DIA's 1922 purchase of Self-Portrait (1887) was the first by a public museum in the United States. Notably, the next four Van Gogh paintings purchased ... More
Hammer Museum exhibits works made on paper and in paper y Picasso
Hauser & Wirth announces representation of artist Allison Katz
'Fiona Tan: Mountains and Molehills' opens at Eye Filmmuseum in Amsterdam


Pablo Picasso and André Villers, Mask, 1959. Photogram cut and pasted onto blue vellum paper. 19 5/8 × 14 11/16 in. (49.8 × 37.3 cm). Private collection © 2022 Estate of Pablo Picasso / Artists Rights Society (ARS), New York.



LOS ANGELES, CA.- The Hammer Museum at UCLA presents Picasso Cut Papers, an exhibition about an important yet little-known aspect of the practice of Pablo Picasso (1881-1973). This exhibition features some of Pablo Picasso's most whimsical and intriguing works made on paper and in paper, alongside a select group of sculptures in sheet metal. Cut papers were created as independent works of art, as exploratory pieces in relation to works in other mediums, as models for Picasso's fabricators, and as gifts or games for family and friends. Although the artist rarely sold or exhibited them during his lifetime, he signed, dated, and archived them just as he did his works in other mediums. Many examples have been stored flat or disassembled in portfolios until now and will regain their original three-dimensional forms when presented in the exhibition. This survey spans ... More



Katz's first exhibition with Hauser & Wirth, featuring new work by the artist, will take place in autumn 2023 in Los Angeles. Photo: Eva Herzog.



NEW YORK, NY.- Hauser & Wirth announced today that the gallery now represents artist Allison Katz, in collaboration with Gió Marconi, Milan, Antenna Space, Shanghai and dépendance, Brussels. Allison Katz (b. 1980, Montreal, Canada) has over the last decade emerged as a pioneering voice in contemporary painting, achieving critical acclaim for her genre-defying works which embrace the mutability of images and explore the tensions between what is conveyed and what is perceived. Her practice is rooted in a personal, biographical approach to found imagery and art historical references, combined with irreverent wit, wordplay and humor. From cocks (the bird) and cabbages, to self-portraits and bodies in pieces, Katz's vivid and idiosyncratic emblems call into question painterly subjectivity and selfhood, as well as the slippery nature of meaning. Her precisely made works shift in style, technique and materiality, often rejecting f ... More



Fiona Tan, Footsteps, 2022, exhibition. Fiona Tan, Mountains and Molehills, Eye Filmmuseum Amsterdam, 2022. Photo: Studio Hans Wilschut. Courtesy Frith Street Gallery, London.



AMSTERDAM.- How do we hold on to memories – in archives, in the mind, in the landscape, on film? Visual artist and filmmaker Fiona Tan (born in 1966 in Indonesia) works with photography and moving images and creates spatial installations, investigating ways in which we record the world around us. This autumn, Eye Filmmuseum is presenting the work of Fiona Tan in the solo exhibition Mountains and Molehills. Key works in the exhibition are Gray Glass (2020), Inventory (2012), and the new work Footsteps (2022), which Fiona Tan made at the invitation of Eye Filmmuseum. These video installations explore the relationship between the individuals on either side of the lens as well as the relationship between image, maker and viewer. For Tan, time is both a medium and a vehicle. It is a material that she studies, shapes and processes into artworks – often in combination with still and moving images. ... More
Antonio Dalle Nogare Foundation opens group exhibition:"Re-Materialization of Language. 1978-2022"
Ron Mandos opens solo exhibition by the South African multidisciplinary artist Mohau Modisakeng
Trombone champ makes a hit video game of an unlikely instrument


Re-Materialization of Language. 1978–2022. Installation view of the exhibition at Fondazione Antonio Dalle Nogare, 2022. Ph. Jürgen Eheim Fotostudio. Courtesy Fondazione Antonio Dalle Nogare.



MILAN.- Curated by artist, poet and performer Mirella Bentivoglio (Klagenfurt, 1922 – Rome, 2017), the exhibition Materializzazione del linguaggio (Materialization of language) opened on 20 September 1978 at the Magazzini del Sale alle Zattere on the occasion of the XXXVIII Venice Biennale. The exhibition comprised a selection of heterogeneous materials and practices reifying a more ample reflection on the 'relationship between women and language'. A language was thus coined that was an expression of the 'unconditioned and transgressive' characteristic of the verbal-visual research of 90 international female artists and poets active at the time. Poetic expression and critical awareness unfolded in opposition to patriarchal languages and took the form of visual and textual works, including poetry and prose books, artist's books, embroideries, live performances, videos, drawings, ... More



Mohau Modisakeng, LERE (The staff), 2022. Diasec, Pigment print on Edition Etching RAG



AMSTERDAM.- Galerie Ron Mandos is presenting Madimatle, the fourth solo exhibition by the South African multidisciplinary artist Mohau Modisakeng (SA, 1986). In the exhibition, Mohau Modisakeng presents a new series of works that makes reference to Madimatle, a sacred mountain in a historic area in South Africa. The exhibition is running from October 1 through November 6, 2022. Madimatle has for centuries been the site of pilgrimages and traditional spiritual rituals. In the last 5 years, the mountain has become a site of an ongoing legal battle between the community that uses the mountain and its network of caves for sacred spiritual reasons and the foreign mining company that has been granted rights to mine the apex of this sacred mountain. This legal battle has brought up other discussion around questions of land and identity in post-colonial South Africa where the land question dominates all political discourse. In the past three decades of de ... More



The London Philharmonia bass trombonist James Buckle plays the video game Trombone Champ, in London, Sept. 29, 2022. Over the past week, Trombone Champ has become an unlikely gaming phenomenon, with fans posting clips of their fraught attempts to play "Auld Lang Syne," "Also Sprach Zarathustra" and more. So what did a real trombonist think of it? Alexander Coggin/The New York Times.



LONDON.- Backstage at the Royal Festival Hall, one of London's grandest classical music venues, James Buckle, the bass trombonist for the Philharmonia Orchestra, braced himself to do something he'd never done before: play the familiar opening of Beethoven's Fifth Symphony. Trombone players usually spend most of the symphony waiting in silence at the back of the orchestra, ignored by the audience, only getting the chance to play in the piece's final, euphoric movement. But thanks to the popular new video game Trombone Champ — a sort of Guitar Hero for brass players — Buckle was having a go at its exhilarating opening as if he were one of the first violins. "I have to admit I'm a bit ... More
Quote
All painting is an accident. Francis Bacon
---

Modern Perspectives: Property from a Distinguished East Coast Collection | Christie's
---

Flashback
On a day like today, American fashion designer Donna Karan was born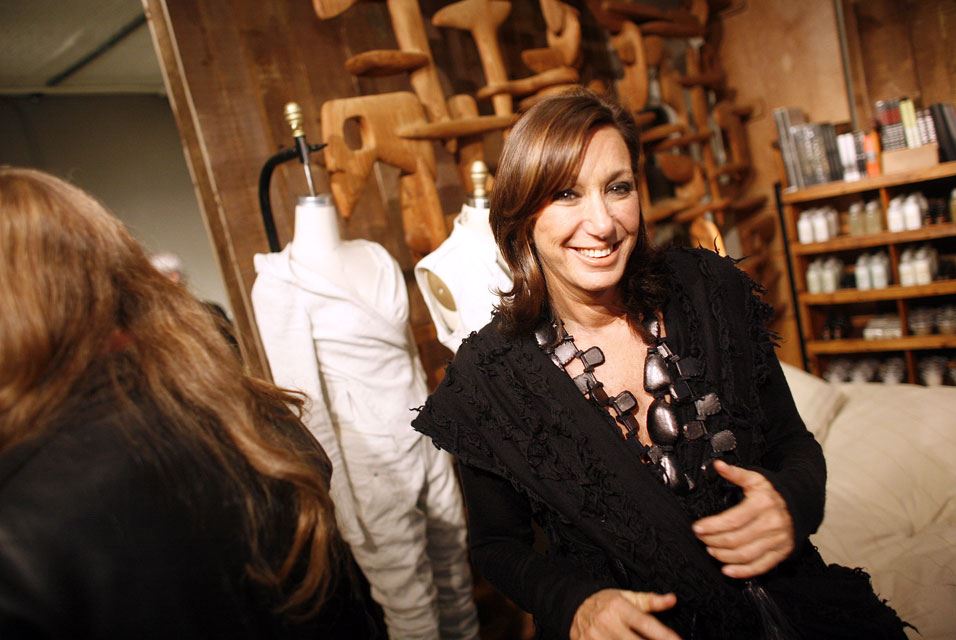 October 02, 1948. Donna Karan (born October 2, 1948) is an American fashion designer and the creator of the Donna Karan New York and DKNY clothing labels. In this image: Designer Donna Karan appears during an event in celebration of her Urban Zen collection and foundation Wednesday, Feb. 18, 2009 in New York.
---

Museums, Exhibits, Artists, Milestones, Digital Art, Architecture, Photography,
Photographers, Special Photos, Special Reports, Featured Stories, Auctions, Art Fairs,
Anecdotes, Art Quiz, Education, Mythology, 3D Images, Last Week,

.
Royalville Communications, Inc
produces: