Fondation Beyeler opens the first major solo exhibition in the German-speaking world of work by Wayne Thiebaud
Wayne Thiebaud, Wayne Thiebaud, Pie Rows, 1961. Oil on canvas, 55.9 x 71.1 cm. Collection of the Wayne Thiebaud Foundation © Wayne Thiebaud Foundation/2022, ProLitteris, Zurich. Photo: Matthew Kroening.
BASEL
.-
This spring, the
Fondation Beyeler
presents the first major solo exhibition in the German-speaking world devoted to the remarkable American painter Wayne Thiebaud (1920–2021), until now virtually unknown in Europe. Thiebaud's still lifes of everyday objects rendered in seductive pastel shades are powerful evocations of the promise and profusion of the "American way of life". At the same time, his striking portraits, multi- perspective cityscapes and landscapes showcase the painter's versatility and dazzling technique. Featuring 65 paintings and drawings on loan from mainly American public and private collections, the retrospective presents Thiebaud's most important bodies of work and invites viewers to discover his unique painting style and his tactile handling of colour. Celebrated in the United States for his still lifes, Thiebaud explored the possibilities of painterly expression at the limit ...
More
The Best Photos of the Day
Exhibition of new paintings and works on paper by Joel Mesler opens at Cheim & Read
Ancient Egyptian limestone relief of female musicians at risk of leaving UK
George Zimbel, photographer of Marilyn Monroe and JFK, dies at 93


Joel Mesler. Rabbi, 2022. Oil on canvas. 30 x 24 in. / 76.2 x 61 cm. Photography: Alex Yudzon / Cheim & Read, New York.



NEW YORK, NY.- Cheim & Read is presenting Joel Mesler: The Rabbis, an exhibition of new paintings and works on paper. The show opened on January 26, 2023, at the gallery's Upper East Side location, 23 East 67th Street, and runs through March 25. This is the artist's first solo exhibition with the gallery. With The Rabbis, Joel Mesler takes his autobiographical body of work into markedly different territory. Since 2018, Mesler's paintings have featured flamboyantly embellished words and phrases ('Bruised Fruit," "Take It Easy," "Mama," "Burn Baby Burn"), prompting comparisons with Ed Ruscha and Christopher Wool, or gyrating compositions of Edenic fronds and serpents in the manner of a child's alphabet book (C for Crossroads; Q for Quaaludes; W for Willy Wonka, Why, and Wasted). In a dramatic shift, the new works, all completed in 2022, pick up where Mesler's earlier ... More



The relief depicts a group of female musicians asleep in the palace of the pharaoh Akhenaten.



LONDON.- A limestone relief that offers an insight into daily Egyptian life more than 3,300 years ago is at risk of leaving the UK unless a domestic buyer can be found. The artwork depicts a group of female musicians asleep in the palace of the ancient Egyptian pharaoh Akhenaten. It was created at some point during his 17-year reign from 1351 to 1334 BC. The relief could be very valuable to historians studying this period of history. It is highly unusual in depicting women as musicians and by making them the focus of attention, unlike other, more marginal, depictions. It also offers an insight into life in the palace at the time away from the king and queen. There are also very few reliefs from this period that have survived in such a large piece, with four figures depicted on the same fragment of stone. Arts and Heritage Minister Lord Parkinson of Whitley Bay said: > This limestone relief offers a beguiling glimpse into daily life in the Amarna Period ... More



George S. Zimbel, Marilyn Monroe and Billy Wilder, "The Seven Year Itch," New York, 1954, gelatin silver print, printed 1993, the Museum of Fine Arts, Houston, Museum purchase funded by Jonathan and Cynthia King. © George S. Zimbel.

by Richard Sandomir



NEW YORK, NY.- George Zimbel, a genial photographer who had empathy for ordinary people, but whose two best-known subjects were megastars, Marilyn Monroe and John F. Kennedy, died Jan. 9 in Montreal. He was 93. His son Andrew confirmed the death, in a care facility. Zimbel (rhymes with "thimble") captured people in the act of living: A sailor reading in his lower bunk on a submarine. A small boy dwarfed by a Great Dane in Harlem. A little girl playing hopscotch in the street. A baby pulling on a doctor's stethoscope. A boy pointing a toy gun at a friend. Musicians and exotic dancers in New Orleans nightclubs. In 1954, Zimbel entered an Irish dance hall in the Bronx and found a scene that he cast in noirish light: a young man, in the foreground ... More
Alfred Leslie, artist who turned away from Abstraction, dies at 95
Exhibition at Hauser & Wirth explores the evolution of Charles Gaines's complex practice
Face to Face: Portraits of Artists by Tacita Dean, Brigitte Lacombe and Catherine Opie opens at ICP


Artist Alfred Leslie in front of prints of some of his works at his studio in Manhattan, Sept. 4, 2018. (Stephen Speranza/The New York Times)

by William Grimes



NEW YORK, NY.- Alfred Leslie, a second-generation abstract expressionist and filmmaker who turned his back on nonrepresentational art in the early 1960s to lead a revival of figurative painting, died Friday in the New York City borough of Brooklyn. He was 95. His son Anthony said the cause of his death, at a hospital, was complications of a COVID infection. In the early 1950s, Leslie was part of a rising generation of New York abstract painters that included Grace Hartigan, Joan Mitchell and Milton Resnick. Inspired by the aggressive paintings of Willem de Kooning, he employed a frantic style disciplined by geometric planes. Painter and critic Fairfield Porter, reviewing Leslie's first solo show, at the Tibor de Nagy Gallery in Manhattan in 1952, praised the "fresh, romantic, reckless expressionism" of his work. It made the competition, he wrote ... More



Charles Gaines, Pecan Trees: Set 5 (Detail), 2022 (detail). Photograph, watercolor, ink on paper, 3 sheets. Overall: 70.8 x 187 x 5.1 cm / 27 7/8 x 73 5/8 x 2 in. © Charles Gaines. Courtesy the artist and Hauser & Wirth. Photo: Fredrik Nilsen.



NEW YORK, NY.- Hauser & Wirth presents 'Southern Trees,' the gallery's first New York exhibition with distinguished American artist Charles Gaines and his first in the city since 2018. One of the most important conceptual artists working today, the show explores the evolution of Gaines's complex practice, demonstrating how he has continued to forge new paths within the innovative framework of two of his most acclaimed series, Numbers and Trees and Walnut Tree Orchard. The exhibition's title, 'Southern Trees,' alludes directly to the 150-year-old pecan trees pictured in the new works, and symbolically to the opening lyrics of 'Strange Fruit,' Billie Holiday's haunting protest anthem from the 1930s. The image of the tree has been central to Gaines's practice since he first began the Walnut Tree Orchard series in the 1970s ... More



Brigitte Lacombe, Patti Smith, New York, NY, 2014. © Brigitte Lacombe.



NEW YORK, NY.- Organized by renowned writer and curator Helen Molesworth, Face to Face: Portraits of Artists by Tacita Dean, Brigitte Lacombe and Catherine Opie presents portraits of luminaries in the arts by three of the most prominent portraitists of our time. Face to Face is accompanied by a fully illustrated catalogue published by ICP and MACK, London, with essays by Molesworth and writer and curator Jarrett Earnest. Creating an atmosphere of conversations held just beyond the frame of the images, this exhibition features more than 50 photographs by Brigitte Lacombe and Catherine Opie, and two films by Tacita Dean, with bracing, intimate, and resonant portraits of compelling cultural figures including Maya Angelou, Richard Avedon, Louise Bourgeois, Joan Didion, David Hockney, Miranda July, Rick Owens, Martin Scorsese, Patti Smith, Mickalene Thomas, Kara Walker, and John Waters, among others. The exhibition presents some of the often-overlapping ... More
Simon C. Dickinson Ltd. announces Milo Dickinson will join the company as Managing Director
Galerie Ron Mandos opens an exhibition of works by Marcos Kueh
Berggruen Gallery opens an exhibition of recent paintings and works on paper by Anna Kunz


Milo Dickinson joins the company as Managing Director. Photographs courtesy of: Simon C. Dickinson Ltd



LONDON.- Echoing the career of his father, who founded Simon C. Dickinson Ltd. in 1993, Milo is joining from Christie's where he has worked for over a decade in several leading roles in both the Old Master Paintings and European Sculpture departments. Milo joined Christie's in 2011 and first became a Specialist and then Head of Department in European Sculpture. He was then hired by the Old Master Paintings department as a Specialist and subsequently Head of Private Sales in London. A widely respected art expert and enthusiast, Milo is on the Steering Committee for the National Gallery Young Ambassadors and on the Board of the Friends of the Bargello Museum.
Following Milo's arrival, Dickinson will immediately expand into selling Old Master Sculpture, and the gallery will present Impressionist, Modern British Art and Old Masters alongside each other ... More



Marcos Kueh, Woven Talisman #03 (The Birthday Boy), 2023. Polyester, 8 colors, 225 x 170 cm.



AMSTERDAM.- In Marcos Kueh's textile installation 福禄寿: Three Contemporary Prosperities, we encounter an animated conversation of color, pattern, and symbol. The installation encompasses eight tapestries of varying sizes, carefully arranged by the artist to afford a view of both the front and reverse sides. Kueh encourages us to move between perspectives on observing, to create multiple encounters while we meditate on the meaning of "prosperity" in modern times. Kueh's study of prosperity is driven by an urge to deepen his understanding of his Chinese-Malaysian cultural background. He has become fascinated with the three popular Chinese gods of fortune: the Fú Lù Shòu (福禄寿). Each of these three gods embodies a different form of fortune. Fú (福) stands for prosperity or wealth; Lù (禄) for reputation or nobility, and Shòu (寿) for longevity or eternity. Kueh weaves these attributes into his works through written text ... More



Installation view. Photography by Impart Photography / Glen Cheriton. Courtesy of Berggruen Gallery, San Francisco.



SAN FRANCISCO, CA.- Berggruen Gallery announces The Tide, an exhibition of recent paintings and works on paper by American artist, Anna Kunz. This show marks her first solo exhibition with the gallery. The Tide will be on view through February 18, 2023. In this recent body of work, Anna Kunz advances her exploration of the intricate relationship between color, light, and the sensorial human experience. Soft, watery geometric forms of organic shades billow and stretch across canvas and paper. Thoughtful experimentations with color and shape unearth the natural, kinesthetic qualities of abstraction. Kunz adeptly enlists the power of paint, ink, and pastel to communicate themes of regeneration and engagement, emphasizing the joyful interplay between viewer and environment. Kunz's newest body of work is rooted in a fondness for the Bay Area and its diverse environs ... More
Justice Department announces more arrests in plot to kill Iranian writer
Interiorism by Pierre Bergian & Wayne Pate to open at Octavia Art Gallery
National WWI Museum and Memorial launches online exhibition 'Fighting with Faith'


Masih Alinejad, an American human rights activist who has criticized Iran's repression of women, in New York, May 4, 2018. (Cole Wilson/The New York Times)

by Benjamin Weiser and Glenn Thrush



NEW YORK, NY.- The Justice Department said on Friday that it had charged three men in a plot hatched in Iran to assassinate Masih Alinejad, an American human-rights activist in Brooklyn who has criticized the country's repression of women. The men, Rafat Amirov, of Iran, Polad Omarov, of the Czech Republic, and Khalid Mehdiyev, an Azerbaijani man living in Yonkers, were charged with murder-for-hire and money-laundering conspiracy counts, according to an indictment unsealed in Manhattan. They are members of an Eastern European criminal organization, known by its members as Thieves-in-Law, which has ties to Iran and last year was tasked with carrying out Alinejad's killing, the indictment says. Mehdiyev, 24, was arrested in July, after he was found with a loaded AK-47-style assault rifle outside ... More



Wayne Pate, Moghols La Nuit, 2022. Acrylic on linen (unstretched). 23 1/2 x 22 1/2 inches.



NEW ORLEANS, LA.- Octavia Art Gallery has announced that it will soon open Interiorism, a two-person exhibition featuring paintings by Pierre Bergian & Wayne Pate. Pierre Bergian expresses his fascination for architecture through his paintings by exploring space and structure, making use of the presence of architectural components. His current work depicts a selection of interiors from the pantheon of 20th century design, from Tony Duquette's Dawnridge to Karl Lagerfeld's Paris apartment. His rooms convey a sense of breathing, pulsing characters, with their richness of personality fully rendered in the artist's loose, impressionistic brushwork. Bergian built his career painting primarily empty interiors and emphasizing their architecture and play of light, inviting the viewer to imagine their past and future lives. In contrast, in his present works he depicts rooms as they were lived in. One has the unexpected chance to see him ... More



Photograph of a Saphi prisoner of war at Halbmondlager (Half Moon Camp). Print, Photograph from periodical "Der Grosse Krieg in Bildern," No. 4. 1915. Germany. 2007.68.4. National WWI Museum and Memorial.



KANSAS CITY, MO.- In 1915, Germany built a mosque in a prisoner-of-war camp – the first functioning mosque ever built on German soil. Along with propaganda-like visits from foreign dignitaries and extra leisure activities directed by the German Intelligence Office for the East, the mosque was part of a German campaign to convince Muslim POWs to change sides and join the Ottoman-German Alliance against the British and French. The camp population was made up of soldiers of diverse militaries, nationalities, ethnicities, and languages who all had one thing in common: their religion. Fighting with Faith: a WWI POW Camp of Propaganda investigates the Halbmondlager, or "Half Moon Camp," with a close look at the ways in which Germany and the Ottoman Empire fought for the hearts and minds of prisoners. Fighting with Faith complements ... More
Quote
The job of the artist is always to deepen the mystery. Francis Bacon
---

Studio Demonstration | Esteban Salazar
---

Flashback
On a day like today, American painter Barnett Newman was born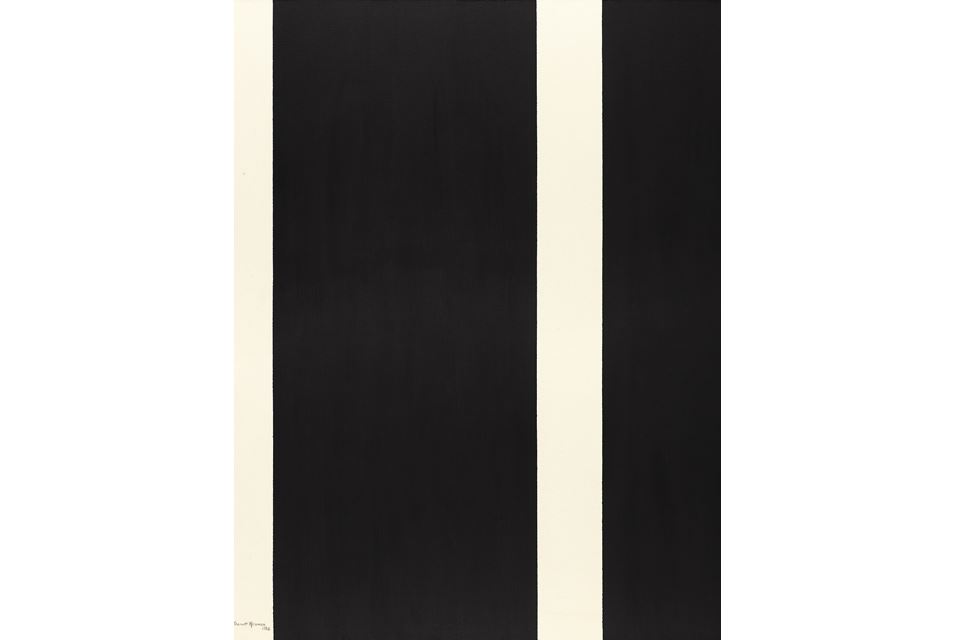 January 29, 1905. Barnett Newman (January 29, 1905 - July 4, 1970) was an American artist. He is seen as one of the major figures in abstract expressionism and one of the foremost of the color field painters. His paintings are existential in tone and content, explicitly composed with the intention of communicating a sense of locality, presence, and contingency. In this image: Barnett Newman, Thirteenth Station, 1965/1966. Acrylic on canvas, 198.2 x 152.5 cm (78 1/16 x 60 1/16 in.). Collection of Robert and Jane Meyerhoff.
---

Museums, Exhibits, Artists, Milestones, Digital Art, Architecture, Photography,
Photographers, Special Photos, Special Reports, Featured Stories, Auctions, Art Fairs,
Anecdotes, Art Quiz, Education, Mythology, 3D Images, Last Week,

.
Royalville Communications, Inc
produces: