'Limitless! Five Women Reshape Contemporary Art' opens at McNay Art Museum
Sandy Skoglund, The Cocktail Party, 1992. Inkjet print. Collection of the McNay Art Museum, Given anonymously. © Sandy Skoglund.
SAN ANTONIO, TX
.-
Opening March 4, Limitless! Five Women Reshape Contemporary Art, presented by Bank of America, features the artwork of individuals who create without boundaries. The new exhibition offers trailblazing installations in diverse mediums by female artists Martine Gutierrez, Letitia Huckaby, Yayoi Kusama, Sandy Skoglund, and Jennifer Steinkamp. From floor-to-ceiling art and video installations to a fan-favorite Infinity Mirror Room, this multigenerational and multicultural group of artists demonstrates boundless creativity and serves as inspiration to their contemporaries and future generations. "The McNay is San Antonio's place of beauty and belonging because of the vision of a woman artist," said Richard Aste, McNay Director and CEO. ...
More
The Best Photos of the Day
Louvre recovers 16th-century armour, four decades after theft
Boy Scouts will sell nearly 60 Norman Rockwell works to pay sex-abuse claims
The Louvre turns to merch


A ceremonial helmet during its official restitution by the French Central Directorate of the Judicial Police (DCPJ) to the Louvre Museum. Thomas SAMSON / AFP.



PARIS (AFP).- The Louvre museum in Paris said Wednesday that it had recovered a set of gold and silver-encrusted Renaissance-era armour nearly 40 years after it was stolen. A military antiques expert alerted police after being called in to give advice regarding an inheritance in Bordeaux in January and becoming suspicious about the luxurious helmet and body armour in the family's collection. Police later identified the items from a database of stolen artworks as having been taken from the Louvre on May 31, 1983, in circumstances that remain a mystery. Bordeaux prosecutors are now investigating how they ended up in the family's estate. The armour and helmet are thought to have been made in Milan between 1560 and 1580. They were donated to the Louvre in 1922 by the Rothschild family. "I was certain we would see them reappear one day because they are such singular objects. But I could never have imagined that it would work out so well -- that they would be in France and ... More



In a reorganization plan filed in federal bankruptcy court in Delaware this week, the Boy Scouts listed nearly 60 of pieces of art by Rockwell whose sale would help raise money for a settlement fund of at least $300 million for sexual abuse victims.

by Neil Vigdor



NEW YORK (NYT NEWS SERVICE).- The association between the Boy Scouts of America and Norman Rockwell spanned more than six decades, yielding dozens of commissioned coming-of-age portraits that evoke virtue, bravery and Americana. But now faced with tens of thousands of sex-abuse claims, the debt-saddled organization is poised to do the unthinkable: Sell its collection of Rockwell's art. In a reorganization plan filed in federal bankruptcy court in Delaware this week, the Boy Scouts listed nearly 60 of pieces of art by Rockwell whose sale would help raise money for a settlement fund of at least $300 million for sexual abuse victims. The names of the paintings include "The Right Way," "On My Honor" and "I Will Do My Best." The years that they were completed range from 1916 to a lithograph in 1976, two years before Rockwell's death in 1978. "The plan ... More



The "Mona Lisa" Uniqlo Tee is worn in front of Leonardo da Vinci's "Mona Lisa" painting at the Louvre Museum in Paris. Via Musée du Louvre via The New York Times.

by Elaine Sciolino



NEW YORK (NYT NEWS SERVICE).- Can face masks and T-shirts save the Louvre? Probably not, but maybe they can help keep the museum's name alive while its doors stay shut. In normal times, the Louvre is one of the most visited museums in the world: 9.6 million people walked its halls in 2019. But the coronavirus has deprived it of foreign tourists and government decrees closed it down twice for nearly six months last year, a loss of 90 million euros (about $108 million) in revenue, according to the Louvre. Since last March, the museum, along with other French cultural institutions, has remained shut indefinitely. (It opened last year from early July to the end of October.) "We need to find new ways to make money," said Adel Ziane, director of external relations for the Louvre. "The COVID crisis has made it more urgent than ever to diversify and make the most of the Louvre name." One of his answers is retail. ... More
Nationalmuseum acquires a floral still life by Berjon
New technique reveals centuries of secrets in locked letters
White Cube opens an online exhibition of works by Gilbert & George


Antoine Berjon, Still Life with Flower Arrangement and Fruit Basket, circa 1800. Photo: Cecilia Heisser/Nationalmuseum.



STOCKHOLM.- Nationalmuseum has acquired an exceptional floral still life by the French artist Antoine Berjon, who in 1800 was one of the true stars of the French art world. The painting complements Nationalmuseum's collections, which until now had lacked examples of this type of flower painting, which was an immensely popular genre around the turn of the 19th century. Antoine Berjon (1754–1843) began his artistic career by drawing patterns for silk manufacturers in his hometown of Lyon. This activity required in-depth botanical knowledge and a skilled draughtsman's hand to translate such expertise into an image. It was thus a natural step and no great leap for the artist to transition to oil painting. In 1794 Berjon settled in Paris, where flower painting experienced a renaissance after a number of Dutch artists who had moved there devoted themselves to it with new energy. The most important of these was ... More



The computer-generated unfolding sequence of a sealed letter. Unlocking History Research Group via The New York Times.

by William J. Broad



NEW YORK (NYT NEWS SERVICE).- In 1587, hours before her beheading, Mary, Queen of Scots, sent a letter to her brother-in-law Henry III, King of France. But she didn't just sign it and send it off. She folded the paper repeatedly, cut out a piece of the page and left it dangling. She used that strand of paper to sew the letter tight with locking stitches. In an era before sealed envelopes, this technique, now called letterlocking, was as important for deterring snoops as encryption is to your email inbox today. Although this art form faded in the 1830s with the advent of mass-produced envelopes, it has recently attracted renewed attention from scholars. But they have faced a problem: How do you look at the contents of such locked letters without permanently damaging priceless bits of history? On Tuesday, a team of 11 scientists ... More



Gilbert George DIG FOR VICTORY 2020 (detail). 227 x 380 cm | 89 3/8 x 149 5/8 in. © Gilbert & George. Courtesy White Cube.



LONDON.- White Cube is presenting the NEW NORMAL PICTURES by Gilbert & George at Mason's Yard. This exhibition brings together 26 pictures from a new series they have been working on for over two years. Since meeting as students in the late summer of 1967, Gilbert & George have been travelling together on a visionary and moral journey that they liken to John Bunyan's The Pilgrim's Progress. Their journey is made on foot, along the endless streets of London; occasionally by bus to the city's eastern edges. It encompasses new-build developments on reclaimed and reworked land; excursions into a not-too-distant future, as disquietingly mild as it is lowering. Gilbert & George's NEW NORMAL PICTURES have the air, also, of temperate yet strangely intense days. In fact, the stages on a journey they seem to recount have a 'post-everything' air; as though they have just crossed through a fissure in time to a place t ... More
Toko Shinoda dies at 107; Fused calligraphy with abstract expressionism
Ruiz-Healy Art opens group exhibition "Plurality of Isolations"
Kunsthalle Basel opens an exhibition of works by Lydia Ourahmane


Toko Shinoda's work married the ancient serenity of calligraphy with the modernist urgency of Abstract Expressionism. Kiyoyuki Fukuda/The Tolman Collection of Tokyo via The New York Times.

by Margalit Fox



NEW YORK (NYT NEWS SERVICE).- Toko Shinoda, one of the foremost Japanese artists of the 20th century, whose work married the ancient serenity of calligraphy with the modernist urgency of abstract expressionism, died Monday at a hospital in Tokyo. She was 107. Her death was announced by Allison Tolman, her gallerist in the United States. A painter and printmaker, Shinoda attained international renown at midcentury and remained sought after by major museums and galleries worldwide for more than five decades. Her work has been exhibited at, among other places, the Metropolitan Museum of Art and the Museum of Modern Art in New York; the Art Institute of Chicago; the British Museum; and the National Museum of Modern Art in Tokyo. Private collectors include the Japanese imperial family. Writing about a 1998 ... More



Jesse Amado, December 2020, 2020. Signed and dated on the reverse Le Corbusier acrylic and burnt flairs on canvas, 30 x 24.5 in. 76.2 x 62.2 cm.



SAN ANTONIO, TX.- Ruiz-Healy Art is presenting Plurality of Isolations featuring works by RF Alvarez, Jesse Amado, Jennifer Ling Datchuk, Jenelle Esparza, Barbara Miñarro, Cecilia Paredes, Ethel Shipton, and Carlos Rosales-Silva. Plurality of Isolations opened on Wednesday, February 24th, and will be on view until April 24th, 2021. The exhibition touches on the experiences shared by many during the COVID-19 pandemic, political distress, and fragile economic environment. The exhibition is an assemblage of the meditations of these artists who share common themes—separation, upheaval, unrest, and hope for better days to come. These periods of hardship indelibly cast a mark on art and shape the course of art history. Though the COVID-19 crisis has had a severe emotional and economic impact on the artistic community, artists are regrouping and reinventing themselves for this new normal as they have done in past catastrophes and ... More



Lydia Ourahmane during install of the exhibition Barzakh, Kunsthalle Basel, 2021. Photo: Dominik Asche / Kunsthalle Basel.



BASEL.- What makes a home? Is it architecture: bricks and mortar, walls and doors? Is it the sum of the innumerable belongings brought to and held within that space: quotidian vessels of a life lived? Or is it the haunting memories arising in and about any or all of these together? And, about whose home do we speak, when it is occupied by a young, Algerianborn artist who returned to her native home- land only to end up living amongst not only her own things, but also the belongings of the deceased former occupant of her rental apartment? Moreover, is it (still) a home when you take these enmeshed contents— from photographs and dinnerware, furnish- ings and appliances, to chandeliers and doors—transport them 2,625 kilometers north to Kunsthalle Basel and reassemble them as an art installation? Indeed, what are we looking at when the realm of the private is rendered so radically public, when perfect strangers can riffle t ... More
IMMA opens an exhibition of the work of Chantal Joffe inspired by Lucian Freud's paintings of his mother
Miller & Miller announces Music Machines, Clocks & Canadiana auction
South Street Seaport Museum launches collections online portal featuring over 1,300 pieces on virtual display


Chantal Joffe, My Mother with Fern, 2017, Oil on canvas, 40.8 x 31.3 x 2 cm, © Chantal Joffe, Courtesy the artist and Victoria Miro.



DUBLIN.- IMMA launched The Artist's Mother, the latest project in response to the IMMA Collection: Freud Project 2016-2021. Inspired by Lucian Freud's paintings of his mother, Lucie, this is the first presentation which interweaves digital and physical elements. Central to the project is the work of artist Chantal Joffe who has portrayed her mother, Daryll, in an exceptional series of paintings and pastels. The exhibition The Artist's Mother: Lucie and Daryll is the first time IMMA combines both a gallery display in the Freud Centre, alongside a digitally installed exhibition in a new virtual gallery space. In this series of 15 portraits, 6 in dialogue with Lucian Freud in the gallery and 13 in the virtual gallery space, with some of the portraits been shown in both spaces, Chantal Joffe provides insights into the unique bond between mother-subject and artist-child. At the centre of this conversation are two of Freud's most o ... More



Regent two-sided porcelain service station sign from the 1950s, impressive at 60 inches in diameter, in fine shape except for a few pea-sized chips (est. CA$2,500-$3,500).



NEW HAMBURG.- A Wurlitzer Model 147 military band organ from 1916, rare and beautiful 18th century Dutch clocks and gorgeous painted pine furniture pieces made in Ontario, Canada in the mid-19th century are a few expected top lots in Miller & Miller Auctions, Ltd.'s online-only Music Machines, Clocks & Canadiana auction slated for Saturday, March 20. The auction, starting promptly at 9 am Eastern time, features four outstanding collections: the Cathy and Gerry Koolen collection of music machines and clocks; the Robert Russell clock collection, the John Wine collection of Canadian furniture and the Ben Lennox collection of fresh-to-market and seldom-seen items ranging from early historic trade signs to rare seltzers. "We are pleased to be offering Cathy and Gerry Koolen's outstanding collection of Dutch clocks, tower clocks and music machines," ... More



Thomas W. Kennedy (ca. 1890-1915 active years), View of pier and lighter under the Brooklyn Bridge, ca. 1890-1915. South Street Seaport Museum 2016.3.1



NEW YORK, NY.- South Street Seaport Museum launched a Collections Online Portal featuring over 1,300 pieces on virtual display available now at seaportmuseum.org/collectionsonline, with more to be added on an on-going basis, allowing audiences to explore New York City's past through the archives, artifacts, and photographs of the South Street Seaport Museum. "The Seaport Museum is a collecting institution; for decades we have gathered objects that reflect New York through the lens of its origins as a port city. The artifacts in the Museum's collection are a broad array of metaphorical jewels, illustrating the rise of New York through its myriad connections with the rest of the world, connections made possible by ships and the sea. Our city is a city on the sea; the collection, a small percentage of which is now available online is a magnificent illustration of that," said Captain Jonathan Boul ... More
Quote
I am unable to make a servile copy of nature. Henri Matisse
---

'Colour Is the Keyboard' Music & Art throughout Modern History
---

Flashback
On a day like today, German painter Franz Marc died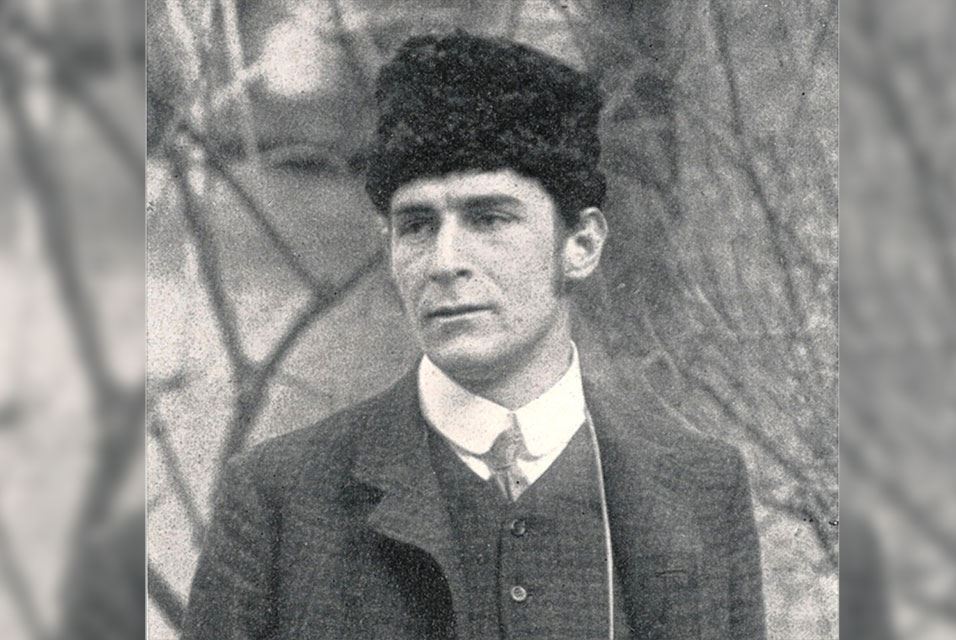 March 04, 1916. Franz Marc (8 February, 1880 - 4 March, 1916) was a German painter and printmaker, one of the key figures of the German Expressionist movement. He was a founding member of Der Blaue Reiter (The Blue Rider), a journal whose name later became synonymous with the circle of artists collaborating in it.
---

Museums, Exhibits, Artists, Milestones, Digital Art, Architecture, Photography,
Photographers, Special Photos, Special Reports, Featured Stories, Auctions, Art Fairs,
Anecdotes, Art Quiz, Education, Mythology, 3D Images, Last Week,

.
Royalville Communications, Inc
produces: