McNay Art Museum pays tribute to 90's icon Selena with photography exhibition
John Dyer, American born 1947. Selena, 1992. Archival ink on paper. Collection of the artist.
SAN ANTONIO, TX
.-
McNay Art Museum
pays tribute to 90s icon, singer, designer, and Texas legend—Selena Quintanilla-Pérez—in its latest photography installation. Selena Forever/Siempre Selena, opened January 15. The presentation features five photographs (three large-scale) by San Antonio photographer John Dyer, and is presented in conjunction with Fashion Nirvana: Runway to Everyday, opening January 30. Selena was the subject of Dyer's photo assignments in 1992 and again in 1995, just months before she was tragically killed at age 23. This year marks the 25th anniversary of her death. In 1992, Tejano singer Selena Quintanilla drove her red hatchback to John Dyer's photography studio for the Más Magazine cover shoot. The publication was interested in profiling the young Texas singer who was starting to make ...
More
The Best Photos of the Day
Fighting to preserve the magic of Lower Fifth Avenue
How 17 outsized portraits rattled a small southern city
Christie's announces highlights included in its The Art of the Surreal Evening Auction


A view of the Empire State Building from a plaza outside the Flatiron Building, which dates to 1902, in Manhattan, Jan. 8, 2020. Stefano Ukmar/The New York Times.

by John Freeman Gill



NEW YORK (NYT NEWS SERVICE ).- Stand at the lot line on the east side of Fifth Avenue opposite the Empire State Building and look downtown, and you won't be able to discern any world-famous landmarks. But as you cross Fifth on 34th Street heading west, the distinctive prow of the Flatiron Building sails majestically into sight. And by the time you are standing at the base of the Empire State, you have a gorgeous unobstructed view downtown of the Flatiron, thanks to the 1902 landmark's prominent location at the crossroads of Broadway and Fifth on 23rd Street. This is an urban magic trick that Miriam Berman, a preservationist and author of the book "Madison Square: The Park and Its Celebrated Landmarks," likes to share with people she's showing around. Against all odds, as Berman has publicly observed — both as a professional tour guide and before the city landmarks commission — these two renowned ... More



Photographer Mary Beth Meehan, who created the art installation project "Seeing Newnan," in downtown Newnan, Ga., Nov. 2, 2019. William Widmer/The New York Times.

by Audra D.S. Burch



NEWNAN (NYT NEWS SERVICE ).- It was the Saturday afternoon that this small Southern city had been dreading. A group of neo-Nazis promised to hold a rally in downtown Newnan to celebrate Adolf Hitler's birthday and rail against illegal immigration and the removal of Confederate monuments. Newnan had prided itself on its quiet charm. It offered small-town living just 40 miles southwest of Atlanta and had earned the nickname "City of Homes" for its antebellum architecture. Now, on a spring day in April 2018, a neo-Nazi group had assembled in a park near the courthouse, the leader having said the group preferred to hold rallies in predominantly white towns. But it turned out that only a few dozen white nationalists attended the rally, and the Newnan they had imagined no longer existed. Its population had more than doubled in less than 20 years, drawing an increasingly diverse collection of newcomers. Newnan ... More



Max Ernst (1891-1976), Paysage-effet d'attouchement. Oil on canvas, 39 3/8 x 31 7/8 in. (100 x 81 cm.). Painted in 1934-1935. Estimate: GBP 1,500,000 - GBP 2,500,000 / (USD 1,952,999 - USD 3,254,999). © Christie's Images Ltd 2020.



LONDON.- Christie's The Art of the Surreal Evening Sale will directly follow the Impressionist and Modern Art Evening Sale, launching '20th Century at Christie's' on 5 February 2020. The Surreal season is highlighted by René Magritte's poetic masterpiece A la rencontre du plaisir (Towards Pleasure) (1962, estimate: £8,000,000 - 12,000,000), which has remained in a private collection for over 50 years and has never been offered on the market until now. A total of seven paintings by Magritte are presented, spanning his oeuvre from 1928-62 with estimates ranging from £350,000 to £8,000,000. Further highlights include a new discovery, Salvador Dalí's Sans titre, bateau à voiles dans la baie de Port Lligat (1960, estimate: £1,500,000-2,500,000), Max Ernst's Paysage-effet d'attouchement (1934-35, estimate: £1,500,000-2,500,000) and Francis Picabia's Ligustri (1929, estimate: £2,200,000-2,800,000). The ... More
Ellen Day Hale painting added to the collection at Eustis Estate
Lisson Gallery debuts the entirety of Roy Colmer's seminal Doors, NYC (1975-76) project
Galerie Karsten Greve exhibits more than thirty vintage prints by Sally Mann


Ellen Day Hale (1855-1940), Mount Chocorua, a c. 1895.



MILTON, MASS.- In early February, Historic New England will add Mount Chocorua, a c. 1895 oil painting by Ellen Day Hale, to the collection of paintings on display at the Eustis Estate in Milton, Massachusetts. Ellen Day Hale (1855-1940) was one of the hundreds of women who trained as an artist in Boston and France in the last quarter of the nineteenth century. She studied in Boston with William Rimmer in 1873 and at the Museum School with William Morris Hunt and Helen Knowlton from 1874-1877. She also trained at the Pennsylvania Academy in 1878 and 1879, and in 1881 studied in France at the studio of Carolus-Duran, who taught John Singer Sargent among others, and then at the Académie Julian. In the 1890s Hale traveled to Giverny to learn from the Impressionist master Claude Monet. Her colors became lighter and her style more impressionistic. Mount Chocorua is clearly impressionistic, reflecting the artist's interpretation of the n ... More



Roy Colmer, Detail of Doors NYC (Broadway between Barclay Street and Park Place – Odd Numbers), 1976. 5 Silver gelatin prints, 12.7 x 8.9 cm (each), 5 x 3 1/2 in (each) © Estate of Roy Colmer; Courtesy Lisson Gallery.



NEW YORK, NY.- Lisson Gallery is presenting its third exhibition of the work of Roy Colmer since announcing representation of the artist's estate in 2016. Debuting the entirety of his seminal Doors, NYC (1975-76) project at 504 West 24th Street, this marks the first ever comprehensive presentation of this monumental photographic project, while significant sections have previously been exhibited at PS1 and the New York Public Library. After beginning his career as a painter at the prominent Hochschule für Bildende Künste in Hamburg, Germany, Colmer abandoned the medium and his preferred method of deployment, the spraygun, just ten years after graduation, and by 1975 he worked exclusively in photography and film. Doors, NYC is both his most expansive and his most recognized series. From November ... More



Sally Mann, Deep South # 5, 1998. Gelatin silver enlargement print, toned with tea Ed. 6/10 + 3 AP 122 x 96,5 cm / 48 x 38 in SM/F 5 © Sally Mann Photo: Bildpunkt AG, Basel; Robert Bayer Courtesy Galerie Karsten Greve Köln Paris St. Moritz.



COLOGNE.- To kick-off its 2020 program in Cologne, Galerie Karsten Greve is presenting a solo show by American photographer Sally Mann. On view are more than thirty vintage prints from the Deep South series created in the late 1990s as well as from the Battlefields series depicting historic American Civil War (1861–1865) battlefields and taken in 2000 and 2001. Sally Mann, born in Lexington, Virginia, in 1951, is the daughter of a country doctor who raised his three children allowing them, by Mann's own account, to be "benignly neglected". In 1975, having completed her MA studies in literature and creative writing, she started her career as a professional photographer, a career that has lasted forty-five years now. Even though she received a Guggenheim Foundation grant in the 1980s, it was not until 1992 that she began ... More
Camden Arts Centre opens the first London exhibition of work by Vivian Suter
Annely Juda Fine Art opens an exhibition of recent work by Lesley Foxcroft
Cristina Iglesias awarded the 2020 Royal Academy Architecture Prize


Vivian Suter. Photo: Flavio Karrer.



LONDON.- This is the first London exhibition of work by the Argentine-Swiss artist Vivian Suter ​(b. 1949, Buenos Aires), which fills Camden Arts Centre's galleries with her delicate but powerful paintings, inspired by the Guatemalan rainforest. Suter presents works as an immersive cacophony which mirrors the canopy of the rainforest: suspended, draped, overlapping and organic. The artist has also made a new body of works specially for Camden Arts Centre's garden. Transferred from the rainforest in which they were conceived, to hang in London's wintery landscape, the works evolve throughout the exhibition, becoming memories of the environment they have inhabited. Born in Buenos Aires, Suter spent her childhood in Switzerland before moving to Panajachel, Guatemala in 1982, setting up her home and studio in the midst of the jungle ... More



Small work, 2019. M.D.F. 10 x 60 x 10 cm overall.



LONDON.- Annely Juda Fine Art is presenting an exhibition of recent work by Lesley Foxcroft which runs from 16th January – 22nd February 2020. Foxcroft uses simple and everyday materials such as MDF, rubber, paper and card to make works that are sculptural in nature, yet often are wall mounted and very much rooted in their surroundings; responding to the corner of a room, ceiling or floor. Utilitarian and minimal in appearance, the artist's use of simple materials diminishes interpretative interference and allow form to take precedence. Foxcroft's works can be described as drawing in space; the straight line of MDF, for example, in lieu of the pencil line on paper. Materials are sensitively layered to create a more sculptural presence and the muted colours (which can be seen as an absence of colour) make for subtle, minimal works with a quiet resonance. More recent works, such as those in Works ... More



Cristina Iglesias. Photo by Jose Luis López de Zubiria.



LONDON.- The Royal Academy of Arts today announced that Cristina Iglesias has been awarded the 2020 Royal Academy Architecture Prize, honouring her inspiring contribution to the culture of architecture. To mark the third year of the annual prize, which is supported by the Dorfman Foundation, the distinguished international jury have recognised the enduring and vital tradition of public art in enhancing the quality of open civic spaces. Iglesias's works, such as the Rivers and Public Spaces series (2006 – 2018), create a sense of public gathering, with their filling and emptying of water combining both spectacle and an antidote to the noise and pace of urban life surrounding it. Her collaborations both inspire and act as a reminder for architects on the crucial role of public space provision in our cities. The jury also selected the finalists for the Royal Academy Dorfman Award, ... More
Scarred but resilient, a Uighur town clings to its cultural past
Hugh Hayden sculpture installation examines history, slavery and American identity
Heather Gaudio Fine Art opens an exhibition of recent paintings by Charles and Natalie Arnoldi


Patrons in a restaurant in an underground strip of shops in Yarkand, in the Xinjiang region of China, on Aug. 8, 2019. Gilles Sabrié/The New York Times.

by Chris Buckley and Steven Lee Myers



YARKAND (NYT NEWS SERVICE ).- The winding, crowded lanes of old Yarkand, an ancient Silk Road town, preserve patterns of life that go back centuries. On a recent morning, smoke wafted from sputtering grills of lamb and ovens lined with baking flatbread. Clangs rang from a coppersmith shaping bowls with a hammer. Twangs from a dutar, a two-stringed lute, floated from a store selling traditional musical instruments. In a dimly lit teahouse, old men in Muslim head caps murmured in conversation. Sitting on the fringe of the Taklamakan Desert, Yarkand remains a cultural cradle for Uighurs, a mostly Muslim minority in China's far western Xinjiang region. But their way of life is under intense pressure. Uighurs have for three years endured a sweeping campaign to turn them ... More



Hugh Hayden, America, 2018. © Hugh Hayden, Courtesy Lisson Gallery.



PRINCETON, NJ.- Artist Hugh Hayden explores history, slavery and the creation of the America we know today through a series of site-responsive installations at Art@Bainbridge, the Princeton University Art Museum's gallery space in downtown Princeton featuring the work of emerging contemporary artists. Challenging issues of home, craft and the politics of materials, Hayden reimagines the domestic spaces of Bainbridge House, which dates to 1766, through meticulously constructed surrealistic sculptures. Titled Creation Myths, the installation responds to the history of Bainbridge House by creating distinct but interconnected domestic spaces. In the "kitchen," iron skillets fused with casts of African masks consider the enslaved cooks who helped create American cuisine; in the "study," a claw-machine arcade game filled with cotton bolls references the quintessential act of slave labor; in the "dining room," a ... More



Charles Arnoldi, Untitled, 2018. Oil on canvas, 86 x 76 inches.



NEW CANAAN, CONN.- Heather Gaudio Fine Art is presenting "Charles and Natalie Arnoldi: Natural Lineage," recent paintings by father and daughter. The show opened on January 16th and runs through March 7th, and the public is invited to attend a reception for both artists on January 30th, 5-7pm. Although the visual language of these two Californian artists could not be more different -- the brightly colored geometric abstractions by Charles Arnoldi a bold contrast to Natalie's muted representational evocations of light and atmosphere -- the two share common threads in their investigative approach. Both enjoy conveying their creativity in series, encapsulating ideas and delving deep into their enquiry, painting several canvases of the same subject to fine-tune the aesthetic in question. Both are not shy to present their output in oversized scales, unabashedly captivating the viewer with patchworks of color ... More
Quote
This grandiose tragedy that we can call Modern Art. Salvador Dalí
---

Treasures from Another Era: The Gilded Age Revisited
---

Flashback
On a day like today, French painter Jean-François Millet died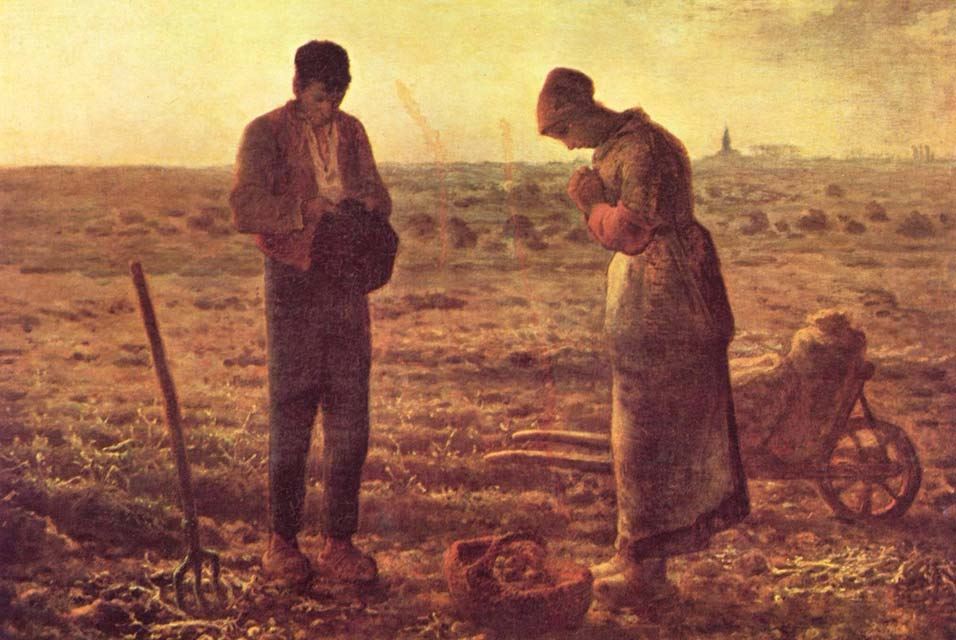 January 20, 1875. Jean-François Millet (October 4, 1814 - January 20, 1875) was a French painter and one of the founders of the Barbizon school in rural France. Millet is noted for his scenes of peasant farmers; he can be categorized as part of the Realism art movement. In this image: The Angelus by Jean Francois Millet.
---

Museums, Exhibits, Artists, Milestones, Digital Art, Architecture, Photography,
Photographers, Special Photos, Special Reports, Featured Stories, Auctions, Art Fairs,
Anecdotes, Art Quiz, Education, Mythology, 3D Images, Last Week,

.
Royalville Communications, Inc
produces: