M.C. Escher exhibition opens at the Vero Beach Museum of Art
M.C. Escher (1898 – 1972), Bond of Union, 1956, lithograph, 25.3 x 33.9 cm. Private Collection, M.C. Escher Image copyright of the M.C. Escher Co.
VERO BEACH, FLA
.-
The Vero Beach Museum of Art
announced a new exhibition featuring the works of world-renowned graphic artist and arguably the most famous printmaker of the modern era, Maurits Cornelis Escher (1898-1972), M.C. Escher: Infinite Variations, will open at the VBMA on September 30, and will be on display through December 30, 2023. The exhibition will feature more than 100 works and showcases Escher's various groundbreaking techniques and subjects. The exhibition will display works throughout his career – from his early Italian landscape sketches, self-portraits, and book illustrations to his most iconic images of impossible spaces, tessellations, infinity, and his metamorphosis series. "Escher has to be one of the most recognized artists of the twentieth century. His mind- bending, reality-warping prints inclu ...
More
The Best Photos of the Day
In New York, creating a 'Port of Entry' for young French artists
With a love poem and acid beat, a grand space feels the heat
Museum worker sold paintings and put forgeries in their place


Gaëtan Bruel, in the Atelier he commissioned. (William Laird via The New York Times)

by Wendy Moonan



NEW YORK, NY.- It was a surprising diplomatic event on New York's Upper East Side — one that started with an auspicious "bonsoir," and ended with an unexpected "au revoir." Gaëtan Bruel, the director of French cultural services in the United States, gathered with dignitaries at Villa Albertine, its headquarters, on Sept. 20, to announce additional initiatives supporting increased French American cultural exchange. Bruel, with Laurent Bili, the French ambassador to the United States, and Catherine Colonna, the French foreign minister, offered up a greatly expanded model for artists' residencies that would let even more French or French-speaking artists, scholars and artisans travel anywhere in the United States — or even, in one case, around the world on a French container ship. "This France is perhaps less polished, possibly less expected, certainly more diverse, younger, more daring, surprising," Bruel said. He added, "Why ... More



Jacolby Satterwhite at The Great Hall of The Metropolitan Museum of Art in New York on Sept. 14, 2023. Bucking the rules, and the canon, Satterwhite remakes the Met's Great Hall with his multimedia "A Metta Prayer." It draws on Titian and video games. (Tony Cenicola/The New York Times)

by Ted Loos



NEW YORK, NY.- From the soaring Beaux-Arts architecture to the pristine flower arrangements, the Great Hall of the Metropolitan Museum of Art can be a humbling, even intimidating entry point for visitors. The artist Jacolby Satterwhite is having none of that. His new Great Hall Commission, "A Metta Prayer," turns the museum's solemnity into a funky, queer-infused love poem to the universe, set to an acid house beat. The installation, made of digital projections and a soundtrack, will be on view through Jan. 7. The piece will feature live performances on weekends in October and November, as well as opening night, Monday, Oct. 2. The video may be the only time Met visitors will hear a benediction like, "May we always keep our wigs on our heads." Amen. Satterwhite, ... More



View of the Deutsches Museum from the southwest with the new entrance building on Uferstraße. Photo: © Alexander Goettert | Deutsches Museum.

by Christopher F. Schuetze



NEW YORK, NY.- A worker at the Deutsches Museum in Munich stole paintings from the collection, replaced them with rough forgeries, then sold the originals at auction, according to the judgment of a court in the city this month. The thief used the proceeds to finance a luxurious lifestyle, the judge said. The worker, who is identified in court documents by the initials S.K., in keeping with German privacy law, was convicted of stealing four paintings by early 20th-century German artists from storerooms over nearly two years and avoiding detection by replacing the artworks with copies. He then sold three of the pieces at auction; the fourth failed to find a buyer. Judge Erlacher of the district court in Munich sentenced the man to a one-year, nine-month commuted prison sentence and ordered him to repay the roughly $63,000 he got from the sale. The thief's evident remorse and willingness to work with the court were given as ... More
An aristocrat's grandson, a precious desk and a storage unit in Queens
Disney's Thomas Schumacher takes on new Broadway role
Turning an algorithm into an art student


An intricate family tree map of Christian Agostino Von Hassell's family in his home in New York on July 20, 2023. (Hiroko Masuike/The New York Times)

by Chelsia Rose Marcius



NEW YORK, NY.- The 18th-century French writing desk that once belonged to Ulrich von Hassell, a German diplomat executed on the orders of Adolf Hitler, had sat for 12 years in a self-storage unit in Queens. The desk had been passed down five generations to Christian Agostino von Hassell, his American grandson, who had stowed it with hundreds of other heirlooms, some dating back centuries. They were tucked away with, among other things, roughly a dozen oil paintings of ancestors; an armoire, wall sconces and Persian rugs; and samurai armor from Japan, gifts Christian von Hassell received during his service in the U.S. Marine Corps. There were at least 1,000 books, most leather-bound and embossed with the von Hassell coat of arms. Many were from von Hassell's great-grandfather, Adm. Alfred von Tirpitz, who led the German navy under Emperor Wilhelm II during World War I. The desk — worth $39,000, but invaluable in emotional and historical significance — was stored with the other items in ... More



Thomas Schumacher speaks during a press conference in Times Square in Manhattan, on Sept. 18, 2020. The longtime head of the Disney's theater operations is becoming the division's chief creative officer, relinquishing his role overseeing its business operations.(Jeenah Moon/The New York Times)



NEW YORK, NY.- Thomas Schumacher, the longtime head of Disney's theatrical arm, a key force behind "The Lion King," and one of the most powerful people on Broadway, is relinquishing his role overseeing the division's business operations and stepping into a purely creative role. Schumacher, who is 65 and holds the titles of president and producer of Disney Theatrical Group, told his staff Thursday morning that he will take on a new role as the division's chief creative officer. His two closest deputies, Andrew Flatt and Anne Quart, will now jointly run the unit as executive vice presidents. Disney has for three decades been the biggest corporate player on Broadway, and it remains an enormously significant factor in the industry. "The Lion King," which has been running on Broadway for 25 years, regularly outsells its competitors — last week it was, as it often has been, the top-grossing show. Schumacher's portfolio has included not only Disney's Broadwa ... More



David Salle at his studio in East Hampton, N.Y., Sept. 12, 2023. Salle, one of America's most thoughtful painters, hoped an AI program could nourish creativity. (Justin Kaneps/The New York Times)

by Zachary Small



NEW YORK, NY.- Of the many young artists David Salle has mentored, none were ever as challenging as his latest student, who cannot hold a paintbrush or a conversation. "The mountain looks too airbrushed," Salle informed the algorithm that lives inside his iPad. The landscape painting it had produced, based on hundreds of his own artworks, was typically generic, lacking in depth. But the next one succeeded, depicting a valley stream with expressionistic wisps and a sense of volume. "The way it has rendered water looks more deliberate," Salle, 70, said. "But it's funny to call something deliberate when it has no consciousness, isn't it?" For nearly a year, the painter — known for edgy images appropriated from art history and popular culture, as well as juxtapositions of voluptuous nudes and ham sandwiches — has attempted to defy conventional thinking about generative artificial intelligence by testing an AI program's capacity to become a sophistica ... More
Wadsworth Atheneum Museum of Art announces curatorial appointment
Juri Markkula solo show 'Heavens' now on view at Ora-Ora
"European Avant-Garde - Vision and Reality" opened yesterday at the Osthaus Museum


Jared Quinton, Emily Hall Tremaine Associate Curator of Contemporary Art



HARTFORD, CONN.- The Wadsworth Atheneum Museum of Art has announced the appointment of Jared Quinton as the Emily Hall Tremaine Associate Curator of Contemporary Art. Quinton, the Wadsworth's interim curator of contemporary art since November 2022, is preparing to open the forthcoming Rules and Repetition: Conceptual Art at the Wadsworth (October 26, 2023–February 18, 2024). The exhibition presents iconic works by Sol LeWitt and other pioneering conceptual artists of the 1960s and '70s who developed and embraced serial repetition and other conceptualist strategies alongside more recent acquisitions by artists who adopted the earlier approaches to address identity, environment, and politics. Quinton is also curator of Talia Chetrit / MATRIX 193 (opening October 6) and organized the three previous MATRIX exhibitions featuring Lisa Alvarado, Matt Paweski, and Stephanie Syjuco. ... More



Juri Markkula, Heaven - Rose, 2023, Interference Pigment Polyurethane, 75 x 50 x 5 cm. Courtesy of the artist and Ora-Ora.



HONG KONG.- Ora-Ora is is now presenting a new solo show by Finnish artist Juri Markkula, taking place in its Tai Kwun gallery in Hong Kong. The exhibition is titled: Heavens. The artist is presenting new works from his Heaven series, wall-mounted sculptures of industrial heft, and overwhelming, ethereal beauty. Each sculpture is titled with a colour. Yet each defies colour categorization, and is illuminated and guided by experience and instinct. The artist derives inspiration from the Swedish concept of himmel and the Finnish equivalent taivas. Each word holds a dual meaning, referring both to the paradise of an eternal afterlife, as well as the atmosphere and skies above us. This series therefore incarnates a physical and a spiritual realm. Speaking of Juri Markkula's new solo show, CEO and co-founder of Ora-Ora Dr. Henrietta Tsui-Leung said: "Juri's artworks are captivating to the widest ... More



Arshile Gorky (1904 – 1948), Abstract Composition, 1930. Oil on canvas, 50 x 40 cm (19.7 x 15.75 in).



NORTH RHINE-WESTPHALIA.- Marc Chagall, Wassily Kandinsky, Auguste Renoir, Alexej von Jawlensky, André Derain, Albert Marquet, Max Liebermann, Chaïm Soutine (to whom the Kunstsammlung NRW in Düsseldorf is currently devoting a major solo exhibition), Max Beckmann, Emil Nolde, Oskar Kokoschka, Ernst Ludwig Kirchner, Max Pechstein, Henry van de Velde*: These and other outstanding representatives of the avant-garde movements in art are now being presented by the Osthaus Museum until January 07, 2024 in the exhibition "European Avant-Garde - Vision and Reality". On view are more than 80 works - 60 paintings, five sculptures, and a body of works on paper - by French, Belgian, Russian, Ukrainian, Austrian, and German artists from the first two decades of the twentieth century. Parallel to this, a second exhibition entitled "David and Vladimir Burliuk - Masters of Experiments" is showing more than 40 ... More
Hauser & Wirth exhibits new and recent paintings and robotic LEDs by Jenny Holzer
Beloved tree in England is felled in 'Act of Vandalism'
Michael Gambon, Dumbledore in the 'Harry Potter' films, dies at 82


Installation view, 'READY FOR YOU WHEN YOU ARE Jenny Holzer,' Hauser & Wirth West Hollywood, 1 September – 21 October 2023 © Jenny Holzer. All rights reserved, DACS, London / ARS, New York 2023. Courtesy the artist and Hauser & Wirth. Photo: Collin LaFleche.



LOS ANGELES, CA.- Since the 1970s, Jenny Holzer has deployed language as her medium, mobilizing poetic, political and personal texts to speak to our experiences of power, violence, joy, despair and idealism. The renowned American artist is presenting new and recent paintings and robotic LEDs at Hauser & Wirth's West Hollywood location, marking her first major exhibition in Los Angeles since 2012 and the first time she has employed artificial intelligence (AI) technologies in her text-based practice. Through her timely reflections on the American experience over the last four decades—including the country's current shift into the latest phase of the Information Age, the burgeoning era of AI—Holzer has always pushed the frontiers of contemporary art and language, and this new group of works is no exception. Among the new works Holzer has created for the exhibition are two robotic vertical LEDs installed side by side, each display ... More



The Sycamore Gap tree, near Hadrian's Wall in Northumberland, England, in December 2021. (Andy Haslam/The New York Times)

by Jenny Gross



LONDON.- A 16-year-old boy was arrested Thursday on suspicion of criminal damage after one of Britain's most famous trees, a sycamore that stood in a dip in Hadrian's Wall, was cut down overnight in what authorities described as "an act of vandalism." "We have reason to believe it has been deliberately felled," Northumberland National Park said of the beloved tree, known as the Sycamore Gap tree, in a statement that was issued before the arrest. The teenager was in custody and was assisting with the investigation, the Northumbria Police said Thursday. Voted Tree of the Year in 2016 in the Woodland Trust awards, the Sycamore Gap tree, located about 100 miles southeast of Edinburgh, was several hundred years old and was featured in the 1991 film "Robin Hood: Prince of Thieves," starring Kevin Costner and Morgan Freeman. Sophie Henderson, a landscape ... More



Michael Gambon, left, and Eileen Atkins in a scene from "All That Fall" at 59E59 Theater in Manhattan on Nov. 5, 2013. (Sara Krulwich/The New York Times)

by Benedict Nightingale



NEW YORK, NY.- Michael Gambon, the Irish-born actor who drew acclaim from both audiences and peers for his stage and screen work, and who won even wider renown as Albus Dumbledore, the firm but kindly headmaster of the Hogwarts wizarding school in the "Harry Potter" films, died Wednesday night. He was 82. Gambon's family confirmed his death in a brief statement issued Thursday through a public relations company. "Michael died peacefully in hospital with his wife, Anne, and son Fergus at his bedside, following a bout of pneumonia," the statement said. It did not identify the hospital where he died. The breakthrough that led actor Ralph Richardson to call him "the great Gambon" came with Gambon's performance in Bertolt Brecht's "Life of Galileo" at London's National Theater in 1980, although he had already enjoyed modest success, notably in plays ... More
Quote
I start from something considered dead and arrive at a world. Joan Miró
---

Learn about the four masterpieces from Bargello National Museum in Florence hosted by the DIA.
---

Flashback
On a day like today, film star James Dean died in a road accident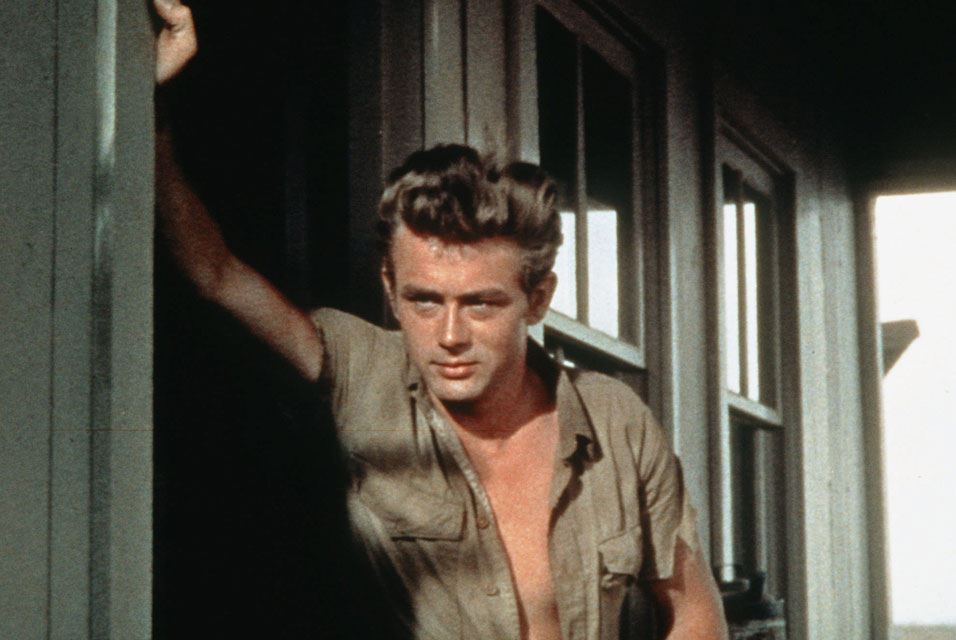 September 30, 1955. James Byron Dean (February 8, 1931 - September 30, 1955) was an American film actor. He is a cultural icon, best embodied in the title of his most celebrated film, Rebel Without a Cause (1955), in which he starred as troubled Los Angeles teenager Jim Stark. The other two roles that defined his stardom were as loner Cal Trask in East of Eden (1955), and as the surly ranch hand, Jett Rink, in Giant (1956). Dean's enduring fame and popularity rests on his performances in only these three films, all leading roles. His premature death in a car crash cemented his legendary status. In this image: Actor James Dean is seen in a scene from the Warner Bros. 1956 epic, "Giant." Years after the making of the movie, teenagers are still trying for the cool that was James Dean, the poster boy for the tortured netherworld between child and adult.
---

Museums, Exhibits, Artists, Milestones, Digital Art, Architecture, Photography,
Photographers, Special Photos, Special Reports, Featured Stories, Auctions, Art Fairs,
Anecdotes, Art Quiz, Education, Mythology, 3D Images, Last Week,

.
Royalville Communications, Inc
produces: