Vanished murals from the Empire State Building rediscovered
Renate Reiss views one of the rediscovered murals by the German-born American artist Winold Reiss for the first time, at Bernard Goldberg's gallery space in New York, April 20, 2023. The murals were part of a series of eight that originally hung in a Longchamps restaurant in the Empire State Building — they were long presumed lost or destroyed until the gallery director, Ken Sims, spotted them while browsing an online marketplace. (Karsten Moran/The New York Times)

by Eve M. Kahn
NEW YORK, NY
.-
Towering remnants of tropical decor from the young Empire State Building, which were believed to have vanished decades ago, will return to public view Friday in a TEFAF art fair booth at the Park Avenue Armory in Manhattan. Bernard Goldberg Fine Arts gallery will offer these works, two oval murals of damsels engulfed in rainbows of blossoms and foliage, which German-born artist Winold Reiss painted in 1938 for a Longchamps restaurant at the Empire State Building's base. (It's now a Starbucks.) "Oh, my Lord," art and architectural historian C. Ford Peatross said last month when he first saw the murals, nearly 8 feet tall, at the Goldberg gallery. Peatross, who has been researching Reiss since the 1980s, had previously seen only photos and sketches of the Longchamps works, mostly in black and white. "It's a major find," the historian said. Renate Reiss, widow of ...
More
The Best Photos of the Day
A Pakistani artist reimagines her relationship with shame and bodies
Christie's 20th/21st Century spring season in Milan celebrates 65 years of auctions in Italy
Kenny Scharf's souped-up, decked-out Coupe De Ville speeds into Heritage's Modern & Contemporary Art Auction


Misha Japanwala's moldings on the coast of Karachi, Pakistan. (Photos: Aleena Naqvi)

by Aamina Inayat Khan



NEW YORK, NY.- Misha Japanwala looked around her studio in the week leading up to her gallery show and wondered whether there were "too many nipples." She was talking, of course, about the nipples she plaster cast from the bodies of 70 anonymized Pakistani people. They are part of Japanwala's new collection, "Beghairati Ki Nishaani: Traces of Shamelessness," showing at Hannah Traore Gallery in New York through July 30. Japanwala, a visual artist who lives in Jersey City, New Jersey, spent several months last year in Karachi, Pakistan, where she grew up, making body castings of local women and LGBTQ people. Her work aims to be a historical record of a population governed by the laws of shame. In a country where violence against women, including "honor killings," is rampant, bucking social conventions a ... More



Mario Schifano, N. 080 (1960, estimate: €400,000-600,000). © Christie's Images Ltd 2023.



MILAN.- Christie's 20th / 21st Century: Milan Online Sale, live for bidding from 17 to 31 May 2023, will present an exquisite selection of works from esteemed Italian and international collections. Pioneering artists who shaped the dynamic artistic movements of the 20th century will be offered alongside a curated selection of emerging names that currently resonate with collectors globally. The online format has more than doubled the number of countries from which registered bidders participate, highlighting the success of Christie's evolving auction channels over the last five years. The unique 20/21 sale platforms at Christie's offer collectors an unrivalled dialogue between Italy and the rest of the world, highlighted this spring by Piero Manzoni, Marino Marini, Sam Francis, Lucio Fontana, Alberto Burri, Alighiero Boetti, Christo and Hermann Nitsch. The full pre-sale exhibition will take place against the dramatic backdrop ... More



Kenny Scharf (b. 1958). Astro Cumulo Uber Express, 2005. Spray paint, acrylic, enamel, and found objects on fully customized 1960 Cadillac Coupe De Ville, 390 cubic in. V-8 engine with automatic transmission. Car is approximately 225 in. long x 80 in. wide x 54.1 in. Estimate: $400,000 - $600,000.



DALLAS, TX.- The contemporary art world is shaped not only by the artists whose names we commit to memory — the art stars like Warhol or Basquiat or Richter — but also by quiet heroes who navigate that world with a unique and brilliant consistency. Not so long ago the journalist Malcolm Gladwell coined the term "connector" to describe a trendsetting person who has a rich network of friends and acquaintances and a knack for bringing people together, for linking us up with the world. The energetic and wonderfully good-natured artist Kenny Scharf, who got his start in New York City in the late 1970s and hit his first real stride in the '80s while working alongside Keith Haring (his roommate), Basquiat and all the rest, is a true connector. Directly and indirectly ... More
Christie's to offer the Ann & Gordon Getty Collection
Judith Miller, 'Antiques Roadshow' mainstay, is dead at 71
The Würth Collection now on view at the Leopold Museum


Sir Lawrence Alma-Tadema, A Coign of Vantage, oil on panel. Estimate $2,500,000 - 3,500,000. © Christie's Images Ltd 2023.



NEW YORK, NY.- Christie's announced the second installment of the Ann & Gordon Getty Collection. Following the October 2022 landmark sales, this June, Christie's will present the contents of the Gettys' historic turn of the century Berkeley property: Temple of Wings. The Collection will be sold over one live auction in New York – taking place on June 14, and two online sales ending on June 15. Proceeds will benefit selected arts and science organizations designed by Ann and Gordon Getty. Temple of Wings, located on the Berkeley hillside, was built in a Greco-Roman style as the house and dance studio of Florence Treadwell Boynton. It was acquired by the Gettys in 1994, and under Ann Getty's stewardship, they furnished the home with furniture and decorative arts honoring the rich eclecticism of the late 19th and 20th centuries. The collection includes furniture from the most significant members of the Gothic Revival and Art ... More



Known for her many guidebooks, she helped determine what was trash and what was treasure on the BBC series that inspired the American show.

by Penelope Green



NEW YORK, NY.- Judith Miller, the author of popular antiques price guides and a member of the team of appraisers who determined what was trash and what was treasure on "Antiques Roadshow," the beloved long-running BBC program that inspired the American series of the same name, died April 8 in North London. She was 71. Her husband, John Wainwright, confirmed the death, in a hospital. He did not specify the cause, saying only that she died after a short illness. Miller, known to the British news media as the queen of collectibles, was often buttonholed on the street by Britons eager to share their back stories of Great-Aunt So-and-So's bibelots, and at antiques fairs, where many attendees clutched fresh copies of "Miller's Antiques Handbook & Price Guide" or "Miller's Collectibles Handbook," the twin bibles of the antiques and collecting ... More



Max Beckmann, 1884–1950, Quappi in Blue in a Boat, 1926/50. Gouache and oil on paper on canvas | 88.5 × 58 cm. Würth Collection. Photo: Volker Naumann, Schönaich.



VIENNA.- Around 200 works by 75 artists illustrate the (amazing) variety of Modernist and contemporary art production in the most comprehensive exhibition of the Würth Collection to date in Austria. The Würth Collection is among the largest private collections in Europe and one of the most eminent art collections worldwide. The collector Prof. Reinhold Würth gave the Leopold Museum's Director Hans-Peter Wipplinger carte blanche to choose around 200 masterpieces from the collection's approximately 19,000 works for the exhibition AMAZING. The Würth Collection at the Leopold Museum. The presentation invites visitors to embark on a unique journey through more than 100 years of art history. One emphasis within the presentation of the collection is on Classical Modernism, showcasing highlight works by Edvard Munch, Pablo ... More
Pablo Picasso's 'Nature Morte à la fenêtre to lead 20th Century Evening Sale
Vardaxoglou Gallery currently exhibiting work by Lewis Bander
Yasmeen Lari to receive the 2023 Royal Gold Medal for Architecture


Pablo Picasso, Nature morte à la fenêtre (detail). Oil on canvas, 51 x 63 in. (129.7 x 162.3 cm.) Painted on 18 January 1932. Estimate on request. © Christie's Images Ltd 2023.



NEW YORK, NY.- Christie's announced the top lot of the 20th Century Evening Sale on May 11, 2023 during the Spring Marquee Week of sales will be Pablo Picasso's Nature morte à la fenêtre (estimate on request; in the region of $40,000,000). This important, large-scale 1932 portrait of the artist's golden muse Marie-Thérèse Walter dates from one of the most celebrated moments within Picasso's entire career. This May will be the first time in history that the work has come to auction. Vanessa Fusco, Christie's Head of Impressionist and Modern Art, and Co-Head of 20th Century Evening Sale, remarks, "Marie-Thérèse's presence in Picasso's life reinvigorated every area of his work, her statuesque form, radiant beauty, and carefree sensibility inspiring the artist to create works that stand among the finest of his entire career. ... More



Lewis Brander, Parnitha, 2023. oil on paper, 17.7 x 26.7 cm (7 x 10 1/2 ins) © Lewis Brander. Courtesy Vardaxoglou Gallery, London.



LONDON.- Vardaxoglou is currently presenting an exhibition of new works on paper by Lewis Brander (b. 1995) that will run until May 26th, 2023. This is the artist's first exhibition with the gallery dedicated to his works on paper. An observer of the shifts in natural light in both Northern and Southern Europe, the colour of the sky has become a constant reference in Brander's paintings since returning to London from Greece three years ago. Upon moving to Athens in 2018, the artist became exposed to a new landscape and quality of light. Now working from the top-floor of a disused factory in East London, his studio's views of the sky have allowed him to sustain this study of light over extended periods. On an intimate scale, the paintings depict sunsets, the summit of hills and charcoal delineations of a tree as fragments of much larger scenes. Varying only ... More



Yasmeen Lari. © Anam Baig. The Royal Gold Medal will be officially presented to Yasmeen Lari in June 2023.



LONDON.- The Royal Institute of British Architects announced that Pakistan's first female architect, Professor Yasmeen Lari, will receive the 2023 Royal Gold Medal for architecture. This award - the first to be personally approved by His Majesty The King - acknowledges Yasmeen Lari's work championing zero-carbon self-build concepts for displaced populations. One of the world's highest accolades for architecture, the Royal Gold Medal is personally approved by the monarch and awarded to a person or group of people who have had a significant influence on the advancement of architecture. Presented since 1848, past Royal Gold Medallists include Balkrishna Doshi (2022), Sir David Adjaye OBE (2021), Dame Zaha Hadid (2016), Frank Gehry (2000), Lord Norman Foster (1983), Frank Lloyd Wright (1941) and Sir George Gilbert Scott (1859). ... More
Glass event shines with the widest array of early 20th-century works ever offered by Heritage
The Pelé Collection kicks off in Heritage's Spring Sports Catalog auction
Show surveys Gustavo Bonevardi's last fifteen years of paintings, works on paper and sculpture


Fine Franz Hofstötter for Loetz Phaenomen (Gre 2/314) Glass Vase, circa 1902. Marks: Loetz Austria, 6-3/4 x 6-1/4 inches (17.1 x 15.9 cm). Estimate: $10,000 - $15,000.



DALLAS, TX.- Art Glass aficionados know a Tiffany Studios lamp on sight and can clock a Lalique vase from across a room. Daum and Gallé have made their indelible mark on the form, too. But there's a sleeper studio in the mix that insiders also know and love for its virtuosic command of the medium: The glassworks studio Loetz, founded in 1836 in Southern Bohemia (now the Czech Republic) — a region with a rich centuries-long tradition of glassmaking — is a favorite of curators and collectors. And on May 25, in its Pursuit of Beauty: Art Nouveau, Art Deco & Art Glass Signature® Auction, Heritage presents an important private collection of 41 Loetz works that demonstrate the firm's tremendous range of production and the works' timeless appeal. The auction also marks Heritage's continuing successful expansion of the category with highlights spanning a ... More



2022 Pelé & Ronaldo Signed Brazil National Team Jersey from The Pelé Collection. Update: This item includes video of Pelé signing it and is also offered with a 1 of 1 NFT



DALLAS, TX.- On June 15, 1958, 17-year-old Edson Arantes do Nascimento made his debut as a member of the Brazilian national football team. At the time, it was just another match — the final contest of the 1958 FIFA World Cup group stage. In time, history would record the moment as a milestone, a cataclysmic shift in the sport. Just two weeks later, the young forward led Brazil to its first World Cup title with a two-goal performance against host country Sweden in the Finals. But Gustav VI Adolf, the king of Sweden who visited the pitch to shake the young man's hand before the match, already knew what the world was about to discover: The kid known as Pelé was well on his way to becoming soccer's greatest star. Sixty-five years later, The Pelé Collection, a centerpiece making its debut in Heritage's May 11-13 Spring Sports Catalog Auction, is a fitting tribute to the legend. And ... More



Trained as an architect, Bonevardi's formal investigations are multifaceted, working in painting, drawing, sculpture, and site-specific installations.



NEW CANAAN, CONN.- Heather Gaudio Fine Art is presenting Gustavo Bonevardi: A Structured Survey, his first exhibition at the gallery. The show surveys the artist's last fifteen years of paintings, works on paper and sculpture and will be on view May 6th-June 10th, 2023. The public is invited to attend an opening reception on Saturday May 13th, 4-6pm. Trained as an architect, Bonevardi's formal investigations are multifaceted, working in painting, drawing, sculpture, and site-specific installations. Although his artistic lineage is linked to the legacy of the Escuela del Sur, (or School of the South, founded by constructivist modernist Joaquín Torres García), Bonevardi's visual language is decidedly his own. Working with paper, stone, clay, wood, and other materials, Bonevardi's process is one of discovery. He embraces the exploration of a complex world, vacillating his artistic impulses between two and three dimensions ... More
Quote
The content of art is never its subject. Leo van Puyvelde
---

Chinese Paintings: The Foh Collection
---

Flashback
On a day like today, Finnish illustrator Tom of Finland was born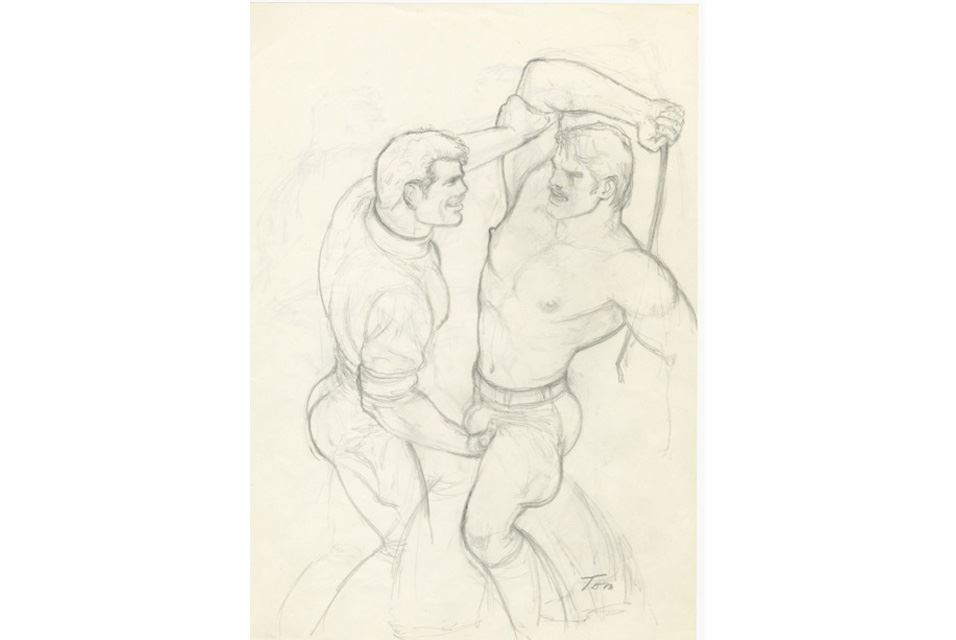 June 08, 1920. Touko Valio Laaksonen (8 May 1920 - 7 November 1991), best known by his pseudonym Tom of Finland, was a Finnish artist known for his stylized highly masculinized homoerotic fetish art, and for his influence on late twentieth century gay culture. He has been called the "most influential creator of gay pornographic images" by cultural historian Joseph W. Slade. In this image: Tom of Finland, Untitled, c.1978. Graphite on paper, 29.7 x 21 cm; 11 3/4 x 8 1/4 ins. Copyright Tom of Finland Foundation.
---

Museums, Exhibits, Artists, Milestones, Digital Art, Architecture, Photography,
Photographers, Special Photos, Special Reports, Featured Stories, Auctions, Art Fairs,
Anecdotes, Art Quiz, Education, Mythology, 3D Images, Last Week,

.
Royalville Communications, Inc
produces: