American Museum of Ceramic Art opens 'From a Gift to a Collection: Igal & Diane Silber'
Over 90 artists, hailing from South Korea, New Zealand, Japan, the United States, Canada, Turkey, Israel, Switzerland, Sweden, Spain, Poland, the Netherlands. Hungary, Germany, England, Denmark, the Czech Republic, Belgium, and Austria have work included in From a Gift to a Collection: Igal and Diane Silber.
POMONA, CA
.-
From a Gift to a Collection: Igal & Diane Silber, on view at the
American Museum of Ceramic Art
, celebrates AMOCA's recent acquisition of more than 300 ceramic works collected by Igal and Diane Silber. The exhibition presents a selection of 100 works from this unparalleled collection, representing artists from Europe, the Middle East, the Pacific Rim, and North America. Igal (1936-2021) and Diane (1944- ) Silber began collecting art early in their marriage. Initially they were most attracted to contemporary figurative painting and sculpture. Then, in the late 1970s, the Silbers received the gift of a green crater glazed bowl by Otto and Gertrud Natzler from their friends, Robert Logan and Robert Cugno. The gift of this bowl, clearly a serious work of art, invited the Silbers to consider ceramics as an art form worthy of further study and pursuit. While at first the Silbers focused their ceramics collection on the vessel form, thei ...
More
The Best Photos of the Day
Eli Wilner is framing a major discovery in honor of Israel's 75th anniversary
Berggruen Gallery opens the exhibition 'Recent Paintings' by Sarah Blaustein
McNay Art Museum awarded national grant for new Curator of Latinx art position


Walter Korder and Sanford Low, 'View of Haifa, Upon the Founding of Israel,' 1948 (detail), oil on canvas, mural separated into three panels, 69.5 x 222 inches, signed and dated lower left.



NEW YORK, NY.- Sandy Low and Walter Korder's remarkable Haifa mural for the Jewish temple in Manchester, Connecticut, created in 1948, is one of the most noteworthy artistic statements produced to celebrate Israel at the time of is creation. Why Haifa? We have no written records outlining the reasons for this choice, but to some extent they can be deduced by considering the circumstances of the time. Jerusalem was contested and politically divided between Arabs and Jews, and was sacred to three different religions: Judaism, Christianity, and Islam. It would also have transformed the message of the painting from a celebration of the recent creation of the State of Israel, and its promising future, to a meditation on the past. In a painting devoted to the glorious future of Israel, Haifa was the natural choice. Why not Tel Aviv? Today Tel Aviv is a good deal larger than Haifa, but in 1948 they were about ... More



Sarah Blaustein, Vessel S-1, 2022. Ink and acrylic on canvas, 60 x 40 inches. Photo Courtesy of Berggruen Gallery.



SAN FRANCISCO, CA.- Berggruen Gallery announced Recent Paintings, an exhibition of new work by Sarah Blaustein is now open. This show marks her first solo exhibition with the gallery. Sarah Blaustein: Recent Paintings will be on view from May 5 through June 10, 2023. The gallery will host a reception for the artist on Friday, May 5, from 5:00 to 7:00 pm. Sarah Blaustein's Vessel works are imbued with a distinctive focus on painting our innermost feelings, delving into the realms of creation, reflection, and blissful joy. Recent Paintings showcases a collection of twenty-two new works that survey the intricate nature of the inner vessel as a creative focal point. Blaustein seeks to explore the rich and complex interplay between the individual and the collective psyche, weaving a tapestry of emotions and thoughts that are at once deeply personal and universally resonant. Through her lush, otherworldly paintings, Blaustein invites viewers to experience ... More



As an addition to the McNay's robust curatorial team, the curator of Latinx art will promote equity and inclusion of the Latinx community in the Museum's exhibitions and programs.



SAN ANTONIO, TX.- The McNay Art Museum is one of 19 arts organizations across the U.S. to receive a grant through the Leadership in Art Museums (LAM) initiative. This funding will support the creation of a new curator of Latinx art position with the goal of expanding the Museum's growing collection of Latinx artworks, and curating exhibitions featuring works by artists of Hispanic and Latinx descent. "We are grateful to the Leadership in Art Museums partners for their transformational commitment to advancing the diversity, relevance and resonance of museums by better reflecting the communities they serve," said Matthew McLendon, McNay director and CEO. "Latinx artists are historically underrepresented in museums across the country, and it is our responsibility to strengthen the reflection of the San Antonio community in all that we do." LAM is an over $11 million initiative created ... More
MoMA PS1 presents major exhibition of Puerto Rican artist Daniel Lind-Ramos
The Met Gala was just the start. Welcome to the after-parties.
Harnessing earth and fire to create natural vessels


Daniel Lind-Ramos. El Viejo Griot (The Elder Storyteller) (detail). 2022–2023. Photo: Steven Paneccasio.



LONG ISLAND CITY, NY.- MoMA PS1 presents the largest museum exhibition to date of the work of multidisciplinary artist Daniel Lind-Ramos (b. 1953, Loíza, Puerto Rico). On view from April 20 to September 4, 2023, the exhibition showcases ten monumental sculptures and two video works that weave together the artist's multi-layered practice, including four new large-scale works created for the exhibition. Based in Loíza, whose vibrant culture has been shaped by its Afro-Puerto Rican population, Lind-Ramos uses found and gifted objects of personal, communal, and regional significance—such as debris, decorative objects, and everyday tools—to produce meticulously detailed assemblages that explore the connected histories and enduring practices of local communities in Puerto Rico and Afro-descendent traditions throughout the Caribbean. Daniel Lind-Ramos: El Viejo Griot — Una historia de todos nosotros features works that honor fast-disappearing loca ... More



Kim Kardashian at the Metropolitan Museum of Art's Costume Institute benefit gala in New York, May 1, 2023. (Nina Westervelt/The New York Times)



NEW YORK, NY.- At 11 p.m., outside the Mark Hotel on the Upper East Side of Manhattan, gawkers pressed up against police barricades, hoping to catch a glimpse of someone — anyone — who had been at the Met Gala and was showing up to the first of its after-parties. Jeremiah Scott, who said he was an aspiring designer, put on his boxy double-breasted blazer, pulled up his studded cargo pants and headed for the front of the line. Within seconds, he and a friend — a rapper who goes by the tag NYXJVH and who wore a studded $3,000 Margiela mask that covered his entire face — strolled through the lobby toward an event space where waiters passed out crispy spring rolls and a DJ played vintage Madonna. Neither Scott nor his friend was on the list, but they managed to blend in with the invited guests. In the center of the room was a giant gold statue in the shape of Karl Lagerfeld's face. Posing against it was Amanda Lepore, the nightlife diva whose physical transformation into an hourg ... More



A handout photo provided by the ceramic artist Mitch Iburg shows raw, unfired clay spheres, which reveal the diversity of the materials that Iburg extracts from a mine in Minnesota. (Mitch Iburg via The New York Times)

by Stephen Treffinger



NEW YORK, NY.- Mitch Iburg, who lives in St. Paul, Minnesota, makes ancient-looking tableware, vessels and sculptures primarily out of clay that he digs from the earth with his own hands (and some tools). Driving his truck two and half hours to an open valley near the Minnesota River, he comes away with 1,000 or so pounds — a quantity that will last him roughly a year. (He has permission from the mining company that owns the property.) Clay was not where his journey began. Born in Wisconsin across the river from Minnesota and raised partly in Iowa City, Iowa, Iburg, 33, studied painting at Coe College in Iowa. But he was required to take a 3D fundamentals class and it was there that he developed an appreciation for clay and its roots in nature and antiquity. In 2015, he applied for a residency at the Cobb Mountain Art and ... More
MCA Chicago announces the appointment of its New Chief Financial Officer and Chief Development Officer
Rarely seen Arthur Boyd tapestries go on show in Adelaide
María Elena González Riven now opening at Hirschl & Adler Modern


Mollie is an accomplished and values-centered development leader with an impressive track record of successful campaign execution.



CHICAGO, IL.- The Museum of Contemporary Art (MCA) Chicago today announces the appointment of two new members of their leadership team: Mollie Alexander Hogan as Chief Development Officer, and Wes Moran as Chief Financial Officer. "We are excited to bring in two talented leaders to help us usher in the MCA's next chapter," Pritzker Director Madeleine Grynsztejn said. "With a professional history of supporting local cultural institutions and organizations, both Wes and Mollie are dedicated to promoting the artistic culture Chicago has to offer." Mollie is an accomplished and values-centered development leader with an impressive track record of successful campaign execution. Currently, she is the Director of Development for the Guthrie Theater in Minneapolis, where she has successfully spearheaded their $80 million campaign, increased the number of individual donors by over ... More



The Saint Francis suite of lithographs also has a connection to Adelaide, with the well-known gallerist Kym Bonython supporting their production and exhibiting them at his Hungry Horse Art Gallery in Sydney in 1966.



ADELAIDE.- An exhibition of rarely seen monumental tapestries by celebrated Australian artist Arthur Boyd are on display at The David Roche Foundation House Museum in North Adelaide from 28 April until 2 September. Curated by Museum Director, Robert Reason, with work generously loaned from The National Gallery of Australia (NGA) collection, the exhibition marks the first time that twelve of Arthur Boyd's twenty tapestries, which illustrate the life of Saint Francis of Assisi, have been displayed together. Nearly 50 years after their acquisition by the NGA the tapestries are now coming to Adelaide. Entitled Arthur Boyd: The Life of St Francis the exhibition also includes drawings, pastels and lithographs from the series created by Boyd while in London between 1964 and 1965, after his earlier travels to Italy. Encouraged by fellow artist John Olsen, Boyd had ... More



María Elena González, Plate II, 2021, Vitrelle porcelain, epoxy, 8 3/4 in. diameter (without aluminum base).



NEW YORK, NY.- In the summer of 2020, as COVID tightened its grip on what felt like a world coming apart, María Elena González, tenured Chair of the Sculpture Department at the San Francisco Art Institute, sat alone in the school's deserted studios trying to process an announcement that the venerable institution would soon close its doors forever. Surrounded by abandoned workspaces filled with objects discarded by students forced to vacate the premises as the pandemic hit, González did what any true maker would do to assuage her mounting fear. With the scant few materials at hand, she began making. Grabbing a tube of black epoxy, she sifted through the remnants of scrap wood, unfinished ceramic projects and shards of everyday objects–thrown out in haste and anger–and slowly began to repair them. At an anxious time and her future in doubt, the simple act of gluing broken things back together made sense. The pieces borne in that uncertainty, a tumultuous period forever burnished in our c ... More
Wesley Theological Seminary's Luce Center for the Arts & Religion presents 'In League with Devils' by Michael Petry
New painting exhibition by Emma Tod launches at IMT Gallery
NOMA exhibition includes 100 rings that reinvent an age-old jewelry form


Stigmata Bowl, 24k gold, 2022.



WASHINGTON, DC .- The Luce Center hosts In League with Devils by Michael Petry, a leading multi-media artist, author, and director of the Museum of Contemporary Art (MOCA) in London. The exhibition in the Dadian Gallery opens May 5 (Friday) at 12pm and runs through August 21. The Bible praises "the Living God" and decries the deities of surrounding cultures, from the Assyrians to the Greeks, as mere lifeless idols. Yet these forgotten gods—left for dead in the dustheap of history—are precisely the ones that interest Michael Petry. "I feel like an archaeologist sifting through the sands of time to uncover the old stories, the old myths, the old beliefs on which modern believers act," reflects the artist. "I have bathed in the spirit of the ancients. Marduk and Thor, Brigit and Ra, Janus and Seth are only a few of the now mythologized gods of old. Th ... More



Emma Tod, Ludic (2022). Oil on linen, 30 x 25 cm (11.8 x 9.8 in). Unique. Courtesy of the Artist and IMT Gallery, London.



LONDON.- IMT Gallery announced the opening of the solo exhibition 'Light the lamp rarely, let the shadow come' premiering new paintings by Emma Tod. The exhibition will run from the 5 May to the 11 June 2023. … as the light of a lamp goes wavering at night over hedges in the darkness [1], we are pushed and squeezed, devoured with long covetous eyes. Stuff become animate, dropped and concealed with a troubling air of mystery, thick and heavy, exhaling a tempting odour, expanding, subtle and warm, as if on fleshy shoulders… [2] In twilight, the familiar becomes strange, distances hard to measure, time and space are stretched, layered, and collapsed. Night walks in South London are an important part of Emma Tod's practice. Not only challenging what can be seen, but who should be seen, ... More



Vania Ruiz, Phototropist (Domestic Wildness series), 2019. Resin, fabric, ink, varnish. Collection of SCAD Museum of Art, Gift of Susan Grant Lewin.



NEW ORLEANS, LA.- This Friday, May 5, the New Orleans Museum of Art opens a new exhibition, Ring Redux: The Susan Grant Lewin Collection, presenting 100 innovative rings by designers who have reinvented this enduring jewelry form with a distinctly contemporary sense of experimental craft. The exhibition travels to NOMA from the SCAD Museum of Art in Savannah, Georgia, and the artworks on view highlight the vision of Susan Grant Lewin, one of the most influential collectors of 20th- and 21st-century art jewelry. "This exhibition spotlights designers who use their craft to engage with the same important concepts as artists working in other media," said Susan M. Taylor, The Montine McDaniel Freeman Director of NOMA. "We're pleased to partner with the SCAD Museum of Art ... More
Quote
A house is a machine for living in. Le Corbusier
---

MADE By the Hot Glass Team
---

Flashback
On a day like today, Russian painter and architect Viktor Hartmann was born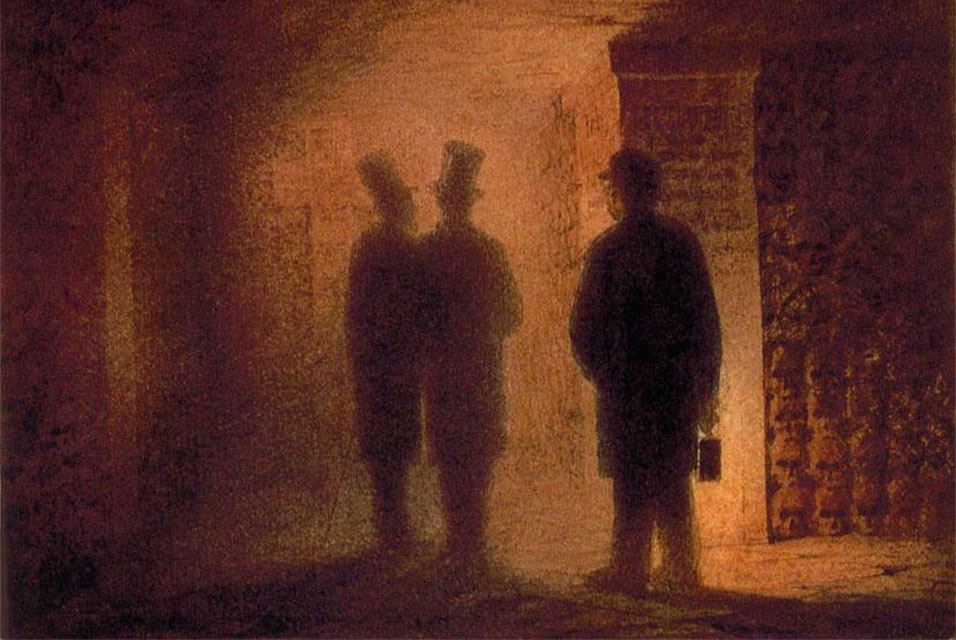 December 05, 1834. Viktor Alexandrovich Hartmann (5 May 1834, Saint Petersburg - 4 August 1873, Kireyevo near Moscow) was a Russian architect and painter. He was associated with the Abramtsevo Colony, purchased and preserved beginning in 1870 by Savva Mamontov, and the Russian Revival. In this image: The Paris Catacombs.
---

Museums, Exhibits, Artists, Milestones, Digital Art, Architecture, Photography,
Photographers, Special Photos, Special Reports, Featured Stories, Auctions, Art Fairs,
Anecdotes, Art Quiz, Education, Mythology, 3D Images, Last Week,

.
Royalville Communications, Inc
produces: