New York's Museum of Modern Art re-opens with few visitors
Visitors look at an Andy Warhol Marilyn Monroe piece at the The Museum of Modern Art (MoMA) on August 27, 2020 in New York City. Museums and cultural institutions around the city have been closed since mid March due to the ongoing coronavirus pandemic. Michael Loccisano/Getty Images/AFP.
NEW YORK
(AFP)
.-
New York's Museum of Modern Art reopened its doors Thursday following a nearly six-month shutdown due to the coronavirus pandemic, allowing visitors the rare experience of viewing its works by Monet, Van Gogh and Warhol without the usual throngs of visitors. MOMA is the first major museum in the Big Apple to reopen to the public since the US cultural capital was hard-hit by the virus, bringing its busy calendar to a halt. Under the new regulations, and with the tourism sector at a standstill due to the pandemic, only a few art lovers reserved a time slot for the church-like calm of reopening day. Crowds won't grow much bigger, as the museum will operate at 25 percent of capacity and with the now-usual precautions of social distancing and temperature checks. "I like galleries not being too crowded and people not talking and people not taking pictures. Everything about it is great," Alan Orenbuch, a 66-year-old retiree and museum regular, told AFP. ...
More
The Best Photos of the Day
UNESCO in massive fundraising drive for blast-hit Beirut
Natural History Museum union files complaint over coronavirus app
No laughing matter as Dutch masterwork stolen for third time


UNESCO Director-General Audrey Azoulay speaks during a press conference at Sursock Palace which was damaged by the colossal explosion at the port, in Lebanon's capital Beirut on August 27, 2020. ANWAR AMRO / AFP.

by Jean Marc Mojon



BEIRUT (AFP).- The UN's culture and education body will organise two conferences to seek "considerable" funding for blast-hit Beirut, its director said Thursday in the Lebanese capital. Audrey Azoulay told AFP during a visit to a school damaged in the colossal August 4 explosion at Beirut's port that two events were in the works, including a fundraising event for Beirut's heritage, during which UNESCO would seek hundreds of millions of dollars. "The first one will be a meeting of the Global Education Coalition dedicated to Lebanon," she said, referring to a body set up to support remote learning since the Covid-19 pandemic began. "The country absolutely needs to be better prepared on this issue of remote learning," she said. Azoulay said that meeting would be held on September 1. According to UNESCO, around 160 schools were destroyed or damaged by ... More



In an undated image provided to The New York Times, the ProtectWell app. Via The New York Times.

by Julia Jacobs



NEW YORK (NYT NEWS SERVICE).- New York City's largest municipal union Tuesday filed an unfair labor practice complaint against the American Museum of Natural History over the institution's plan to require employees to record possible coronavirus symptoms on an app. The head of the union called it overly intrusive. Under the museum's plan, each day before work, the app would have asked employees to report if they had a fever or symptoms like a cough or congestion. The app would have then told employees whether they were cleared to work or, if not, where they might get tested for the virus. The results would then be reported to their employer. But according to the union, District Council 37, many of its members saw the app, called ProtectWell, as an invasion of their privacy and objected to the museum choosing a program whose data was not protected by HIPAA, the federal law on patient privacy. Henry Garrido, the union's executive director, said there were other tools that the museum could adopt th ... More



This photograph taken on November 3, 2011, shows District Chief of Alblasserwaard, Bart Willemsen showing the recovered painting "Two Laughing Boys" by Frans Hals which was stolen from the Leerdam Museum in May 2011. Ilvy Njiokiktjien / ANP / AFP.



THE HAGUE (AFP).- Thieves have stolen the painting "Two Laughing Boys" by Dutch golden age artist Frans Hals from a museum in the Netherlands, the third time it has been taken, police said Thursday. The canvas by the 17th century master was taken during a burglary at the Hofje van Mevrouw van Aerden museum in Leerdam in the early hours of Wednesday, they said. The painting, featuring two laughing boys with a mug of beer, was previously stolen from the same museum in 2011 and 1988, being recovered after six months and three years respectively. Dutch police said in a statement that officers rushed to the museum in the town 40 miles (60 kilometres) south of Amsterdam after the alarm went off around 3:30 am but they failed to find the suspects. "After the manager of the museum was able to provide access to the building, it turned out that the back door had been forced and one painting had been stolen, 'Two Laughing Boys'," the ... More
This Confederate monument survived controversy, but not the hurricane
Auschwitz museum calls TikTok Holocaust videos 'hurtful'
New Director sees Berlin's Jewish Museum as a place for debate


Hurricane Laura damaged the South's Defenders Memorial Monument, a Confederate monument in the Calcasieu Parish that sits on the Calcasieu Courthouse lawn in Lake Charles, La., on Aug. 27, 2020. Hurricane Laura damaged the statue, which has toppled in other storms but always been restored. Critics hope this time will be different. William Widmer/The New York Times.



NEW YORK (NYT NEWS SERVICE).- As protests against police violence and white supremacy swept away dozens of long-standing memorials to the Confederacy this summer, a 105-year-old monument on the courthouse lawn in Lake Charles, Louisiana, remained standing. Until Hurricane Laura tore the statue atop it down. "It is a blessing, a small blessing, in a very devastating situation," said Davante Lewis, who grew up in Lake Charles and supported the monument's removal. The debate over what to do about the South's Defenders Memorial Monument, which depicted a Confederate soldier on a marble pedestal, had been the "hottest thing in the city" in recent months, Lewis said Thursday, until residents turned their attention to preparing for one of the strongest hurricanes ever to hit the region. The monument was the object ... More



A visitor walks below the gate with its inscription "Work sets you free" at the memorial site of the former German Nazi death camp Auschwitz in Oswiecim. BARTOSZ SIEDLIK / AFP



WARSAW (AFP).- The Auschwitz museum on Wednesday called a new trend for users of video-sharing platform TikTok to role-play Holocaust victims "hurtful and offensive," but added that it did not want to shame young people involved. The museum at the site of the former Nazi-German death camp Auschwitz-Birkenau was responding to the so-called #POV or point-of-view videos in which users pretend to be Jewish WWII victims. The short clips feature youths recounting how they died in the Holocaust, and sometimes show them sporting fake bruises, a striped inmate outfit or one of the yellow star patches used by the Nazis to mark Jews' clothes. "The 'victims' trend on TikTok can be hurtful & offensive. Some videos are dangerously close or already beyond the border of trivialization of history," the Auschwitz Memorial said on Twitter. "Some were not created to commemorate anyone, but to become part of an online trend. This is very painful," said the museum located in the southern Polish city of Oswiecim. ... More



Hetty Berg, director of the Jewish Museum Berlin, in a pool in the museum's garden in Berlin, Aug. 12, 2020. Mustafah Abdulaziz/The New York Times.

by Melissa Eddy



BERLIN (NYT NEWS SERVICE).- On her first day as the director of the Jewish Museum Berlin, Hetty Berg sat alone in her third-floor office, looked into a camera and introduced herself to her new team of around 160 people, most of them stuck at home because of the coronavirus lockdown. It was not how Berg, 59, had envisioned her start at the helm of one of Europe's leading museums. She was taking up the position nine months after its previous director had stepped down following a furor in which critics said the institution had become too political and had lost its focus on explaining Jewish history. "That was a very surreal beginning," she said of that virtual meeting in April. Still, it was important to reach out to her team, Berg said, to communicate who she was and to hear their ideas of where the museum should be going. "Our core task is to present Jewish life in the past and the present," she said in an interview last week, before the museum's reopening Sunday ... More
House of Electronic Arts Basel opens an international group show
Christie's to offer The Collection of A. Jerrold Perenchio
Phillips to offer 24 lots of unique Polaroids by photographer Steven Klein


Justine Emard, Co(AI)xistence, 2017. Video still. Courtesy: the artist.



BASEL.- Emotions are at the core of human experience. Love them or hate them, they influence every aspect of our lives and shape our social behaviour. In the 21st century, technology has begun engaging with emotions like it has never done before. Real Feelings presents works by 20 artists, ranging from artificial intelligence, interactive installations, robotics and biometrics to gaming, video installations, virtual reality and photography. They explore how technologies are collating, assessing or triggering our emotions in multiple ways and directions. These technologies are even creating new feelings, some of which we haven't yet found the words to describe them with. Several works will be newly produced in the context of the exhibition and can be seen for the first time. In the 21st century, emotions have increasingly come into focus—how they can be manipulated and controlled by technology because they influence our society and our lives. Today major ... More



A Louis XV Gold and Japanese Lacquer Snuff Box The Mounts Paris, circa 1747. Estimate: $40,000-60,000. © Christie's Images Ltd 2020.



NEW YORK, NY.- Christie's is offering The Collection of A. Jerrold Perenchio in a two-part landmark online sale from 1‑16/17 September. A titan of the media industry and philanthropist, Mr. Perenchio assembled one of the most preeminent collections of Impressionist Art in America. Chairman and CEO of Univision and one of the most important benefactors of the Los Angeles County Museum of Art, where he bequeathed the majority of his collection, Mr. Perenchio created the extraordinary mis-en-scène of Chartwell mansion in collaboration with the renowned French designer Henri Samuel. All net proceeds will benefit the Perenchio Foundation, whose principal mission is to support visual and performing arts programs and institutions located in Los Angeles County. The sales feature European furniture and ceramics, prints, old master drawings, sculpture, Chinese ceramics and works of art, silver, carpets, and ... More



Kate Moss, New York City, 8 May 2003. Unique Polaroid print. Estimate: £5,000 – 7,000. Image courtesy of Phillips.



LONDON.- Phillips announced Ultimate Steven Klein, a curation of 24 lots of unique Polaroids, taken with a Polaroid camera or film by the celebrated photographer Steven Klein. The selection will go on view in Phillips' galleries on Berkeley Square on 19 September, marking the first time that this body of work is exhibited in Europe. The majority of works to be offered were created during editorial assignments for the following international publications: W, Vogue US & Italia, L'Uomo Vogue and Interview. In addition, Klein has created a unique oversized diptych of his iconic Good Kate, Bad Kate covers for the March 2012 issue of W magazine exclusively for Ultimate, a unique platform for promoting and selling exceptional photographs, photo-based works and video, available only at Phillips. This exclusive offering, showcasing Klein's distinctive vision that subverts our notions of glamour, fame, and beauty will ... More
Pandemic shatters 'flourishing' Paris tourism
Basquiat with provenance leads LAMA's new hybrid-format auction
Jill Freedman's striking Civil Rights photographs at Bonhams New York


A staff member removes the dust on a chandelier at Hotel de Crillon in Paris on August 18, 2020. GEOFFROY VAN DER HASSELT / AFP.



PARIS (AFP).- Tourism in Paris, one of the world's most visited cities, has plunged due to the coronavirus, sparking fears of mass closures for thousands of businesses that rely on eager visitors from home and abroad, its senior regional official said Thursday. Fourteen million fewer tourists explored the French capital in the first six months of 2020 compared to last year, Ile-de-France (Paris region) president Valerie Pecresse said. "Tourism is an extremely precious economic activity for Ile-de-France which represents 500,000 jobs and seven to eight percent of regional growth," Pecresse said at a press conference. "For the past four years, we had been announcing record number of visitors. So it is with great sadness that we have seen the pandemic shatter an extremely dynamic and flourishing sector," Pecresse added. The income generated by tourism slumped to 3.8 billion euros ($4.5 billion) over the first six months of 2020 from 10.2 billion euros ... More



Jean-Michel Basquiat, Untitled, 1987. Colored pencil and charcoal on paper. Signed and dated in charcoal sheet verso. Composition/sheet: 42" x 29.5". Estimate: $80,000-120,000.



LOS ANGELES, CA.- Los Angeles Modern Auctions announced that its new, hybrid-format fall auction will take place October 18, 2020 with both timed and live bidding components. As LAMA's largest and most robust auction of 2020, this event will offer an irresistible selection of works across styles and movements of the 20th and 21st centuries. Leading more than 200 lots is an exceptional untitled 1987 Jean-Michel Basquiat pencil and charcoal drawing from the collection of Becky Johnston. Jean-Michel Basquiat's rare interview in 1985 with Becky Johnston and Tamara Davis was the exchange that would anchor Davis's 2010 film Jean-Michel Basquiat: The Radiant Child. Completed in 1987 and once owned by Harry "Coco" Brown, the screenwriter and real estate developer, who then gifted the work to Johnston, Untitled is exemplary of the late artist's channeling of "automatic" expressions into fragmented and potent cultural mo ... More



Jill Freedman (1939-2019); Untitled (Young girl in front of "Nothing But Soul" Wall), Poor People's Campaign, Resurrection City, Washington, DC. Estimate: $4,000-6,000. Photo: Bonhams.



NEW YORK, NY.- On hearing of the assassination of Martin Luther King in 1968, the self-taught photographer Jill Freedman, quit her job as a copywriter in New York, and went to Washington DC. It was there – where she lived in "Resurrection City", a shantytown put up by the Poor People's Campaign (PPC) on Washington Mall – that she started to photograph "the invisible poor" who had come en masse to petition the government and to finally be seen. A selection of Freedman's striking photographs is being offered at Bonhams in an online sale, Nothing But Soul: From New York City to Resurrection City, DC – Photographs by Bruce Davidson and Jill Freedman which runs from August 26 – September 4 in New York. The individual works range in estimate from $1,000-7,000. Bonhams Head of Photographs, Laura Paterson, commented; "Jill Freedman stands alongside Bruce Davidson as one of the ... More
Quote
Nothing is less clear than geometry. Willem de Kooning
---

Okwui Okpokwasili and Saidiya Hartman in conversation
---

Flashback
On a day like today, English photographer Mary McCartney was born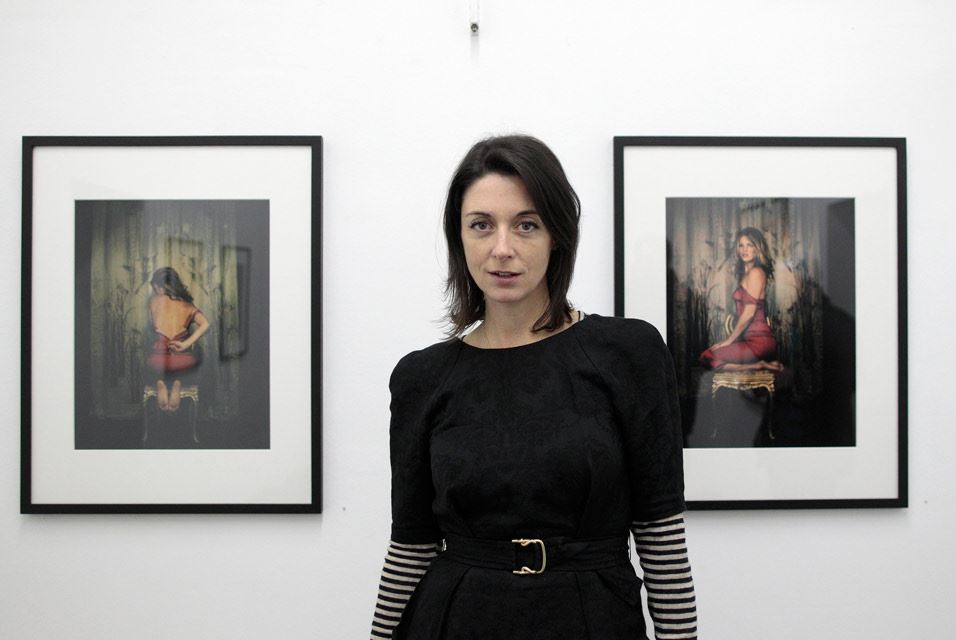 February 28, 1969. Mary Anna McCartney (previously McCartney-Donald) is a photographer. The first biological child of rock photographer Linda Eastman McCartney and Paul McCartney of The Beatles, Mary was named after her paternal grandmother, Mary McCartney. In this image: British photographer Mary McCartney, daughter of Linda Eastman McCartney and Paul McCartney poses for a photograph next to her photographs during the opening of the exhibition 'From where I stood' in the gallery Contributed in Berlin, Germany.
---

Museums, Exhibits, Artists, Milestones, Digital Art, Architecture, Photography,
Photographers, Special Photos, Special Reports, Featured Stories, Auctions, Art Fairs,
Anecdotes, Art Quiz, Education, Mythology, 3D Images, Last Week,

.
Royalville Communications, Inc
produces: