Two art havens in the Hudson Valley offer nature indoors and out
The Piero Gilardi exhibit, at the Magazzino Italian Art Center in Philipstown, N.Y., June 28, 2022. This institution and the nearby Russel Wright Design Center deliver ecological messages (meadows, donkeys, and a waterfall included). Lila Barth/The New York Times.

by Joseph Giovannini
NEW YORK, NY
.-
Back in 1967, Arte Povera artists in Italy, the radicals of their time, hung out at the Piper Club, a discotheque of, by and for the avant-garde in Turin. During one nocturnal happening, young women danced in tunics made of polyurethane birch logs and ponchos studded with foam rocks to look like riverbeds. Like nature sprites, the dancers gamboled over "nature carpets," rugs crafted of foam by Turinese artist Piero Gilardi. Guests sipped their Camparis reclining on simulated cabbage patches. In the radical cheek of a disco decked out as a forest glade, Gilardi delivered a serious message, embodying the ecological lesson of Rachel Carson's "Silent Spring" written a few years before: Chemicals were poisoning the earth. Nature starts in the home. Live with it, respect it, protect it. Now, about 55 years later, in the show "Gilardi: Tappeto-Natura" at the Magazzino Italian Art museum in Cold Spring, New York, two long-legged mannequins dressed in the same ...
More
The Best Photos of the Day
Sebastian Baden is the new director of The Schirn
Exhibition of recent works by Barbara Kruger opens at David Zwirner
Neuberger Museum of Art acquires Romare Bearden's "River Mist"


Sebastian Baden, Photo: Gaby Gerster.



FRANKFURT.- The Schirn Kunsthalle Frankfurt has a new director. Dr. Sebastian Baden will begin his work as director of the renowned institution in Frankfurt on July 1, 2022. With the art historian, curator, and art educator, the Schirn once again has its own separate management thanks to the initiative of the City of Frankfurt. This step was decided by the General Assembly (municipal administration of the City of Frankfurt am Main) on February 18, 2022. Sebastian Baden succeeds Dr. Philipp Demandt as director. Dr. Ina Hartwig, Head of Cultural Affairs of the City of Frankfurt, welcomes the new Schirn director to Frankfurt: "I am very pleased that we were able to gain Sebastian Baden as the new director of the Schirn Kunsthalle Frankfurt, which is one of the leading exhibition venues in the world—with a clear and distinct profile. Corresponding to its current renown, it was time to once again give the Schirn autonomous ... More



Installation view, Barbara Kruger, David Zwirner, New York, June 30–August 12, 2022. Courtesy David Zwirner.



NEW YORK, NY.- David Zwirner opened an exhibition of recent works by renowned American artist Barbara Kruger. Spanning the gallery's three locations on West 19th Street in New York, this is Kruger's first presentation at the gallery since the announcement of her representation in 2019. Kruger powerfully and directly engages with viewers through her distinctive visual language, utilizing images, text, and technology as tools of communication to reveal and question established power structures and social constructs. The exhibition features nine large-scale video works and installations, as well as sound installations and vinyl wallpaper, that not only reaffirm the cultural prominence of Kruger's iconic visual language but reveal the radical inventiveness and lasting relevance of her incisive work with pictures and words. The ... More



Romare Bearden, River Mist, ca. 1962, mixed media, 54x40 inches © Romare Bearden Foundation, Courtesy of DC Moore Gallery, NY.



PURCHASE, NY.- Tracy Fitzpatrick, Ph.D., Director of the Neuberger Museum of Art, has announced the Museum's acquisition of Romare Bearden's River Mist (ca. 1962) from the Romare Bearden Foundation, courtesy of DC Moore Gallery in New York City. River Mist is a striking abstract collage that combines oil on unprimed linen, and oil, casein, and colored pencil on canvas, cut, torn, and mounted on painted board. Bearden is renowned for the collages and photomontages that established his reputation as a leading contemporary artist. Between 1952 and 1964, however, he created a large body of abstract watercolors, oil paintings, and collages that received little recognition; those works directly informed the collages for which Bearden is now best known. River Mist is one of the objects created during that experimental period. It was ... More
Doyle to auction fine paintings and prints on July 14
New Getty volume on plastics and conservation
With $440 million, a new arts foundation spreads the wealth


Claude Venard (French, 1913-1999), Sous les Arbres, Signed, Oil on canvas, 28 3/4 x 36 1/4 inches (73 x 92.1 cm). Est. $5,000-7,000.



NEW YORK, NY.- Doyle will hold a sale in the popular Fine Art auction category on Thursday, July 14 at 11am EDT. Showcased will be a wide range of affordable paintings, prints and sculpture spanning the Post-War years to the present day by established and emerging artists. Exciting opportunities abound in this popular category for seasoned buyers and new collectors alike! The public is invited to the exhibition on view Monday, July 11 through Wednesday, July 13 from Noon until 5pm. Doyle is located at 175 East 87th Street in New York City. View the catalogue and place bids at Doyle.com. Andy Warhol's New York City studio brought together celebrities, artists and other creatives. In 1977, Warhol met printer Rupert Jasen Smith who collaborated with him to create the Space Fruit series. For this series, Warhol placed pieces of fruit on a white background, lit the arrangement then photographed the compositions ... More



This accessible volume is destined to become a trusted resource in the field.



LOS ANGELES, CA.- Plastics have become one of the most ubiquitous materials in manufacturing and design. Given the ease of mass-producing the material, plastic objects can be found in virtually every museum around the world. Research initiatives and knowledge concerning the conservation of plastics have rapidly increased over the last twenty-five years, creating a need for a thorough and comprehensive resource. Properties of Plastics: A Guide for Conservators (Getty Conservation Institute, $70) is an accessible volume that offers conservators and students the most essential information for understanding each of the main classes of plastics. In addition to the main chapters, Properties of Plastics contains fifty-six illustrated "fact sheets" which summarize the properties of plastics most commonly found in cultural heritage collections. Aimed at the hands-on museum practitioner, this book will assist professionals in understand ... More



Karen Patterson, center, the executive director of the Ruth Foundation for the Arts, which is planning to give away between $17 to $20 million a year, during a drawing class with students in Milwaukee, June 21, 2022. Evan Jenkins/The New York Times.

by Ted Loos



NEW YORK, NY.- New foundations spring up all the time, but rarely on the scale of the Ruth Foundation for the Arts, which was established this year and announces its first grants this week. Funded by a $440 million bequest from Ruth DeYoung Kohler II, the foundation immediately enters the highest echelons of arts philanthropy. Kohler, who died in 2020 after a career of nurturing self-taught artists, was a scion of the Wisconsin bathroom-fixture fortune, as a member of the eponymous founding family of the Kohler company. The foundation, based in Milwaukee, is planning to give away between $17 to $20 million a year. "They will be right up there at the top," said Joel Wachs, the president of the Andy Warhol Foundation for the Visual Arts. ... More
Baltimore Museum of Art announces diverse array of acquisitions across museum departments
Monhegan Museum of Art & History celebrates the life and art of Monhegan painter James Fitzgerald
Five things not to miss at The Other Art Fair Summer Edition


Thaddeus Mosley. Tatum Scales. 2020. The Baltimore Museum of Art: Art Fund established with exchange funds from gifts of Dr. and Mrs. Edgar F. Berman, Equitable Bank, N.A., Geoffrey Gates, Sandra O. Moose, National Endowment for the Arts, Lawrence Rubin, Philip M. Stern, and Alan J. Zakon, BMA 2022.10. Courtesy of the artist and Karma, New York.



BALTIMORE, MD.- The Baltimore Museum of Art announced today a wide range of acquisitions that reflect its ongoing commitment to diversifying the range of voices and narratives represented across its encyclopedic holdings. This includes approximately 30 works and suites by contemporary artists as well as new additions to the museum's European, Asian, African, and decorative arts collections. Among the works is a new painting by Salman Toor, currently on view as part of the BMA's solo presentation of the artist's work, titled No Ordinary Love. The museum has also acquired works from other exhibitions, such as a monumental five-panel installation by Baltimore-based artist LaToya ... More



Birches, Katahdin, ca. 1952, Watercolor and Chinese ink on paper,30-1/2 x 22-1/2 in., James Fitzgerald Legacy, MMA&H.



MONEHAN ISLAND, ME.- This summer, the Monhegan Museum of Art & History celebrates the life and art of painter James Fitzgerald (1899-1971) in a retrospective of his watercolor and oil paintings. The Odyssey of James Fitzgerald will be on view July 1 through September 30, 2022. The Odyssey of James Fitzgerald will explore Fitzgerald's early sketches as a student at the Massachusetts College of Art and the School of the Museum of Fine Arts, Boston, and paintings from his time in Monterey, California where he was part of a community of artists and writers known as the Cannery Row circle. A special focus will be paid to Fitzgerald's paintings of Monhegan Island, where he visited several times in the 1920s and 1930s before making the island his permanent residence. With the help of his good friends and patrons, Anne and Edgar Hubert, he purchased a home and studio ... More



For the full list of participating artists visit: www.theotherartfair.com/london/artists/



LONDON.- The Other Art Fair is a global gathering of creative thinkers, game changers and pleasure seekers sharing emerging talent and unforgettable experiences. The artist-led fair combines boundary-pushing yet always affordable artworks with immersive installations, performances and a few curious encounters. The result is an inspiring, evocative, inclusive and fun art fair experience that reframes art. This summer, the fair returns to King's Cross West Handyside Canopy with an unforgettable program spanning guest exhibitions, large scale installations, DJ sets, and even live tattooing. BAFTA Award winning artist and photographer Alison Jackson joins the line up as this year's Guest Artist and presents 'Strike a Pose with The Queen', an exclusive live installation photobooth. Jackson is known for her provocative and humorous photographs depicting the rich and famous doing things in private using cleverly styled ... More
Immersive installation reflecting the global food system now on view at The New York Botanical Garden
Sabrina Amrani opens Are Angel Trumpets Poisonous? The third solo show by Amina Benbouchta in the gallery
Offer Waterman opens a major retrospective exhibition of the work of William Turnbull


Installation image of "Around the World's Table" at The New York Botanical Garden. Courtesy The New York Botanical Garden.



NEW YORK, NY.- An artful, immersive data visualization installation created by renowned information designer Giorgia Lupi and her team at Pentagram is now on view at The New York Botanical Garden as part of the garden-wide exhibition Around the Table: Stories of the Foods We Love, examining the art and science of foodways and food traditions and celebrating plants as foundational to all culinary customs. Around the World's Table will help visitors understand the global impact of food production and consumption on the planet. On display in the reflecting pool of the Palms of the World Gallery in NYBG's historic Enid A. Haupt Conservatory, the installation is made up of 100 partially submerged sculptures representing the major food groups we consume, their share in the global diet, and their relative carbon footprint. ... More



Installation view.



MADRID.- Sabrina Amrani is presenting Are Angel trumpets Poisonous?, the thrid solo show by Amina Benbouchta in the gallery, opening 25th June 2022. For four decades, Amina Benbouchta has been composing metaphorical accounts of human experience that play with scales of representation and challenge mediums. With a certain agility, the artist goes from charcoal to brush and from canvas to glossy paper to reveal snapshots of an uninterrupted initiatory journey, populated by everyday objects with a strong symbolic charge and often inhabited by a unique character. Benbouchta likes to recall the framework of Lewis Carroll's tale, by depicting or embodying an Alice evolving in contact with instruments of power and desire. Among them are recurring elements, which have known how to cross her different periods of creation that lead to the artist's pictorial lexicon. They never have a single meaning: the crinoline ... More



Installation view.



LONDON.- Offer Waterman and the Estate of William Turnbull announced a major retrospective exhibition at No.9 Cork Street in London from 29 June to 20 July 2022, to celebrate the centenary of the artist's birth. William Turnbull (1922-2012) was one of Britain's most important post-war Modernists. Described by Nicholas Serota when Director of the Tate as 'an exceptional artist, unusually gifted both as a painter and a sculptor', he explored the changing contemporary world and its ancient past, actively engaging with the shifting concerns of British, European and American artists. Offer Waterman has exclusively represented the artist's Estate since 2015 and this is the most comprehensive exhibition of Turnbull's work since a major retrospective at the Tate Gallery in 1973. Staged across six rooms and two floors of the Frieze space at No.9 Cork Street, the exhibition brings together more than 60 ... More

AFPR—Meet The Artists: Chuma Maweni

Flashback
On a day like today, American architect Buckminster Fuller died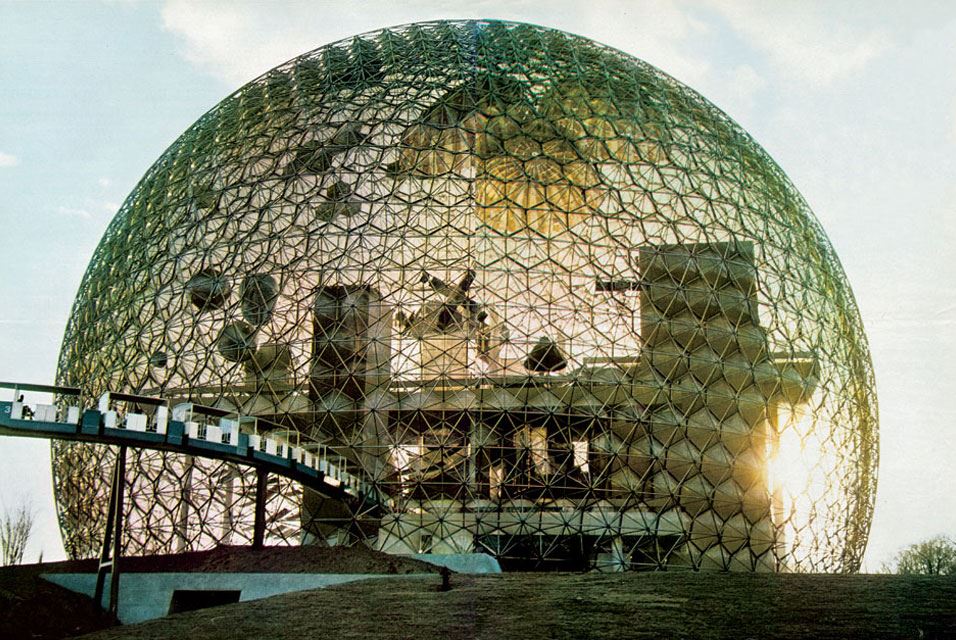 July 01, 1983. Richard Buckminster "Bucky" Fuller (July 12, 1895 - July 1, 1983) was an American architect, systems theorist, author, designer, inventor and futurist. In this image: U.S. Pavilion Montreal Expo 67. Buckminster Fuller, 1967. Image courtesy the Estate of R. Buckminster Fuller.
---

Museums, Exhibits, Artists, Milestones, Digital Art, Architecture, Photography,
Photographers, Special Photos, Special Reports, Featured Stories, Auctions, Art Fairs,
Anecdotes, Art Quiz, Education, Mythology, 3D Images, Last Week,

.
---
Royalville Communications, Inc
produces: