Jasper Johns: Divide and conquer
"Flag," 1954-55, by Jasper Johns. Encaustic, oil, and collage on fabric mounted on wood (3 panels), 41.25 X 60.75 in. (104.8 x 154.3 cm). The Museum of Modern Art, New York, NY; Gift of Philip Johnson in honor of Alfred H. Barr, Jr. © 2021 Jasper Johns/VAGA at Artists Rights Society (ARS), New York..

by Holland Cotter
NEW YORK, NY
.-
"Jasper Johns: Mind/Mirror," the largest survey of the artist's work anywhere to date, officially opens Wednesday, and is designed to be not just a blockbuster, but a blockbuster x 2. The American artist's last East Coast survey, at New York City's Museum of Modern Art in 1996, had 225 works; the new one has twice that number. The earlier show filled two floors of MoMA; this one spreads over two museums, the Whitney Museum of American Art in New York City and the Philadelphia Museum of Art. It looks differently splendid at each. Should you make an effort to see both halves? Absolutely. They've been designed as separate but complementary experiences, and each, though different in content and emphasis, tells a full Johns story. Yet it's the story they tell together that's the truer one, the one that lets a notoriously complicated body of art look and feel as richly original as it really is. And that richer view seems necessary given that, despite Johns& ...
More
The Best Photos of the Day
Island-hopping: Genetics reveal how humans settled remote Pacific
National Cathedral chooses artist to replace windows honoring Confederates
Art Basel fair breathes life back into moribund market


In this file photograph taken on July 13, 2010, Ahu Akivi Moais -- stone statues of the Rapa Nui culture -- are seen on Easter Island. Martin BERNETTI / AFP.



PARIS.- Easter Island's famous megaliths have relatives on islands thousands of miles to the north and west -- and so did the people who created them, a study said Wednesday. Research showed that over a 250-year period separate groups of people set out from tiny islands east of Tahiti to settle Easter Island, the Marquesas and Raivavae -- archipelagos that are thousands of miles apart but all home to similar ancient statues. "These statues are only on those islands that are closely connected genetically," the study's lead author Alexander Ioannidis of Stanford University told AFP. Using cutting-edge analysis of modern DNA, Ioannidis and his team were able to map and date the first Polynesians' path of settlement, which began in Samoa and fanned out across the Pacific between the years 830 and 1360. "This had been an open problem since Captain Cook first noticed that the people on the Polynesian islands were all speaking the ... More



Kerry James Marshall, who was chosen to design stained-glass windows to replacie the ones removed from the Washington National Cathedral in 2017, in Washington on Wednesday, Sept. 22, 2021. Michael A. McCoy/The New York Times.

by Patrick Wehner



WASHINGTON, DC.- Four years after removing stained-glass windows honoring two Confederate generals, Washington National Cathedral officials said Wednesday they had chosen an acclaimed Black artist, Kerry James Marshall, to design their replacements. The artist visited the cathedral for the first time Wednesday after being given the task of healing a small wound in the country's second-largest cathedral. Together with poet and author Elizabeth Alexander, Marshall will design two stained-glass windows addressing themes of racial justice to replace those that paid tribute to Gens. Robert E. Lee and Stonewall Jackson. "Right now I don't have a clear concept of what I think I will do," he said. "It will have to be work that is able to ... More



Art Basel in Basel 2021 © Art Basel.



BASEL.- Art Basel, the world's top contemporary art fair, has returned to the Swiss city after a year's gap due to Covid-19 curbs, drawing hordes of wealthy buyers and breathing life into a market devastated by the pandemic. Despite the near-total absence of US collectors -- a key client base for artists and galleries -- big-money buyers were back from Tuesday to preview the works before the event opens to the public for three days from Friday. After last year's cancellation, some 272 galleries from 33 countries returned to showcase both emerging artists and major contemporary art figures such as David Hockney, Frank Bowling and Olafur Eliasson. Exhibitors were impatiently awaiting Art Basel's return, but at the end of August, the United States advised against travel to Switzerland, raising fears that the pandemic would spoil the comeback. "We had an environment which was suddenly very tense," Art Basel's global director Marc Spiegler told AFP. But he said the fair had tried to remove all trac ... More
Hindman Auctions' Native American Art Auction realizes over $1 million
The Musée de l'Elysée in Lausanne adopts a new identity: Photo Elysée
In Rashid Johnson's mosaics, broken lives pieced together


Cheyenne Beaded Hide Possible Bags, Matched Pair. Fourth Quarter Nineteenth Century. Price Realized: $31,250.



CINCINNATI, OH.- On September 17, Hindman Auctions' Native American Art auction achieved over $1 million. Strong engagement with beadwork, pottery and textiles drove remarkable results. The sale saw an outstanding sell-through rate of 93 percent and competitive bidding activity was seen throughout. Property from the Collection of Michelle Smith, Washington, D.C., the Mark and Linda Miller Collection, and the Collection of Bruce and Claire Montgomerie saw fantastic bidding engagement. "We were absolutely thrilled to see the enthusiasm of the collecting community towards the sale," shared Hindman's Director of Native American Art Danica Farnand. "A particularly exciting lot, and a favorite of mine, were the Cheyenne possible bags. They are in near perfect condition and the color pallet used is stunning." A matched pair of late 19th century Cheyenne beaded hide possible bags (lot 50) emerged ... More



By highlighting the word "photo" whilst retaining "Elysée" in the logo, the institution's primary mission – to promote photography in all its forms – is reinforced.



LAUSANNE.- The Musée de l'Elysée has adopted a new identity: Photo Elysée. The museum thus proclaims its graphic DNA and its position within Vaud, Switzerland and the international's cultural landscape. Rather than turning its back on its past, the museum reformulates it to look resolutely towards the challenges of a museum of the future. The new identity is intrinsically linked to the move to Plateforme 10, with its re-opening planned for June 2022. This complete makeover has also been materialised in a Scientific and Cultural Project defining the institution's perspectives and development objectives for the years 2020 to 2025, as well as a vast Collections Project to grasp and understand the more than 1,200,000 phototypes that make up its collections. By highlighting the word "photo" whilst retaining "Elysée" in the logo, the institution's primary mission – to promote photography ... More



Rashid Johnson by one of the two 9-by-25 foot mosaic panels he created for the interior of the Metropolitan Opera in New York on Sept. 2, 2021. Ike Edeani/The New York Times.



NEW YORK, NY.- "The healing process starts with the negotiation of blunt force trauma," multidisciplinary artist Rashid Johnson said. "It's the story of recovery." After the bruising of COVID-19, the end of the Trump administration and recent reckonings with race, gender, sexuality and identity, Johnson was ruminating about his own emotional state and our collective one, as he sees it. Johnson, who turns 44 on Saturday, is mining a psychologically complicated moment in ways both highly personal and open-ended in new exhibitions at the David Kordansky Gallery in Los Angeles, on view now, and the Metropolitan Opera in New York, opening Monday. Johnson's art practice has been kaleidoscopic, encompassing painting, sculpture, large-scale installation, film and, most recently, mosaic. His works are visual cosmologies, referencing aspects of Johnson's home life ... More
MacDougall's announces "École de Paris and Russian Artists in France" sale
The Hepworth Wakefield acquires masterpiece White Relief by Ben Nicholson
Phillips announces highlights from the premiere Photographs Auction at new 432 Park Avenue headquarters


Georges Annenkov (1889–1974), Still Life with Bouquet of Daisies, signed. Gouache on paper, 63.5 by 48.5 cm. Estimate: 15,000–20,000 GBP.



LONDON.- On 6 October 2021 MacDougall's will hold a specialised auction of "École de Paris and Russian Artists in France" in London. MacDougall's, the leading world specialist in Russian art, was the first auction house to organise a dedicated sale of works by Russian émigré artists in London in 2004. More than 200 works from an important private European collection are offered in the upcoming auction. Over several decades, the collector managed to acquire almost a complete anthology of the Ecole de Paris. The appearance of the works of such high quality at the auction is an exceptional chance for art connoisseurs to obtain significant and rare pieces, most with estimates below Ł15,000. Starting from the end of the 19th century, first Montmartre, and then Montparnasse, with its international centre "La Ruche" (the Hive), were becoming havens for artists from different parts of the Russian Empire. Russian émigré artists ... More



Ben Nicholson, 1935 (white relief, Quai d'Auteuil) © Angela Verren Taunt. All rights reserved, DACS 2021.



WAKEFIELD.- The Hepworth Wakefield announced that is has acquired 1935, Quai d'Auteuil, one of the most important white reliefs by the pioneering British artist Ben Nicholson (1894-1982). The work has been on long loan to the gallery since February 2015 and its acquisition has been made possible through a hybrid of the government's Acceptance in Lieu scheme, together with a Ł1.5million grant from the National Heritage Memorial Fund and Ł500,000 from the Art Fund, as well as donations from other trusts, foundations and generous individuals. Quai d'Auteuil is a superlative example of a genre of carved painting unique to Nicholson. It is considered to be of immense importance to the development of British Modernism, as well as being one of Nicholson's most important contributions to international modernism. The title refers to the Parisian street where the work was made while Nicholson was visiting his children and first ... More



László Moholy-Nagy, Photogram, 1920s Estimate: $300,000 - 500,000. Image courtesy of Phillips.



NEW YORK, NY.- Phillips announced a selection of upcoming works from the first Photographs sale in the auction house's new state-of-the-art gallery at 432 Park Ave. Featuring nearly 250 lots, the sale takes place on 7 October, directly following the single-owner sale Reframing Beauty: A Private Seattle Collection. Sarah Krueger, Head of Photographs, New York, said, "The October Photographs auction brings together a selection of artists from 20th Century masters like László Moholy-Nagy and Ansel Adams to an impressive array of contemporary works by Alec Soth, Gregory Crewdson, Cindy Sherman, Hank Willis Thomas, and Vik Muniz. This sale highlights the tremendous creative breadth this collecting category has to offer." Leading the sale is László Moholy-Nagy's Photogram. This unique work dates to the early years of Moholy-Nagy's career in photography when his explorations of the medium expanded its capabilities and informed h ... More
Melvin Van Peebles, champion of new Black cinema, dies at 89
New director for Mass MoCA
Wartime 1937 Mystery Bentley is for sale with H&H Classics


Melvin Van Peebles at his home in New York, Sept. 9, 2013. Karsten Moran/The New York Times.

by Douglas Martin



NEW YORK, NY.- Melvin Van Peebles, the filmmaker praised as the godfather of modern Black cinema and a trailblazer in American independent movies, died on Tuesday at his home in New York. He was 89. His death was announced by his son Mario Van Peebles, the actor and director. A Renaissance man whose work spanned books, theater and music, Melvin Van Peebles is best known for his third feature film, "Sweet Sweetback's Baadasssss Song," which drew mixed reviews when it was released in 1971, ignited intense debate and became a national hit. The hero, Sweetback, starred in a sex show at a brothel, and the movie sizzled with explosive violence, explicit sex and righteous antagonism toward the white power structure. It was dedicated to "all the Black brothers and sisters who have ... More



Edmunds, currently the executive and artistic director of the University of California, Los Angeles' Center for the Art of Performance, will replace Joseph C. Thompson, who helped found the museum and led it for more than 32 years. Courtesy of Kristy Edmunds.

by Robin Pogrebin



NEW YORK, NY.- Kristy Edmunds, an experienced leader in the performing and multidisciplinary arts, will become the new director of the Massachusetts Museum of Contemporary Art, known as Mass MoCA, in October. Edmunds, currently the executive and artistic director of the University of California, Los Angeles' Center for the Art of Performance, will replace Joseph C. Thompson, who helped found the museum and led it for more than 32 years. "This is a place that resonates with me," Edmunds said in a telephone interview, citing "the way they create a pipeline for helping artists to help them dream the culture forward." Edmunds ... More



1937 Mystery Bentley Van den Plas.



LONDON.- We may never hear the true story of what this swashbuckling Bentley did in WW2 but it ran up some 85,000 miles during the hostilities – a time of stringent petrol rationing. What was it doing, what was it being used for? Maybe the new owner who secures it at the H&H Classics sale at the Pavilion Gardens, Buxton on October 6th may wish to do some sleuthing. The true story may just add to the allure of this already intriguing car. The subject of a chassis-up, bare metal, photographically documented restoration during the early 1990s it is structurally very sound, but cosmetically imperfect and in need of further mechanical recommissioning (c.Ł7,700 spent in 2019-20). Originally ordered by Jack Barclay Ltd of Mayfair for stock, chassis B191HM was supplied new to Miss Durand of Kensington & Chelsea. The work of esteemed firm Vanden Plas, its decidedly elegant, Pillarless Sports Saloon coachwork (body number ... More

Richard Hambleton: The Godfather of Street Art

Flashback
On a day like today, Australian painter William Dobell was born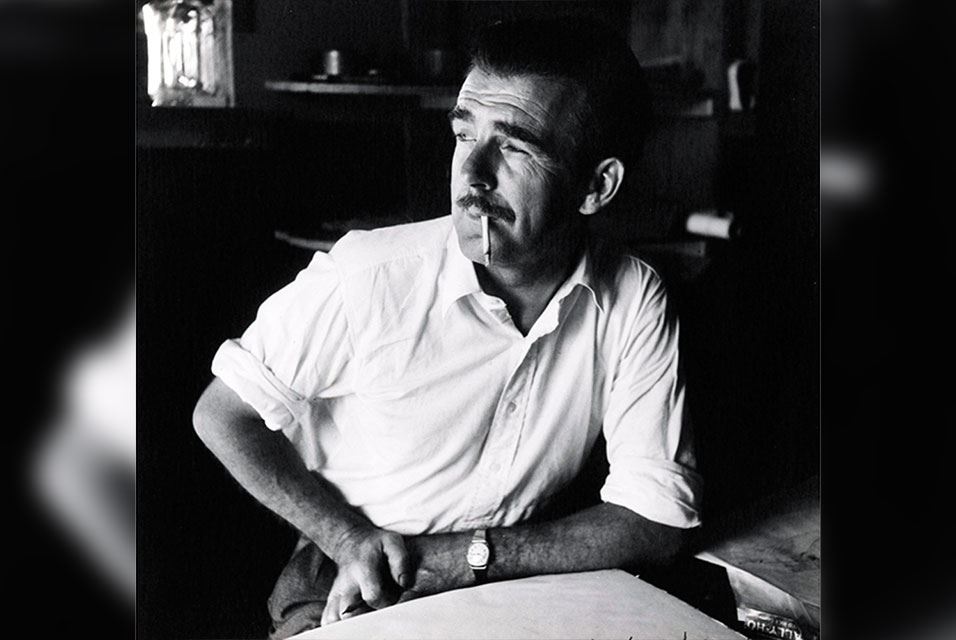 September 24, 1899. Sir William (Bill) Dobell OBE (24 September 1899 - 13 May 1970) was a renowned Australian portrait and landscape artist of the 20th century. Dobell won the Archibald Prize, Australia's premier award for portrait artists on three occasions. The Dobell Prize is named in his honour.
---

Museums, Exhibits, Artists, Milestones, Digital Art, Architecture, Photography,
Photographers, Special Photos, Special Reports, Featured Stories, Auctions, Art Fairs,
Anecdotes, Art Quiz, Education, Mythology, 3D Images, Last Week,

.
---
Royalville Communications, Inc
produces: