Knowing Your Art Deeply (Part 2)
Claremont Rug Company president Jan David Winitz sits in front of an elite level early 19th century Bakshaish carpet that he "visits" daily and that continually "reveals" nuances, despite the fact that he purchased it nearly 50 years ago.

By Jan David Winitz
President and Founder, Claremont Rug Company
OAKLAND, CA
.-
Last week, I recounted my experience in the Grand Canyon with my first meeting with Van Gogh's Starry Night. I observed that great art and natural phenomena have similar impacts. The experience of watching the sunrise over the Grand Canyon in many ways moved me as did my encounter with Van Gogh's masterpiece. In that twilight before dawn, I had stood with a group of strangers, all of us involved in various conversations. Then, just as the sun began to rise and the canyon wall lit up in an exquisite spectrum of hues, we collectively became quiet. Faced with Nature's monumental interplay of color, form, and light, together we were enraptured by this display of an art principle of the highest magnitude. On a smaller scale, the deeply patinaed colors of the antique rugs on the floors and walls of my home are profoundly affected by the change of light throughout the day and the seasons. Their continual color abrash reveals seemingly myriad hues. The lanolin-rich wool, which ...
More
The Best Photos of the Day
New Gagosian Gallery in Athens opens with exhibition featuring Brice Marden
Sotheby's to offer Sandro Botticelli's Renaissance masterpiece 'Young Man Holding a Roundel'
First Shakespeare in Spain? Bard's last play found at seminary


Brice Marden, Untitled (Black Stripe Marble), 1987. Oil and graphite on marble, 14 1/2 x 10 1/2 in. 36.8 x 26.7 cm © 2020 Brice Marden/Artists Rights Society (ARS), New York. Photo: Rob McKeever. Courtesy Gagosian.



ATHENS.- Gagosian is presenting Marbles and Drawings, an exhibition of paintings and works on paper by Brice Marden. This will be Marden's first solo exhibition in Greece in four decades and it inaugurates the new location of the Athens gallery, an elegant stand-alone building in the center of the city. In 1981, while summering on the island of Hydra, Marden began painting on small fragments of marble from local quarries. These compositions marked a transitional moment in his career. Continuing his long-standing engagement with classical Greek themes—exemplified by earlier monumental oil-and-beeswax paintings such as Thira (1979–80), which feature rich tones and columnar blocks inspired by ancient temples—the marble imparts Marden's elemental motifs and geometric shapes with a certain luminosity. Since that time, Marden has continued to make marble paintings, describing his strategy as "taking an accident and tu ... More



One of the greatest Renaissance paintings remaining in private hands. Estimated to sell for in excess of $80 million during Sotheby's Masters Week Auctions in January 2021 in New York. Courtesy Sotheby's.



NEW YORK, NY.- It was in Early Renaissance Italy that portraits of notable individuals first came to be considered high art. Florentine master Sandro Botticelli was at the forefront of this transformation, depicting his subjects in the second half of the 15th century with unprecedented directness and insight – decades before Leonardo da Vinci painted his enduring Mona Lisa. Botticelli was celebrated in his own time and sought out, from an early age, by the richest of patrons for commissions that only they could afford. But while he created some of the most arresting and penetrating portraits in the history of Western Art, only around a dozen examples have survived today – with almost all of them now residing in major museum collections. Sotheby's will offer one of Botticelli's very finest portraits, Young Man Holding a Roundel, as the highlight of our annual Masters Week sales series in New York in January 2021. The work is est ... More



William Shakespeare. Photo: John Taylor.




MADRID (AFP).- It was hidden away for centuries in the archives of a seminary in Spain, a rare edition of a Shakespeare play experts believe may be the earliest copy of his work to reach the country. Published in 1634, "The Two Noble Kinsmen" is a tragicomedy about love, enmity and madness written by Shakespeare in collaboration with Jacobean playwright John Fletcher. "It's likely the play reached Spain between 1635 and 1640," said John Stone, a lecturer in English studies at Barcelona University who discovered it at the Royal Scots College, a seminary in the northwestern town of Salamanca founded after the Catholic Church was outlawed in Scotland. Collections of English works were rare in Spain and plays were exceptional in the 17th and 18th centuries, with all books subjected to inspection at the frontier by the Spanish Inquisition, particularly those from a heretical Protestant state like England. The tragicomedy was part of a single volume of eight English plays printed from 1630 to 1635 ... More
Sotheby's forms strategic partnership with Alexander Klabin to accelerate the growth of Sotheby's Financial Services
Ruiz-Healy Art presents CON(TEXT) at their New York City gallery
Hindman's Western Art Auction to feature works by top Western artists


Alexander Klabin is former Managing Partner, Co-Founder and Co-Chief Investment Officer of Senator Investment Group LP. Courtesy Sotheby's.



NEW YORK, NY.- Sotheby's today announced a strategic partnership with Alexander Klabin to significantly accelerate the growth of Sotheby's Financial Services (SFS) – the world's only full-service art financing company. Under the terms of this partnership, Klabin will make a financial investment in Sotheby's and will serve as Executive Chairman of Sotheby's Financial Services. In this new role, Klabin will be responsible for building and leading an expanded executive management team to help SFS further modernize its underwriting processes, improve its access to capital markets, and develop innovative financing solutions. Established more than three decades ago, Sotheby's Financial Services offers straightforward, swift financing against collections of all types. Sotheby's network of in-house specialists provides knowledgeable valuations spanning both fine art and luxury goods, while ... More



Andrés Ferrandis, Fish, 2020. Acrylic on wood, polyester, objet trouvé and aluminum, 20.5 x 13 x 2.3", 52.1 x 33 x 5.7 cm.



NEW YORK, NY.- Ruiz-Healy Art is presenting CON(TEXT) at their New York City gallery featuring works by Richard Armendariz, Cecilia Biagini, Nate Cassie, Andrés Ferrandis, Leon Ferrari, Cecilia Paredes, Katie Pell and Ethel Shipton. The exhibition opened on Thursday, September 17 and will be on view through October 17, 2020. The themes found in the works of CON(TEXT) range from an appreciation of the visual, graphic forms of text itself and the action of writing in Cecilia Biagini's work to the fleeting moments of clarity formed by it in Ethel Shipton's. Text has the power to birth both transient and lasting images in the minds of those who view it; its presence in visual works of art pulls viewers in and asks them to consider the relationship between the image and the bits of language simultaneously. The eight artists in this exhibition, with their diverse approaches to artmaking and conceptual themes, are unified ... More



Henry Francois Farny (American, 1847-1916), Moving Camp, 1905. Oil on board, 12 x 9 inches. Estimate: $200,000.00 - $300,000.00.



DENVER, CO.- Hindman announced its October 29 Western Paintings and Sculpture Auction. The Western Paintings and Sculpture auction, consisting of over 300 lots, will feature 19th and 20th century Western and Wildlife paintings and sculpture from a number of important private, institutional and corporate collections. Following the enormous success of the June Arts of the American West auctions, the October Western Art and Sculpture auction is expected to achieve the same outstanding results. "The demand for Western art has continued to grow - we saw overwhelming results from our June auction and we are looking forward to the continued success in this category," said Kate Hlavin, Director and Senior Specialist of Western Art, "October's auction should generate a lot of excitement for Western art collectors with the exceptional group of works our team has assembled." Among the top lots of the auction are two ... More
Seven channel video installation by Jeremy Shaw on view at the Frankfurter Kunstverein
$8.3 million rare Warring States Period Vessel drives Sotheby's bi-annual Asia Week Sales
Design for new Princeton University Art Museum unveiled


Jeremy Shaw, Phase Shifting Index, 2020. Installation view Frankfurter Kunstverein 2020. Photo: Norbert Miguletz © Frankfurter Kunstverein. Courtesy: der Künstler und KÖNIG GALERIE Berlin, London, Tokyo.



FRANKFURT.- The Frankfurter Kunstverein is presenting the German premiere of Canadian artist Jeremy Shaw's latest and largest production, Phase Shifting Index (2020); a seven channel video installation that extends throughout the entire building. Phase Shifting Index (2020) depicts seven autonomous groups engaged in embodied, movement-based belief systems that aspire to induce parallel realities. Employing various outmoded 20th century media, ranging from 16mm film to Hi-8 video tape, Shaw presents what appears to be documentary footage as the distant future, creating cognitive dissonance within the viewers' relation to a sense of place and time. The videos are narrated in the past-tense and delivered by a singular male voice in a style reminiscent of 20th century British ethnographic documentaries that detailed the practices and beliefs of foreign ... More



The auction was led by An Exceptionally Rare and Important Gold, Silver and Glass-Embellished Bronze Vessel, which sold to applause for $8.3 million – more than double its $3.5 million high estimate, following a 12-minute bidding battle between five bidders. Courtesy Sotheby's.



NEW YORK, NY.- Sotheby's bi-annual Asia Week sale series in New York achieved $36.4 million this week – significantly above the series' high estimate of $29.1 million, and all sales surpassing their high estimates. Works from this season's sales were sold to a diverse group of collectors worldwide, highlighted by An Exceptionally Rare and Important Gold, Silver and Glass-Embellished Bronze Vessel, which achieved $8.3 million following a 12-minute bidding battle and was the top selling lot of the week. Below is a summary of the works and collections that drove these results. Angela McAteer, Sotheby's Head of Chinese Works of Art Department in New York, commented: "We are thrilled with the results from this week's sales of Chinese Works of Art. The strong results demonstrated the powerful ... More



The future Main Entrance to the Art Museum, with a signature "lens" moment above, spilling light onto the terrace below.



PRINCETON, NJ.- The Princeton University Art Museum today revealed the design for its new building embodying flexibility, openness and connectivity to break down barriers to participation and invite entry by all. Sir David Adjaye, the design architect and founder of Adjaye Associates, presented the designs with James Steward, the Museum's Nancy A. Nasher–David J. Haemisegger, Class of 1976, director. The building will replace and roughly double the square footage of the existing facility, which occupies a central location on Princeton's campus. The design employs a mix of traditional materials – including stone, bronze and glass – that speaks both to the present moment and the historic Princeton context. Construction is slated to begin in 2021 with an anticipated opening in late 2024. "Sir David's architecture will invite visitors to see themselves as citizens of a broader set of communities," notes ... More
PEANA opens an exhibition of works by SANGREE
Almine Rech presents an exhibition of works by Kenny Scharf
Google removes street view virtual tour of Australia's Uluru


SANGREE Coil, 2020. High temperature glazed ceramic, 45 x 27 x 28 cm. 17.7 x 10.6 x 11 in.

by Mariana Mańón



MONTERREY.- SANGREE's artistic practice is distinguished by a rich visual language that has allowed them to navigate the multiple layers of art history, historical sites, scientific curiosities, unexplained events and mythical narratives with a peculiar wit and sense of humor. These interests have been translated into two large archives: one photographic and another one of drawing, reflecting in each of them their own language of translation and interpretation of the wonders and horrors of the official and unofficial history of mankind. These archives work as the basis for projects in different media and further research. The projects they choose to undertake are usually accompanied by a serious interest in the materiality that shapes them, in a constant search to relate format, technique ... More



Kenny Scharf, Spin Out!, 2020. Oil, acrylic and spray paint on linen with powder coated aluminum frame, 228.6 x 177.8 cm. 90 x 70 in.



NEW YORK, NY.- There was a time, long ago, before the outbreak of COVID-19, when I thought of paintings by Kenny Scharf as suitable for a child's bedroom. His cartoonish characters – chortling faces, curvaceous amphibians, tousled trees – floated through a psychedelic cosmos bursting with such buoyant and cheerful spirits that they mirrored a child's delight in all things fanciful and monstrous. Funny, how the temperature of a time can affect a person's vision. Fabulous, how many ways one can read a painting. It's April of 2020, and the fever dreams in Scharf's new paintings look less like representations of exuberance than grotesque depictions of a lethal bioweapon aimed at humankind in retaliation for its prolonged abuse of our planet. As yet, we have no defense, except to barricade ourselves in our homes, and behind ... More



Trees at the base of Uluru. Photo: Mark Andrews.



SYDNEY (AFP).- Google has removed images from its Street View that allowed users to virtually walk on Australia's Uluru, a sacred Aboriginal site closed to tourists since last year, the company said Friday. Parks Australia had asked that the user-contributed images be taken down in line with the wishes of the Anangu people who are the traditional owners of the World Heritage site. The giant red monolith in Uluru-Kata Tjuta National Park in central Australia was closed to tourists in October 2019 at the request of the Anangu, who hold the site sacred. "We understand Uluru-Kata Tjuta National Park is deeply sacred to the Anangu people," a Google spokesperson said. "As soon as Parks Australia raised their concerns about this user contribution, we removed the imagery," they said. The company said the images had been taken by users of Google maps prior to the closure of Uluru, previously ... More

First Look: Sandro Botticelli's Renaissance Man

Flashback
On a day like today, Latvian-born American painter Mark Rothko was born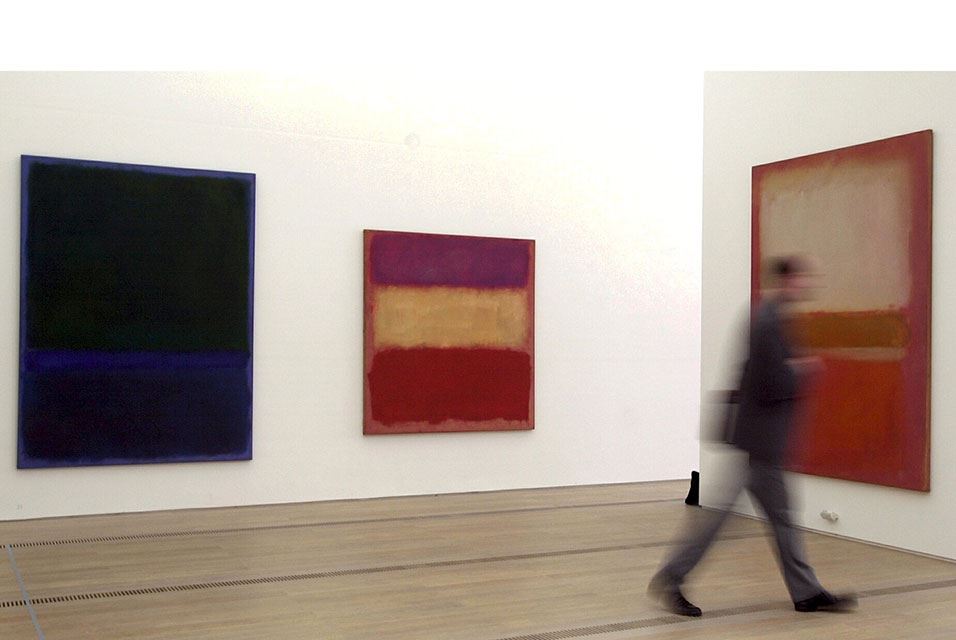 September 25, 1903. Mark Rothko (September 25, 1903 - February 25, 1970), was a Russian-American painter. He is classified as an abstract expressionist, although he himself rejected this label, and even resisted classification as an "abstract painter". In this image: A visitor passes three paintings by US-painter Mark Rothko which are on exhibition at the Foundation Beyeler in Riehen, Switzerland, on February 15, 2001.
---

Museums, Exhibits, Artists, Milestones, Digital Art, Architecture, Photography,
Photographers, Special Photos, Special Reports, Featured Stories, Auctions, Art Fairs,
Anecdotes, Art Quiz, Education, Mythology, 3D Images, Last Week,

.
---
Royalville Communications, Inc
produces: