On the Met's roof, a wistful fantasy we've been waiting for
"As Long as the Sun Lasts," Alex Da Corte's 26-foot-tall installation for the Cantor Roof Garden of the Metropolitan Museum of Art in New York. The installation is a winsome crowd-pleaser that turns gentle circles without ever getting anywhere. Metropolitan Museum of Art; Anna-Marie Kellen via The New York Times.

by Will Heinrich
NEW YORK
(NYT NEWS SERVICE)
.-
The other day I saw a giant bird perching on a sliver of crescent moon. It was clutching a comically short ladder, and the whole scene — an installation by conceptual artist and designer of immersive environments Alex Da Corte — was on the roof of the Metropolitan Museum, tucked into a corner of one of New York City's most spectacular patios. The piece instantly brought me back to my favorite Italo Calvino short story, "The Distance of the Moon," about the good old days when Earth and its moon were almost close enough to kiss. Rowing out to the point of closest approach, the narrator and his friends would erect a ladder and leap across to the lunar surface, where they frolicked and gathered cheese. For his 2021 Roof Garden Commission, which opens Friday, Da Corte taps into a similar vein of straight-faced irony. The bird in "As Long as the Sun Lasts" — its title is borrowed from another Calvino story — is a full-size, custom-made, blue but o ...
More
The Best Photos of the Day
These rocks made a 1,000-mile trek. Did dinosaurs carry them?
How the largest animals that could ever fly supported giraffelike necks
The collection of Mrs. Henry Ford II Eaton Square and Turville Grange achieves £3,988,938


An undated photo provided by Joshua Malone shows gastroliths found in Wyoming that appear to have been carried from Wisconsin in the stomachs of sauropods. Joshua Malone via The New York Times.

by Lucas Joel



NEW YORK (NYT NEWS SERVICE).- In the summer of 2017, Joshua Malone, then an undergraduate at Augustana College in Illinois, visited a field-research camp in Wyoming and picked up some rocks. Rounded at the edges and the size of small fists, they were out of place amid the fine-grained mudrock that had surrounded them, and Malone asked his father, David, a geologist at Illinois State University who led the dig at the site, if he knew where the rocks had come from. Four years later, the two have developed a surprising answer. In a study published this year in the journal Terra Nova, the Malones and colleagues say the stones came from a rock formation in southern Wisconsin about 1,000 miles to the east of where they were found. What is even more surprising is their hypothesis for how the rocks made that journey: They were ... More



An artist's rendering provided by Cariad Williams et al., iScience, of a pterosaur, whose complex neck structure has no parallel elsewhere in the animal kingdom. Cariad Williams et al., iScience via The New York Times.

by Becky Ferreira



NEW YORK (NYT NEWS SERVICE).- If you were to gaze skyward in the late Cretaceous Period, you might catch a glimpse of surreal flying giants with wingspans that rival small planes. This supersized group of pterosaurs, known as azhdarchids, included species that measured 33 feet between wingtips, making them the largest animals that ever took to the air. The extreme dimensions of azhdarchids raise tantalizing questions, such as how they carried large prey without breaking their long necks or how animals the size of giraffes effortlessly soared above their dinosaur relatives on the ground. Cariad Williams, a doctoral student at the University of Illinois at Urbana-Champaign, was hoping to shed some light on these questions with the help of an azhdarchid specimen ... More



John Duncan Ferguson (1874-1961), The Chinese Coat. Estimate £150,000-250,000. Realised £412,500. © Christie's Images Ltd 2021.



LONDON.- The Collection of Mrs Henry Ford II – Eaton Square and Turville Grange was held at Christie's London today and realised £3,988,938. The sale was 96% sold by lot and 93% sold by value, with participation across 6 continents and 35 countries. The sale comprised 320 lots with estimates ranging from £500 to £300,000. The auction contained a broad spectrum of decorative and fine arts from Mrs. Henry Ford II's two UK properties, Eaton Square, London and her country home Turville Grange, in Buckinghamshire. The London sale was led by a John Duncan Ferguson (1874 – 1961), The Chinese Coat (estimate £150,000-250,000), realised £412,500. Adrian Hume Sayer, Director, Private & Iconic Collections London comments, 'Christie's were honored to be entrusted with The Collection of Mrs Henry Ford II - both in the UK and USA - and were delighted to once again be able to welcome our clients to view the ... More
Libyan capital's neglected Old City gets facelift
Hindman to present historic & contemporary Western art in May auction
With a drone on the High Line, an artist reemerges from controversy


Youths play next to the Roman Marcus Aurelius arch in the Libyan capital Tripoli's old city, which is undergoing infrastructure rehabilitation work, on March 23, 2021. Mahmud TURKIA / AFP.

by Rim Taher



TRIPOLI (AFP).- In alleys criss-crossing the Libyan capital's Old City, construction crews are hard at work restoring former glory to architectural treasures neglected under ex-dictator Moamer Kadhafi and in the decade since. Pushing wheelbarrows, a clutch of workers ferry sand, dismembered concrete or gravel, and others dig or hammer away, bent double or down on one knee. The din of pick axes stops suddenly, however, as calls to prayer echo around the ancient buildings. Workers down tools in silence, while cafes empty, as everyone heads to their place of worship. The substantial restoration underway seeks to "preserve the heritage of the Old City" in Tripoli, said Mahmoud al-Naas, head of the management committee overseeing the project. Covering around 50 hectares (123 acres), the Old City is an "architectural ... More



Detail of Watching the Rising Trout. Eanger Irving Couse (American, 1866–1936). Estimate: $70,000 -$90,000.



DENVER, CO.- On May 6 and 7, Hindman Auctions will present its Western Paintings and Sculpture auction, which will also include a Contemporary Native American Art session. The sale will feature several celebrated Western artists from the 18th and 19th centuries whose works capture the imagery and breathtaking landscapes of the American West as well as the vibrant mix of Native American and other Southwestern cultures. Session I of the sale on May 6 will feature 24 works being sold to benefit The Couse Foundation, Taos, New Mexico, and the construction of The Lunder Research Center in 2021 focusing on the Taos Society of Artists (TSA). The sale also features property from private collectors and estates as well as institutions including property being sold to benefit the art collections at the University of Denver, The Allan Houser Foundation, and the Grand Teton National Park Foundation, Jackson, Wyoming. ... More



Sam Durant has revealed his first large-scale sculpture in the public sphere since the "Scaffold" controversy in Minneapolis. Yvonne Venegas, via Paula Cooper Gallery via The New York Times.

by Hilarie M. Sheets



NEW YORK (NYT NEWS SERVICE).- In May, a sleek white fiberglass sculpture in the shape of a Predator drone will be installed atop a 25-foot-tall pole and rotate in the wind on the High Line at 30th Street in New York. With a wingspan of 48 feet — almost the actual size of the remote-controlled military aircraft but stripped of its cameras, weapons and landing gear — the kinetic artwork could appear as a modernist bird hovering in the sky, reminiscent of the biomorphic sculptures of Constantin Brancusi or Barbara Hepworth. The work is by American artist Sam Durant, 59, who has dedicated his career to research-intensive projects about war, monuments, mass incarceration and other difficult legacies of U.S. history. Durant's new commission for the High Line is his first large-scale work in the public sphere since the 2017 controversy ... More
Lyon & Turnbull announces first dedicated Lalique sale
Macron says 'mobilisation' key to Notre-Dame rebuild target
Japan artisans showcase Olympic collection under virus cloud


René Lalique, group shot.



LONDON.- Glass by René Lalique (1860-1945) - the epitome of inter-war period glamour - takes centre stage at Lyon & Turnbull this month. The firm's first dedicated Lalique sale, curated by former Christie's specialist Joy McCall, will be held at the Mall Galleries, London on April 29. The 107 lots, with an estimate range from £300-400 to £12,000-18,000, are all vintage pieces by the venerable luxury brand. Of these the first 57 pieces are from a private European collection. Largely composed of vases, it includes examples of some of the most famous Lalique creations - the clear, frosted and grey stained Serpent vase, designed in 1924 and numbered 896 in the René Lalique catalogue raisonne (£12,000-18,000) and the Escargot vase (No. 931), designed 1920 and here in electric blue (estimate £10,000-15,000). The appeal of vibrantly coloured or opalescent glass helps explain why two apparently similar items can be priced quite dif ... More



French President Emmanuel Macron (C) visits the reconstruction site of the roof of Notre-Dame de Paris Cathedral, two years after the blaze that made the spire collapsed and destroyed much of the roof, in Paris on April 15, 2021. BENOIT TESSIER / POOL / AFP.



PARIS (AFP).- French President Emmanuel Macron on Thursday praised efforts made to rebuild the Notre-Dame cathedral in Paris, saying continued mobilisation was needed to meet the government's target of restoring the landmark within three years. Visiting Notre-Dame two years to the day after the world watched transfixed in horror as flames ravaged the cathedral, Macron said "immense" restoration work had already been accomplished since the blaze. "We are also looking to the three coming years because we will have to meet our targets, and therefore there is a great mobilisation of planning that is very demanding and rigorous," he said. While the spire collapsed and much of the roof was destroyed on the evening of ... More



In this picture taken on April 12, 2021, Kimiaki Kono, who created a special Tokyo 2020 branded shamisen, a traditional Japanese three-stringed instrument, adjusts one of his instruments at his workshop in Tokyo. Behrouz MEHRI / AFP.

by Harumi Ozawa



TOKYO (AFP).- Craftsman Kimiaki Kono was hoping the Tokyo Olympics would be a chance to win new fans for Japan's lute-like shamisen, but the pandemic has left things on a sour note. "I want people around the world to know about this instrument," the 62-year-old told AFP at a Tokyo workshop where he builds the three-stringed shamisen, used in Japanese art forms such as kabuki theatre. "We would have hosted a great number of visitors in Japan with the opportunity of the Olympics." So the decision to bar overseas spectators left him "very disappointed". But he is hopeful that a special Tokyo 2020-branded shamisen he has created will still attract interest from foreign enthusiasts when it goes on sale online ... More
Freeman's appoints Robin Nicholson as Art Museum Consultant
Galerie Nathalie Obadia opens an exhibition of new works on recycled paper by Nú Barreto
Shannon's Spring Fine Art auction now open for bidding


Robin Nicholson comes to Freeman's with almost 35 years of experience in the art world.



PHILADELPHIA, PA.- Freeman's announced the appointment of Robin Nicholson to the role of Art Museum Consultant. Robin will play a key role within Freeman's Museum Services department, offering consultation on collections policies, deaccessioning strategies, acquisitions, and consignments. Robin Nicholson comes to Freeman's with almost 35 years of experience in the art world. From 1987 to 1992 he worked in the commercial gallery sector; he was corporate art curator of the Drambuie Collection from 1992 to 2006, and since 2006 has worked with American art museums. He served as Deputy Director for Art and Education and Director of Exhibitions at the Virginia Museum of Fine Arts (2006–2014), and subsequently as Executive Director of the Frick Pittsburgh (2014–2018), and Telfair Museums, Savannah (2019–2020). Robin holds an MA in the History of Art from the University of Cambridge and is a member ... More



Nú Barreto, Traços Diário 1, 2020. Ensemble de 42 dessins - Technique mixte sur papier, 332 x 284 cm. Photo: Atelier 80. Courtesy of the artist and Galerie Nathalie Obadia Paris/Brussels.



PARIS.- Galerie Nathalie Obadia is presenting Nú Barreto's third exhibition, after Homo Imparfaits in 2019 in Brussels. Born in 1966, in São Domingo, in Guinea-Bissau, Nú Barreto has lived and worked in Paris since 1989. After trying his hand at photography, he soon turned to drawing as his medium of choice. His reflections on contemporary Africa are also expressed in powerful mural installations. Selected to represent his country at the World Exposition in Lisbon, in 1998, Nú Barreto now enjoys an international career and incarnates a notable figure of contemporary African art. 
The exhibition L'imparfait et l'impératif presents a group of new works on recycled paper, which are part drawing part collage, and a 42-drawing polyptych conceived as a sort of logbook for these months of pandemic. A striking demonstration of graphic eloquence ... More



Oil on canvas by Helen Maria Turner (American, 1858-1958), titled Portrait of Anne Spencer (circa 1925), signed and inscribed, 40 inches by 30 inches (est. $30,000 - $50,000).



MILFORD, CONN.- Shannon's Fine Art Auctioneers will kick off the spring auction season with a sale of paintings, drawings, prints and sculptures on Thursday, April 29th, at 6 pm Eastern time. The 200-plus artworks include American art, modern and contemporary art, sculptures, Hudson River School paintings and various offerings by female artists in various categories. Leading the sale is a painting by Willard Leroy Metcalf titled The Road that Leads to Home (est. $150,000-$250,000). The classic Connecticut Impressionist view of the Litchfield hills depicts a farmhouse that still stands in Woodbury. Metcalf's renowned depictions of sunlight and shadow are evident in this rural, idyllic scene of country life. A rare figural work by Metcalf, titled In the Garden, will also be offered in the sale. It has a reasonable pre-sale ... More

Collection in Focus: Martin Puryear's Prints

Flashback
On a day like today, Mexican architect Pedro Ramírez Vázquez was born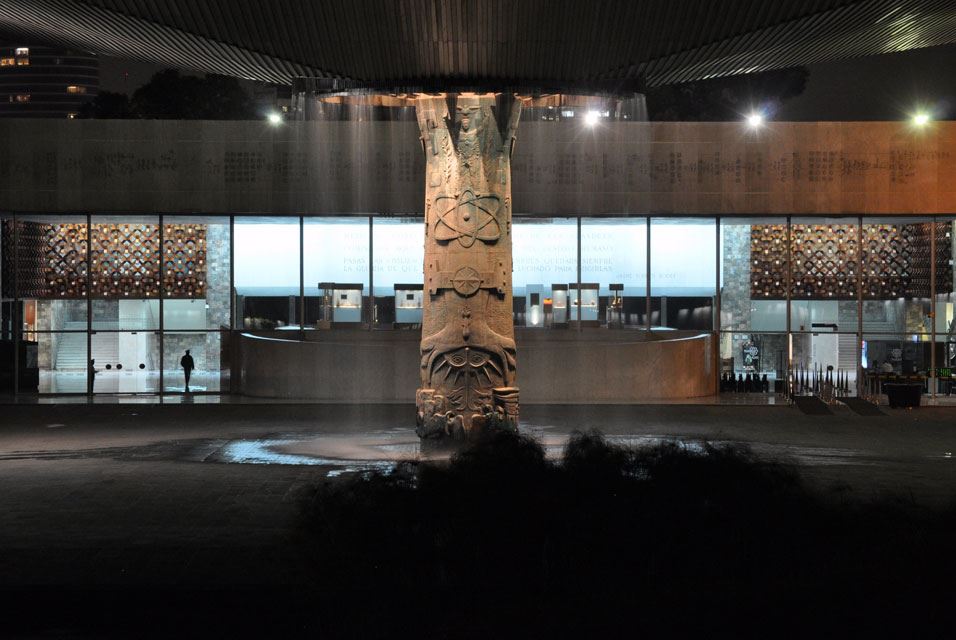 April 16, 1919. Pedro Ramírez Vázquez (April 16, 1919 - April 16, 2013) was a late twentieth century Mexican architect. He was born in Mexico City. He was persuaded to study architecture by writer and poet Carlos Pellicer. In this image: National Museum of Anthropology in Mexico City.
---

Museums, Exhibits, Artists, Milestones, Digital Art, Architecture, Photography,
Photographers, Special Photos, Special Reports, Featured Stories, Auctions, Art Fairs,
Anecdotes, Art Quiz, Education, Mythology, 3D Images, Last Week,

.
---
Royalville Communications, Inc
produces: