Harvard Museum will return hundreds of Native American hair samples
A photo provided by the National Archives shows a first- and second-grade class at the Genoa Indian Industrial School in Genoa, Neb., in 1910. (National Archives via The New York Times)

by Christine Chung
NEW YORK, NY
.-
The Peabody Museum at Harvard University said that it would return a collection of hair samples that were taken in the early 1930s from hundreds of Native American children who were forced to attend government-run boarding schools. The museum apologized for its decadeslong ownership of the samples, which were taken from about 700 students spanning about 300 tribal nations, and said it would try to return the clippings to living relatives and the tribes that the students belonged to. "The Peabody Museum apologizes to Indigenous families, communities and tribal nations for our complicity in the objectification of Native peoples and for our more than 80-year possession of hair taken from their relatives," the museum said in a statement, adding that it acknowledged the "cultural and spiritual significance" of hair and the harm its removal had caused. The museum, in Cambridge, Massachusetts, is dedicated to cultural heritage and its collection features objects and images ...
More
The Best Photos of the Day
40th anniversary appellate court ruling 1982 libel lawsuit against a painting
Tim Van Laere Gallery opens a group show
Poster Auctions International's third sale of the year, on November 13, finished at just over $2.2 million


The Mugging of the Muse II©2022 Paul Georges Foundation Inc, courtesy Simon Lee Gallery London/Hong Kong.



NEW YORK, NY.- Paul Georges's (PG) The Mugging of the Muse was at the center of the first libel lawsuit against a painting in history. PG lost the suit in 1980, opening potential legal floodgates to the censorship of art, journalism, and freedom of speech. PG hired the expensive and brilliant premiere civil rights and First Amendment attorneys Victor Kovner and Harriette Dorsen, who helped him win on appeal protection of the First Amendment right to freedom of speech and expression. The legal ordeal that began in 1974 ended in 1982. Victor Kovner & Harriette Dorsen, lawyers for The Village Voice newspaper, had won prominent cases all the way to the Supreme Court, yet paying their $10k bill on a 10-year plan came at great personal sacrifice for PG and his family. Silberman and Siani vs. Paul Georges (1975-1982) was a lawsuit pitting court approved censorship against the right to freedom of speech in a painting ... More



Ettore Spalletti, Vaso, 1992 Color impasto on wood 180 x 46 x 29 cm ⌀ 29 cm ( lower base). Courtesy Tim Van Laere Gallery, Antwerp.



ANTWERP.- Tim Van Laere Gallery is presenting Let's Go!, a group exhibition presenting works by Bram Demunter, Jean Dubuffet, Kati Heck, Leiko Ikemura, Stanislava Kovalcikova, Friedrich Kunath, Jonathan Meese, Albert Oehlen, Tobias Pils, Tal R, Ben Sledsens, Ettore Spaletti, Dennis Tyfus, Rinus Van de Velde, Inès Van den Kieboom, Henk Visch, and Franz West. While solo exhibitions allow you to fully enter the world of one artist and give you a glimpse of what the world looks like according to that artist, a group show offers different windows and pathways to various points of view and ways of seeing. It's for this reason group shows are a vital part of the gallery's program. By combining works from different artists in all kinds of media, the inner dialogue between the artist and his/her work is brought to a larger table, where its meaning gets challenged and debated by the surrounding works. It makes for an open dialogue where ... More



Geo Ham, Amilcar. 1924. ($28,800).



NEW YORK, NY.- Poster Auctions International's third sale of the year, on November 13, finished at just over $2.2 million. Rare Posters Auction LXXXVIII saw sustained passion for rare and never-before-seen lithographs from the Art Nouveau and Art Deco eras, continuing PAI's streak of $2 million auctions this year. Jack Rennert, President of PAI, said, "We are always humbled by the enthusiasm of our consignors and bidders at auction. Collectors demonstrated continued passion for rare and important lithographs, leading to several new sales records." Alphonse Mucha continued to hold sway over admiring buyers. The top sale from this Belle Époque master was his 1911 Princezna Hyacinta, which was won for a record-breaking $78,000 against an estimated $35,000-$45,000. Another new high sale went to the ca. 1899 Bleuze-Hadancourt / Parfumeur, which was sold for $45,600 (est. $17,000-$20,000). All prices quoted include the buyer ... More
Only known Marilyn Monroe photo Inscribed to Joe DiMaggio sells for $300,000 to set auction record at Heritage
The Vancouver Art Gallery presents 'Guud san glans Robert Davidson: A Line That Bends But Does Not Break'
Exhibition of more than 250 artworks from distinct cultures across the African continent


Marilyn Monroe. Photograph Inscribed and Signed to Joe DiMaggio.



DALLAS, TX.- "I love you Joe, Marilyn." Heritage Auctions' latest Historical Platinum event, held Dec. 1, was filled with myriad documents written and signed by such titans of history as Benjamin Franklin, Thomas Jefferson, Stephen F. Austin, John Kennedy, Gen. Douglas MacArthur, Theodore Roosevelt and others whose names fill countless history books. Their landmark manuscripts and milestone memories brought more than 430 bidders to an auction that realized more than $2.48 million in a span of only two hours Thursday afternoon. But five words handwritten by one woman topped them all. The only known photograph of Marilyn Monroe inscribed to Joe DiMaggio sold Thursday for $300,000 to set a new auction record for a signed Monroe photograph. The picture, a publicity still taken in 1953 for Gentlemen Prefer Blondes, was already among the most famous and coveted of Monroe's portraits. It is now the most ... More



Robert Davidson, Chest-End Design, 1970, screenprint on paper. Collection of the Vancouver Art Gallery, Gift of Mrs. Margaret McKee.



VANCOUVER, BC.- The Vancouver Art Gallery presents Guud san glans Robert Davidson: A Line That Bends But Does Not Break from November 26, 2022 to April 16, 2023, an exhibition of Robert Davidson's renowned prints and paintings spanning his decades-long career. The exhibition draws on the Vancouver Art Gallery's extensive collection of Davidson's work, supplemented by paintings from private collections, showcasing his profound knowledge of Haida art and his ability to revive, preserve and innovate brilliantly within the Haida tradition. Since the 1960s, Guud san glans Robert Davidson has been instrumental in the renaissance of Haida art and culture and has long been appreciated as one of the most inventive artists working within Haida artistic traditions. Guud san glans Robert Davidson: A Line That Bends But Does Not Break welcomes viewers into the exhibition ... More



Attributed to Ofunwa Ume of Awka. Helmet Mask (Mgbedike), 20th century. Igbo; Nigeria. Dierking Collection, Zurich. Photo by Thomas Scheidt, courtesy of Dierking, Zurich.



CHICAGO, IL.- The Art Institute of Chicago is presenting The Language of Beauty in African Art, an exhibition of more than 250 artworks from dozens of distinct cultures across the African continent. Unlike previous exhibitions that have been guided by Western aesthetic standards, The Language of Beauty in African Art seeks to elevate the local indigenous perspectives on beauty and ugliness of the artworks' makers and communities. The exhibition is on view at the Art Institute of Chicago from November 20, 2022 through February 27, 2023.  When Westerners began to collect and study African art in the early 20th century, they admired objects for a range of perceived qualities; however, they rarely if ever took into account any form of local appreciation, value, and criticism. Western scholarship consequently made many ... More
Freedom of Movement: Exhibition presents contemporary art and design from the NGV Collection
Art Institute receives a remarkable collection and $3M endowment gift from The Stenn Family
Adelson Galleries New York opens Patrick Hughes' first solo show in New York since 2017


Alex Prager, Face in the crowd 2013 (still) three-channel digital video projection, sound, 11 min 52 sec. ed. 1/3. National Gallery of Victoria, Melbourne Bowness Family Fund for Contemporary Photography, 2014. 2014.670 © Alex Prager, courtesy of the artist and Lehmann Maupin, New York and Hong Kong.



MELBOURNE.- Freedom of Movement: Contemporary Art and Design from the NGV Collection is a new exhibition featuring more than 60 works of contemporary art and design by some of the most recognisable names working today, including Patricia Piccinini, KAWS, nendo, Paola Pivi, Nick Cave, Rafael Lozano-Hemmer, Shilpa Gupta, Alicja Kwade, Daniel Arsham and Alex Prager. Offering a dynamic survey of the State collection across contemporary furniture, lighting, painting, film, sculpture and installation, the exhibition provides audiences the chance to engage with remarkable contemporary works in new and surprising contexts, as well as to appreciate the spectacular correlations and interrelationships between art and design. Crossing cultures, disciplines and traditional ... More



Eve Hesse. Untitled, 1967. Promised gift of The Stenn Family.



CHICAGO, IL.- The Art Institute of Chicago is pleased to announce both the acquisition of a transformative collection of contemporary prints and drawings and a financial gift from The Stenn Family. A promised gift of 97 prints and drawings—from artists including Josef Albers, Eva Hesse, Lee Bontecou, Judy Chicago, Donald Judd, and Sol LeWitt—will be united with more than 100 previously given works from The Stenn Family, creating a truly outstanding collection of works on paper by Pop, Conceptual, and Minimal artists from the 20th century. Representing an era that saw a radical change in how works on paper were made, used, and appreciated, this gift will allow museum visitors to see an expansive representation of this foundational moment in the history of drawing. Mark Pascale, Janet and Craig Duchossois Curator of Prints and Drawings at the Art Institute of Chicago, celebrates this moment ... More



Patrick Hughes, Patrick's Palazzi, 2022 (detail), Oil on board construction, 26 x 58 x 8 inches.



NEW YORK, NY.- Adelson Galleries New York presents Patrick Hughes: A New Perspective. This exhibition — Hughes' first solo show in New York since 2017 — exemplifies the artist's array of subject matter, from Venetian scenes to complex interiors and still lives. The exhibition is primarily composed of new Reverspective paintings exhibited for the first time, as well as several of Hughes' collaged paintings and multiples. (British, b. 1939) Patrick Hughes' first solo show was in 1961 in Mayfair, London. The catalogue introduction was by the critic David Sylvester. He has since held one person exhibitions in Los Angeles and San Francisco, Chicago, Boston and New York, and in France, Germany, Italy, Holland, Belgium and Switzerland, one hundred and fifty-four so far. Patrick made his first reverspective relief painting in 1964 and has refined his technique hugely over the last fifty years. It is widely imitated. These ... More
Arnold & Son Spiderweb watch designed in collaboration with artist Matt Copson goes to auction block
New Art Dealers Alliance and Pérez Art Museum Miami announce fifth Annual Acquisition Gift selection
New Torpedo Factory Art Center installation reminds viewers to connect with nature this winter


Arnold & Son offered the renowned artist carte blanche to create the design of his choice.



NEW YORK, NY.- Swiss watchmaker Arnold & Son has commissioned British artist Matt Copson to create a unique timepiece for auction: the Arnold & Son x Matt Copson edition. The one-of-a-kind Arnold & Son HM Swiss Institute by Matt Copson watch will be a feature lot in the TimeForArt auction, a subset of the upcoming Phillips New York Watch Auction: SEVEN, on December 11, 2022. Arnold & Son commissioned Copson in tribute to the Swiss watchmaker's longstanding British ties, and together, the creative partners designed a luminous spiderweb-inspired watch for the first-ever benefit watch auction in support of contemporary art. The lot is available for preview at Phillips New York between December 3-9. The inaugural edition of TimeForArt curates exceptional timepieces from the world's foremost watchmakers, including the Arnold & Son x Matt Copson collaboration, with 100% of the proceeds going directly to supporting today's most visionary ... More



Patrick Dean Hubbell, You Keep Our Spirit Safe Between All Within the Day to Night, 2022, Oil, Acrylic, Enamel, Acrylic Dispersion, Sewing on Canvas, Wood Stretcher Bar, 76 x 72 in.



MIAMI, FLA.- New Art Dealers Alliance and Pérez Art Museum Miami announced the selection of the fifth annual NADA Acquisition Gift for PAMM, an acquisition gift for the museum's permanent collection. PAMM Associate Curator Jennifer Inacio and Assistant Curator Maritza Lacayo have selected Patrick Dean Hubbell's You Keep Our Spirit Safe Between All Within the Day to Night, 2022 from Nina Johnson. "We are thrilled to acquire a work at NADA for the fifth year and we are looking forward to having Patrick Dean Hubbell in PAMM's collection! We are fascinated by his practice, which makes reference to his indigenous identity while also amplifying aspects of indigenous contemporary art within the western ideologies of art. PAMM's mission is centered on amplifying diverse voices and Hubbell's work is the perfect addition to that conversation," said PAMM ... More



Saya Behnam, The Cycle of Nature and Time, 2022. Installation view in Studio 9 at Torpedo Factory Art Center.



ALEXANDRIA, VA.- Torpedo Factory Art Center's newest installation, The Cycle of Nature and Time, invites viewers to reconnect with nature this winter season. Each year, the Torpedo Factory Art Center commissions artists to create an installation to be on view during the winter season to activate the Art Center through the busy holiday season. This year, artist Saya Behnam, Torpedo Factory Art Center studio 229, presents The Cycle of Nature and Time, an installation that features a cascade of dried flowers and plants to represent the cycles of nature. Benham's work invites viewers to contemplate the winter season as a time for regeneration and decay, important to the natural cycle of life. In her artist statement, Behnam says, "I try to show the beauty of life in death, the rhythm, harmony, and the cycle of nature and time in fresh, dried and decayed. The lack of attention to our environment and surroundings made me focus ... More

Sotheby's Spotlight: The History of Science & Technology

Flashback
On a day like today, Flemish painter Maerten de Vos died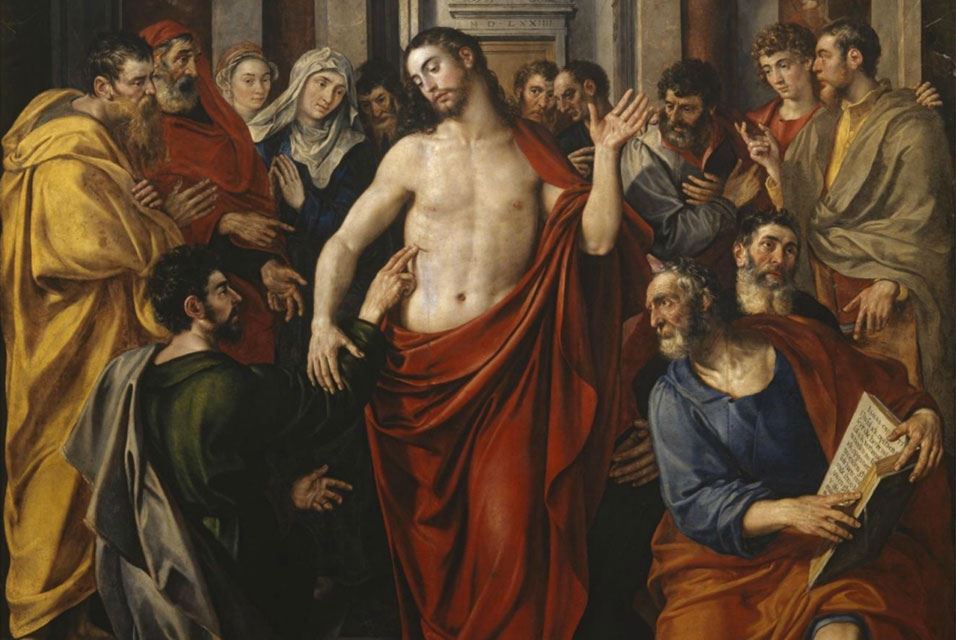 December 04, 1603. Maerten de Vos, Maerten de Vos the Elder or Marten de Vos (1532 - 4 December 1603) was a Flemish painter mainly of history paintings and portraits. He became, together with the brothers Ambrosius Francken I and Frans Francken I, one of the leading history painters in the Spanish Netherlands after Frans Floris' career slumped in the second half of the sixteenth century as a result of the Iconoclastic fury of the Beeldenstorm. In this image: The incredulity of Thomas.
---

Museums, Exhibits, Artists, Milestones, Digital Art, Architecture, Photography,
Photographers, Special Photos, Special Reports, Featured Stories, Auctions, Art Fairs,
Anecdotes, Art Quiz, Education, Mythology, 3D Images, Last Week,

.
---
Royalville Communications, Inc
produces: