"Lady Liberty: A Bonnie Lautenberg Retrospective" kicks off Miami Art Week
Guns Kill (2022), by Bonnie Lautenberg. Benefits the Giffords Foundation, dedicated to saving lives from gun violence https://giffords.org (Dye sublimation onto aluminum, 4 feet x 4 feet).
MIAMI, FLA
.-
The new museum exhibition "Lady Liberty: A Bonnie Lautenberg Retrospective," on view now during the week of Art Basel Miami Beach, features powerful images of women championing freedom. The show premieres Lautenberg's new portrayals of the Statue of Liberty confronting some of today's most challenging issues. One of her new works is entitled "Guns Kill," and benefits the Gabby Giffords Foundation to save lives from gun violence -
https://giffords.org
. Another new work is entitled "Tears of Roe," and confronts the recent overturning of Roe v. Wade. Both works show Lady Liberty with tears streaming down her face. "I am so honored to be selected by the Jewish Museum of Florida-FIU for this new exhibition, especially at this time when women's issues are at the forefront," says Bonnie Lautenberg. Through March 26th, this solo museum show spans Lautenberg's multiple series of photo ...
More
The Best Photos of the Day
A Paris museum has 18,000 skulls. It's reluctant to say whose.
'Eyes On Iran' art activation faces the UN at Four Freedoms Sate Park
Museo Picasso Málaga: 20 years in Andalucia


The Museum of Mankind in Paris, Nov. 28, 2022. (Violette Franchi/The New York Times)

by Constant Méheut



PARIS.- With its monumental art deco facade overlooking the Eiffel Tower, the Musée de l'Homme, or Museum of Mankind, is a Paris landmark. Every year, hundreds of thousands of visitors flock to this anthropology museum to experience its prehistoric skeletons and ancient statuettes. But beneath the galleries, hidden in the basement, lies a more contentious collection: 18,000 skulls that include the remains of African tribal chiefs, Cambodian rebels and Indigenous people from Oceania. Many were gathered in France's former colonies, and the collection also includes the skulls of more than 200 Native Americans, including from the Sioux and Navajo tribes. The remains, kept in cardboard boxes stored in metal racks, form one of the world's largest human skull collections, spanning centuries and covering every corner of the earth. But they are also stark reminders of a sensitive past and, as such, ... More



Shirin Towfiq, Revolution, 2022, Photo by Austin Paz, Courtesy For Freedoms.



NEW YORK, NY.- Iranian artists Sheida Soleimani, Aphrodite Désirée Navab, Z, Icy and Sot, Shirin Neshat, Mahvash Mostala, Sepideh Mehraban, and Shirin Towfiq, alongside artists Hank Willis Thomas and JR, activate New York's FDR Four Freedoms State Park with a provocative multi-day and multi-media art installation facing the United Nations entitled Eyes on Iran, November 28, 2022 - January 1, 2023. Timed for the U.N. initiative, 16 Days of Activism Against Gender-Based Violence, the installations are focused on the power of collective sight, with eyes facing the UN, signifying the world's eyes on Iran. 'Eyes in the Sky' flying billboards featuring artworks by Thomas and Mostala will fly on December 3rd in New York City and on November 28th and 30th in Miami. An interactive installation by artist JR will take place on December 4th. Eyes on Iran aims to amplify the mission of Woman, Life, Freedom, a campaign demanding that the Islamic Republic of Iran ... More



Pablo Picasso (1881-1973) Sylvette. Vallauris, 1954. Cut and folded sheet metal, painted on both sides, 69.9 × 47 × 0.76 cm. Fondation Hubert Looser, Zurich © Fondation Hubert Looser, Zurich © Succession Pablo Picasso, VEGAP, Madrid, 2022.



MALAGA.- On 27 October 2023 the Museo Picasso Málaga celebrates its 20th anniversary. Now a fully matured institution, the MPM has confirmed its role in the transformation of institutional culture in Malaga and Andalusia. With more than 8 million visitors and a constantly changing programme, the MPM has also become a key reference and major stimulus for cultural tourism and for the creation of previously inexistent socio-economic networks in the museum's immediate surroundings and beyond. Thanks to the generosity and close involvement of Christine, Bernard and Almine Ruiz-Picasso, the management of the Junta de Andalucía and the contribution of the museum's patrons, directors and staff, the MPM has brought about a qualitative shift in museology in Andalusia. Over these past 20 years ... More
New era begins as Art Gallery of New South Wales expansion opens this Saturday
Ultra-rare 1854-S Quarter Eagle to land at Heritage U.S. Coins Auction Dec. 15-18
Woman in Gold stars in Bank of America's "Masterpiece Moment" series


Aerial view of the Art Gallery of New South Wales' new SANAA-designed building, 2022, photo © Iwan Baan.



SYDNEY.- An exciting new era in the cultural life of Australia begins this Saturday 3 December, as the Art Gallery of New South Wales' new building opens with over 15,000 people already registered to visit over the opening weekend. The new standalone building – designed by Pritzker Prize–winning architects Kazuyo Sejima and Ryue Nishizawa of SANAA – is the centrepiece of the expansion, the most significant cultural development to open in Sydney in nearly half a century. The completion of the project creates a new art museum campus comprising two buildings connected by a public art garden on Gadigal Country overlooking Sydney Harbour. NSW Premier Dominic Perrottet said 'The Art Gallery will shortly open the doors of an extraordinarily beautiful, expanded and enhanced public institution to people from across New South Wales, Australia and the world. 'Central to every decision made in the development and design of this project and at the heart ... More



Among the collector-friendly coins in this auction is a rare 1854-S Quarter Eagle, one of only 246 struck and one of no more than a dozen surviving examples.



DALLAS, TX.- A year that began in January with record results in Heritage Auctions' $65 million FUN US Coins Signature® Auction will conclude with its Dec. 15-18 in its US Coins Signature® Auction. This event features more than 2,000 lots, with must-have options collectors of all levels and tastes. "This has been an extraordinary year for the US Coins category at Heritage Auctions, and the magnificent coins in this last auction of 2022 give every reason to believe that this event will continue that success," says Todd Imhof, Executive Vice President at Heritage Auctions. "It includes exceptional rarities that will bolster collections of all levels." Among the collector-friendly coins in this auction is a rare 1854-S Quarter Eagle, one of only 246 struck and one of no more than a dozen surviving examples. Only three issues – the 1875 Eagle, the 1875 Half Eagle and the 1841-O Half Eagle (unknown in any collection) – ha ... More



Gustav Klimt (Austrian, 1862–1918), Portrait of Adele Bloch-Bauer I, 1907, oil, gold, and silver on canvas. Neue Galerie New York. Acquired through the generosity of Ronald S. Lauder, the heirs of the Estates of Ferdinand and Adele Bloch-Bauer, and the Estée Lauder Fund



NEW YORK, NY.- Neue Galerie New York and Bank of America announced the launch of a Masterpiece Moment featuring Gustav Klimt's Portrait of Adele Bloch-Bauer I (1907). Masterpiece Moment is a video series presented by Bank of America that explores great works of art from museums around the world. In this video, Neue Galerie director Renée Price offers expert insight on the Klimt portrait, which is in equal parts famous for its stunning composition and historically significant provenance. Popularly known as the Woman in Gold, the portrait has been called the greatest in the Klimt's "golden style," and is revolutionary for both its timeless beauty and a provenance story that represents perseverance and justice. Adele, the wife of a wealthy Jewish industrialist Ferdinand ... More
Almine Rech now represents Michael Kagan
Anthony Olubunmi Akinbola now represented by Sean Kelly, New York
Nils Stærk invites seven artists to participate with works, which are all based on found materials


Portrait of Michael Kagan, 2022 / Courtesy of the Artist and Almine Rech - Photo: Elisabet Davidsdottir.



PARIS.- Almine Rech announced the representation of American artist Michael Kagan in Europe, UK, Asia. The gallery will additionally represent Kagan in collaboration with Venus Over Manhattan in the US. Born in Virginia, Kagan received his MFA from the New York Academy of Art and has since been based in New York City. Kagan's bold, large-scale oil paintings delve into the physical and emotional journey of adventurers, namely astronauts and Formula 1 drivers. His paintings merge atmospheric and physical elements with technical details, where aerospatial and engineering components are created and executed skillfully using thick and deliberate brushstrokes. The result is a clear yet captivating depiction of the subject matter. Michael Kagan's recent exploration of sculptures maintains these atmospheric elements that have become synonymous with his paintings but with the added layer of a third dimension. ... More



The artist's signature Camouflage paintings, consisting of single and multi-panel works, utilize the ubiquitous du-rag as their primary material.



NEW YORK, NY.- Sean Kelly, New York announced their representation of Anthony Olubunmi Akinbola. He will also be represented by Night Gallery on the West Coast. Born in Columbia, Missouri, Akinbola, is a first-generation American raised by Nigerian parents in the United States and Nigeria. His layered, richly colored compositions celebrate and signify the distinct cultures that shape his identity. The artist's signature Camouflage paintings, consisting of single and multi-panel works, utilize the ubiquitous du-rag as their primary material. Universally available and possessed with significant cultural context, the du-rag represents for Akinbola a readymade object that engages the conceptual strategies of Marcel Duchamp and other significant artistic predecessors. Throughout his work Akinbola unpacks the rituals and histories connecting Africa and America, addressing the power of fetishization around cultural objects. ... More



Installation photo. Are we there yet? NILS STÆRK, 2022 Photo: Malle Madsen.




COPENHAGEN.- Are We There Yet? Are we there yet? was among the most googled questions in 2021. It is a trivial yet ambiguous statement about how far we still are from our destination – as individuals and as a species. From a macro perspective, the question has an existential dimension which sums up our impatient approach to the present and the future as a finishing line. With its open and questioning phrasing, the exhibition title thus establishes a reflective framework for the works, which are all based on modified everyday objects that cut across geographical barriers. Whether it be a psalm, software or faux flora, the exhibited works are all cultural modifications of existing symbols of nature – and thus undergo a marked semiotic transformation. In this negotiation of material and connotations, each artist reflects on the ecological conditions under which we live. The exhibition moves like turbulence in the air between prediction and future ... More
Brooklyn Museum acquires painting by Japanese American Modernist Bumpei Usui
Academy Museum appoints Amy Homma as Inaugural Chief Audience Officer
On March 26, 2023, Hammer Museum to mark completion of two decades of transformation


Bumpei Usui (1898 – 1994), Bronx, N.Y., 1924. Oil on canvas 20 x 24 inches. Signed, right center, in Japanese, with circular scroll, and dated "1924".



BROOKLYN, NY.- 511 Gallery and 511 Projects announced the placement of the early twentieth-century painting, Bronx, N.Y. (1924) by the Japanese American modernist painter, Bumpei Usui, into the American Art Collection at the Brooklyn Museum. Bumpei Usui was born in Nagano prefecture, Japan, the third child in a family that worked in the farming of silkworms and the producing of raw silk. The dates of his emigrating from Japan and his whereabouts in the first decade of the century are unclear, but circa 1917, he was in London, working in a furniture factory designing "Oriental" furniture, and it is known that by 1921 he had arrived in New York City, had set up a framing shop on East 14th Street, and was taking art classes at the Art Students League. He was soon framing the works of many of the city's top modernist artists – John Marin, Charles Demuth, and Yasuo Kunyoshi ... More



Amy Homma, Photo by Ye Rin Mok, ©Academy Museum Foundation.



LOS ANGELES, CA.- Jacqueline Stewart, Director and President of the Academy Museum of Motion Pictures, today announced that Amy Homma has been appointed to the new role of Chief Audience Officer effective immediately. She previously held the role of Vice President of Education and Public Engagement at the museum. As Chief Audience Officer, Homma will work to enhance, deepen, and evolve the Academy Museum's overall public and community profile. In addition, she will develop internal and external strategies to affirm and actualize the museum's commitment to diversity, equity, inclusion, and accessibility. Under her leadership, the museum's Film Programs, Education and Public Engagement, Community and Impact, Digital Content and Strategy, and Marketing, Communications, and Group Sales teams will strategize and drive meaningful engagement with audiences of all backgrounds, abilities, and interests. ... More



The campaign to date has achieved $156 million of its goal.



LOS ANGELES, CA.- UCLA Hammer Museum director Ann Philbin announced today that the institution's two-decades-long project to remake itself inside and out—including expanding, renovating, and transforming the building—will reach its culmination on Sunday, March 26, 2023. The public will be welcomed into the final major architectural components of the project, designed by Michael Maltzan Architecture, and an exciting new group of exhibitions celebrating the Hammer's collection of contemporary art. As always, the museum offers free admission to its exhibitions and programs. The new building, the Lynda and Stewart Resnick Cultural Center, anchors the Hammer's overall transformation. The center honors co-owners of The Wonderful Company, global philanthropists Lynda and Stewart Resnick, and their longstanding commitment and impact on arts and culture in Los Angeles and across California. ... More

Echoes of Practice: Bay Area Artists on Faith Ringgold

Flashback
On a day like today, Italian architect Andrea Palladio was born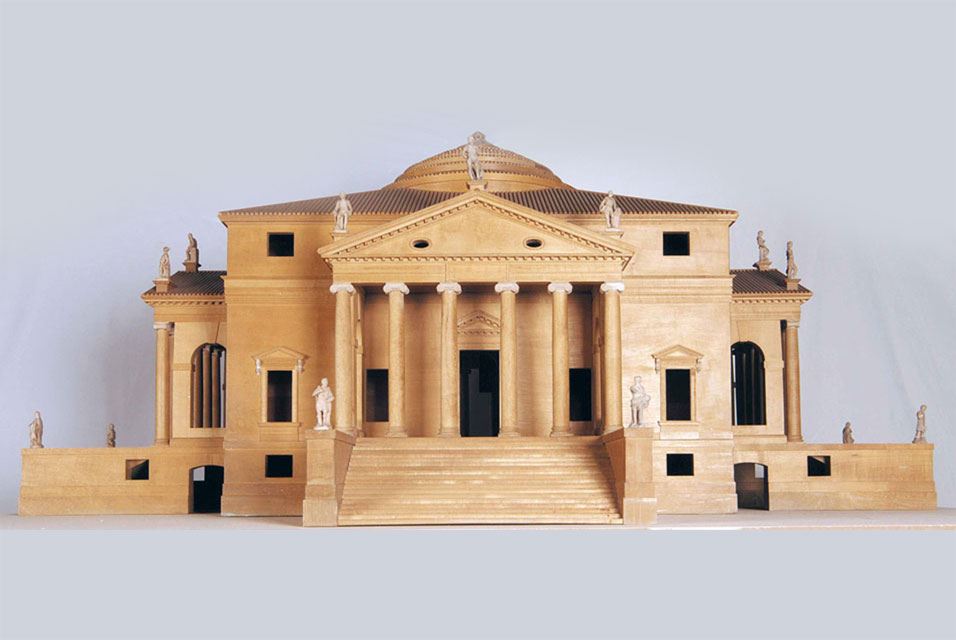 December 30, 1508. Andrea Palladio (30 November 1508 - 19 August 1580) was an Italian architect active in the Venetian Republic. Palladio, influenced by Roman and Greek architecture, primarily by Vitruvius, is widely considered to be one of the most influential individuals in the history of architecture. In this image: Model of the Villa Capra, known as the Villa Rotonda, 1970. Lime and beech wood with porcelain biscuit details, 65.5 x 140 x 140 cm. Centro Internazionale di Studi di Architettura Andrea Palladio, Vicenza. Photo: Alberto Carolo.
---

Museums, Exhibits, Artists, Milestones, Digital Art, Architecture, Photography,
Photographers, Special Photos, Special Reports, Featured Stories, Auctions, Art Fairs,
Anecdotes, Art Quiz, Education, Mythology, 3D Images, Last Week,

.
---
Royalville Communications, Inc
produces: