Documenta was a whole vibe. Then a scandal killed the buzz.
Two visitors skates inside a work called "Skate to Milk," by the Baan Norg Collaborative Arts and Culture, at the Documenta art festival in Kassel, Germany, on June 20, 2022. The latest edition of the prestigious international art exhibition Documenta, which takes place every five years, opened last Saturday and runs through mid-September. Felix Schmitt/The New York Times.

by Siddhartha Mitter
KASSEL
.-
No one knows just how big Documenta 15 is. The latest edition of the prestigious international art exhibition, which takes place every five years here, opened June 18 and runs through mid-September. It resists all the usual metrics. How many artists? Hard to say. Ruangrupa, the Indonesian collective that is this edition's artistic director, invited 67 core participants — mostly grouped in collectives themselves — from outside the commercial art world, mainly from the Global South. Each invited group was allocated a budget, which they have used to involve other artists and collectives, so now over 1,000 people are showing work or rotating through Kassel to hold talks, stage performances, tend gardens, share food or otherwise commune and create. The roster has evolved, amoebalike. How many artworks? Also elusive. It's not all intangible and temporary: There are paintings, sculptures, drawings and textile works. There is an abundance of excellent video and photo-based ...
More
The Best Photos of the Day
Hauser & Wirth opens an exhibition of critical late works by Alberto Giacometti & Pablo Picasso
The Richard Kan vase enters the Guimet Museum's collection
Tanya Bonakdar Gallery opens Fruiting Bodies, a group exhibition curated by Sam Rauch


Alberto Giacometti (1901 - 1966), Buste d'homme (Bust of a Man), 1957. Oil on canvas, 40.5 x 33 cm / 16 x 13 in. Courtesy of Sammlung Klewan. © Succession Alberto Giacometti / 2022, ProLitteris, Zurich.



ZURICH.- This June Hauser & Wirth Zurich, Bahnhofstrasse 1 presents 'Facing Infinity. Alberto Giacometti & Pablo Picasso', an exhibition of critical late works by two of the most important artists of the 20th Century. Bringing together a selection of masterpieces from international collections, this exhibition displays new insights into Picasso and Giacometti's questioning of existence, as well as their endless search for the relationship between figure and space. This is the second collaboration between Hauser & Wirth and internationally renowned curator and expert of modern and contemporary art Dr. Dieter Buchhart, who curated the exhibition 'Schwitters Miró Arp' at Hauser & Wirth in 2016. He states: ''Facing Infinity. Alberto Giacometti & Pablo Picasso' brings a focused insight into their dazzling last years, revealing fascinating connections and contrasts.' When Alberto Giacometti (1901-196 ... More



An exceptional mid-14th-century Chinese vase with blue and white decoration is entering the Guimet Museum's collection © RMN-Grand Palais (MNAAG, Paris) / Thierry Ollivier.



PARIS.- This piece, long held in the collections of a great French family, has been given, through a single donation, to the Guimet National Museum of Asian Arts (MNAAG: Musée national des arts asiatiques – Guimet) by the Hong Kong philanthropist and major collector of fine objects of art Richard Kan, thanks to the policy support from the Society of Friends of the Guimet Museum (Société des Amis du Musée Guimet). The quality of this large, richly decorated porcelain meiping vase, painted with cobalt pigment on a white background, leaves no doubt that it was produced as a top-quality piece. It can be attributed to the Yuan period (1279 -1368). However, during this period, the reignmarks of the emperors (who were of Mongol and therefore non-Chinese ethnicity) did not appear on porcelains, such as the 'Shufu' ware. This vase, which can be dated to the 1350s, is a fine ... More



Mat Collishaw, Gary Miller, 2011. Framed c-print, 31 x 24 x 2 1/8 inches; 79 x 61 x 5.5 cm (framed), 25 1/2 x 18 inches; 64.8 x 45.7 cm (unframed). Edition of 5; 1 AP. Courtesy of the artist and Tanya Bonakdar Gallery, New York / Los Angeles.



NEW YORK, NY.- Tanya Bonakdar Gallery is presenting Fruiting Bodies, a group exhibition curated by Sam Rauch, on view at the gallery in New York from June 23 - July 29, 2022. You are what you eat is an aphorism so often repeated, the power of its proposition hides in plain sight. Nevertheless, food is a powerful vehicle for storytelling, inextricably connected with the construction of personal and collective identity. In this exhibition, food functions as a medium and subject. Artists mine food's cultivation, exchange, consumption, and the social and cultural rituals that accrue to it, as a means to examine complex intersections of history, politics, language, psychology, and natural science. A uniquely embodied form of knowledge, food offers fertile ground for artistic and intellectual inquiry into the human and more-than-human realms. ... More
Steidl publishes 'Mitch Epstein: Recreation'
Dead roaches that ate Moon dust went up for auction. Then NASA objected.
The lessons of nothingness from maverick Zen monks


Mitch Epstein: Recreation. Edited by Susan Bell and Ryan Spencer. Book Design: Naomi Mizusaki, Supermarket 13.75 x 11 in. / 28 x 35 cm Four-color process Hardback / Clothbound US$ 85.00 / € 75.00 ISBN 978-3-96999-082-7 © Mitch Epstein.



NEW YORK, NY.- Between the 1970s and '90s, Mitch Epstein photographed the rituals of pleasure and undercurrent of alienation that defined late twentieth-century America. These pictures marked the beginning of his photographic inquiry into the American psyche and landscape that has now lasted half a century. Recreation captures the vitality of modern America in a pre-smartphone, less self-conscious time. In these early works, Epstein's wit reigns, along with his singular way of making the mundane startle and the extraordinary appear to perfectly fit in. This new edition expands on the original Recreation published by Steidl in 2005. More than a third of these photographs have never been published, and all of them have been re-worked with fidelity to the pictorial quality of the films of the era. "Epstein maps the freakishly mundane landscape of American leisure, from motel swimming ... More



The sale was halted after the space agency claimed it owned everything associated with a 1969 experiment that explored whether lunar soil was dangerous to terrestrial life.



NEW YORK, NY.- Unanswered questions fill the cosmos: Are there infinite universes? Why does anything exist? How much would one pay for moon dust digested by a cockroach? On that last mystery, humanity was close to an answer this month. Then, lawyers for NASA intervened. Three insects were put up for auction online — along with the moon dust they were fed as part of an experiment in 1969 to observe the effects of lunar material on terrestrial life. Bidding for the auction, billed as "a one-of-a-kind Apollo 11 rarity," began May 25 and had reached $40,000, said Bobby Livingston, an executive vice president at RR Auction, which specializes in selling historical and space memorabilia. The price was expected to go much higher at a live auction Thursday at a hotel in Cambridge, Massachusetts, but company officials canceled it after NASA claimed that the experiment belonged to the agency. In one letter, dated June 15, the agency ... More



An undated photo provided by Colleen Dugan shows the installation "Mind Over Matter: Zen in Medieval Japan" at the Freer Gallery of Art in Washington, featuring more than 50 objects from the gallery's rich collection of Zen art. Colleen Dugan via The New York Times.

by Jason Farago



NEW YORK, NY.- When the country heaves, when the stress levels spike, a little nothingness goes a long way. "Mind Over Matter: Zen in Medieval Japan," at the Freer Gallery of Art (an arm of the Smithsonian's National Museum of Asian Art), is a show of ravishing absence: a stark and beautiful exhibition where form is plunged into silence, and the ego dissolves into empty space. Large and majestic screens support landscapes almost impetuously spare. Kanji tumble down calligraphy scrolls. Cracked teacups become portals to a world of impermanence. It offers a fine introduction to Japanese (and some Chinese) painting from the 14th to 17th centuries, but there are other reasons you may find it worth your visit. Really, this is the exhibition for anyone in 2022 wishing that the anxious, ... More
Cummer Museum opens new exhibition: Buddha and Shiva, Lotus and Dragon
'Carmen Argote: Filtration System for a Process-based Practice' on view at MCASD Downtown
Hubert de Givenchy collectionneur: The Tribute Sale ends in success: $123.7 million


Made in Pakistan, Gandhara area. Head of Buddha, Kushan period, late 2nd–3rd century. Schistose phyllite. Asia Society, New York: Mr. and Mrs. John D. Rockefeller 3rd Collection, 1979.2 Courtesy American Federation of Arts.



JACKSONVILLE, FLA.- The newest exhibition at the Cummer Museum of Art & Gardens, Buddha and Shiva, Lotus and Dragon: Masterworks from the Mr. and Mrs. John D. Rockefeller 3rd Collection at Asia Society, opened on June 25, 2022. The exhibition will be on view to the public through September 18, 2022. This exhibition illuminates the cultures and history of Asia while serving as a window into the extraordinary diversity of Asian art. The Rockefellers believed that by building a collection of the highest quality for the public to enjoy, the collection—begun in the early 1960s--would serve as a means to develop an understanding of Asian cultures. ... More



Carmen Argote: Filtration System for a Process-based Practice installation view. Photo: Riyo Studio for MCASD.



SAN DIEGO, CA.- The Museum of Contemporary Art San Diego is presenting a solo exhibition by Los Angeles-based artist Carmen Argote (b. 1981, Guadalajara, MX), on the occasion of a major acquisition of her work. Known for her interdisciplinary practice––which begins with the process of searching, digesting, and conversing with the spaces and places she inhabits––Argote acknowledges herself and her process as part of a larger nexus of collective energies. Titled Carmen Argote: Filtration System for a Process-based Practice, the exhibition features six interwoven series that draw inspiration from Lincoln Park in East Los Angeles through sculpture, drawing, voice recordings, and the artist's perennial walking practice––the majority of which ... More



Alberto Giacometti (1901-1966), La Femme qui marche. Conçue en 1932-36, épreuve fondue en 1955. Sold for: $28,419,297. © Christie's Images Ltd 2022.



PARIS.- For 16 days, from 8 to 23 June 2022, Hubert de Givenchy's exceptional collection made le goût français and Paris shine throughout the world. This sale is a beautiful tribute to an exceptional collector who faithfully accompanied Christie's France for 25 years. With 1229 lots, 6 days of pre-sale exhibition, 10,000 visitors, 6 auctions, more than 30 hours of live auctioneering, conducted by 6 auctioneers, more than a million people connected on Christie's social networks for the opening sale on 14 June, this sale will be always remembered as a milestone, not only in Christie's history. • Worldwide participation: bidders from 48 countries and buyers from 34 countries • Geographical breakdown by buyers: 68% from EMEA, 27% AMERICAS and 5% APAC. ... More
Alchemy Gallery opens an exhibition of works by three dynamic painters
The Museum of Craft and Design opens the first mid-career survey of German artist Iris Eichenberg
Meriem Bennani's first-ever public sculpture opens on the High Line


Christina Allan, Blues Cruise, 2022.



NEW YORK, NY.- Alchemy Gallery is presenting the vibrant, introspective works of three dynamic painters: Heather Benjamin, Christina Allan and Kelly Shami. Titled Fem, this revelatory group exhibition showcases the three artists' distinct, yet complementary artistic styles: each canvas bearing its own unique, striking subject created with layers of paint and symbolism - bright, bold palettes of color that provide a visceral allure, while offering a glimpse into the various life experiences of each of these incredible artists. "Each of these artists have developed their own fierce and specific aesthetic that I think really challenges any traditional notion of what "female painters" have ever been," explains Alchemy Gallery's co-founder, Jess de la Hunty. "They are each determined, both in their artistic prowess and in the savviness with which they conduct their business; they are utterly dedicated to their practice ... More



Iris Eichenberg, Brooch No. 2 from the "New Rooms" series, 2008. Wood, copper, enamel, brass, embroidery, 5 x 3 x 1 inches (12.7 x 7.6 x 5 cm) Collection of Catherine Rose, Dallas, Texas. Photo courtesy of the artist.



SAN FRANCISCO, CA.- The Museum of Craft and Design is presenting Iris Eichenberg: Where Words Fail—the first mid-career survey of German artist Iris Eichenberg whose work addresses relevant issues such as identity, gender, and Heimat—a German word denoting the personal happiness and inner peace found upon reaching a safe haven. Where Words Fail is on view from June 25 to October 30, 2022. Having lived in Germany, the Netherlands, and now the United States, artist and educator Iris Eichenberg brings a critical international perspective to her jewelry and metalwork. Guest curated by Davira S. Taragin, Where Words Fail is divided into four themed sections: Place, Self, Place & Self, and Community, each pulling ... More



"Windy" by Meriem Bennani, co-commissioned by High Line Art and Audemars Piguet Contemporary. Image courtesy of the artist, High Line and Audemars Piguet.



NEW YORK, NY.- Artist Meriem Bennani's first public sculpture, Windy (2022), opened this week on the High Line, kicking off the summer season of High Line Art's program. Co-commissioned by High Line Art and Audemars Piguet Contemporary, Windy is installed on the High Line at 24th Street and will remain on view through May 2023. Bennani's project marks the first time High Line Art and Audemars Piguet Contemporary are co-curating and commissioning a public sculpture. The curators from High Line Art and Audemars Piguet Contemporary worked closely together with Bennani and the High Line Art's expert team of fabricators to bring this ambitious artwork to life. Windy presents a new direction for Bennani's practice. The artwork translates her command of film and animation into a kinetic 3-D ... More

ASL Performance | Justin Perez

Flashback
On a day like today, American painter Philip Guston was born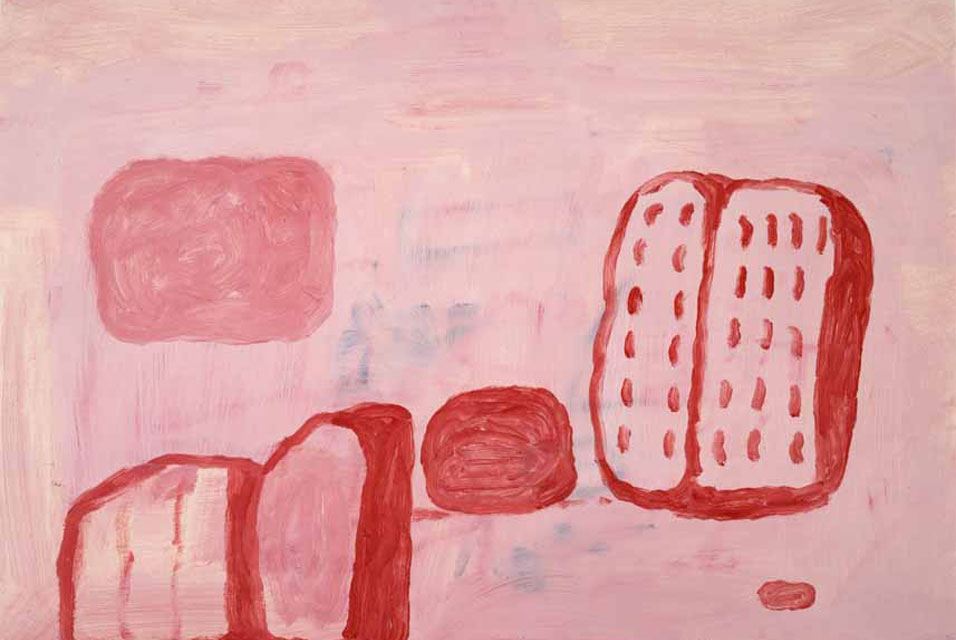 July 27, 1913. Philip Guston (born Phillip Goldstein (June 27, 1913 - June 7, 1980), was a painter and printmaker in the New York School, an art movement that included many abstract expressionists like Jackson Pollock and Willem de Kooning. In this image: Philip Guston, "Untitled", (book, ball and shoe), 1971. Oil on paper, 50.2 x 70.5 cm., 19 3/4 x 27 3/4 inches. (T004167) ©The Estate of Philip Guston. Courtesy: Timothy Taylor Gallery, London.
---

Museums, Exhibits, Artists, Milestones, Digital Art, Architecture, Photography,
Photographers, Special Photos, Special Reports, Featured Stories, Auctions, Art Fairs,
Anecdotes, Art Quiz, Education, Mythology, 3D Images, Last Week,

.
---
Royalville Communications, Inc
produces: