A rare appearance for 'Six Persimmons,' a 13th-century masterpiece
In a image provided by Asian Art Museum shows, "Six Persimmons" is displayed by itself in a gently lit gallery with off-white walls reminiscent of a Japanese temple at the Asian Art Museum. An 800-year-old ink painting, regarded as the "Zen Mona Lisa," has made a once-in-a-lifetime trip to the United States. (Asian Art Museum via The New York Times)

by Will Heinrich
SAN FRANCISCO, CA
.-
This may be your only chance to see "Six Persimmons." Painted with ink on paper in the 13th century, probably by a Chinese monk named Muqi, as part of a handscroll that also included "Chestnuts," it was acquired in the 1500s by a Japanese merchant; cut out of the scroll and mounted on sumptuous green-and-white fabric inlaid with golden peonies; and donated to Daitokuji Ryokoin Temple, the Zen Buddhist institution in Kyoto, Japan, that has been its guardian ever since, displaying it to the public only once a year for a single day. But in 2017, after visiting San Francisco to give a talk about the tea ceremony, Kobori Geppo, the abbot of Daitokuji, decided to share with the city the most significant treasure he had to offer. So "Six Persimmons" and "Chestnuts" crossed the Pacific Ocean to go on display at the Asian Art Museum here for exactly three weeks each, in a gently lit, dedicated gallery with off-white walls reminiscent of a Japanese temple. ...
More
The Best Photos of the Day
The National Gallery of Art acquires an important painting by Anne Vallayer-Coster
Hindman gives the baseball season a curtain call with the auction of an incredible collection of signed baseballs
Larry Zox has third solo exhibition at Berry Campbell comprised of works on paper from 1963 to 1969


Anne Vallayer-Coster, Still Life with Flowers in an Alabaster Vase and Fruit, 1783. Oil on canvas (unlined), overall: 108.5 x 89.5 cm (42 11/16 x 35 1/4 in.) National Gallery of Art, Washington. Chester Dale Fund 2023.40.1



WASHINGTON, DC.- The National Gallery of Art has acquired an important painting by Anne Vallayer-Coster (1744–1818), Still Life with Flowers in an Alabaster Vase and Fruit (1783). One of the greatest still life painters of 18th-century France, Vallayer-Coster achieved remarkable success in the male-dominated art world of her time. She not only attracted the patronage of some of the most powerful collectors of the time, including Marie Antoinette, but she also became one of the few women to be admitted to the prestigious Royal Academy of Painting and Sculpture and to show her work at its official public exhibition, the Salon. Still Life with Flowers in an Alabaster Vase and Fruit is the first painting by Vallayer-Coster to enter the National Gallery's collection. Despite the limited access ... More



A 1934 New York Yankees Team Signed Autograph Baseball, Including Babe Ruth,Lou Gehrig, Earle Combs, Tony Lazzeri, Bill Dickey, Lefty Gomez, and Red Ruffing. Opening Bid: $3,000



CHICAGO, IL.- The 2023 Major League Baseball season may be over, but Hindman isn't done celebrating the National Pastime just yet. Hindman is excited to present a single owner collection of signed baseballs in its Having a Ball auction, biddable now through November 29. "This is one of the most thorough and exciting collections we have presented at auction," said James Smith, Hindman's Director of Sports Memorabilia. "The passion it took from this private collector to assemble this remarkable collection will undoubtedly make this auction a Fall Classic in its own right and is a must for baseball enthusiasts and sports fans." Featuring over 571 lots, the auction features balls signed by legends of the game like Babe Ruth, Lou Gehrig, Ty Cobb, Roberto Clemente, and Jackie Robinson along with hard-to-find team signed ... More



Larry Zox in his New York studio, c. 1969.



NEW YORK, NY.- Berry Campbell is opening its third solo exhibition of works by the important Color Field painter, Larry Zox (1937-2006). The exhibition is accompanied by a 20-page catalogue with an essay by Patricia L Lewy, Ph.D., director of the Friedel Dzubas estate and author of the Friedel Dzubas catalogue raisonné. Gemini, is comprised of 20 paintings and works on paper from 1963 to 1969 and is on view November 22 – December 22, 2023. Zox, along with Frank Stella and Kenneth Noland, played a central role in the Color Field movement and helped to define geometric abstract painting in the 1960s. Zox uses the framework of hard-edged painting as a starting point. The recurring motif in Zox's Gemini series, a flattened four-pointed star, serves as a visual tool for contemplating color relationships and tensions. With an expert understanding of color and their relationships to each other, this star motif can shift from dynamic and ... More
Hake's season finale hits $2.4M, with elusive collectibles setting record prices at their auction debuts
Over 235 trains and accessories go up for bid on Sunday, December 3
Brooklyn Museum expands its collections with more than 300 acquisitions


1856 Fremont & Dayton Club Spencerian-style hand-painted folk art parade banner promoting ultimately unsuccessful Republican presidential/VP candidates. Hand-inked by artist F W Wells onto two vertical sections of unglazed cotton joined at center. Attached to horizontal wooden pole with 31 handmade square nails. Sold for $15,851.



YORK, PA.- Hake's wrapped the year with a $2.4 million auction that traversed the pop-culture panorama, from 19th-century political memorabilia to modern-era toys and original comic book art. The November 14-15 sale defied a collectibles market that had leveled after a prolonged upward run, knocking down excellent prices in an increasingly competitive landscape. Hake's president, Alex Winter, observed: "With all that is going on in the world, the state of the economy and prices on many collectibles coming down from the dramatic increases of the past two years, none of that had much of an effect on this auction. Countless record prices were paid across the many different categories of collectibles we handle. The sale was a real testament to how strong the hobby can be ... More



Lot 52: Lionel Standard Gauge 392E Loco & Tender with 424 and 426 Passenger Cars. Estimate $500-$1,000.



SAN FRANCISCO, CA.- Turner Auctions + Appraisals is pleased to present The Armond Conti Collection of Model Trains, Part 4, on Sunday, December 3, 2023, at 10:30 am PST. Offering over 235 lots from the estate of a Northern Californian who collected trains for over 75 years, the auction features mostly post-war and modern-era train offerings – some new old stock, some unused, and many in their original boxes. These include locomotives, tenders, cabooses, numerous sets and groupings; a diverse array of train cars, including freight, box, reefers, stock, hoppers, passenger, sleeper, diner, gang, mail, beer, pullman, sleeper, and flat cars; water tenders; TTOS, TCA and LCCA club cars; and more. There are also accessories and train and controller parts on offer. Many lots are Lionel model trains; other manufacturers in the sale are K-Line, MTH, Atlas, Williams, 3rd Rail, Rail King, Weaver, Pecos River, Crown Model, and Peterson Supply. Almo ... More



Golden Gate, Yellowstone (1889), by Grafton Tyler Brown, Gift of Charlynn and Warren Goins.



BROOKLYN, NY.- Highlights include works by 2023 MacArthur Fellows María Magdalena Campos-Pons and Dyani White Hawk, contemporary work by Rashid Johnson, historical calligraphic pieces by Korean scholars, decorative arts from the Wedgwood x Sheila Bridges collaboration, and other exciting additions that strengthen the Museum's Asian, African, and feminist collections. The Brooklyn Museum has made more than 300 noteworthy acquisitions this year, adding to our historic collections representing 5,500 years of human creative excellence. Notably, the American holdings have continued to broaden to represent the diversity of the United States, creating more space for Black and Asian American artists such as Laura Wheeler Waring, Grafton Tyler Brown, and Hisako Hibi. These additions will be unveiled in the Museum's reinstalled American Art galleries, slated to open in late 2024. Furthermore, the Museum has strengthened its Contemporary Art ... More
CUE Art Foundation now showing solo exhibition by Ling-lin Ku
Never-before-seen artwork by artist Natalie Ball at the Whitney
BMA debuts Raúl de Nieves: and 'imagine you are here' Meyerhoff-Becker Biennial Commission


Portrait of Ling-lin Ku, 2023. Photo by Ryan Crowley. Insight Outsight by Ling-lin Ku with mentorship from Agnieszka Kurant. Exhibition essay by Constanza Salazar, mentored by Carson Chan. Graphic design by Olivia Norris. Presented by CUE Art Foundation, 2023.



NEW YORK, NY.- CUE Art Foundation presents Insight Outsight, a solo exhibition by Ling-lin Ku with mentorship from Agnieszka Kurant. The exhibition, now on view at CUE's gallery space will remain on view until December 22, 2023. Insight Outsight is a solo exhibition by Pittsburgh-based artist Ling-lin Ku, with mentorship from Agnieszka Kurant. The exhibition playfully interrogates relationships between natural, built, and digital environments through the lens of insects. Ku's sculpture and installation works utilize digital fabrication to generate a world that leaps between macro and micro scales, questioning familiar dichotomies between animal and human, ecology and technology, and the metaphorical and the physical. Insight Outsight presents a playground of discovery, exploring the tensions and collaborations inherent in our turbulent digital age. The ... More



Natalie Ball, Burden Basket, 2023. Elk rawhide, cotton, newspaper, wood, leather, plastic beads, willow branches, artificial hair, aluminum foil, chalk, metal clamps, rope, makeup, and graphite, 80 × 60 × 24in. (203.2 × 152.4 × 61 cm). Collection of the artist. Photo by Audrey Wang.



NEW YORK, NY.- Natalie Ball: bilwi naats Ga'niipci opened at the Whitney Museum of American Art, November 17, 2023, is the first New York solo exhibition for boundary-breaking artist and community leader Natalie Ball. The exhibition presents a group of never-before-seen sculptural assemblages that deepen and destabilize understandings of Indigenous life in the United States. Ball, who is Black, Modoc, and Klamath, lives and works in her ancestral homelands in Southern Oregon and Northern California, where, in addition to creating artworks, she serves as an elected official on the Klamath Tribes Tribal Council. Her artwork draws from various sources, including found, hunted, purchased, and gifted objects. Ball explores how the lives and meanings of materials interconnect with her sense of self. Through the layering of quilt ... More



Installation view of Raúl de Nieves: and imagine you are here at the Baltimore Museum of Art, November 2023. Photo by Mitro Hood.



BALTIMORE, MD.- On November 19, the Baltimore Museum of Art debuted Raúl de Nieves: and imagine you are here, an exuberant installation by the Mexican-American multimedia artist, performer, and musician that celebrates the beauty, wonder, and power of the natural world. Created especially for the BMA's East Lobby—a primary entrance and gathering space—as part of the museum's second Robert E. Meyerhoff and Rheda Becker Biennial Commission, and imagine you are here reflects de Nieves' interest in connecting with audiences through universally accessible themes and inspirations. At the heart of the installation are de Nieves' large-scale, kaleidoscopic faux stained-glass window and flamboyant hybrid figures that capture many aspects of metamorphosis in the natural world from form to gender. The fantastical works bathe the two-level lobby in brilliant color and light and invite visitor engagement through their distinct materi ... More
Fancy intense orangy-pink diamond leads Moran's Fine Jewelry and Watches sale
PAI's $1.6M sale is led by seldom-seen lithographs; Rare Posters Auction XCI on November 12
Fine porcelain and Hermés bag lead the November gallery auction


A Fancy Intense Orangy Pink Diamond Ring. Set with a marquise-shaped fancy intense orangy pink diamond weighing 5.43 carats. Accompanied by GIA report number 2185225177 stating that the marquise-shaped diamond is Fancy Intense Orangy Pink, Natural Color, I1 Clarity



LOS ANGELES, CA.- With the holidays quickly approaching, John Moran Auctioneers has just what you need for this gift-giving season! On Tuesday, December 5th, 2023, at 12 pm PDT, Moran's will present their final Jewelry & Watches sale of the year—filled with 225 lots of stunning jewelry and an impressive selection of watches! For fine jewelry, the offerings will include fine gemstones, specifically a wide array of diamonds, emeralds, aquamarine, rubies, amethyst, peridot, citrine, and blue and pink sapphire, and feature designers such as Bulgari, Cartier, Poiray, Seaman Schepps, Tiffany & Co., Van Cleef & Arpels, Verdura, and more. Collectors are sure to take notice of the spectacular collection of watches, including ... More



Broders:Roger Broders, La Plage de Calvi. Corse. 1928. ($13,750)



NEW YORK,NY.- Poster Auctions International's (PAI) third sale of the year, on November 12, finished at $1,650,500. Rare Posters Auction XCI proved bidders' vested commitment to bolstering their collections. The cool November morning began with a flurry of interest from a small crowd of interested buyers in the gallery. "It is always my great pleasure to see collectors at the gallery," Jack Rennert, President of PAI, mused. "This auction welcomed both regular clients and several new faces. For me, there is no better feeling than watching someone fall in love with a poster—and clients at this sale certainly demonstrated passion for the medium." The sale started off strong with a small but choice selection of Winter Images. Roger Broders' 1930 Les Sports d'Hiver / St. Pierre de Chartreuse sold for $9,375 (est. $7,000-$9,000) and Martin Peikert's MOB swiftly surpassed its estimate of $2,000-$2,500 for a win ... More



Hermès Kelly Bag in Black Clemence Leather.



ALAMEDA, CA.- Michaan's Auctions November Gallery Auction, held on Friday, November 17th realized a strong sell-through rate as Michaan's Auctions orchestrated another successful sale for its cosigners. The sale was headlined by a collection of Twelve Lamm Porcelain Cabinet Footed Cups and Saucers, which sold for $11,070, and Eight Dresden Porcelain Portrait Plates Including Wagner selling for $9,840. A beautiful Hermès Kelly Bag in Black Clemence Leather reached $7,995. In the Asian Art Department, a Set of Nine Chinese Export Canton Rose Medallion Figural Porcelain Dishes inspired intense bidding which brought the items total to $5,842.50. Mary Deneale Morgan's "Springtime Carmel Valley, Budding Oaks" reached $5,842.50, and Ira Yeager's, "Fox in Floral Garland" achieved $5,535. The jewelry department had another strong showing with a Men's Diamond, 14k Yellow Gold Ring reaching $5,227.50, while an Antique 14k ... More

Introducing NBA Auctions at Sotheby's: The Official Game-Worn Source of the NBA

Flashback
On a day like today, Mexican painter and illustrator Miguel Covarrubias was born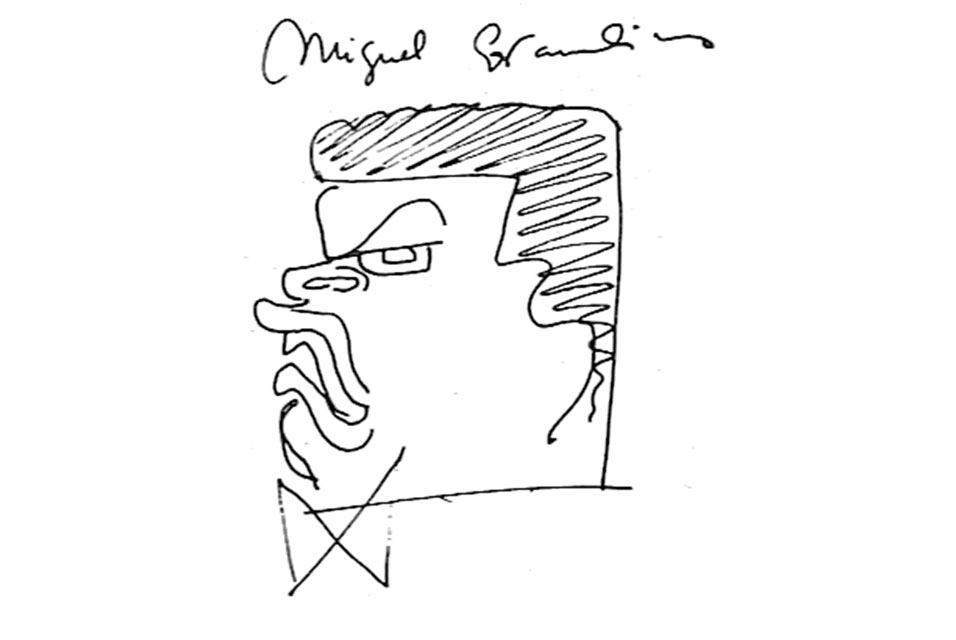 November 22, 1904. Miguel Covarrubias also known as José Miguel Covarrubias Duclaud (22 November 1904 - 4 February 1957) was a Mexican painter, caricaturist, illustrator, ethnologist and art historian. Miguel's artwork and celebrity caricatures have been featured in The New Yorker and Vanity Fair magazines. In this image: Covarrubias's caricature of himself as an Olmec.
---

Museums, Exhibits, Artists, Milestones, Digital Art, Architecture, Photography,
Photographers, Special Photos, Special Reports, Featured Stories, Auctions, Art Fairs,
Anecdotes, Art Quiz, Education, Mythology, 3D Images, Last Week,

.
---
Royalville Communications, Inc
produces: