Lark Mason Associates presents Spring Asian Art Sale
A pair of Chinese Cloisonné Ewers, Qianlong Mark, Qing Dynasty / Republic Period (Estimate: $30,000-50,000).
NEW YORK, NY
.-
Lark Mason Associates is pleased to present its Spring sale of Asian, Ancient, Ethnographic Works of Art which is now open for bidding on
http://www.igavelauctions.com/
through April 29th. "With 480 lots from multiple sellers nationwide, this two-session sale offers an impressive array of important and rare Asian works of art from ancient to the twentieth century and will appeal to a wide range of collectors and Asian art enthusiasts," says Lark Mason, who notes a pair of Chinese Cloisonné Ewers, Qianlong Mark, Qing Dynasty / Republic Period (Estimate: $30,000-50,000). According to Mason, the ewers were purchased in Tokyo after World War II by an American general who was stationed there through the 1950's. Their shape is rare and though most cloisonné forms were developed from Chinese archaic ritual bronzes, this form is rooted in Tibetan Buddhist ritual implements. "This example may have been used in a temple, but it also ...
More
The Best Photos of the Day
$69 million digital art buyer shines light on 'NFT' boom
'What would I do?' Frank Gehry, 92, is too busy to retire
Sotheby's to offer $25 million Paul Cézanne still life in Impressionist & Modern Art Evening Sale


This picture taken on April 7, 2021 shows blockchain entrepreneur Vignesh Sundaresan, also known by his pseudonym MetaKovan, as he gestures to a virtual avatar of himself in his home in Singapore. Roslan RAHMAN / AFP.

by Catherine Lai



SINGAPORE (AFP).- The blockchain entrepreneur who paid a record $69.3 million for a digital artwork looks, at first glance, nothing like a wealthy collector. The 32-year-old is casually dressed in a t-shirt and chinos, lives in a regular Singapore apartment, and does not own any property or a car -- with most of his investments in the virtual world. "My prize possession would be my computer. And maybe my watch," Indian-born Vignesh Sundaresan, also known by his pseudonym MetaKovan, told AFP from his sparsely decorated flat. His unpretentious demeanour offers no clue that he is a multimillionaire investor financing a fund focused on "non-fungible tokens" (NFTs), which use blockchain technology to turn anything from art to internet memes into ... More



Frank Gehry at his architecture studio in Los Angeles, April 6, 2021. Erik Carter/The New York Times.

by Robin Pogrebin



NEW YORK (NYT NEWS SERVICE).- It was midafternoon on a Monday and Pritzker Prize-winning architect Frank Gehry — despite having just turned 92 in a pandemic, completed the top floor of his building in the Grand Avenue development, and prepared for a show of new sculpture at the Gagosian Gallery — had little interest in sitting back to reflect on this potentially meaningful moment in his life and career. Instead, he was on the move — giving his first studio tour since the COVID-19 outbreak, far more eager to discuss the myriad designs he has underway, most of which have been proceeding. (Only a high-rise in Manhattan's Hudson Yards stalled, and his office laid off eight of 170 employees as a result.) Projects include LA's version of New York's High Line, along the Los Angeles River; new office buildings for Warner Bros. in Burbank; and the scenic design ... More



Paul Cézanne's Nature morte: pommes et poires (detail). Estimate $25/35 Million. Courtesy Sotheby's.



NEW YORK, NY.- From an exceptional and distinguished private collection, Sotheby's Impressionist & Modern Art Evening Sale this May will be highlighted by masterworks from the defining Impressionist and Post-Impressionist French artists whose indelible bodies of work and artistic legacies shaped the course of Modern art history like no others: Paul Cézanne, Edgar Degas, and Claude Monet. Cézanne's Nature morte: pommes et poires (estimate $25/35 million) leads this outstanding group of four works. A poignant encapsulation of the artist's greatest achievements, the dazzling canvas is an extremely rare example of the artist's quintessential still lifes of this caliber remaining in private hands. With an illustrious provenance dating to epoque-defining dealer Ambroise Vollard, the painting stands unparalleled in today's market. The collection is also highlighted by one of the most harmonious and delicately rendered works of Edgar Degas's singular ballerinas, ... More
Denise Gardner elected Art Institute of Chicago Board of Trustees Chair
A push to move the golf course that sits atop a Native American 'Stonehenge'
NFTs are selling for millions. Are they warming the planet, too?


Lori Sapio. Denise Gardner, 2021. Courtesy of the Art Institute of Chicago.



CHICAGO, IL.- The Art Institute of Chicago announced today the election of Denise Gardner as the organization's new chairperson of the Board of Trustees. Gardner will succeed Robert M. Levy as the leader of the governing body of both the School of the Art Institute of Chicago (SAIC) and the Art Institute of Chicago museum. Levy will remain on the board and Gardner will take over as chair when Levy's term ends in November. "As we looked for a chair who could fit our needs in the coming years, Denise emerged as the clear leader," said Art Institute of Chicago trustee Tom Pritzker, who led the nominating committee for the board. "Her vision for the Art Institute reflects our commitment to an inclusive understanding of human creativity." With her professional background and a nearly 30-year relationship with the Art Institute as a volunteer and philanthropic leader, including 15 years as a trustee and five years in her curr ... More



The public viewing platform near the parking area, which provides a partial view of the ancient Native American mounds, at Moundbuilders Country Club in Newark, Ohio, April 5, 2021. Andrew Spear/The New York Times.

by Sarah Bahr



NEWARK, OH (NYT NEWS SERVICE).- The third hole here at the Moundbuilders Country Club is a tricky par 4: The green is protected by a 6-foot-high mound that almost completely encircles the hole and requires a deft chip to clear if your approach goes awry. "It's a blind shot," said Randol Mitchell, the club's head golf professional, after driving his ball a good chunk of the hole's 435 yards. "You have to watch out for those mounds." The topography of the course is built around the mounds, which were prescribed by the cosmology of the Native Americans who created them approximately 2,000 years ago as a way to measure the movement of the sun and the moon through the heavens. ... More



Beeple, Everydays – The First 5000 Days, NFT, 21,069 pixels x 21,069 pixels (316,939,910 bytes). Estimate Unknown. Starting Bid: $100 | Open for bidding from February 25 - March 11. © Christie's Images Ltd 2021.

by Hiroko Tabuchi



NEW YORK (NYT NEWS SERVICE).- When Chris Precht, an Austrian architect and artist, first learned about nonfungible tokens, the digital collectibles taking the art world by storm, he was so enthralled, he said, he "felt like a little kid again." So Precht, who is known for his work on ecological architecture, was devastated to learn that the artworks, known as NFTs, have an environmental footprint as mind-boggling as the gold-rush frenzy they've whipped up. "The numbers are just crushing," he said from his studio in Pfarrwerfen, Austria, announcing that he was canceling his plans, one of a growing number of artists who are swearing off NFTs, despite the sky-high sums some have fetched at auctions. "As much as it hurts financially and mentally, ... More
Cambodians demand apology for Khmer Rouge images with smiling faces
Off the Wall: Basquiat to Banksy exhibition is now open at Christie's King Street
Exhibition at Hauser & Wirth's Book & Printed Matter Lab spotlights works by Richard Jackson


Photographs of victims of the Khmer Rouge at the Tuol Sleng Genocide Museum in Phnom Penh, Cambodia, on Nov. 15, 2018. Adam Dean/The New York Times.

by Seth Mydans



NEW YORK (NYT NEWS SERVICE).- Hundreds of stark black-and-white portraits of terrified people are displayed on large panels in Tuol Sleng, the former Cambodian prison that is now a museum. The portraits stand as a visual symbol of crimes against humanity: The subjects were photographed before they were tortured and put to death under the Khmer Rouge, the fanatical communist regime that, from 1975 to 1979, caused the deaths of at least 1.7 million Cambodians. Matt Loughrey, an Irish artist who runs a business colorizing old photographs, recently colorized versions of the same portraits found in the prison. In some cases, he altered the images to put smiles on the victims' faces. In an interview with Loughrey published Friday, Vice Media said ... More



Banksy, Subject to availability, 2009-10 (detail), estimate: £3,000,000-5,000,000.



LONDON.- 'Off the Wall: Basquiat to Banksy' showcases the contemporary explosion of street art and graffiti, charting a course through post-punk New York, millennial Britain and beyond. The exhibition also includes a major highlight from the June Sale Season, Banksy's Subject to availability, an important work from his series of vandalised oil paintings. 'Off the Wall: Basquiat to Banksy' is being presented at Christie's Headquarters in London until 7 May 2021, with an accompanying online component running concurrently. From the illicit and illegitimate to the painterly and political, it celebrates the negotiation between street and studio over nearly half a century. In 1981, Jean-Michel Basquiat became one of the first graffiti artists to conquer the gallery world, shedding his pseudonym 'SAMO©' and infusing his paintings and drawings with raw, urban energy. Alongside him emerged ... More



Richard Jackson in front of 'Big Ideas (1000 Pictures),' Rosamund Felsen Gallery, Los Angeles CA, 1980. Courtesy the artist and Hauser & Wirth.



LOS ANGELES, CA.- Hauser & Wirth's Book & Printed Matter Lab is spotlighting multidisciplinary Californian artist Richard Jackson and his career-long fascination with the larger possibilities of artmaking and its extension to books with an intimate presentation – 'Richard Jackson: Works with Books' – organized by Dagny Janss Corcoran, renowned Los Angeles art bookseller and a longtime friend of Jackson's. Celebrating the artist's career-spanning monograph published in 2020 by Hauser & Wirth Publishers – a critical biography of Jackson, authored by art historian John C. Welchman and featuring an in-depth illustrated chronology by Corcoran – the presentation features Jackson's artist's books, a new artwork, a film, and supporting archival material, displaying his preoccupation with the ambiguous requirements ... More
Galerie Barbara Thumm welcomes El Hadji Sy to the gallery program
The Los Angeles County Museum of Art and Snap Inc. launch LACMA x Snapchat: Monumental Perspectives
Victoria Miro reopens with an exhibition of new works by Idris Khan


El Hadji Sy. Photo: Clémentine Delis.



BERLIN.- Galerie Barbara Thumm welcomes El Hadji Sy to the gallery program. 

The gallery is planning a solo show in the fall of 2021. Recent works by El Hadji Sy will be featured as part of "DELIRIUM", curated by Clémentine Deliss for NEW VIEWINGS at Galerie Barbara Thumm. El Hadji Sy (also known as El Sy) was born 1954 in Dakar where he lives and works. As a painter, performer, curator and activist, Sy has shaped Senegalese art and culture significantly for several decades. Sy studied at the École Nationale des Beaux-Arts in Dakar from 1973-1977. He belongs to the second generation of Senegalese artists who came after the renowned École de Dakar. In defiance of Léopold Sédar Senghor's cultural régime, Sy painted with his feet for 10 years, refusing to be part of received art historical canons. At the same time, he organized the takeover of a disused colonial military building in the centre of Dakar. The space became the head ... More



Artists and technologists collaborate to create five new augmented reality monuments exploring history and representation across Los Angeles.




LOS ANGELES, CA.- The Los Angeles County Museum of Art, in collaboration with Snap Inc., today introduces the first collection of LACMA × Snapchat: Monumental Perspectives projects. This multi-year initiative brings together local artists and technologists to create virtual monuments that explore just some of the histories of Los Angeles communities in an effort to highlight perspectives from across the region. These augmented reality monuments were built using Snapchat's technology and are available to experience starting today. The five virtual monuments and murals include Mercedes Dorame's immersive portal between past, present, and future worlds for Indigenous presence in contemporary Tovaangar (Los Angeles), I.R. Bach's animations ... More



Idris Khan, The Seasons Turn – Autumn 5, 2021. Watercolour, oil, paper on aluminium, 45.5 x 55 cm © Idris Khan. Courtesy the artist and Victoria Miro.



LONDON.- Victoria Miro is presenting an exhibition of new works by Idris Khan. Conceived of as two distinct installations, each a reflection on aspects of the past year, The Seasons Turn includes a suite of 28 watercolour and oil collaged works on paper that incorporate fragments of the score of Vivaldi's The Four Seasons, and an environment of enveloping blue paintings whose rich bands of colour are layered with the artist's thoughts, feelings and responses to 2020. Music in its written and played forms has long been a source of inspiration for Khan who, in two- and three-dimensional works and film, has reimagined the work of composers including Beethoven, Chopin, Schubert and Bach. In these new works Khan returns to Vivaldi's baroque masterpiece The Four Seasons, using fragments ... More

Inspirational Living: How Popular Culture Has Redefined Luxury in China

Flashback
On a day like today, French photographer Robert Doisneau was born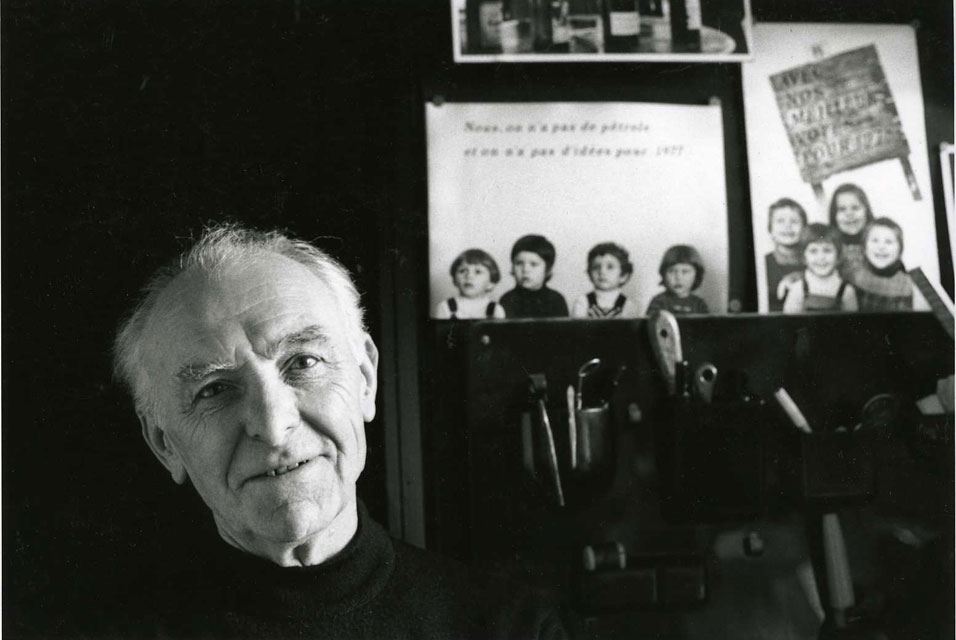 April 14, 1912. Robert Doisneau (14 April 1912 - 1 April 1994) was a French photographer. In the 1930s he made photographs on the streets of Paris. He was a champion of humanist photography and with Henri Cartier-Bresson a pioneer of photojournalism. In this image: French photographer Robert Doisneau photographed by Bracha L. Ettinger in his studio in Montrouge, 1992. Photo © Bracha L. Ettinger.
---

Museums, Exhibits, Artists, Milestones, Digital Art, Architecture, Photography,
Photographers, Special Photos, Special Reports, Featured Stories, Auctions, Art Fairs,
Anecdotes, Art Quiz, Education, Mythology, 3D Images, Last Week,

.
---
Royalville Communications, Inc
produces: