Damien Hirst and the art of the deal
Portraits of the artist Damien Hirst in London, Dec. 13, 2021. He might be Britain's richest artist, but with each attempt to monetize his talent, Hirst's originality as a conceptual sculptor becomes an ever more distant memory. Kalpesh Lathigra/The New York Times.

by Scott Reyburn
LONDON
.-
"He's a talented artist, but this? Really?" said Alan Baldwin, an art collector, looking down recently at a fluffy black sculpture of a spider with bow legs and googly eyes. Back in 1992, three years before winning the prestigious Turner Prize, its creator had astounded the art world by displaying a real 14-foot tiger shark embalmed in a tank of formaldehyde. "Damien's having a laugh," added Baldwin. "He's wasting his talent." Baldwin and his wife, Antonietta Quattrone, didn't think much of Damien Hirst's pre-Christmas exhibition of 16 "Pipe Cleaner Animals." Billed by the artist as "big and fun and playful" and on display in the new ArtSpace gallery at Claridge's hotel in central London, some cost up to $350,000. But they were much more enthused when they collected the purchase that had brought them there: "You ain't there to hide," number ...
More
The Best Photos of the Day
Thierry Mugler, genre-busting French fashion designer, dies at 73
Strikingly beautiful still life worth more than £6 million at risk of leaving UK
Nino Cerruti, designer who revolutionized menswear, dies at 91


Designs by French fashion designer Thierry Mugler are on display during his exhibition "Couturissime" at the Montreal Museum of Fine Arts, on February 26, 2019.

by Jacob Bernstein



NEW YORK, NY.- Thierry Mugler, the outrageous, genre-busting designer who dominated European runways in the late 1980s and early 1990s, died Sunday. He was 73. His death was announced on his brand's official Instagram. "#RIP," it said. "We are devastated to announce the passing of Mr. Manfred Thierry Mugler on Sunday January 23rd 2022. May his soul Rest In Peace." Reached Sunday evening, two of his close friends confirmed his death, but declined to be interviewed, both saying they were too upset. No cause of death was given. Mugler was one of the principle architects of a late '80s aesthetic that married S&M and high fashion. His silhouette was a kind of inverse triangle with giant shoulders and a nipped waist. He loved latex, leather and curves. His early muses included Grace Jones and Joey Arias. He had a long- ... More



Banquet Still Life by Jan Davidsz. de Heem, which is valued at £6,109,200, is at risk of leaving the country unless a UK buyer can be found.



LONDON.- Banquet Still Life by Jan Davidsz. de Heem, which is valued at £6,109,200, is at risk of leaving the country unless a UK buyer can be found. One of the most important still life painters in the 17th century, de Heem was typically known for smaller paintings, making this monumental work incredibly rare within his body of work and one of just four he completed of this size, all done between 1640 and 1643. It is a beautiful and impressive example of Dutch ornate still life painting known as 'pronkstilleven', and shows de Heem excelled in the depiction of forms and textures. Arts Minister Lord Parkinson of Whitley Bay said: This captivating painting is magnificent not just in size but also in its exquisite detail. De Heem's enormous talent is evident in this rare piece and I hope a buyer comes forward so it may be enjoyed and appreciated by viewers in the UK for many years to come. The Minister's decision follows the advice of the Reviewing Committee on the Export of Wo ... More



Nino Cerruti at the "Il Signor Nino" exhibition in the Museo Marino Marini in Florence, Italy, June 16, 2015. Chris Warde-Jones/The New York Times.

by Penelope Green



NEW YORK, NY.- Nino Cerruti, the dashing Italian fashion designer and textile scion who modernized menswear with his soft, unstructured tailoring and dressed generations of movie and television stars on screen and off, died Jan. 15 in Vercelli, Italy. He was 91. His death, in a hospital, resulted from complications of hip surgery, according to Italian newspaper Corriere della Sera. It was 1950, and Cerruti was just 20, when his father died, and Cerruti took over his family's textile mills in Biella, in the Piedmont region of Northern Italy, giving up his university studies in philosophy and journalism. Within a few years he had reimagined the family business as a fashion company. Cerruti was "the founding father of the postwar designer revolution," Suzy Menkes, fashion critic of The International Herald Tribune, wrote in 2001, adding that he had presaged "the Made in Italy ... More
Exhibition focuses on the enormous output and cultural significance of Toni Morrison
Maureen Paley presents a new exhibition by Erik van Lieshout
Syd Carpenter honors the legacy of African horticulture in new solo exhibition at Rowan University Art Gallery


Beverly Buchanan, For Mallory, 1995 © The Beverly Buchanan Estate and Andrew Edlin Gallery, New York.



NEW YORK, NY.- David Zwirner is presenting a group exhibition curated by the Pulitzer Prize–winning author, critic, and curator Hilton Als. On view at the gallery's West 19th Street spaces, the exhibition focuses on the enormous output and cultural significance of Toni Morrison (1931–2019), and, as Als notes, "will add visual components that italicize the beauty and audacity of her work." Included are selected archival materials as well as work by artists Garrett Bradley, Beverly Buchanan, Robert Gober, Gwen Knight, Kerry James Marshall, Julie Mehretu, Irving Penn, Walter Price, Martin Puryear, Amy Sillman, Bob Thompson, and James Van Der Zee, among others, some of which have been commissioned for the exhibition and were made in direct response to Morrison's writings. Novelist, educator, and editor Toni Morrison's reach across contemporary American letters is profound in its range, concerns, ... More



Erik van Lieshout, Untitled, 2021. Vinyl and oil paint on canvas, 40 ◊ 34 cm.



LONDON.- Maureen Paley is presenting a new exhibition by Erik van Lieshout that is being presented across the gallery's two London spaces. The exhibition focuses on the artist's latest film Renť DaniŽls (2021) and related paintings and works on paper. This project is also the focus of Van Lieshout's current solo exhibition at De Pont Museum of Contemporary Art in The Netherlands that runs until 13 February 2022. Renť DaniŽls (b. Eindhoven, 1950) is one of the most renowned Dutch painters of the late twentieth century. In 1987 his career was abruptly interrupted by a stroke from which he has never entirely recovered. His teenage girlfriend Marleen Gijsen, then married and living in Eindhoven, began to take care of him and has done so until this day. After twenty years DaniŽls has begun to paint again, this time on a small scale, first repeating themes from his older paintings and gradually introducing new ... More



Syd Carpenter, Indiana Hutson, 2021, 11 x 24 x 23 inches, Stoneware. Image courtesy of the artist.



GLASSBORO, NJ.- Rowan University Art Gallery is presenting Earth Offerings: Honoring the Gardeners, a new solo exhibition of Syd Carpenter's ceramic sculptures. The exhibition debuts January 24, 2022, with an opening reception and artist talk on February 3, from 5-7 pm. Through her work, Syd Carpenter identifies and honors the legacy of African American farmers and gardeners. In her new series Farm Bowls, each sculpture draws inspiration from architectural and organic forms Carpenter observed on African American farms visited during a road trip through southern states. As she explains, "in creating the farm bowl series, I considered what is evocative about the shape of a bowl and how I could use this shape as an emblem for African Americans on the land. The handmade bowl is a universal form with equivalent examples represented in every culture. It is an open round form with an inner recessed chamber rising ... More
Eyesore or monument? Preservationists fight to save a grain elevator in Buffalo
Gazelli Art House opens a group exhibition dedicated to the 60s wave of female emancipation in the UK and US
A 'high priestess of satanic art'? This organist can only laugh.


The Great Northern Elevator in Buffalo, N.Y., on Thursday, Jan. 20, 2022. The current owner of the Great Northern has been pushing to demolish the building — possibly the last grain elevator of its type in the world. Libby March/The New York Times.

by Jesse McKinley



BUFFALO, NY.- At first glance, the hulking brick building on the edge of Lake Erie looks like another decaying relic of this city's once-prosperous past, an image made all the worse by an enormous gash in its exterior, the victim of this city's raking winter winds. But to the trained and loving eye, the building — the Great Northern grain elevator — is a beauty, a testament to ingenious engineering and turn-of-the-century chutzpah, whose utility and aesthetic profoundly influenced generations of architects. "These were the kind of cathedrals of the modern age," said Gregory Delaney, a clinical assistant professor at the University at Buffalo's architecture school, noting the elevator's unique blend of function and technology. "It's a building that ... More



Jann Haworth, Linder Doll, 1965. Soft sculpture in perspex case, 123 x 68 x 49 cm. 48 3/8 x 26 3/4 x 19 1/4 in.



LONDON.- Gazelli Art House presents Oh, Marilyn! a group exhibition dedicated to the 60s wave of female emancipation in the UK and US. Works by four iconic artists: Pauline Boty, Judy Chicago, Penny Slinger and gallery artist Jann Haworth depict a time of change and rebirth of perception and acceptance of a new and different female role within society. Showing for the second time at the gallery, Pauline Boty (1938-1966) was a founder of British Pop Art and Britain's most notable Pop Art painter. Her paintings and collage work often made references to female sexuality as well as current affairs, criticizing the nature of the "man's world." On display in the exhibition are Angel (60s) and A Big Hand (ca. 1961), a collage work depicting a female hand holding sculptural figures from Rome's Trevi Fountain above a Victorian park scene. Gallery artist Jann Haworth (b. 1942) moved to London from Los Angeles in 1961 to st ... More



Anna von Hausswolff, a singer and pipe organist whose recent European tour was marred by controversy and protests, in Sweden, Jan. 20, 2022. Ines Sebalj/The New York Times.

by Alex Marshall



NEW YORK, NY.- When Anna von Hausswolff, an acclaimed Swedish songwriter and organist, first heard that a conservative Roman Catholic website was calling her a Satanist and demanding a concert boycott, she and her team laughed it off. "We thought it was hilarious," von Hausswolff, 35, recalled in a recent interview. "The whole day we were laughing," The site, Riposte Catholique, was firing its readers up before a concert of von Hausswolff's epic pipe organ music at a church in Nantes, a city in the west of France. Some of her fans were Goths, the site said, and her songs were "more a black Mass than music for a church." A music blogger had called her "the high priestess" of "satanic harmonies," the site noted, and conservative Roman Catholic groups noticed that, on the track ... More
Cooper Robertson to lead master plan for major New York arts campus
The designer bringing a new kind of cool to Kenzo
The Frick shows a painting by Jenna Gribbon in conversation with Holbein's Portrait of Thomas Cromwell


Munson-Williams-Proctor Arts Institute Museum of Art. Photo: Munson-Williams.



UTICA, NY.- Munson-Williams-Proctor Arts Institute is seeking public input regarding an extensive campus master plan that will transform its public areas into vibrant community cultural and entertainment spaces, increase accessibility and serve as a catalyst for neighborhood revitalization. Munson-Williams officials and representatives from Cooper Robertson, an international architecture and urban design firm headquartered in New York City, will meet with regional leaders to learn their perceptions of Munson-Williams, hear about their experiences engaging with the Institute and its campus, and discuss their ideas on how to improve it for the future. Munson-Williams occupies 10 acres within residential city blocks — the gateway to downtown Utica. Anna D'Ambrosio, Munson-Williams President and CEO, said the master plan will study the Institute's buildings and assess space usage and location of specific departmental offices and centr ... More



Nigo, the new creative director of Kenzo, at the fashion company's headquarters in Paris, Jan. 17, 2022. Dmitry Kostyukov/The New York Times.



NEW YORK, NY.- There was a moment, about six years ago, when Nigo realized he felt old. This is not a particularly unusual feeling for someone in his mid-40s, as he was then. But this was Nigo, one of the most influential figures in streetwear, who helped turn a subculture into culture-culture, who practically pioneered the concept of selling $400 hoodies to lines of hungry, hungry hypebeasts. Nigo had been tapping into youth culture since 1993, when he founded A Bathing Ape (or Bape). Often seen wearing Bape's signature camouflage pattern, along with diamond-encrusted necklaces, the mononymous designer and music producer had become a cool guys' cool guy, a hero-collaborator to men such as Pharrell Williams, Kanye West and Virgil Abloh. But as he approached middle age, Nigo found himself dressing more conservatively, he said. After 20 years with Bape, he had sold and left the brand, focusing instead on his ... More



Hans Holbein the Younger, Thomas Cromwell, 1532-33, oil on oak panel, 30 3/4 ◊ 25 1/4 ◊ ľ, The Frick Collection, New York; photo: Michael Bodycomb.



NEW YORK, NY.- The Frick's acclaimed reframing, ongoing in its temporary location known as Frick Madison during the renovation of its historic buildings, has given the public a chance to view collection highlights in a very different setting. In recent months, the curatorial team has presented a project in the Northern European galleries that, over the course of a year, welcomes the voices of four contemporary artists. Each presents a single new work in conversation with an iconic painting from the Frick's collection, with particular emphasis on issues of gender and queer identity typically excluded from narratives of early modern European art. This winter and spring, Living Histories: Queer Views and Old Masters continues with a painting by Jenna Gribbon (b. Knoxville, Tennessee, USA, 1978), shown with the portrait Thomas Cromwell by Hans Holbein the Younger. This juxtaposition follows the inaugural ... More

Christie's Presents Gucci Vault | 10 Signature Styles & Motifs

Flashback
On a day like today, American painter Robert Motherwell was born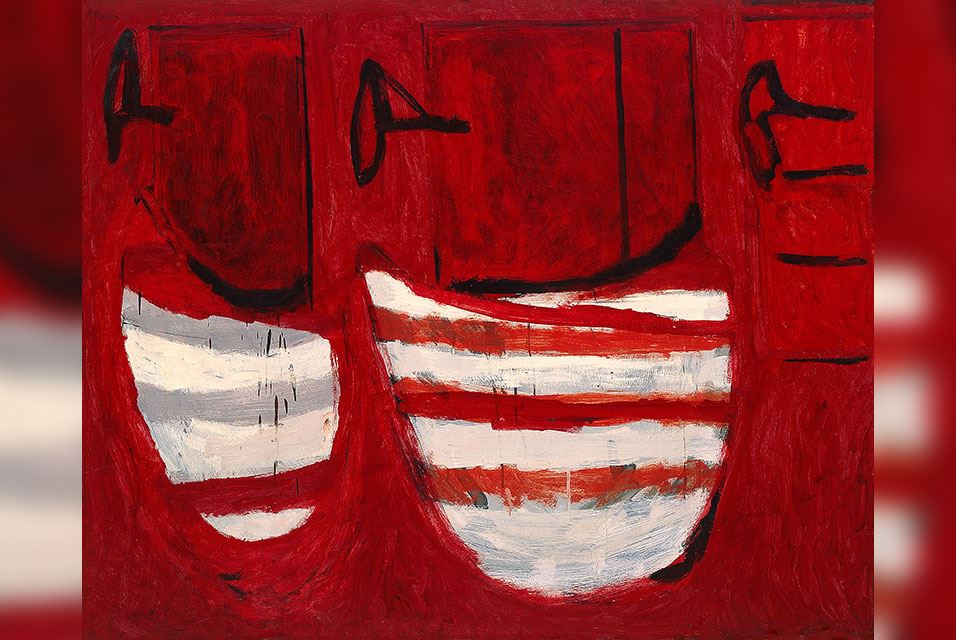 January 24, 1915. Robert Motherwell (January 24, 1915 - July 16, 1991) was an American painter, printmaker, and editor. He was one of the youngest of the New York School (a phrase he coined), which also included Philip Guston, Willem de Kooning, Jackson Pollock, and Mark Rothko. In this image: Robert Motherwell, The Hotel Corridor, 1950. Oil on masonite, 44 x 55 inches, 111.8 x 139.7 cm. © Dedalus Foundation, Inc./ Licensed by VAGA, New York, NY.
---

Museums, Exhibits, Artists, Milestones, Digital Art, Architecture, Photography,
Photographers, Special Photos, Special Reports, Featured Stories, Auctions, Art Fairs,
Anecdotes, Art Quiz, Education, Mythology, 3D Images, Last Week,

.
---
Royalville Communications, Inc
produces: