James Murdoch set to acquire large stake in Art Basel fairs
James Murdoch, chief executive of 21st Century Fox and son of Rupert Murdoch, the media mogul, at National Geographic's "Further Front" event in New York, April 19, 2017. Kevin Hagen/The New York Times.

by Scott Reyburn
NEW YORK
(NYT NEWS SERVICE)
.-
James Murdoch, son of billionaire media mogul Rupert Murdoch, is set to take a significant stake in MCH Group, the Swiss owners of the Art Basel fairs. Investment from James Murdoch's company, Lupa Systems, will help transform the company from a traditional events business into one focused on "future-oriented platforms and communities," MCH said in a statement Friday. If the move is approved at a meeting Aug. 3, Murdoch's company will own about one-third of MCH's shares, rising to a possible 44% controlling stake later, the statement added. Founded in 1970 by three gallerists in the Swiss city, Art Basel has grown into the world's biggest and most prestigious international art fair business. Its flagship event in Basel in June, which last year attracted 93,000 visitors, has become the centerpiece of Europe's summer art market calendar. Art Basel Hong Kong, typically held in March, has enabled Western dealers ...
More
The Best Photos of the Day
Christie's reveal top lot in their Classic Week Evening sale
Lark Mason Associates Online Sale of Chinese Jades and Works of Art Realizes Over $600,000
Tate announces 2021 exhibition highlights


Sir Peter Paul Rubens, Portrait of a young woman, half-length, holding a chain oil on canvas, 33¾ x 26 in. (85.5 x 66 cm.) Estimate: £4,000,000-6,000,000. © Christie's Images Ltd 2020.



LONDON.- Christie's London announced a new, expanded, hybrid Classic Week, a marquee series of 12 auctions to take place throughout the month of July 2020. Comprising eight on line sales, including a creative collaboration between Old Masters and Post War Art, Classic Week will also feature four live auctions culminating with an innovative new Classic Art Evening Sale: Antiquity to 20th Century on 29 July. The expanded Classic Week will celebrate craftsmanship and the story of creativity across time from antiquity to the 21st century, and across artistic media including Old Master and 19th Century Paintings, Drawings and Prints; Sculpture and Antiquities; Books and Manuscripts; and the full diversity of Decorative Arts. Karl Hermanns, Global Managing Director, Classic Art Group comments, "Christie's Classic ... More



Chinese Liao Style Floriform 23 Karat Gold Box.



NEW BRAUNFELS, TX.- Just as COVID-19 started ramping up in March during Asia Week, Lark Mason decided to go against conventional wisdom and move forward with the first part of his online sale Asian works of art. The risk reward benefit for doing so resulted in record prices across the board. However, he postponed the second part of the sale– Important Chinese Jades and Works of Art from the Collection of Isidore Cohn, Jr, M.D. and Other Owners– to June. Ending on July 8th, the 56 select items sold realized $602,738, out of a total of 106 lots offered. The top lot was an 18th century Chinese Dark Green Jade Covered Censer, with a remarkable provenance from The International Exhibition of Chinese Art, which was illustrated in The Royal Academy, London catalogue no. 2858, in 1935-36. With an estimate of $25,000-40,000, the censer sold to a European buyer for $150,001. Other items fared equally well, including a 23-carat gold Liao S ... More



Installation view of Infinity Mirrored Room – Filled with the Brilliance of Life 2011/2017 at Tate Modern © Yayoi Kusama. Photo courtesy of Tate Photography.



LONDON.- Tate today announced highlights of its programme for 2021, including solo exhibitions of Philip Guston, Petrit Halilaj, Lubaina Himid, Yayoi Kusama, Paula Rego, Auguste Rodin and Sophie Taeuber-Arp. The year will also see newly commissioned works by Heather Phillipson, Emily Speed and Anicka Yi, as well as landmark exhibitions exploring Britain's relationship with the Caribbean and Hogarth's depictions of 18th century life. As announced last week, this autumn will see Turner's Modern World and Lynette Yiadom-Boakye at Tate Britain, Zanele Muholi and Bruce Nauman at Tate Modern, Don McCullin at Tate Liverpool, and Haegue Yang at Tate St Ives. In addition, Tate Modern confirmed this week that its Andy Warhol exhibition will be extended for two more months and will now close on 15 November 2020, and that Ed Ruscha's current ... More
British Museum reveal the British public have found 1.5m historical objects
Rare Kaurna shield added to Art Gallery of South Australia's collection
Collectors out in force in Sotheby's $411 million Hong Kong sales


Papal bulla being held by the finder Andy Bassett. Photo Andy Bassett.



LONDON.- The British public have discovered many hundreds of thousands of archaeological objects, and today the British Museum reveals that the number recorded to its Portable Antiquities Scheme has hit a milestone 1.5 million. These finds have radically transformed what we know about life through time on the British Isles. The British Museum's Portable Antiquities Scheme (PAS) was first set up in 1997 so that archaeological objects found by the public can be recorded to help advance our knowledge of past. It reached 1.5 million object records on Wednesday. The item that helped cross this historic milestone was a medieval lead papal bulla (a seal for authorising papal documents, such as edicts and indulgencies) of Pope Innocent IV (r.1243-54), that was found in Shropshire. All the discoveries on the PAS database since its inception 23 years ago have been made by members of the public. Most of them are found buried in the ground by ... More



Senior Kaurna man Mickey Kumatpi O'Brien and Artistic Director, Tarnanthi and Curator of Aboriginal and Torres Strait Islander Art, Nici Cumpston next to the Murlapaka (shield), made by Kaurna people in the 19th century. Photo: Saul Steed.



ADELAIDE.- The Morrison Government has announced $100,000 to support the acquisition of a rare 19th century Murlapaka (also spelt Mulubakka) shield, attributed to the Kaurna people from the Adelaide Plains, by the Art Gallery of South Australia. Minister for Communications, Cyber Safety and the Arts, the Hon Paul Fletcher MP, said the Government is pleased to support this important acquisition, which is the first shield of its kind to join the Gallery's collection. "The Art Gallery of South Australia has a close relationship with the Kaurna community established over many years through ongoing connection with community and an artist-led approach to acquisitions. This shield will be a visual reminder for all visitors to the gallery that they are on Kaurna land," said Minister ... More



Zhu Da (Bada Shanren; 1626 - 1705), Rock, Bamboo and Ducks. Ink on silk, hanging scroll, 97.2 x 77.3 cm. Est: HK$1,000,000 – 1,500,000 / US$129,000 – 193,000. Courtesy Sotheby's.



HONG KONG.- Sotheby's concluded its spring sales series in Hong Kong, with 3,794 lots sold across 17 auctions conducted over seven days at the Hong Kong Convention & Exhibition Centre for a grand total of HK$3.22 billion / US$411 million – the seven consecutive Hong Kong series to exceed US$400 million (Estimate: HK$2.28 – 3.32 billion / US$291.1 – 424 million). Kevin Ching, CEO of Sotheby's Asia, said: "Hot on the heels of our ground-breaking live-streamed flagship New York sales that demonstrated the market to be vibrant and well, our rescheduled Spring sales in Hong Kong produced robust results and exceptional performance across all categories. This is a true testament to Sotheby's market leading position in Asia for five consecutive seasons." Patti Wong, Chairman of Sotheby's Asia, said: "Our highly successful sales ... More
New York's Met Opera to host virtual concert series
UNESCO 'deeply regrets' Turkey's conversion of Hagia Sophia into mosque
Alexander and Bonin opens an online presentation of works by Willie Cole


In this file photo taken on July 05, 2015 , tenor Jonas Kaufmann (R), as Don José and lyric soprano Inva Mula (L) as Micaela, perform during the rehearsal of the opera "Carmen" by Georges Bizet. BORIS HORVAT / AFP.



NEW YORK (AFP).- Several of opera's biggest stars beamed in from around the world on Saturday to announce the Metropolitan Opera's latest virtual initiative amid the coronavirus outbreak. The New York opera house, which suspended live performances in March, plans a dozen pay-per-view concerts through mid-December featuring leading singers from around the world. Tickets will cost $20. The series kicks off on July 18 with German tenor Jonas Kaufmann at the Polling Abbey outside Munich performing some of opera's greatest hits including "Nessun dorma" from Puccini's "Turandot" and popular arias from "Tosca" and "Carmen." Others performances include American soprano Renee Fleming at the Dumbarton Oaks Museum in Washington in August and Russian soprano Anna Netrebko from the Liechtenstein Palace in Vienna. Details about ... More



People gather in front of Hagia Sophia on July 11, 2020 in Istanbul, a day after a top Turkish court revoked the sixth-century Hagia Sophia's status as a museum, clearing the way for it to be turned back into a mosque. Ozan KOSE / AFP.



PARIS (AFP).- The UN's cultural agency UNESCO Friday said it deeply regretted Turkey's decision to turn the Hagia Sophia in Istanbul from a museum into a mosque, lamenting there had been no prior dialogue on the status of the former Byzantine cathedral. UNESCO chief Audrey Azoulay "deeply regrets the decision of the Turkish authorities, taken without prior dialogue, to modify the status of the Hagia Sophia," the UN agency said in a statement, It added that she had expressed her concern to the Turkish ambassador to the body. The Hagia Sophia was first a cathedral, then made into mosque after the conquest of Istanbul by the Ottomans, but then a secular museum for all in modern Turkey. It is inscribed as a UNESCO World Heritage site as part of an area of the city designated as "Historic Areas of Istanbul." UNESCO warned that the move risked harming the universal nature ... More



Willie Cole, Woman in Heels, 2019. Bronze, 70 x 25 x 30 in/177.8 x 63.5 x 76.2 cm base: 18 x 36 x 36 in/45.72 x 91.44 x 91.44 cm. Photo: Joerg Lohse. Image courtesy of Alexander and Bonin, New York.



NEW YORK, NY.- Alexander and Bonin announces an online presentation of sculpture, painting and works on paper by Willie Cole. The selection of works span the artist's career and reflect his complex relationship with his materials. Mass-produced consumer products have been a consistent and powerful component of Willie Cole's work since the mid 1980s. Cole transforms these symbols of Western consumerism into artworks that incorporate both explicit and indirect references to African arts, cultures and mythologies. Repetition is an important method of transformation for the artist, as he explains: "…repetition in a single piece has to do with reducing the object or its image to its smallest component. If I had a thousand of any given object, I know I could make anything, because I no longer see that thing for what it is. I see it as a molecule, a particle, or a fractal." 1 By displacing a Western commodity ... More
Academy Museum announces six new trustees
Swords and sorcery, a freak and a little 'Peanuts' score $1.4 million in Heritage Auctions event
Phillips announces limited-edition artist-designed face masks


The board oversees the organization's strategic vision, maintains its financial health, and ensures the institution fulfills its mission to create the preeminent motion picture museum for film lovers. Photo: Joshua White. JW Pictures/© Academy Museum Foundation.



LOS ANGELES, CA.- The Academy Museum of Motion Pictures today announced the addition of six new members to its Board of Trustees: Patricia S. Bellinger, Arnaud Boetsch, Olivier de Givenchy, Ray Halbritter, Ryan Murphy, and Regina K. Scully. As the governing body of the Academy Museum, the board oversees the organization's strategic vision, maintains its financial health, and ensures the institution fulfills its mission to create the preeminent motion picture museum for film lovers. Ron Meyer, board chair and vice chairman of NBCUniversal, said, "We are thrilled to welcome these six remarkable leaders to our board of trustees. Their achievements in their respective fields demonstrate the passion and leadership that they will contribute to the Academy Museum. We look forward to working ... More



And Frank Frazetta's 1975 work titled, simply, Nude Woman on Horseback garnered $31,200.



DALLAS, TX.- For a second day, an auction filled with original comic art was as thrilling as anything DC or Marvel has ever published. And by sale's end, another $1,414,680 had been spent on some of the finest art to be had no matter the medium or maker. Friday's fourth session in Heritage Auctions' Comics & Comic Art event marked the halfway point in a signature auction that wraps Sunday. And with two days left, already the sale has realized $7,126,216 following blockbuster buys in the comics, comic art and video game categories, including a world record set Friday morning for the most money ever paid for a single video game. Session 4 was devoted solely to original comic art and illustrations, almost every single one of which – again – sold for well over pre-auction estimates. If ever one needed proof that the line between fine art and comic art has been erased, here it is – especially as an increasingly popular icon (and iconoclast) again rose to the top of a list f ... More



Fabricated in collaboration with Citizens of Humanity, each mask is made from 100% cotton and is washable and reusable. The masks are available in packs of 3 for $75, featuring all three or a single design.



NEW YORK, NY.- Phillips announces the debut limited-edition face masks designed by leading contemporary artists the Haas Brothers, Summer Wheat and Bel Fullana. Each mask will be produced in an edition of 500 available exclusively on Phillips.com beginning on July 15. A portion of the proceeds will go towards a nonprofit of the artists' choice with the Haas Brothers benefiting The Bass Museum, Summer Wheat benefiting Artadia and The Innocence Project; and Bel Fullana benefiting NAACP. "We're thrilled to present these artist-designed masks as well as to support vital nonprofits and arts organizations during this unprecedented time," says Miety Heiden, Phillips Head of Private Sales and Phillips X, Phillips' selling exhibition platform. "These unique masks showcase the work of some of the most compelling ... More

Visions of Nature in 19th-Century Ceramics | Insider Insights

Flashback
On a day like today, Italian painter Amedeo Modigliani was born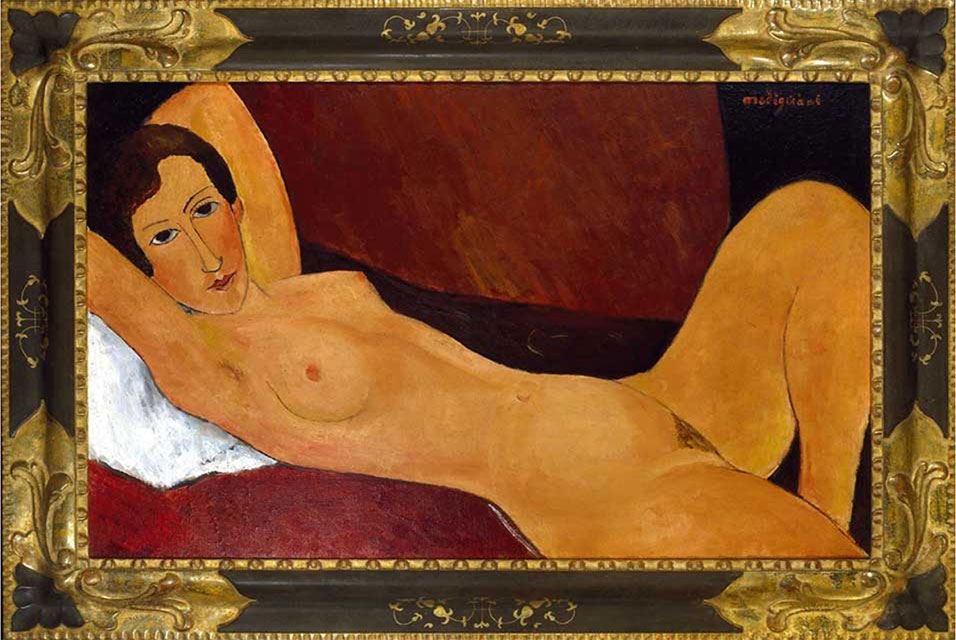 July 12, 1884. Amedeo Clemente Modigliani (12 July 1884 - 24 January 1920) was an Italian-Jewish painter and sculptor who worked mainly in France. He is known for portraits and nudes in a modern style characterized by elongation of faces, necks, and figures that were not received well during his lifetime but later found acceptance. In this image: Amedeo Modigliani, Reclining Nude (Céline Howard), 1918, Private collection, Geneva.
---

Museums, Exhibits, Artists, Milestones, Digital Art, Architecture, Photography,
Photographers, Special Photos, Special Reports, Featured Stories, Auctions, Art Fairs,
Anecdotes, Art Quiz, Education, Mythology, 3D Images, Last Week,

.
---
Royalville Communications, Inc
produces: