A bitter archaeological feud over an ancient vision of the Cosmos
The Nebra Sky Disc, ca. 1600 B.C, bronze and gold; photo Juraj Lipták / State Office for Heritage Management and Archaeology Saxony-Anhalt.

by Becky Ferreira
NEW YORK
(NYT NEWS SERVICE)
.-
The disk is small — just 12 inches in diameter — but it has loomed large in the minds of people across millenniums. Made of bronze, the artifact was inlaid in gold with an ancient vision of the cosmos by its crafters. Over generations, it was updated with new astronomical insights, until it was buried beneath land that would become the Federal Republic of Germany thousands of years later. This is the Nebra sky disk, and nothing else like it has been found in European archaeology. Many archaeologists have declared it the oldest known representation of the heavens, and to Germans it is a beloved emblem of heritage that connects them with ancient sky watchers. "The sky disk is a window to look into the minds of these people," said Ernst Pernicka, a senior professor at Tübingen University and a director of the Curt-Engelhorn Center for Archaeometry in Mannheim. Rupert Gebhard, the director of the Bavarian State Archaeological Collection in Munich, said, "It's ...
More
The Best Photos of the Day
Switzerland's timeless art mechanics embraces 3D future
The Museo del Prado will be rearranging its permanent collection in 2021
Rethinking Guernica, the website devoted to Picasso's mural, now upgraded with new content


A picture taken on January 19, 2021 shows the back of a moving mechanical artwork representing Leonardo da Vinci writing in the workshop of Swiss master Francois Junod, in Sainte-Croix. Fabrice COFFRINI / AFP.

by Robin Millard



SAINTE-CROIX (AFP).- In his snow-bound workshop, Swiss master Francois Junod's moving mechanical artworks whir into action: birds whistle, historical luminaries write poetry -- traditional craftsmanship newly recognised as being among the world's cultural heritage. In the Jura mountains running along the French-Swiss border, the precision skills behind some of the planet's finest watches and automatons have been handed down through the generations. The region's historical pre-eminence in a field combining science, art and technology has also been given a boost by the United Nations. In December, the craftsmanship of mechanical watchmaking and art mechanics in the Juras were jointly added to UNESCO's Representative List of the ... More



Peter Paul Rubens, The Birth of the Milky Way, 1636 - 1638 (detail). Oil on canvas, 181 x 244 cm Madrid, Museo Nacional del Prado.



MADRID.- During 2021 the 18th-century European painting galleries will be reorganised, bringing Room 23 into use and applying the new criteria used in the Goya and Spanish painting galleries where examples of works from other European countries are included in the display. In addition, the 19th-century collection will be presented in a totally different manner, while other modifications intended to be carried out last year will now implemented. This project, sponsored by Samsung, consists of the design and installation of a new permanent display on the history of the Museo Nacional del Prado, to be located in Rooms 100, 101 and 102 of the Villanueva Building (where the Dauphin's Treasure was previously displayed). This new presentation will provide visitors with information on key concepts regarding the building's construction, its evolution and enlargement and the different ways the works have been displayed and installed ... More



The website Rethinking Guernica has been upgraded with more than 200 documents, unreleased interviews and two more sections.



MADRID.- Three years ago, and thanks to the sponsorship of Telefónica, the Museo Reina Sofía launched Rethinking Guernica. History and Conflict in the 20th Century, a website project with the aim of studying Pablo Picasso's painting trough different approaches, methodologies and tools. Since then, the project has received more than one and a half million unique visits and numerous international honors, including the prestigious Webby Award from the International Academy of Digital Arts and Sciences (IADAS). Rethinking Guernica was conceived from the beginning as an open project to be enriched permanently and progressively. With this new upgrade, its documentary collection, which has once again been sponsored by Telefónica, is increased by more than two hundred documents. Furthermore, it includes now two new sections: (Im)possible Counter-Archives and Oral History, that respond to the same premises ... More
Two artists, continents apart, and a shared language of struggle
Walter Bernstein, celebrated screenwriter, is dead at 101
Solo exhibition of never before exhibited works on paper by Robert Colescott opens at Blum & Poe


Australian painter Gordon Hookey at his studio in Brisbane, Australia, Jan. 12, 2021. Hookey and the Los Angeles artist Gary Simmons found they had many things in common. Sports is just one of them. Rhett Hammerton/The New York Times.

by Dawn Chan



NEW YORK (NYT NEWS SERVICE).- In the small, sun-scorched town of Cloncurry, Australia, artist Gordon Hookey grew up very much aware of Madison Square Garden. "It was in the psyche of most Aboriginal people, because of boxing," said Hookey, 59, who belongs to the Waanyi people. "In the early days, boxing was a means for young Aboriginal men — an opportunity for achievement against the background of racism and inequalities." Nearly 10,000 miles away in New York, artist Gary Simmons, 56, grew up as an avid athlete and sports fan, often attending games at Madison Square Garden. Simmons, who is Black, has frequently made art that explores sports as a form of choreography, but also as a cultural arena in which Black athletes faced racism and broke barriers. A 2014 painting by Simmons, "Fight Night," portrays ... More



The Front is a 1976 comedy-drama film set against the Hollywood blacklist in the 1950s.

by John Anderson



NEW YORK (NYT NEWS SERVICE).- Walter Bernstein, whose career as a top film and television screenwriter was derailed by the McCarthy-era blacklist, and who decades later turned that experience into one of his best-known films, "The Front," died on Saturday morning at his home in Manhattan. He was 101. His wife, Gloria Loomis, said the cause was pneumonia. Described in a 2014 Esquire profile as a "human Energizer bunny," Bernstein was writing, teaching and generating screenplay ideas well into his 90s. Until recently, he had several projects in various stages of development. He created the BBC mystery miniseries "Hidden" in 2011, and he was an adjunct instructor of dramatic writing at New York University's Tisch School of the Arts until he retired in 2017. "They'll carry me off writing," he told Variety. Bernstein's politics — he called himself a "secular, self-loving Jew of a leftist persuasion" — influenced both his life and his art. "F ... More



Robert Colescott, art history 12: FAUViSM, 1979. Watercolor and graphite on Arches paper, 29 3/4 x 22 1/8 inches. © The Robert H. Colescott Separate Property Trust / Artists Rights Society (ARS), New York. Courtesy of The Trust and Blum & Poe, Los Angeles/New York/Tokyo.



LOS ANGELES, CA.- Blum & Poe is presenting a solo exhibition of never before exhibited works on paper by the late artist Robert Colescott. Presenting two series respectively dating back to 1979 and 1980, the exhibition showcases the artist's well-established satirical and critical approach to cultural clichés, racial stereotypes, and tropes of beauty and the gaze. By the mid-1970s, Colescott had created the works with which he achieved a national reputation. These paintings used the tools of parody and appropriation to remake art historical masterpieces, while satirizing and deconstructing pervasive racist attitudes. In 1979, Colescott created a series of drawings that satirized art history itself. Art history as an academic discipline came into being during the nineteenth century, and the earliest professional art historians viewed ... More
Thames & Hudson publishes 'Philip Hughes: Painting the Ancient Land of Australia'
Group exhibition featuring new and recent paintings by thirteen artists opens at Marianne Boesky Gallery
Exhibition at the Grolier Club presents highlights from the Collection of Steven Lomazo, MD


A beautiful, contemplative artist's book from Philip Hughes.



LONDON.- Taking in deep varicoloured mines, broad rolling plains, vast imposing landforms and exquisite calm bays, the landscape paintings of Philip Hughes comprise a love letter to Australia. Australia has some of the most spectacular ancient geological forms in the world. At a time when international travel is severely restricted, Philip Hughes: Painting the Ancient Land of Australia takes readers on a journey to some of the most beautiful and remote parts of the country. The book follows painter Philip Hughes, palette in hand, across the length and breadth of Australia, from Karinjini in the west to Fraser Island in the east, via the northern Kimberley and far southwest of Tasmania. Hughes's work is defined by his breathtaking portrayals of natural landscapes, often informed by maps and aerial photographs. With a bold graphic style complemented by expressive ... More



Forrest Kirk, Fist, 2020. Acrylic and gorilla glue on canvas, 60 x 40 in. 152.4 x 101.6 cm. Courtesy of Forrest Kirk. © Forrest Kirk.



ASPEN, CO.- Marianne Boesky Gallery is presenting In Situ, a group exhibition featuring new and recent paintings by thirteen artists: Cecily Brown, Olivia Erlanger, Barnaby Furnas, Jammie Holmes, Forrest Kirk, YoYo Lander, Maud Madsen, Chidinma Nnoli, Collins Obijiaku, Celeste Rapone, Lorna Robertson, Eleanor Swordy and Michaela Yearwood-Dan. Using Charlotte Perkins Gilman's seminal 1892 text "The Yellow Wallpaper" as a point of departure, In Situ brings together paintings created throughout 2020 that offer reflections of life in isolation as necessitated by the current health crisis – private and still, yet restless and resolute. In Situ is being shown in two parts: works by the twelve included artists are on view January 7, 2021 – February 6, 2021 at the gallery's 507 West 24th Street in New York, and an additional selection of paintings ... More



Truth, volume 17, number 587, July 20, 1898. New York: Truth Company. Cover illustration by Walter Granville Smith. Collection of Dr. Steven Lomazow.



NEW YORK, NY.- Reflecting the broad spectrum of American culture, printed magazines from the 18th through the 21st centuries have both driven and documented the American experience. The Grolier Club's winter exhibition, Magazines and the American Experience, lays out a chronological history of periodical print media in the United States, highlighting specific genres, topics and events using approximately 200 rare and unique magazine issues. The Grolier Club is presenting the exhibition physically in its ground floor hall from January 20 through April 24, 2021, and has made an online version available. In the colonial era, magazines were the clarions of American thought and identity; the first successful magazine from the 18th century proudly proclaimed itself as The American Magazine in 1744 ... More
$5 million gift to fund Lehigh University Art Galleries
Piper Alpha Gallantry Medal to be sold at Dix Noonan Webb
COVID-19 Arts Sustainability Fund secures the future of Melbourne Art Fair


The gift from Kenneth R. Woodcock '65 will preserve LUAG's teaching collection and enhance art education.



BETHLEHEM, PA.- A $5 million gift made by arts philanthropist Kenneth R. Woodcock '65 will endow a director's fund for the Lehigh University Art Galleries. The Woodcock Director's Fund will ensure the protection and preservation of the university's teaching collection and fulfill the full potential of LUAG as a driver for arts education and engagement for both students and the community. The fund represents the largest gift ever given to LUAG and will be administered by Director William Crow. Woodcock shares Crow's vision that art can be an interdisciplinary engine for teaching, learning, and research. "I hope that this gift will be a catalyst for all Lehigh students to develop a love and appreciation of art for the rest of their lives," Woodcock said. "With William Crow leading the effort, I'm confident we can broaden the experience for both students and the community." Crow said Woodcock's g ... More



The medal is being sold by Mr Mackay, who is now 68 years old, and was born in Johnstone, Renfrewshire. It is expected to fetch £4,000-5,000 and is being sold with copies of various official letters, including ones from Downing Street, regarding the award and investiture.



LONDON.- The Queen's Gallantry Medal awarded to Captain Ian MacKay of the Merchant Navy, for his gallantry during the Piper Alpha oil rig disaster of 6 July 1988 will be offered by Dix Noonan Webb in their live/ online auction of Orders, Decorations, Medals and Militaria on Wednesday, February 17, 2021 on their website www.dnw.co.uk. The medal is being sold by Mr Mackay, who is now 68 years old, and was born in Johnstone, Renfrewshire. It is expected to fetch £4,000-5,000 and is being sold with copies of various official letters, including ones from Downing Street, regarding the award and investiture. Over a period of eight hours, with two other members of the crew of the diving support vessel, ... More



Melbourne Art Fair 2018, Vivien Anderson Gallery,Melbourne.



MELBOURNE.- Melbourne Art Foundation today announced it is a recipient of the Australian Government's COVID-19 Arts Sustainability Fund, which is designed to assist systemically significant Australian arts organisations that face a risk to their sustainability due to the impact of COVID-19. The Australian Government has recognised the Melbourne Art Foundation, alongside The National Institute of Dramatic Art, the Melbourne Symphony Orchestra and the Museum of Contemporary Art, as a leading arts organisation with good prospects of maintaining its viability. Chair of Melbourne Art Foundation, Charles Justin says, "This funding enables us to continue our support of living artists and work collectively with the industry to rebuild and sustain our vibrant arts sector in Australia. The visual arts in Australia deliver critical social and economic benefits, and this ... More

Virtual tour - Tracey Emin / Edvard Munch: The Loneliness of the Soul

Flashback
On a day like today, Dutch painter Govert Flinck was born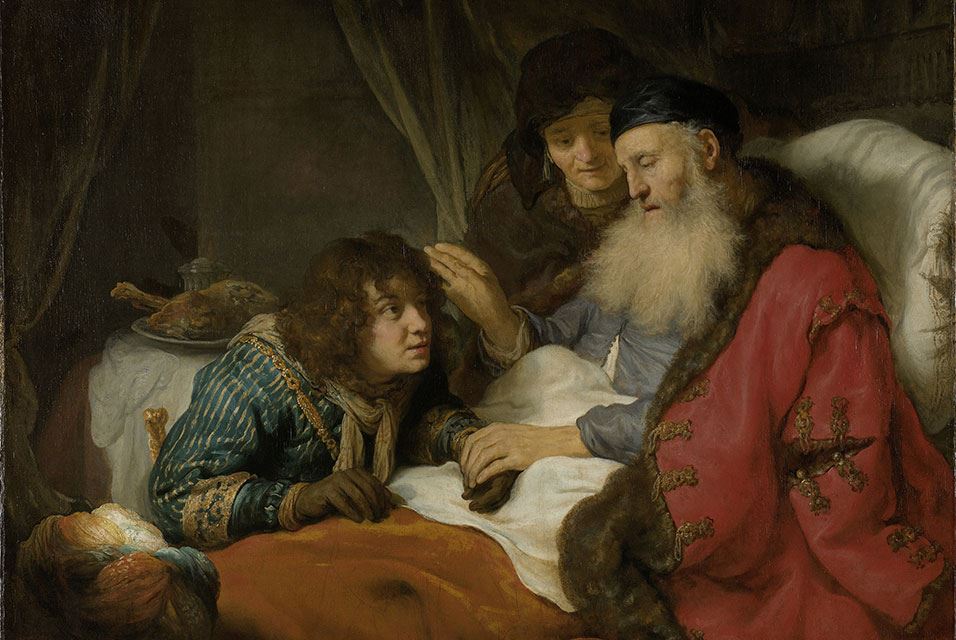 January 25, 1615. Govert (or Govaert) Teuniszoon Flinck (25 January 1615 - 2 February 1660) was a Dutch painter of the Dutch Golden Age. For many years Flinck laboured on the lines of Rembrandt, following that master's style in all the works which he executed between 1636 and 1648. With aspirations as a history painter, however, he looked to the swelling forms and grand action of Peter Paul Rubens, which led to many commissions for official and diplomatic painting. In this image: Blessing of Jacob (1638).
---

Museums, Exhibits, Artists, Milestones, Digital Art, Architecture, Photography,
Photographers, Special Photos, Special Reports, Featured Stories, Auctions, Art Fairs,
Anecdotes, Art Quiz, Education, Mythology, 3D Images, Last Week,

.
---
Royalville Communications, Inc
produces: