A broken frame, and DNA traces, led to arrest in van Gogh theft
Vincent van Gogh's "The Parsonage Garden at Nuenen in Spring." Dutch prosecutors said that DNA evidence tied a man to the thefts of a van Gogh and a Frans Hals painting; he denies the charges. Via Groninger Museum via The New York Times.

by Graham Bowley
NEW YORK, NY
.-
Nils M. was no rookie art thief. But prosecutors say he left behind DNA evidence on a broken picture frame at one museum and on a heavy-duty strap at another that helped Dutch investigators identify him as the man who stole paintings by van Gogh and Frans Hals in two daring heists. A match in their database led them to the 59-year-old defendant who had previously served a five-year prison sentence for stealing a 17th-century gilded silver monstrance, or church vessel, from a museum in Gouda in 2012. During that theft, Nils M. — who is being identified without his full surname because of Dutch privacy laws — used explosives to blow open the museum door. In the more recent thefts, prosecutors are seeking a prison sentence of eight years for what they described as "exceptional crimes" that were committed with an as yet unidentified partner. The paintings — the van Gogh had an insured value of 2.5 million euros (about $2.9 million), and the Hals was valued at between 10 and 15 million euro ...
More
The Best Photos of the Day
Sotheby's to offer record-breaking $30M+ Frida Kahlo self-portrait at auction this November
Los Angeles to open 'Parthenon of film museums,' says Tom Hanks
David Zwirner opens an exhibition of paintings and works on paper by Alice Neel


Frida Kahlo, Diego y yo (Diego and I), 1949. Estimate in excess of $30 million. Courtesy Sotheby's.



NEW YORK, NY.- This November, Sotheby's will present Frida Kahlo's 1949 self-portrait, Diego y yo (Diego and I), the final, fully realized 'bust' self-portrait completed before her death in 1954. Offered as a star lot in the Modern Evening Sale in New York, this historic work carries an estimate in excess of $30 million. Diego y yo is a quintessential example of Frida Kahlo's singular approach to portraiture. Intense and emotional, this important work by the beloved and renowned artist is poised to shatter her current auction record of $8 million achieved in 2016 and may become the most valuable work of Latin American art ever sold at auction. The Modern Evening Sale, formerly the Impressionist & Modern Art Evening Sale, will inaugurate a larger reorganization of Sotheby's General Fine Art evening sale categories taking effect this November in New York. (More details to be announced at a later date.) Diego y yo will be on ... More



An exterior view of the Museum Of Motion Pictures is seen on the opening press day, in Los Angeles, California, September 21, 2021. VALERIE MACON / AFP.



LOS ANGELES, CA.- Los Angeles is finally getting a museum for movies -- and it's about time, said Tom Hanks, as he welcomed journalists to a special pre-opening event Tuesday. The world capital of filmmaking and home of Hollywood boasts museums for everything from natural history to selfies, but until now has never had one dedicated to the silver screen. After decades of delays, the Academy Museum of Motion Pictures opens to the public next week. "It matters for Los Angeles to have this film museum," said double-Oscar winner Hanks, who serves as a trustee. "We all know that films are made everywhere in the world, and they are wonderful films. And there are other cities with film museums. "But with all due respect, a place like Los Angeles, created by the Motion Picture Academy... this museum has really ... More



Alice Neel, Spanish Party, 1939 (detail) © The Estate of Alice Neel. Courtesy The Estate of Alice Neel and David Zwirner.



NEW YORK, NY.- David Zwirner is presenting an exhibition of paintings and works on paper by Alice Neel (1900–1984) from the first decades of the artist's influential career. On view at the gallery's 537 West 20th Street location, the focused presentation centers on works from the 1930s through the 1950s, and includes interiors, memory paintings, New York City streetscapes, and portraits of family and others close to Neel. At turns atmospheric, somber, and deeply personal, these works offer a chronological account of this significant period of Neel's life and work, and engage themes of interiority, intimacy, and the negotiation between private and public, which continue to resonate in our present moment. The Early Years is curated by gallery Senior Partner Bellatrix Hubert and Ginny Neel. Painted from life and from memory in New York—first in Greenwich Village, ... More
The National Portrait Gallery to loan six portraits of the nation's best-known historical characters to The Box
Jean-Michel Basquiat's 'Because it Hurts the Lungs' highlights Christie's sale
Exhibition celebrates the Cleveland Museum of Art's collection of works by Odilon Redon


Napoléon Bonaparte, oil painting by Benjamin Robert Haydon, before 1846.



LONDON.- The National Portrait Gallery will loan six portraits of the nation's best-known historical characters to The Box in Plymouth from 25th September 2021 until 6th March 2022 as part of its National Skills Sharing Partnership programme. This is a rare and exciting opportunity for visitors to explore the National Portrait Gallery's treasured Collections while it undergoes its transformational Inspiring People redevelopment. The National Skills Sharing Partnership programme, funded by the National Lottery Heritage Fund and Art Fund, will see the National Portrait Gallery work with 12 museums and galleries across the UK, to create a network involving exchanges, mentoring, seminars and the chance to collaborate on exhibitions and displays. The six works that are coming to The Box will be shown in its 100 Journeys gallery, which highlights Plymouth as the starting point for some of the world's most famous expeditions ... More



Jean-Michel Basquiat, Because it Hurts the Lungs. Acrylic, oil, oilstick and Xerox collage on wood, 72 x 42⅛ x 8⅜in. (183 x 107 x 23.9cm.). Executed in 1986. Estimate: £7,000,000-10,000,000. © Christie's Images Ltd 2021.



LONDON.- Jean-Michel Basquiat's Because it Hurts the Lungs (1986, estimate: £7,000,000-10,000,000) will be a leading highlight of Christie's live and livestreamed 20th / 21st Century: Evening Sale Including Thinking Italian, London on 15 October 2021. Unveiled in Hong Kong on 21 September, Because it Hurts the Lungs is a multimedia work depicting a life-size green figure with a russet, cyclopean skull against a white ground. To the painted wood backdrop, Basquiat has applied sheets of his own drawings and text, among them a cryptic extract from the notebooks of Leonardo da Vinci that lends the work its title: "Why the thunderbolt kills a [man and] does not wound him, and if the man blew his nose he would not die. Because it hurts the lungs." Further collage and pigment ... More



A Woman Clothed with the Sun, from The Apocalypse of Saint John, 1899. Odilon Redon (French, 1840–1916). Lithograph; 56 x 42.4 cm. The Cleveland Museum of Art, Gift of Ralph King, 1926.132.



CLEVELAND, OH.- Odilon Redon (1840–1916) was known as "the prince of mysterious dreams" for creating paintings, drawings and prints that blend fantasy, literature and the subconscious. Collecting Dreams: Odilon Redon celebrates the Cleveland Museum of Art's exceptional holdings of works by Redon, including a newly acquired charcoal drawing, Quasimodo, on view for the first time. The exhibition reveals Redon's history in Cleveland and introduces the phases of his career and work. Collecting Dreams: Odilon Redon runs from September 19, 2021, through January 23, 2022, in the CMA's Julia and Larry Pollock Focus Gallery. "The CMA was among the first American museums to collect the work of this groundbreaking artist, and early gifts and purchases earned the museum ... More
April Kim Tonin appointed new Head of Frick Education Department
Murakami library unveiled at author's alma mater in Tokyo
Wells Cathedral displays an installation by artist Dd Deborah Davies


April Kim Tonin, photo: Joseph Coscia Jr.



NEW YORK, NY.- The Frick Collection announced the appointment of April Kim Tonin as the head of its Education Department. Tonin will join the staff on October 18 in a newly named post, the Ayesha Bulchandani Head of Education and Public Engagement. The title honors the family of Frick Trustee Ayesha Bulchandani and expresses a shared commitment to dynamic and rich programming for the benefit of both the public and those served by an array of museum and library partnerships. Comments Ian Wardropper, Anna-Maria and Stephen Kellen Director, "Our Education Department has evolved significantly over the past thirty years, from one seasoned, solo staff member to a cohort of collaborative colleagues. Programs have expanded greatly beyond academic lectures and symposia to reach and enrich wider audiences, with events ranging from intimate gallery conversations to broadly accessible public evenings and popular virtual offerings. With the growth ... More



A reporter takes pictures in The Waseda International House of Literature, also known as Haruki Murakami Library, which is designed by Japanese architect Kengo Kuma, at Waseda University in Tokyo on September 22, 2021. Philip FONG / AFP.



TOKYO.- Haruki Murakami fans can marvel at a vast collection of the Japanese author's novels, scrapbooks and vinyl at a cavernous new library unveiled Wednesday at his old university in Tokyo. Murakami, 72, is one of Japan's most famous writers, whose intricately crafted tales of the absurdity and loneliness of modern life are global bestsellers. The library dedicated to his work, which opens next week at Waseda University, features a replica of his minimalist workspace, a cafe and even a radio studio. "Honestly, I wish something like this had been built after my death," Murakami joked as reporters were shown around the facility. "Now it has been finished while I am alive, I am a bit nervous. What if I commit a crime? It would cause serious trouble to Waseda," the writer and jazz fanatic said. The arched ... More



When Things Come Apart - Dd Deborah Davies, Wells Art Contemporary 2021, Wells Cathedral, UK.



WELLS.- An installation by artist Dd- Deborah Davies- entitled When Things Come Apart is displayed in Palm Court, one of the gardens at Wells Cathedral. Standing over five metres tall, the work is a scaled-up matchstick kit of Lady Liberty in a state of collapse. Confronted by a monumental torso, visitors to this powerful exhibit realise that the head, with its crown still intact, has crashed into the seating below, and that the torch has been dropped now laying in the grass some distance away from Liberty's outstretched arm. With her timber panels strewn around onlookers feel they are looking at a construction site. The work raises the question: is liberty in decline or is it in a process of re-construction? This dilemma is further echoed by the tombstones surrounding her, providing their own reflection of loss and decay. When Things Come Apart is one of 28 artworks chosen out of over 200 installation submissions from around the world ... More
Museum Berggruen curates future amidst State Museum Berlin's restructuring
Groundbreaking photography scholar Peter C. Bunnell has died
Treats and tradition in Tehran's oldest, tiniest teahouse


Gabriel Montua.



BERLIN.- The Museum Berggruen, which since 2000 has been a component of the Nationalgalerie in Berlin under the authority of the Prussian Cultural Heritage Foundation (SPK)—will expand its programming and leadership, operate with greater curatorial autonomy, begin a renovation of public spaces by HG Merz inside its Neoclassical building designed by Friedrich August Stüler, and tour highlights from its renowned collection. On September 10, the SPK Foundation Council accepted the Berggruen Family commitment of vision, resources, and financial support—now to include annual funding of €1 million—working together to enrich the site and its offerings in Berlin. This new setup comes amidst an ongoing restructuring process aiming to increase the operational capacity of SPK's various institutions, including the State Museums Berlin, Nationalgalerie, and Museum Berggruen. It will t ... More



Richard Avedon (American, 1923–2004), Peter Bunnell, March 30, 1977. Gelatin silver print. Princeton University Art Museum. Gift of the artist © Richard Avedon Foundation (x1981-33).



PRINCETON, NJ.- Legendary photography scholar and curator Peter C. Bunnell passed away early today, Sept. 20, 2021, after a lengthy illness. He served as curator of photography at the Museum of Modern Art from 1966 to 1972, then came to Princeton University as the inaugural David Hunter McAlpin Professor of the History of Photography and Modern Art. The position, established in 1971 by Princeton alumnus and photography collector David McAlpin, was the first endowed professorship in the field in the U.S. and celebrates its 50th anniversary this year. In addition to his role on the Princeton faculty, from which he retired in 2002, Bunnell spent more than 30 years at the Princeton University Art Museum – as curator of photography, Museum ... More



Owner Kazem Mabhutian, 63, serves tea at the smallest and oldest teahouse tucked away in an alleyway of the Grand Bazaar in the Iranian capital Tehran on September 20, 2021. ATTA KENARE / AFP.

by Sammy Ketz and Ahmad Parhizi



TEHRAN.- With his trimmed beard, red scarf and bronze-coloured waistcoat, Kazem Mabhutian serves a steady stream of customers in the smallest and oldest teahouse in Tehran, but at 63 years old, he is counting on God to find him a successor. Tucked in an alleyway of the Grand Bazaar, wedged between a clothes shop and the door of a mosque, his 1.5-square-metre chaikhaneh (tea house) is invisible from the main street. And yet it is the most famous among tea connoisseurs in the Iranian capital. In between pouring glasses of steaming brew for his customers, Mabhutian tells the century-old story of the fabled Haj Ali Darvish Tea House with pride. His father Haj Ali Mabhutian, nicknamed the Dervish ... More

Brilliant & Black: In Heart of the Diamond District with Sheryl Jones

Flashback
On a day like today, American sculptor Louise Nevelson was born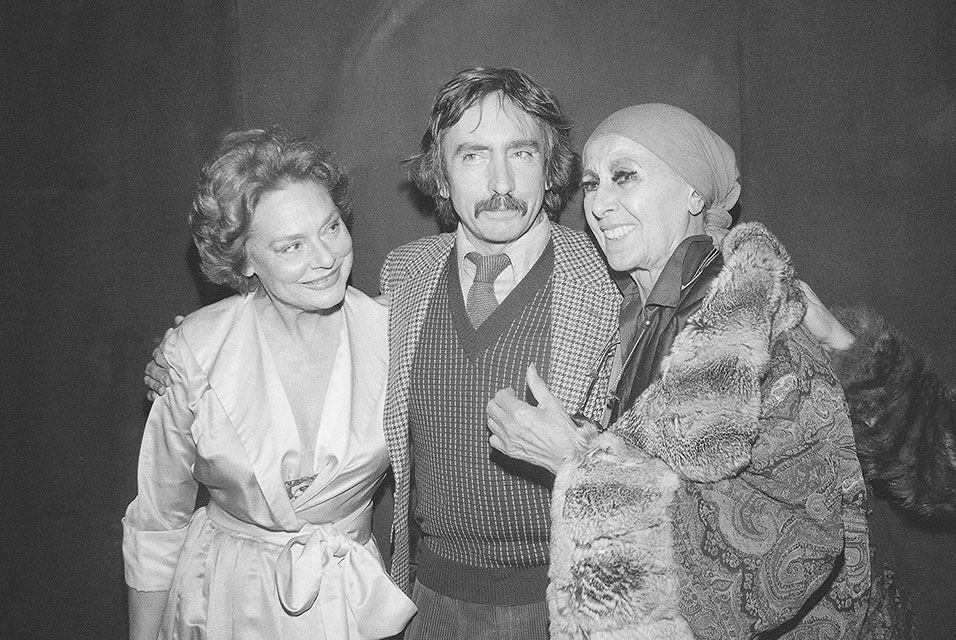 September 23, 1899. Louise Nevelson (September 23, 1899 - April 17, 1988) was an American sculptor known for her monumental, monochromatic, wooden wall pieces and outdoor sculptures. Born in Czarist Russia, she emigrated with her family to the United States in the early 20th century when she was three years old. Nevelson learned English at school, as she spoke Yiddish at home. In this image: Playwright Edward Albee, center, joins his star, Iree Worth, left, backstage at the Morosco Theater in New York City Thursday, Jan 31, 1980 . After the opening performance of his " The Lady From Dubuque." The two were greeting well -wishers, who included Louise Nevelson, at right.
---

Museums, Exhibits, Artists, Milestones, Digital Art, Architecture, Photography,
Photographers, Special Photos, Special Reports, Featured Stories, Auctions, Art Fairs,
Anecdotes, Art Quiz, Education, Mythology, 3D Images, Last Week,

.
---
Royalville Communications, Inc
produces: