Knowing Your Art Deeply (Part 1)
Left: Van Gogh's "A Starry Night Over the Rhone." Right: A 19th century Persian rug that captures the colors and evokes the emotional impact and the majesty of the painting.

By Jan David Winitz
President and Founder, Claremont Rug Company
OAKLAND, CA
.-
One statement that has sustained me during my lifelong passion for antique Oriental rugs is this: To know art deeply is a great adventure that yields extraordinary rewards. While this sentence is straightforward, it challenges our intellectual and our emotional centers. I bring it up now because in these times when the world is faced with a global pandemic, finding meaning and the energy to overcome the challenges of everyday life can be increasingly difficult. But to be nurtured by great art and the inclusion of this appreciation in our daily lives can be the sustenance that helps us all to become refreshed and balanced in stressful circumstances. For great art allows us to value life more fully. Art reminds us that we each have an inner life that wishes to be expressed. Remarkably, the emotional value of great art has been celebrated since the earliest of recorded history. Haunting, richly detailed drawings created 30,000 years ago on the walls of the Chauvet Cave in southern Fra ...
More
The Best Photos of the Day
Springfield Art Museum presents "Framed: The Art of the Picture Frame"
Exceptional results for the Collection of Paul-Louis Weiller at Christie's Paris
Virus delays completion date for Spain's Sagrada Familia


Exhibition view from Springfield Art Museum's "Framed: The Art of the Picture Frame". Photo: Andie Bottrell, Designing Indie.



SPRINGFIELD, MO.- Springfield Art Museum has extended its wonderful exhibition "Framed: The Art of the Picture Frame" through September 27, 2020. This exhibit, guest curated by Exhibitions Manager Cindy Quayle, features a wide range of artworks pulled from their permanent collection. While the museum ha s re-opened to the public, the exhibit can also be toured virtually here. The Springfield Art Museum's permanent collection contains a wide variety of frames, both historic and contemporary. This exhibit utilizes the collection to demonstrate frame styles and trends, as well as to illustrate the important role of framing in conserving and preserving artwork. Eli Wilner & Company is always grateful for institutions who take great consideration for the frames in their collections, especially when the historical context is shared with the general public in an educational manner. Typically, museum websites show artworks with their frames cropped out a ... More



La Belle Strasbourgeoise by Nicolas de Largillière. Sold under the hammer of François Curiel for €1,570,000 establishing a new world auction record for the artist. © Christie's Images Ltd 2020.



PARIS.- On 15 & 16 September 2020, Christie's hosted the sale of Commandant Paul-Louis Weiller (1893-1993)'s collection which realised a total of €6,138,500/ £5,683,795 / $7,309,362. These exceptional results reflect the relevant choices "le Commandant" had made throughout his life with the most exquisite taste. François Curiel, Chairman of Christie's Europe : "Continuing Christie's long history of offering prestigious collections at auction, we are honoured to have paid such a beautiful tribute to this important collection. Its celebrated provenance and the pristine quality of its works have attracted bidders from 29 countries across 5 continents, establishing once again Christie's France's leadership in selling collections with success". Connoisseurs and collectors were present to pay a beautiful tribute to an exceptional man. These great results demonstrate continued interest in high qu ... More



General view taken of the Sagrada Familia on September 16, 2020 in Barcelona. Pau BARRENA / AFP.



BARCELONA (AFP).- The long-awaited completion of Barcelona's Sagrada Familia will no longer happen in 2026 because the coronavirus epidemic has curtailed its construction and frustrated funding, basilica officials admitted Wednesday. "The effects of the pandemic have forced us to rethink our planned timeline. This affects the end date we had planned for 2026," said Esteve Camps who heads the Sagrada Familia's construction board. One of Spain's top tourist attractions, the towering architectural masterpiece has been under construction for nearly 140 years but the vast project only received a building permit last year. When finished, the ornate cathedral which was by modernist Catalan architect Antoni Gaudi, will have 18 towers with its highest steeple reaching 172 metres (564 feet) into the air. It was to have been completed in 2026 -- on the 100th anniversary of the death of Gaudi, who was run over by a tram. "We are not able to propose any ... More
Simon Lee Gallery exhibits new ceramics and tapestries by Mai-Thu Perret
Phillips to showcase works by Helen Frankenthaler in Southampton
Biggie's crown sells for $595,000 at hip hop auction


Installation view. Courtesy of the artist and Simon Lee Gallery. Photo: Pierre Le Hors.



NEW YORK, NY.- Simon Lee Gallery, New York is presenting an exhibition of new ceramics and tapestries by Swiss artist, Mai-Thu Perret. This is Perret's fifth show with Simon Lee Gallery and her first at the New York space. Known for her multi-disciplinary practice that engages installation, performance, sculpture, ceramics and textiles, Perret derives inspiration from a range of twentieth-century avant-garde and radical art movements, including Dada, Constructivism and Bauhaus design. An interest in the work of 19th century polymath William Morris has provided fruitful ground for Perret. Morris' anti-capitalist ideology and vision of a utopian socialist future reflects the fictionalised women-only commune that has been central to Perret's practice for the past two decades. The Crystal Frontier explores the lives of an autonomous community who have abandoned Western neoliberal society for the remote desert ... More



Helen Frankenthaler, Untitled, 1978. Image courtesy of Phillips.



SOUTHAMPTON, NY.- Phillips announced Helen Frankenthaler: Paintings, 1973-1981, an exhibition dedicated to the work of Helen Frankenthaler in the auction house's recently-opened Southampton outpost. On view from 17 September to 4 October, the exhibition will showcase a selection of works that are available for private sale alongside a major highlight from the November Evening Sale of 20th Century & Contemporary Art. Robert Manley, Phillips' Co-Head of 20th Century & Contemporary Art, said, "Our Southampton location, which opened just last month has already seen an outpouring of enthusiasm from the community and we are very much looking forward to hosting our first thematic exhibition in the space, Helen Frankenthaler: Paintings, 1973-1981. Helen Frankenthaler is among the most significant masters of post-war abstraction, whose influence over the 20th century art historical canon cannot ... More



The crown worn by Notorious B.I.G. when photographed by Barron Claiborne as the King of New York is displayed during a preview at Sotheby's for their Inaugural HIP HOP Auction on September 12, 2020 in New York City. Cindy Ord/Getty Images/AFP.



NEW YORK (AFP).- A plastic crown worn by rapper Biggie during a photoshoot just days before his murder has sold at auction for $594,750 in New York. The crown headlined Sotheby's first ever sale devoted to hip hop that featured more than 120 lots including jewelry, art and other ephemera of the genre born in the Bronx. The crown was worn by The Notorious B.I.G. -- famous for hits including "Juicy," "Big Poppa" and "Hypnotize" -- during his last recorded photoshoot in 1997, just three days before his shock murder in Los Angeles. The photographer Barron Claiborne, who took the now immortal image of the artist born Christopher Wallace, put the rap artifact up for sale. It sold for almost double its pre-sale high estimate of $300,000. It's quite a sum for a crown made of plastic that Sean ... More
bitforms gallery opens an exhibition that can be viewed with Mozilla Hubs on your desktop or by using a VR headset
Group exhibition features more than seventy artists associated with legendary Soho club
Dancing with rice: A meditation at the Met


Claudia Hart, The Orange Room, 2019. 4K video, 5 min loop. Ed 5, 1 AP.



NEW YORK, NY.- The Ruins implements still lifes, the classical form of a memento mori, to contemplate the decay of western civilization. In this exhibition, Hart revises the canons of modernist painting and the manifestos of failed utopias. Exhibited works are meditations on the flow of history, expressed as a cycle of decay and regeneration. The Ruins is an antidote to a world in crisis, navigating from a Eurocentric paradigm of fixed photographic capture into a reality of malleable and inherently unstable computer simulations and systemic collapse. The exhibition presents a different notion of time, a present that viewers experience through the possibility of simulation technologies that use scientific data to model natural forces, the crystallization of past, future, and present into a perpetual now. The Ruins, the central artwork from which the exhibition gains its title, is an audiovisual animation tracking through a claustrophobic game world from which there is no escape. As the three-channel m ... More



Francis Bacon, Study of a Human Body after Ingres, 1984, 62 x 46 cm; 88.6 x 60.5 cm.



LONDON.- Dellasposa are presenting Tales from the Colony Room: Art and Bohemia, a group exhibition featuring more than seventy artists associated with legendary Soho club, including Francis Bacon, Lucian Freud, Frank Auerbach and Tracey Emin, as well photographers John Deakin, Bruce Bernard and Daniel Farson. The presentation comes hard on the heels of Tales from the Colony Room: Soho's Lost Bohemia, an oral history of the club edited by Darren Coffield, who is also the curator of the show. He says: 'For more than fifty years, artists, poets, musicians, actors and writers, plus a fair few criminals, congregated at the club. This show pays homage to some of the biggest names, such as Bacon and Freud, but also the legions of others who made it such a special and influential place, as well as the club's three proprietors, Muriel Belcher, Ian Board and Michael Wojas.' The exhibition — the first of its kind — is ... More



The Taiwanese artist Lee Mingwei, left, and the choreographer Bill T. Jones outside the Metropolitan Museum of Art in New York, Sept. 2, 2020. Nathan Bajar/The New York Times.

by Gia Kourlas



NEW YORK (NYT NEWS SERVICE).- When performers take turns sweeping a pile of rice across the floor of the Metropolitan Museum of Art, it might look like just that: People, one by one, sweeping a pile of rice across a floor. But if you look more deeply, this task — a soulful, spiritual journey tracing a labyrinthine path — means something more. For Lee Mingwei, the Taiwanese American artist who created "Our Labyrinth," a performance installation, it is a meditation — a space to clear the mind and body. It's also a dance. "I ask the performers to please focus on the rice, and the rice will tell you what your next move is," Lee said. "So you're literally having a conversation with the rice. Beside that, the most important part is to not over shine your ability over the rice. The rice ... More
Moroccan village riffs on Hendrix legends and myths
Portraits fusing painting and photography by Pierre et Gilles on view at Galerie Templon
New online platform launches for limited editions by established and emerging women artists


A picture taken in the Moroccan coastal city of Essaouira shows portraits of late US guitarist Jimi Hendrix on September 10, 2020. FADEL SENNA / AFP.

by Hamza Mekouar



ESSAOUIRA (AFP).- Some claim to have seen him, others to have spoken with him -- 50 years after guitar legend Jimi Hendrix's untimely death, a village on Morocco's Atlantic coast pulsates with his memory. "I saw him here. He was young and carried a guitar on his back," swore Mohammed Boualala, who is in his 60s and grew up in the small settlement of Diabat before joining the army. In the summer of 1969, Hendrix, the pioneering US guitar wizard whose hits included "Purple Haze" and "Hey Joe", made a brief stop in Essaouira, a former fort town and latter day tourist magnet located five kilometres (three miles) from the village. There are no soundtracks or images left from the rock icon's journey, but countless myths surround his fleeting trip. "He visited friends who were staying in the village. It was the ... More



Pierre et Gilles, La reine des océans (Adèle Farine), 2020. Unique. Ink-jet photograph printed on canvas and painted, 145 x 104 cm ; 57 1/8 x 41 in. ©Courtesy Templon, Paris – Brussels.



PARIS.- This autumn, Pierre et Gilles are presenting at Galerie Templon's Rue Beaubourg space, recently renovated by Jean-Michel Wilmotte, a set of works created over the past two years. Famed for their iconic portraits fusing painting and photography that they have been creating for the past 40 years, the duo is unveiling their most introspective and critical work to date. For the exhibition, they use their astute observations of society to concoct bittersweet pieces that reflect the contradictions of our era. The exhibition opens with a self-portrait created in the studio during the lockdown: Bonjour Pierre et Gilles pays tribute to Gustave Courbet's painting Bonjour Monsieur Courbet. It shows the couple wandering on a bucolic path, lost among housing estates and residential suburbs. Thugs, scrap metal dealers, ... More



Zoe Buckman.



NEW YORK, NY.- A new online art platform established to promote and offer works by artists who identify as women, Her Clique debuts today with a sale of two limited-edition artworks by Zoë Buckman. Her Clique's mission is to promote women artists, to make fine art more affordable and more accessible, and to support vital non-profit organizations. The platform will introduce monthly artist collaborations where specially created limited edition works will be featured at approachable price points. A portion of the proceeds from each sale will benefit various nonprofit organizations, with the first beneficiary to be United Way NYC, an organization helping low-income New Yorkers make ends meet and lead self-sufficient lives. With a nod to re-appropriating the term "clique" often associated with an unapproachable and exclusive group, Her Clique aims to become an inclusive hub. Each artist collaboration will feature a commissioned edition of ... More

Jacob Lawrence: The American Struggle | Met Speaks

Flashback
On a day like today, Indian painter M. F. Husain was born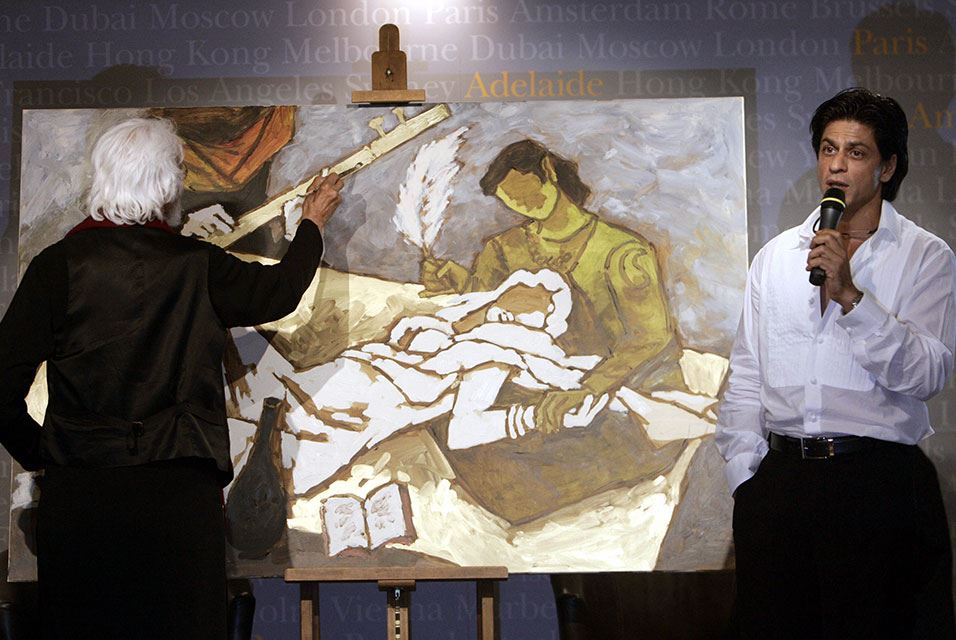 September 17, 1915. Maqbool Fida Husain (17 September 1915 - 9 June 2011) commonly known as MF Husain, was an Indian painter. Husain was associated with Indian modernism in the 1940s. A dashing, highly eccentric figure who dressed in impeccably tailored suits, he went barefoot and brandished an extra-long paintbrush as a slim cane. He never maintained a studio but he spread his canvases out on the floor of whatever hotel room he happened to be staying in and paying for damages when he checked out. In this image: M.F. Husain, India's most famous artist finishes off a canvas he painted together with Shah Rukh Khan, right, one of India's biggest movie stars, during a fund-raising auction in a central London's auction house, Thursday June 7, 2007. The pair, two of India's biggest cultural brands, painted the piece that was to be sold in the auction along with other works by both established Indian masters and a newer generation of artists.
---

Museums, Exhibits, Artists, Milestones, Digital Art, Architecture, Photography,
Photographers, Special Photos, Special Reports, Featured Stories, Auctions, Art Fairs,
Anecdotes, Art Quiz, Education, Mythology, 3D Images, Last Week,

.
---
Royalville Communications, Inc
produces: