It's a banana. It's art. And now it's the Guggenheim's problem.
A visitor photographs Maurizio Cattelan's piece titled "Comedian," at Art Basel Miami Beach in Miami, Dec. 4, 2019. Ephemeral works of art, like Cattelan's creation out of fruit, can often pose conservation challenges for the museums that have them. John Taggart/The New York Times.

by Graham Bowley
NEW YORK
(NYT NEWS SERVICE)
.-
Few art works sold in the past few years have drawn as much attention as "Comedian" by Italian artist Maurizio Cattelan, in part because, despite its price and ironic humor, it is at its heart a banana that one tapes to a wall. The sly work's simplicity enticed collectors to pay as much as $150,000 for it at a Miami art fair last fall, an act of connoisseurship that delighted them but astonished the many people who had not imagined that a, um, "sculpture" of fruit on a wall could command such a price. Now the work's aesthetic merit is being reinforced by the Guggenheim Museum in Manhattan, which is accepting it into its collection as an anonymous donation. "We are grateful recipients of the gift of 'Comedian,' a further demonstration of the artist's deft connection to the history of modern art," said the Guggenheim's director, Richard Armstrong. "Beyond which, it offers little stress to our storage." In fact, "C ...
More
The Best Photos of the Day
New York plans statue of justice Ginsburg, 'daughter of Brooklyn'
Real-life 'Pianist' possessions up for auction in Poland
President Harding's family battles over exhuming his body


In this file photo taken on May 21, 2018 US Supreme Court Justice Ruth Bader Ginsburg speaks after receiving the American Law Institute's Henry J. Friendly Medal in Washington, DC. JIM WATSON / AFP.



WASHINGTON (AFP).- New York Governor Andrew Cuomo announced Saturday that the state would erect a statue in Brooklyn to honor Supreme Court Justice and feminist icon Ruth Bader Ginsburg. Ginsburg, who was born in the New York City borough in 1933, died Friday at 87 after serving 27 years on the high court, where she stood for equal rights for women and minorities. "Justice Ruth Bader Ginsburg selflessly pursued truth and justice in a world of division, giving voice to the voiceless and uplifting those who were pushed aside by forces of hate and indifference," Cuomo said. "While the family of New York mourns Justice Ginsburg's death, we remember proudly that she started her incredible journey right here in Brooklyn," he said. Ginsburg, who also attended law school and then was a law professor in New York City, was known for her native Brooklyn accent. Cuomo said he would appoint a commission to come ... More



The black Montblanc Meisterstuck pen and a 1934 Omega pocket watch, the only Wladyslaw Szpilman possessions to have survived the war in Poland, are displayed in Warsaw on September 15, 2020. JANEK SKARZYNSKI / AFP.

by Bernard Osser



WARSAW (AFP).- A fountain pen, silver pocket watch and other prized possessions of the late Jewish-Polish composer Wladyslaw Szpilman, the real-life hero of the Oscar-winning film "The Pianist," go under the hammer in Warsaw next week. "This watch and pen that he bought on a trip to Paris in 1937 survived his whole stay in the Jewish ghetto, then kept him company in the ruins of Warsaw," said Szpilman's son Andrzej, who is organising the auction with his brother Krzysztof. The renowned musician, who died in 2000, came to the world's attention in Roman Polanski's film based on Szpilman's autobiography -- available in some 40 languages. The black Montblanc Meisterstuck pen, the pocket watch and a tie that is now part of the collection at the Polin Museum of the History of Polish ... More



A portrait of President Warren G. Harding provided by the Library of Congress. DNA evidence is persuasive that James Blaesing, 70, is the grandson of the 29th president and his mistress. Library of Congress via The New York Times.

by Heather Murphy



NEW YORK (NYT NEWS SERVICE).- There is no real dispute that James Blaesing is the grandson of President Warren G. Harding and his mistress. But the wounds of that revelation have resurfaced in court, as relatives of the 29th president, many now in their 70s, argue over a proposal to exhume Harding's body as the 100th anniversary of his election approaches. On one side is Blaesing, who says the exhumation is necessary to prove with "scientific certainty" that Harding was his grandfather, even though the DNA evidence is already persuasive, and to confirm his and his mother's "membership in a historic American family." He also wants to bring along a television production crew to document the opening of the tomb. On the other side are several Harding relatives who ... More
wHY's new expansion of David Kordansky Gallery opens in Los Angeles
Lisson Gallery to open on Cork Street in Mayfair
Christian Liaigre, minimalist interior designer, dies at 77


Terraced-stair corridor to David Kordansky Gallery's new sculpture courtyard and exhibition space. Featuring 'The Three Fates' (2020) by Will Boone. Photo: Elon Schoenholz.



LOS ANGELES, CA.- wHY designed the original building for David Kordansky Gallery in Mid-City, Los Angeles, in 2014, and the 12,818 square foot expansion adds two new exhibition spaces and a landscaped courtyard for a range of new programming, including performance, film, and outdoor sculpture. "In LA, so many great moments of cultural exchange happen in backyards where people feel at home," said wHY's Creative Director, Kulapat Yantrasast. "We felt that the David Kordansky Gallery environments should highlight this unique aspect of the city's cultural life. The art scene in LA is very down-to-earth and personal, and I think exhibition spaces should reflect that rather than trying to appear commercial or corporate." As in the case of the original gallery building (a former martial arts center), the expansion repurposes existing structures on the busy La Brea corridor. In contrast to the dramatically ... More



Lisson Gallery has occupied six different addresses on or immediately around Bell Street at various times since 1967.



LONDON.- Lisson Gallery announced the opening of a new space in Mayfair for six months. Launching during Frieze Week 2020, the gallery will be at the heart of London's Frieze activity, alongside the fair's planned off-site projects, performances and events. Supplementing the gallery's historic locations on Bell and Lisson Streets, Lisson's new Mayfair outpost will present a variety of solo and group exhibitions, opening with Horizon on 6 October with work by artists including Ai Weiwei, John Akomfrah, Allora & Calzadilla, Mary Corse, Ryan Gander, Hugh Hayden, Anish Kapoor, Lee Ufan and Stanley Whitney. The opening coincides with the launch of Lisson's new space in New York, at 508 West 24th Street, which opened with Ryan Gander's exhibition, These are the markers of our time — as well as Lisson's newly-opened gallery in East Hampton. Lisson Gallery has occupied six different addresses on or immediately around Bell Street at various ... More



An undated photo via Liaigre of Christian Liaigre, whose sparse interiors and elegant if unadorned furniture exemplified 1990s minimalism. Via Liaigre via The New York Times.

by Penelope Green



NEW YORK (NYT NEWS SERVICE).- Christian Liaigre, a French interior and furniture designer whose muscular and elegant objects in wood, bronze and leather were emblematic of 1990s minimalism, and whose influential clients included Karl Lagerfeld, Calvin Klein, Rupert Murdoch, Larry Gagosian and the Mercer hotel in SoHo, died Sept. 2 in Paris. He was 77. His design firm, Liaigre, announced his death on Instagram without specifying the cause. Liaigre (pronounced lee-AY-gruh) had been an art student and a drawing teacher and had worked with show horses before he began to make furniture in the early 1980s. By the turn of the next decade, a chunky, cracked wooden stool inspired by Brancusi's sculpture "Endless Column" had become his calling card, its gutsy and elemental shape a corrective ... More
Exhibition of new work by Trenton Doyle Hancock spans both of James Cohan's locations
Two Flash Gordon newspaper strips from 1940 light up Heritage Auction's European Comic Art event
Galeria Jaqueline Martins to open in Brussels


Installation view, Trenton Doyle Hancock, Something American, James Cohan, September 17 - October 17, 2020. © Trenton Doyle Hancock, 2020. Image courtesy the artist and James Cohan, New York. Photo by Phoebe d'Heurle.



NEW YORK, NY.- James Cohan is presenting Something American, an exhibition of new work by Trenton Doyle Hancock, on view from September 17 to October 17 at 48 Walker Street and 291 Grand Street. The exhibition spans both of the gallery's locations, with new paintings in Tribeca and a presentation of the second chapter of Hancock's ongoing graphic novel in the Lower East Side. This is the artist's seventh solo exhibition at James Cohan. Over a career spanning nearly twenty-five years, Trenton Doyle Hancock has created a singular body of visual art that exuberantly subverts and synthesizes his omnivorous influences to invent a world entirely his own. This exhibition features new paintings that demonstrate the breadth and dexterity of Hancock's ... More



Alex Raymond Flash Gordon Sunday Strip Original daté 07-07-40 (King Features Syndicate, 1940).



DALLAS, TX.- Any Alex Raymond primer should begin with this excerpt from A History of the Comic Strip, written in 1968 to coincide with an exhibition in the hallowed halls of the Musée des Arts Décoratifs at the Palais du Louvre. "Of all the great comic-strip creators, Alex Raymond unquestionably possessed the most versatile talent," it begins. "Other artists surpassed him in the creative power of boldness of style, others in the development of the plot or in accuracy of dialogue. But none possessed as varied an array of talents – talents that enabled him to master all the various types of strips at which he tried his hand." In 1934, while only his mid-20s, the New Rochelle, N.Y., native created three strips for his employer King Features Syndicate. One was Secret Agent X-9, a collaboration with The Maltese Falcon's author Dashiell Hammett; another was Jungle Jim, which ... More



Jaqueline Martins. Courtesy Galeria Jaqueline Martins.



BRUSSELS.- Galeria Jaqueline Martins announced the opening of a new gallery space in Brussels, Belgium in October 2020. Since its inception in São Paulo in 2011, Galeria Jaqueline Martins has had a distinctly international outlook, bringing pioneering and often overlooked historic Brazilian artists to international prominence for the first time. The Belgium outpost will be the gallery's first permanent presence outside of Brazil. Galeria Jaqueline Martins will open in Brussels on 17 October, inaugurated by a solo exhibition showcasing the work of Hudinilson Jr. (1957 – 2013), one of the foremost Brazilian artists of his generation; renowned for his influence on the development of Brazil's art scene between 1970-2000, and for his active role in collectives and experimental shows. Hudinilson Jr. pioneered xerography in Brazil during the late 1970s, making fragmented copies of his own nude body parts using a Xerox ... More
Exhibition at Martos Gallery features new sculpture-asiinstallation by Kayode Ojo
Art Gallery of South Australia announces new Board Chair
New digital database to provide unprecedented access to the past, present and future of Glastonbury Festival


Kayode Ojo, i'll go on losing millions it's just what i do, 2020 (detail). Glass, mirror, Crate and Barrel champagne glasses, Timeformachine. Heavenly Hercules model airplanes.



NEW YORK, NY.- A great tale often carries two arcs to the story: one where everything goes right, and the other where everything goes wrong. Such is the storyline for Martin Scorsese's 2004 biopic "The Aviator," and for Kayode Ojo's second exhibition with Martos Gallery. For this exhibition, Ojo considers the value of both successes and failures, the ones we see and the ones we don't see. The exhibition features new sculpture-as-installation. For The Aviator, Ojo maintains a sense of servitude of "the object" but here, it is both as single compositions and in serial repetition. What happens when you uncover the life of an object in stages? Scant moments of opulence shine throughout the space and richness is revealed in the clarity of things and it all somehow feels part of a prolific moment. With this new body of work, ... More



Jason Karas is an experienced lawyer and commercial adviser.



ADELAIDE.- The Government of South Australia and the Art Gallery of South Australia announced that Mr Jason Karas has been appointed as the incoming Chair of the Art Gallery Board. Karas, who currently sits on AGSA's board, will take the place of Tracey Whiting AM. Premier Steven Marshall and South Australia's Minister for the Arts said Tracey Whiting's contribution to the Art Gallery Board, along with her wider contribution to the state's arts and culture sectors, has been greatly appreciated. 'Tracey's outstanding contribution to South Australia's cultural landscape has been immense, and her being awarded Member of the Order of Australia earlier this year is testament to her energy and passion for the arts, I would like to thank Tracey sincerely for her service to the Board, and the state, and wish her all the best for her future endeavours.' said Premier Marshall. 'I would also like to congra ... More



Courtney Love, 1999 © Ann Cook.



LONDON.- To coincide with the 50th anniversary of the first ever Glastonbury Festival, which took place on 19 September 1970, the V&A announces a new project, funded by the Arts and Humanities Research Council (AHRC), to create an online database that will provide unrivalled access to the past, present and future of Glastonbury Festival. As a result of the COVID-19 pandemic, the world-renowned Festival was unable to celebrate its 50th anniversary this year at Worthy Farm. As the cultural and creative sector suffers one of the toughest times in recent history, this new database demonstrates the V&A and AHRC's commitment to promoting the importance of the performing arts. In 2014, the V&A became the home to the Glastonbury archive for the nation. Documenting the cultural importance of the world's leading performance Festival, the collection brings together posters, stage designs, costumes, interviews, films and other memorabilia to safe ... More

Louis Armstrong's Trumpet | Christie's

Flashback
On a day like today, American glass artist Dale Chihuly was born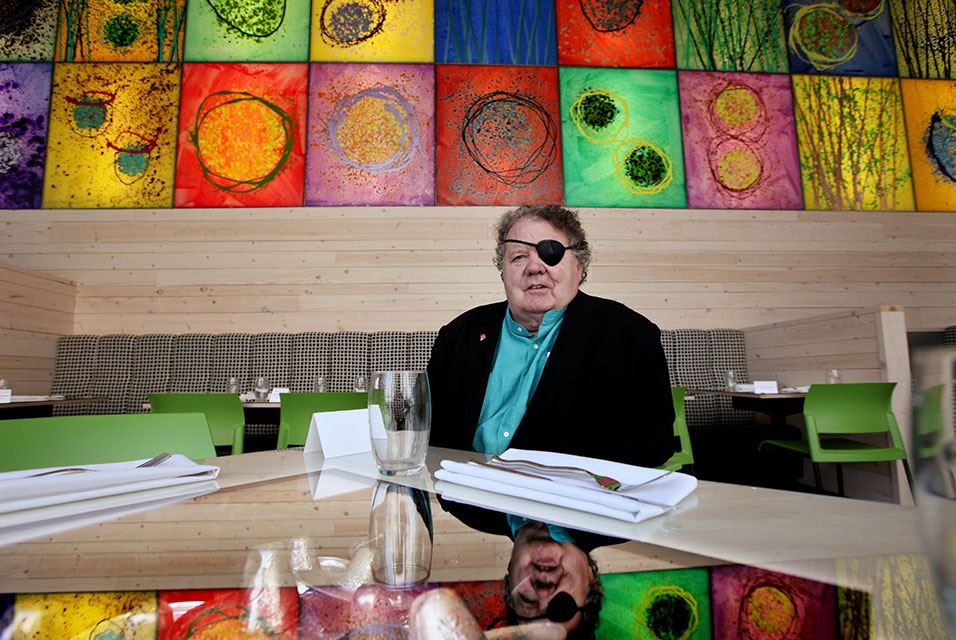 September 20, 1941. Dale Chihuly (born September 20, 1941, Tacoma, Washington, is an American glass sculptor and entrepreneur. In this image: Dale Chihuly sits in front of a wall featuring his drawings in the cafe during a preview of the Chihuly Garden and Glass exhibit at the Seattle Center in Seattle. The new, permanent 1.5 acre exhibit is located near the base of the Space Needle. It looks at the career of Chihuly and features an eight-gallery exhibition hall, conservatory and garden as well as a cafe with a selection of Chihuly's collections of vintage accordions, radios, clocks and other mid-century memorabilia.
---

Museums, Exhibits, Artists, Milestones, Digital Art, Architecture, Photography,
Photographers, Special Photos, Special Reports, Featured Stories, Auctions, Art Fairs,
Anecdotes, Art Quiz, Education, Mythology, 3D Images, Last Week,

.
---
Royalville Communications, Inc
produces: