Seven Fauvist works newly deposited on permanent loan at the Kunstmuseum Basel
Georges Braque, Port de l'Estaque, 1906 (detail). Öl auf Leinwand, 50 x 61 cm. Inv. Dep 141. Kunstmuseum Basel- Dauerleihgabe aus Privatsammlung. Photo: Privatsammlung, ©2020, Pro Litteris, Zurich.
BASEL
.-
The Kunstmuseum Basel
announced that seven outstanding works of art, mainly by artists associated with the Fauve movement, are being shown on permanent loan. The works enhance an aspect of the museum's collection of French Modernism that until now has been of lesser prominence than its first-rate holdings of Cubist art. From 4 July 2020, six of the paintings by André Derain, Georges Braque, Maurice de Vlaminck, and others, went on display on the second floor of the Hauptbau as part of the reinstallation of classic modernist art. In addition, a key painting by Gabriele Münter has also been acquired from the lenders' collection. These paintings are from a Swiss private collection of Fauvist works. Fauvism is a style of painting developed by Henri Matisse and André Derain during 1905 in the seaside town of Collioure in the south of France. Shocked by the new style's unrestrained and richly contrasting colours, a Parisian ar ...
More
The Best Photos of the Day
Fossil of giant 70m year-old fish found in Argentina
Michael Werner Gallery announces East Hampton location
A selection of works from Mary Duke Biddle Trent Semans Foundation to be offered at Bonhams


The fossilized remains of this Xiphactinus – similar to the one found in Argentina – was discovered in the US state of Kansas and sold at auction in 2010. Robyn Beck AFP.



BUENOS AIRES (AFP).- A giant 70 million year old fossil of a fish that lived amongst dinosaurs has been discovered in Argentine Patagonia, a team of researchers said on Monday. Argentine paleontologists "found the remains of a predator fish that was more than six meters long," the researchers said in a statement. The discovery was published in the scientific journal Alcheringa: An Australasian Journal of Palaeontology. The fish "swam in the Patagonian seas at the end of the Cretaceous Period, when the temperature there was much more temperate than now," the statement said. "The fossils of this carnivorous animal with sharp teeth and scary appearance were found close to the Colhue Huapial lake" around 1,400 kilometers south of the capital Buenos Aires. This fossil belonged to the Xiphactinus genus, "amongst the largest predatory fish that existed in the history of Earth." ... More



Enrico David, Tools and Toys III, 2014. Jesmonite, graphite, copper. From an edition of 5 + 2 APs, 23 1/4 x 20 1/2 x 3 inches, 56 x 52 x 8 cm. Courtesy Michael Werner Gallery, New York and London.



EAST HAMPTON, NY.- Michael Werner Gallery announced the inaugural exhibition at their East Hampton space, opening on Friday 10 July 2020. Located at 50 Newtown Lane in East Hampton, the opening show will be Sigmar Polke, Francis Picabia and Friends. Sigmar Polke (1941-2010) was one of the most influential and important painters in post-war Germany. Polke's career started at a time of social upheaval and cultural development throughout Europe, particularly in Germany. This led Polke to push the boundaries of painting throughout his career. He drew inspiration from Francis Picabia (1879-1953), a maverick French painter whose work transcends the many styles and periods of the early 20th century. Beginning in the late 19th century, Picabia was central to, and then rejected, many of the movements of the early 20th century, from Dada through ... More



John Singer Sargent (1856-1925), Mrs. John C. Tomlinson (detail), 58 1/8 x 37 7/8in (147.6 x 96.2cm) Estimate: $200,000 - 300,000. Photo: Bonhams.



NEW YORK, NY.- A portrait by John Singer Sargent, Mrs John. C Tomlinson, from the prestigious Mary Duke Biddle Trent Semans Foundation leads Bonhams American Art sale in New York on Wednesday, July 29. Estimated at $200,000-300,000, it is among several highlights from The Mary Duke Biddle Trent Semans Foundation collection in the sale. Bonhams Director of American Art Jennifer Jacobsen said, "By the turn of the 20th century, Sargent had confirmed his reputation as a leading portraitist for American and European high society. Mrs John C. Tomlinson is an exemplary work, showcasing the artist's trademark painterly technique and his maturity as a portrait painter who described his sitters in truth, while revealing their alluring elegance and grace." The New York socialite Dora Tomlinson led a glittering lifestyle, mixing with New York's elites and travelling frequently to Europe with her husband John, ... More
Christie's announces the first virtual Asian Art Week
Gladstone Gallery announces the representation of The Estate of Elizabeth Murray
Masterwork by Henry Moore achieves top lot at Bonhams Sale of Impressionist & Modern Art


Francis Newton Souza (1924-2002), Frightened Head. Oil on board, 30 x 24 in. Painted in 1957. Estimate: USD $150,000-250,000. © Christie's Images Ltd 2020.



NEW YORK, NY.- This July Christie's announces its biannual visual feast of Asian art is taking place in a fully digital format for the first time. Asian Art Week Online July 2020 presents a series of online auctions, virtual viewings, and digital events from July 7-24. From rare Song-dynasty ceramics and 17th-century Japanese screens to Tyeb Mehta's seminal exploration of his Falling Figure, Asian Art Week offers an extraordinary breadth of work drawn from over 3,000 years of artmaking on the vast continent. View the art online in rich detail, explore our enhanced virtual viewing rooms, and read more about the highlights of the sales beginning July 7 on Christies.com. The virtual exhibition will be available on July 10. Tina Zonars, Chairman of Asian Art at Christie's, remarks: "We are delighted to announce our first-ever Online installment of Asian Art Week, which will include a comprehensive array of sales ... More



Elizabeth Murray in her Duane Street studio with Switchback (in progress), New York (c1996). Photography by In Out Studio Inc. © The Murray-Holman Family Trust / Artists Rights Society (ARS), New York. Courtesy Gladstone Gallery, New York and Brussels.



NEW YORK, NY.- Gladstone Gallery announced its representation of the Estate of Elizabeth Murray. Murray's densely painted, often uniquely-shaped canvases and intuitive approach to depicting forms and colors in space transformed the course of art history and continue to have a significant impact on contemporary artists working today. Born in 1940 in Chicago, Murray had an interest in art from an early age. While attending the School of the Art Institute of Chicago, she was deeply influenced by the work of Paul Cézanne, which inspired her to pursue a degree in painting. After graduating in 1962, Murray received her MFA from Mills College in Oakland, California in 1964, and relocated to New York City in 1967. In New York, Murray developed a singular artistic practice and honed her ... More



Henry Moore (1898-1986), Two Piece Sculpture No. 7: Pipe (Conceived in 1966) Price realized: $620,075 © The Henry Moore Foundation. All Rights Reserved, DACS 2020 / www.henry-moore.org



NEW YORK, NY.- Two Piece Sculpture No. 7: Pipe, a masterwork by British sculptor Henry Moore (1898-1986) sold for $602,075 at Bonhams Impressionist & Modern Art sale on July 7 in New York. Two Piece Sculpture No. 7: Pipe was cast in bronze in a numbered edition of nine plus one artist's proof. Other bronze casts of this work are in the collections of the Tate Gallery, London and The Whitworth Gallery at the University of Manchester. The original plaster from which the bronzes were cast is in the Henry Moore Sculpture Centre at the Art Gallery of Ontario, Toronto. Bonhams Director of Impressionist and Modern Art in New York, Molly Ott Ambler, commented: "In this unprecedented season, we saw a solid appetite for a vast array of works from artists like Pierre Puvis De Chavannes and Karl Hofer to modern ones like Henry Moore and Fernand Léger. We were also pleased to see collectors ... More
Richard di Liberto, expert photographer of museum art, dies at 82
Christie's announces highlights included in The Collector sale
Chitra Ganesh joins Hales


Richard di Liberto in an undated photo. (di Liberto family via The New York Times)

by Steven Kurutz



NEW YORK (NYT NEWS SERVICE).- As the chief of photography at the Frick Collection on the Upper East Side of Manhattan, Richard di Liberto was one of the "upstairs" employees — the curators, conservators and administrators who run the museum. But di Liberto, the son of an Italian immigrant bricklayer, liked to hang out downstairs — in the basement billiards room, with the custodians, gardeners, guards, art movers and maintenance workers who shot pool in the afternoons. A musician since his teens, he used lunch breaks to play drums at Jazz at Noon, a long-running weekly jam session in Manhattan. And when his granddaughter visited him at work, di Liberto would lift the velvet rope and whisk her upstairs to show off the opulent rooms forbidden to museumgoers. Di Liberto photographed the Frick's collection of paintings, drawings, sculpture, decorative objects and furniture from 1974 ... More



A German Jewelled Gold-Mounted Hardstone Snuffbox, probably Dresden, circa 1765. 3½ in. (90 mm.) wide. Estimate: £15,000-20,000 | US$19,000-25,000 | €17,000-22,000. © Christie's Images Ltd 2020.



LONDON.- Christie's announced The Collector sale taking place live on 15 July, offering a wide array of the finest European and English furniture, works of art, ceramics, silver and gold boxes spanning the 17th Century to the end of the 19th Century. The sale comprises 253 lots featuring some of the greatest designers and makers of their time including Jacques Dubois, François Rémond, Gioacchino Barberi, François Linke, Christofle, Marsh and Tatham amongst others. This season Christie's partnered with Kit Kemp, Founder and Creative Director of Firmdale Hotels as a Tastemaker on The Collector. Kit is passionate about creating exciting and unique interiors. Kit is an author, a successful textiles, homewares & fragrance designer and respected champion of British art. Over the years Kit Kemp has forged an internationally-acclaimed reputation and is ... More



She the Question, The History of Encounter, 2012. Images courtesy of Gallery Wendi Norris, San Francisco.



NEW YORK, NY.- Hales announced representation of New York based artist Chitra Ganesh. Ganesh's first solo exhibition with the gallery will be held at Hales New York in 2021. Across a twenty-year practice, Chitra Ganesh (b. 1975 Brooklyn, New York) has developed an expansive body of work rooted in drawing and painting, which has evolved to encompass video, sculpture, computer generated image, and collage. Informed by her studies in literature and semiotic theory, Ganesh explores storytelling traditions and mythologies, bringing important historical conversations to the contemporary moment. With influences including South Asian iconography, Bollywood posters, science fiction, vintage comic books, and that of queer theory, Ganesh forms nonlinear narratives and highly detailed visual worlds that subvert traditional storytelling to create women and queer-centric narratives of the future. She draws out alternative depictions of sexuality and power, ... More
On Syria river, craftsmen revive famed water wheels
Phillips New Now Sale to include works by Eddie Martinez, Oscar Murillo, Anish Kapoor, and Amoako Boafo
Morse Museum acquires and prepares installation of remarkable Tiffany Fireplace Hood


Men work on the Mohammadieh Noria (water wheel) along the Orontes (Assi) river in the city of Hama in west-central Syria on June 22, 2020. MAHER AL MOUNES / AFP.

by Maher al-Mounes



HAMA (AFP).- On a riverbank in Syria's Hama, Mohammed Sultan tinkers away on a giant water wheel, one of a dwindling number of artisans able to restore the city's ancient wooden landmarks. Used for centuries to bring water to gardens and buildings on the shores of the Orontes River, the water wheels or "norias" of Hama are believed to be unique worldwide, according to UNESCO. The touristic landmarks have largely been spared by Syria's nine-year war, but some have fallen into disrepair or seen part of their timber stolen or burnt. "It's our duty to bring them back to life," the 52-year-old said, sweat forming on his forehead after hammering a tenon into a freshly cut wood beam. Nearby passers-by pose for pictures at the feet ... More



Eugène Leroy, Autoportrait. Painted in 1974-1977. Oil on canvas, 82 x 66 cm (32 1/4 x 25 7/8 in.) Estimate £12,000-18,000. Image courtesy of Phillips.



LONDON.- Phillips announced highlights ahead of the New Now auction in London on 15 July 2020. Featuring 235 lots, New Now will offer works by established artists including leading highlights by Eddie Martinez, Oscar Murillo, and Anish Kapoor. The sale also presents a strong selection of works by young and emerging artists including Amoako Boafo and Nina Chanel Abney, among others. Further New Now highlights include property two important private Belgian collections; the Estate of the Family Geirlandt and the Estate of Jan Hoet. Collectors will be able to view the highlights at Phillips' Berkeley Square galleries and online via the virtual exhibition from 9 July until the auction which will take place on 15 July at 2pm. Simon Tovey, Head of New Now, said: "Following the success of our New York New Now sale in March which, at $7.9 million, realized the highest total for ... More



Tiffany Fireplace Hood (detail).



WINTER PARK, FLA.- The Charles Hosmer Morse Museum of American Art has acquired Louis Comfort Tiffany's unique cast-iron fireplace hood, created for his New York City residence in 1883. The work was offered last autumn in the Lillian Nassau LLC booth at The European Fine Art Fair (TEFAF) held in the Park Avenue Armory in New York. This coming fall, the Museum plans to install the remarkable architectural element in its Laurelton Hall wing. This singular and cherished piece by Tiffany first adorned the grand library of his Seventy-Second Street house in New York City. The fireplace hood is massive, measuring 66 1/2 inches tall by 55 1/2 inches wide. Tiffany shaped the cast iron to appear like swaths of leather, buttoned down with rivets surrounding fanned sheets of mica, which would glow from the fire underneath. The surface is decorated with twenty-two tsuba, or Japanese sword guards. In the 1880s, Tiffany had collected tsuba by the barrelful ... More

Discover Rembrandt's Unceasing Journey of Self-Depiction

Flashback
On a day like today, Italian painter Artemisia Gentileschi was born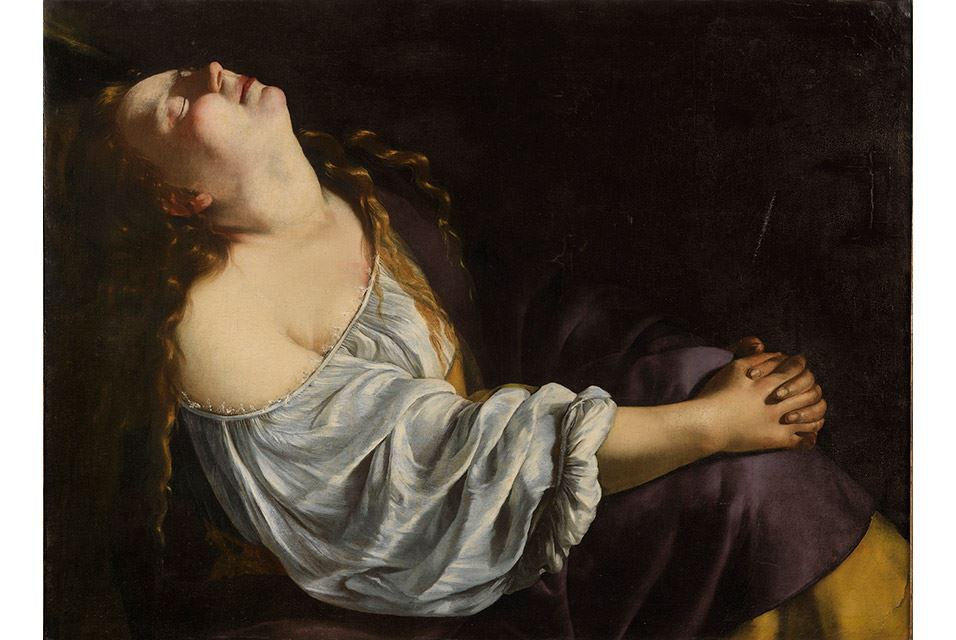 July 08, 1593. Artemisia Gentileschi or Artemisia Lomi (July 8, 1593 - c. 1656) was an Italian Baroque painter, today considered one of the most accomplished painters in the generation following that of Caravaggio. In this image: Artemisia Gentileschi, Mary Magdalene (detail). Oil on canvas, 81 x 105 cm ; 32 by 411/3 in. €865.500 - World Auction Record for the Artist. Photo: Sotheby's.
---

Museums, Exhibits, Artists, Milestones, Digital Art, Architecture, Photography,
Photographers, Special Photos, Special Reports, Featured Stories, Auctions, Art Fairs,
Anecdotes, Art Quiz, Education, Mythology, 3D Images, Last Week,

.
---
Royalville Communications, Inc
produces: