Louvre visitor numbers plunge due to Covid restrictions
Sophie Duberson, of the restoration department of the Louvre Museum cleans the Egyptian funerary stele Senusret, at the Louvre Museum in Paris, on January 8, 2021. The devastating impact on tourism and culture was once again underscored on January 8 with the Louvre in Paris, the world's biggest museum, announcing its visitor numbers had fallen by 70 percent last year. Martin BUREAU / AFP.
PARIS
(AFP)
.-
The Louvre, the world's biggest museum, suffered a drop in visitor numbers of over 70 percent last year as Covid restrictions kept art lovers away, it said on Friday. Receipts fell by more than 90 million euros ($110 million) compared with 2019. The Louvre, which closed for six months during French coronavirus lockdowns, saw visitor numbers plunge to 2.7 million in 2020, from 9.6 million in 2019 and 10.2 million in 2018, which was a record year. Visits by foreigners, notably from the United States, China, Japan and Brazil, who usually make up three quarters of total visits, all but dried up, especially during the usually busy summer months. The museum managed to limit the damage with its blockbuster Leonardo da Vinci exhibition that attracted 1.1 million visitors and ended before the first French lockdown in the spring. The Louvre also used the downtime to boost its digital offering, with the number of online subscribers growing by over a million from 2019 to 9.3 million, and the louvr ...
More
The Best Photos of the Day
Almine Rech opens a solo exhibition of works by Genesis Tramaine
Lark Mason Associates extends bidding for rare Neopolitan Christmas Créche figures on igavelauctions.com
Michael Apted, versatile director known for 'Up' series, dies at 79


Genesis Tramaine, Annointed Son, 2020. Oil stick, oil pastel, holy spirit, 182.9 x 121.9 x 6.3 cm. 72 1/8 x 48 x 2 1/2 inches.



BRUSSELS.- Almine Rech is presenting Evidence of Grace by American visual artist Genesis Tramaine. This exhibition is the artist's first solo presentation in Brussels and the second with the gallery. The paintings featured in Evidence of Grace serve as Tramaine's creative rumination on the many trials and tribulations that have come to define 2020. The COVID-19 pandemic, the resurgence of racial tensions in North America's mainstream discourse, and the Black Lives Matter movement that has shifted our social consciousness. Searching for a way to make sense of what she found to be troubling in our society - injustice, discrimination, and a lack of care for each other - Tramaine began her quest for answers. As Tramaine often does when faced with a problem and seeks to process events occurring in the world around her, she looks inward and engages in deep prayer. Tramaine's prayers provided ... More



Three Italian Neapolitan Polychrome Wood and Terracotta Noble Ladies, 19th century.



NEW BRAUNFELS, TX.- A single lot special seasonal auction of Neapolitan Christmas créche figures, dating from the 19th and early 20th centuries, offered by Lark Mason Associates, is still open for bidding through January 12th on iGavelAuctions.com. The comprehensive collection offered includes a group of winged angels, the three magi, musicians, and many other figures and animals. The three magi are of particular interest, each boasting a "gem" studded metal crown with finely crafted clothing, all three bear matching metal swords with lion pommels. The annual tradition of setting up the Christmas Créche is still alive and well in many homes throughout the world. Says Lark Mason: "This auction offers an opportunity for those who celebrate this time-honored tradition to add to their collection or for new entrants to begin a fun and beautiful way to celebrate the Christmas season." Naples, Italy is known for extravagant works o ... More



The director Michael Apted at his office in West Los Angeles, Dec. 18, 2012. Robert Yager/The New York Times.

by Neil Genzlinger



NEW YORK (NYT NEWS SERVICE).- Michael Apted, a versatile director whose films were as varied as the James Bond picture "The World Is Not Enough" and the biographical dramas "Gorillas in the Mist" and "Coal Miner's Daughter," and who made his most lasting mark with the "Up" documentary series, which followed the lives of a group of British people in seven-year intervals for more than a half century, died on Thursday at his home in Los Angeles. He was 79. His agent in the United States, Roy Ashton, confirmed the death but did not specify a cause. Apted, who was British, was a researcher at Granada Television in England when he helped pick the 14 children, all of them 7, who became the subjects of "Seven Up!," the initial documentary in the "Up" series, which was directed by Paul Almond and shown on British television in 1964. ... More
The National Gallery remains open online with wide-ranging digital programme
Nailya Alexander Gallery opens an exhibition inspired by the photography book 'A Pageant of Youth'
Carol Johnson, leading landscape architect, dies at 91


Artemisia curator's tour © The National Gallery, London.



LONDON.- As we return to digital ways to look at, use and respond to art, the National Gallery will remain open online, continuing to bring the nation's gallery into the nation's homes. Through our digital programme, we will be open 24/7, providing everyone with access to great art at anytime, anywhere in the world. While the Gallery doors remain closed, art continues to be a source of hope, inspiration and reassurance for many. Since March 2020, we have seen a 1,125% increase in visitors to the Stories page on our website which houses new digital content, online events, and an archive of recent features and films produced in-house. The average time spent on individual painting pages has increased by 71% and the average duration of individual sessions overall has increased by 30% from March 2020, in comparison to the same period the previous year. Since January 2020, the National Gallery has gained 408,451 followers acro ... More



Boris Ignatovich, Shower, 1935. Gelatin silver print.



NEW YORK, NY.- Nailya Alexander Gallery is presenting A Pageant of Youth, an exhibition inspired by the photography book of the same name, designed by Aleksandr Rodchenko (1891–1956) and Varvara Stepanova (1894–1958) for the 1939 New York World's Fair. The book emphasizes the importance of physical culture among Soviet youth and showcases one of the extravagant annual All-Union Sports Parades held on Red Square in Moscow, as well as other athletic activities fashionable in the 1930s. Athleticism and physical health were promoted by the newly formed Soviet state in order to serve one of its main objectives: the creation of an entirely novel and advanced type of human being called "The New Soviet Man" who would be selfless, educated, and physically strong, while constantly striving for self-improvement. Photography, like no other media, was especially instrumental in the formation of this idealized image and its dissemination ... More



Carol Johnson at John F. Kennedy Memorial Park, which her firm designed, in Cambridge, Mass., 2020. The Cultural Landscape Foundation via The New York Times.

by Penelope Green



NEW YORK (NYT NEWS SERVICE).- Carol Johnson, who transformed derelict sites into striking civic parks as the founder of what would become one of the country's largest landscape architecture firms owned by a woman, died on Dec. 11 at her home in Boothbay Harbor, Maine. She was 91. A niece, Virginia Johnson, said the cause was complications of Alzheimer's disease. Johnson was known for her large-scale public projects, which often involved environmental remediation. For the Mystic River State Reservation, a nature preserve in eastern Massachusetts, a commission she received in the 1970s, she transformed a toxic landfill into a public park. The John F. Kennedy Park along the Charles River in Cambridge, ... More
Indian sari pioneer Satya Paul dies at 78
From the music hall to ballet royalty: A British tale
Highest-graded copy of 1940's 'Batman' No. 1 sets world record one week before live auction


In this file photo taken on March 24, 2007 a model displays a creation by Indian designer Satya Paul during the Wills India Fashion Week in New Delhi. Manan VATSYAYANA / AFP.



MUMBAI (AFP).- Indian fashion designer Satya Paul, whose eponymous brand breathed life into the traditional sari, modernising the garment with funky prints, has died at 78, his family said. Born on February 2, 1942, he first made his mark in the world of fashion retail with the 1980 launch of L'Affaire, India's first sari boutique, before establishing his own label five years later. His pioneering designs blended Indian handloom techniques with a modern palette, producing saris adorned with polka dots, zebra prints and abstract motifs. He did not limit himself to saris however, expanding into accessories such as scarves and ties, and eventually creating a retail empire that spanned eight Indian cities and a thriving online business. Drawn to spiritual pursuits from an early age, Paul passed away at an ashram in the southern city of Coimbatore ... More



The Danish-born ballerina Adeline Genée, who was a founder of the Royal Academy of Dance, in "A Dream of Butterflies and Roses." The history of the Royal Academy of Dance, outlined at an exhibition in London, is synonymous with the history of ballet in Britain. Hugh Cecil via The New York Times.

by Roslyn Sulcas



NEW YORK (NYT NEWS SERVICE).- "It is absolute nonsense to say that the English temperament is not suited for dancing," Edouard Espinosa, a London dance teacher, said in 1916. It was only a lack of skilled teaching, he added, that prevented the emergence of "perfect dancers." Espinosa was speaking to a reporter from Lady's Pictorial about a furor that he had caused in the dance world with this idea: Dance instructors, he insisted, should adhere to standards and be examined on their work. Four years later, in 1920, a teaching organization that would become the Royal Academy of Dance (RAD) was founded by Espinosa and several others, including Danish-born Adeline ... More



Batman #1 (DC, 1940) CGC NM 9.4 White pages.



DALLAS, TX.- The finest known issue of Batman No. 1 now holds the distinction of being the most expensive Dark Knight comic ever sold – a full week before it heads to auction. On Jan. 14, during the first session of its four-day Comics & Comic Art event, Dallas-based Heritage Auctions will sell a near-mint issue of the 1940 comic book, the sole copy ever to receive a 9.4 grade from the Certified Guaranty Company. Since the sale's launch on Dec. 23, vigorous bidding has pushed the comic's price tag to $1,530,000, including buyer's premium. The book will be sold during a live auction to be held on Heritage's website at noon Central Standard Time on Jan. 14. But already it will surpass the $1.5-million world record set for a Batman title in November, when Heritage Auctions sold a copy of 1939's Detective Comics 27 for $1.5 million, which, at the time, was the highest price ever realized for any Batman comic book. For a few weeks, Detective Comics No ... More
David Hasselhoff 40-year show business archive including Knight Rider car to be auctioned Jan. 23
Eugene Wright, longtime Brubeck Quartet bassist, dies at 97
Shakespeare, swing and Louis Armstrong. So what went wrong?


David Hasselhoff's personal and fully functional Knight Rider K.I.T.T. car with distinctive illuminated dash and console. Car is located in UK. Hasselhoff will personally deliver the car to the winning bidder if the hammer price exceeds the reserve by 25%. Estimate $175,000-$300,000.



CALABASAS, CALIF.- Throughout his career as a multimedia superstar, David Hasselhoff has brought his charismatic personality to many roles now ingrained in pop-culture history. From his first major TV success on the 1970s daytime drama The Young and the Restless, Hasselhoff went on to earn worldwide acclaim as high-tech crimefighter Michael Knight on Knight Rider, followed by an 11-year run as hunky LA County lifeguard Mitch Buchanan on Baywatch. From there, Hasselhoff – or "the Hoff," as he is known to his legion of fans – produced the TV series Baywatch Hawaii, appeared in major stage productions, and lit up such films as Dodgeball and The SpongeBob SquarePants Movie. He summoned his musical talent to record a studio album that went triple platinum in Europe and hit number one on the charts in several countries. Even after all those ... More



The quartet was one of the few racially mixed jazz groups during the fiery early years of the civil rights movement.



NEW YORK (NYT NEWS SERVICE).- Eugene Wright, a distinguished bass player who toured the world and recorded some 30 albums, including the landmark "Time Out," in his decade with the Dave Brubeck Quartet, died Dec. 30 in the Valley Glen neighborhood of Los Angeles. He was 97. Caroline Howard, the executor of Wright's estate, confirmed his death, at an assisted living facility. In 1958 Wright, a solidly swinging timekeeper best known for his work with the Count Basie Orchestra in the late 1940s, might not have seemed the ideal choice for the complex modern jazz compositions that formed the bulk of Brubeck's repertoire. "It shouldn't have worked, but Dave had an ESP about musicians and knew somehow Eugene would work," Philip Clark, the author of "Dave Brubeck: A Life In Time" (2020), said in a phone interview. "Eugene was a light-fingered player who could swing heavily, but he had a spongy sound that gave albums like 'Time Out' and very intricate pieces like & ... More



Kwame Kwei-Armah, artistic director of Young Vic, in Baltimore, April 25, 2013. Matt Roth/The New York Times.

by Elisabeth Vincentelli



NEW YORK, NY (NYT NEWS SERVICE).- "It's almost like a kind of murder mystery," Kwame Kwei-Armah said with obvious relish. "The play was butchered by the press, and somehow the body has disappeared." The case the artistic director of London's Young Vic Theater was referring to is a Broadway show called "Swingin' the Dream." Set in 1890 Louisiana, this "musical variation of Shakespeare's 'A Midsummer Night's Dream,' " as it was billed, ran on Broadway for just 13 performances at the end of 1939, then sunk without a trace. The script itself is lost, save for a few pages from the Pyramus and Thisbe section. So you have to wonder why prominent institutions — the Royal Shakespeare Company and the Young Vic in Britain and New York's Theater for a New Audience — would team up to revisit a theatrical footnote for a long-term project, which kicks off Saturday with a livestream concert of popular ... More

The Highest Value Masters Week in Sotheby's History

Flashback
On a day like today, art collector Gertrude Vanderbilt Whitney, was born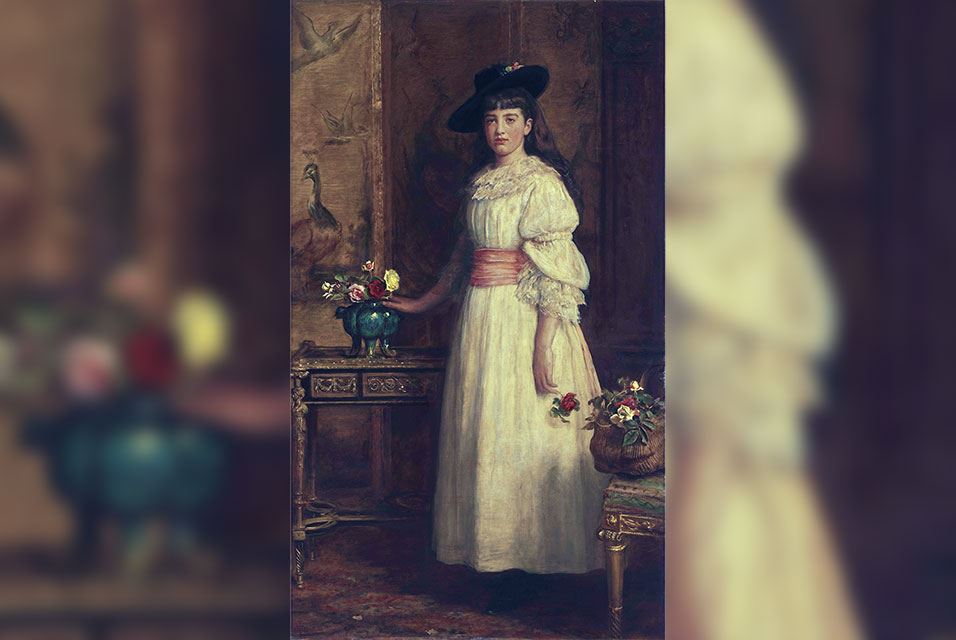 January 09, 1875. Gertrude Vanderbilt Whitney (January 9, 1875 - April 18, 1942) was an American sculptor, art patron and collector, and founder in 1931 of the Whitney Museum of American Art in New York City. She was a prominent social figure and hostess, who was born into the wealthy Vanderbilt family and married into the Whitney family.
---

Museums, Exhibits, Artists, Milestones, Digital Art, Architecture, Photography,
Photographers, Special Photos, Special Reports, Featured Stories, Auctions, Art Fairs,
Anecdotes, Art Quiz, Education, Mythology, 3D Images, Last Week,

.
---
Royalville Communications, Inc
produces: