Florida art scammer sentenced to over 2 years in federal prison
An undated photo provided by The United States Department of Justice of a fake Jean-Michel Basquiat work sold by Daniel Elie Bouaziz for $12 million. The Florida art dealer who promised bargains on works he claimed were originals by master artists including Roy Lichtenstein, Keith Haring and Henri Matisse has been sentenced to more than two years in federal prison for laundering money made running a counterfeit scheme, federal officials said. (The United States Department of Justice via The New York Times)

by Livia Albeck-Ripka
NEW YORK, NY
.-
A Florida art dealer who promised bargains on works he claimed were originals by master artists including Roy Lichtenstein, Keith Haring and Henri Matisse has been sentenced to more than two years in federal prison for running a counterfeit scheme, federal officials said. The man, Daniel Elie Bouaziz, 69, owned several art galleries in Palm Beach County, Florida, through which he operated the counterfeit scheme. He was sentenced on Tuesday in U.S. District Court in Miami to 27 months in federal prison, followed by three years of supervised release, and was ordered to pay a $15,000 fine, court filings show. Bouaziz pleaded guilty in February to one charge of money laundering on the condition that federal prosecutors drop 16 other counts, according to the documents. Neither Bouaziz nor his lawyer could immediately be reached for comment on Tuesday evening. ...
More
The Best Photos of the Day
Saatchi Yates presents an exhibition of bathing scenes in the history of painting
Deutsche Börse Photography Foundation presents "Ernest Cole: House of Bondage"
Gagosian Paris to exhibit iconic early works by Andy Warhol from 1963


Denijs Van Alsloot, A Forest Landscape, with Diana discovering Callisto's Pregnancy, and a View of the Priory of Groenendael, 1614. Oil on Canvas, 148 x 219.5 cm.




LONDON.- This June, Saatchi Yates is presenting 'Bathers'- a major group exhibition drawing from the rich tradition of Bathing scenes in the history of painting, in ode to the ultimate summer muse. Tracing its genesis to classical antiquity, artists have depicted the bathing figure over the ages, from the French Masters appreciation of natural beauty, to its radical reconstruction by Picasso. Today, this tradition continues to captivate the imagination, with the new exhibition at Saatchi Yates exploring this enduring subject, grounded in the birth of Venus from the sea. The exhibition will bring together a collection of contemporary art, presented alongside renowned Post-War and Historical Masters including David Hockney, Paul Cezanne, J. M. W. Turner and Pablo Picasso. Contemporary stars such as Hurvin Anderson, Peter Doig, Henry Taylor, Eric Fischl, and Lynette Yiadom-Boakye will feature in the show, creating an artistic tapestry ... More



Ernest Cole, South Africa, 1960s. Pensive tribesmen, newly recruited to mine labour, await processing and assignment. From the chapter 'The Mines'. © Ernest Cole / Magnum Photos.




FRANKFURT.- The exhibition "Ernest Cole. House of Bondage" in The Cube, Eschborn, starting 2 June, the Deutsche Börse Photography Foundation will be showing South African photographer Ernest Cole's oeuvre. An important chronicler of apartheid politics, it is the first major exhibition of his works in Germany. In around 130 photographs, it covers all 15 thematic chapters of his eponymous book, "House of Bondage", and also includes works from the chapter "Black Ingenuity", which was not published in the original edition. The presentation is complemented by early original prints, personal documents of the artist, original editions of published series of images in magazines and a filmed interview with Cole from 1969. Ernest Cole (1940-1990) chronicled the Black majority's experience during apartheid in South Africa as forcefully and comprehensively as few of his ... More



Andy Warhol, Silver Liz [Studio Type], 1963. Silkscreen ink and spray paint on linen, 40 × 40 inches (101.6 × 101.6 cm). © 2023 The Andy Warhol Foundation for the Visual Arts, Inc./Artists Rights Society (ARS), New York.



PARIS.- Gagosian is pleased to announce Andy Warhol: Silver Screen, an exhibition of three early paintings by Andy Warhol from 1963, organized for the gallery by Jessica Beck, formerly of the Andy Warhol Museum, Pittsburgh. Sixty years ago, in the summer of 1963, Warhol was thinking as both painter and filmmaker, producing silkscreened canvases with multiple images. This was when he received his first camera (a 16mm Bolex that he later used for the Screen Tests, cinematic portraits of friends and "superstars") and his paintings began to mirror the repetitions of filmstrips. At the same time, Warhol worked in a leaky former firehouse on the Upper East Side, eventually hiring poet Gerard Malanga to complete some of his most significant early silkscreened paintings, Disasters, Silver Elvis, and Silver Liz. A year later, Warhol moved to a larger space on East 47th Street. There, lighting designer turned assistant and ... More
Yesterday and Today: From Julian Onderdonk to David Bates, Heritage presents Texas art for the ages
Tuan Andrew Nguyen, winner of the 2023 Joan Miró Prize
'The pictures are miracles': How Judith Joy Ross finds pain and nobility in portraits


David Bates (American, b. 1952), Cannas, 2000. Mixed media on panel relief, 60 x 44 x 5 inches (152.4 x 111.8 x 12.7 cm). Signed upper left: Bates. Signed, dated, and titled on the reverse: David Bates / Cannas 2000.



DALLAS, TX.- As a state, and a state of mind, Texas has always been hard to define, and this is true of Texas-based artists as well. Texas artists from the past and present don't fit into tidy categories, nor have they wanted to. The kinds of art made in Texas — landscape, abstract, figurative, conceptual, self-taught, impressionistic — puts it in conversation with both the history of art and the current moment. The very social fabric of the Lone Star State and its deep philanthropic roots, its robust collecting culture, its acclaimed institutions and a thriving commercial market has made it a home to professional artists for more than a century, and the diversity of the work and the artists themselves are a testament to Texas' fundamental art-friendliness, its appeal as a subject, and as a place to carve out a practice. Texas artists have claimed a special spot in the art cosmos and their names ... More



Tuan Andrew Nguyen, Light as Smoke, 2022. Photo: Izzy Leung.



BARCELONA.- The Vietnamese-American artist is the winner of the eighth Joan Miró Prize, one of the most prestigious contemporary art accolades in the world, which this year is being awarded by the Fundació Joan Miró with the support of the Stavros Niarchos Foundation (SNF). The jury placed special value on the social, political and environmental commitment of Nguyen's work, which addresses challenging themes related to history, collective memory and the impact of colonialism through rigorous and poetic art projects in which he combines the moving image and sculpture. The SNF is funding the cash prize and the production of a solo show of Nguyen's work, to be held in 2024 at the Fundació Joan Miró. Marko Daniel, Director of the Fundació Joan Miró, and Alexandros Kambouroglou, Global Programs Director of the Stavros Niarchos Foundation (SNF), have announced the artist awarded the 2023 Joan Miró Prize. Tuan Andrew Nguyen (Ho Chi Minh City, Vietnam, ... More



The portrait photographer Judith Joy Ross, right, prepares to photograph a security guard, Naquyah Purdie, at the Philadelphia Museum of Art in Philadelphia, April 28, 2023. With a retrospective in Philadelphia, the artist is still seeking to capture a mysterious moment with a stranger. (Hannah Yoon/The New York Times)



PHILADELPHIA, PA.- In a room hung with empathetic black-and-white photographic portraits for her retrospective at the Philadelphia Museum of Art, Judith Joy Ross, frail-looking and white-haired, was recently taking pictures for her next series. Posing a guard in front of her old-fashioned wooden view camera, she chattered on in an obscenity-laced monologue about her ineptitude. Seemingly to herself, she said, "I have no idea what I'm doing. I've forgotten." Then she looked up at the bald, bushy-bearded guard, who was standing compliantly where she had placed him. "That's great," she gushed. "Everybody can see that's great. Fantastic. You are perfect." He gazed ahead stolidly. Ross turned to me and said, "People don't like to be photographed, but photographers also don't ... More
'Chris Ofili: The Seven Deadly Sins' to open at Victoria Miro
Carpenters Workshop Gallery now presenting work by Frederik Molenschot
Impressionist and Post-Impressionist masterpieces from the Pearlman Foundation now at the MFAH


Chris Ofili, The Pink Waterfall (detail), 2019–2023. Oil and charcoal on linen, 310 x 200 cm, 122 x 78 3/4 in, © Chris Ofili, courtesy the artist and Victoria Miro.



LONDON.- Victoria Miro will be opening The Seven Deadly Sins, a major new series of paintings by Chris Ofili, starting June 2nd. Completed over the past six years, the works on view offer an expansive meditation on sin and the complex experience of sinfulness. In this series of works Chris Ofili contemplates the seven deadly sins – a subject with Biblical origins that bears fundamentally on the human condition and human behaviour. The artist intended each painting not to cleave to a particular sin, but to encompass a spectrum of excessive and transgressive behaviours. Moving through dreamlike realms at once paradisiacal, other-worldly and cosmic, these works depict scenes where humans and mythological creatures co-exist. The natural world is fecund and mysterious in this territory of sinfulness, a place where ... More



Frederik Molenschot, Bridge Chair 1A, 2023. Aluminum (Patina : Stone Washed), Edition of 20 plus 4 AP.



PARIS.- Carpenters Workshop Gallery is opening the first solo exhibition of Dutch artist Frederik Molenschot's work, ATLAS 2000, from June 1 to September 16, 2023, in its Parisian space at 54 rue de la Verrerie in the Marais district of Paris. Occupying the first floor, this exhibition will feature new works from Molenschot's latest research – Gingerblimp, Artificial Forest, Bridge Beat, S TATI CA, The Grasspeople, and Cosmos Life – offering a unique glimpse of his talent. The Gingerblimp, Artificial Forest, and Bridge Beat series illustrate Molenschot's expertise in using materials such as steel and bronze to create monumental and beautifully detailed pieces. Gingerblimp presents organic and strangely familiar structures, while Artificial Forest explores the tensions between nature and artifice. Bridge Beat is a series of imaginary bridges, reflecting the artist's fascination with ... More



Amedeo Modigliani, Jean Cocteau, 1916. Oil on canvas, the Henry and Rose Pearlman Foundation, on loan to the Princeton University Art Museum. Photograph: Bruce M. White.



HOUSTON, TX.- In the late 19th and into the early 20th century, European artists' ability to travel along newly industrialized railway lines, and cross paths and share ideas, led to the transmission and evolution of varied artistic styles. Impressionist and Post- Impressionist Masterpieces from the Pearlman Foundation will present 38 outstanding works from the renowned collection assembled in the second half of the 20th century by New York collectors Henry and Rose Pearlman. Paintings and sculptures by Cézanne, Manet, Degas, Gauguin, van Gogh, Pissarro, Toulouse-Lautrec, Modigliani, Soutine, Lipchitz and others will be seen within the context of their experience of transience – regional, national, and international. It will explore the friendships the artists developed in Paris, ... More
Avis Newman's second exhibition with Maureen Paley opens in London
Sargent's Daughters, NY, now showing exhibition by Alex Anderson it's 'Not Romantic'
Reverend Joyce McDonald opens until July 30th at Studio M, London


Avis Newman, Strategies of Engagement VII (Thirteen Chapters), 2022. Acrylic and chalk on unstretched cotton canvas, 232 x 183 cm. © Avis Newman, courtesy Maureen Paley, London.



LONDON.- Maureen Paley is opening a new exhibition by Avis Newman, which begins today with a private viewing, and will continue through July 30th, 2023. This will be her second with the gallery and her first at 60 Three Colts Lane. "The work presented in this exhibition forms part of a larger ongoing series entitled Thirteen Chapters, which is a meditation on notions of conflict. This is a reflection on the writing of Sun Tzu's Art of War and the lasting significance of the poetry of the German/French poet Paul Celan. The limits of language and what cannot be said has had a great effect on me as a visual artist and the notion that the image is beyond language has always been a truism for me. This conundrum has been ever present. There are such incomprehensible events in the world, near impossible to classify or comprehend, where experience and embodied ... More



Alex Anderson, Rose x Daisy Vessel, 2023, Earthenware, glaze, gold luster, 9.5 x 8.5 x 8.5 in.



NEW YORK, NY.- Sargent's Daughters is now presenting Not Romantic, the New York City debut of Los Angeles-based artist Alex Anderson. Working entirely in ceramics, Anderson creates both freestanding sculptures and wall-based "paintings" that employ his technical mastery of the delicate medium to visualize contemporary cultural excess and his own complex experience. Anderson specialized in ceramic arts in both his bachelor's and master's degrees, and gained a unique command of the medium through additional studies at the Jingdezhen Ceramic Institute in Jingdezhen, China and the China Academy of Art in Hangzhou, which he attended through a Fulbright Grant. Grounded in this expansive and cross-cultural knowledge of ceramics, Anderson's work celebrates a medium and an aesthetic vocabulary that has long been pejoratively described as "decorative" in the Western canon. For ... More



Reverend Joyce McDonald, Untitled, 2021. Glazed ceramic, 17.14 x 17.78 x 18.41 cm. © Reverend Joyce McDonald, courtesy Maureen Paley, London and Gordon Robichaux, New York.



LONDON.- Maureen Paley is opening a new exhibition by the Reverend Joyce McDonald. This will be her first solo exhibition with the gallery, presented at Studio M, London, which will continue until July 30th, 2023. The Reverend Joyce McDonald, a multi-disciplinary artist and activist, began working with clay in the 1990s and was ordained as a minister in 2009. In her sculptural works, she enshrines her own personal narratives: living with HIV since 1985 and wider cultural experiences of family, love, loss, illness, healing, transformation, and transcendence. McDonald is a long-standing Visual AIDS artist member. McDonald works with both glazed ceramics and air dry clay, often detailing her figurative sculptures with materials at hand including acrylic paint, wite-out, markers, glitter, fabric, false eye lashes, and beads. Made ... More

Lecture---Artifice and Invention: Displaying Art of the Spanish Americas

Flashback
On a day like today, English illustrator and animator Gerald Scarfe was born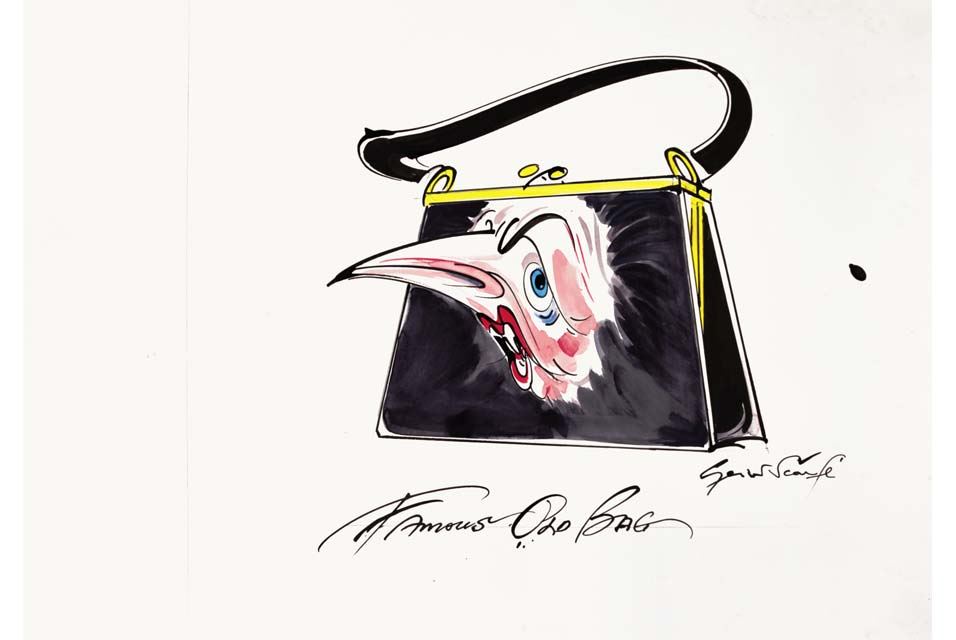 June 01, 1936. Gerald Anthony Scarfe, CBE, RDI (born 1 June 1936) is an English cartoonist and illustrator. He has worked as editorial cartoonist for The Sunday Times and illustrator for The New Yorker. In this image: Gerald Scarfe, Famous old bag, 336 by 353mm, pen, ink and watercolour drawing. Estimate: £2,000-3,000. Photo: Sotheby's.
---

Museums, Exhibits, Artists, Milestones, Digital Art, Architecture, Photography,
Photographers, Special Photos, Special Reports, Featured Stories, Auctions, Art Fairs,
Anecdotes, Art Quiz, Education, Mythology, 3D Images, Last Week,

.
---
Royalville Communications, Inc
produces: