When visiting Michelangelo's David, she brings a duster
Restorer Eleonora Pucci at work in the Galleria dell'Accademia in Florence, Italy, on Nov. 21, 2022. Pucci spends most of her days ensuring that the museum's entire collection, including its paintings, is in good shape. (Chiara Negrello/The New York Times).
FLORENCE
.-
Imagine a job that lets you get up close and personal — really, really up close and personal — with one of the world's most famous statues. It is one perk of being the in-house restorer of the Galleria dell'Accademia in Florence, where Eleonora Pucci's task is to regularly dust Michelangelo's David, which she described recently as exhilarating, if somewhat nerve-wracking. "To be able to contribute, even in a small way, to the conservation of David's beauty" makes hers "the best job in the world," Pucci said. "Is there anything greater than passing on beauty?" It was early last Monday, the one day the Galleria is closed to the public, and the clanging of metal echoed throughout the museum as a specialized team built a scaffold tower in the airy rotunda that housed the David. Over the course of the morning, the tower would be gingerly repositioned so that Pucci could reach the 17-foot-tall statue from all sides. Pucci ni ...
More
The Best Photos of the Day
Heard Museum presents new exhibition, "Substance of Stars"
Rare Spanish bronze in the spotlight at Roland Auctions NY December 3rd Fine Estates Auction
Long-concealed Rembrandt back in The Hague


SkyDome, "Substance of Stars".



PHOENIX, ARIZ.- The Heard Museum is currently presenting "Substance of Stars", which opened on November 6, 2022. This multi-sensory experience takes visitors on a storytelling journey with four distinct communities; the Haudenosaunee, Yup'ik, Diné, and Akimel O'odham as they share their unique perspectives, stories and experiences. The exhibition incorporates Indigenous languages, spiritual and foundational knowledge, and value systems which figure prominently in the identities of Indigenous peoples. The exhibition features a multi-level excursion of historic and contemporary works centered around an impressive 360-degree theatrical experience titled the Sky-Dome. The Sky-Dome has edge-blend technology that offers dynamic changing landscapes by the four seasons on 20-foot-high walls. Simultaneously, the ceiling is a fiber optic map of the cosmos centered on the North Star that rotates four times to replicate the change of seasons as seen fro ... More



Pablo Serrano, St. Junipero Serra. Bronze. Estimate: $80,000-$120,000.



GLEN COVE, NY.- Roland Auctions NY in Glen Cove, NY will present an important modern Pablo Serrano Brutalist-style monumental bronze sculpture "St. Junipero Serra" at their upcoming Fine Estates Auction on Saturday, December 3rd at 10am. This 20th Century sculpture was featured in the courtyard of the Spanish International Pavilion of the New York World's Fair of 1964-65. The auction will also feature hundreds of lots of American and International Fine Art, Decorative Arts, 20th Century Modern, Antique and Vintage Furniture, Textiles, Silver, Jewelry, Rugs, Collectibles, Asian Art, Decorative Arts, and Lighting. Previews will be held on Thursday, December 1st and Friday, December 2nd from 10am - 6pm. The Pablo Serrano (Spanish, 1908-1985) "St. Junipero Serra" bronze depicts a standing full-length larger-than-life depiction of Saint Junipero Serra in his hooded Franciscan cassack with bare feet ... More



Rembrandt, Self-portrait, 1643. Private collection.



THE HAGUE.- This week, a long-concealed self-portrait of Rembrandt is set to return to The Hague. From Tuesday 29 November onwards, it will be on display in Escher in The Palace, which was home to it from 1850 to 1894, when the palace belonged successively to Prince Hendrik of the Netherlands and his sister Great Duchess Sophie. The painting has not been seen in the Netherlands since 1898 – for nearly 125 years – and has not even been on public display since 1967. The self-portrait is being given a unique spot among the famous self-portraits by Dutch printmaker M.C. Escher, whose work has been on display in the palace since 2002. The Rembrandt will be exhibited here until 29 January 2023. This unique event is the result of recent research into the painting's history by Rembrandt specialist Gary Schwartz. Schwartz drew on numerous unpublished documents in the Royal House Archive, the archives of the American ... More
Alicja Kwade debuts public artwork for Art Basel Miami Beach
Hollis Taggart announces representation of three American artists active in the postwar era
Austin Eddy now represented by Galerie Eva Presenhuber


Alicja Kwade, Pretty Pity, 2022. Photo: Silvia Ros.



MIAMI, FLA.- Kwade takes a new approach on her iconic marble spheres with 'Pretty Pity', a large-scale installation at ARCA's Wynwood showroom. Kwade, a contemporary artist known for her enigmatic sculptures and installations that explore concepts of space, time, science, and philosophy through immersive experiences about discovery confronts viewers to question their perception of reality. Located in front of the iconic façade of ARCA's showroom in Wynwood, the artwork titled 'Pretty Pity' takes a humorous approach to the use of its natural stone materials sourced from ARCA's catalog. The monumental installation, featuring four sturdy and beautiful spherical layers of billion- year-old stone —such as Rosa Valencia and Marrón Emperador, from Spain, and Giallo Sienna and Bianco Carrara, from Italy— is shaped into the silhouette of melting ice cream scoops, an overt and ironic nod to the global warming crisis. 'Pretty Pity' ... More



Norman Carton (1908-1980), Hildring #625, circa 1954. Oil on canvas, 90 1/4 x 58 in. (229.2 x 147.3 cm).



NEW YORK, NY.- Hollis Taggart announced the representation of the estates of two artists – Sheila Isham and Norman Carton – along with the artist Albert Kotin. All three American painters worked primarily in abstraction, despite their very different lives and careers. Sheila Isham (born 1927) traveled extensively following the Second World War, leading to an abstract style that draws from various cultural influences. Following their immigration to the United States from Eastern Europe, Norman Carton (1908-1980) and Albert Kotin (1907-1980) both worked for different government art programs before becoming actively involved in the New York art scene of the 1940s and 1950s. For varying reasons, the contributions of all three artists have been under-recognized. Continuing the gallery's commitment to promoting new narratives and scholarship about postwar American artists, Hollis Taggart ... More



Austin Eddy, Photo: Sam Schmieg.



ZURICH.- Galerie Eva Presenhuber announced the representation of the American artist Austin Eddy. A new painting by Eddy will be featured in the gallery's presentation at Art Basel Miami Beach 2022. His next solo exhibition with the gallery will be at Galerie Eva Presenhuber, Vienna in January 2024. In 2022, Eddy's paintings were exhibited at Eva Presenhuber's showroom in New York and in Kastro on the island of Antiparos, Greece as a special summer project. I have been observing Austin Eddy's work for some years and am thrilled to announce that he has joined the gallery. An exceptional artist, Austin creates works that are rooted in art historical considerations—from early twentieth-century Cubism and Fauvism to Color Field Painting of the post-war years—but born of the present moment. His works are an amalgam of colors and shapes. The flattening of perspective and the distortion of scale serve ... More
Christophe Slagmuylder appointed Director General of Bozar
First details of Frieze Los Angeles 2023 revealed
Tres Birds wins architecture award for art preserve


Christophe Slagmuylder has been active in the broad arts sector since 1991, with a focus on the performing arts. © Saskia Vanderstichele.



BRUSSELS.- At the November 25 Council of Ministers, the government appointed Christophe Slagmuylder as Director General of Bozar for a six-year term. He will start his new position in Brussels as of 1 February 2023. Christophe Slagmuylder (born 1967, Brussels) has been active in the broad arts sector since 1991, with a focus on the performing arts. He made his name at the Kunstenfestivaldesarts, where he worked from 2002 to 2018, succeeding founder Frie Leysen as general and artistic director in 2007. This international arts festival featuring contemporary theatre, performance and dance takes place annually at various locations in Brussels. His career took an international turn with his appointment in 2018 as general and artistic director at the Wiener Festwochen, the prestigious multidisciplinary arts festival in Vienna. His Brussels network, his experience with major international collaborations and his feel for contemporary arts ... More



Reimagined for its new location of Santa Monica Airport, Frieze Los Angeles 2023 will feature over 120 galleries from 22 countries across the world.



LOS ANGELES.- Frieze today gave initial details of Frieze Los Angeles 2023, which this year will debut the new location of Santa Monica Airport and take place from February 16-19, 2023. Led by Christine Messineo, Frieze's Director of Americas, the fair will feature over 120 galleries from 22 countries around the world, and will include major world-leading galleries alongside some of the most exciting emerging spaces for contemporary art. Positioned in the Southeast corner of the airfield, the fair will occupy multiple sites across the property and will once again be designed by Kulapat Yantrasast's WHY studio. The new location of the fair will allow for an expanded footprint and a wider selection of galleries, alongside collaborations with nonprofit organizations, as well as a series of new ambitious activations, and pop-ups from some of Los Angeles' most beloved restaurants. This year's list of participating galleries ... More



The Art Preserve's 56,000-square-foot, three-level building provides exhibition space and visible storage for more than 25,000 works.



DENVER, CO.- The architecture firm Tres Birds has won the prestigious American Architecture Award for the Art Preserve, the world's first museum dedicated to artist-built environments, opened by the John Michael Kohler Arts Center in August 2021 in Sheboygan, Wisconsin. The award recognizes the best new buildings designed and constructed by American architects and by international architects with offices in the United States. The winners will be honored at a Gala Reception on December 2 at The Arts Club in Chicago. The Art Preserve's 56,000-square-foot, three-level building provides exhibition space and visible storage for more than 25,000 works in the Arts Center's world-renowned collection, which includes complete and partial environments by more than 30 vernacular, self-taught, and academically trained artists. As a satellite campus, the Art Preserve complements the John Michael Kohler Arts Center's ... More
Fresh to the market quintessential Lowry takes top spot at Bonhams Modern British and Irish art sale
An 'all star' comics and comic art auction for the ages featuring some of DC's most memorable (and haunting) moments
Del Kathryn Barton: Love Wants to Give, her first solo exhibition on view at albertz benda


Street Scene by L.S. Lowry. Sold for £1,002,300. Courtesy Sotheby's.



LONDON.- Street Scene, an archetypal painting by L. S. Lowry, was the top selling lot at Bonhams Modern British and Irish Art sale in London on Tuesday 22 November 2022. The painting, which had been in the same family for almost 50 years and was fresh to the market, sold for £1,002,300, having been estimated at £800,000-1,200,000. The sale made a total of £4,148,168. Penny Day, Bonhams Head of Modern British and Irish Art, said: "In a strong sale, Lowry's Street Scene stood out. He was at the height of his powers when he painted the work in the early 1940s and it had all the elements that make his output from this period so attractive and desirable." The sale also offered works by major names of Modern British Art in an outstanding private family collection of works from a Knightsbridge ... More



Mike Grell All-Star Comics #58 Power Girl Cover Original Art (DC, 1976).



DALLAS, TX.- For comic book collectors of a certain age, All Star Comics No. 58, published the year of the bicentennial, was that one book never to be parted with – never to be loaned out to a friend, never to be sold by Mom at the used book store across town. All Star Comics was the book that launched comicdom's original superhero team, the Justice Society of America, until its renaming and retirement in 1951. But out of nowhere in 1976 it returned to the spinner racks, where its colorful cover beckoned every kid with a quarter to spare. There was Robin in a new costume! The JSA's Flash and Green Lantern and Doctor Fate and Wildcat! Wally Wood art! A Mike Grell cover! And above all, Power Girl making her debut as Superman's Earth-2 cousin while sporting a peekaboo costume that left little ... More



Del Kathryn Barton [Australian b. 1972]. love wants to give, 2022, acrylic on linen, 78 3/4 x 94 1/2 inches, 200 x 240 cm.



LOS ANGELES, CALIF.- The contemporary art gallery albertz benda, Los Angeles is opened the exhibition Love Wants To Give this past November 18th, Del Kathryn Barton's first Los Angeles solo exhibition and third solo presentation with the gallery. Del Kathryn Barton returns to the United States with a body of work that is expansive, powerful and interconnected in its exploration and construction of love. Love Wants to Give unites Barton's distinct visual languages with the notion of art as a life source that is rooted in an ever-present, humming undercurrent of love. The works are laden with the artist's signature hyperbolic colour-palettes and details, while remaining grounded in earthiness of Australian-alluding flora and fauna. The boundaries between ... More

Frank's Files: Magnificent Jewels

Flashback
On a day like today, American painter James Rosenquist was born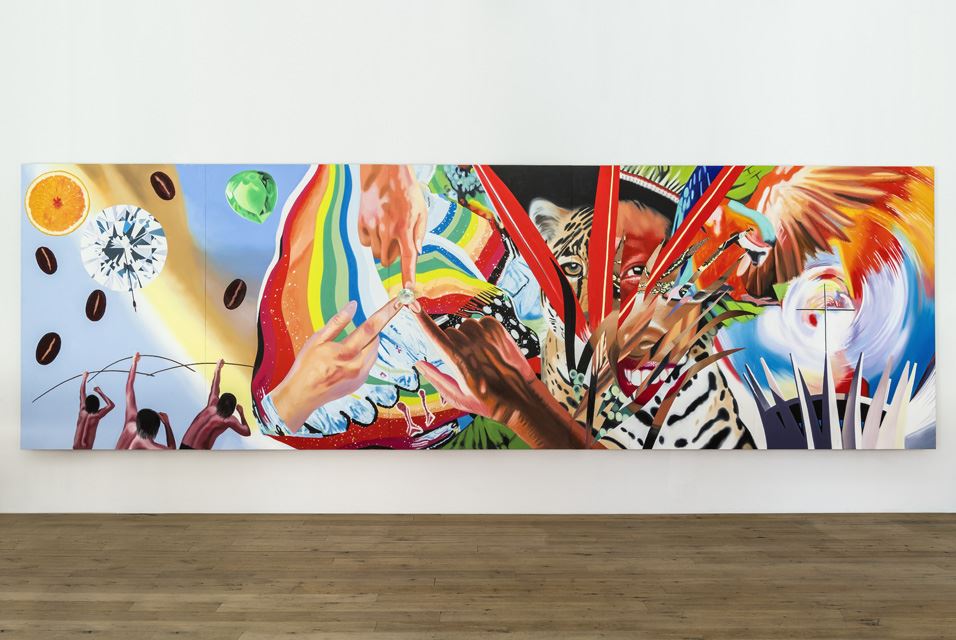 December 29, 1933. James Rosenquist (November 29, 1933 - March 31, 2017) was an American artist and one of the protagonists in the pop art movement. Drawing from his background working in sign painting, Rosenquist's pieces often explored the role of advertising and consumer culture in art and society, utilizing techniques he learned making commercial art to depict popular cultural icons and mundane everyday objects. In this image: James Rosenquist, Brazil, 2004. Oil on canvas, with acrylic fiberoptic element, 236,2 x 732,5 x 17,8 cm (92,99 x 288,39 x 7,01 in) 5 panels 4 panels: 93" x 57 5/8" x 1 3/4" EACH 1 panel is 93" x 57 5/8 x 3". Courtesy Galerie Thaddaeus Ropac, Paris/Salzburg © James Rosenquist / VAGA, New York / ADAGP, Paris. Used by permission.
---

Museums, Exhibits, Artists, Milestones, Digital Art, Architecture, Photography,
Photographers, Special Photos, Special Reports, Featured Stories, Auctions, Art Fairs,
Anecdotes, Art Quiz, Education, Mythology, 3D Images, Last Week,

.
---
Royalville Communications, Inc
produces: