Claremont Rug Company Reports Unprecedented Growth in 2021
Leading Elite Level Antique Oriental Rug Dealer Cites Increases in International Business, Online Transactions.
OAKLAND, CA
.-
Claremont Rug Company
today announced unprecedented international growth in 2021 as well as robust gains in overall sales for the most elite 19th-century antique Oriental pieces woven during the Second Golden Age of Persian Weaving (ca. 1800 to ca 1910). President/founder Jan David Winitz cited the burgeoning interest in art as a vital portion of personal investment portfolios as a major factor. Key results from 2021 included: • A dynamic reinvention of Claremont's brick-and-mortar business into an 80% online shopping • A new international client surge of 50%. • An overall sales increase of more than 25% over 2020's extremely robust performance • A 30% increase in sales of High-Collectible and Connoisseur-Caliber antique rugs ...
More
The Best Photos of the Day
Theodore Roosevelt statue removal begins at Museum of Natural History
Sotheby's to offer a collection of five paintings by Claude Monet
Seattle Asian Art Museum presents inaugural show by new Curator of South Asian Art


A crane lifts part of the equestrian statue of Theodore Roosevelt outside the American Museum of Natural History as part of a removal process in New York, Jan. 19, 2022. Jeenah Moon/The New York Times.

by Zachary Small



NEW YORK, NY.- It was past midnight when a crane descended on the imposing bronze statue of Theodore Roosevelt, lifting his upper body from the pedestal where it has presided at the American Museum of Natural History since 1940. The remainder of the sculpture, now surrounded by scaffolding, is scheduled to leave in pieces through the week. Flanked by representations of a Native American man and an African man on foot, the shadow of the president on horseback is diminishing by the day. A spokesperson for the institution said that the approximately $2 million removal process was conducted with historic preservation specialists and several dozen workers. It was approved by multiple New York City agencies. The New York City Public Design Commission voted last June to remove the statue; in November, its destination — the ... More



Massif de chrysanthèmes, estimated at £10 – 15 million, is one of four still-lifes devoted to chrysanthemums painted by Monet in 1897. Courtesy Sotheby's.



LONDON.- This March, Sotheby's will present five works by Claude Monet painted during a formative fifteen-year period during his career, charting the artist's pivot from an Impressionist painter to the father of Abstract Expressionism. Monet x Monet | A Distinguished American Collection paints a picture of how Monet approached the concept of capturing colour and light on canvas in an increasingly modern and abstract way, through a range of key motifs. From a flower-filled canvas that prefigures Monet's celebrated late water lily paintings, to a rhythmic depiction of loosely bundled together grainstacks, and two landscapes painted under different weather conditions at opposing ends of the seasons, the works – all of which pre-date 1900 – encapsulate the 'modern' Monet that had such a profound influence on later artists and movements. With a combined estimate in the region of $50 million (£35 ... More



Installation view of Embodied Change: South Asian Art Across Time at Seattle Asian Art Museum, 2021. Photo: Natali Wiseman.



SEATTLE, WA.- The Seattle Asian Art Museum presents Embodied Change: South Asian Art Across Time (January 14–July 10, 2022), the first show curated by Natalia Di Pietrantonio, SAM's Assistant Curator of South Asian Art. Featuring works from SAM's collection and local loans, the installation features work from the third millennium BCE to present day in a range of diverse material including terracotta, wood, metal, painting, photography, and video. They all depict the human body and its possibilities for transformation. Di Pietrantonio joined SAM in July 2020 as the museum's first-ever curator specializing in South Asian art; the position was created following the reopening of the reimagined Asian Art Museum as part of the institution's vision of increasing its focus on acquiring and exhibiting works of art from the South Asian diaspora, particularly contemporary works. "For this, my first show at SAM, I wanted ... More
Ricardo Bofill, architect of otherworldly buildings, dies at 82
Roland Auctions announces Private Collector's Auction and Winter Wonderland Auction
Listen to keyboard music by Bach (no, not that one)


Ricardo Bofill in the 1990s at La Fábrica, a converted concrete factory in Barcelona housing his firm's offices. Taller de Arquitectura via The New York Times.

by Fred A. Bernstein



NEW YORK, NY.- Ricardo Bofill, a Spanish architect behind some of the world's most startling buildings, died Friday at a hospital in Barcelona. He was 82. The cause was COVID-19, his son Pablo said. Among Bofill's best known works were public housing projects, most of them built in France in the 1980s, with vastly overscale classical elements, which were both derided as kitsch and hailed by critics as the long-awaited middle ground between historicism and modernity. He began his career with a series of smaller projects in Spain that followed geometric rules to sometimes mind-boggling extremes. La Muralla Roja, designed in 1968 and completed in 1973, in the coastal city of Calpe, re-imagined the North African casbah as a bright pink assemblage of walls and stairways as if arranged by M.C. Escher. Another housing project from ... More



Two Art Deco Oak Oval Table Vitrines, Vienna. Estimate: $2,000 - $3,000.



GLEN COVE, NY.- Following their highly successful New Year's Day auction, Roland Auctions NY in Glen Cove, NY will now continue the celebration by presenting two days of auctions with their Private Collector Sale on Friday, January 28th at 10am, featuring over 300 Antique through Contemporary Frames, along with Fine Art, Furniture and Rugs, all from the collection of a prominent Manhattan art dealer, with no reserves. The very next day, Roland will host their Winter Wonderland Auction on Saturday, January 29th at 10am, featuring a large selection of fresh-to-market lots of Fine Art, Furniture, Antiques, Decorative Arts and Collectibles, all gathered from multiple estates in the tri-state area, including the Upper East Side estate of a prominent Interior Decorator and the estate of a well-respected New York/Florida collector of English and American antiques and Asian porcelain. Previews for the Winter Wonderland sale will take place on Th ... More



Marc-André Hamelin's favorite page from his recording of music by C.P.E. Bach comes from this haunting rondo written as a farewell to a favorite clavichord instrument in 1781. Via IMSLP via The New York Times.

by David Allen



NEW YORK, NY.- The subject of pianist Marc-André Hamelin's latest album is Bach — no, not that one. Hamelin — ever inquisitive in exploring the outer reaches of the repertoire, with recent releases of music by Sigismond Thalberg, Samuil Feinberg and Erno Dohnanyi — has now turned to the extraordinary range of keyboard works by Carl Philipp Emanuel Bach, Johann Sebastian's second surviving son. C.P.E. Bach was a prolific composer and an important pedagogue, a significant influence on Haydn, Mozart and Beethoven. (Hamelin's new album is a welcome companion to the three volumes of solo Haydn that he set down, with ideal panache, a decade and more ago on the Hyperion label.) But if he was more widely appreciated than his father well ... More
Exhibition explores printmaker who brought Audubon's vision to life
Megan Lykins Reich will lead Cleveland's Museum of Contemporary Art
Rare vintage character model maquettes steal spotlight at Heritage Auctions


John James Audubon (French, 1785–1851) Publisher: John James Audubon, London Printer: Robert Havell Jr. (American, b. England, 1793–1878) The Birds of America; from original drawings, Volume 1, 1827-30 colored engravings with aquatint University of Wisconsin–Madison Special Collections, Thordarson Collection Plate 98, Marsh Wren.



MADISON, WIS.- Before John James Audubon's The Birds of America became one of the world's preeminent records of natural history, there was the matter of printing this incredible ornithological study. The lengthy and laborious process—which took more than a decade—was taken on by Robert Havell, Jr., an engraver and printer in London. This early 19th-century collaboration is the subject of the exhibition Seeing Audubon: Robert Havell, Jr. and The Birds of America, which examines Havell's incredible printmaking techniques and uncovers the dynamic, but underappreciated, collective effort to expand Audubon's reach through the creation of crisp, beautiful copies of his illustrations. The exhibition ... More



Reich joined moCa in 2004, and has served as moCa's interim executive director since June 2020.



CLEVELAND, OH.- Following a national search, the Board of Directors for the Museum of Contemporary Art Cleveland (moCa) has named Megan Lykins Reich its new Kohl Executive Director. The appointment was announced to staff and community partners by the board's co-presidents, Joanne R. Cohen, Audra T. Jones and Stephen G. Sokany. Reich joined moCa in 2004, and has served as moCa's interim executive director since June 2020. ''We are thrilled to announce Megan Reich's selection as moCa's new executive director," said Cohen, who served as chair of the search committee. "Megan is a leader who lives our artistic and programmatic mission every day, with a demonstrated commitment to helping moCa evolve as an institution. Although many candidates that we considered had strong skills, Megan's talent, experience, and our first-hand knowledge of her capabilities made her our top choice. ... More



Pinocchio Animator's Maquette.



DALLAS, TX.- The names and faces are as familiar and beloved as any characters that can be found anywhere. From Donald Duck and Goofy to Aladdin's Genie or The Little Mermaid's Ariel, from Peter Pan and Tinker Bell to Buzz Lightyear – and of course, the immortal Mickey and Minnie Mouse – Disney characters are beloved around the globe. Those legendary characters are created in part through the use of Disney maquettes, the sculpted models that allow animators to view a character from all angles. These rare works of art never were meant to be anything more than three-dimensional tools used by the Disney animation department, each stamped "Return to Character Model Dept." Predicted to be cast aside after the completion of each film, maquettes instead became coveted pieces of film making art. Animators sometimes took them home or received them as gifts after films that enjoyed significant success, or Walt Disney, himself, sometimes gave some ... More
Phillips to host online-only auction raising funds for women's reproductive rights
Works by Kabuya Pamela Bowens-Saffo on view at Essex Flowers
Yvette Mimieux, who found fame in 'The Time Machine,' dies at 80


Lesley Vance, Untitled, 2021. Image courtesy of Phillips.



NEW YORK, NY.- Phillips announced an online-only auction in partnership with the nonprofit Noise for Now, which will raise funds and awareness for women's reproductive rights in the US. Open for bidding from 15-23 February, the eponymous sale will feature works personally donated by contemporary artists such as Lesley Vance, Erin Shirreff, Mariah Robertson, David Mramor, and Sheree Hovsepian. Noise for Now's proceeds will benefit two important 501(c)(3) charitable organizations — The National Network of Abortion Funds, which helps move financial and logistical barriers to abortion access, and The Abortion Care Network, which aims to create a network for independent providers across the country. Amelia Bauer, Executive Director of Noise for Now, said, "Access to safe and legal abortion in the US is under the greatest threat since Roe V Wade was decided 49 years ago. We are thrilled to have the opportunity to work with Phillips a ... More



Kabuya Pamela Bowens-Saffo, Tracks & Bridges 2, 2020 (detail). Print with drawing and mixed media on paper, 24 x 36 inches.



NEW YORK, NY.- Essex Flowers is presenting Tracks & Bridges, a series of digital prints and drawings with mixed media on paper by Kabuya Pamela Bowens-Saffo. Kabuya's works in this series are homages to two major figures of the Harlem Renaissance, sculptor Augusta Savage and writer and civil rights activist James Weldon Johnson. Commissioned by the New York World's Fair of 1939, and destroyed at its conclusion, Savage's sculpture The Harp was inspired by the lyrics of the poem Lift Every Voice and Sing, by writer and civil rights activist James Weldon Johnson. "Tracks and Bridges is an ongoing theme focus in my work . . . to recognize human relations, defining purpose and progress in current moments. The select works for exhibition are tracks and bridges reflecting a journey of hardships since 2020, 2021 and beginning possibilities of choice to build better bridges for 2022." Kabuya Pamela Bowens-Saffo ... More



Playing fragile characters, she had success in the 1960s in "Where the Boys Are" and other movies before her acting career took a downturn.



NEW YORK, NY.- Yvette Mimieux, who found stardom in the early 1960s portraying delicate, fragile women in "The Time Machine," "Where the Boys Are" and other films, died on Monday night at her home in Los Angeles. She was 80. Her death was confirmed by Michelle Bega, a family spokeswoman. She did not specify a cause. Mimieux (usually pronounced meem-YUH) was the starlet of the moment in 1960 playing opposite Rod Taylor in "The Time Machine," based on H.G. Wells' classic 1895 novel. Taylor, as the time-traveling gentleman-scientist from 1890s London, encounters Mimieux in the year A.D. 800,000 (802,701 in the book) as the character Weena, one of the Eloi, a gentle blond (or blondish) people so naïve, they don't realize that their lives are blissful because they are being bred as food for the monstrous predatory Morlocks, who live underground. "The Time Machine" was not her movie debut. That was the juvenile- ... More

Sotheby's Presents: Masters Week 2022

Flashback
On a day like today, French painter Jean-François Millet died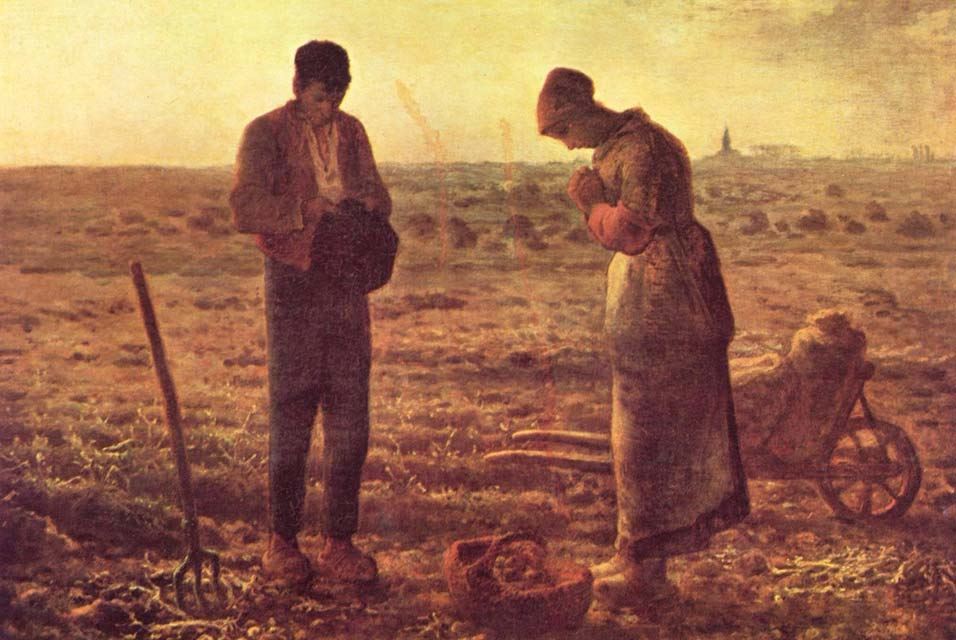 January 20, 1875. Jean-François Millet (October 4, 1814 - January 20, 1875) was a French painter and one of the founders of the Barbizon school in rural France. Millet is noted for his scenes of peasant farmers; he can be categorized as part of the Realism art movement. In this image: The Angelus by Jean Francois Millet.
---

Museums, Exhibits, Artists, Milestones, Digital Art, Architecture, Photography,
Photographers, Special Photos, Special Reports, Featured Stories, Auctions, Art Fairs,
Anecdotes, Art Quiz, Education, Mythology, 3D Images, Last Week,

.
---
Royalville Communications, Inc
produces: