700 paintings, 45 galleries: A guide to the Met's new European Wing
Gallery 625 in the newly reopened European Paintings wing at the Metropolitan Museum of Art in New York on Monday, Nov. 20, 2023. The wing features new skylights and highlights of Spain's Golden Age, including a portrait by Velasquez of Juan de Pareja, a man of African descent, center. (Vincent Tullo/The New York Times)

by Jason Farago
NEW YORK, NY
.-
Let the light in. Five years after the Metropolitan Museum of Art set off on a major renovation of its galleries for European painting, the superprime real estate at the top of its grand staircase is open again. Up in the attic, architects Beyer Blinder Belle have replaced 30,000 square feet of skylights for the first time since the Truman administration. Down in the galleries, the Met's designers have widened the rooms, rearranged the sightlines, shellacked the walls purple and blue. The curators have reassembled the whole painting collection for the first time since 2018, shuffled across 45 new galleries and bathed in beautifully tempered light. The work was done in two phases, so visitors got a taste of the even, shadowless lighting when the Met presented an abbreviated showcase in a fraction of these galleries in 2020. (When it comes to light, this New Amsterdam institution definitely leans more Dutch than Italian.) Turns out, the new efforts at illumination are not only above ...
More
The Best Photos of the Day
Meet the African artists driving a cultural renaissance
For Jews in East Germany, a life of contradictions
Amanda Wall has third solo exhibition at Almine Rech London, 'Femcel'


Lesley Lokko, the architecture curator of this year's Venice Biennale, sits for a portrait in London on Sept. 8, 2023. (Ronan McKenzie/The New York Times)



NEW YORK, NY.- For centuries, the connection between Black people on and off the continent of Africa has been complex, bound up in a painful history of slavery, separation and, at times, suspicion. Yet the relationship has also thrived. In 1964, Malcolm X visited Ghana. In a speech at a university there, he said: "I don't feel that I am a visitor in Ghana or in any part of Africa. I feel that I am at home. I've been away for 400 years, but not of my own volition, not of my own will." For young people today, the relationship is more direct. There's a reciprocity of inspiration, fueled by a multitude of creative efforts and propelled by social media platforms like TikTok. Examples are plenty. Resonant movies like "Black Panther" and majestic portraits by artists like Kehinde Wiley and Omar Victor Diop. Nigeria's hilarious pulp movies, which are binged in homes across Europe and the Caribbean. And the Afropop songs of Kenya's ... More



In an image provided by the museum, Cathy Gelbin wearing her Star of David pendant necklace in Berlin in 1978, shown at "Another Country: Jewish in the G.D.R.," an exhibition at the Jewish Museum, in Berlin. (Cathy Gelbin/Jewish Museum Berlin via The New York Times)

by Nina Siegal



BERLIN.- Just before her 14th birthday, Cathy Gelbin asked her parents for a pendant necklace with a Star of David to celebrate her "Jugendweihe," a secular coming-of-age ceremony for German young people. But it was the 1970s, and no such symbol of Jewish faith could be found where she lived in East Berlin, in the communist German Democratic Republic, or GDR. Her mother asked a local jeweler to melt down silver to make a star, but he was scared and refused. "Wearing any religious symbols was kind of stigmatized," Gelbin explained recently in an interview, "as either opposition to, or a diversion from, East German ideology." Gelbin's story is one of nearly 20 personal narratives in ... More



Amanda Wall. Courtesy of the Artist and Almine Rech.



LONDON.- Almine Rech London is presenting Femcel, Amanda Wall's third solo exhibition with the gallery, on view since November 22 to December 22, 2023. It's in anonymity we experience true freedom. It's in our youth we play the game. In Femcel, Amanda Wall navigates a path between disassociation and transcendence, peeking into the gestalt of the sexless sex objects, the zeitgeist of the post-post-modern woman. As we traverse the narrative space, we descend into rapid cycles of detachment and foreboding, enshrouded by the cherubic faces of young women scattered schizophrenically in bursts of joy and doom. A paradox unfurls before us, as the desire to embody the archetypal "hot girl" remains elusive, even among those who appear to epitomize it. In a world overly saturated with sensuality, we have matured beyond the enchanting innocence of our youth, yet these physical forms retain their delicate suppleness, albeit uselessly. It is ... More
For Russia's pop star exiles, a moral stand and a creative climb
Fionna Flaherty appointed as Partner of Lehmann Maupin
One year until the opening of MSN Warsaw on plac Defilad


The Russian musician Monetochka, who now lives in Lithuania, on the night of a performance in Zurich, Nov. 18, 2023. (Marvin Zilm/The New York Times)

by Paul Sonne and Alex Marshall



NEW YORK, NY.- Before Russia's invasion of Ukraine, Monetochka was on her way to becoming a superstar in Russia. She had released two hit albums of lyrical pop; secured ad deals with brands including Nike and Spotify; and was set to appear and sing a new song in the opening scene of Netflix's first original Russian drama, a lush adaptation of Leo Tolstoy's "Anna Karenina." But President Vladimir Putin's military action derailed everything. Netflix shelved the series. The big ad deals, which once constituted more than half of Monetochka's income, disappeared. And after making a raft of anti-war statements and fleeing Russia, she was branded a foreign agent in January. Yet the 25-year-old singer-songwriter — who now lives ... More



Fionna Flaherty, Portrait by Daniel Kukla.



NEW YORK, NY.- Rachel Lehmann and David Maupin are pleased to announce the appointment of Fionna Flaherty as Partner, based in New York. The appointment comes as recognition of Flaherty's dedicated work at Lehmann Maupin over the past twelve years. Joining current gallery partners Carla Camacho, Jessica Kreps, and Isabella Icoz, Flaherty will focus on supporting the gallery's programmatic and sales initiatives, including the oversight of all art fairs internationally. In close collaboration with the gallery's executive leadership team, Flaherty will also focus on nurturing both new and established artist and collector relationships, working in tandem with the gallery's sales team to achieve artist and business development objectives. Furthermore, she will continue to liaise with institutions to oversee exhibition planning, organization, and production, and she will provide consultation on artist legacy and estate ... More



Rendering of the entrance to the new building of Museum of Modern Art in Warsaw. Rendering by Beauty and the Bit.



WARSAW.- The new home of the Museum of Modern Art in Warsaw will open to the public in the autumn of 2024. To mark the occasion, MSN Warsaw will hold the biggest exhibition in its history of artworks from the museum's own collection, which has steadily grown since it was founded almost 20 years ago. It will also be the first opportunity to fully experience the space of the building on Plac Defilad and its potential to shape the city around it. An extensive agenda of accompanying events is being prepared for visitors, along with the next, 16th edition of the Warsaw Under Construction festival. The whole team at MSN Warsaw is working intensely on the first exhibition of the collection prepared for the opening of the museum's new building. The move to the space on Plac Defilad, transport of works, and installation in the main galleries will take place over the summer ... More
Hepworth Wakefield opens solo exhibition by Andrew Cranston
Diamonds and designer jewels sparkle all the way in Heritage's Holiday Jewelry Auction
Nottingham Castle Museum and Art Gallery opens STIM CINEMA


Andrew Cranston, A snake came to my coffee table on a hot, hot day to drink there, 2023. © Andrew Cranston. Courtesy of the artist and Ingleby, Edinburgh. Photo John McKenzie.



WAKEFIELD.- This November, The The Hepworth Wakefield became the first public gallery to present a solo exhibition of works by Andrew Cranston. Andrew Cranston: What made you stop here? features 38 new and recent paintings that range from large-scale canvases to intimate works painted on old linen-bound book covers, comprising subjects that include still life, landscape, seascape, portraits, and interior scenes. Engaging with the layered emotional quality and pathos of everyday life, as well as a strong sense of place, be it real or imagined, Cranston's evocatively titled paintings contain compelling and intriguing narratives that have the collaged dream-like quality of recollection and what he calls 'creative misremembering'. His formally inventive and highly intimate paintings find new ways to connect the personal and art historical past with the present ... More



Fancy Pink Diamond, Diamond, Platinum, Rose Gold Ring. Estimate: $250,000 - $300,000.



DALLAS, TX.- Who needs Santa when there's Heritage's Holiday Fine Jewelry Signature® Auction? The merry and bright December 4 event features a magnificent array of gift-worthy items, including sparkling diamonds in a rainbow of colors, stunning designs from the world's top jewelers and even a solid-gold Frascarolo helicopter – which, frankly, should be on everyone's wish list. Among the auction's gorgeous diamonds is a 3.06-carat fancy pink diamond ring. The marquise-shaped pink stone is set in platinum and surrounded by a border of 18k rose gold, along with full-cut diamonds weighing a total of approximately 0.55 carat. Other diamond standouts include a beautiful 4.62-carat emerald-cut diamond and platinum ring and a show-stopping 5.65-carat pear-shaped yellow diamond and 18k gold ring. There's also a colorful Michael Beaudry ring whose centerpiece is a 0.78-carat marquise-shaped blue diamond flanked by ... More



Still from STIM CINEMA, The Bug in the Mall 1.



NOTTINGHAM.- Nottingham Castle Museum and Art Gallery opened the premiere of STIM CINEMA – a new touring exhibition and moving image installation exploring repetitive actions and autistic experiences, tracking back to the earliest forms of moving image, and the birth of cinema and cinematic language. STIM CINEMA is part of Nottingham Castle's season of new programming focusing on Neurodivergence. The exhibition has been co-created by members of The Neurocultures Collective (Georgia Bradburn, Benjamin Brown, Sam Chown-Ahern, Robin Elliott-Knowles, Lucy Walker), with artist and filmmaker Steven Eastwood. STIM CINEMA takes the action of stimming - 'the practice of physical repetition as a way of taking sensory pleasure in recurrence, or of expressing and alleviating anxiety, and a common trait of autistic experience' - as its starting point, connecting delight in repetition to the birth of cinema and to the contemporary fascination with GIFS. The exhibition invites the audience ... More
Heather Gaudio Fine Art showing 'Martin Kline: In Monochrome' featuring works on panel and Belgian linen
Nathaniel Silver returns to the Isabella Stewart Gardner Museum as Associate Director and Chief Curator
Death Metal Summer: Deanna Templeton and Ed Templeton exhibit at the Art Gallery of Western Australia


Martin Kline, Stainless Bloom on Easel, stainless steel, unique cast, 67 ˝ x 26 x 25 inches.



GREENWICH, CT.- Heather Gaudio Fine Art is showing Martin Kline: In Monochrome, his fourth solo exhibition at the gallery. On view will be the artist's signature paintings executed on panel and Belgian linen, presented alongside sculpture. The show opened with a public reception for the artist on November 9th and will run through January 6, 2024. Kline has achieved a technical mastery through a long-standing engagement with encaustic -- bee or synthetic wax mixed with pigment. This medium of choice has enabled a strategy of abstract representation stemming from the manner in which he manipulates the material. Encaustic can be capricious in that it requires to be heated at the right temperature to mix properly with the powdered pigment. The material also demands great skill and understanding of its properties when applying onto a surface. Throughout his career, Kline has typically worked in series, executing ... More



Nathaniel Silver, Isabella Stewart Gardner Museum. Photo: Bearwalk Cinema.



BOSTON, MA.- Nathaniel Silver returns to the Isabella Stewart Gardner Museum as the inaugural Associate Director and Chief Curator after serving as executive director and CEO of Hancock Shaker Village in Pittsfield, MA. Previously at the Gardner, Silver was the Division Head and William and Lia Poorvu Curator, overseeing the Collections, Conservation, and Archives departments. During his previous tenure at the Gardner, he curated or co-curated more than a dozen exhibitions including the acclaimed Titian: Women, Myth, and Power and Boston's Apollo: Thomas McKeller and John Singer Sargent. With nearly fifteen years of experience in fine art museums and cultural institutions, Silver has worked at The Frick Collection, J. Paul Getty Museum, and Center for Advanced Study in the Visual Arts. He has also held fellowships at the Fondazione Giorgio Cini in Venice and the Kunsthistorisches Institut ... More



Deanna Templeton Jaclyn. Death Metal. Huntington Beach, California 2017. Pigment print, 76 x 76 cm. Courtesy of the artist and Gallery FIFTY ONE. © Deanna Templeton, 2017.



PERTH.- American photographers Deanna Templeton and Ed Templeton bring their first Australian collaborative photographic exhibition at AGWA. Considered superstars of street photography and skate culture, Deanna Templeton and Ed Templeton present a new, incredibly energetic overview of their work for AGWA's Rooftop Gallery this summer. Death Metal Summer: Deanna Templeton and Ed Templeton comprises three large wall installations and features more than 140 works produced between 1995 and 2022. Death Metal Summer includes many of their most famous images – from Deanna's exquisite swimming pools photos to Ed's iconic work documenting skateboarders – as well as those shot on their local turf Huntington Beach, California, where late capitalist life and the suburban dream are ... More

How Francesco Renaldi Celebrates Indian Culture in His Portrait of a Mughal Lady | Expert Voices

Flashback
On a day like today, American cartoonist Charles M. Schulz was born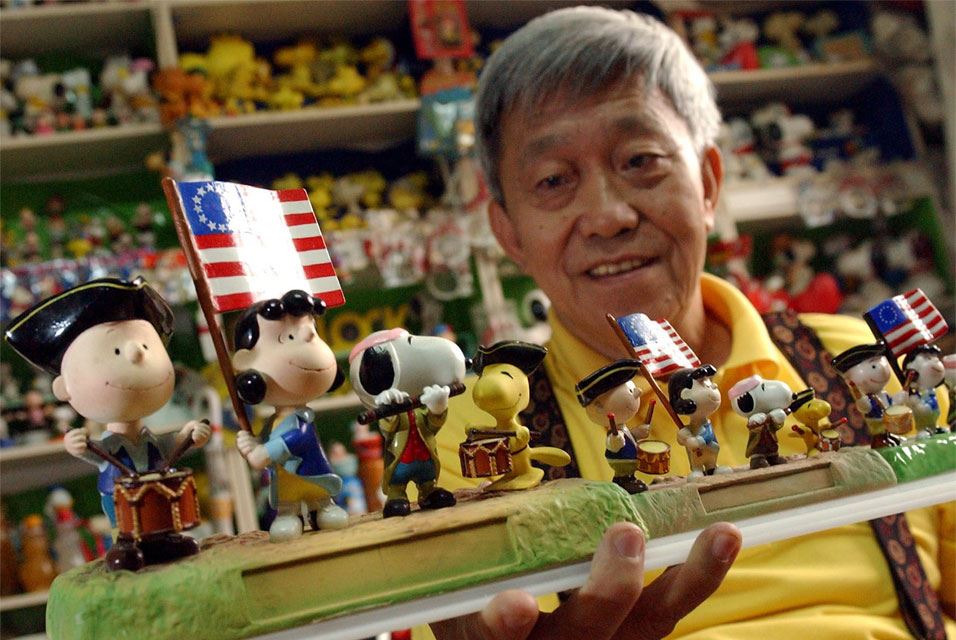 December 26, 1922. Charles Monroe "Sparky" Schulz (November 26, 1922 - February 12, 2000) was an American cartoonist, whose comic strip Peanuts proved one of the most popular and influential in the history of the medium, and is still widely reprinted on a daily basis. In this image: Ma Leshan, 76, holds a series of models of Peanut characters in his exhibition room in Shiqi of Zhongshan city, south China's Guangdong Province, 29 May 2003. Charles Schulz, the US cartoonist, appointed Ma as the only manual models sculptor for his Peanut series in 1978. Ma has made over 10,000 Snoopy models in the past 25 years. Manual models are the first models made according to the drawings before the mass production.
---

Museums, Exhibits, Artists, Milestones, Digital Art, Architecture, Photography,
Photographers, Special Photos, Special Reports, Featured Stories, Auctions, Art Fairs,
Anecdotes, Art Quiz, Education, Mythology, 3D Images, Last Week,

.
---
Royalville Communications, Inc
produces: