Egypt unveils 3,000-year-old 'lost' city near Luxor
A picture taken on April 10, 2021, shows workers carrying a fish covered in gold uncovered at the archaeological site of a 3000 year old city, dubbed The Rise of Aten, dating to the reign of Amenhotep III, uncovered by the Egyptian mission near Luxor. Archaeologists have uncovered the remains of an ancient city in the desert outside Luxor that they say is the "largest" ever found in Egypt and dates back to a golden age of the pharaohs 3,000 years ago. Famed Egyptologist Zahi Hawass announced the discovery of the "lost golden city", saying the site was uncovered near Luxor, home of the legendary Valley of the Kings. Khaled DESOUKI / AFP.

by Emmanuel Parisse
LUXOR
(AFP)
.-
Archaeologists Saturday showed off their finds at what they say is the "largest" ancient city ever found in Egypt, dating to a golden age of the pharaohs 3,000 years ago. At the site near Luxor, home of the legendary Valley of the Kings, workers carefully carried ancient pots and showed human and animal remains dug up from the earth as members of the media toured around curved brick walls and rudimentary streets. "This is a large city that was lost. It was connected with the god Aton and Amenhotep III," famed Egyptologist Zahi Hawass enthusiastically told reporters Saturday. "We found three major districts: one for administration, one for workers to sleep in and another for industry," he said. Spaces include workshops for drying meat, making clothes and sandals, and crafting amulets and small statues. ...
More
The Best Photos of the Day
Brazil building new giant Christ statue, taller than Rio's
Turkey fights for return of a work it says was looted
Australian photographer June Newton dies aged 97


View of a Christ statue being built in Encantado, Rio Grande do Sul state, Brazil, on April 09, 2021. SILVIO AVILA / AFP.



ENCANTADO (AFP).- A giant new statue of Christ being constructed in southern Brazil will rise even higher than the iconic Christ the Redeemer statue that overlooks Rio de Janeiro. A head and outstretched arms were added this week to the statue, which has been under construction since 2019 in the city of Encantado, in the state of Rio Grande do Sul. Completion of the monument is scheduled for late this year, according to the Association of the Friends of Christ, which is coordinating the work. "It is a day for celebration, for devotion," said Gilson Conzatti, a local councillor and son of Adroaldo Conzatti, the politician who conceived the idea. The elder Conzatti, who was the city's mayor, died in March from complications of Covid-19. The statue, to be named Christ the Protector, will stand 43 meters (140 feet) tall, including its pedestal, making it one of the world's tallest statues of Christ with outstretched arms. It will measure 36 meters from hand to hand, and will have an interior elevator and an ... More



An Anatolian marble female idol of Kiliya type, Chalcolithic period circa 3000-2200 B.C. © Christie's Images Limited 2017.

by Colin Moynihan



NEW YORK (NYT NEWS SERVICE).- The marble idol was carved as many as 6,000 years ago, a 9-inch-tall female figure with a sleek, abstract form, its head tilted slightly upward as if staring into the firmament. By the 1960s the idol had been transported to the United States, where it was in the possession of the court tennis star and art collector Alastair Bradley Martin and his wife, Edith, and known as "The Guennol Stargazer." Christie's listed the stargazer for sale in 2017, drawing the attention of the Turkish government, which asked for the auction to be halted. The Turkish government then sued Christie's, saying the idol had been looted. The government asked the court to find that it is the rightful owner of the idol and cited the 1906 Ottoman Decree, which asserts broad ownership of antiquities found in Turkey. But the auction proceeded and the idol fetched a price of $14.4 million, before the unidentified buyer ... More



In this file photograph taken on June 18, 2008, Australian photographer June Newton (Alice Springs), president of the Helmut Newton Foundation and widow of German-born Australian photographer Helmut Newton, gives a press conference on the exhibition "Pigozzi and the Paparazzi" at the Helmut Newton Foundation in Berlin. Barbara SAX / AFP.



BERLIN (AFP).- Australian photographer June Newton has died aged 97 in Monte Carlo, the foundation she created announced Saturday. A renowned portraitist, she is famous for capturing Yves Saint-Laurent, Billy Wilder, Catherine Deneuve, Nicole Kidman, Madonna and even the Hells Angels for magazines like Vanity Fair, Elle and Vogue. The Helmut Newton Foundation, of which she was president, said she died in her home on Friday. "We mourn the loss of an outstanding person and an internationally recognised photographer," the foundation said in a statement. Newton, whose maiden name was Brown and worked under the pseudonym Alice Springs, fell into photography when she stepped in for her husband, legendary photographer Helmut Newton, on a shoot in 1970. The pair met when she was 24 and working as an actress ... More
Martina Batan, New York art dealer consumed by a cold case, dies at 62
Galerie Templon presents twenty previously unseen watercolours by Anju Dodiya
Former SS canteen at Auschwitz bears witness to Holocaust history


Andy Warhol. Unique Screenprints Part 1, 1998. Installation view at Ronald Feldman Fine Arts.

by Alex Vadukul



NEW YORK (NYT NEWS SERVICE).- One winter night in 1978, a 14-year-old boy named Jeffrey Batan was killed in Rego Park, Queens. His body was found with 20 stab wounds in a snowy yard the next morning. Although the violent crime received media attention, it was never solved. Yet as the years passed, the boy's older sister, Martina Batan, continued searching for answers to the cold case. That quest would go on to shape her life. "I was woken up by the doorbell, and it was a reporter from the Daily News," Batan recalled in a 2015 documentary about her search, "Missing People," "and he asked me if I knew Jeffrey Batan. I said, 'He's my brother.' And at some point in the first few sentences the reporter realized that I didn't know." "Nobody was ever arrested," she added. "The case is technically still open. It destroyed all of us." Batan became a prominent contemporary art dealer in Manhattan, representing artists like Joseph Beuys and Chris Burde ... More



Anju Dodiya, Swan on fire, 2021. Sculpture. Charcoal and watercolour on fabric combine stretched on padded board. 122 x 51 x 6 cm. 48 x 20 1/8 x 2 3/8 in. © Courtesy Templon, Paris – Brussels



BRUSSELS.- After a five-year absence from Europe, Indian artist Anju Dodiya unveiled Tower of Slowness, a series of around twenty previously unseen watercolours, at Galerie Templon in Brussels. At the age of 57, Anju Dodiya is one of the most respected artists on the Indian art scene. For the last thirty years, her paintings have used the self-portrait form to explore the conflicts between inner life and external reality: the anguish of creation, the artist's frustrations with the violence of the world, the incommunicability between people. The pandemic marking this last year and the strict lockdown she was forced to adhere to in her house-cum-workshop in Mumbai naturally resonated particularly strongly with her. The current situation acted as a catalyst for an artist whose work engages closely with questions of isolation and social marks. As she explains, "The past year has been an unusual one for all of us. Suddenly, we all share a common wou ... More



Dagmar Kopijasz, project organiser of the Foundation of Memory Sites Near Auschwitz-Birkenau (FPMP), poses inside a former canteen building of SS guards at the former Nazi Germany death camp Auschwitz-Birkenau, in Oswiecim, Poland. BARTOSZ SIEDLIK / AFP.

by Stanislaw Waszak



OSWIECIM (AFP).- A Polish foundation hopes to restore a canteen where SS guards ate and sought distraction after long days of killing at the former Nazi German death camp Auschwitz-Birkenau, to bear witness to a forgotten page of Holocaust history. Built in March 1942 at Auschwitz -- Europe's largest World War II death factory -- the massive dining hall could house up to 4,000 people. After the war it served as a cereal warehouse before it was abandoned and gradually fell into ruin. The SS "came here to have a bite, find some distraction, have a drink, take part in ceremonies, concerts, parties -- all in the shadow of the monstrous crime that was Auschwitz-Birkenau," said Dagmar Kopijasz, one of the project organisers. "This building was the focal point of the family ... More
Galería Elvira González opens its third solo exhibition of works by Chema Madoz
Kino Lorber announces revealing documentary about pioneering art sensation who was born into slavery
Art UK and Bloomberg Philanthropies announce a major partnership


Chema Madoz. Sin título, 2019, 161,5 x 121,5 cm. Fotografía B/N sobre papel baritado, virado al sulfuro. Cortesía de Galería Elvira González.



MADRID.- Galería Elvira González announced the opening of the third solo exhibition of the Spanish photographer Chema Madoz (Madrid, 1958). The exhibition brings together works produced between 2019 and 2020, and through them, the artist continues his exploration of the hidden and potential meanings of the object. This is the first occasion in which Chema Madoz produces and shows a sculpture. Chema Madoz began to develop his vision around the concept of the object in the nineties. Since then, this has been a current topic in his practice. Exploring their plural, not univocal identity, Madoz visually replaces the primary function of the objects by imagining new meanings. His work is influenced, among others, by surrealism, Duchamp's ready-made and magic realism, currents that turn around the object, the assemblage, and the creation of meaning. The use of different devices for their ... More



"In Traylor, we can see the power of individual voice… the work is transcendent and essential." -- Jerry Saltz, New York Magazine



NEW YORK, NY.- This illuminating documentary explores the life of a unique American artist, a man with a remarkable and unlikely biography. Bill Traylor was born into slavery in 1853 on a cotton plantation in rural Alabama. After the Civil War, Traylor continued to farm the land as a sharecropper until the late 1920s. Aging and alone, he moved to Montgomery and worked odd jobs in the thriving segregated black neighborhood. A decade later, in his late 80s, Traylor became homeless and started to draw and paint, both memories from plantation days and scenes of a radically changing urban culture. Having witnessed profound social and political change during a life spanning slavery, Reconstruction, Jim Crow segregation, and the Great Migration, Traylor devised his own visual language to translate an oral culture into something original, powerful, and culturally rooted. He made well over a thousand drawings and ... More



The Bloomberg Connects app at Yorkshire Sculpture Park. Photo: Bloomberg Philanthropies.



LONDON.- Art UK and Bloomberg Philanthropies announced a major partnership that will strengthen and improve digital access to the UK's national collection of art while encouraging broader engagement with local museums and art galleries. With this multi-year collaboration, Bloomberg Philanthropies will become one of Art UK's leading supporters, helping Art UK deliver substantial benefits to over 3,000 public art collections across the UK. Building on existing support from Arts Council England and Art UK's individual donors, corporate supporters, and grant-making trusts, this important collaboration will enable the leading cultural education charity, Art UK, to grow its impact on society and share more of the UK's cultural riches with diverse communities at a time of significant challenge for many. Bloomberg Philanthropies' support will amplify Art UK's impact across its four key areas of focus: The Art UK website brings together the national collec ... More
Making music visible: Singing in sign
Bonhams appoints Helen Hall as Director of Entertainment Memorabilia
MOCA Tucson opens an exhibition of three major artworks by Pia Camil


Brandon Kazen-Maddox signs during the filming of a music video for "Midnight Train to Georgia," in New York, March 13, 2021. Justin Kaneps/The New York Times.

by Corinna da Fonseca-Wollheim



NEW YORK (NYT NEWS SERVICE).- On a recent afternoon in a brightly lit studio in Brooklyn, New York, Mervin Primeaux-O'Bryant and Brandon Kazen-Maddox were filming a music video. They were recording a cover version of "Midnight Train to Georgia," but the voices that filled the room were those of Gladys Knight and the Pips, who made the song a hit in the 1970s. And yet the two men in the studio were also singing — with their hands. Primeaux-O'Bryant is a deaf actor and dancer; Kazen-Maddox is a hearing dancer and choreographer who is, thanks to seven deaf family members, a native speaker of American Sign Language. Their version of "Midnight Train to Georgia" is part of a 10-song series of American Sign Language covers of seminal works by Black female artists that Kazen-Maddox is producing for Broadstream, ... More



Ms. Hall has over 20 years of experience in the field of Entertainment Memorabilia, having worked for Christie's both in London and New York and as an independent appraiser. Photo: Bonhams.



NEW YORK, NY.- The international auction house Bonhams announced that Helen Hall is joining the company as Director of Entertainment Memorabilia. She takes up her new position with immediate effect. Ms. Hall has over 20 years of experience in the field of Entertainment Memorabilia, having worked for Christie's both in London and New York and as an independent appraiser. She has been involved in record-breaking auctions of film, television and music memorabilia including Eric Clapton's guitars, the Estate of Marlon Brando, the Paramount Studios Star Trek Collection, the drum from the cover of the "Sgt. Pepper's Lonely Heart Club Band" and John Lennon's lyrics for "Give Peace A Chance" to name a few. She also provided the Insurance appraisal for the groundbreaking Victoria and Albert Museum exhibition "David Bowie Is…" Helen is a Certified Member of the Appraisers Association of America and more ... More



Installation view of Pia Camil, AIR OUT YOUR DIRTY LAUNDRY (Ballroom Marfa, November 13 - November 26, 2020). Photograph by Makenzie Goodman. Courtesy the artist and Ballroom Marfa.



TUCSON, AZ.- Pia Camil's solo exhibition at MOCA Tucson features new iterations of existing works and a site-specific commission. The three major artworks that make up this exhibition investigate relationships of power, intimacy, and collectivity during the pandemic, within the space of an art museum, and in the broader bi-national landscape. Bara, Bara, Bara, a large-scale, site-specific textile installation first presented in 2017, hangs from the ceiling of MOCA's Great Hall. The piece is composed of secondhand T-shirts produced in Latin America for retailers in the United States that returned to bargain markets in Mexico, either through charity or waste. The installation's title comes from the word barato, meaning cheap, an exclamation used by street vendors selling their goods. For MOCA Tucson, Camil has conceived of Autonomous Space Rug, a massive new work which covers the floor below Bara with a patchwork ... More

The Beautiful Harmony of Michelle Smith's Jewelry Collection

Flashback
On a day like today, American artist Chris Burden was born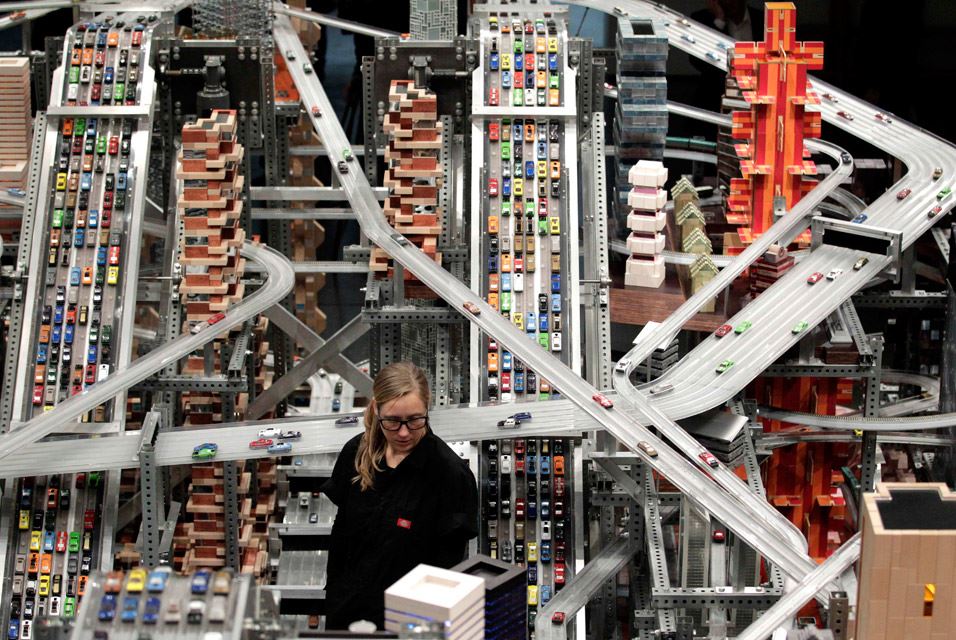 April 11, 1946. Christopher Lee "Chris" Burden (April 11, 1946 - May 10, 2015) was an American artist working in performance, sculpture and installation art. In this image: Operator Alison Walker watches miniature cars move along the roads in Chris Burden's latest kinetic sculpture, "Metropolis II," at the Los Angeles County Museum of Art (LACMA) in Los Angeles.
---

Museums, Exhibits, Artists, Milestones, Digital Art, Architecture, Photography,
Photographers, Special Photos, Special Reports, Featured Stories, Auctions, Art Fairs,
Anecdotes, Art Quiz, Education, Mythology, 3D Images, Last Week,

.
---
Royalville Communications, Inc
produces: