How a historian got close, maybe too close, to a Nazi thief
A stolen painting by Camille Pissarro. In 2000, Jonathan Petropoulos became involved in a search for a stolen painting by Camille Pissarro. Jonathan Petropoulos via The New York Times.

by Nina Siegal
NEW YORK
(NYT NEWS SERVICE)
.-
By the late 1990s, most of the Nazi art experts who helped loot European Jews were either dead or living quiet lives under the radar. Not so Bruno Lohse, who served as the art agent to Reichsmarschall Hermann Göring, Hitler's right-hand man. In 1998, Jonathan Petropoulos, a European history professor at Claremont McKenna College in California, met Lohse in Munich. An effete, imperious figure standing 6-foot-4 and weighing over 300 pounds at the time, Lohse, who had "inextinguishable self-importance," as Petropoulos writes, welcomed the chance to regale the American scholar with his war stories. Over the next nine years, they met more than two dozen times. Lohse would often pull out a box of old photographs and mementos, allowing Petropoulos to peer over his shoulder and to pepper him with questions. When Lohse died in 2007 at 96, he bequeathed that box to Petropoulos, who used it as source material for his new book, "Göring's Man in Paris: The Story of a Nazi A ...
More
The Best Photos of the Day
Trump pardons Hillel Nahmad, Madison Avenue art dealer
Kasmin opens an exhibition of twenty-two monolithic sculptures spanning from 900 A.D. to 2019
Larry King, breezy interviewer of the famous and infamous, dies at 87


Hillel Nahmad, left, known as Helly, leaves a federal courthouse in New York, April 19, 2013. Robert Stolarik/The New York Times.

by Sarah Bahr



NEW YORK (NYT NEWS SERVICE).- In one of his final gestures before leaving office, President Donald Trump pardoned one of New York's best-known art dealers, Hillel Nahmad, known as Helly, a member of a wealthy, influential family of art collectors who has been a fixture in auction houses for decades. Nahmad had served five months in federal prison in 2014 after pleading guilty to a charge that he had led a sports gambling ring. Investigators had said the ring had ties to Russian American organized crime figures, several of whom were also charged in the case. Nahmad did not respond to a request for comment on his pardon from Trump, who has been something of his neighbor in New York. Nahmad bought every unit on the 51st floor of Trump Tower in Manhattan starting almost two decades ago. Bloomberg reported in 2016 that he paid more than $18.4 million to amass the entire floor. Nahmad's pardon was one of 143 pardons and commutations ... More



Marie Watt, Blanket Story: Indian Territories, Round Dance, Grandmother, 2016. Folded blankets, steel poles, wooden base, 102 x 33 1/2 x 34 inches, 259.1 x 85.1 x 86.4 cm. Courtesy of the artist and Kasmin Gallery.



NEW YORK, NY.- Kasmin is presenting Between the Earth and Sky, an exhibition of twenty-two monolithic sculptures that brings together examples of the form spanning from 900 A.D. to 2019. The presentation demonstrates how stelae, herms, and columns have acted as repositories of meaning or markers of time and place across many cultures since prehistory, as well as the way in which the expressive possibilities of this format continue to resonate with sculptors working internationally today. Be they analogues for the human form, waypoints, sentinels, support structures, memorials or otherwise, their metaphorical and formal potency abides. Featured in the exhibition are artists Diana al-Hadid, Alma Allen, Huma Bhabha, JB Blunk, James Lee Byars, Saint Clair Cemin, Max Ernst, Vanessa German, Rachel Harrison, Robert Indiana, Isamu Noguchi, Beverly Pepper, Per Kirkeby, Ugo Rondinone, Tom Sachs, Bosco Sodi, and Marie Watt, as well ... More



In this file photo taken on September 22, 2011, TV Personality Larry King of the US answers journalists' questions during a press conference in Bratislava, Slovakia. SAMUEL KUBANI / AFP.

by Robert D. McFadden



NEW YORK (NYT NEWS SERVICE).- Larry King, who shot the breeze with presidents and psychics, movie stars and malefactors — anyone with a story to tell or a pitch to make — in a half-century on radio and television, including 25 years as the host of CNN's globally popular "Larry King Live," died Saturday in Los Angeles. He was 87. Ora Media, which King co-founded in 2012, confirmed the death in a statement posted on King's own Twitter account and said he had died at Cedars-Sinai Medical Center. The statement did not specify a cause of death, but King had recently been treated for COVID-19. In 2019, he was hospitalized for chest pains and said he had also suffered a stroke. A son of European immigrants who grew up in Brooklyn, New York, and never went to college, King began as a local radio interviewer and sportscaster in Florida in the 1950s and '60s, rose to prominence with an all-night coast-to-coast radio call-in show ... More
MOCA marks 1-year anniversary of fire at archives with online exhibition on Google Arts & Culture
Exhibition at Marc Straus presents a new body of work by Marie Watt
'Moulin Rouge!' was their ticket. Then 2020 happened.


Outside the Museum of Chinese in America, shortly after a fire gutted the upper floors of 70 Mulberry Street, in New York, March 8, 2020. Jeenah Moon/The New York Times.



NEW YORK, NY.- Almost one year to the day when a 5-alarm fire nearly destroyed its nationally treasured collection of more than 85,000 historical artifacts, MOCA has launched a new partnership with Google to make hundreds of digitized images of objects, sculptures, letters, photos and videos from MOCA's collections available for free on the Google Arts & Culture digital platform to be viewed, studied and enjoyed by people near and far online and on its app, available for download on Android and iOS. Starting today, users of Google Arts & Culture will now be able to see a new MOCA virtual exhibition titled Trial by Fire: The Race to Save 200 Years of Chinese American History, available exclusively on the platform. Trial by Fire marks the one-year anniversary of a fire at 70 Mulberry Street that occurred on January ... More



Installation view.



NEW YORK, NY.- Marie Watt (b.1967, Seattle) is a citizen of the Seneca Nation, the largest of six Nations in the Iroquois Confederacy. Mythologies and history from her Native American heritage inform her process and are seamlessly interwoven in her art with commentary on international politics and pop culture references. Her layered points of influence are often reflected in her use of text elements featuring language drawn from Indigenous knowledge and Iroquois proto-feminism, the matriarchal structures of certain Native American tribes, the rise of social activism throughout the 20th century, and the anti-war and anti-hate content of 1960s and 1970s music- such as the Marvin Gaye song, "What's Going On." Messages of both longing and hope from the past that still resonate today. Some works in this exhibition, for the first time allude to the writing of Joy Harjo, the 23rd US Poet Laureate, and the first Native American named to the role. ... More



Danny Burstein as Harold Zidler in the musical "Moulin Rouge" at the Al Hirschfeld Theater in New York, June 12, 2019. Sara Krulwich/The New York Times.

by Michael Paulson



NEW YORK (NYT NEWS SERVICE).- From a window in his Hell's Kitchen apartment, theater director Alex Timbers can see the Moorish arcade adorning Broadway's Al Hirschfeld Theater. For years, Timbers dreamed of working in the century-old house, and in the summer of 2019, he got the chance with "Moulin Rouge!," a hotblooded musical about bohemian artists whose revelry is tragically disrupted by infectious disease. The show, adapted from Baz Luhrmann's 2001 film, was last season's big swing — it cost $28 million to bring to Broadway — and it was shaping up to be a home run. Set in fin de siècle Paris but supercharged by 75 pop songs, it opened to a rave from The New York Times ("This one's for the hedonists," exulted Ben Brantley), and it was regularly ... More
Blum & Poe opens a solo exhibition of works by Paul Mogensen
Mira Furlan, actress on 'Lost' and 'Babylon 5,' dies at 65
Theatre, cinema, concerts thrive in Madrid despite virus


Paul Mogensen, no title, 2018 (detail). Stand oil and oil paint on canvas, 60 x 60 inches © Paul Mogensen, Courtesy of the artist, Blum & Poe, Los Angeles/New York/Tokyo, and Karma, New York.



LOS ANGELES, CA.- Blum & Poe is presenting a solo exhibition of works by New York-based artist Paul Mogensen, following the recent announcement of the gallery's co-representation of the artist with Karma. Presenting paintings dating back to the beginning of the artist's career in the 1960s and recent works from the last decade, the exhibition also marks the artist's first show in his hometown of Los Angeles in over forty years. Based on essential numerical sequences and ratios, Mogensen creates esoteric compositions that invite the viewer to make sense of the planar space. First conceiving a system and utilizing a mathematical formula, he allows the progression to dictate the composition. Mogensen prefers not to date or title his paintings—while this can be read as a gesture foregrounding the timelessness ... More



From 1993 to 1998, Furlan starred in Babylon 5.



NEW YORK (NYT NEWS SERVICE).- Mira Furlan, an actress best known for her roles on the fantastical TV series "Babylon 5" and "Lost," died at her home in Los Angeles on Wednesday. She was 65. The cause was complications of the West Nile virus, according to Chris Roe, her manager. From 1993 to 1998, Furlan starred in "Babylon 5," a space opera that followed the relationships, politics, interspecies tensions and galactic conflicts aboard a United Nations-type space station in the mid-23rd century. She played Ambassador Delenn, representing the Minbari alien race on the space station. "Delenn is a wonderful creation, a woman who must be a leader and must be strong, but who is also full of emotion and secrets," Furlan said in 1997. Furlan twice won a Sci-Fi Universe Award for best supporting actress for her work on the show, which also starred Bruce Boxleitner and Stephen Furst. She appeared in all 111 episodes and in two "Babylon 5" TV movies. In 2004, she began playing ... More



Teatro Real director Ignacio Garcia-Belenguer speaks during an interview at the Teatro Real in Madrid on January 14, 2021. OSCAR DEL POZO / AFP.

by Marie Giffard



MADRID (AFP).- With entertainment venues shuttered across much of Europe, Spain stands out as a cultural oasis where people still go to the theatre and cinema or watch concerts despite soaring infection rates. "Having the chance to be here with you is a huge blessing and with all my heart I applaud the great efforts being made in this country to defend culture," Mexican tenor Javier Camarena told Madrid's Theatre Royal last week after going months without performing on stage. In the audience were 1,200 people in suits, fur coats and masks, often the FFP2 type, after having their temperature taken as part of a meticulous safety protocol. Following a months-long national lockdown at the start of the pandemic, Spain's cultural venues reopened in the summer operating with strict capacity limitations, well-spaced seating ... More
CUE Art Foundation opens group exhibition 'Even there, there are stars'
Contents of spectacular Aynhoe Park sell for double their estimate at Dreweatts
Prompted by the pandemic, Opera Philadelphia innovates online


Amaryllis DeJesus Moleski, Good Grief (Labyrinth), 2019.



NEW YORK, NY.- CUE Art Foundation is presenting Even there, there are stars, a group exhibition featuring Chitra Ganesh, Amaryllis DeJesus Moleski, Emily Oliveira, and Tuesday Smillie, organized by Allie/A.L. Rickard. Even there, there are stars celebrates visions and dreams of possible, and more just, futures arising in dialogue with visionary fiction, and explores pathways that might help us get there. These futurities are generated by and sustain queer and trans people, femmes, and people of color: those of us who have learned to live by and through our longings; those of us who were never meant to survive and do, by our collective resilience and our collective dreams. The work included in this exhibition, and the thoughts in the accompanying publication, take up these tactics to help us be bold, center pleasure, and stay connected and interdependent so as to be able to live guided by our wildest dreams of liberation. The exhibition featu ... More



The sale totalled £4.1 million against a pre-sale low estimate of £1.3 million.



LONDON.- There was much excitement from around the globe in the last few days, when the contents of the 17th century Grade I Palladian country house, Aynhoe Park in Oxfordshire, went under the hammer at Dreweatts. The auction, titled Aynhoe Park: The Celebration of a Modern Grand Tour took place in the form of two live auctions on Wednesday, January 20th & Thursday 21st, 2021 and an online auction on Friday, January 22, 2021. The collection, from the celebrated family home of James and Sophie Perkins, which has played host to celebrities from the music, film and fashion worlds, drew huge world-wide interest as expected, with spirited bidding online and on the telephones from across the UK, Europe, Asia and the US. Aynhoe Park was furnished with a vast collection of iconic objects and curiosities from the Perkins travels across the globe and featured artworks, books, sculpture, furniture, taxidermy, modern design and curiosities, which were e ... More



BON APPÉTIT! A Sweet Soirée.



PHILADELPHIA (NYT NEWS SERVICE).- What can an opera company actually do in a pandemic? Yes, some previously planned performances can be turned into livestreams, and broadcasts of past stagings can be made freely available — if only to remind the public what it's missing. But where some companies might be resigned to only that, Opera Philadelphia pluckily spent 2020 commissioning new work and launching its own streaming service. OperaPhila.tv, which debuted in October and is available as an app for major streaming devices, so far features just one vintage broadcast: an engaging 2015 production of Verdi's "La Traviata," featuring a then-rising soprano Lisette Oropesa. Everything else, including a new version of David T. Little's "Soldier Songs" that premieres Friday, has been produced during the pandemic. (Subscriptions for the season, which continues through May 31, cost $99, though individual titles are available to rent.) Compared with other U.S. ... More

Artist Demonstration: Rachelle Baker

Flashback
On a day like today, American painter Robert Motherwell was born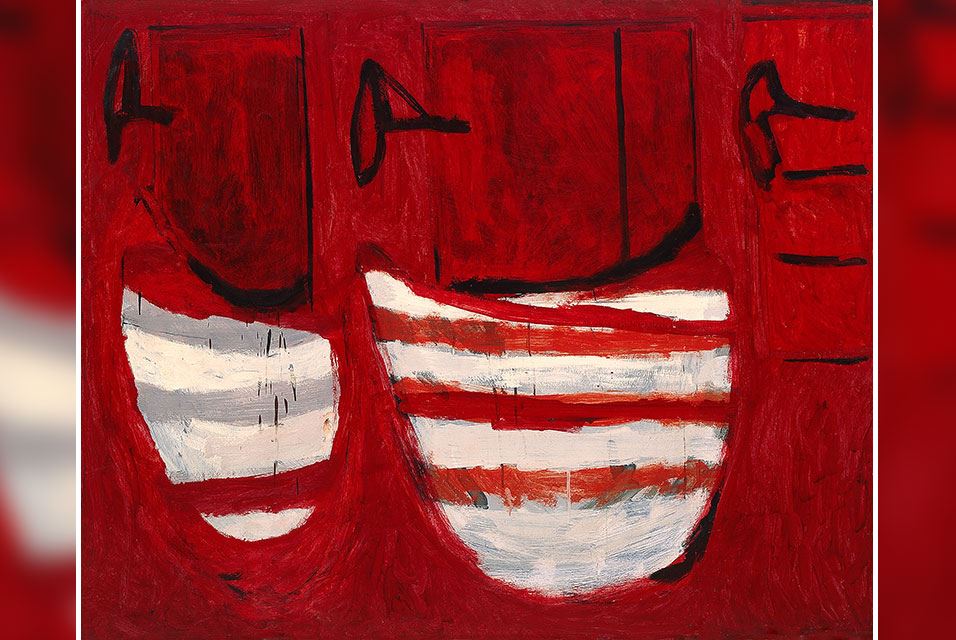 January 24, 1915. Robert Motherwell (January 24, 1915 - July 16, 1991) was an American painter, printmaker, and editor. He was one of the youngest of the New York School (a phrase he coined), which also included Philip Guston, Willem de Kooning, Jackson Pollock, and Mark Rothko. In this image: Robert Motherwell, The Hotel Corridor, 1950. Oil on masonite, 44 x 55 inches, 111.8 x 139.7 cm. © Dedalus Foundation, Inc./ Licensed by VAGA, New York, NY.
---

Museums, Exhibits, Artists, Milestones, Digital Art, Architecture, Photography,
Photographers, Special Photos, Special Reports, Featured Stories, Auctions, Art Fairs,
Anecdotes, Art Quiz, Education, Mythology, 3D Images, Last Week,

.
---
Royalville Communications, Inc
produces: