U.S. Supreme Court to rule on medieval treasure bought by Nazis
A 12th-century statuette of a church, part of the Guelph Treasure, a trove of medieval religious art displayed at the Kunstgewerbemuseum in Berlin, July 8, 2020. The U.S. Supreme Court is hearing a case regarding the sale in 1935 of many items from the trove; descendants of a consortium of Jewish art dealers argue that the sale was under duress. Gordon Welters/The New York Times.

by Christopher F. Schuetze
BERLIN
(NYT NEWS SERVICE)
.-
After hundreds of years residing in a cathedral in Braunschweig, Germany, the Guelph Treasure has had a comparatively active century. The trove of medieval religious art was sold just before the stock market crash in 1929, sent to the United States and back, then split up and sold. All 82 pieces have changed hands at least twice. Now, it is the subject of a U.S. Supreme Court case that could see 42 pieces, estimated to be worth nearly a quarter of a billion dollars, on the move again. The dispute centers on a transaction in 1935, when a consortium of Jewish art dealers that bought the entire collection in 1929 sold those 42 pieces to a German museum. For more than a decade, descendants of those dealers have claimed that the sale was made under duress and that the price paid — the equivalent of about $20 million today — was far below value. At least one of the dealers lived in Germany, then under Nazis rule, at the time of the sale, raising the possibility that his life was un ...
More
The Best Photos of the Day
A Swiss Dada pioneer finally gets her spotlight
Auctions are crimped as the pandemic forces them online
The National Gallery acquires painting by Camille Pissarro


Sophie Taeuber-Arp. Dada Head. Zurich, 1920. Painted wood. 11 9/16 × 5½ × 5½" (29.4 × 14 × 14 cm). Centre Pompidou, Musée National d'Art Moderne, Paris. © 2020 Stiftung Arp e.V., Berlin/Rolandswerth / Artists Rights Society (ARS), New York.

by Ted Loos



NEW YORK (NYT NEWS SERVICE).- In 1937, Swiss artist Sophie Taeuber-Arp wrote a letter to a friend, noting her exclusion from an avant-garde exhibition in Paris. While a male Belgian artist in her circle was refused entry too, "as a woman it is ten times harder to hold your position in this caldron." And therein lies a tale, one that may be receiving an updated ending. Taeuber-Arp (1889-1943), a pathbreaking artist, is the only woman on a Swiss bank note, and she has been featured previously in major museum exhibitions. But her name is hardly bandied about — certainly not with the frequency of her husband's, Jean (Hans) Arp — and some influential people in the art world are collectively looking to change that. Among her advances was ... More



An image provided by Sotheby's, a Rolex Daytona watch. Watches lend themselves to the online scrolling so many of us have been doing to pass the time and that has pushed Sotheby's watch department to move to weekly and monthly auctions, scrapping its previous format of semiannual New York auctions. Sotheby's via The New York Times.

by Paul Sullivan



NEW YORK (NYT NEWS SERVICE).- Just about every area of personal finance has been affected by the coronavirus pandemic. That economic shock reaches all the way to some of the most aspirational purchases on the planet: art, cars, watches and wine. The mechanism to buy and sell many of these objects — frothy, in-person auctions, with attendees dressed smartly and cocktails readily available — has been rendered untenable since March because of social-distancing measures meant to stop the spread of the virus. But the desire remains, with sellers looking to shed valuable items to shore up their own balance sheets, and buyers who have reserves looking to collect ... More



Camille Pissarro, (1830 - 1903), Late afternoon in our Meadow, 1887 (detail). Oil on canvas, 54 x 65 cm © The National Gallery, London.



LONDON.- On the 190th birthday of Camille Pissarro (1830-1903), the National Gallery has announced the acquisition of his Late afternoon in our Meadow (1887) which has been on loan to the Gallery since November 2019. This is the 12th painting by Pissarro to enter the National Gallery's collection and it has been acquired through a hybrid Acceptance in Lieu with the support of a generous legacy from James Francis George Wilson, 2020. An acquisition of great importance, this is the first of Pissarro's Divisionist works to enter the collection, and the first painting of the 1880s, joining a group of pictures which range from an early scene in Louveciennes to a late view of the Louvre in winter. It can be viewed in Room 44 from today. The painting was first acquired in 1888 by Parisian art dealer Paul Durand-Ruel, the great supporter and collector of the Impressionists, possibly directly ... More
Incredibly rare maps of the defeat of the Spanish Armada at risk of export
David Zwirner to represent the Estate of Juan Muñoz
Sapar Contemporary exhibits works by Indonesian contemporary puppetry masters


Valued at £600,000 the works are the only surviving contemporary drawings of the battle.



LONDON.- Culture Minister Caroline Dinenage has placed an export bar on a set of ten hand drawn maps of the defeat of the Spanish Armada valued at £600,000 plus VAT. It is hoped that a UK gallery or institution will come forward to acquire the treasures for the nation which depict the greatest naval battle of the early modern period. The drawings were completed by an unknown draughtsman, possibly from the Netherlands and are undated, although are thought to be from the years immediately after the battle. The defeat of the Spanish Armada in 1588 has a totemic place in English history and has been employed at various moments of national crisis including the threats of invasion from Napoleonic France and Nazi Germany. The most famous images of the battle extant are a series of engravings completed in 1590 by Augustine Ryther. The original drawings have been lost and the maps at risk of export are a very rare ... More



Juan Muñoz, Five Seated Figures, 1996. Collection of Museo Nacional Centro de Arte Reina Sofia, Madrid. Courtesy Estate of Juan Muñoz and David Zwirner.



NEW YORK, NY.- David Zwirner announced its exclusive worldwide representation of the Estate of Juan Muñoz. The Estate comes to the gallery on the recommendation of Marian Goodman. Marian Goodman Gallery has represented Muñoz's work since 1990 and has mounted six shows in New York between 1991 and 2015. David Zwirner is looking forward to continuing to promote and further the legacy of Juan Muñoz. The gallery is planning a solo exhibition of Muñoz's work for New York in the spring of 2021, curated by Vicente Todolí. J uan Muñoz: Six Rooms will be on view at the gallery's Chelsea spaces and will include six major installations by the artist, from 1986 to 2001, that exemplify the formal and perceptual breadth of his sculptural works. Juan Muñoz was among the most significant artists to rise to international prominence in the mid-1980s and 1990s. In his formally inventive ... More



Mulyana. Installation image Jumping the Shadow.



NEW YORK, NY.- Sapar Contemporary is presenting for the first time in NYC the works by two Indonesian artists, Mulyana and Iwan Effendi, both inspired by a puppetry tradition. The shadow puppet theater tradition (Wayang) has been woven into Indonesia's cultural history for more than a thousand years. The term Wayang means shadow (as well as visual imagination) in Javanese. The two-person exhibition Jumping the Shadow at Sapar Contemporary, celebrates the New York City debut of Indonesian contemporary artists Iwan Effendi and Mulyana. Although their artistic lineages do not directly reference the history of shadow puppets, their work envisions imaginary worlds and characters that open up our minds to relevant narratives. The whimsical and animated characters in their work point to a rich tradition of story telling. Effendi and Mulyana started their education at the UPI Fine Arts in Bandung, and at different points, migrated to the city of Yogya ... More
Turkey turns Hagia Sophia back into a mosque
Sotheby's Hong Kong Magnificent Jewels sale totals US$56,473,108
Russia fines LGBT activist for 'gay propaganda' drawings


A woman visits the inside of Hagia Sophia on July 10, 2020, in Istanbul, before a top Turkish court revoked the sixth-century Hagia Sophia's status as a museum, clearing the way for it to be turned back into a mosque. Ozan KOSE / AFP.

by Fulya Ozerkan



ISTANBUL (AFP).- Turkish President Recep Tayyip Erdogan announced Friday that the Hagia Sophia, one of the architectural wonders of the world, would be reopened for Muslim worship as a mosque, sparking fury in the Christian community and neighbouring Greece. His declaration came after a top Turkish court revoked the sixth-century Byzantine monument's status as a museum, clearing the way for it to be turned back into a mosque. In an address to the nation, Erdogan said the first Muslim prayers at the Hagia Sophia would be performed on July 24. "God willing, we will perform Friday prayers all together on July 24 and reopen Hagia Sophia to worshipping," he said, assuring that it would open ... More



The sale was led by two exceptionally rare Fancy Vivid coloured diamonds. Courtesy Sotheby's.



HONG KONG.- Wenhao Yu, Deputy Chairman, Jewellery, Sotheby's Asia, commented: "Today's results are a clear indication that the appetite for top quality jewels in Asia remains undiminished. The hottest colour diamonds in the most romantic of cuts and settings proved irresistible, with the pair of fancy vivid pink and blue rings taking top billing as the stars of the show, while 'imperial jadeite' attracted strong interest from international collectors. For a couple of years now, young and established collectors in the region have shown a growing interest in jewels with a royal connection and steeped in European history, and this was confirmed today, as they faced fierce competition from bidders around the world for Princess Margaret's 21st birthday bracelet. This spring we have seen a resilience in the jewelry market, as collectors demonstrate their eagerness to transact with us in both new and traditional ways." Pr ... More



The 27-year-old also faces a criminal trial for pornography over drawings of vaginas she posted online. © Yulia Tsvetkova.



MOSCOW (AFP).- A Russian court on Friday fined a LGBT activist 75,000 rubles ($1,053) over "propaganda" drawings of gay families aimed at influencing minors. A magistrate's court in the far eastern city of Komsomolsk-On-Amur fined activist and artist Yulia Tsvetkova over social media posts of drawings, she told AFP. One, called "A family is where love is," shows gay couples with their children. Others depict rainbow-coloured cats and matryoshka dolls holding hands. Tsvetkova posted on Facebook her testimony in court where she said the drawings were posted on a social media group aimed at adults and marked 18+. The 27-year-old also faces a criminal trial for pornography over drawings of vaginas she posted online. Her case has prompted international condemnation and protests in Russia. If convicted, she would face up to six years in jail. She spent months ... More
Christie's online sale fetches $421 mn despite virus pandemic
Exhibition of contemporary Aboriginal Australian memorial poles opens (virtually) at Frost Art FIU
McMullen from Home brings Boston College's museum to viewers


Roy Lichtenstein's Nude With Joyous Painting, leads the sale, realizing $46,242,500 / £36,787,987 / €40,981,818 / HK$356,659,537. © Christie's Images Ltd 2020.



NEW YORK (AFP).- Roy Lichtenstein's "Nude with Joyous Painting" was the big seller as a Christie's hybrid sale fetched an impressive $421 million Friday, signaling the art market is holding firm during the coronavirus pandemic. The event, entitled "ONE," started with an auctioneer in Hong Kong selling a series of works, before another took over in Paris, followed by London and then New York. Christie's opted for the unique, one-day format after it was forced to rework its spring sales, a traditional highlight of auction season, because of the COVID-19 crisis. Lichtenstein's 1994 painting sold for the highest price at $46.2 million, well above its pre-sale estimate of around $30 million, Several records were broken, most notably for the American abstract painter Brice Marden, whose "Complements" went for $30.9 million. No painting crossed the $50 million mark, but 94 percent ... More



Joe Guymala with Lorrkkon Story, 2016, in front of Injalak Hill. Images © and courtesy of Injalak Arts, Kunbarlanja, Photograph by David Wickens.



MIAMI, FLA.- The Inside World: Contemporary Aboriginal Australian Memorial Poles from the Debra and Dennis Scholl Collection opens virtually on July 11 at Frost Art FIU. On view until January 10, 2021, the exhibition presents approximately 100 works by contemporary Aboriginal artists. The artists included in the exhibition come from Arnhem Land, a historical region in the Northern Territory of Australia. "The Inside World is an exciting opportunity to introduce a thoroughly new artform to our FIU students, faculty, and South Florida communities. These memorial poles mesh an ancient Aboriginal ritual with contemporary art practice. We are grateful to the Scholls for introducing us to these complex and vibrant works that are joyous and magnificent," said museum director,. Jordana Pomeroy. These poles traditionally served as hollow log coffins, marking the final point in Aboriginal mortuary rites. Known ... More



"McMullen From Home" features an interactive spotlight of James Miller's "Peaceable Kingdom.



CHESTNUT HILL, MASS.- Whether you're an art aficionado or a casual appreciator, the McMullen Museum of Art at Boston College can connect you to exciting exhibitions and collections as well as dynamic related programming via McMullen From Home, an interactive resource now available on the museum's website. Visitors of all ages can virtually explore the McMullen's exhibitions and permanent collection, as well as digital catalogues, related films, lectures by and interviews with curators, podcasts with Boston College faculty and and students, and more. "We hope you will make the museum your own," said Nancy Netzer, the inaugural Robert L. and Judith T. Winston Director of the McMullen Museum and a BC professor of art history. "My colleagues have worked remotely with determination and creativity to further the McMullen's mission to promote learning by making resources available online to visitors throughout the world, ... More

In a Brilliant Light: Van Gogh in Arles, 1984 | From the Vaults

Flashback
On a day like today, Italian painter Giuseppe Arcimboldo died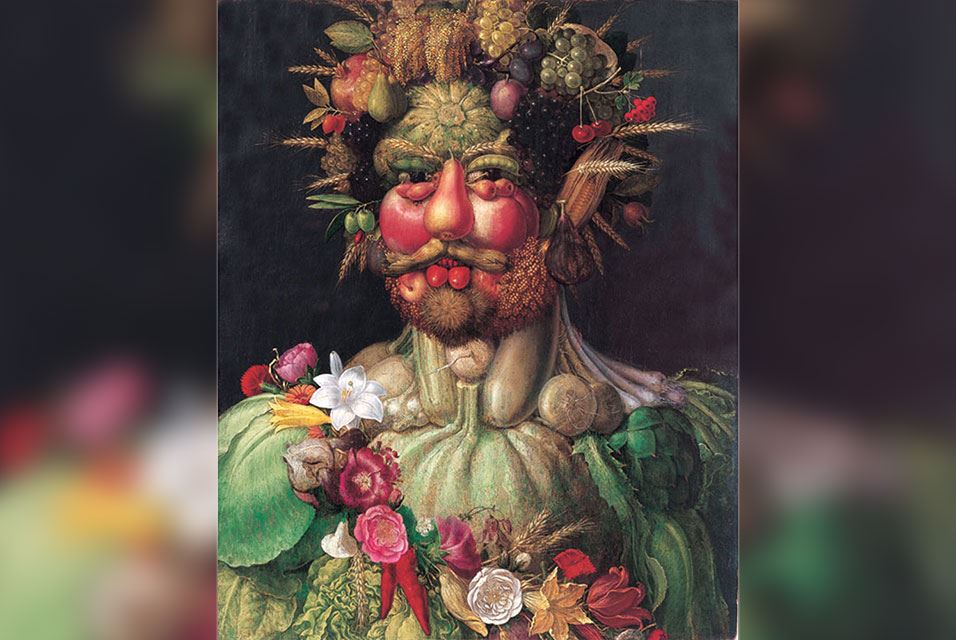 July 11, 1593. Giuseppe Arcimboldo (1526 or 1527 - July 11, 1593) was an Italian painter best known for creating imaginative portrait heads made entirely of objects such as fruits, vegetables, flowers, fish, and books. In this image: Giuseppe Arcimboldo, Vertumne (portrait de Rodolphe II), vers 1590, Huile sur bois. Skokloster, Château de Skokloster (Suède).
---

Museums, Exhibits, Artists, Milestones, Digital Art, Architecture, Photography,
Photographers, Special Photos, Special Reports, Featured Stories, Auctions, Art Fairs,
Anecdotes, Art Quiz, Education, Mythology, 3D Images, Last Week,

.
---
Royalville Communications, Inc
produces: