Hindman Antiquities Annual Spring Sale achieves over $1.3 million
A Roman Marble Torso of the Goddess Venus (Pontia - Euploia Type). Circa 1st Century A.D. Price Realized: $63,000.
CHICAGO, IL
.-
A Roman marble torso of the Goddess Venus (lot 221) was among top performers at Hindman's biannual Antiquities & Ancient Art auction last week, selling for $63,000. Executed in the 1st century A.D., this nearly life-sized sculpture of the iconic goddess was one of many impressive results achieved for Roman marbles. Overall, the auction realized $1,362,028. Venus, the goddess of sensual love, is shown in the sculpture presented here in a format traditionally used in her connection with seafaring, worshipped as Aphrodite-Venus 'Pontia' (of the open sea) and 'Euploia' (good sailing). She is depicted as if emerging from the sea nude to be admired by grateful sailors. Noteworthy results also included a Greek bronze right arm from the Collection of Arnold-Peter C. Weiss, M.D. (lot 222), which sold for $94,500. Ancient Egyptian highlights included a Middle Kingdom faience hippopotamus (lot 63), which brought $56,700 against a presale estimate of $40,000-60,000. ...
More
The Best Photos of the Day
Site Santa Fe presents 'Goodnight Moon' a new solo exhibition by artist Rachel Rose
New James MacNeill Whistler exhibition at the Colby Museum highlights the uncertainties of urban life
Highly sought after Edward Burne-Jones stained glass window to be offered at Bonhams


Rachel Rose, Still from Enclosure - a rigorously researched narrative about the catastrophic social, psychological, and ecological impact of the advent of capitalism in 17th-century agrarian England.



SANTA FE, NM.- SITE SANTA FE recently opened Goodnight Moon, a new solo exhibition by Rachel Rose on view since June 2 through September 11, 2023, and featuring new and recent sculpture and installation, as well as newly commissioned video work and notable historical loans from Yale Center for British Arts. Rachel Rose has emerged over the past decade as one of the foremost artists in her generation, whose film work draws from and contributes to a long history of cinematic innovation. Whether investigating topics such as cryogenics, the American Revolutionary War, or an astronaut's space walkthrough painting, sculpture, drawing, or film, Rose creates poignant portraits of the past that connect deeply to what we feel in the present, illuminating emotional through-lines between then and now. The varied and nuanced pieces point to the history ... More



Maunder's Fish Shop, Chelsea, 1890. Transfer lithograph in black ink on ivory laid paper. Second (final) state. Colby College Museum of Art; The Lunder Collection, 2013.378.



WATERVILLE, MAINE.- The Colby College Museum of Art is now presenting Whistler: Streetscapes, Urban Change (June 3–October 22, 2023), a timely exhibition of drawings, prints and paintings by artist James McNeill Whistler (1834–1903) that speak to the enduring phenomenon of urban transformation. Featuring approximately sixty works drawn primarily from the Colby Museum's renowned Lunder Collection, Whistler: Streetscapes, Urban Change reflects the uncertainties of metropolitan life that Whistler saw firsthand during the Victorian era. Curated by David Park Curry, a 2020–21 senior fellow at the Colby Museum's Lunder Institute for American Art, Whistler: Streetscapes, Urban Change invites us to consider the implications of art that silently witnessed the struggles of the working poor, at the same time romanticizing poverty for a rising middle-class art market. ... More



Detail of Sol by Sir Edward Burne-Jones (1833-1898), estimated at $100,000 – 150,000.



NEW YORK, NY.- Bonhams will offer a stained-glass window by Edward Burne-Jones' (1838-1898) and created at the studio of William Morris (1834-1896) at its Modern Decorative Art + Design sale on June 14 in New York. This is the last panel to be offered from the collection of Gabreal Franklin, former owner of the seven panels created by Burne-Jones in 1878 for a private commission in England. Five panels were once owned by rock guitarist and founding-member of Led Zeppelin, Jimmy Page, and one is in the Los Angeles County Museum of Art's permanent collection. The panel offered, Sol, is the most impressive from the set and is estimated at $100,000 - $150,000. Burne-Jones was commissioned to design the windows by Angus Holden, Mayor of Bradford who later became a Member of Parliament. His home, Woodlands, was demolished at the end of the 19th century and of the nine panels created, only seven have been ... More
To Bend the Ear of the Outer World: Conversations on Contemporary Abstract Painting now open
Early American Conflicts, Politics, Social Movements, & Westward Expansion converge at Hindman
Torkwase Dyson exhibition 'Closer: Bird and Lava' now opening at 'T' Space


Katharina Grosse, Untitled, 2022. Acrylic on canvas, 93 3/4 x 62 1/4 inches (238.1 x 158.1 cm). © Katharina Grosse and VG Bild-Kunst, Bonn, Germany 2023. Photo: Jens Ziehe. Courtesy the artist and Gagosian.



LONDON.- Gagosian is now presenting To Bend the Ear of the Outer World: Conversations on contemporary abstract painting, an exhibition of new and recent works by more than forty artists from the Americas, United Kingdom, and Germany. The exhibition has been organized by guest curator Gary Garrels, who, in collaboration with the artists, has selected a single painting by each, with most works presented here for the first time. This is Gagosian's first exhibition to be sited across its two galleries in Mayfair, at Grosvenor Hill and Davies Street. The exhibition in London examines the significance of abstract painting today, from Garrels's perspective. Juxtaposing a diverse range of approaches to contemporary abstraction, the exhibition brings together works by three generations of artists, including some never before shown by Gagosian. ... More



William W. Heartsill (1839-1916). Fourteen Hundred and 91 Days in the Confederate Army: A Journal Kept by W. W. Heartsill. Estimate: $15,000 - 20,000.



CINCINNATI, OH.- Hindman will present two days of manuscripts, archives, early photography, and artifacts spanning the entirety of American history in its June 15-16 American Historical Ephemera & Photography auction. The June 15 session will focus on American conflicts including the Civil War and Indian Wars, as well as African Americana and early photography, while the second day is devoted to politics, Native American history, and the settling of the American West. An extensive 19th century archive of a US Army artilleryman stationed in the frontier at the onset of the Civil War is expected to highlight the first day of the sale (lot 130; estimate: $20,000 - $30,000). Captain Joseph Claypoole Clark was serving in the 4th United States Light Artillery stationed in Missouri in the summer of 1860 before embarking down the iconic Oregon Trail toward Utah Territory. By 1861, his letters begin ... More



Installation view of Torkwase Dyson exhibition 'Closer: Bird and Lava'. Photo courtesy of 'T' Space.



RHINEBECK, NY.- 'T' Space is pleased to present Closer (Bird and Lava), a site-specific installation by Torkwase Dyson. The installation will be composed of large-scale sculptural forms and drawings and will run from June 4 - July 9 at 'T' Space Rhinebeck. Consisting of two site-specific objects that toggle between painting and sculpture, the installation at 'T' Space will be an expression of systems, structures, enclosures, and throughways evoking themes of containment and expansion. Shifts in scale take the audience on a journey from the intimacy of the artist's hand, to industrial conditions of seriality, onto the immeasurable or the improvisational. Speaking about the ideas behind Closer (Bird and Lava), Dyson said: "Looking at the environmental implications of dams and levees as extraction developments and infrastructures of dispossession, what comes up are ongoing questions of scale, dimension, geometry a ... More
Westerly Museum of American Impressionism appoints Catherine Shotick as inaugural Director
Martine Gutierrez presents her exhibition Anti–Icon: Apokalypsis at Fraenkel
Rafael Delacruz: Healing Finger Clean Drawings to feature new paintings and a video


Catherine Shotick, Westerly Museum of American Impressionism's newly appointed inaugural Director.



WESTERLY, RI.- The Westerly Museum of American Impressionism (WMAI) has announced the appointment of Catherine Shotick as the museum's inaugural director. An exciting addition to the New England museum landscape, WMAI is currently being constructed in the seaside town of Westerly, Rhode Island with an anticipated opening in the fall of 2024. Established in 2022 by philanthropists and art collectors Thomas P. and Cynthia D. Sculco, the new art museum will be dedicated to the research and exhibition of American Impressionism. Its core permanent collection will be comprised of over 150 extraordinary examples of such works from the 1880s to 1920 that the Sculcos have collected for forty years, many of them paintings by New England and East Coast artists. The appointment of Catherine Shotick as director of the museum comes after a nation-wide search. Shotick brings to WMAI more than 12 years of experience in all aspects ... More



Martine Gutierrez, Aphrodite from ANTI-ICON: APOKALYPSIS, 2021. Chromogenic print, hand-distressed welded aluminum frame. © Martine Gutierrez, courtesy of the artist, RYAN LEE Gallery, New York, and Fraenkel Gallery, San Francisco.



SAN FRANCISCO, CA.- Fraenkel Gallery opened on May 24th ANTI-ICON: APOKALYPSIS, a daring new body of work by artist Martine Gutierrez. The series continues her exploration of identity across the cultural landscapes of gender, race, and celebrity. In 17 new works, Gutierrez has transformed herself into a multitude of idols—a selection from the series comprises Gutierrez's second exhibition with the gallery. Costumed by the barest of essentials, Gutierrez's figure is the catalyst, reflecting dystopian futurism upon the symbols of our past. Through each metamorphosis, Gutierrez re- envisions a diverse canon of radical heroines who have achieved legendary cultural influence over thousands of years in both art history and pop culture. Still a patriarchal language, a determinative frame. Still a divisional boundary ... More



Rafael Delacruz, Healing finger clean drawings, 2023. Signed and dated "23" on the reverse. Oil and lithographic print on canvas, 91 1/2 by 75 1/2 in. 232.4 by 191.8 cm.



NEW YORK, NY.- Mitchell-Innes & Nash has recently commenced its first solo exhibition for artist Rafael Delacruz (b. 1989). On view since June 1 through July 7, 2023, Rafael Delacruz: Healing Finger Clean Drawings will feature all new work, including approximately 12 new paintings and a video. The artist Rafael Delacruz's mother visits Mexico each winter for New Year's. This past year, she brought back cochineal, a natural dye. Cochineal is a parasite, ruins cacti, and comes in little block-form pellets. If diluted properly, it can be mixed to make oil paint and various colors. Through a process of trial and error, and with the help of the internet and a zine from Moe's Books in Berkeley, Rafael worked out how to make red, pink, green, and orange. Cochineal is a powerful pigment with a cultural history that involves tinting Catholic clergy capes and the coats of English soldiers; it's in candy, make up, and a heap of mass-produced fo ... More
THE ARCHIVE AS ... exhibits two centuries of archival documents at Kunstverein München
Phillips presents highlights from Evening Day Editions Auction
Devan Shimoyama: Tell Me now on view at The Contemporary Art Centre of Málaga


Installation view: THE ARCHIVE AS …, Kunstverein München, 2023; photo: Maximilian Geuter.



MUNICH.- On the occasion of the bicentennial of Kunstverein München, the exhibition THE ARCHIVE AS ... brings together two centuries of the institution's archival documents for the first time that will now be on view until August 27th, 2023. During the exhibition these will be embedded in a dense discursive program to question how this historical material and the topography of its absences can be made productive for the present. Joining materials stored on site at the Kunstverein, among them publications, posters, and printed matter, is an inventory of archival records held by the city archive of Munich. Here administrative documents, documentation of exhibitions or artworks are presented, "read," and put into relation with each other as visual testimonies situated in an adaptable ... More



Joan Miro, Gaudi II, 1979. Image courtesy of Phillips.



NEW YORK, NY.- Phillips is pleased to announce highlights ahead of the London Evening & Day Editions auction on 7 and 8 June, the second auction to be held in Phillips London Editions Department's tenth anniversary year. Highlights include an important group of fabric works from artists including Grayson Perry, Damien Hirst, Louise Bourgeois, and Tracey Emin. The Evening Sale will be led by Andy Warhol's unique trial proof of Alexander the Great and two Marilyn screenprints, along with Pop Art by Keith Haring and Robert Indiana. Further highlights include Contemporary Street Art from the likes of Banksy and an auction debut for Thierry Noir's East Side Heads, which will be offered alongside significant Pablo Picasso linocuts and lithographs. Comprised of over 290 lots, this carefully curated selection ... More



Devan Shimoyama, Le Pape, 2023. Courtesy of the artist and De Buck Gallery.



MÁLAGA.- The Contemporary Art Centre of Málaga presents Tell Me, Devan Shimoyama's first solo exhibition in Spain. Curated by Helena Juncosa and Fernando Francés, the show brings together fifteen works created from 2020 to the present day. All these works belong to the artist's Tarot series, in which Shimoyama reinterprets traditional tarot decks through his own queer African-American experience, translating different cards into mystical allegories of change, evolution and transformation, and dealing with themes such as sexuality, gender identity and the struggle for acceptance. In the works exhibited in Tell Me, the compositional influences of classical painting are combined with textile materials and less usual elements, typical of drag queen culture, such as glitter, rhinestones, ... More

Explore "Against Nature" with Matthew Day Jackson

Flashback
On a day like today, Danish artist Nicolai Abildgaard died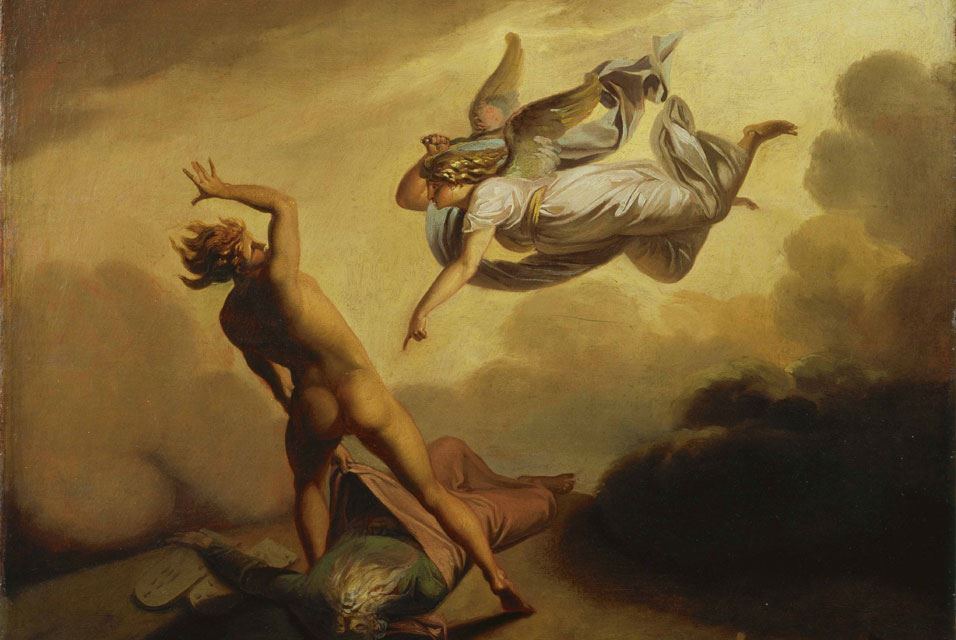 June 04, 1809. Nicolai Abraham Abildgaard (September 11, 1743 - June 4, 1809) was a Danish neoclassical and royal history painter, sculptor, architect, and professor of painting, mythology, and anatomy at the New Royal Danish Academy of Art in Copenhagen, Denmark. Many of his works were in the royal Christiansborg Palace (some destroyed by fire 1794), Fredensborg Palace, and Levetzau Palace at Amalienborg. In this image: Nicolai Abildgaard (1743 - 1809), The Archangel Michael and Satan Disputing about the Body of Moses. ARoS Aarhus Kunstmuseum. C. 1782. Oil on canvas, 49.7 x 61.7 cm.
---

Museums, Exhibits, Artists, Milestones, Digital Art, Architecture, Photography,
Photographers, Special Photos, Special Reports, Featured Stories, Auctions, Art Fairs,
Anecdotes, Art Quiz, Education, Mythology, 3D Images, Last Week,

.
---
Royalville Communications, Inc
produces: