Rollins Museum of Art features work by Frances Gallardo and Nathan Budoff
Rollins Museum of Art, Installation Shot, Gallardo/Budoff: Growth, Breadth, and Terrain. September 2021. Courtesy of the Museum. Photo Credit: Austin Reeves.
WINTER PARK, FLA
.-
This exhibition features the work of artists Frances Gallardo and Nathan Budoff, both connected to Puerto Rico by lived experience, and in Gallardo's case, by birth. The exhibition contains work by the individual artists – which examines both the natural phenomena on the island, as well as its current social, economic and political status – and one collaborative piece made by both artists, mailed back and forth to each other through 2020. Frances Gallardo was born in San Juan in 1984; she received a BFA in Drawing from the University of Puerto Rico and an MFA in Studio Art from Cornell University. She has exhibited in venues in the US and abroad, such as the Perez Art Museum in Miami, the Museum of Latin American Art in Los Angeles, the Instituto de Cultura Puertorriqueña in San Juan, and has participated in numerous residencies including the Latin American Roaming Art in Panama City, Caribbean Linked in Oranjestad, Aruba, the Center for Book Arts in New York and La Prác ...
More
The Best Photos of the Day
Albertina Museum marks the 100th aniversary of Amedeo Modigliani's death with exhibition
Picasso family hands over artworks to pay French tax
Exhibition at Fondation Beyeler provides unexpected and unique perspectives on the history of portraiture


Amedeo Modigliani, Young Man with Cap, 1918. Oil on canvas © Detroit Institute of Arts / Bridgeman Images.



VIENNA.- His entire life long, he was plagued by poverty, strokes of fate, drug excesses, and severe illness, with his earnings as an artist sufficing only to cover his rent and the barest necessities. But today, works by Amedeo Modigliani—a native of Livorno, Italy who died in his studio in 1920 at just 35 years of age—number among the most expensive, with individual paintings fetching nine-figure sums. In view of his death's 100th anniversary, Vienna's Albertina Museum is honoring Amedeo Modigliani (1884–1920) with a spectacular exhibition encompassing ca. 130 works from three continents. This showing, originally planned for the jubilee year of 2020, was postponed due to its importance and the pandemic: So it is only now that this fascinating, powerful artist is being featured for the first time in Austria. The present exhibition brings together major works from the most renowned museums and private ... More



Spanish painter Pablo Picasso, flanked by his friend French poet Jean Cocteau (R), drinks the spanish way for his 75th anniversary on October 25, 1956 in Vallauris. AFP.

by Sandra Biffot-Lacut



PARIS.- One of Picasso's daughters has given eight of his artworks and a book of drawings to the French state in lieu of inheritance tax at a ceremony on Monday. Six paintings and two statues by the Spanish master were handed over to the state-run Picasso Museum in Paris by his daughter Maya Ruiz-Picasso, his daughter by French model Marie-Therese Walter. They include "The child with the lollipop sitting under a chair", likely featuring Maya as a child, and representing a fearful world on the eve of World War II, according to grandson Olivier Widmaier Picasso. He was at a press conference at the museum alongside Culture Minister Roselyne Bachelot, who called the donation "one of the most important of recent decades". The works were ... More



Paula Modersohn-Becker, Portrait of a Girl with Her Hand Spread across Her Chest (Mädchenbildnis mit gespreizter Hand vor der Brust), 1905. Oil on canvas, 41 x 33 cm. Von der Heydt-Museum Wuppertal. Photo: Antje Zeis-Loi, Medienzentrum Wuppertal.



BASEL.- "Close-up" brings together nine women artists whose work shares a focus on the depiction of the human figure in the form of portraits and self-portraits, and who occupy prominent positions within the history of modern art from 1870 to the present day. The exhibition centres on the artists' specific perception, on their personal vision of the world that finds expression in the portraits of themselves and others. By juxtaposing these artists, it becomes possible to understand how the artists' view of their subject shifts between the second half of the 19th century and today, and to appreciate what is reflected in that view and what makes it significant. The exhibition considers a period at the beginning of which it first became possible for women artists in Europe and America to become ... More
2,000 works by Josef Koudelka acquired by four museums in Czech Republic
Rhona Hoffman Gallery opens an exhibition of works by Jacob Hashimoto
US to hand over 3,500-year-old 'Gilgamesh' tablet to Iraq


Magnum photographer Josef Koudelka. 2015. © Antoine d'Agata / MAGNUM Photos.



NEW YORK, NY.- The Museum of Decorative Arts in Prague; the National Gallery Prague; the National Museum in Prague; and the Moravian Gallery in Brno today announce the acquisition of over 2,000 photographs by Josef Koudelka by way of gift from the artist and his namesake non-profit Foundation. This unprecedented gift by a living artist to four major museums in the Czech Republic encompasses works spanning Koudelka's career, the essential core of which was presented in his 2018 retrospective exhibition entitled Returning at the Museum of Decorative Arts in Prague. The donation marks the largest artistic acquisition for the Czech Republic in over 40 years and aligns with the artist's longstanding mission to keep his work together in public collections and to bring significant artworks back to his homeland. Born in Boskovice, Czechoslovakia in 1938, Koudelka is one of the great representatives of the humanistic and poetic tradition that dominated European photography of the ... More



Jacob Hashimoto, This vanishing, raging solar center, 2021. Bamboo, acrylic, paper, wood, and Dacron. 32 x 25 7/8 x 8 1/4 inches.



CHICAGO, IL.- At its best, art writing adopts the approach of the method actor: the writer enters the psyche of the artist, and in this act of self-deception, strings together words into a text whose structure adopts how the artist thinks. The reader should leave with the phantom of an encounter that emulates the work. It is a practice in forced empathy that hinges upon the transmutation of the writer's mind into the artist's hand. In this process of fictionalization, effective writing about art veers away from translation and description and instead inches toward fabrication and fantasy—a falsehood that communicates visuality more truthfully through text. Harold Bloom called this purposeful misunderstanding of a source (for him literature, but here as art), 'poetic misprision'; a term that defines how a fact-based reading of reality must suffer to reach closer accuracy. For an artist like Jacob Hashimoto (b. Colorado, 1973), in his seventh solo exhibition entitled Misunders ... More



In this file photo taken on August 3, 2021 Mesopotamian clay cones bearing cuneiform inscriptions are displayed during a handover ceremony of a trove of looted Iraqi antiquities returned by the United States, at the Ministry of foreign Affairs in the capital Baghdad. Sabah ARAR / AFP.



WASHINGTON, DC.- The United States will formally return an illegally imported 3,500-year-old tablet recounting the epic of Gilgamesh to Iraq this week, the United Nations' cultural body UNESCO announced Monday. The ancient tablet, which a wealthy US collector had acquired along with other Iraqi artifacts to display in the Washington Museum of the Bible, will be handed over to Iraqi officials at the Smithsonian Institution on September 23. UNESCO called the repatriation of the tablet, along with 17,000 other artifacts sent back to Iraq in July, "a significant victory in the fight against the illicit trafficking of cultural objects." "The theft and illicit trafficking of ancient artefacts continues to be a key funding source for terrorist groups and other organised criminal organisations," the Paris-based agency said in a statement. It said that ... More
Gagosian announces the representation of Rick Lowe
David Zwirner opens an exhibition of new work by Marcel Dzama
Sexual harassment trial set for Belgian art star Jan Fabre


Rick Lowe. Photo: Brent Reaney.



NEW YORK, NY.- Gagosian announced the representation of Rick Lowe. Lowe's numerous collaborative projects, undertaken in the spirit and tradition of "social sculpture," are paired with an extensive body of work in painting, drawing, and installation. Working closely with individuals and communities, he has identified myriad ways to exercise creativity in the context of everyday activities, harnessing it to explore concerns around equity and justice. Influenced by Joseph Beuys's formulation of "social sculpture," he has moved from figurative "anti-painting" to the making and maintenance of projects aimed at the transformation of social structures and sites, and to symbolic abstract painting. In 1993, Lowe cofounded Project Row Houses in Houston's Third Ward, working with fellow artists James Bettison (1958–1997), Bert Long, Jr. (1940–2013), Jesse Lott, Floyd Newsum, Bert Samples, and ... More



Marcel Dzama, Broken wing, 2021. Pearlescent acrylic ink, watercolor, and graphite on paper. Image: 12 1/4 x 9 inches (31.1 x 22.9 cm) Framed: 16 1/8 x 13 inches (41 x 33 cm).



NEW YORK, NY.- David Zwirner is presenting Who Loves the Sun, an exhibition of new work by Marcel Dzama, on view at the gallery's 34 East 69th Street location in New York. The exhibition coincides with the opening of a major survey of the artist's work at the Sara Hildén Art Museum, Tampere, Finland. Taking its title from a song by the Velvet Underground, Who Loves the Sun features an array of new drawings that expand on Dzama's interest in travel and nature, two themes that have become increasingly prevalent in his art. Many of these new works were initially inspired by photographs Dzama took in Morocco, Mexico, and Fire Island, places he traveled before the 2020 COVID-19 pandemic. Dzama incorporates elements of the ... More



In this file photo taken on March 29, 2016 Belgian multidisciplinary artist, stage director and choreographer Jan Fabre and newly appointed artistic director of the annual Athens and Epidaurus Festival gestures as he looks on during a press conference at Athens Acropolis museum to present the festival's program. LOUISA GOULIAMAKI / AFP.



ANTWERP.- Belgian choreographer Jan Fabre, one of Europe's most celebrated and controversial artists, will face trial next year on charges of sexual harassment and indecent assault, a court ruled Tuesday. The criminal tribunal in the city of Antwerp said the case would be heard over two days on 25 March and 1 April 2022. The 62-year-old choreographer, visual artist and theatre director -- known for his provocative performances -- faces up to five years in jail over allegations of "violence, harassment or sexual harassment" against 12 employees, and one count of indecent assault. The case stems from complaints ... More
James Bond 007 Bell model helicopter offered in Automobilia sale at H&H Classics
The Sarah Belk Gambrell Falangcai Vase achieves $2.45 million at Doyle
Morphy's Oct. 3-4 Automobilia, Petroliana & Railroadiana Auction features collection of 30 spectacular neon signs


The model helicopter is believed to be the last remaining, 007 Bell 47G Helicopter props out of four originals created and used in the movie.



LONDON.- A model of a Bell 47G Helicopter used in the filming of the James Bond classic 'You Only Live Twice' is for sale with H&H Classics in a timed auction that ends on Sunday September 26th. It is estimated to sell for an estimate of £18,000 to £22,000. There are some 304 lots of highly collectable automobilia in the sale The model helicopter is believed to be the last remaining, 007 Bell 47G Helicopter props out of four originals created and used in the movie. This model is significantly larger and more impressive than the only other example publicly sold. It measures a whopping 9 feet in length, dwarfing the other example sold at just 6 and a half feet in length. Julien's Auctions, USA sold a smaller example (rumoured to have been for static promotional use only with zero screen time) for $23,040.00 in May 2014). These four scaled-down helicopters were used ... More



The Sarah Belk Gambrell Falangcai Vase.



NEW YORK, NY.- A rare and important Chinese Imperial falangcai vase achieved a stunning $2.45 million at Doyle's Asian Works of Art auction on September 20. Created during the reign of Chinese Emperor Qianlong (1735-1796), the Sarah Belk Gambrell Falangcai Vase highlighted the collection of Belk department store heiress and passionate philanthropist Sarah Belk Gambrell (1918-2020). Determined bidders from around the globe competing via telephone sent the vase soaring over its pre-sale estimate of $100,000-300,000. The Sarah Belk Gambrell Falangcai Vase bears a four-character mark in blue indicating its origin as a product of the Qianlong Emperor's imperial workshop. Among the many artworks produced by the imperial workshop for use within the Forbidden City, falangcai (or "foreign colors") wares are rarest. They hold the special distinction of having had to pass Qianlong's own inspection. The techniques involved in creating, a ... More



Rare and exceptional Mohawk Gasoline circular porcelain neon service station with Native American graphic and original cast-metal mounting stand. Produced in the 1930s for Mohawk Oil Co., Bakersfield California. 9.0+ condition. Estimate $80,000-$120,000.



DENVER, PA.- An exciting array of antique and vintage automobilia, petroliana and railroadiana is revved up and ready to power across the auction block at Morphy's Lancaster County, Pennsylvania gallery on Sunday and Monday, October 3 and 4. All remote forms of bidding will be available for those who cannot attend in person, including live via the Internet through Morphy Live. More than 1,100 premium-quality lots will be offered, including 471 gas/oil signs, 59 gas pumps and 53 globes; 40 branded product cans, and much more. A special highlight of the October 4th session is a private collection of approximately 50 breathtaking neon signs led by two different designs touting Mohawk Gasoline, and a 134-inch-long porcelain "torpedo" sign from Bob McDorman Chevrolet, a legendary ... More

The Crossover | New York | September 2021

Flashback
On a day like today, Italian painter Alessandro Allori died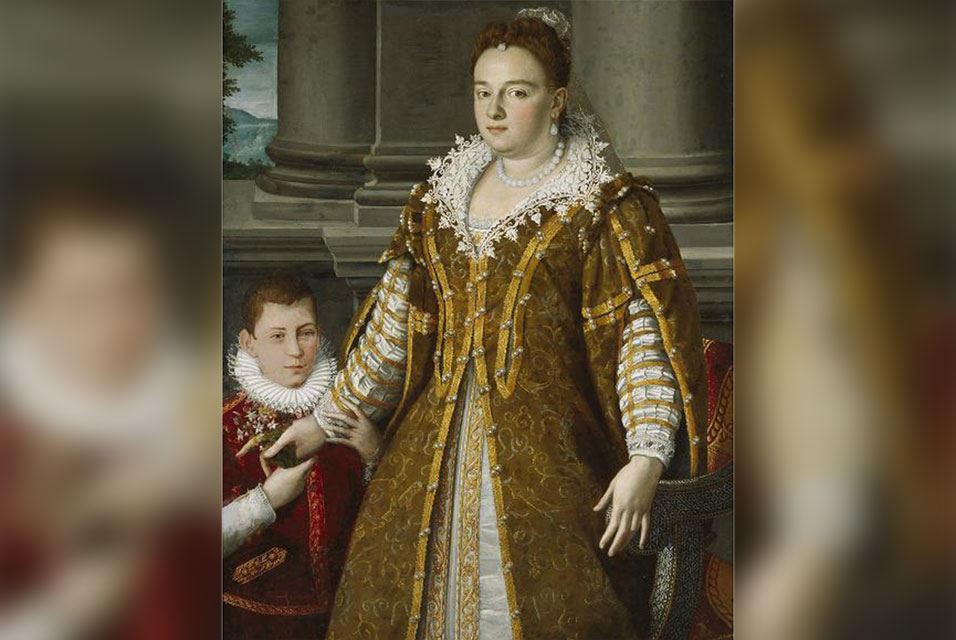 September 22, 2021. Alessandro di Cristofano di Lorenzo del Bronzino Allori (31 May 1535 - 22 September 1607) was an Italian portrait painter of the late Mannerist Florentine school. In this image: Portrait of Grand Duchess Bianca Capello de Medici, by Allori, Dallas Museum of Art.
---

Museums, Exhibits, Artists, Milestones, Digital Art, Architecture, Photography,
Photographers, Special Photos, Special Reports, Featured Stories, Auctions, Art Fairs,
Anecdotes, Art Quiz, Education, Mythology, 3D Images, Last Week,

.
---
Royalville Communications, Inc
produces: