A 'rare bird' among art collectors expands his reach
Herbert Lust, whose large art collection at his home includes the sculpture behind him by Enrico Baj, and, foreground, an early Calder, in Greenwich, Conn., Sept. 1, 2020. Lust, a friend to artists for more than a half-century, has just donated more than 70 photographs from his holdings to the Hirshhorn Museum and Sculpture Garden in Washington, fulfilling a promise made years ago. Tony Cenicola/The New York Times.

by Hilarie M. Sheets
NEW YORK
(NYT NEWS SERVICE)
.-
In today's global art market, where collecting is highly mediated by an infrastructure of advisers, dealers, art fairs and auction houses, it's hard to imagine a student meeting a renowned artist by happenstance and going on to become a devoted friend and collector. But in 1949, while studying comparative literature at the Sorbonne in Paris on a Fulbright scholarship, Herbert Lust found himself at a luncheon, seated next to the great surrealist artist Alberto Giacometti and out of his depth in the table banter about writers the 22-year-old student worshipped. Then, rising to the occasion, Lust fabricated a tale about being a Romanian Jew and walking barefoot over the mountains to escape the Russians (he is, in fact, Jewish but was raised on a farm in Indiana). Interested, Giacometti invited Lust to his studio. "I courted him; I would come by often," said Lust, now 93, who fessed up to his "cock-and-bull story." He didn't immediately like or understand the agitated, elongated figures in ...
More
The Best Photos of the Day
Phillips to offer landmark Georg Baselitz painting from The Collection of Marcel Brient, Paris
Auction prices that take your breath away
Art Paris 2020 took up the challenge of being the world's first post-lockdown art fair and met with success


Georg Baselitz (b. 1938), Das letzte Selbstbildnis I (The Last Self-Portrait I), 1982. Oil on canvas, 250 x 200 cm (98 3/8 x 78 3/4 in.) Estimate: £4.5 - 5.5 million. Image courtesy of Phillips.



LONDON.- Phillips announced Georg Baselitz's monumental Das letzte Selbstbildnis I (The last self-portrait I) as the leading highlight of the 20th Century & Contemporary Art Evening Sale in London on 20 October 2020. This large-scale canvas comes directly from the renowned Collection of Marcel Brient, Paris, where it has been for 20 years. Painted in 1982, Das letzte Selbstbildnis I is a seminal work that is emblematic of an iconic period of Baselitz's oeuvre as well as paying tribute to the late self-portraits of Edvard Munch. It will be on view at Phillips' new location in Southampton on Long Island from 17 to 21 September, before travelling to Paris from 29 September to 5 October, and finally to London for the Frieze Week viewing before the auction. Cheyenne Westphal, Global Chairwoman, said: "Painted in 1982 at a time when Baselitz ... More



Nicolas Party, Untitled (Landscape), 2013. Estimate: $60,000-80,000. Image courtesy of Phillips.



NEW YORK (NYT NEWS SERVICE).- Sale prices that wildly exceed expectations give a jolt of excitement to art auctions. In the prepandemic days of live audiences, a gasp from the crowd might be heard. Though much of the action has moved online, those moments can still send ripples through the art world. In the past few years, a wave of energy has emanated from a group of 40-and-under contemporary artists whose work has rocketed to enormous prices soon after their first appearance in sales at the big auction houses — in some cases before they have had solo museum shows or passed other milestones on the way to a career in full flower. In June 2018, Swiss artist Nicolas Party, now 40, was a figurative painter on the rise, known for surrealism-inflected landscapes and still lifes, when he made his first appearance at auction. His 2012 pencil-on-paper "Still Life No 97" made a respectable $11,128 ... More



Roselyne Bachelot-Narquin and Brigitte Macron at Art Paris 2020.



PARIS.- All eyes were turned on the 22nd edition of Art Paris, as 112 galleries from 15 countries came together in Paris for what was the art market's first major event in over six months. On Sunday 13th September, as the modern and contemporary art fair closed its doors under the vast glass roof of the Grand Palais, a general mood of enthusiasm reigned in recognition of its immense success. The total number of visitors was 56,931. As a consequence of the strict application of health and safety measures, the maximum number of visitors per day was voluntarily limited to 3,000 (instead of the 5,000 authorised in the Grand Palais) and the vernissage was spread throughout the duration of the fair by means of special, private daily previews from 10 am to 12 pm. These measures avoided crowding, thereby ensuring conditions of optimum safety for exhibitors and visitors alike. If the number of members of the general public ... More
Christie's Maitres anciens, peinture-sculpture auction achives €5,739,000
Gallery marks 50th anniversary of Jimi Hendrix passing with rare photographs
Jack 'Murph the Surf' Murphy, heist mastermind, dies at 83


Ecole anversoise vers 1520 - Atelier de Quentin Metsys, Christ Salvator Mundi (detail). Estimate: €50,000-70,000. Sold for: €490,000 / £276,454 / $355,414. © Christie's Images Ltd 2020.



PARIS.- Christie's France started the season with this very successful sale which results went above our expectations. The Top lot of the sale is Christ Salvador Mundi executed by the Antwerp school circa 1520 which sold for €490,000, nearly ten times its pre-sale low estimate. The Musée de l'armée preempted the portrait of H.R.H Prince Sixte de Bourbon-Parme by Bernard Boutet de Monvel which was sold for €37,500 and the superb collection of Count Robert de Moustier, which included 9 lots, was sold 100% and achieved a total of €325,250. Pierre Etienne, International director of the Old Master painting department: "We are very proud of the results achieved today and pleased to have seen 1,250 visitors in our viewing rooms for the past week and attending our sale today. These results are very encouraging for all of us and ... More



Gered Mankowitz, Jimi Hendrix, London 1967, C-type print, 50.8 x 61 cm, © Gered Mankowitz Iconic Images.



LONDON.- The directors of Masterpiece Art announced Bold As Love Celebrating Hendrix, an exhibition commemorating the fiftieth anniversary of the iconic musician, singer and songwriter. The show is comprised of rare photographs of Hendrix — some never seen before — taken by acclaimed photographers including Ed Caraeff, Baron Wolman, Gered Mankowitz, David Montgomery (UK debut of his works), Ulvis Alberts and the late Charles Everest. Accompanying the photographs are two sculptures by Guy Portelli entitled Hey Joe and Wight Spirit — a large-scale glass mosaic panel which features the handprints of more than 80 musicians who performed at the 1970 Isle of Wight festival, including the handprint of Hendrix himself which Portelli mapped via the iconic 'hand on face' photograph taken by Baron Wolman. In addition, the gallery is presenting the original Isle of Wight 1970 WEM speaker system used by Hendrix ... More



Jack Murphy in Crystal River, Fla., Aug. 29, 2019. Eve Edelheit/The New York Times.

by Robert D. McFadden



NEW YORK (NYT NEWS SERVICE).- He called himself "Murph the Surf," a tanned, roguish, party-loving beach boy from Miami, and he transfixed the nation in 1964 by pulling off the biggest jewel heist in New York City history — the celebrated snatching of the Star of India, a sapphire larger than a golf ball, and a haul of other gems from the American Museum of Natural History. It was not that 27-year-old Jack Roland Murphy and his accomplices, Allan Kuhn and Roger Clark, were superthieves, like the ones Maximilian Schell and Melina Mercouri portrayed in the then-current Jules Dassin film "Topkapi," about a plot to steal an emerald-encrusted dagger from the Topkapi Palace in Istanbul — a movie the museum thieves had recently seen. Rather, although they had robbed waterfront mansions in Miami and escaped by speedboat, ... More
The Snite Museum of Art announces important acquisition of Cabinet Card portrait of Oscar Wilde
Ketterer Kunst announces highlights included in its Rare Books Auction
Puzzles with Purpose debuts worldwide


Napoleon Sarony (American, born in Canada, 1821–1896), Oscar Wilde, 1882. Albumen print from wet collodion negative, mounted as boudoir print, 30.5 x 18.4 cm (12 x 7 ¼ in.) Sheet,33.0 x 19.0 cm (13 x 7 ½ in.) Mount. Milly and Fritz Kaeser Endowment for Photography, 2020.012.



NOTRE DAME, IN.- The Snite Museum of Art at the University of Notre Dame has added to its impressive collection of over 10,000 photographs with the addition of a cabinet card portrait of the writer Oscar Wilde taken by Napoleon Sarony. David Acton, Curator of Photographs at the Snite Museum, states "In the latter half of the nineteenth century, Napoleon Sarony was regarded as the leading photographic portraitist in New York. From his studio in Union Square, he also produced fashionable celebrity photographs, mostly in the small, collectible carte-de-visite format. Sarony photographed virtually every star of the New York stage during the 1860s through the 1890s, his work helping to create and perpetuate his subjects' fame." ... More



Biblia latina vulgata. Latin vellum mauscript, 12th century. Estimate: € 20,000.



HAMBURG.- It comes in a handy size and with decorative lettering, but if you want to read from the rare 12th century bible manuscript as people used to in the past, knowing Latin would be helpful. The important contemporary document is part of the Rare Books Auction of Ketterer Kunst in Hamburg on November 23. The unusual hand-size format of the Biblia Latina makes it an extremely rare forerunner of French 13th century pocket bibles. The elegant document of the transition from Latin to Gothic script with elaborate initials in typical 12th century manner was most likely made at a Cistercian monastery and was presumably used for reading out. It is now estimated at a moderate price of € 20,000. SEMINAL: The same estimate has been tagged to "Distinctiones sacrae scripturae" by Mauritius Hibernicus. The Latin manuscript from around 1300 features explanations of biblical terms in alphabetical order f ... More



Nicole Rafiki, My soul ain't for sale, traditional paper puzzle, ESKA Premium Board, gloss finish, 12"x16.5" (310mm x 418mm). Image courtesy Nicole Rafiki Studio and Art x Puzzles.



NEW YORK, NY.- Puzzles with Purpose today announces Art x Puzzles, an online benefit sales initiative conceived to support artists during the ongoing COVID-19 crisis through the sale of Collector Edition Jigsaw Puzzles. Organized by Puzzles with Purpose, the effort launches with exclusive limited edition puzzles created in close collaboration with over 70 contemporary artists from across the globe to support artist studios, existing wider artist relief efforts and causes of personal social and economic concern to participating artists. To that end, a percentage of all proceeds from sales will directly benefit the artists' chosen charities. Highlights of the many special editions available at launch include Louise Lawler's 1000-piece "POLLYANNA ADJUSTED TO FIT, DISTORTED FOR THE TIMES" dedicated to gallerist Yvon ... More
Fondazione Prada supports the new charity campaign by Damien Hirst in aid of Save The Children
First major UK solo exhibition of Tavares Strachan opens at Marian Goodman
Dayton Art Institute presents focus exhibition 'Archiving Eden: Dornith Doherty Photographs'


Fondazione Prada has enthusiastically joined Damien Hirst's initiative by offering its support in promoting the charity project in aid of Save The Children. Photographed by Prudence Cuming Associates © Damien Hirst and Science Ltd. All rights reserved, DACS 2020.



MILAN.- Fondazione Prada supports leading British artist Damien Hirst in his new charity campaign in aid of Save the Children's program for education in Italy. Damien Hirst has created four new limited edition prints to be released today, 15 September 2020, from 16:00 CEST to raise money for Save the Children's project "Riscriviamo il futuro" (Rewrite the future), which aims to support Italian children from disadvantaged backgrounds who have been affected by school closures during the COVID-19 crisis. The editions, titled Fruitful and Forever, feature bright, abstract details from Hirst's new series of Cherry Blossoms paintings. Depicting blossom trees in full bloom, the series is inspired by the work of Pierre Bonnard, Claude Monet, Vincent Van Gogh and the Pointillist innovations of ... More



Tavares Strachan, Distant Relatives (Andrea Motley Crabtree), 2020. Plaster, natural fibers, brass, acrylic, 30 in W x 26 in D x 62 in H. Courtesy of the artist and Marian Goodman Gallery. Photo: Tom Powel Imaging.



LONDON.- Marian Goodman Gallery London is presenting In Plain Sight, the first major UK solo exhibition of Tavares Strachan. This ambitious exhibition presents an immersive, site-specific experience and incorporates new and existing work. The exhibition's point of departure is the life and work of Matthew Henson (1866–1955), an American explorer who was the first person to reach the North Pole in 1909. His story was long overlooked, arguably because he was an African American, and Strachan's investigation of his life forms part of a major ongoing project by the artist, The Encyclopedia of Invisibility (2018–). Tavares Strachan was born in 1979 in Nassau, Bahamas, and currently lives and works between New York City and Nassau. He received a BFA in Glass from the Rhode Island School of Design in 2003 and an MFA in Sculpture from Yale University ... More



Dornith Doherty. Courtesy of the artist, Moody Gallery, Houston; and Holly Johnson Gallery, Dallas, Texas.



DAYTON, OH.- Where will the world's food come from in the future, and how are natural resources preserved? The Dayton Art Institute's latest Focus Exhibition, Archiving Eden: Dornith Doherty Photographs, explores these timely and important questions. The exhibition is currently on view at the museum through January 10, 2021. This poignant photographic series considers the philosophical and ecological issues surrounding the role of science and human action in relation to gene banking. Catalyzed by the 2008 completion of the Svalbard Global Seed Vault in Norway, Dornith Doherty has traveled the world documenting seed banks and preservation efforts in the face of climate change and decreased agricultural diversity. Since initiating the Archiving Eden project in 2008, Doherty has visited 18 centers on five continents. A multi-layered project, the imagery in Archiving Eden ranges in style from documentary to lyric co ... More

Studio Art Tutorials at Home: Overlaying Stencils

Flashback
On a day like today, Alsatian sculptor and painter Jean Arp was born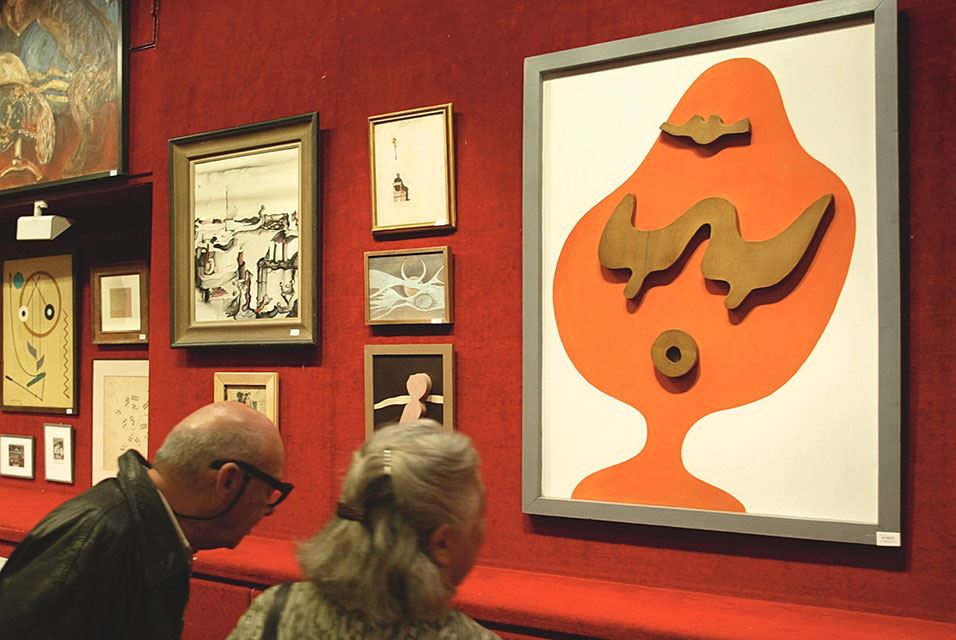 September 16, 1886. Jean Arp / Hans Arp (16 September 1886 - 7 June 1966) was a German-French, or Alsatian, sculptor, painter, poet and abstract artist in other media such as torn and pasted paper. In this image: Visitors look at Jean Arp's painting "Femme" (woman), right, exhibited at Drouot Gallery in Paris, France Tuesday, April 1, 2003. The painting is one among hundreds of art pieces from French surrealist writer Andre Breton's art collection which is being auctioned.
---

Museums, Exhibits, Artists, Milestones, Digital Art, Architecture, Photography,
Photographers, Special Photos, Special Reports, Featured Stories, Auctions, Art Fairs,
Anecdotes, Art Quiz, Education, Mythology, 3D Images, Last Week,

.
---
Royalville Communications, Inc
produces: