Drawing, a cure for the January blahs
"Ways of Seeing, Take Two," curated by Arlene Shechet, at The Drawing Center in New York. From the Drawing Center to the weeklong Master Drawings New York, January 2022 is a rich moment for New Yorkers to indulge in the medium of drawing. Daniel Terna/The Drawing Center via The New York Times.

by Roberta Smith
NEW YORK, NY
.-
Drawing is really the best of all art mediums. Its history is long and encompassing, truly global, virtually unbounded. It facilitates many other art forms, among them painting, sculpture and architecture. But the mark-making basic to drawing is the starting point of so much else: the development of written language, numbers, musical scores. And, contrasting with this macrocosmic scale, there is the microcosmic: the stripped-down vulnerability of individual drawings, which are often not much larger than the faces that lean in to absorb them. This is about as naked as art gets. Just as drawings bring us close to an artist's thoughts, feelings and touch with an intimacy that sometimes seems metabolic, they provoke spontaneous responses that can show us new sides of ourselves. On the practical side, drawings are relatively inexpensive to make, transport, exhibit and buy, which benefits artists, as well as curators, art dealers, starting-out collectors. And if you are merely intereste ...
More
The Best Photos of the Day
Exhibition provides European viewers with a rare opportunity for an in-depth exploration of Georgia O'Keeffe's work
Louisiana Museum of Modern Art features drawings by avant-garde architect Sir Peter Cook
Eden Deering started her art career at 8


Georgia O'Keeffee, The Chestnut Tree – Grey, 1924. Oil on canvas, 91.44 x 76.2 cm. Myron Kunin Collection of American Art, Minneapolis, MN © Georgia O'Keeffe Museum / 2021, ProLitteris, Zurich. Photo: Minneapolis Institute of Art.



BASEL.- The Fondation Beyeler will devote the first exhibition of its anniversary year to Georgia O'Keeffe (1887– 1986), one of the most significant painters and an icon of modern American art. With 85 works from mainly American public and private collections, «Georgia O'Keeffe» offers a representative overview of this exceptional artist's many-faceted and endlessly surprising work. The retrospective provides European viewers with a rare opportunity for such in-depth exploration of Georgia O'Keeffe's work, which is hardly represented in collections outside the United States. The exhibition at the Fondation Beyeler highlights O'Keeffe's distinctive way of contemplating her environment and translating her perceptions into wholly unprecedented images of reality – at times almost abstract, at times close to their model in ... More



Peter Cook, Way Out West: Berlin, 1988. 52x52 cm © Peter Cook.



HUMLEBÆK.- The first exhibition at Louisiana in 2022 presents the British avant-garde architect Sir Peter Cook. City Landscapes is part of the exhibition series Louisiana on Paper. The show featuring drawings by Peter Cook marks the first exhibition in the series showcasing drawings by an architect. The exhibition shows how Cook, with drawing as his most important tool, over six decades has influenced and inspired architecture with his visionary ideas about new cities and life forms. Peter Cook (b. 1936) has made his mark as one of the most important architects of our time largely by virtue of his architectural theory and vision. His work as an architect lives mainly in drawings while the number of projects being built, one being Kunsthaus Graz in Austria, is less extensive. Visions of the future are most clearly expressed and can best be discussed in drawings, Cook contends. Paper provides an ideal opportunity to shake up conventional notions ... More



Eden Deering stands for a portrait at PPOW art gallery in Manhattan on Jan 6, 2022, alongside a painting by Elizabeth Glaessner. Deering is a director at PPOW, a contemporary art gallery in TriBeCa that grew out of the 1980s East Village art scene. She curates book-fueled exhibitions that comment on social life. Ian Lewandowski/The New York Times.

by Mia Adorante



NEW YORK, NY.- Name: Eden Deering Age: 30 Hometown: New York City Now Lives: In a one-bedroom apartment in the Williamsburg section of Brooklyn that she shares with her boyfriend, Weston Lowe, who also runs a gallery. Claim to Fame: Deering is a director at PPOW, a contemporary art gallery in Tribeca that grew out of the 1980s East Village art scene. She curates book-fueled exhibitions that comment on social life. "Everything, for me, starts with reading," Deering said. "Writers and artists have always been in conversation with each other. Books give me a tool to think about the importance of art." Her first group exhibition in 2019, "Do You Love Me?," focused ... More
Samara Golden is spilling her 'Guts'
'Star Trek' auction filled with costumes, models and props warps to Heritage Auctions in February
Exhibition of new paintings, drawings, and photographs by Ed Templeton opens at Roberts Projects


Samara Golden in her installation "Guts" at Night Gallery in Los Angeles, Jan. 19, 2022. The Los Angeles artist has created an ambitious new installation full of inner turmoil. Philip Cheung/The New York Times.

by Jori Finkel



LOS ANGELES, CA.- It's a dizzying and disorienting experience, where moments of serenity jockey with sensations of disgust. Inaugurating Night Gallery's new warehouse space, which opens this weekend, artist Samara Golden has built a mirrored chamber that creates the illusion of a skyscraper. Different floors offer competing images — from calm turquoise waters to coiled snakes and crabs — capturing the emotional whiplash of the past two years. The installation has a relatively small footprint within the warehouse. But peer into the wedge-shaped space from a viewing platform and this skyscraper seems to stretch up endlessly into the sky, and infinitely down into the abyss. Along the way is a heap of small twisted sculptures evoking ... More



Screen used "K-7 Space Station" Filming Model Miniature from the Classic Episode: "Trials and Tribble-ations" of Star Trek: Deep Space Nine (Paramount TV, 1993-1999).



DALLAS, TX.- On Feb. 22, Heritage Auctions will hold an event sure to be the final frontier for Star Trek collectors. The Star Trek Hollywood & Entertainment Signature® Auction spans the history of the series and film franchise — from James T. Kirk to Jean-Luc Picard to Kathryn Janeway, from aboard the original U.S.S. Enterprise to the Tribble-infested Deep Space Station K-7. This auction travels from the United Federation of Planets all the way to the Mirror Universe and the planet Gothos ruled by the petulant alien called Trelane, whose circa-1880s dueling pistols are among the Starfleet phasers, Klingon disruptors, Romulan daggers and other strange new weapons wielded in a universe where no one had gone before until Gene Roddenberry took us there in 1966. This 75-lot auction is truly a trek through time, beginning at the beginning with sketches of Klingon ships and the Enterprise's ... More



Ed Templeton, Sunbather, 2020. Acrylic on panel, 36 x 36 in (91.4 x 91.4 cm). Courtesy of the artist and Roberts Projects Los Angeles, California.



CULVER CITY, CA.- Roberts Projects announced The Spring Cycle, an exhibition of new paintings, drawings, and photographs by Ed Templeton that are a direct response to the suburban environment he lives in. These new works create hyperbolic realities that scrutinize the human condition through the lens of urban isolation. The exhibition runs January 22nd - March 5th, 2022. This is the artist's eighth solo show with the gallery. Templeton's most concise works to date continue earlier themes cynical of the provincial customs and rituals of his surroundings, notably the ever-polarizing political milieu over the last five years in Orange County where he lives and works. Suggestive imagery and unsettling portraits are joined with idyllic landscapes that verge on the pastoral to explore fragmented or at times distorted experiences with sensitivity and specificity. Details such as discarded religious pamphlets or signs, highlight ... More
The UK's largest touring exhibition British Art Show 9 opens in Wolverhampton
AstaGuru presents a celebration of global history and heritage with the second edition of 'Opulent Collectibles' auction
52 Walker opens an exhibition of works by Nikita Gale


Abigail Reynolds, Image of artist's studio door, 2020. © the artist. Courtesy the artist.



WOLVERHAMPTON.- This weekend, Hayward Gallery Touring's landmark exhibition British Art Show 9 continues its national tour, opening in the city of Wolverhampton. Recognised as the most important and ambitious recurrent exhibition of contemporary art produced in the UK, British Art Show takes place every five years and brings the work of artists defining new directions in contemporary art to four UK cities. Following its first leg at Aberdeen Art Gallery (10 July – 10 October 2021), this new iteration of the exhibition sees 34 of BAS9's 47 selected artists presented across two venues in Wolverhampton from 22 January to 10 April 2022: Wolverhampton Art Gallery and University of Wolverhampton School of Art. Following this, the exhibition will continue its national tour to multiple venues across Manchester before closing in Plymouth. British Art Show 9 is curated by Irene Aristizábal and Hammad Nasar, and showcases the multidisc ... More



Lot no. 139, a large Imari vase with multiple panels executed in a typical palette of bright colours including rust red, green, and gold with floral designs will be offered at an estimate of INR 10, 00,000 – 12, 00,000.



MUMBAI.- AstaGuru celebrates a melange of global craftsmanship with its second edition of the 'Opulent Collectibles' auction showcasing rare antiques to accentuate and amplify a space with timeless elegance. Featuring over 150 lots, the catalogue for the upcoming auction has been finely curated to bring together an exquisite assortment of decorative collectibles from 19th and 20th century India, China, Japan, France, Italy, and the United Kingdom. An ode to the rich design aesthetics and traditions from these different cultures, the upcoming auction comprises ceramics, furniture, crystal chandeliers, silverware, Persian carpets, vintage clocks, and many other collectibles. Commenting on the auction Sunny Chandiramani, Vice President, Client Relations, AstaGuru Auction House said, "The success of our first Opulent Collectibles auction was a testimony to the attraction ... More



Nikita Gale, BODY PRINT: MUSCLE, 2022 (detail). © Nikita Gale. Courtesy the artist and 52 Walker, New York.



NEW YORK, NY.- 52 Walker is presenting its second exhibition, END OF SUBJECT, featuring the work of Los Angeles–based artist Nikita Gale. Engaged with the history and politics of sound and its surrounds, Gale presents an aurally and visually rich environment in the gallery, complete with light and sound, which calls upon the tacit agreement between the audience and the materials that enable the act of viewing and experiencing. Through the artist's multidisciplinary approach, Gale recasts and destabilizes notions of witnessing, visibility, and representation that operate both inside and outside of the space as well as within and among our bodies. As with Gale's previous projects PRIVATE DANCER, presented at the California African American Museum, Los Angeles, in 2021, and AUDIENCING, at MoMA PS1, New York, in 2020, END OF SUBJECT proposes an intervention within 52 Walker's architectural confines that ... More
CCA Tel Aviv opens the first solo presentation in Israel of works by Enrique Ramírez
Overlooked no more: Lee Godie, eccentric Chicago street artist
Mulyana's first solo exhibition at Sapar Contemporary opens in New York


Enrique Ramirez, Brisas, 2008.



TEL AVIV.- CCA Tel Aviv is presenting a solo exhibition by Enrique Ramírez (*1979, Santiago de Chile; lives and works in Paris and Santiago de Chile), his first solo presentation in Israel. Political and poetic at the same time, Ramírez's work constitutes a unique reflection on the current state of humanity, echoing the notion of memory, migration, in-between states – as a state of mind, a state of affair, a geopolitical state – and perpetual movement. For his solo exhibition at CCA Tel Aviv, the artist presents a trio of works as a response to the cavernous space of the Center's ground floor gallery. La Gravedad [Gravity] is a contemplative and meditative work, a speculative and poetic approach to two of the artist's most important themes: disappearance and absence. In this work, Ramírez filmed hundreds of minuscule pieces of paper, white and without any inscriptions, as many wiped off speeches, flying and spinning in a ... More



Lee Godie, Female Portrait with Artist Self-Portrait photo attached holding this painting. Estimate $3,000-5,000.



NEW YORK, NY.- Anyone who passed through downtown Chicago in the 1970s or '80s might have encountered a weathered blond woman wearing a rabbit fur coat and men's orthopedic slip-ons as she hawked her art on Michigan Avenue. If you looked like a prospective buyer, she would slowly, seductively unfurl her latest canvas as you approached. Sometimes she would recite an old tune in her lilting voice; "Oh! Frenchy," a racy hit from World War I, was her favorite. If you were exceptionally lucky, she would treat you to hors d'oeuvres: Oreo cookies whose cream filling had been replaced with cheese; instant iced tea made with water from a civic fountain. The eccentric "bag lady," as she was often called, was Lee Godie, one of the city's most iconoclastic artists. For almost 25 years, Godie lived mostly outdoors and ... More



Mulyana, Harmony 24 (detail), 2021. Image Courtesy of Sapar Contemporary and the Artist.



NEW YORK, NY.- Sapar Contemporary opened Mulyana: Fragile Ecologies, the artist's first solo exhibition at the gallery. Known for his whimsical knit and crocheted Mogus characters and his dazzling underwater landscapes, Mulyana's latest exhibition Fragile Ecologies, features two life-size, hand-knit and crocheted costumes and a series of sumptuously knit coral islands in the main room of the gallery. As the viewer enters the gallery they encounter multi-colored coral islands and suspended Mogus figures representative of his oeuvre, as well as being treated to a video introducing us to new vibrant costumes on moving figures, that are filmed on location in the beautiful Indonesian landscape. Masks and costumes are seminal expressions in many folkloric traditions that can signify heroic acts, define religious celebrations, channel spirits, or provide entertainment. Masks ... More

ASL Video | At-Home Art Project: Mixed Media Power Pose

Flashback
On a day like today, French painter Édouard Manet was born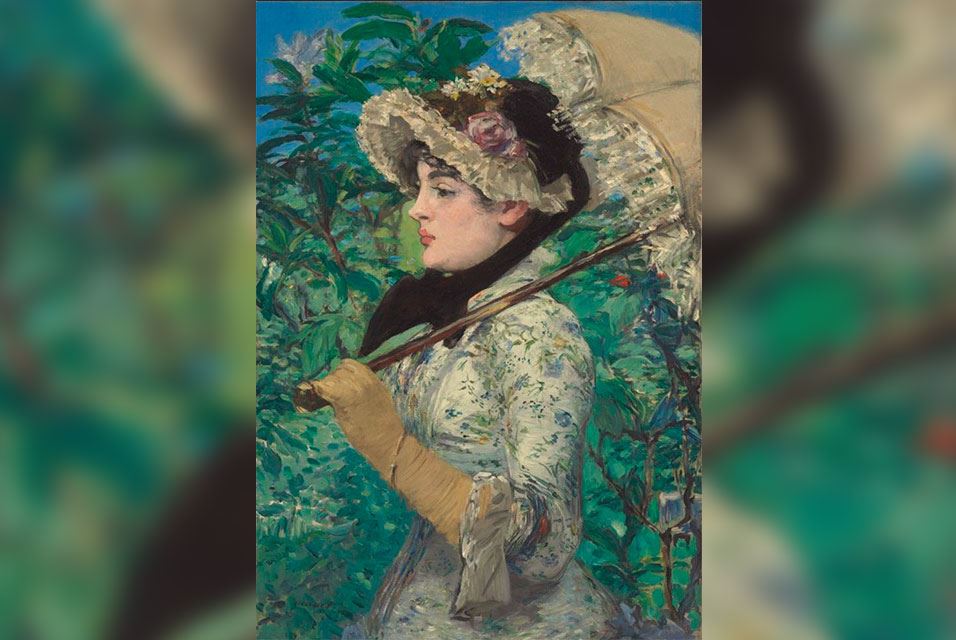 January 23, 1832. Édouard Manet (23 January 1832 - 30 April 1883) was a French painter. He was one of the first 19th-century artists to paint modern life, and a pivotal figure in the transition from Realism to Impressionism. In this image: Edouard Manet (1832-1883), Le Printemps oil on canvas, 29 1/8 x 20 1/4 in. (74 x 51.5 cm.), painted in 1881 Estimate: $25-35 million. Photo: Christie's Images Ltd 2014.
---

Museums, Exhibits, Artists, Milestones, Digital Art, Architecture, Photography,
Photographers, Special Photos, Special Reports, Featured Stories, Auctions, Art Fairs,
Anecdotes, Art Quiz, Education, Mythology, 3D Images, Last Week,

.
---
Royalville Communications, Inc
produces: