Put a bird on it? Ancient Egypt was way ahead of us.
An undated photo provided by the Metropolitan Museum of Art shows a bird in the facsimile painting by Nina de Garis Davies of a 3,300-year-old Egyptian mural from the North Palace at Amarna. A 3,300-year-old palace mural offers an exquisitely detailed view of several bird species, and presents an artistic mystery. (Metropolitan Museum of Art via The New York Times)

by Franz Lidz
NEW YORK, NY
.-
A century ago, archaeologists excavated a 3,300-year-old Egyptian palace in Amarna, which was fleetingly the capital of Egypt during the reign of the pharaoh Akhenaten. Situated far from the crowded areas of Amarna, the North Palace offered a quiet retreat for the royal family. On the west wall of one extravagantly decorated chamber, today known as the Green Room, the excavators discovered a series of painted plaster panels showcased birds in a lush papyrus marsh. The artwork was so detailed and skillfully rendered that it was possible to pinpoint some of the bird species, including the pied kingfisher (Ceryle rudis) and the rock pigeon (Columba livia). Recently, two British researchers, Chris Stimpson, a zoologist at the Oxford University Museum of Natural History, and Barry Kemp, an archaeologist at the University of Cambridge, set out to identify the rest of the birds depicted in the panels. An attempt to conserve the paintings ...
More
The Best Photos of the Day
The Roy Lichtenstein Foundation donates 186 artworks and objects to museums to honor his Centenary
The Paul Jarosz Collection of model trains goes up for bid at Turner Auctions + Appraisals
Hajime Sorayama now being represented by Almine Rech, Paris Matignon


Roy Lichtenstein, Head, 1980, From the Expressionist Woodcut series. Woodcut with embossing on Arches Cover paper. Sheet: 39 7/8 x 33 5/8 in. (101.3 x 85.4 cm). Edition of 50.



NEW YORK, NY.- Inaugurating its celebrations and commemorations to honor artist Roy Lichtenstein (1923-1997) on the 100th anniversary of his birth, the Roy Lichtenstein Foundation today announced the first round of gifts of 186 artworks and reference materials to museums in the United States and abroad. Receiving prints, drawings, sculpture, paintings, and archival films by Lichtenstein are the Albertina in Vienna, Austria; the Colby College Museum of Art in Waterville, Maine; the Nasher Museum of Art at Duke University in Durham, North Carolina; the Los Angeles County Museum of Art; and the Whitney Museum of American Art in New York City. Observances of the centenary already have begun, with the U.S. Postal Service ceremonially unveiling the first-day issue of a set of Roy Lichtenstein postage stamps on April 24, 2023. The centenary will begin officially on October 27, 2023, which would have been the artist's 100th birthday.
... More



Lionel O Gauge BNSF Ice Cold Express Set. AC6000 Locomotive Reefer with Ice Cold "Smoke" Reefer with generator sounds. Reefer with interior load. Extended vision caboose. In original boxes and original set box.



SAN FRANCISCO, CA.- Turner Auctions + Appraisals will be presenting The Paul Jarosz Collection of Model Trains on Sunday, June 11, 2023, at 10:30 am PDT. The auction features over 275 lots – almost all O gauge and mostly Lionel – from a Northern Californian train enthusiast who collected for decades. The sale presents a variety of desirable train offerings from the 1970s and later – several mint stock, many barely used, and most in their original boxes. These include locomotives, switchers, tenders, and cabooses; numerous groupings and sets; and a wide selection of train cars, including passenger, diner, baggage/mail (Madison and Heavyweight among them), box, freight, flat, hopper, tank, ore, rotary gondolas, husky stacks, autocarriers, and more. There are also Christmas and holiday trains and cars, sets and train cars for girls or boys, and Thomas & Friends offerings. Also on offer are many accessories: besides FasTrack and ... More



Hajime Sorayama, Untitled, 2021. Acrylic, digital print on canvas, 197 x 139.4 x 4 cm
77 1/2 x 55 x 1 1/2 in. © Hajime Sorayama - Courtesy of the Artist and Almine Rech.



PARIS.- Almine Rech has announced their representation of Japanese artist Hajime Sorayama in collaboration with Nanzuka. The gallery will present his second solo exhibition at Almine Rech Paris, Matignon opening on June 9, 2023. Sorayama's extensive oeuvre that centers upon an on-going pursuit for beauty regarding the human body and the machine has continued to receive high international acclaim, and his signature body of work entitled, the "Sexy Robot" series (1978-) had served to established his world-wide reputation. Such depictions that integrate the aesthetic beauty of the female body into the context of the robot had come to present a significant influence on the subsequent formulation of robotic imagery. In 1999, he won the Good Design Award (Ministry of Trade and Industry) and the Media Arts Festival Grand Prize (Agency of Cultural Affairs) for his work with Sony on the concept design for their entertainment robot ' ... More
Dr. Stephanie Knappe promoted receives promotion at Nelson-Atkins Museum of Art
'Portraits' a compilation of represented and guest artists dating to 1907 now on view at Offer Waterman
Robert W. Lovelace appointed next Chair of The J. Paul Getty Trust


Dr. Stephanie Fox Knappe, newly promoted Sanders Sosland Senior Curator, Global Modern and Contemporary Art and Head, American Art.



KANSAS CITY, MO.- The Nelson-Atkins Museum of Art in Kansas City has announced Dr. Stephanie Fox Knappe, formerly the Samuel Sosland Senior Curator, American Art, has been promoted to Sanders Sosland Senior Curator, Global Modern and Contemporary Art and Head, American Art. Fox Knappe, who has focused her recent scholarly and curatorial work on Modern and Contemporary Art, will also be responsible for the Donald J. Hall Sculpture Park. A curatorial assistant will be hired to support work in American, Modern, and Contemporary Art, and a search will be launched for a new curator of American Art, who will report to Fox Knappe. "Stephanie has done brilliant work during her stellar career at the Nelson-Atkins," said Julián Zugazagoitia, Director & CEO of the Nelson-Atkins. "This is an exciting opportunity for Stephanie ... More



Diarmuid Kelley, b.1972, Untitled 2, 2023. Oil on linen. Photo courtesy of Offer Waterman.



LONDON.- The exhibition 'Portraits' on view since June 1st at Offer Waterman, and continuing until the end of the month, brings together modern portraits from the gallery's inventory, with newer works by represented artists and guest artists who are showing with us for the first time. The portraits date from 1907 to the present and encompass photography, printmaking, drawing, collage, painting and ceramics. While each work has been selected for its individual qualities, when brought together certain emotional themes and conceptual strategies emerge, connecting images made in different times and places. In several pictures the subject is a close relative of the artist. This is unsurprising given that family members are often near at hand and have become tolerant of modelling for their loved ones. We have David Hockney's affectionate 1972 ink drawing of his father in a bow tie and a more ... More



Robert W. Lovelace.



LOS ANGELES, CA.- The Board of Trustees of the J. Paul Getty Trust today announced Robert W. Lovelace as its next chair. As chair, Lovelace will lead the Board of Trustees and work closely with Getty's leadership to further its global mission of advancing the understanding and preservation of the visual arts. "Rob has a deep appreciation for the transformative power of art, and he brings extensive experience in board governance," said Katherine E. Fleming, president and CEO of the J. Paul Getty Trust. "I will be thrilled to have his invaluable partnership and support as Getty continues to thrive as a generous, global force in fostering cultural understanding and preservation." Lovelace is vice chair, president and a director of the Capital Group Companies, as well as CEO of Capital Research and Management Company, a subsidiary of Capital Group. In addition, Rob is a portfolio manager for the American Funds ... More
Quinn's Fine & Decorative Arts auction offers artworks, modernist prints, furniture and sports cars
The Stiftung Arp e.V. gifts over 200 plasters by Sculptor Hans Arp to 10 museums worldwide
Graham Collins: 'Dog Walker's Manifesto' is now presenting at Sean Horton


Jean Leon Gerome (French, 1824-1904), bronze sculpture of Anacreon with the Infants Bacchus and Cupid, inscribed with foundry mark 'F. BARBEDIENNE Fondeur' and 'RÉDUCTION MÉCANIQUE A COLLAS BREVETE. 22½ in high.



FALLS CHURCH, VA.- On Friday, June 9, 2023, Quinn's Auction Galleries will conduct a beautifully curated Fine & Decorative Arts sale featuring American, European, Asian and modern art. All bidding will be online through a choice of platforms, as well as absentee or by phone; no in-person gallery bidding. The auction selection includes portraiture from the 17th to 19th centuries, an impressive marine painting by Montague Dawson, and a William Watson depiction of Highland cattle. Additionally, there are Modernist fine art prints, including an original lithograph by Elizabeth Catlett, and historical signatures and autographs of prominent figures such as Albert Einstein and Theodore Roosevelt. Other categories showcase antique and ... More



Hans Arp, Dance Finery in Motion, 1961/1970, bronze, Arp Museum Bahnhof Rolandseck, Remagen, Photo: Sabine Walczuch, © VG Bild-Kunst, Bonn 2023.



BERLIN.- The Estate of the German-French sculptor Hans Arp (1886–1966), The Stiftung Arp e.V., announces an unprecedented donation of 220 plasters to 10 museums worldwide. More than just a donation, it marks the initial step in a growing formation of international museums that will support each other in new models of cooperative research across diverse perspectives and expertise, the first of its kind for an artist's estate. The gift marks a significant step forward in the international recognition of the artist's legacy and contribution to the modern arts, with over half of the institutions receiving their first ever Arp work, including those in Wakefield (UK), Oslo (Norway) and The Hague (Netherlands). Initial museums included are Nasher Sculpture Center, Dallas, TX, US; Museum Beelden aan Zee, The Hague, The Netherlands; Harvard ... More



Graham Collins, MindReader, 2023. 11 x 11 x 3 in.



NEW YORK, NY.- On June 1st Sean Horton (Presents) opened the presentation of the exhibiton Graham Collins — "Dog Walker's Manifesto" which will continue to July 1st, 2023. Graham Collins (b. 1980, Washington, DC) lives and works in Hurleyville, NY. He received a MFA from Bard College, Annadale-on-Hudson, NY and a BFA from Corcoran College of Art, Washington, DC. Recent solo exhibitions include Bjørn & Gundorph, Aarhus, DK and Halsey McKay Gallery, East Hampton, NY. His work has been included in group exhibitions at Corcoran Gallery of Art, Washington, DC; Derek Eller Gallery, New York, Rachel Uffner Gallery, New York, and Anat Ebgi Gallery, Los Angeles, among others. His work has been discussed in The New Yorker, ARTnews, and The New York Times, among others. Q&A with Graham Collins. Let's first address the Painting in the room. Is this how we shall refer to them…as paintings? ... More
Maison Hannon, Art Nouveau House-Museum, now open to the public
'Catherine Goodman: Do You Remember Me?' opens at The Coach House Gallery at Waddesdon
Peabody Essex Museum appoints Sue Kim as Chief Philanthropy Officer


Maison Hannon - Juin 2023 © Photo Grégory De Leuuw.



BRUSSELS.- Great news for Belgian and foreign Art Nouveau enthusiasts: since June 1, 2023, the legendary Maison Hannon located at the junction of Avenue Brugmann and Avenue Jonction (Saint- Gilles) has been reborn as a "house-museum" under the name Maison Hannon. A place in perpetual motion. This new Art Nouveau architectural and museal centre will strengthen the cultural and tourist offer of this district in the upper part of Brussels, in a duo formula with the Horta Museum. The first phase of restoration is now complete: the ground floor, which faithfully recreates the world of the Hannons, and the first floor, a temporary exhibition space. The façade has also been restored. However, these renovations mark the first phase of a much larger project. Further phases of restoration will follow, and the public will be invited to take part in conferences, tours, meetings with craftsmen ... More



Catherine Goodman, Candy Rock, 2022; pastel on paper. © Catherine Goodman.



LONDON.- The Coach House Gallery at Waddesdon is now opening our major summer exhibition of paintings and drawings by the celebrated British artist Catherine Goodman (b.1961). Displayed in the Coach House Gallery and the Drawings Room of the Manor, the exhibition focuses on a new body of work exhibited for the first time at Waddesdon. At the Coach House Gallery, the centrepiece of the exhibition will be a monumental Frieze, of seven canvases, depicting a grove of ancient olive trees framed by the vivid blues of the sea and sky behind. It will be complemented by a triptych of a single tree captured through the day – morning, midday and evening – as well as further paintings and a suite of powerful pastel drawings. The site of these trees is an isolated point on the Greek Island of Corfu, which the artist has been visiting regularly ... More



Sue Kim, Chief Philanthropy Officer of Peabody Essex Museum.



SALEM, MASS.- Following an extensive national search, the Peabody Essex Museum (PEM) has announced its appointment of Sue Kim as Chief Philanthropy Officer. With over two decades of experience, Kim has long been a leader in the field of global philanthropy. Known for her dedication to community building and for her ability to forge deep relationships, Kim will serve as chief fundraising strategist and lead a team that increases philanthropic and membership support for PEM's innovative programming, exhibitions and initiatives. "We are delighted to have Sue Kim join PEM at such an exciting and promising point in planning the museum's future," said Lynda Roscoe Hartigan, PEM's Rose-Marie and Eijk van Otterloo Executive Director and CEO. "Her values, vision and extensive experience align perfectly with PEM's, and she will play a ... More

A 5-minute meditation with John Constable's 'Cornfield' | National Gallery

Flashback
On a day like today, French painter and sculptor Paul Gauguin was born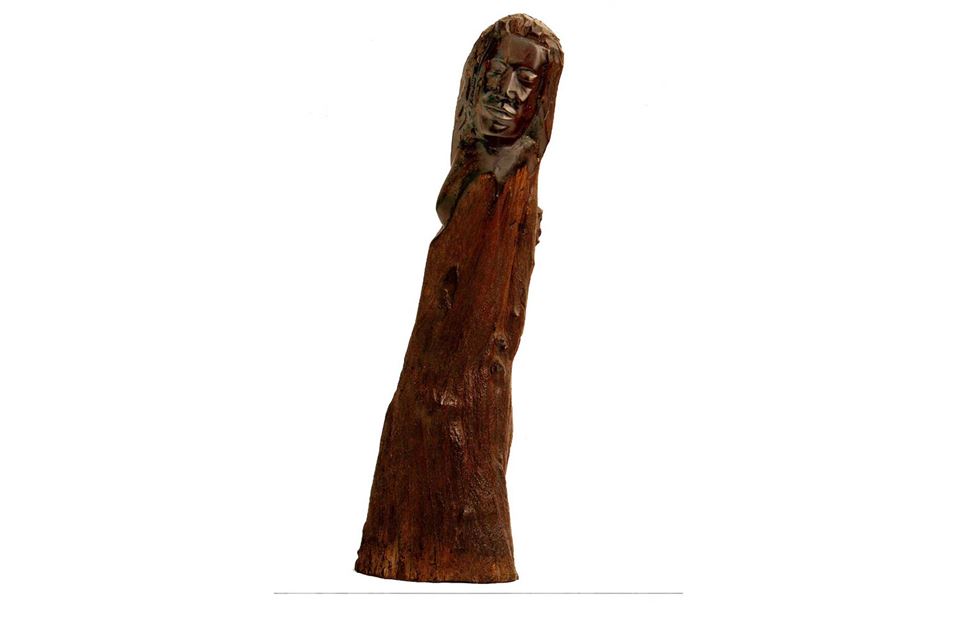 June 07, 1848. Eugène Henri Paul Gauguin (7 June 1848 - 8 May 1903) was a French post-Impressionist artist. Unappreciated until after his death, Gauguin is now recognized for his experimental use of color and Synthetist style that were distinctly different from Impressionism. In this image: Paul Gauguin. Figure Tahitienne circa 1892-3. Height 10 5/8 in. Wood. Inscribed with the monogram PGO (at the bottom).
---

Museums, Exhibits, Artists, Milestones, Digital Art, Architecture, Photography,
Photographers, Special Photos, Special Reports, Featured Stories, Auctions, Art Fairs,
Anecdotes, Art Quiz, Education, Mythology, 3D Images, Last Week,

.
---
Royalville Communications, Inc
produces: