TAI Modern exhibits Japanese Bamboo Art at Santa Fe Art Week
Kajiwara Koho, Three Color Flower Basket, 2015. Madake bamboo, rattan, 8 x 14 x 14 in.
SANTA FE, NM
.-
In connection with the 2nd Annual Santa Fe Art Week,
TAI Modern
presents Japanese Bamboo Art, a group exhibition featuring a diverse selection of recently acquired works, both historic and contemporary, of Japanese bamboo art. The fifteen artists in this show include members of historic family lineages and contemporary masters such as Yamaguchi Ryuun, Honma Hideaki, and National Living Treasure of Japan, Fujinuma Noboru. TAI Modern is the world's leading dealer of contemporary Japanese bamboo art. For over 20 years, the gallery has sought to present compelling exhibitions, build strong collections, further academic research on bamboo art in Japan, and support and encourage artists in this incredibly challenging medium. "Bamboo says many things to me. I enjoy my conversations with it. I express beauty through bamboo: the beauty of water flowing, the beauty of flowers, the beauty of moving clouds. I try to bring the beauty of ...
More
The Best Photos of the Day
Art Fix: The new way of learning about art
Actress Kelly Preston dies aged 57 from breast cancer
Eastward, ho! Even art is leaving for the Hamptons


Art Fix any time, anywhere!



WASSENAAR.- Art Fix is the world's most accessible online art course. This e-learning platform offers membership-based episodes on the insider stories & secrets of the contemporary art world. Out to demystify the world of contemporary art and make it more accessible through better storytelling, Art Fix is all about formulating your own opinion about art. Every month, a new thematic episode will be released, just 30 minutes in length including interviews and artist deep-dives. The launch episode is called "The City is My Canvas", and will focus on street art, where dark streets and spray cans join forces. Taking on the often illegal domain of street art, this episode will uncover the works of Banksy, JR, Vhils, Stik, and many more. Three more episodes are online: on sculpture (Can I Touch It?), new media (The Virtual as Reality), auction houses (Going Once, Going Twice), and much more to come! Each episode is supported ... More



In this file photo taken on May 15, 2018 US actress Kelly Preston poses during a photocall for the film "Gotti" at the 71st edition of the Cannes Film Festival in Cannes, southern France. Kelly Preston, US actress and wife of US actor John Travolta, died after a battle with breast cancer at the age of 57, US media reported on July 12, 2020. Anne-Christine POUJOULAT / AFP.



NEW YORK (AFP).- Kelly Preston, an actress best known for her role as a hardhearted fiancée of the Tom Cruise character in the 1996 film "Jerry Maguire," died Sunday in Florida. She was 57. Her husband, actor John Travolta, said in an Instagram post Monday that the cause was breast cancer. She had been treated for the cancer for two years, he said, something she had kept largely to herself. "She fought a courageous fight with the love and support of so many," Travolta said. Preston broke into film and television in the early 1980s, often playing a young and sexy character, as she did in the 1985 comedy "Mischief," where she was "the ... More



A line of art galleries on Newtown Lane in East Hampton, N.Y., July 4, 2020. Karsten Moran/The New York Times.

by Ted Loos



EAST HAMPTON (NYT NEWS SERVICE).- The art collectors were finally coming out of hiding here recently, albeit quietly and tentatively. The artists were, too. The lure? All of a sudden, they have a lot more gallery options lining the immaculate streets of the famously upscale summer town of East Hampton, New York, a seemingly unexpected development in the middle of a pandemic. Since the beginning of June, five major art galleries have opened here: Pace, Skarstedt, Van de Weghe, Michael Werner and Sotheby's, all arms of New York art powerhouses. And more are on the way soon, in Montauk (Amalia Dayan and Adam Lindemann's new venture, South Etna Montauk) and Southampton (Hauser & Wirth). "Selfishly, ... More
Phillips and British Vogue announce a selling exhibition of photographs by Jamie Hawkeswor
Doyle to auction Asian works of art on July 23
Strong results and active bidding in Koller's July auctions


Jamie Hawkesworth, Anisa Omar, Waitrose & Partners assistant © Jamie Hawkesworth.



LONDON.- This July, in collaboration with British Vogue, Phillips will premiere the work of celebrated photographer Jamie Hawkesworth in a virtual selling exhibition The New Front Line. Hawkesworth has selected 27 unique works to be made available for sale for the first time, with all proceeds going to the National Emergencies Trust. The portraits hail from his recent portfolio of front-line workers in the Covid-19 effort, which includes the iconic cover story for British Vogue's July 2020 issue. These unique works will be available for sale on Phillips.com as part of a virtual exhibition, running from 14 to 28 July 2020. Edward Enninful, Editor in Chief of British Vogue, said, "I am delighted that Jamie Hawkesworth's images of our key workers are going to be included in this important exhibition at Phillips. Vogue's July cover stars celebrate a moment in time when millions of people in the UK who, at the height of the pandemi ... More



Chinese Flambe Glazed Porcelain Meiping, Qianlong Seal Mark and of the Period. Height 12 inches. Est. $12,000-15,000.



NEW YORK, NY.- Doyle's Asian Works of Art auction on Thursday, July 23 at 10am will present the arts of China, Japan and Southeast Asia from the Neolithic Period through the 20th century. Highlights include exquisite Chinese porcelains, jades and bronzes and an extensive offering of fascinating snuff bottles. The selection of Chinese jades in the sale features a Chinese celadon jade censor with cover with loose ring handles, height 4 3/4 inches (est. $15,000-20,000). A Qing dynasty Chinese white and russet jade hound depicts the recumbent hound with patches of russet fur, length 3 inches (est. $10,000-15,000). A lovely Chinese jadeite fruit group is carved in the round with a pomegranate, peach and finger citron on a leafy branch, length 3 1/4 inches (est. $8,000-12,000). Highlighting the Chinese porcelains is a flambé ... More



The top lot in the Swiss Art auction was Cuno Amiet's "Mother and child".



ZURICH.- Following a successful auction week for Old Masters & Antiques in late June, Koller's auction series for Modern, Contemporary & Swiss Art, Jewellery & Watches continued to register strong prices and very active bidding. The top lot in the Swiss Art auction was Cuno Amiet's "Mother and child" (lot 3322), and important work from 1899 which was considered missing for almost 90 years until it was recently rediscovered in a private collection. It left its presale estimate of CHF 380 000/480 000 far behind, selling for CHF 830 000. A charming depiction of a young girl with Christmas presents by Albert Anker (lot 3309) which also had never been offered on the auction market, sold for CHF 464 000. Prices remain strong for works by Gottardo Segantini, as witnessed by two paintings sold in the 3 July auction, an autumn landscape near Maloja (lot 3352, CHF 159 000), and a view ... More
David Lee Roth is letting his art (mostly) do the talking
Matthew Barton announces European and Asian Works of Art auction
P·P·O·W Gallery opens Noplace, a physical and virtual exhibition


David Lee Roth with some of his paintings at his home in Pasadena, Calif., July 6, 2020. Jessica Lehrman/The New York Times.

by Richard Bienstock



NEW YORK (NYT NEWS SERVICE).- Typically, David Lee Roth spends his days, or at least his nights, "in tactical spandex, moving at 134 beats per minute," he said. But now Roth, the 65-year-old Van Halen singer, is just like the rest of us: stuck at home and obsessing about pandemics. However, the past few months in quarantine have led Roth to an old pursuit, with new focus. Since April, he has filled his days creating COVID-themed drawings — he calls them comics — and then sharing the finished works, one each week, on his social media channels. The art, like Roth's music and disposition, is vibrant, whimsical and somewhat unconventional. In moments, it is confrontational. Several drawings feature his own face. Many are filled with images of frogs. What sparked this surge of artistic expression? "Well, I lost my job!" Roth cracked ... More



A Cambodian Pre Rup style grey sandstone head of Harihara, a Hindu deity combining Vishnu and Shiva, circa 10th century, estimated at £4,000-£6,000.



LONDON.- Matthew Barton's European and Asian Works of Art auction of 374 lots encompasses centuries of craftsmanship; when browsing the catalogue, the diversity of pieces and 'cross pollination' of styles will stimulate a collector's interest in influences brought along the trade routes and spread through expanding kingdoms and empires. Among the religious works of art, starting in South East Asia, a highlight from Cambodia is a Pre Rup style grey sandstone head of Harihara, a Hindu deity combining Vishnu and Shiva, circa 10th century, estimated at £4,000-£6,000. The Tibetan, Nepalese and Indian sculptures in the sale include a Jain brass shrine depicting Candraprabha, from Gujurat, circa 16th century, this has an estimate of £1,500-£2,500. Stucco and terracotta heads of Buddha as well as grey schist fragments from Gandhara (now a region in both Pakistan and Afghanistan) date from the 3rd to the 5t ... More



Devin N. Morris, Moving away from up there. Broken easily as brown skin does walking through brown stone. From Somewhere and Me at the base of stairs treading rows perfectly soiled for blossoming lunacy, 2020. Entryway doors, chair, lampshade, light, 129 x 95 x 27 ins. 327.7 x 241.3 x 68.6 cm.



NEW YORK, NY.- P·P·O·W is presenting Noplace, a physical and virtual exhibition curated by Eden Deering, which brings together artists whose practices connect in their collective utopian pursuit, their make-believe places reflecting the ills of our society, while simultaneously communicating alternative ways to exist in this world. In Utopia (1516), the English lawyer, social philosopher, author, statesman and Renaissance humanist, Sir Thomas More coined the term 'Utopia' in his sociopolitical satire. Combining the Greek words "not" (ou) and "place" (topos), 16th century readers would have translated the new word to 'Not place' or 'Noplace'. More's Utopia was an imaginary arcadian paradise, off the coast of an inexact location in the 'New World'. Describing this Utopia as the ... More
Museums can do better: A response to museum inclusivity
Thames & Hudson publishes "Vincent van Gogh: A Life in Letters"
Jacqueline Terrassa to lead the Colby College Museum of Art


A Black Lives Matter mural is painted on Sandra Bland Parkway near the site where Bland was arrested by a state trooper in 2015. Go Nakamura/Getty Images/AFP.

by Kimberly Fernandez Pedraza



SANTA CLARA, CA.- Along with the rest of the nation, I have witnessed in the last couple of weeks the Black Lives Matter protests occurring throughout the country and the pressure to make changes in structural racism, particularly that is reflected in the police system. As we begin to see changes in the systems and structures of our society, there is a call to make changes in all aspects of society which include museums and a movement to diversify them to be more reflective of black identities and other traditionally marginalized communities. As a rising senior art history major and Latina women, I can attest this has been long overdue. Museums are vastly important cultural institutions that dominate American culture and leisure. They are sites that often share the goals ... More



Illustrated with original manuscript letters, sketches and paintings, this careful selection of seventy-six letters, provides a new and accessible edition of these intimate personal documents.



LONDON.- Vincent van Gogh's letters have long been prized as some of the most valuable documents in the world of art. Not only do they throw light on Van Gogh's own complex and intriguing character, they enlighten the whole creative process as seen through his eyes, with his extraordinary grasp of language and vivid prose. Illustrated with original manuscript letters, sketches and paintings, this careful selection of seventy-six letters, provides a new and accessible edition of these intimate personal documents. Here we can observe Van Gogh's thoughts and opinions at first hand, as well as his close ties with his brother Theo, his sometimes troubled relationships with friends, lovers, and fellow artists, his personal doubts and fears, his love of books, and above all his overriding passion for his art. In this volume the letters are grouped chronologically ... More



Visionary leader brings deep experience from the Art Institute of Chicago and Metropolitan Museum of Art.



WATERVILLE, ME.- Colby College today announced the appointment of Jacqueline Terrassa as the Carolyn Muzzy Director of the Colby College Museum of Art. Terrassa, who currently serves as the Woman's Board vice president for learning and public engagement at the Art Institute of Chicago, will assume her role in October. "Jackie Terrassa is the perfect leader for Colby's wonderful Museum of Art," said President David A. Greene. "She is an artist and educator who has helped transform the way museums engage with and enrich their communities. With her sharp intellect and rigorous approach to understanding the meaning and impact of artistic works, she is ideally suited to further the Museum's scholarly and teaching mission. Her personal warmth, experiences at the nation's top museums and universities, and forward-looking approach to the role of museums in societies make her a spectacular choice at this ... More

Art Talk: 'Madame Cézanne'

Flashback
On a day like today, Austrian painter Gustav Klimt was born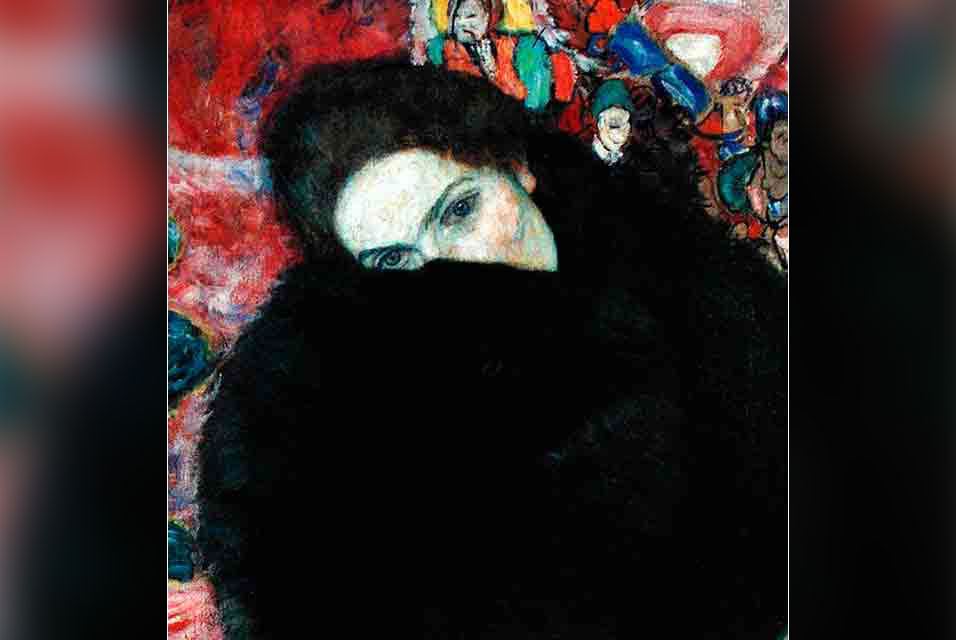 July 14, 1862. Gustav Klimt (July 14, 1862 - February 6, 1918) was an Austrian symbolist painter and one of the most prominent members of the Vienna Secession movement. Klimt is noted for his paintings, murals, sketches, and other objets d'art. Klimt's primary subject was the female body, and his works are marked by frank eroticism. In this image: Lady with a Muff (1916-1917)
---

Museums, Exhibits, Artists, Milestones, Digital Art, Architecture, Photography,
Photographers, Special Photos, Special Reports, Featured Stories, Auctions, Art Fairs,
Anecdotes, Art Quiz, Education, Mythology, 3D Images, Last Week,

.
---
Royalville Communications, Inc
produces: