For centuries, her art was forgotten, or credited to men. No more.
The painting series known as "The Five Senses" as displayed at the Museum of Fine Arts in Boston, Nov. 21, 2022. The work of Michaelina Wautier, a 17th century artist, was long overlooked. — She is belatedly gaining recognition as an old master, as the first U.S. show of her work opens in Boston. (Simon Simard/The New York Times)

by Milton Esterow
NEW YORK, NY
.-
Katlijne Van der Stighelen, a professor of art history at the University of Leuven in Belgium, first encountered the work of Michaelina Wautier, a 17th-century painter, in 1993 in the storage area of a Vienna museum. Wautier had been largely forgotten for more than 300 years when Van der Stighelen came across one of her paintings while rummaging around in the Kunsthistorisches Museum, where she was trying to hunt down a portrait attributed to Anthony van Dyck. "A curator took me along corridors that had 'second-class' Flemish paintings," she recalled in an interview. "When I was leaving, I saw a monumental painting — about 9 feet high and 12 feet wide. I didn't recognize it. He said, 'Not much is known about it, but it is painted by a woman.' " The painting was "Triumph of Bacchus," Wautier's sprawling canvas of a crowd including near-naked men surrounding the god of wine. He lounges, head back as the juice of grapes drip ...
More
The Best Photos of the Day
Pace presents a solo exhibition of new work by Nigel Cooke
The Reina Sofia Museum presents Sylvie, one of Öyvind Fahlsträm's iconic work
Monica Bonvicini presents "I do You" in Berlin


Nigel Cooke, Sula, 2022 © Nigel Cooke.



LONDON.- Pace is presenting a solo exhibition of new work by the British painter, spanning the entirety of the Hanover Square gallery. Marking the artist's first exhibition with the London gallery in six years, this new body of work signals a significant moment for Cooke as he brings his expansive abstract paintings to London for the first time since his practice shifted in 2019. The exhibition's title refers both to a world map – synonymous with travel and adventure – and the Ancient Greek Titan, condemned to carry the heavens on his shoulders for eternity, at once colossal and immaterial. Cooke reimagines the icon with a delicate, diaphanous creature, reflecting his own interrogation of the immense and microscopic systems that govern the natural world. Inspired by Cooke's travels and encounters with wildlife at home and overseas, this new body of work layers dynamic forms with a mutating array of animal ... More



In Sylvie's case, nine pieces were missing, including the main piece of the work, which have been recrafted by the Museum's Restoration Department.



MADRID.- After several years of research and work, and thanks to the collaboration of Fundación Mapfre, the Reina Sofía Museum has completed the complex process of restoring Sylvie, an emblematic work by Öyvind Fahlström (São Paulo, 1928-Stockholm, 1976). This work comprises a set consisting of two wooden and metal plates lined with paper and fabric painted with tempera, vinyl and different magnetized elements, some of which had disappeared. Fahlström - a creator hardly classifiable within the history of art - developed a particular conceptual method for both the artist and the viewer to participate in an operation of construction and deconstruction of the work. The variable paintings were one of the distinctive creations of Fahlström's oeuvre, with independent elements ... More



Monica Bonvicini, Chainswing Leather Round, 2022, Ausstellungsansicht Neue Nationalgalerie, 25.11.2022-30.4.2023. Courtesy the artist, Tanya Bonakdar Gallery, Galleria Raffaella Cortese, Galerie Peter Kilchmann, Galerie Krinzinger. Copyright the artist, VG-Bild Kunst, Bonn, 2022 / Nationalgalerie, Staatliche Museen zu Berlin / Jens Ziehe.



BERLIN.- I do You by the artist Monica Bonvicini is a sculptural appropriation of the Neue Nationalgalerie's architecture: a huge mirrored wall on the façade and a large-scale pedestal in the exhibition hall defy the transparent, expansive nature of the space and open up unfamiliar perspectives for visitors. In addition to these specially developed, site-specific installations, visitors will also see sculptural objects, performative and sound pieces by the Berlin-based artist from the 1990s to the present. I do You turns Mies van der Rohe's iconic museum space into a reflection on the traditionally masculine ... More
Henry Moore Institute explores 'The Colour of Anxiety: Race, Sexuality, and Disorder in Victorian Sculpture'
The Staatliche Graphische Sammlung München presents Swiss stained-glass window designs
Did someone with a trust fund paint this?


Sir George Frampton RA, 'Lamia' 1899-1900. Ivory, bronze, opals, glass. © Royal Academy of Arts, London. Photo: Paul Highnam.



LEEDS.- This winter the Henry Moore Institute in Leeds presents The Colour of Anxiety: Race, Sexuality and Disorder in Victorian Sculpture, bringing into focus sculpture exhibited and collected in Britain between 1850 and 1900, a rich yet largely overlooked body of work. The exhibition examines objects that introduced colour and new materials into the sculptural process, situating them within the context of the anxiety which often weighed upon Victorian society in the face of social change and scientific advances. In the second half of the nineteenth century, British sculptors began to move away from the whiteness of Neoclassical marble and started to incorporate colour into their work, using bronze, silver, gold, ivory and porcelain as well as semi-precious stones, tinted waxes, enamels and paint. The adoption of these materials has typically been attributed to the renewed interest in medieval history and craftsmanship, discoveries about ... More



Hans Brand, (Basel 1552 - 1577/78 Basel), Stained-glass design for an unknown coat of arms with a lady serving as a sign-holder; for the skylight of an inn. Pen and ink drawing in black with brown wash; 390 x 305 mm; SGSM Inv. 52 Z © Staatliche Graphische Sammlung München.



MUNICH.- The Staatliche Graphische Sammlung München is home to an exceptional collection of approximately 300 Swiss stained-glass window designs. Around 150 of them were part of the museum's founding collection. They came from the Mannheim collection of Carl Theodore, Elector of Bavaria, and were probably originally acquired from the stock of working drawings of a Basel workshop. Added in 1921 through transfers from the Bayerisches Nationalmuseum were a number of designs from central Switzerland. Outstanding works from the workshops of the Holbeins, Tobias Stimmer, Jost Amman, Christoph Murer, and many others provide a multifaceted and high-calibre survey of this singular branch of Swiss art. The Munich collection contains the most important German collection ... More



Vlad Brăteanu, an artist who cannot get funding is no artist, nach Mladen Stilinović und Anca Benera und Arnold Estefan, 2021, © Vlad Brăteanu.



BERLIN.- Artist name, date of birth, nationality. The typical biographical information on wall labels in museums and galleries across the world. But in a new exhibition at the Berlinische Galerie here, visitors will find more revealing facts: "Parents' professions," "Hours of unpaid labor" or "Largest number of freelance jobs juggled at the same time." (In the case of artist Norbert Witzgall, the answer to the last one is 11.) In the show, called "Class Issues" and running through Jan. 9, many artworks, both contemporary and historical, are about financial and social inequality. Some are funny, such as a film by Margit Czenki documenting a satirical 1998 performance in which protesters marched through downtown Hamburg chanting "Help the Rich!" and polishing the hoods of fancy cars. Elsewhere are more heart-wrenching documentary exhibits. Lining the wall at the entrance is a series of anonymized letters from artists over age 60, requesting ... More
Widow parts with rare emerald from 1622 shipwreck to help Ukraine
The Jerome J Platt Collection of 17th century Medallions sells for &pound187,200
Offer Waterman and Karsten Schubert exhibit works by Kirsten Glass


Mitzi Perdue in New York, Oct. 31, 2017. (Stephen Speranza/The New York Times)

by April Rubin



NEW YORK, NY.- For years, Mitzi Perdue looked down at her hand and saw history. The emerald on her ring finger told a story stretching back nearly four centuries, to the sinking of a Spanish galleon near the Florida Keys in 1622 and a decadeslong effort of a colorful undersea treasure hunter named Mel Fisher to retrieve its payload of gold and silver coins, gold nuggets and jewelry. It reminded her, too, of her late husband, chicken magnate Frank Perdue, who received a share of the bounty in return for his investment in Fisher's search. He donated most of it but kept the emerald and presented it to her when he proposed marriage in 1988. She wore it until his death in 2005, when she put it away for safekeeping. Now, 400 years after the Nuestra Señora de Atocha sank in a hurricane, Perdue, 81, is putting the emerald up for auction Wednesday at Sotheby's ... More



Gold Royalist badge from the reign of Charles I.



LONDON.- The Jerome J Platt Collection of 17th century Medallions was sold for a hammer price of £187,200, which was more than double the lower pre-sale estimate at Mayfair Auctioneers' Noonans on Wednesday, November 23, 2022. Comprising 173 lots, the collection was expected to fetch upwards of £100,000 and 169 of the 173 lots were sold. Dr Jerome J Platt, a professor of psychiatry and an Associate Dean at medical schools in the Philadelphia area, who with his wife Arleen Kay Platt R.N. have been avid students of the English Civil War since the 1970s. Together they have spent decades researching the medals and those behind them, sharing their findings with an eager audience via books and articles. Their collection comprised Tudor, Stuart and early Civil War medals together with badges and military awards, as well as examples from the Commonwealth and Cromwell, followed by others from the Restoration and later. The highest price of the ... More



Kirsten Glass (British, b. 1975), Painting with Hekate, 2022. Oil, wax pencil, glitter, sand, embroidery thread on canvas, 94 1/2 x 74 3/4 in. 240 x 190 cm.



LONDON.- An exhibition of new paintings across two sites at Offer Waterman, 17 St George Street, Mayfair and Karsten Schubert, Room 2, 44 Lexington Street, Soho. Continuing for two weeks after Christmas from 9 - 20 January 2023. Kirsten Glass conjures images and gestures into layers of synchronicity. Circling between up to six paintings at a time, Glass allows the images to gradually come into their own, with their distinct shapes shifting through fields of colour. 'Each painting is an adventure', says Glass. And while their formation is dependent on distinct painterly processes, Glass leaves room for ideas to change along the way. Incorporating materials such as glitter and thread, sewn through the back of the canvas, the paintings often veer into abstraction, their surfaces allowing for multiple readings. Certain patterns and images reappear throughout. On the use ... More
Worcester Art Museum debuts works from America's first Japanese print collection of its kind
Aline Kominsky-Crumb, pioneering comics memoirist, dies at 74
LGDR opens the first gallery exhibition in Paris dedicated to the work of Gego


48 of the 50 Japanese Prints Featured in The Floating World: Japanese Prints from the Bancroft Collection Have Never Been Seen Before



WORCESTER, MASS.- The Worcester Art Museum is presenting The Floating World: Japanese Prints from the Bancroft Collection, an exhibition of 50 Japanese prints from the Museum's collection, 48 of which are being displayed for the first time. On view November 26, 2022-March 5, 2023, the exhibition takes a comprehensive look at the diverse ukiyo-e genre through the lens of John Chandler Bancroft (1835-1901), one of the earliest and most significant collectors of Japanese prints in the United States. Bancroft's collection of over 3,700 Japanese woodblock prints was bequeathed to WAM in 1901 and is considered the Museum's first major collection. Illustrating the breadth of this transformative gift, The Floating World features works ranging in size, material, date, and subject matter, including works by renowned artists ... More



Her autobiographical cartoons — confessional, sexualized and self-deprecating — were considered the first by a woman in underground comics.

by Richard Sandomir



NEW YORK, NY.- Aline Kominsky-Crumb, who in the early 1970s used a self-deprecating and sexualized confessional style to create what is believed to be the first autobiographical work by a woman in underground comics — and who continued to explore her life after her marriage to Robert Crumb, a giant of the genre — died Wednesday at her home in the small French village of Sauve. She was 74. Her family said the cause was pancreatic cancer. In her raw, sometimes crudely drawn work, Kominsky-Crumb unabashedly described her abusive childhood, her cosmetic surgery and her hypochondria, as well as her sex life and her long open marriage to Crumb, with whom she occasionally collaborated. She called her magnified, zaftig alter ego ... More



Gego. Sin título, 1961. Ink on paper, 24 ¾ × 19 ¼ inches (62.9 × 48.9 cm) © Fundación Gego. Courtesy LGDR.



PARIS.- LGDR is presenting Lines in Space, the first gallery exhibition in Paris dedicated to the work of Gego (1912–1994). A leading figure of Venezuelan abstraction in the 1960s and '70s, Gego created multidimensional works that radically engage the properties of line and space. Presented in collaboration with Fundación Gego, Lines in Space will offer a concentrated survey of the artist's works across media, including the constellated wire structure Chorro (1979/86), the six-part steel- and-bronze sculpture Cornisa I (1967), and her luminous watercolors, collages, and drawings. This presentation follows those organized by Lévy Gorvy in New York (2015) and London (2016), continuing a long-standing relationship with the artist's estate. Best known for her net-like wire structures, Gego rejected stylistic categories and historical trajectories of influence, wedding the intuition of expressionism ... More

'Life in Our Minds: Mother Flock' by Random International and Danil Krivoruchko

Flashback
On a day like today, French impressionist painter Claude Monet died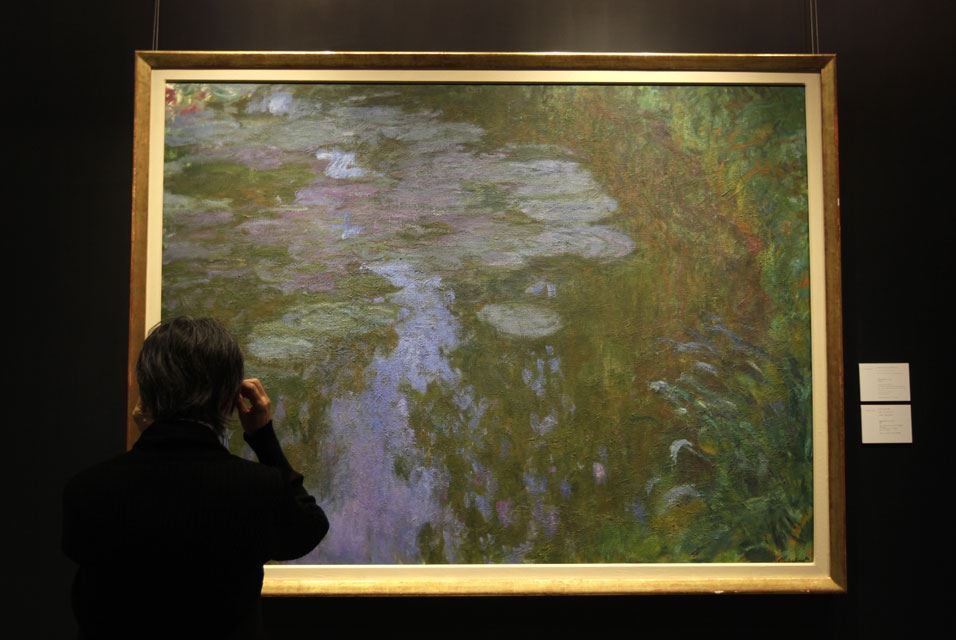 December 05, 1926. Claude Monet (14 November 1840 - 5 December 1926) was a founder of French impressionist painting, and the most consistent and prolific practitioner of the movement's philosophy of expressing one's perceptions before nature, especially as applied to plein-air landscape painting. The term Impressionism is derived from the title of his painting Impression, Sunrise (Impression, soleil levant). In this image: A visitor looks on a painting by French artist Claude Monet (1840-1926) entitled Nympheas during a press preview in Hong Kong, China, 27 May 2011. The painting was expected to fetch in excess of 17 to 24 million GBP (19 to 27 million Euro), at auction at Christies London Impressionist Modern Paintings on 21 June 2011.
---

Museums, Exhibits, Artists, Milestones, Digital Art, Architecture, Photography,
Photographers, Special Photos, Special Reports, Featured Stories, Auctions, Art Fairs,
Anecdotes, Art Quiz, Education, Mythology, 3D Images, Last Week,

.
---
Royalville Communications, Inc
produces: