Dia Chelsea, keeper of the avant-garde flame
Lucy Raven, Ready Mix, 2021. Installation view, Dia Chelsea, New York City. © Lucy Raven. Photo: Bill Jacobson Studio, New York, courtesy Dia Art Foundation, New York.

by Roberta Smith
NEW YORK
(NYT NEWS SERVICE)
.-
The saga of the Dia Art Foundation, New York's venerable nonprofit, begins a new chapter with its return to West Chelsea. Of course it never really left when it decamped for the Hudson Valley. But a welcome back feels appropriate, given the impeccable renovation of 20,000 square feet of public space across three buildings, and including a revived bookstore — all reconfigured and unified by Architecture Research Office (ARO). Dia arrived on the block from SoHo in 1987, rehabilitating a big industrial building from the early 1900s that became its flagship, and staging a string of stunning exhibitions. It triggered the influx of commercial galleries that, for better and worse, made West Chelsea what it is today while also depressing its own attendance: Dia charged admission, the galleries did not. But it didn't charge admission to its spacious ground-floor bookstore, which was spectacularly tiled and furnished in shades of orange, yellow and turquoise by the artist Jorge Pa ...
More
The Best Photos of the Day
Paula Cooper names new partners of the gallery
Mark Rothko's penultimate painting 'Untitled' from 1970 in Christie's NY 20th Century Evening Sale
Sotheby's to offer Robert Colescott's radical challenge to 'Washington Crossing the Delaware'


From left to right: Steve Henry, Lucas Cooper, Paula Cooper, Alexis Johnson, Anthony Allen.



NEW YORK, NY.- Paula Cooper announced that Steve Henry, Anthony Allen, Lucas Cooper, and Alexis Johnson have been named partners of Paula Cooper Gallery, the gallery she independently founded in 1968. The formation of the partnership will enable the gallery to maintain a well-established context for the gallery's artists, ensuring continuity for years to come. It provides a sense of trust and optimism in an ever-evolving art world and reflects Cooper's dedication to building a robust future for the gallery. The four partners have a combined sixty years of experience working at Paula Cooper Gallery nurturing the careers of a wide range of influential artists. They will continue to work closely with Paula Cooper to direct the gallery's future. Steve Henry, Senior Partner, joined Paula Cooper Gallery as Director in 1998. Henry has organized numerous exhibitions at the gallery, from major one-person exhibitions to important gr ... More



Mark Rothko, Untitled. Oil on canvas, 68 x 54 in. (172.7 x 137.2 cm.) Painted in 1970. Estimate on request. © Christie's Images Ltd 2021.




NEW YORK, NY.- Christie's will present Mark Rothko's radiant and stately masterpiece, Untitled from 1970, as a highlight of its upcoming 20th Century Evening Sale at Christie's New York on May 11, 2021 (estimate on request; in the region of US$40M). As one of only three works painted in 1970, during the final months of the artist's life, Untitled marked his triumphant return to full, vibrant color, and Rothko is said to have viewed these late works at his most profound achievements. Formerly part of the prestigious Paul and Rachel "Bunny" Mellon Collection for decades before entering into a distinguished private collection in 2014—from which it arrives to market at Christie's in May—Untitled stands as a deeply poignant finale to Rothko's prodigious oeuvre. Emily Kaplan, Co-Head of Christie's 20th Century Evening Sale, commented: ... More



Robert Colescott, George Washington Carver Crossing the Delaware: Page from an American History Textbook, 1975 (detail). Estimate: $9/12 million. Courtesy Sotheby's.



NEW YORK, NY.- Sotheby's today unveiled Robert Colescott's icon of American art, George Washington Carver Crossing the Delaware: Page from an American History Textbook from 1975 as a highlight of the Contemporary Art Evening Auction this May in New York. With an estimate of $9/12 million, the painting is poised to shatter the artist's current auction record of $912,500. Both in title and composition, the work directly references Emanuel Leutze's iconic scene Washington Crossing the Delaware from 1851 – which is currently held in the permanent collection of the Metropolitan Museum of Art, New York – where it has remained since 1897 – and stands as one of the most recognizable images in the American popular imagination. Colescott paints a radical counter to the exclusionary narrative that has long dominated art ... More
UCCA opens Cao Fei's largest and most comprehensive retrospective to date
Property from the Estate of Naples philanthropist Leslie "Mitzi" S. Magin to be auctioned off by Hindman
Dawoud Bey's career retrospective, An American Project, opens at the Whitney


Installation view. Courtesy UCCA Center for Contemporary Art.



BEIJING.- UCCA presents Cao Fei: Staging the Era, the artist's first major solo show in China and largest and most comprehensive retrospective to date. As one of China's most prominent contemporary artists, Cao Fei (b. 1978, Guangzhou, lives and works in Beijing) uses multimedia formats—film, video, virtual reality, and installation—to surreally depict the dramatic social changes of a globalizing China and the state of the individual under such conditions, fluidly shifting between documenting reality and creating fantasy in her art. Staging the Era assembles an expansive range of works from Cao Fei's two decade-long career, featuring celebrated works such as San Yuan Li (2004), Cosplayers (2004), Whose Utopia (2006), RMB City (2007-2012), and La Town (2014), and the debut of her latest large-scale interdisciplinary project HX (2015-2021). This exhibition was curated by Philip Tinari, Guo Xi, Patrick Rhine, and Huang J ... More



Cy Twombly (American, 1928-2011), Natural History Part II: Some Trees of Italy (complete portfolio of 8). 1976. Estimate: $30,000 - $50,000.



NAPLES, FLA.- Hindman announced that it will present Property from the Estate of Leslie "Mitzi" S. Magin in the May 4 Post War and Contemporary Art and May 5 Prints and Multiples auctions. The sale of these works, which were collected by Mitzi and her husband, James F. Magin, will benefit four Naples, Florida charities – St. Ann School Foundation, Ave Maria School of Law, St. John Neumann Catholic High School, and NCH Healthcare System. Magin, a distinguished Naples philanthropist, was a strong proponent of Catholic education and supported numerous Catholic charities including St. Ann Church, St. Ann School Foundation, St. John Neumann Catholic High School, Ave Maria School of Law, The Blessed Edmund Rice School of Pastoral Ministry, as well as Naples Community Hospital and NCH Healthcare Foundation. Prior to moving to Naples, Magin lived ... More



Dawoud Bey, A Boy in Front of the Loew's 125th Street Movie Theater, Harlem, NY, 1976. Gelatin silver print, 14 x 11 in. (35.6 x 27.9 cm). © Dawoud Bey and courtesy of the artist, Sean Kelly Gallery, Stephen Daiter Gallery, and Rena Bransten Gallery.



NEW YORK, NY.- Dawoud Bey: An American Project will open at the Whitney Museum of American Art, New York, on April 17, 2021. Dawoud Bey: An American Project presents works from throughout Bey's over four-decades-long career and highlights his commitment to portraying the Black subject and African American history in a manner that is at once direct and poetic, immediate and symbolic. The exhibition's title intentionally inserts Bey's photographs into a long-running conversation about what it means to represent America with a camera. There is a rich tradition of 'American' projects', including Walker Evans's American Photographs (1938), Robert Frank's The Americans (1958), Lee Friedlander's The American Monument (1976) and Joel Sternfeld's American ... More
British actress Helen McCrory dies aged 52
Vartan Gregorian, savior of the New York Public Library, dies at 87
Paris Opera names Venezuela's Dudamel as next music chief


English actress, Helen McCrory poses after she was awarded an Officer of the Most Excellent Order of the British Empire (OBE) for services to drama, by Britain's Queen Elizabeth II during an investiture ceremony at Buckingham Palace. Steve Parsons / POOL / AFP.



LONDON (AFP).- British film, television and stage actress Helen McCrory has died aged 52 from cancer, her husband and fellow actor Damian Lewis said on Thursday. McCrory "died peacefully at home surrounded by a wave of love from friends and family", Lewis wrote on Twitter, calling his late wife "beautiful and mighty". "We love her and know how lucky we are to have had her in our lives. She blazed so brightly," the actor added, explaining she had died "after an heroic battle with cancer". McCrory was best known as a star of hit BBC crime drama "Peaky Blinders" and for the role of Narcissa Malfoy in the "Harry Potter" films, as the mother of the boy wizard's school-aged rival. She played Cherie Blair, the wife of former British prime minister Tony Blair, twice in both the "The Queen" (2006) and "The Special Relationship" (2010), and played fictional British interior minister Clair Dowar in the the James Bond film "Skyfall" (2012). Born in Paddington in west London in 1968 to a Welsh mother and Scottish ... More



Vartan Gregorian, right, then president of the New York Public Library with Andrew Heiskell, the library's chairman, in New York in 1981. William E. Sauro/ The New York Times.

by Robert D. McFadden



NEW YORK (NYT NEWS SERVICE).- Vartan Gregorian, the ebullient Armenian immigrant who climbed to pinnacles of academic and philanthropic achievement but took a detour in the 1980s to restore a fading New York Public Library to its place at the heart of American intellectual life, died Thursday in Manhattan. He was 87. The death, at a hospital, was confirmed by his son Dareh Gregorian. No cause was given. Gregorian liked to tell the story of "the most painful experience of my entire life." It happened in 1980, when he was provost of the University of Pennsylvania, its top academic official. Powerful trustees told him that he was a shoo-in to replace the outgoing president. He was so sure of the post that he withdrew his name from consideration as chancellor of the University of California at Berkeley. He heard the bad news on his car radio. The Penn trustees had chosen another academic star. The next day, he resigned. The outgoing ... More



Venezuelan conductor and director of Los Angeles' Philharmonic Orchestra Gustavo Dudamel, newly appointed Paris Opera's music director, poses during a photo session at the Palais Garnier in Paris on April 15, 2021. STEPHANE DE SAKUTIN / AFP.



PARIS (AFP).- The Paris Opera said Friday that Venezualan conductor Gustavo Dudamel will be its next musical director starting from August, bringing his star power to the fabled 350-year-old institution. The 40-year-old, who has built a global reputation with his fiery and flamboyant performances, will take over from Swiss maestro Philippe Jordan, initially for a period of six years, the opera house said in a statement. The head of Paris Opera Alexander Neef described Dudamel as "accomplished and emblematic... one of the most talented and prestigious chefs in the world" during an online press conference from the Palais Garnier. Dudamel said he was "very touched and grateful", adding that he had "not hesitated for a second to say yes". "After a difficult year, I feel a profound responsibility towards our artform," he added. Known for his involvement in education projects around the world, Dudamel has said it will be a priority to use his position in Paris for outreach projects. "Access to music will ... More
After years of wrangling, World War I memorial raises first flag
Alexander and Bonin opens an exhibition of works by fourteen artists
Yale Center for British Art acquires a work by An-My Lê


A statute of Gen. John J. Pershing, who commanded the American Expeditionary Forces in Europe, at Pershing Park in Washington, site of the World War I memorial, on Tuesday, April 13, 2021. T.J. Kirkpatrick/The New York Times.

by Jennifer Steinhauer



WASHINGTON (NYT NEWS SERVICE).- Memorials to the war dead of the 20th century are among the central attractions in the nation's capital. So it has always been notable that one of the most consequential U.S. conflicts, World War I, lacked national recognition. Now, as the United States withdraws from its longest war, a memorial that recognizes one of its most complicated ones officially opened in Washington on Friday, after years of tangling among preservationists, urban planners, federal officials and the commission that realized its creation. The first flag was raised at the memorial in Pershing Park, near the White House — rather than along the National Mall, where many supporters had envisioned — on a spot once ... More



John Ahearn, Qevin's Friend 1992/2018. Acrylic on plaster, 23 1/2 x 22 x 9 1/2 in/60 x 55 x 24.1 cm.



NEW YORK, NY.- Alexander and Bonin announced Index, a group exhibition of work by John Ahearn, Carlos Bunga, Michael Buthe, Roman Cochet, Willie Cole, Eugenio Dittborn, Willie Doherty, Emily Jacir, Robert Kinmont, Stefan Kürten, Jorge Macchi, Rita McBride, Ree Morton, and Sylvia Plimack Mangold. John Ahearn has made casts directly from life models since 1979. The resulting portraits - through their vivid pallets and highly individualized, naturalistic feel - provide a dynamic account of the different sitters' personalities. Ahearn met and cast the subject of Qevin's Friend (1992/2018) while working on a community project in Anacostia in Washington D.C. in 1992; he revisited and completed the work in 2018. Carlos Bunga's Three Legs Coffee Table (2020) was created for his recent solo exhibition, A Sudden Beginning, at the Museum of Contemporary Art in Toronto. The sculpture was made using locally sourced furniture to ... More



An-My Lę, Fragment II: Restoration of J. M. W. Turner's Port Ruysdael, Yale Center for British Art, New Haven, Connecticut, 2018, from the series Silent General, pigment print, Yale Center for British Art, courtesy of the artist and Marian Goodman Gallery, © An-My Lę.



NEW HAVEN, CONN.- The Yale Center for British Art announced the acquisition of a large-scale photograph by An-My Lę (Yale MFA 1993). Fragment II: Restoration of J. M. W. Turner's Port Ruysdael, Yale Center for British Art, New Haven, Connecticut, 2018, from the series Silent General, is an intriguing, behind-the-scenes image of the Center's Turner painting while it was being restored. "Impressive in its scale and ability to capture the painterliness of its subject, this photograph is the first work by a Yale School of Art alumna to enter the Center's collections," said Director Courtney J. Martin. "Following the energy galvanized by the anniversaries of Yale's coeducation in 2019–20, the Center has made a concerted effort to diversify our collections by including more women and artists of color and to support alums." Lę, whose ... More

Hong Kong Spring Fine Art Sales | A Virtual Exhibition Tour

Flashback
On a day like today, Ukrainian-American sculptor Louise Nevelson died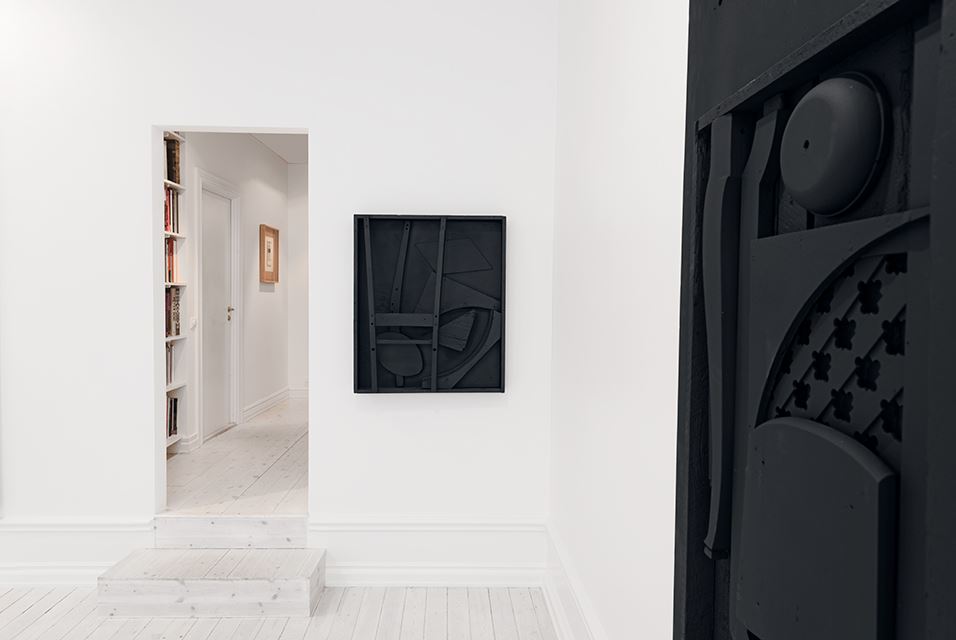 April 17, 1988. Louise Nevelson (September 23, 1899 - April 17, 1988) was an American sculptor known for her monumental, monochromatic, wooden wall pieces and outdoor sculptures. In this image: Installation view of an exhibition at McCabe Fine Art that presented a diverse selection of Louise Nevelson's late career works.
---

Museums, Exhibits, Artists, Milestones, Digital Art, Architecture, Photography,
Photographers, Special Photos, Special Reports, Featured Stories, Auctions, Art Fairs,
Anecdotes, Art Quiz, Education, Mythology, 3D Images, Last Week,

.
---
Royalville Communications, Inc
produces: