Caligula's Garden of Delights, unearthed and restored
A theatrical mask in marble dust, recovered from the Horti Lamiani, the pleasure garden of the Roman emperor Caligula, at the Nymphaeum Musem in Rome, Dec. 9, 2020. Nadia Shira Cohen/The New York Times.

by Franz Lidz
NEW YORK
(NYT NEWS SERVICE)
.-
The fourth of the 12 Caesars, Caligula — officially, Gaius Julius Caesar Germanicus — was a capricious, combustible first-century populist remembered, perhaps unfairly, as the empire's most tyrannical ruler. As reported by Suetonius, the Michael Wolff of ancient Rome, he never forgot a slight, slept only a few hours a night and married several times, lastly to a woman named Milonia. During the four years that Caligula occupied the Roman throne, his favorite hideaway was an imperial pleasure garden called the Horti Lamiani. The vast residential compound spread out on the Esquiline Hill, one of the seven hills on which the city was originally built, in the area around the current Piazza Vittorio Emanuele II. There, just on the edge of the city, villas, shrines and banquet halls were set in carefully constructed "natural" landscapes. An early version of a wildlife park, the Horti Lamiani featured orchards, fountains, terraces, a bathhouse adorned with precious col ...
More
The Best Photos of the Day
Christie's to offer Old Master & British Drawings including property from The Cornelia Bessie Estate
Surrealism library gifted to Museum Boijmans Van Beuningen
Guggenheim names first Black Deputy Director and Chief Curator


Jean-Étienne Liotard (Geneva 1702–1789), Portrait of Philibert Cramer, with period frame and glass pastel on blue paper, mounted on canvas, 25 x 21¼ in. (63.5 x 53.8 cm). Estimate: $400,000-600,000. © Christie's Images Ltd 2021.



NEW YORK, NY.- Christie's online auction Old Master & British Drawings including property from The Cornelia Bessie Estate will be offered for sale 14-28 January and will feature works from the 15th to the 19th centuries, with a particular focus on drawings by some of the greatest 18th century French artists. A rare highlight of the auction appearing on the market for the first time is Jean-Étienne Liotard's pastel Portrait of Philibert Cramer, one of Voltaire's publishers, which is offered by his descendants (estimate: $400,000-600,000). The dashing sitter is identified on a label on the back of the canvas as Philibert Cramer (1727-1779), who together with his brother Gabriel, were the principal publishers of Voltaire and responsible for the first editions of major works such as the novel Candide. Liotard is closely associated with the medium of pastel and the portrait is a striking demonstration of his art, characterized ... More



Theo van Baaren, Offrande (Offer), 1989, Museum Boijmans Van Beuningen 2018, Rotterdam. Gift from the artist to Laurens Vancrevel and Frida de Jong 1989.



ROTTERDAM.- Museum Boijmans Van Beuningen is to receive a unique and impressive library of Surrealist works. It represents an important addition to the museum's world-famous Surrealism collection. The gift from the collectors Laurens Vancrevel and his partner Frida de Jong includes monographs, catalogues and literature on Surrealism, ranging from poetry and prose to essays, published in several languages. More than four thousand, mostly unique, titles from the beginnings of Surrealism up to the present day will be transferred to Boijmans at a time to be agreed. The gift means that the museum will have a very extensive Surrealism library in the future. With this in mind, the museum has conceived the idea of opening a study centre to focus on Surrealism, which will be the first in the world. Boijmans's Surrealism collection began to come together in the early nineteen-sixties. It makes Rotterdam the only city in the Netherlands to hold ... More



Senior Curator Naomi Beckwith at the Museum of Contemporary Art Chicago, July 30, 2018. Whitten Sabbatini/The New York Times.

by Robin Pogrebin



NEW YORK (NYT NEWS SERVICE).- Three months after Nancy Spector stepped down as artistic director and chief curator of the Guggenheim Museum amid charges of racism, the museum named Naomi Beckwith, who is Black, to the position of deputy director and chief curator. "If you look out over the cultural landscape — particularly in the U.S. — she is quite obviously one of the outstanding leaders of today with a huge potential as well," said Richard Armstrong, the museum's director. "She's very adept at issues of identity and, particularly, multidisciplinary art. We have to think about the Guggenheim's growth over the next few years, so it needs to be a person with enormous capacity." Beckwith, 44, who since 2018 has served as senior curator of the Museum of Contemporary Art Chicago, will oversee collections, exhibitions, publications, curatorial programs and archives in her new position, which starts in June. ... More
303 Gallery opens an exhibition of works by Rodney Graham
Mike D is cleaning out the family attic
The real dire wolf ran into an evolutionary dead end


Rodney Graham, Untitled, 2021. Oil and sand on canvas, 60 x 50 inches (152.4 x 127 cm), 67 1/8 x 57 1/16 inches (170.5 x 144.9 cm) framed.



NEW YORK, NY.- For their latest Viewing Room, 303 Gallery presents a new series of sand on canvas paintings by Rodney Graham. Rodney Graham's lightboxes, in which the artist portrays himself as archetypes drawn from the realms of art and pop culture, are distinguished by their highly detailed sets and props, which unite and expand upon his practices in painting, photography, sculpture and film. Beyond the frame, Graham often takes his role one step further, assuming the artistic output of his character to create an invented practice within his own. This Project Room exhibition presents examples from two series of prop works: a selection of sculptural pipe cleaner maquettes, created in connection to his 2013 lightbox, "Pipe Cleaner Artist, Amalfi, '61," and a sand on canvas work from an ongoing series of paintings, which originated as props featured within (and exhibited alongside) his 2018 lightbox, "Vacuuming the ... More



Mike Diamond, of the Beastie Boys, at the Sotheby's Office in Los Angeles, Nov. 14, 2020. Devin Oktar Yalkin/The New York Times.

by Alex Pappademas



NEW YORK (NYT NEWS SERVICE).- In one of his earliest visual memories, Michael Diamond is 2 or 3 years old, crawling around on the floor of his parents' apartment on Central Park West, looking up at massive canvases he now knows were paintings by Mark Rothko and Barnett Newman. "These very intense paintings, and they're big in scale," he said. Despite this exposure, Diamond, 55, did not grow up to be a painter, and he collects only records. In the early 1980s, he helped found the Beastie Boys, a hard-core punk band that evolved first into a tongue-in-cheek rap group and then a somewhat serious one. (We know him as Mike D.) Recently he was surrounded by some of his mother's objects when they were displayed in the Los Angeles offices of Sotheby's, on the 29th floor of an office tower in Century City. ... More



An illustration provided by Mauricio Antón shows dire wolves fighting with grey wolves over a kill. Mauricio Antón via The New York Times.

by James Gorman



NEW YORK (NYT NEWS SERVICE).- The dire wolf, an animal many people know from its fictional incarnation in "Game of Thrones," was a heavy-boned, powerful predator that roamed North America up to about 11,000 years ago, or perhaps even later, preying on large animals like extinct horses, bison, sloths and even mammoths. While it was nowhere near as big as its television version, the dire wolf was about 20% larger on average than the gray wolf, and it was long considered a sister species, Canis dirus, rather than Canis lupus. But an international team of scientists reported Wednesday in the journal Nature that the first sequencing of the dire wolf genome showed an unexpectedly large genetic separation between the two species, big enough that the dire wolf is not just a separate species but a separate genus. They resurrected an old ... More
Staley Wise Gallery presents an exhibition of photographs by Kurt Markus
Michael Werner Gallery opens an exhibition of recent paintings by Markus Lüpertz
Tintin painting sells for record 3.2 mln euros at auction


Kurt Markus, Shawn Biggs and Rick Erington, Spanish Ranch, Nevada, 1983 © Kurt Markus / Courtesy Staley-Wise Gallery, New York.



NEW YORK, NY.- Kurt Markus was born in Montana in 1947 and lived there for most of his life until his recent move to Santa Fe. His deep western roots are reflected in his photographs. Among his varied subjects are landscape, dunes, fashion, travel, and portraiture, all of which are photographed with his unique and highly developed personal style. His photographs of present-day cowboys going about their tasks in a vast landscape are a throwback to an earlier time. His portraits of boxers and the community in rural Mississippi are deeply humanist and are portrayed with a rare warmth and compassion. The style and wit of Kurt Markus' fashion photographs show another dimension of his work, where models are people and not just mannequins, and contribute their personality to these photographs. His nudes are sensual and graceful and always beautiful. Kurt Markus has printed and toned each gelatin silver photograph in the exhibition by himself in his personal darkroom, something increasingly rare in the ... More



Markus Lüpertz, Nymphe (Gelb) (Nymph [Yellow]), 2018. Mixed media on canvas in artist's frame, 39 1/4 x 32 inches, 100 x 81 cm. Courtesy Michael Werner Gallery, New York and London.



LONDON.- Michael Werner Gallery, London is presenting an exhibition of recent paintings by Markus Lüpertz. The exhibition is currently available to view online and will open at the Gallery once the current coronavirus (Covid-19) restrictions lift. Painted over the last four years in Italy and Germany, the paintings masterfully combine Southern and Northern European painting traditions while presenting work that is new, innovative and contemporary. The art historian Eric Darragon has called Lüpertz "a contemporary artist who wants a future for his works and finds it by thinking about the past." In this new body of work, Lüpertz returns to the theme of Arcadia, a classic, pastoral utopia. Figures are pulled from Italian Renaissance and Dutch Golden Age paintings, given identities as characters from Greek mythology and placed into idyllic landscapes, largely inspired by the surroundings of the artist's studio in Märkisch Wilmersdorf, Germany. A veteran painter who has exhibited inte ... More



The gouache, ink and watercolour creation measures 34 by 34 centimetres (13 inches) and features Tintin and his dog Snowy emerging from a porcelain jar in front of a menacing depiction of a Chinese dragon.



PARIS (AFP).- An original painting by Tintin creator Herge sold for a record 3.2 million euros ($3.9 million) at an online auction on Thursday, auction house Artcurial announced. The item, intended as a front cover for "The Blue Lotus" volume from 1936, easily beat the previous record for the sale of comic book art of 2.65 million euros, which was reached in 2014 for a double-page drawing by Herge. The gouache, ink and watercolour creation measures 34 by 34 centimetres (13 inches) and features Tintin and his dog Snowy emerging from a porcelain jar in front of a menacing depiction of a Chinese dragon. It was judged to be too expensive to reproduce by the Herge's publisher, which ultimately used a simplified version of the same scene for "The Blue Lotus" cover. The selling price -- higher than Artcurial's estimate of 2.2-2.8 million euros -- underscores the tremendous appetite for original memorabilia of Tintin, whose adventures have entertained people of all ages since the 1930s. The buyer was a "pr ... More
Barbara Weisberger, a force in American ballet, dies at 94
Indigenous beadwork flourishes on Instagram
a/political presents Andrei Molodkin with Robin Bell's "White House Filled with the Blood of U.S. Citizens"


Barbara Weisberger. Photo: Christopher Gabello, 2018.



NEW YORK (NYT NEWS SERVICE).- Barbara Weisberger, who founded the Pennsylvania Ballet in Philadelphia with a steadfast vision that transformed the troupe into a nationally acclaimed company, died on Dec. 23 at her home in Kingston, Pennsylvania. She was 94. Her death was reported by her family. Originally trained in ballet in New York and Philadelphia, young Barbara, like many children, loved studying dance but never had a career as a dancer in a professional company. Instead, she became an influential ballet teacher who played an important role in the development of regional ballet in America. She had also been the first child accepted by George Balanchine in the school he opened in Manhattan in 1934. It was a link that was renewed after her family moved to Wilkes-Barre, Pennsylvania, where she opened a ballet school in 1953 and attended seminars that Balanchine organized for teachers associated with small community troupes. Weisberger went on to establish another school, in Philadelphia, in 1962 and the Pennsylva ... More



A pair of earrings, beaded onto smoked hide, by the Cherokee artist Tayler Gutierrez. Photo: Tayler Gutierrez.

by Anna V. Smith



NEW YORK (NYT NEWS SERVICE).- Last year, after the museum that Tayler Gutierrez worked at in Salt Lake City closed temporarily because of the coronavirus, she turned to her beadwork. A citizen of the Cherokee Nation of Oklahoma, Gutierrez, 24, had been practicing beadwork for years after learning from a mentor, Diné poet Tacey Atsitty, and she already had a modest following on her Instagram page, where she posted her custom hat brims, earrings and leather pouches. But when the museum reopened in May, Gutierrez decided to take a much bigger leap: She put in her resignation notice and committed full time to her craft. In July, she dropped her first collection of beadwork on Instagram. It included a set of earrings layered with two-tiers of dentalium shells and Swarovski crystals, and another pair with blooming flowers stitched with beads onto moose hide. She teased the 30 pieces in the collection with photos on Instagram before she made them ... More



"White House Filled with the Blood of U.S. Citizens" by Andrei Molodkin; projection by BellVisuals; photography by Andre Chung. Trump Hotel, Washington, D.C., Jan. 2021.



WASHINGTON, DC.- Controversial Russian-born artist Andrei Molodkin collaborates with D.C.-based multimedia artist Robin Bell to present Molodkin's latest work, "White House Filled with the Blood of U.S. Citizens." For the original artwork, real blood donated by American citizens pours through a clear acrylic sculpture of the White House. In Washington, D.C. a video representation was projected onto the exterior of the Trump Hotel in the week between the insurrection at the Capitol and the 2021 Presidential Inauguration. Bell and Molodkin have identified the Trump Hotel as a pseudo-White House for the current administration – exemplifying the inextricable link between politics, money, personal power and ego. Events over the past few weeks, specifically the attempted coup on January 6th and record death toll from COVID-19, have driven home the fact that people are both willing to die for their government, and are unwittingly sacrificed due to their government's inactions. The art ... More

Hester Diamond: The Life of a Fearless and Visionary Collector

Flashback
On a day like today, German photographer Andreas Gursky was born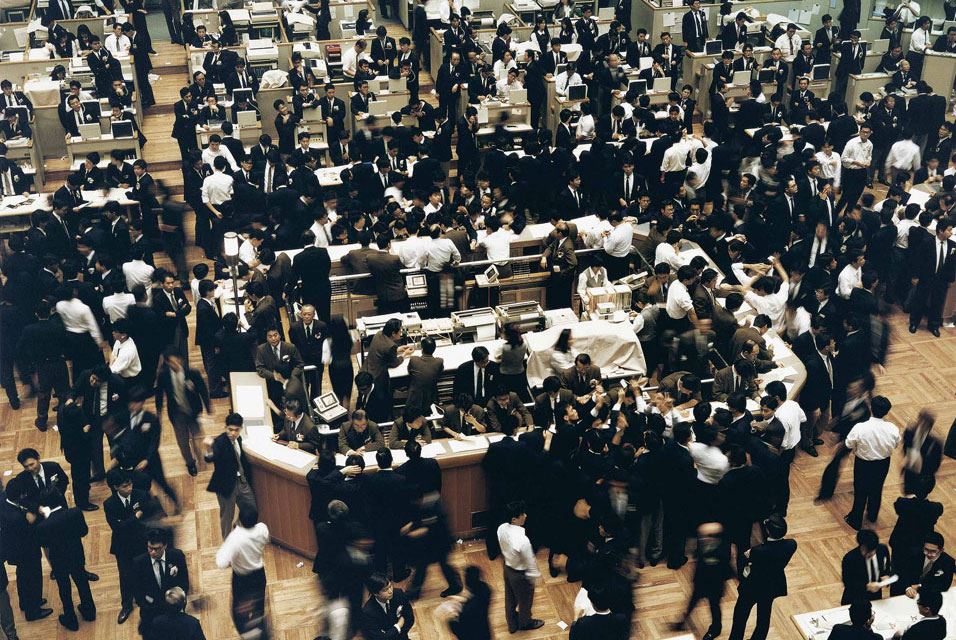 January 15, 1955. Andreas Gursky (born 15 January 1955) is a German photographer and professor at the Kunstakademie Düsseldorf, Germany. He is known for his large format architecture and landscape colour photographs, often employing a high point of view. In this image: Andreas Gursky, Tokyo Stock Exchange 1990. C-Print 205.0 x 260.0 x 6.2 cm © Andreas Gursky /VG Bild-Kunst. Licensed by VISCOPY, Australia. Courtesy: Monika Sprüth / Philomene Magers, Berlin London.
---

Museums, Exhibits, Artists, Milestones, Digital Art, Architecture, Photography,
Photographers, Special Photos, Special Reports, Featured Stories, Auctions, Art Fairs,
Anecdotes, Art Quiz, Education, Mythology, 3D Images, Last Week,

.
---
Royalville Communications, Inc
produces: