New room presents works related to the man who built the Mauritshuis
The new room 'Johan Maurits and the Mauritshuis' with works related to Johan Maurits, Count of Nassau-Siegen, at the Mauritshuis museum in The Hague, the Netherlands, on September 22, 2020.
THE HAGUE
.-
From today, the
Mauritshuis
in The Hague presents a new permanent display in one of the rooms of the museum. The room contains works related to Johan Maurits, Count of Nassau-Siegen and the man who built the Mauritshuis in the 17th century. The Mauritshuis previously considered Johan Maurits primarily from an art historical perspective; this new display also tells the story of his role as governor of the colony Dutch Brazil and in the transatlantic slave trade. In addition to the new museum room, attention will also focus on the research from the recently-launched project 'Revisiting Dutch Brazil and Johan Maurits'. In a recent article written by two Mauritshuis researchers, new facts about Johan Maurits and his role in the slave trade were revealed. As well as these findings, the museum today also announces the names of the four researchers who will examine different aspects of Dutch Brazil and Johan Maurits over the co ...
More
The Best Photos of the Day
Philip Guston blockbuster show postponed by four museums
Luchita Hurtado: The elusive artist portrays herself
Polish sculptor unveils 'superhuman' John Paul II


Philip Guston, Painting, Smoking. Eating 1973 (detail). Stedeljik Museum, Amsterdam © The Estate of Philip Guston, courtesy Hauser & Wirth.

by Julia Jacobs



NEW YORK (NYT NEWS SERVICE).- Four major art museums said they are postponing until 2024 a much-awaited retrospective of modernist painter Philip Guston after taking into account the surging racial justice protests in the country, adding that the work needed to be framed by "additional perspectives and voices." The works that the museums appear to be grappling with include white hooded Ku Klux Klan figures, a motif in the politically-engaged artist's work since the early 1930s. The four museums that organized the exhibit, called "Philip Guston Now," include the National Gallery of Art in Washington, the Museum of Fine Arts, Houston, the Tate Modern in London, and the Museum of Fine Arts, Boston. In a joint statement released quietly Monday, the museum directors said that they were "postponing the exhibition until a time at which we think that the powerful message ... More



Luchita Hurtado, Untitled, c. 1970s. Crayon, graphite, and ink on paper, 60.3 x 45.7 cm / 23 3/4 x 18 in. © Luchita Hurtado. Courtesy the artist and Hauser & Wirth. Photo: Thomas Barratt.

by Roberta Smith



NEW YORK (NYT NEWS SERVICE).- Whenever I find that I'm getting nowhere with something I'm writing, I ask myself a fallback question such as an editor might raise: What does the reader need to know now? Shifting the viewpoint from maker to user often helps. The question is one that Hauser & Wirth might have considered when organizing "Luchita Hurtado: Together Forever," an exhibition in Chelsea of nearly three dozen works by the Venezuelan-born artist, who died in Santa Monica, California, last month at 99. What of Hurtado's work does the viewer — or more specifically, the New York viewer — need to see now? The answer is not this exhibition of mostly bland self-portrait drawings showing the artist as a simple outline or silhouette. These are redeemed by too few of her more intense acrylic paintings from the last two years, all spread sparsely throughout a ... More



Jerzy Kalina's installation Poisoned Well commemorates Pope John Paul II on the centenary of his birth.



WARSAW (AFP).- An unusual sculpture depicting Saint John Paul II holding up a meteorite was unveiled in Warsaw on Thursday -- an artistic response to a controversial statue showing the rock striking down the late pope. Jerzy Kalina's installation outside the National Museum, titled "Poisoned Source", shows the Polish pope holding the meteorite high over a pool of red water representing blood. "In Kalina's view, John Paul II is not a powerless old man crushed by a meteorite, but a titan of superhuman strength," the museum said in a statement on its website. The installation has already prompted online derision and criticism from art commentators who said it simply reflects the ultra-Catholic outlook of Poland's populist government. One image shared on social media transforms the statue into a depiction of a plane passenger trying to put a suitcase into an overhead compartment, while another showed people fleeing the advance of a giant version of the statue. Italian artist Maurizio Cattelan drew contro ... More
Aboriginal artist wins prestigious Australian prize for first time
Tourists travel secret tunnels of Albania's communist-era paranoia
October Art Week announces 5th edition of prominent Upper East Side gallery participants


Vincent Namatjira. Courtesy of the artist and Iwantja Arts. Photo: Meg Hansen.



SYDNEY (AFP).- An Aboriginal painter won Australia's most renowned arts prize for the first time in its 99-year history Friday for a portrait of indigenous footballer and activist Adam Goodes. Vincent Namatjira took the Au$100,000 ($70,000) Archibald Prize for the painting "Stand strong for who you are", which features Goodes clasping hands with the artist. "I'm so proud to be the winner of the Archibald Prize, and to be the first Aboriginal artist to win is really special," Namatjira said during the award ceremony via video link from his home in the Anangu Pitjantjatjara Yankunytjatjara Lands in South Australia. Namatjira, 37, said he'd been inspired to paint the portrait after watching a 2019 documentary, "The Final Quarter", which recounts the last years of Goodes' career as an Australian Rules footballer and the controversy which swirled after he spoke out against racism in the sport. "When I saw the documentary ... my guts were churning as I relived Adam's ... More



In this photograph taken on February 2, 2020, Astrit Imeri, a former soldier, walks inside The Cold War Tunnel Museum at Gjirokastra, Albania. Gent SHKULLAKU / AFP.

by Briseida Mema and Emmy Varley



GJIROKASTRA (AFP).- Snaking beneath a fortress in southern Albania, a covert tunnel network built during the communist era captures the secrecy and paranoia that defined the long rule of tyrant Enver Hoxha. Today communism is gone and the military bunker is a tourist attraction, still drawing rare visitors during the pandemic, when themes of fear, isolation and confinement are particularly resonant. The sprawling underground complex, now dubbed the Cold War tunnel, is part of a vast and costly "bunkerisation" project spearheaded by Hoxha, who feared foreign invasion during his 40-year isolationist rule. In order to fortify the hermit state, he oversaw the construction of more than 170,000 military bunkers across Albania. Most are small dome-shaped structures, built as sentry ... More



Julian Barrow, PJ. Clarke's, New York (detail). Oil on canvas, 9 x 12 inches (detail). Courtesy Mark Murray Fine Paintings.



NEW YORK, NY.- October Art Week announced its 5th edition that will run from October 9 - 18. This year's programming will offer by appointment in-person visits and expanded virtual presentations that will welcome art lovers to discover the dynamic fall 2020 exhibitions from top pre-contemporary Upper East Side galleries. "During this time of upheaval, we look forward with optimism to our 5th edition of October Art Week. We believe this is a vital time to support our Upper East Side galleries, the vibrant local community, and New York's art scene at large under the current circumstances of the pandemic," states directors Lydia Melamed Johnson and LeeAna Wolfman. OAW 2020 has been moved up to an earlier date than in years past to coincide with the fall auction schedule, notably Christie's Classic Week (October 1-20), including their Old Masters masterworks live auction (October 15), and Sotheby's sale dedicated ... More
Garage Museum of Contemporary Art opens 2nd Garage Triennial of Russian Contemporary Art
Historic Howard Finster painting highlights Slotin Folk Art Auction's Self-Taught Art Masterpiece Sale
UK artist aims to unite with 'humanity-inspired' work


lekha g., Craft (Counterfeits), 2020. Photo: Yuri Palmin © Garage Museum of Contemporary Art.



MOSCOW.- Garage Triennial of Russian Contemporary Art is a major project by Garage Museum of Contemporary Art that aims to foster the development of Russia's contemporary art scene. The first Triennial in 2017 featured works by over 60 artists, selected by Garage curators during research trips across the country. The 2nd Garage Triennial, curated by Valentin Diaconov and Anastasia Mityushina, was inspired by the book After Method: Mess in Social Science Research (2004) by British sociologist John Law. In this work, Law identified a crisis in the social sciences in today's multipolar and multicultural world, and suggested that rigid models and classifications be replaced by a non-coherent method that brings social classes together with religious communities and subcultures with ontologies (pictures of the world). A Beautiful Night for All the People is a complex assemblage based on the inaugural Triennale, the participants of which se ... More



Sam Doyle, "U.S.N. Honey Driper," paint on found roofing tin, 27.5 inches wide by 45.5 inches high. Est. $12,000-$15,000.



BUFORD, GA.- An early Howard Finster painting believed to be his largest, yet one of the least well-known of his early masterworks, will be the highlight of Slotin Folk Art Auction's Self-Taught Art Masterpiece Sale on Nov. 14, 2020. The Buford, Ga.-based auction house has handled the sale of many early Finster pieces, but never one as large as the 1977 painting "Chelsea Baptist Church," numbered 641, which measures 103.5 inches wide by 44 inches high including frame. The narrative painting, tractor enamel on Masonite, is centered around the Northwest Georgia church where the preacher-turned-folk-artist ministered from 1950 to 1965. Steve Slotin considers the work historically important in the oeuvre of one of the 20th century's most celebrated folk artists. "This piece is powerful because it's a personal piece," he said. "It was meant to be viewed by people attending a Sunday service. Howard was all ... More



Contemporary British artist Sacha Jafri sits on his record-breaking painting entitled 'The Journey of Humanity' on September 23, 2020, in the Emirati city of Dubai. GIUSEPPE CACACE / AFP.

by Dana Moukhallati



DUBAI (AFP).- British artist Sacha Jafri paces barefoot back and forth across his giant canvas stretched across the ballroom floor of a luxury Dubai hotel, listening to a young girl singing. She performed Friday on the almost-completed canvas measuring just under 2,000 square metres (20,000 sq feet), before it is broken down next week into 60 framed works. His goal is to set a new Guinness World Record for the largest art canvas and raise $30 million to fund health and education initiatives for children in impoverished parts of the world. The 44-year-old contemporary artist says he hopes to double that amount when parts of his "Journey of Humanity" work go up for auction in February 2021. "They will own a piece of the largest painting ever created, but more than that they'll own a piece of history and, ... More
Comprehensive overview of Thomas Ruff's work on view in Dusseldorf
Sotheby's Hong Kong Chinese Works of Art Autumn Sales to feature 'Monochrome II'
Exhibition at the Menil Collection features seven large-scale works by Allora & Calzadilla


Thomas Ruff, tableau chinois_03, 2019, C-Print, Edition 01/04, 240 x 185 cm, © VG Bild-Kunst, Bonn 2020.



DUSSELDORF.- With the exhibition Thomas Ruff, the Kunstsammlung Nordrhein-Westfalen presents a comprehensive overview of one of the most important representatives of the Düsseldorf School of Photography. The exhibition ranges from series from the 1990s, which document Ruff's unique conceptual approach to photography, to a new series that is now being shown for the first time at K20: For Tableaux chinois, Ruff drew on Chinese propaganda photographs. Parallel to Thomas Ruff's exhibition, the Kunstsammlung Nordrhein-Westfalen is also presenting highlights from the collection at K20 under the title Technology Transformation. Photography and Video in the Kunstsammlung, which also deals with artistic photography and technical imaging processes in art. "With his manipulations of photographs from many different sources, Thomas Ruff comments in an incredibly clever way on how we see images in a digitalized world. Through his virtuoso ... More



An Exceptional and Rare Huanghuali Six-Post Canopy Bed. Ming Dynasty, 17th Century, 226 by 156.2 by h. 226 cm. Est: HK$20,000,000 - 30,000,000 / US$2,580,000-3,870,000. Courtesy Sotheby's.



HONG KONG.- Sotheby's Hong Kong presents two carefully curated Chinese Works of Art Sales to be held on 9 October 2020, Monochrome II and Important Chinese Art. Monochrome II is the sequel to the highly successful Monochrome sale held in July. Highlights include a jadeite-green glazed jar and cover from the Ming dynasty, a superb silver-streaked Nogime Temmoku bowl from the Southern Song dynasty and a magnificent huanghuali six-post canopy bed from the Ming dynasty. Important Chinese Art is a tightly curated assemblage with a focus on fine and rare imperial porcelain and works of art from the Ming and Qing dynasties. Highlights include an exquisite Yongzheng famille-rose 'peach' bowl and a gilt-bronze figure of Bodhisattva Avalokiteshvara from the Song dynasty. Nicolas Chow, Chairman, Sotheby's Asia, International Head and Chairman, Chinese Works of Art, comments, "This season is highlighted ... More



Installation view of Allora & Calzadilla's, Manifest, 2020. Bat and bird guano, side B: 180 x 82 x 39 inches (449.6 × 208.3 × 99.1 cm). Commissioned by Leslie and Brad Bucher for exhibition at the Menil Collection; courtesy of Lisson Gallery, New York and London. © Allora & Calzadilla. Photo: Sarah Hobson.



HOUSTON, TX.- Early Christian texts describe acedia as a demon that besieges the soul at noon, when the day listlessly drags and delirious visions momentarily reign in the blinding light. From September 26, 2020, through June 20, 2021, summer solstice, the Menil Collection will present a major exhibition of seven sculptural works by the artists Allora & Calzadilla that revolve around this concept, serving as a manifestation of noon's hold over humankind and as a metaphor for the uncertainties defining our time. Created specifically for the Menil Collection's main building, Allora & Calzadilla: Specters of Noon will use sounds, cast shadows, and novel sculptural materials to evoke an awe-inducing atmosphere of bewilderment and beauty. Rebecca Rabinow, director of the Menil Collection, said: "Since its founding, ... More

Franz Xaver Winterhalter's "Girl from the Sabine Hills" - Part 1: The Painting

Flashback
On a day like today, French painter and lithographer Théodore Géricault was born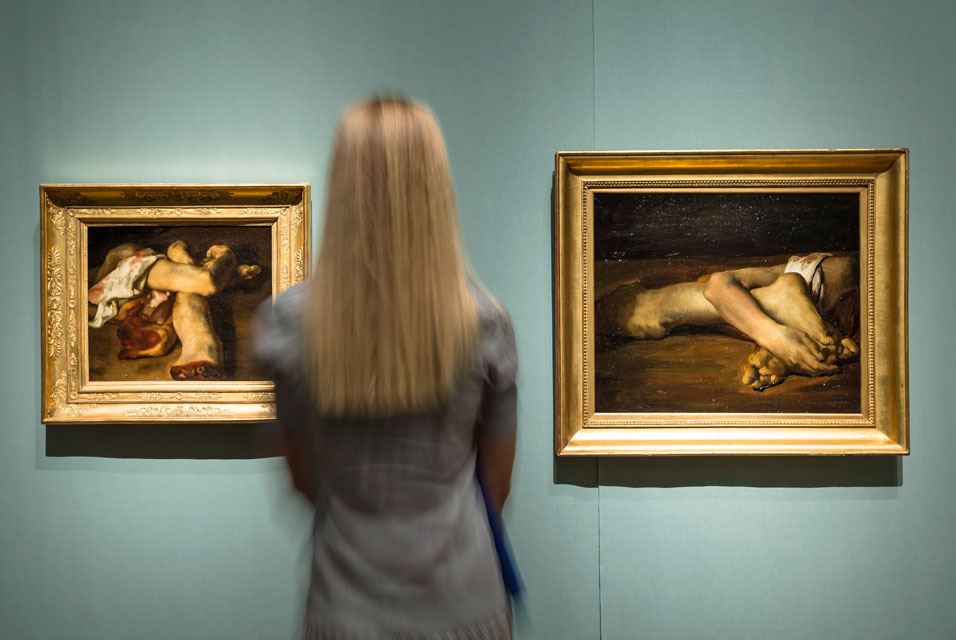 September 26, 2020. Jean-Louis André Théodore Géricault (26 September 1791 - 26 January 1824) was an influential French painter and lithographer, whose best-known painting is The Raft of the Medusa. Although he died young, he was one of the pioneers of the Romantic movement. Born in Rouen, France, Géricault was educated in the tradition of English sporting art by Carle Vernet and classical figure composition by Pierre-Narcisse Guérin, a rigorous classicist who disapproved of his student's impulsive temperament while recognizing his talent. In this image: Géricault. Images of Life and Death. Exhibition view© Schirn Kunsthalle Frankfurt, 2013 Photo: Norbert Miguletz.
---

Museums, Exhibits, Artists, Milestones, Digital Art, Architecture, Photography,
Photographers, Special Photos, Special Reports, Featured Stories, Auctions, Art Fairs,
Anecdotes, Art Quiz, Education, Mythology, 3D Images, Last Week,

.
---
Royalville Communications, Inc
produces: