At Art Basel, everyone's playing it safe
Augustus Serapinas, Mudmen, 2020 © Art Basel.

by Scott Reyburn
BASEL
.-
Psychologists call it the "mere exposure effect": Humans like what they already know, whether people, places, products — or works of art. There was certainly a reassuring familiarity about most of the works on display at the 51st edition of Art Basel, which opened for previews Tuesday and runs through Sunday. After three pandemic postponements since June last year, with online editions in the meantime, this was the first major in-person international art fair to be held in Europe since March 2020, when Tefaf Maastricht closed early after an exhibitor tested positive. "The emphasis is on the staid and the predictable," said Matthew Armstrong, a New York-based art adviser and curator, of this year's edition. "People want the reassurance of what they know," he added, having noted, like many others, the preponderance of modern and contemporary paintings by established names. Armstrong was among the fair's few American attendees after the U.S. St ...
More
The Best Photos of the Day
Artist Marco Brambilla on creating the visual intermezzos for Marina Abramovic's opera '7 Deaths of Maria Callas'
Andrew Jones will sell important collections online, October 10th and 24th
He taught ancient texts at Oxford. Now he is accused of stealing some.


Norma.

by Valérie Sallier



ATHENS.- After over a year since premiering at the Bavarian State Opera in Munich during the pandemic, Serbian performance artist Marina Abramovic began the first leg of her tour in Paris on September 1 for "7 Deaths of Maria Callas" – an opera project centered on seven arias once performed by the American-born Greek soprano, Maria Callas. A tragedy exploring the opera singer as she reached the end of her life, Callas is invoked by Marina Abramovic's performances on stage, original music by Marko Nikodijević, and a series of short films co-starring Hollywood actor Willem Dafoe. Born in 1923, Callas was part of the 1950s "bel canto revival" when the Italian vocal style gained renewed interest after vanishing in the early 19th century. You can recognize the bel canto repertoire by its long, silvery vocal phrases and careful use of accents, curling up the scale to emphasize a musical composition's mood and meaning. Callas was ... More



Late 19th century Louis XV style gilt bronze boar form mantel clock (estimate: $3,000-$5,000).



LOS ANGELES, CA.- Andrew Jones Auctions will burst into autumn with a pair of outstanding online-only auctions: the collection of Lady Victoria White of Beverly Hills, best described as English country house meets California chic, on Sunday, October 10th; then, Part 1 in a series of auctions dedicated to the John Nelson collection on Sunday, October 24th. The string of sales for the John Nelson collection will be a celebration of the unerring eye of a more than 50-year Los Angeles design and antiques institution, the man behind the eponymous John Nelson Antiques. The collection features Chinese porcelain, paintings, French decorative arts, sculpture, antiquities, Grand Tour objects, European furniture, mirrors and chandeliers. "We are incredibly honored to have been entrusted with these two incomparable collections," said Andrew Jones, President and CEO of Andrew Jones Auctions. "The collection of Lady Victoria White tells a ... More



The Sackler Library, which houses the Oxyrhynchus Papyri Project with more than 500,000 fragments of literary and documentary texts dating from the third century BC to the seventh century AD, in Oxford, England. Jonathan Player/The New York Times.

by Colin Moynihan



NEW YORK, NY.- He had impeccable credentials. No one disputes that. Dirk Obbink was an esteemed lecturer at the University of Oxford. He had received a MacArthur Foundation grant in 2001 for his work with papyrus, and held a prominent post helping to run the Oxyrhynchus Papyri — the world's largest collection of ancient papyri, held by the Egypt Exploration Society and housed at Oxford's Sackler Library. So roughly a decade ago when the craft-shop chain Hobby Lobby began to build a collection of ancient artifacts related to the Bible, it made sense to touch base with Obbink. Hobby Lobby president Steve Green was leading an effort to create a national museum that focused on the Bible. So between 2010 and 2013, the ... More
Ancient footprints re-write humanity's history in the Americas
The 'Dream Tablet' nears the end of a long journey home
Dutch man gets eight years for Van Gogh, Hals thefts


Researchers work on excavating a footprint in the bottom of trench at White Sands National Park in New Mexico. Human footprints found in New Mexico are at least 23,000 years old, a study reported, suggesting that people may have arrived long before the Ice Age's glaciers melted. Dan Odess via The New York Times.



LOS ANGELES, CA.- Footprints dating back 23,000 years have been discovered in the United States, suggesting humans settled North America long before the end of the last Ice Age, research published Thursday showed. The findings push back the date at which the continent was colonized by its first inhabitants by thousands of years. The footprints were left in mud on the banks of a long-since dried up lake, which is now part of a New Mexico desert. Sediment filled the indentations and hardened into rock, protecting evidence of our ancient relatives, and giving scientists a detailed insight into their lives. "Many tracks appear to be those of teenagers and children; large adult footprints are less frequent," write the authors of the study published in the American journal Science. "One hypothesis for this is the division of labor, in which adults are involved in skilled tasks whereas 'fetching and carrying' are delegated to teenagers. ... More



Patty Gerstenblith (L), a professor at DePaul University, and Katharyn Hanson (R), a cultural heritage preservation scholar at the Smithsonian Institute, look at the Gilgamesh Tablet. SAUL LOEB / AFP.

by Tom Mashberg



NEW YORK, NY.- A 3,500-year-old clay tablet inscribed with a portion of one of humanity's oldest epics was handed over to the Iraqi government Thursday, the culmination of a 30-year odyssey which saw the hand-sized object looted from a northern Iraqi museum, sold by a British auction house and housed in a Washington collection before being seized by Homeland Security agents. Known as the Gilgamesh Dream Tablet, the object is the last — and most storied — of about 17,000 artifacts that have been publicly returned to Iraq since August as part of a global drive to draw attention to the illicit trade in ancient treasures. "This exceptional restitution is a major victory over those who mutilate heritage and then traffic it to finance violence and terrorism," said the director-general of UNESCO, Audrey Azoulay, whose agency helped organize the restitution ceremony at the Smithsonian Institution in Washington. "By ... More



Vincent van Gogh's "The Parsonage Garden at Nuenen in Spring." A three-judge panel in the Netherlands on Friday found a man guilty of stealing paintings by van Gogh and Frans Hals from museums in separate thefts and sentenced him to eight years in prison and a hefty fine. Via Groninger Museum via The New York Times.



THE HAGUE.- A Dutch court sentenced a man to eight years in jail Friday for stealing two paintings by Vincent van Gogh and Frans Hals from small museums, although the works themselves remain missing. The man, identified in the Dutch media as Nils M., 59, was arrested in April in the central town of Baarn for last year's thefts of Van Gogh's 1884 work "Parsonage Garden at Nuenen in Spring", and 17th century painter Hals's "Two Laughing Boys". "With the thefts, this man not only brought enormous harm to the museums, but also to society and the international public," the Lelystad District Court said. "They can no longer view and enjoy the paintings," the court said in a statement. The Van Gogh painting was stolen from the Singer Laren Museum near Amsterdam in March 2020 while it was closed due to coronavirus measures. It is around 10 kilometres (six miles) from Baarn ... More
High Museum launches LINK Digital Publishing Platform
Italian Baroque busts worth over £850,000 at risk of leaving UK
Scale model helps blind and partially-sighted visitors to enjoy a museum visit more independently


The LINK user experience (UX) and user interface (UI) design was created by multispecialty design studio C&G Partners. Image courtesy C&G Partners.



ATLANTA, GA.- This month, the High Museum of Art launches LINK, a digital platform that extends the reach and accessibility of the Museum's collection and exhibitions by providing new ways to experience them online. The first LINK project, for the High's recently opened collection-based exhibition "Really Free: The Radical Art of Nellie Mae Rowe," debuted on Sept. 3 at link.rowe.high.org. On the site, visitors can learn about Rowe's life and artwork through interactive content including a timeline, videos, exhibition texts, high-resolution images and a digital guestbook. Future LINK projects also will relate directly to the High's collection and feature exclusive scholarship, virtual tours and archival materials available as online resources for Museum visitors, scholars, students and educators. "The High has always maintained a robust program for publishing exhibition catalogues, but this is an entirely new plat ... More



Busts of Aristotle and Homer attributed to sculptor Giuliano Finelli are at risk of leaving the country.



LONDON.- Two 17th-century Italian Baroque busts of Aristotle and Homer worth over £850,000 and attributed to sculptor Giuliano Finelli are at risk of leaving the country unless a UK buyer can be found to save the pieces for the nation. Finelli trained in the workshop of renowned sculptor Gian Lorenzo Bernini, the artist credited with creating the Baroque style of sculpture, with the busts demonstrating Finelli's extraordinary understanding of his material. Examples of Finelli's work outside Italy and Spain are rare and the superbly carved Bust of Francesco Bracciolini in the Victoria and Albert Museum is the only work by him in the UK. The busts come from the celebrated art collection of the Earls of Derby, which was largely amassed by James Stanley, 10th Earl of Derby between 1664 and 1736. While the painting collection is well documented, the smaller collection of sculptures is yet to be fully explored. The loss of these rare busts would deny the opportunity for further study of the ... More



Detail of the scale model at the Van Gogh Museum, developed with the support and expertise of the Bartiméus Fonds and Stichting Accessibility. Photo: Petra Dorenstouter.



AMSTERDAM.- As of today, a touchable scale model of the museum building is available at the entrance to the Van Gogh Museum. The model, which includes all floors and walking routes, is designed to help make a visit to the museum easier for everyone, but especially for blind and partially-sighted visitors. Visitors can now use the 3D-printed model (made by Local Makers) literally to feel their way around the museum building and find their bearings during their visit. The model is unique: the Van Gogh Museum is the first museum in the Netherlands to introduce a detailed touchable scale model of both the inside and outside of the building. Emilie Gordenker, Director of the Van Gogh Museum: 'Thanks to the support and expertise of the Bartiméus Fonds and Stichting Accessibility, we have made another step in improving accessibility to the Van Gogh Museum. We hope to make further ... More
Turner Contemporary appoints new Director
Two iconic series by Sally Mann on view at Galerie Karsten Greve
The Morgan opens an exhibition of drawings by Black artists from the Southern United States


Clarrie Wallis has been Tate's Senior Curator of Contemporary Art (British) since 2016 and a curator at Tate since 1999. Photo: Matt Greenwood.



MARGATE.- Turner Contemporary announced the appointment of its new Director, Clarrie Wallis. Wallis, who has been Tate's Senior Curator of Contemporary Art (British) since 2016 and a curator at Tate since 1999, will take up the position in January. She takes over from Turner Contemporary's Founding Director, Victoria Pomery, who left in September to be the new Chief Executive Officer at The Box, Plymouth after 14 years at the helm. With 2021 marking Turner Contemporary's 10th Anniversary, Wallis joins at an exciting time for the gallery and she brings with her a wealth of experience. At Tate, she has been responsible for leading on the strategic development, implementation and communication of Tate's vision for contemporary British Art. Wallis has curated many landmark exhibitions including Mark Leckey O' Magic Power of Bleakness (2019), Mike Nelson: The Asset Strippers (2019), Cerith Wyn Evans: ... More



Sally Mann, Deep South # 3, 1998. Ed. 2/10 + 3 AP. 47 x 37 1/4 in. © Sally Mann. Photo: Bildpunkt AG, Basel; Robert Bayer. Courtesy Galerie Karsten Greve Köln Paris St. Moritz.



PARIS.- Galerie Karsten Greve is presenting its new exhibition dedicated to the work of the American photographer Sally Mann in its Parisian gallery. Following the success of her large retrospective Sally Mann: Mille et un passages ("Sally Mann: A Thousand Crossings) at Jeu de Paume in 2019, the display is an opportunity to rediscover two iconic series by the artist: Deep South and Battlefields through a selection of thirty large-format prints produced at the turn of the 2000s. At a young age, Sally Mann started taking pictures in and around Lexington, Virginia, where she was born and still lives. She roamed the vast American outdoor spaces from the late 1970s, with nature a predominant presence in her snapshots. In 1996, she discovered the states neighbouring Virginia and travelled further into the Deep South. Initially envisaged as an exploration of those enthralling ... More



Nellie Mae Rowe, Untitled (Woman Talking to Animals), 1981. Black ballpoint pen, black porous-point pen, wax crayon, water-soluble oil pastel, and graphite on wove paper. 24 × 19 in. (61 × 48.3 cm). Photo: Janny Chiu. © 2021 Estate of Nellie Mae Rowe / Artists Rights Society (ARS), New York.



NEW YORK, NY.- The Morgan Library & Museum presents Another Tradition: Drawings by Black Artists from the American South, opening September 24, 2021, and running through January 16, 2022. This exhibition celebrates the Morgan's 2018 acquisition of eleven drawings from the Souls Grown Deep Foundation, an organization dedicated to supporting Black Southern artists and their communities. Artists represented in the acquisition include Thornton Dial, Nellie Mae Rowe, Henry Speller, Luster Willis, and Purvis Young. Another Tradition also incorporates institutional and private loans by Rowe, Lonnie Holley, Sister Gertrude Morgan, and Bill Traylor. In the last three decades, exhibitions and publications have established the rightful place of figures such as Dial and the ... More

The Excitement of a New Season

Flashback
On a day like today, Latvian-born American painter Mark Rothko was born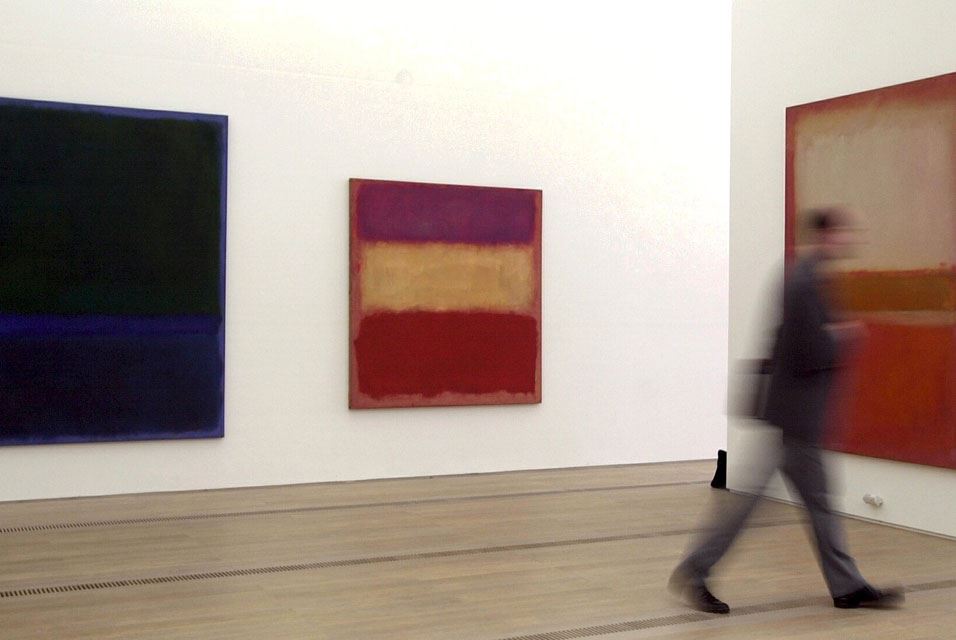 September 25, 1903. Mark Rothko (September 25, 1903 - February 25, 1970), was a Russian-American painter. He is classified as an abstract expressionist, although he himself rejected this label, and even resisted classification as an "abstract painter". In this image: A visitor passes three paintings by US-painter Mark Rothko which are on exhibition at the Foundation Beyeler in Riehen, Switzerland, on February 15, 2001.
---

Museums, Exhibits, Artists, Milestones, Digital Art, Architecture, Photography,
Photographers, Special Photos, Special Reports, Featured Stories, Auctions, Art Fairs,
Anecdotes, Art Quiz, Education, Mythology, 3D Images, Last Week,

.
---
Royalville Communications, Inc
produces: