Court ruling in Monaco ends one piece of a $2 billion art dispute
Russian billionaire Dmitry Rybolovlev at his penthouse in Monte Carlo, Monaco, Sept. 18, 2018. Benjamin Bechet/The New York Times.

by Graham Bowley
NEW YORK
(NYT NEWS SERVICE)
.-
A long-running dispute, between Yves Bouvier, a Swiss businessman who sold $2 billion worth of artworks, and Dmitry Rybolovlev, the Russian billionaire who bought them, took a decisive step in Bouvier's favor Wednesday when a Monaco court upheld a lower court's ruling to dismiss the criminal investigation against him because the prosecution of him had been unfair. The ruling ends the criminal procedures in Monaco against Bouvier, who was arrested following a criminal complaint by Rybolovlev in early 2015. "It is a total and definitive victory in Monaco," Bouvier said in a statement. "For the last five years, I have been claiming my innocence, and today I have been vindicated by the Monaco courts." The messy battle began several years ago when Bouvier helped Rybolovlev buy 38 pieces of world-class art for $2 billion over a period of about 12 years, including works such as "Salvator Mundi," a depiction of Christ attributed to Leonardo da Vinci. Ryb ...
More
The Best Photos of the Day
Storm King reopens for the art-starved
'Consensus' Notre-Dame spire should be rebuilt as it was
Ancient Australian Aboriginal sites discovered underwater


Mark di Suvero's newly exhibited E=MC2, which is nearly 100 feet tall, at Storm King Art Center in the Hudson Valley, in Cornwall, N.Y., on July 8, 2020. Bryan Derballa/The New York Times.

by Jason Farago



CORNWALL, NY (NYT NEWS SERVICE).- This week Gov. Andrew Cuomo announced that all regions of New York except New York City have entered the fourth and last phase of reopening, which authorizes museums, historical sites and other cultural institutions to welcome visitors once more. Not so fast. From Albany to Suffolk County, almost all of the state's regional museums have declined to open immediately and are using these next weeks to prepare to exhibit art under new sanitary conditions — and the new financial constraints that result from them. Where to go this summer, for the art-starved? You want to be careful, you want as much space as you can get, and more than anything you want to be outdoors. Right now that means your smartest move is the immense Storm King Art Center, a sprawling sculpture park here in the Hudson Valley, which reopens to the public July 15 after a preview this weekend ... More



A file picture take on April 11, 2019 shows the spire of Notre-Dame de Paris Cathedral during restoration work, in Paris. BERTRAND GUAY / AFP.

by Fiachra Gibbons



PARIS (AFP).- There is a "large consensus" that the spire of the fire-damaged Notre-Dame cathedral in Paris should be rebuilt as it was, France's new culture minister said Thursday. The massive 19th-century spire collapsed into the nave of the church bringing a large section of the roof with it as a blaze tore through the rafters of the cathedral in April last year. Roselyne Bachelot told French radio that "there was a large consensus in public opinion and among those deciding" the issue for the spire to be rebuilt exactly as it was. Her comments came hours before a commission that is set to rule on the thorny question was due to meet. But Bachelot said the final decision was in the hands of French President Emmanuel Macron, who up until now has supported a modern architectural "gesture" on the 13th-century monument which was partly destroyed by the fire. Macron wants Notre-Dame restored to its former glory by 2024, in time for the Paris Olympics. ... More



A second site nearby revealed traces of human activity 14 metres below sea level dating back at least 8,500 years -- though researchers believe both sites may be even more ancient.



SYDNEY (AFP).- Archaeologists have for the first time found Aboriginal artefacts on the seabed off Australia, opening a door to the discovery of ancient settlements flooded since the last ice age, they reported Thursday. Hundreds of ancient stone tools made by Australia's Indigenous people at least 7,000 years ago were discovered two metres underwater off the remote Western Australia coast, the research published in the PLOS ONE journal said. A second site nearby revealed traces of human activity 14 metres below sea level dating back at least 8,500 years -- though researchers believe both sites may be even more ancient. Archaeologists say the finds mark an exciting first step in uncovering more Aboriginal sites thought to have been flooded since the last ice age between 18,000 and 8,000 years ago. Flinders University associate professor Jonathan Benjamin, who co-authored the study, said sea-level rises covered more than 30 percent of the vast continent in water. "A huge amount of the archaeological e ... More
David Hockney's 30 Sunflowers achieves US$14.8 miilion at Sotheby's Hong Kong
Works by Georges Vantongerloo on view at Hauser & Wirth Rämistrasse and Hauser & Wirth Publishers HQ
Melania Trump statue burned in Slovenia


Second highest price for any Western art sold at auction in Asia. Courtesy Sotheby's.



HONG KONG.- Tonight, Sotheby's Contemporary Art Evening Sale in Hong Kong achieved HK$595,186,500 / US$76,761,203, led by epic masterpieces by David Hockney and Liu Ye. Yuki Terase, Head of Contemporary Art, Asia of Sotheby's, said: "Tonight's results were marked by tremendous successes, not least the second highest price for any Western artwork sold at auction in Asia. Every season our aim is to stage ground-breaking auctions that set new benchmarks for the international market. The strong prices we witnessed across the board for prominent Western and Asian artists, with many works surpassing their high estimates, not only demonstrates our extraordinary market leadership in contemporary art in Asia and the quality of our offerings, but also the thriving importance of Hong Kong as an international art hub. As we have seen time and again, keeping our finger on the pulse of the market, and staying one step ahead of what our cl ... More



Georges Vantongerloo, Couleurs dans l'espace (Colours in space), 1951. Plexiglas, oil paint, 78.5 x 57 x 26 cm / 30 7/8 x 22 1/2 x 10, 1/4 in. © Angela Thomas Schmid/ 2020 ProLitteris, Zurich. Courtesy the Max Bill Georges Vantongerloo Stiftung and Hauser & Wirth.



ZURICH.- 'Georges Vantongerloo. A Pioneer of Modern Art' is a special presentation of rarely seen works by the 20th-century Belgian master. Curated by Dr. Angela Thomas Schmid, President of the Max Bill Georges Vantongerloo Stiftung, the works in the exhibition retrace Vantongerloo's artistic evolution throughout his five-decade career. This focus exhibition is on view at Hauser & Wirth's new space at Rämistrasse 16. The building was initially converted into offices and private viewing rooms in 2018 and is now opening as an exhibition space. The presentation at Rämistrasse 16 is complemented by a display of archival material and books on Vantongerloo and his contemporaries at Hauser & Wirth Publishers' headquarters at Rämistrasse 5. Georges Vantongerloo (1886–1965), born in Antwerp, Belgium, was a sculptor, ... More



The life-size statue on the outskirts of Sevnica was carved into a tree using a chainsaw. AFP Photo/Jure Makovec.



LJUBLJANA (AFP).- The US artist behind a wooden statue of Melania Trump in Slovenia said Thursday that he was mulling an "artistic response" after his work was burned down at the weekend. American conceptual artist Brad Downey erected the life-sized statue near the US First Lady's hometown of Sevnica a year ago as part of a project aimed at exploring her roots. But the statue sparked mixed reactions. While some saw it as an effective parody, others said it looked like a scarecrow and should be removed. Slovenian police said they were now probing the July 5 burning down of the statue. "Unknown perpetrators tried to burn down the wooden statue in the early hours of July 5," police spokesman Robert Perc told AFP. Downey, who coincidentally was in Slovenia when the statue was set on fire, managed to rush to Sevnica and remove it before pictures of the damaged sculpture went viral. "I would not like pictures ... More
Lévy Gorvy opens first Hong Kong exhibition in collaboration with Pierre Soulages
Grey Flannel to auction earliest authenticated Joe Namath rookie jersey ever to be offered publicly
Mary Blair concept storyboard painting from Alice in Wonderland sold for more than $26k at auction


Pierre Soulages, Peinture 81 x 57 cm, 27 septembre 2013, 81 x 57,2013. Acrylic on canvas, 31 7/8 x 22 7/16 inches (81 x 57 cm) © Artists Rights Society (ARS), New York / ADAGP, Paris. Photo: Arthus Boutin.



HONG KONG.- Lévy Gorvy is presenting an exhibition of paintings by Pierre Soulages, France's foremost living artist. On view from 7 July through 10 September, 2020, Pierre Soulages: Outrenoir continues the global celebration of his 100th birthday, following solo survey exhibitions in New York at Lévy Gorvy and in Paris at Musée du Louvre—only the third time in the museum's history that the Salon Carré has been devoted entirely to the presentation of work by a single living artist, an honor shared only by Pablo Picasso and Marc Chagall. Pierre Soulages: Outrenoir is the first exhibition in Hong Kong organized with the artist. A contemporary of the American Abstract Expressionists and of artists working in Paris like his colleague and lifetime friend Zao Wou-Ki, Soulages has remained a key figure in the international developments of contemporary art for seven decades. Throughout his career, Soulages has explored the po ... More



1965 Joe Namath AFL New York Jets game-used Durene rookie jersey, multiple photo-matches and graded 10. LOA from family of former NY Jets equipment manager Herb Norman.



SCOTTSDALE, ARIZ.- For more than 50 years, former professional sports equipment manager Herb Norman carefully stored away cherished mementos acquired while working for the New York Mets and Jets, including legendary quarterback Joe Namath's 1965 rookie jersey. Norman's career highlights include serving as the equipment manager for both the 1973 Mets World Series team and the 1969 Jets Super Bowl III team, which Namath led to an unforgettable 16-7 upset victory over the heavily favored Baltimore Colts. Recently the Norman family entrusted Grey Flannel Auctions to handle their prized collection, which headlines a July 22 online auction packed with scrupulously authenticated and provenance-backed treasures from all major sports. More than 750 generously illustrated, premium-quality lots are now available to peruse and bid on at GreyFlannelAuctions.com. The Namath jersey was gifted to Herb Norman's ... More



Mary Blair concept storyboard painting of Alice from Alice in Wonderland -- Concept storyboard painting of Alice $26,625.00.



BOSTON, MASS.- A Mary Blair concept storyboard painting of Alice from Walt Disney's Alice in Wonderland sold for $26,625, according to Boston-based RR Auction. The vibrant original concept storyboard painting by Mary Blair featuring Alice from Alice in Wonderland depicts the instantly recognizable title character in her blue dress from an aerial viewpoint, showing her seated in tremendous size after growing high above the canopy of Tulgey Wood. The painting is rendered with an array of lush and verdant greens while offering an entirely unique perspective and scenario not found in the final Disney product. Accomplished in tempera and watercolor on illustration board. A beautiful panorama storyboard from the classic Disney fantasy. Blair was a concept artist for Disney during the 1940s and early 1950s, working on designs for such films as Peter Pan, Cinderella, and Alice in Wonderland. She also created designs for several Disney attractions (includin ... More
Gandy gallery opens its fifth solo show of works by the Czech artist Adam Vačkář
Cairo badly needed a detox. Lockdown supplied one, at a steep price.
Ketterer Kunst Rare Books Auction in Hamburg achieves over € 1.8 million


Installation view.



BRATISLAVA.- Gandy gallery is presenting the fifth solo show of the Czech artist Adam Vačkář following Parallax view (2006), Economy of Silence (2008), Krok za Krokom with Zbynek Baladran and Denisa Lehocká (2011) and Mixed Feelings (2013). The solo exhibition of Czech artist Adam Vačkář presents works created during confinement under the Corona Virus pandemic. One of the things the Corona crisis shows us is that our health and well-being is closely connected to the health and well being of the natural world. When looking at this new body of works by Adam Vačkář what immediately catches the eye is the vitality that is intrinsic to something that should actually taste stale, seem left over. We are not standing in front of rubble; we are standing not in front of the remains of something. What is being praised is the act of becoming, transformation stimulated by the rhythm of time. The works presented here are the ... More



The Metro Cinema in Cairo's historical center, on July 7, 2020. Declan Walsh/The New York Times.

by Declan Walsh



CAIRO (NYT NEWS SERVICE).- If ever a city needed a good detox, it was Cairo. Centuries of turbulent history, topped with recent decades of chaotic urban development, have left the ancient metropolis in poor physical shape. Its complexion is parched and blemished. Traffic clogs its throbbing arteries. It has signs of major stress. The coronavirus obliged. Three months of lockdown, including an 11-hour nightly curfew, imposed a rejuvenating deep cleanse on Cairo. Roads once choked with honking cars ran free. The air, free of fumes, seemed to sparkle. Silence flooded the streets. At my apartment near the Nile, a bedroom that was barely usable because of the morning din became an oasis of calm. In the evenings, my family gathered on the balcony to witness sunsets ... More



Thomas Robert Malthus, An Essay on the Principle of Population. London. 1798. Sold for: € 80,000.



HAMBURG.- Grossing total proceeds of over € 1.8 million, the Rare Books auction at Ketterer Kunst in Hamburg on July 6 and 8, 2020 did not only realize an excellent result but also saw more than 40 lots with five figure prices. "That's almost twice as many as usual", says company owner Robert Ketterer. In addition, an upgraded range of offers in the Online Only Auction accompanying the saleroom auction was also met with great approval. The star of the evening sale was Thomas Robert Malthus. Georg Braun's and Franz Hogenberg's "Civitates orbis terrarum" (lot 16) was particularly sought-after among German collectors. In the end, however, a Hungarian online bidder stood his grounds against two opponents on the phone and let the price for the most accomplished of all town books soar to € 68,750. An English trader honored Gustav Klimt's "Das Werk", ... More

ONE: Meet the four auctioneers behind Christie's historic global auction

Flashback
On a day like today, Danish-French painter Camille Pissarro was born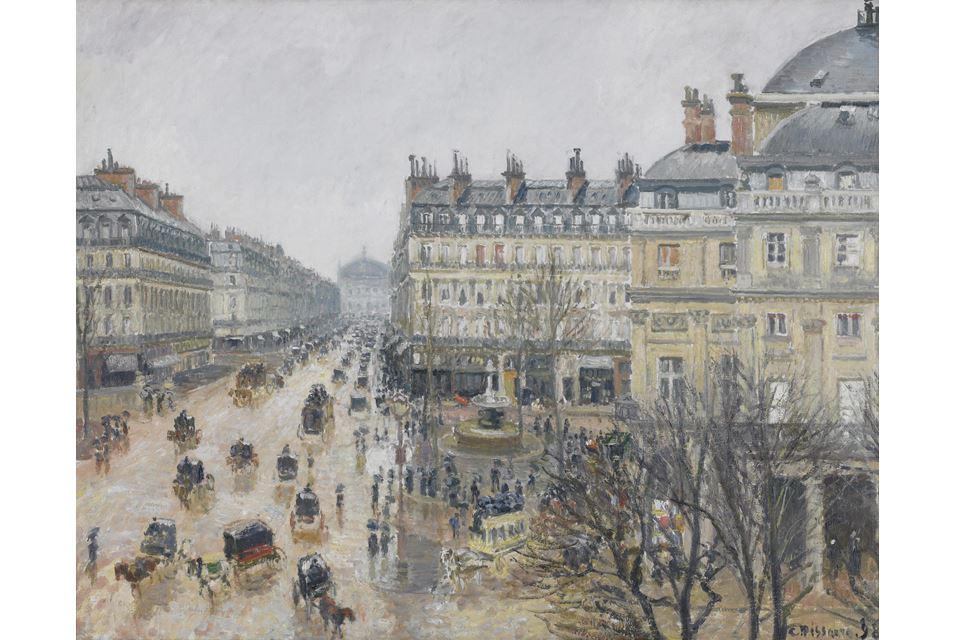 July 10, 1830. Camille Pissarro (10 July 1830 - 13 November 1903) was a Danish-French Impressionist and Neo-Impressionist painter born on the island of St Thomas. His importance resides in his contributions to both Impressionism and Post-Impressionism. In this image: Camille Pissarro, La Place du Théâtre-Français et l'avenue de l'Opéra, effet de pluie, 1898. Huile sur toile, 73, 6 x 91, 4 cm. Minneapolis, Institute of Art, fonds William Hood Dunwoody © Photo : Minneapolis Institute of Art.
---

Museums, Exhibits, Artists, Milestones, Digital Art, Architecture, Photography,
Photographers, Special Photos, Special Reports, Featured Stories, Auctions, Art Fairs,
Anecdotes, Art Quiz, Education, Mythology, 3D Images, Last Week,

.
---
Royalville Communications, Inc
produces: