With gallery openings, auctions and talks, Asia Week New York keeps the ball rolling
A Colossal Stucco Bodhisattava Head. Height: 98.7 cm. (38 7/8 in.) Ming dynasty, 16th century. Photo: Kaikodo.
NEW YORK, NY
.-
The Asia Week New York Association is pleased to announce that their fall schedule of exhibitions, auctions and a panel discussion will take place from September 17 to October 4. A dozen galleries and five auction houses -Bonhams, Christie's, Doyle, iGavel, and Sotheby's - will participate in Asia Week New York Autumn 2020. The exhibitions will feature an eye-alluring array of ancient and contemporary Far Eastern treasures from China, Japan, Korea, India, Bhutan, Indonesia, and Vietnam, and will go live on September 17 in the Asia Week New York online viewing room
www.asiaweekny.com
. In-person visits to the New York galleries can be arranged by making an appointment. Adding to the mix of exhibitions and auctions is "Up Close: A Conversation," featuring each of the 11 dealers who will reveal and discuss one of their prized works. To register for the Zoom presentation on Wednesday, September 25 at 5:00 p.m. EST and 2:00 p.m. PST v ...
More
The Best Photos of the Day
Picasso portrait of Dora Maar to highlight Christie's New York Evening Sale on October 6
Haute Auctions offers breath of fresh air in the conservative landscape of auctions
Phillips to offer a seminal Yoshitomo Nara canvas


Pablo Picasso, Femme dans un fauteuil, 1941. Estimate: $20-30 million. © Christie's Images Ltd 2020.



NEW YORK, NY.- On October 6, Christie's will offer Pablo Picasso's Femme dans un fauteuil, 1941 (estimate: $20-30 million) as a leading highlight of its Evening Sale of 20th Century Art in New York. Sporting a white ruffled blouse and plaid blazer, with her hair elegantly coiffured and topped with a signature feathered hat, the stylish Parisienne pictured in Femme dans un fauteuil is the figure of Dora Maar, Picasso's great wartime paramour and muse. Painted on 19 June 1941, just over a year into the Nazi Occupation of Paris, this portrait forms part of an astonishing surge of artist creativity that began in May of that year. During this time, Picasso defied the ever-worsening and increasingly horrifying events that were unfolding in his adopted home, and turned inwards, painting the world of his studio and those who peopled it with an irrepressible energy. Conor Jordan, Deputy Chairman, Impressionist and Modern ... More



Jasper Krabbé, Marrakech, 2015. Archival Pigment Print + Oil Paint on Paper. Unique piece, 110 x 150 cm. © Jasper Krabbé.



AMSTERDAM.- Five years after the successful introduction of the "Haute Photographie" fair, Roy Kahmann decided it was time for a new chapter. Enter the new online auction house. Born from his buoyant desire to infuse the photography world with new vigor, "Haute Auctions" is a digital platform that will bring aficionados from around the world to the edge of their seats. With the first lineup featuring the captivating works of William Klein, Roland Fischer, Bastiaan Woudt, Desiree Dolron, Jasper Krabbé, and Paul Cupido, including a unique portrait of Andy Warhol and an archival pigment print sequence, these auctions promise to lead to blistering tension in the final moments before the hammer strikes. Initial auction estimates range from 7,500 to 25,000 Euros. With "Haute Auctions," Kahmann, as one of the largest Dutch collectors in the photography world, wants to bring a new flavor to art photography ... More



Yoshitomo Nara, Hot House Doll, in the White Room III, 1995 (detail), acrylic on canvas, 119.8 x 109.9 cm. Estimate Upon Request.



HONG KONG.- Phillips will offer Yoshitomo Nara's Hot House Doll, in the White Room III as a highlight of the recently announced Phillips in Association with Poly 20th Century & Contemporary Art and Design Hong Kong Sales in November. The historically important Hot House Doll, in the White Room III was exhibited in numerous institutional exhibitions and appeared as the cover of the artist's catalogue raisonné, Yoshitomo Nara Complete Works 1984–2010, published in 2011. In particular, it was featured in the 'Major Works' section of this publication, considered the most extensive literature and survey of Nara's work ever published to date. Its highlight as the front cover of this monumental publication as well as having been handpicked by the artist to be included in a curated section highlight its eminence in the artist's oeuvre. Isaure de Viel Castel, Head of 20th Century & Contemporary Art, Phillips Hong Kong, ... More
Eisenhower Memorial, delayed by design disputes, opens this week
'Castles: Paintings from the National Gallery, London' resumes tour at Sunderland Museum & Winter Gardens
Bill Wyman's Rolling Stones Archive breaks records at Julien's Auctions


The long-awaited $150 million memorial to Dwight D. Eisenhower in Washington on Sept. 8, 2020. Jason Andrew/The New York Times.

by Peter Baker



WASHINGTON (NYT NEWS SERVICE).- At a time when statues and memorials are being taken down or reconsidered across the United States, a new one is going up in the nation's capital that could shape the roiling debate over how the country chooses icons to honor. The long-awaited $150 million memorial to Dwight D. Eisenhower will be dedicated in the shadow of the U.S. Capitol on Thursday, paying tribute to the general who led the Allies to victory over totalitarianism in Europe during World War II and the president who sought peace around the world after it was over. The memorial is the result of 21 years of disputes over its design that had nothing to do with the current national reckoning over statuary, but the timing of its debut provides fodder for the continuing conversation about how the United States views itself. Eisenhower ... More



Jan Beerstraaten, The Castle of Muiden in Winter, 1658 (detail). Oil on canvas, 96.5 x 129.5 cm © The National Gallery, London.



LONDON.- In 2017 Bernardo Bellotto's The Fortress of Königstein from the North – one of the most original and impressive examples of 18th-century landscape painting – was saved for the nation. To celebrate its acquisition, and reflect the National Gallery's commitment to ensuring its collection is shared and enjoyed throughout the UK, this picture, accompanied by five other National Gallery paintings featuring castles and fortresses, are being shown in exhibitions and displays in venues around the UK in 2020. Bringing together both real and imagined castles, this tour – supported by Art Fund – explores the creative possibilities that castles have presented to artists over the last 500 years. The tour resumed at Sunderland Museum & Winter Gardens on 8 September following the exhibition at the National Museum Cardiff, which was cut short due to COVID-19. Dr Gabriele Finaldi, Director of ... More



English musician Bill Wyman's Mr Freedom Stage ensemble and his favorite Fender Mustang bass are exhibited during a press preview of "Property from Bill Wyman and his Rolling Stones Archive" at Julien's Auctions. VALERIE MACON / AFP.



LOS ANGELES, CA.- Julien's Auctions held this weekend Friday, September 11 until Sunday, September 13, Property from Bill Wyman and His Rolling Stones Archive Courtesy of Ripple Productions Limited live in Beverly Hills and online at juliensauctions.com The three-day music auction event honoring the legendary Rock and Roll Hall of Fame inductee, English musician, record producer, songwriter and singer, Bill Wyman, broke world records. The top selling item was a 1968 Gibson Les Paul Standard Model Gold Top guitar and case used by Brian Jones in The Rolling Stones Rock and Roll Circus concert show and film in December 1968 and on other recordings and sold for $704,000, three and a half times its estimate of $200,000. The 1969 Fender Mustang Bass with a Competition Orange finish designed by Leo ... More
Brent R. Benjamin to retire as Saint Louis Art Museum director
Rare, significant items signed by Mao Zedong, Edgar Allan Poe and Albert Einstein headline sale
Doyle to auction important paintings September 17


Benjamin, 61, was named museum director in 1999.



ST. LOUIS, MO.- Brent R. Benjamin, the Barbara B. Taylor Director of the Saint Louis Art Museum, today announced his intention to retire in mid-2021 after serving more than 20 years as director. The museum's board of commissioners will now begin the process of selecting his replacement. "Brent has led the Saint Louis Art Museum through two of the most successful decades in our 140-plus year history," said Charles Lowenhaupt, president of the Saint Louis Art Museum Board of Commissioners. "He built a world-class staff that has elevated our reputation as a top-tier art museum nationally and internationally, and he burnished our standing as a crown jewel among St. Louis cultural institutions." Benjamin, 61, was named museum director in 1999. Among many achievements under his leadership, the museum significantly enhanced its collection, built a world-class expansion on Art Hill, conducted a record-setting capital campaign, hosted t ... More



Presentation copy of a Russian book celebrating the 10th anniversary of the People's Republic of China in October 1959, 588 pages, signed by Chairman Mao Zedong (est. $200,000-$300,000).



WESTPORT, CONN.- A presentation copy of a Russian book celebrating the 10th anniversary of the People's Republic of China signed by Chairman Mao Zedong (Tse-Tung); a receipt signed by Edgar Allan Poe, likely for payment of his famous poem "The Raven"; and a signed copy of Albert Einstein's doctoral dissertation from 1905 are all part of University Archives' next online auction slated for Wednesday, September 30th. The auction will begin at 10:30 am Eastern time. The full catalog, showing all 356 lots, is up for bidding and viewing now, at the newly revamped University Archives website, as well as the online platforms LiveAuctioneers.com, Invaluable.com and Auctionzip.com. Phone and absentee bids will also be accepted. The sale contains rare and highly collectible items from multiple specialty categories. ... More



Henri Fantin-Latour, Six Roses Jaunes dans un Vase en Verre, 1903 (detail). Est. $200,000 - 400,000. The Collection of Dorothea Benton Frank. Lot 203.



NEW YORK, NY.- Doyle's auction of Important Paintings on Thursday, September 17, 2020 at 11am will present paintings and sculpture by some of the 19th, 20th and 21st centuries' most prominent American, European, Latin American and Asian artists. A special section of the sale will showcase works from The Collection of Dorothea Benton Frank. Highlights include a lovely still life of roses from 1903 by Henri Fantin-Latour (French, 1836-1904) (est. $200,000-400,000), a view of Menton on the French Riviera by Jean Francois Raffaelli (French, 1850-1924) (est. $70,000-100,000) and a small-scale painting from 1946 by Alexander Calder (est. $70,000-90,000).

 From other collections are an 1892 view of Brittany by Emile Bernard (est. $40,000-70,000), an 1893 portrait of Louis Alexander Fagan by John Singer Sargent (est. $80,000-120,000), a 1961 ... More
China Guardian Hong Kong Autumn Auctions 2020 to be held from 5 to 10 October
French-Algerian artist Mohamed Bourouissa has won the Deutsche Börse Photography Foundation Prize 2020
Rizzoli to release new book from Mark Gonzales


Yun Gee, Portrait of Woman in Chair.



HONG KONG.- China Guardian Hong Kong Autumn Auctions 2020 will take place from 5 to 10 October at the Hong Kong Conventional and Exhibition Centre. This first major auction of the year will showcase a wide array of artworks from all around the world to collectors, including Chinese Paintings and Calligraphy, Asian 20th Century and Contemporary Art, Chinese Ceramics and Works of Art and Classical Chinese Furniture, offering nearly 1,300 pieces. Prior to the Autumn Auctions, Jewellery Watches and Luxury Goods will offer a more targeted oriented private selling exhibition "DAZZLE" along with the preview of Asian 20th Century and Contemporary Art at China Guardian (HK) G Art Gallery on 5th floor of Lippo Centre from 14 to 25 September. China Guardian (HK) will introduce a live auction platform to domestic and international collectors for bidding, for the enjoyment of this auction season. Ms. Hu Yanyan, President of China Guardian (HK) ... More



Mohamed Bourouissa, NOUS SOMMES HALLES, 2002-2003. In collaboration with Anoushkashoot © Mohamed Bourouissa, Kamel Mennour, Paris & London and Blum & Poe, Los Angeles.



LONDON.- Mohamed Bourouissa (b.1978) was announced as the 2020 winner of the prestigious Ł30,000 prize via a special online presentation hosted by The Photographers' Gallery on Monday 14 September 2020. Narrated by the actor, Juliet Stevenson, the film included a short history of the photography prize before presenting the work of each of this year's nominees, which also includes Anton Kusters, Mark Neville and Clare Strand and then announcing the winner. Particularly focussed on the representation of disenfranchised people and marginalised communities, the Paris-based photographer Bourouissa was selected by the judging panel for his spectacular installation Free Trade. First exhibited in a Monoprix supermarket in Arles as part of Rencontres d'Arles, France, this exhibition brought together an ... More



Mark Gonzales by Mark Gonzales. Photographs by Sem Rubio. Contributions by Hiroshi Fujiwara, Tom Sachs, KAWS, and Gus van Sant © Mark Gonzales by Mark Gonzales, Rizzoli New York, 2020. Images © Sem Rubio.



NEW YORK, NY.- Named the "Most Influential Skateboarder of All Time" by Transworld Skateboarding, Mark Gonzales aka The Gonz is one of the most recognizable names in skateboarding, art, and street style. Born in California in 1968, Gonzales entered the skateboarding world at age 13, and by 16, was featured on the cover of Thrasher magazine. Widely revered since then as the inventor of street skating, Gonzales has remained one of the most prolific innovators in both skateboarding and contemporary art. This October, Rizzoli will be publishing Mark Gonzales, the first comprehensive monograph on the Mark Gonzales universe. Part skate photography, part intimate portrait, this is a bold collection of work straight from the mind of the artist, as seen through Sem ... More

Robert Motherwell: One of the Founders of Abstract Expressionism

Flashback
On a day like today, Italian-French businessman Ettore Bugatti was born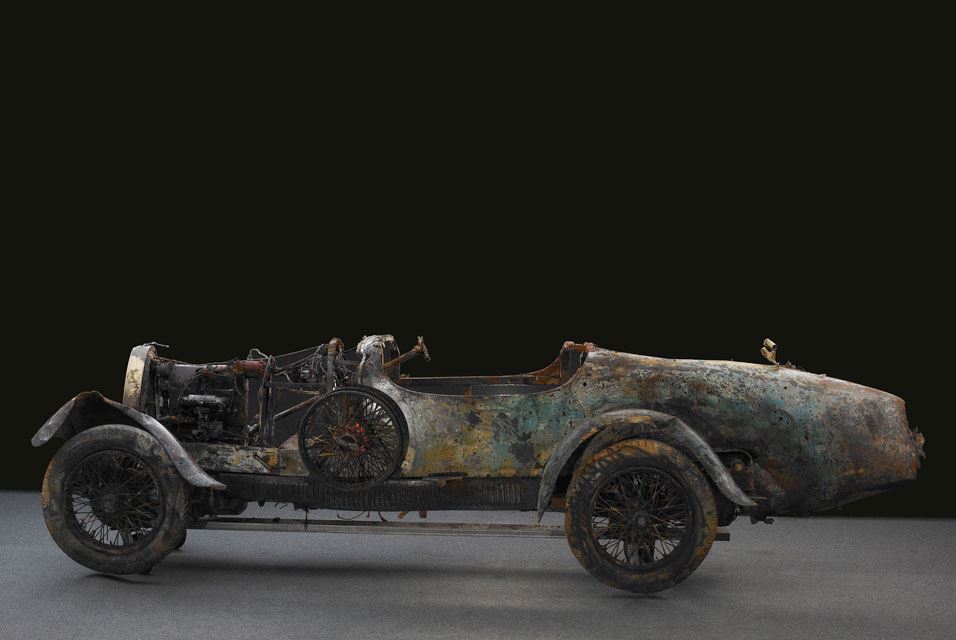 September 15, 1881. Ettore Arco Isidoro Bugatti (15 September 1881 - 21 August 1947) was an Italian-born French automobile designer and manufacturer. He is remembered as the founder and proprietor of the automobile manufacturing company Automobiles E. Bugatti. In this image: "1925 Bugatti Brescia, Chassis no. 2461 Engine no. 879". Photo: Courtesy Bonhams
---

Museums, Exhibits, Artists, Milestones, Digital Art, Architecture, Photography,
Photographers, Special Photos, Special Reports, Featured Stories, Auctions, Art Fairs,
Anecdotes, Art Quiz, Education, Mythology, 3D Images, Last Week,

.
---
Royalville Communications, Inc
produces: