20 Women...
Today's catalogue is titled "20 Women" showcasing a variety of women artists who originated from the pre & post-war periods.
NEW YORK, NY
.-
Welcome to VFA……. Today's video is titled "20 Women" discussing a variety of women artists who originated from the pre & post-war periods. They emerged from a few select movements including the American Abstract Artist Group of modernists, the Abstract Expressionists and the group of Color Field painters that followed. These artists have also been overlooked and undervalued compared with their male counterparts. In the past the challenges they faced due to gender has created huge barriers in education, training and representation. We have dealt with women artists for as long as I've been an art dealer! I have always found that women seemed to be freer with their creative attitudes and observations trusting their inner curiosity, intuition and following their instincts. Behind me is a rare large 1970 six by six-foot Color Field work by Vivian Springford. In the past few years her paintings have been re-discovered. Last year she was named as one of the top f ...
More
The Best Photos of the Day
Christie's to offer a major Basquiat from 1982 featured in Guggenheim Bilbao retrospective
ARTBnk's Spring Market Report: April 2021
Breonna Taylor show points art museums to a faster track


Jean-Michel Basquiat, Untitled (One Eyed Man or Xerox Face) detail. Acrylic, spray paint, oilstick and Xerox collage on panel, 182.9 x 121.9 cm. (72 x 48 in.) Painted in 1982. Estimate: HK$140,000,000 - 170,000,000 / US$18,000,000 - 22,000,000. © Christie's Images Ltd 2021.



HONG KONG.- Christie's 20th/21st Century Art Department unveiled an important masterpiece by Jean-Michel Basquiat: Untitled (One Eyed Man or Xerox Face), following the successful sale of Basquiat's Warrior on 23 March, which set a new record for the most expensive Western artwork ever sold at auction in Asia. The painting will be offered in the 20th/21st Century Art Evening Sale on May 24 in Hong Kong, where it will be featured as one of the major highlights of the spring auction season. Building upon the phenomenal results achieved last December in Hong Kong, which witnessed strong buying and bidding from Asian clients, Christie's continues ... More



Bridget Riley (b. 1931) Cupid's Quiver, 1985, oil on canvas, 60 7/8 x 49 3/8 in.



NEW YORK, NY.- As spring has arrived and with the world striving for normalcy, the results of major auctions held at the end of March were encouraging. The 20th/21st century art day and evening sales at Sotheby's and Christie's in Hong Kong and London from the 23rd to 26th of March were a preview of things to come in 2021. Were expectations (auction house estimates) tempered to give the appearance of a stronger recovery? How did outlier sale prices affect overall results? While some of the best works of the last 120 years were on offer, some achieving stellar results, we'll take a deeper look at whether the market is truly back. This report is generated by utilizing pre-sale fair market value—ARTBnk Value—for each individual work of art, determined through ARTBnk's unique AI valuation methodology which ... More



Amy Sherald (b. 1973), Breonna Taylor, 2020. Oil on linen 137.2 x 109.2 cm / 54 x 43 inches. © Amy Sherald. Courtesy the artist and Hauser & Wirth. Photo: Joseph Hyde.

by Holland Cotter



LOUISVILLE (NYT NEWS SERVICE).- People talk a lot about getting back to pre-COVID normal. But our traditional art museums can forget about that. After a year of intense racial-justice reckoning, a paralyzing pandemic and crippling economic shortfalls, aging hidebound institutions are scrambling just to stay afloat. And the only way for them to do so is to change. Strategies for forward motion are needed. One is in play here at the Speed Art Museum, in the form of a quietly passionate show called "Promise, Witness, Remembrance," which might, with profit, be studied by other institutions in survivalist mode. Conventional encyclopedic museums ... More
800-year-old medieval pottery fragments reveal Jewish dietary practices
Two years on, Notre-Dame awaits long path to pre-fire glory
ZKM reopens with a spectacular installation by Chiharu Shiota


View of excavations at St Aldates, Oxford, showing Carfax Tower in the background. Image courtesy: Oxford Archaeology.



BRISTOL.- A team of scientists, led by the University of Bristol, with archaeologists from Oxford Archaeology, have found the first evidence of a religious diet locked inside pottery fragments excavated from the early medieval Jewish community of Oxford. Keeping kosher is one of the oldest known diets across the world and, for an observant Jew, maintaining these dietary laws (known as Kashruth) is a fundamental part of everyday life. It is a key part of what identifies them as Jews, both amongst their own communities and to the outside world. Oxford's Jewish quarter was established around St. Aldates in the twelfth and thirteenth centuries, following William the Conqueror's invitation to Jews in Northern France to settle in England. Recent excavations by Oxford Archaeology at St Aldates, in the historic heart of Oxford, revealed evidence for two houses, which a medieval census suggested belonged to two Jewish families. One was ow ... More



This file photo taken on April 16, 2019 shows an interior view of the Notre-Dame Cathedral in Paris in the aftermath of a fire that devastated the cathedral. AFP.

by Jean-Louis De La Vaissiere and Stuart Williams



PARIS (AFP).- On the evening of April 15 2019, France and the world watched transfixed in horror as flames ravaged Notre-Dame cathedral in Paris, fearful that the heritage landmark could be lost to humanity forever. While the spire collapsed and much of the roof was destroyed, the efforts of firefighters ensured the great mediaeval edifice survived the night. Yet the road to restoration has been long and arduous and it is only expected to return to its former glory in April 2024, five years after the fire. The cause of the blaze remains a subject of uncertainty, although investigators are so far rejecting any idea of foul play and focusing on a short-circuit or even a dropped cigarette as possible explanations. With at least two TV dramas and one feature film in the pipeline about April 15, the drama of that night and the ... More



Installation view of Chiharu Shiota's »Connected to Life« © Chiharu Shiota. Connected to Life, VG Bild-Kunst, Bonn, 2021, Installation view. Photo: ZKM | Center for Art and Media Karlsruhe, Felix Grünschloß.



KARLSRUHE.- On Wednesday, March 17, the ZKM opened its doors with a spectacular installation, which sets a visual symbol for the pandemic-stricken present. The installation Connected to Life (2021) by artist Chiharu Shiota, born 1972 in Osaka, Japan, and currently living in Berlin, was curated by Richard Castelli und Peter Weibel. The artwork situates the visitor in current events: "The installation Connected to Life by Chiharu Shiota is a memorial to commemorate the victims of the COVID-19 virus, and a tribute to those who work tirelessly every day for the health and lives of their fellow human beings while risking their own." (Peter Weibel) A cascade of 57 metal bedsteads from the ceiling to the floor calls to mind the current images of hospital corridors. The plastic tubes filled with red color are like the veins through which vital blood and oxygen flow. The installation also stands for the hope that human ... More
Eunice Bélidor named Curator of Quebec and Canadian Contemporary Art at the MMFA
Danziger Gallery opens an exhibition of Risaku Suzuki's "Sakura" or "Cherry Blossom" series
Online exhibition at Waterhouse & Dodd presents four contemporary painters


Eunice Bélidor, Gail and Stephen A. Jarislowsky Curator of Quebec and Canadian Contemporary Art (1945 to Today), MMFA. Photo © Charlène Daguin.



MONTREAL.- The Montreal Museum of Fine Arts announced the appointment of Eunice Bélidor as the Gail and Stephen A. Jarislowsky Curator of Quebec and Canadian Contemporary Art (1945 to Today). Bélidor's multidisciplinary background in art and research will greatly benefit the Museum, its programming and its collection of Quebec and Canadian contemporary art. "Eunice Bélidor has distinguished herself as a curator and a thought leader in her field, and I could not be happier to welcome her to the curatorial team of the MMFA. Her experience coupled with her interest in stimulating dialogue and in focusing on themes and discourses that are too often marginalized make her a tremendous asset for the MMFA. Her work will enrich our understanding of Quebec and Canadian art, and we are eager to discover the programming she will develop," noted Mary-Dailey ... More



From the series Sakura N-17, 2002, 47 x 61 inch c-print. AP after a sold out edition of 5.



LOS ANGELES, CA.- Danziger Gallery opened an exhibition that had been delayed due to the pandemic. This timely show is Risaku Suzuki's "Sakura" or "Cherry Blossom" series. The show opened at Danziger at Fetterman in Los Angeles on April 8. One of Japan's most eminent photographers, Risaku Suzuki has been working for over 30 years capturing the natural world in both an individual and a quintessentially Japanese style. While he has created series on mountains, seas, snow, and Monet's gardens, he has returned to the subject of cherry blossoms for over 20 years, in a manner that is at once timeless and contemporary. Up to 61 inches in scale, Suzuki's "Sakura" are more than pretty pictures. Each individual image is a play between sky and flower, positive and negative space, line and form - as well as a contemplation of nature and the preciousness of every moment. In Suzuki's ... More



Danielle Frankenthal, The Tree of Life, 2020. Acrylic paint and oil stick on two acrylic panels, 48 x 36 in. 122 x 91 cm.



LONDON.- Flowing Forms presents four contemporary painters whose work explores formal concerns through abstraction. Using a variety of approaches to their work, each artist utilizes bold colors, mark-making, pattern and material application to create intricate compositions inspired by their environments. Waterhouse & Dodd is presenting the new representation of three of these artists: Martin Brouillette, Danielle Frankenthal and Iris Kufert-Rivo. Motivated by bright colors, bold shapes, and playful compositions, Brouillette works from a formalist approach while directing his concerns towards composition, pattern, structure, space, and the interactions of colors. The succession of layers in of his paintings is meticulously planned; each meant to complement, enhance, or discredit each other deliberately. He uses digital tools to solve compositional dilemmas while ... More
Christie's Switzerland expands its regional Management Team
Lost treasure from Horace Walpole's Strawberry Hill Collection discovered in Suffolk and set for auction
Three artists are urged to go big. They didn't hold back.


Eveline de Proyart, Chairwoman Christie's Switzerland and Françoise Adam, Managing Director Christie's Geneva. © Christie's Images Ltd 2021.



GENEVA.- Christie's announced the expansion of its Swiss regional Management Team as of April 2021. Eveline de Proyart, over 25 years with the firm, will be promoted to Chairwoman Christie's Switzerland, and Françoise Adam will succeed her as the new Managing Director, Christie's Geneva. Christie's Zurich will continue to be managed by Jutta Nixdorf, in post as Managing Director since 2017. As of April, Eveline, Françoise and Jutta will be working together to further develop Christie's business in Switzerland, not only ensuring its market leading position is maintained, but also continuing to innovate for the future. This additional position in Christie's management structure underlines the importance of Switzerland for Christie's and its significance for the international art market. The Swiss born Françoise Adam returns to Christie's where she originally worked from 2003-2009, firstly in Geneva as B ... More



The soon-to-be-auctioned work is one of only three known examples of the model, with the other two currently held by The Louvre and the Fitzwilliam Museum.



CAMBRIDGE.- A sculpture of an ostrich from the workshop of celebrated Renaissance sculptor, Giambologna, will go under the hammer at Cheffins Fine Sale in Cambridge on 21st April. Having been held in a private collection for over 180 years, and originally purchased from the Horace Walpole collection at Strawberry Hill House, the sculpture is set to sell for between £80,000 -£120,000. Having previously been held in Horace Walpole's esteemed collection at Strawberry Hill House, the sculpture was detailed in A Description of the Villa of Horace Walpole in 1774. The sculpture is believed to have been bought by Walpole between 1765 and 1766, having been created by Giambologna and his studio in the late 16th century and early 17th century. It was then sold at the 'Great Sale' of Strawberry Hill in 1842, 45 years after Walpole's death, to John Dunn-Gardner of Suffolk, ... More



The curator Racquel Chevremont, left, and the artist Mickalene Thomas, who helped create the show "Brand New Heavies," in New York, March 23, 2021. Flo Ngala/The New York Times.

by Siddhartha Mitter



NEW YORK (NYT NEWS SERVICE).- For Abigail DeVille, whose projects employ salvaged materials to address themes often obscured in American history, the opportunity was to make something big. At the center of her multipart installation in "Brand New Heavies," a three-artist exhibition at Pioneer Works, in Brooklyn, is a 20-foot-tall metal and chicken wire structure inspired by the U.S. Capitol dome. For Xaviera Simmons, whose practice includes photography, performance and sculpture, the show was a chance to try a new medium, ceramics. She has built a 15-foot edifice of clay spheres fired at high heat; two video works are shown within, one didactic, the other brashly sensual. And for Rosa-Johan Uddoh, a young London performance and video artist, the exhibition is an ... More

Illuminated Manuscripts and Early Printed Books from the Rosenberg Collection | Christie's

Flashback
On a day like today, French painter Robert Delaunay was born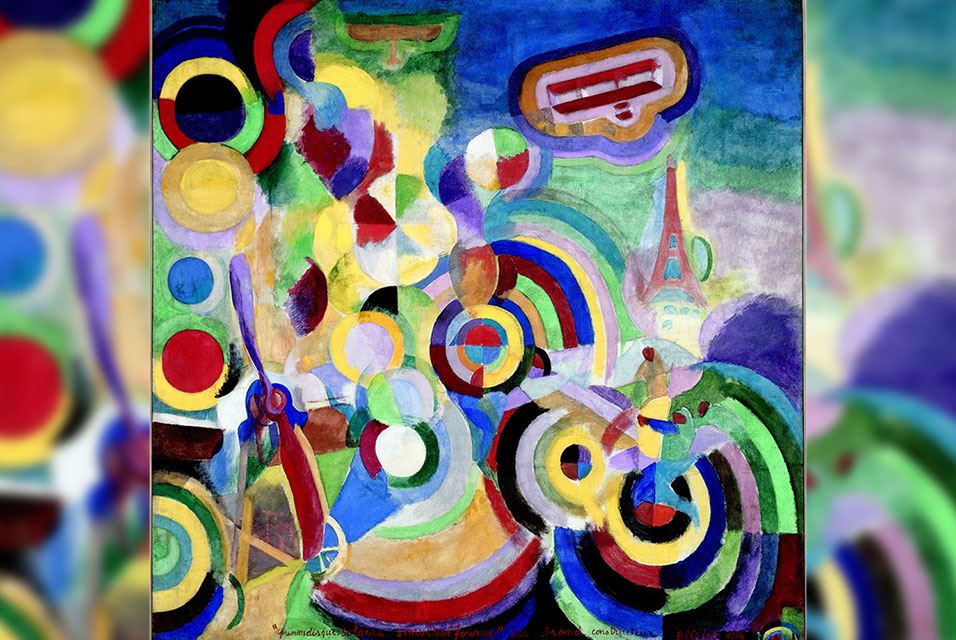 April 12, 1885. Robert Delaunay (12 April 1885 - 25 October 1941) was a French artist who, with his wife Sonia Delaunay and others, co-founded the Orphism art movement, noted for its use of strong colours and geometric shapes. His later works were more abstract, reminiscent of Paul Klee. His key influence related to bold use of colour and a clear love of experimentation with both depth and tone. In this image: Robert Delaunay (1885-1941). Hommage à Blériot, 1914. Kunstmuseum Basel. Leimtempera auf Leinwand. HxB : 250 x 250 cm. Photo : Martin P. Bühler © L&M Services B.V.
---

Museums, Exhibits, Artists, Milestones, Digital Art, Architecture, Photography,
Photographers, Special Photos, Special Reports, Featured Stories, Auctions, Art Fairs,
Anecdotes, Art Quiz, Education, Mythology, 3D Images, Last Week,

.
---
Royalville Communications, Inc
produces: