Steve Tobin "Rooted" takes hold at the San Antonio Botanical Garden
Artist Steve Tobin selected San Antonio for the world debut of his new sculptures, along with some of his favorites.
SAN ANTONIO, TX
.-
The San Antonio Botanical Garden announces the debut of its newest exhibition, Rooted, by acclaimed contemporary artist Steve Tobin. More than 20 towering, nature-inspired sculptures will be on view throughout the Garden from April 16 through October 30, 2022. Artist Steve Tobin selected San Antonio for the world debut of his new sculptures, along with some of his favorites, to create the largest monumental sculpture exhibition of his 40-year career. "I look at nature in a different way than others. So, you get to see my interpretation," says artist Steve Tobin. "Roots are unearthed and clouds are at your feet. My work is meant for the art disenfranchised. You don't need to be an art lover to appreciate what I do." Experience the forces of nature through the artist's eyes including root systems towering up to 30-feet high, polished clouds resting on earth, bronze steel egg-laden nests reaching up six (6) feet into the sky, s ...
More
The Best Photos of the Day
dan guz man opens "The Rise of the Observed" at Armario916: Interview part II
A grand old art fair returns, to a world that has changed
The Cleveland Museum of Art announces new acquisitions


"My canvases portray a rhetorical speech around human nature, were the urban landscape is not a sterile background, acting more like a main character as well. My work shows reminiscences of Surreal Expressionism."



MONTERREY.- Located in 'Barrio Antiguo', which is the heart of the artistic district in Monterrey, Nuevo Leon, Mexico, and just a few blocks from the Museo de Arte Contemporario and Museo del Noreste, the art gallery Armario 916 possesses within itself an exquisite personalization of it's own architecture and interior with its unique blend of Mexico's old 'barrio' and new industrial architecture styles under just one roof. The artwork within the current exhibition,"The Rise of the Observed", hanging on their walls reflects artist dan guz man's very personal view of his paintings. Considered to be of international renowned ever since guz man (manguzdan) was recognized by the Chinese 2019 Modern Art World Exhibition, he now represents Mexico's talent as a Modern artist. Below is the second part of a conversation ArtDaily correspondent ... More



At TEFAF Maastricht, a sense of resumed normalcy was tempered by an awareness that the pandemic has profoundly altered the business of selling centuries-old art.

by Scott Reyburn



MAASTRICHT.- The European Fine Art Fair, known as TEFAF, was the international art market's first major casualty of the coronavirus pandemic. It has also been one of the last to return to relative normalcy. On Friday, VIPs attended the preview of the first in-person TEFAF Maastricht since March 2020, when the fair had to close early because an exhibitor tested positive for the virus. The long-established event, regarded as the world's preeminent fair for art, objects and furniture ranging back through the centuries, was canceled in 2021 and postponed this year by three months to an unfamiliar summer slot. "It's good to be back," said Sam Fogg, a London-based dealer in medieval art, one of several exhibitors who contracted the virus at the 2020 edition. Fogg spent more than six weeks in the hospital after that ... More



Knife Sheath, 1100s. Korea, Goryeo dynasty (918–1392). Gilt silver (body) and brass (trefoil-shaped ring); l. 21.7 cm (8 9/16 in.). The Cleveland Museum of Art, J. H. Wade Trust Fund, 2022.38.



CLEVELAND, OH.- Recent acquisitions by the Cleveland Museum of Art include a contemporary painting by Carmen Herrera, a groundbreaking artist who worked for decades and achieved fame very late in life; a very rare Korean knife sheath from the Goryeo dynasty, celebrated as the golden age of sophisticated artistry; two alabaster apostle statues that build on the museum's strength in medieval art; and a painted Andean drum, an exceedingly rare object in excellent condition from 500–1000. In its palette and striking formal qualities, Mardi Soir is a quintessential Carmen Herrera painting, with the benefit of being slightly larger than the canvas size she typically used, making the work extremely rare; it is among the most important examples of her historic paintings. The saturated cobalt-blue hue used in this acrylic on canvas painting is powerful, and typical of the jewel-toned palette that the artist ... More
Museo Nacional Thyssen-Bornemisza opens an exhibition devoted to the first American abstract art movement, Synchromism
Pace Gallery and David Kordansky Gallery announce that artist Sam Gilliam passed away
Redesign around Notre-Dame to keep tourists moving and lower temperatures


Morgan Russell, Synchromist Still Life, ca. 1910 Oil on canvas. 41,6 x 33,3 cm. The Vilcek Foundation Collection. © Courtesy Jean Joyce.



MADRID.- The Museo Nacional Thyssen-Bornemisza is presenting a small-format exhibition devoted to the first American abstract art movement, Synchromism, which means "with colour" as symphony means "with sound". The movement was founded by the American artists Morgan Russell (1886-1953) and Stanton Macdonald-Wright (1890-1973) who were living in Paris when they presented their work to the public under this name. At the height of Futurism, Cubism and Simultaneism, Russell and Macdonald-Wright focused on the use of colour to evoke form and space, transforming it into an independent expressive and formal element. The exhibition presents eight works loaned by the Vilcek Foundation in New York. These studies on paper, oils on canvas and hand-painted posters allow for an appreciation of the emergence and evolution of this artistic experiment, which was most significantly active in the period from ... More



Sam Gilliam. Courtesy of David Kordansky Gallery, Los Angeles, and Pace Gallery. Photo: Fredrik Nilsen Studio.



NEW YORK, NY.- Throughout his seven-decade career, Gilliam reinvented and continuously reshaped abstract painting and sculpture. Incorporating rich constellations of forms, textures, and materials to forge inventive compositions, his work has exerted a profound influence on subsequent generations of artists. Born in Tupelo, Mississippi in 1933, Gilliam was one of the leading figures associated with the Washington Color School—a movement initiated in Washington, D.C. in the 1950s that emphasized large fields of color as a response to the Abstract Expressionist works that emerged from the New York School. He quickly distinguished himself from his peers with the creation of his signature Beveled-edge and Drape paintings in the mid- to late 1960s. During these formative years, Gilliam produced the Beveled-edge paintings by folding unstretched canvas before staining it with acrylic paint to create dimensional, lyrical abstractions, which were then stretched across beveled ... More



Plans call for more trees around the famed Paris cathedral, which is being rebuilt after a devastating 2019 fire, and for a cooling system in front of the building. Andrea Mantovani/The New York Times.

by Aurelien Breeden



PARIS.- An overhaul of the area around Notre-Dame Cathedral in Paris will open it up toward the Seine River and help millions of visitors flow through more easily while also mitigating the effects of climate change, city officials said on Monday. Notre-Dame, which was ravaged by a devastating fire in 2019, is closed to visitors and is still being rebuilt, with plans to partially reopen in 2024, just in time for the Olympic Games in Paris. The understated redesign of the area surrounding Notre-Dame, which leaves the long, rectangular stone square in front of the cathedral mostly intact, will not radically alter the neighborhood. But Paris officials said that the planned changes would improve visitors' experience and make the city more resilient in the face of rising temperatures. Mayor Anne Hidalgo of Paris said at a news ... More
Chrysler Museum of Art launches major capital campaign
National Gallery of Art acquires works by Genesis Tramaine and Rashid Johnson
Accola Griefen Fine Art now representing JoAnne McFarland


Rendering of the expanded Perry Glass Studio, Entrance from Grace Street.



NORFOLK, VA.- The Chrysler Museum of Art recently launched the public phase of a $50 million capital campaign, announcing gifts and commitments totaling over $42 million. The Campaign for the Chrysler will improve accessibility to the permanent collection, increase learning through art, and sustain the financial strength of the Museum. The priorities for the campaign include the expansion of the Perry Glass Studio, the creation of the Goode Works on Paper Study Center, and the establishment of endowments for school programs, technology and interactive media, and exhibitions. The funding from this campaign will also help ensure that the Museum remains one of the few art museums with free admission. To increase learning through art, the Museum will establish the Endowment for School & Teacher Programs, which will support a key position within Chrysler's Education Department and all related activities, which include school tours, curriculum dev ... More



Genesis Tramaine, Clinging unto the Lord, 2021. Acrylic, oil stick, oil pastel, Lawry's Seasoned Salt, and the Holy Spirit on canvas overall: 182.88 x 121.92 cm (72 x 48 in.) National Gallery of Art, Washington. Purchased as the Gift of Howard and Roberta Ahmanson, 2022.30.1. Courtesy of Almine Rech.



WASHINGTON, DC.- Genesis Tramaine (b. 1983) creates expressionist portraits of men and women that combine vigorous handling of materials with intuitive, spiritual inspiration. The National Gallery of Art has recently acquired its first painting by Tramaine, Clinging unto the Lord (2021). Blending a provocative use of color with an urban-inspired, mixed-media approach, she describes her practice as focused on the shape and definition of the "American Black Face" and as using exaggerated features to capture the spirited emotions of the untapped, underrepresented souls of Black people. Enlivened by New York graffiti from the 1980s and imagined images of gospel hymns sung Sunday morning during church, Clinging unto the Lord is typical of her recent work: head-and-shoulder portraits based ... More



JoAnne McFarland in her studio with her painting, Stunned by What She Saw, 2006, oil on linen, 46" x 42". Photo: Rachel Eliza Griffiths.



NEW YORK, NY.- Accola Griefen Fine Art announced the representation of artist, poet and curator, JoAnne McFarland. Her work is included in Accola Griefen's upcoming presentation at the Art on Paper fair in New York City from September 8 through 11, 2022. My artworks are emblems of my commitment to engage the breadth of my own and others' humanity. The heart of my practice is working beyond fear; more specifically, living outside the fear–state that is the centrifugal force of much of American culture. My mission as an artist is to tell the sometimes brutal truth about what I see around me, and to honor and celebrate my own and others' ability to thrive, sometimes in the face of seemingly insurmountable obstacles. - Joanne McFarland JoAnne McFarland (b. 1955) is New York-based artist, poet, and curator. She has had solo exhibitions at A.I.R. Gallery, June Kelly Gallery and The Painting Center, among other venues. McFarland's ... More
Nahmad Contemporary opens 'The Painter's New Tools', an exhibition organized by Eleanor Cayre and Dean Kissick
Spectacular Tiffany Studios lamp sells for record $541K at Morphy's June 8-10 Fine & Decorative Arts Auction
Colourists enjoy island life as Scottish women find favour


Installation view.



NEW YORK, NY.- Nahmad Contemporary is presenting The Painter's New Tools, an exhibition organized by Eleanor Cayre and Dean Kissick. If you woke up today after twenty years asleep, you'd find the physical world hasn't changed a great deal. You'd probably notice how everyone's looking at their phones all the time, and how images are everywhere. How everyone's making and remaking and communicating through images; and have, in a sense, turned into images on screens themselves. This is a moment of great transition. Your experience of the world is mediated by images, and increasingly takes place within the pictorial space of those images. It's disorientating. This has changed the way to think about painting: How can you make a distinct image in the face of this glut of images, this constant distraction, and is that even important? What are the painter's new tools, and what can be ... More



Tiffany Studios table lamp with 20in conical leaded-glass shade in 'Poppy' motif exhibiting the very highest standards of Tiffany artistry. Astounding colorway and complex composition. Exceptionally rare base with 16 iridescent Favrile-glass balls as supports for the telescoping stem. Tiffany stamps to both shade and base. Sold for $541,200 (inclusive of 23% buyer's premium), a world auction record for Tiffany's Poppy pattern, against an estimate of $350,000-$450,000. Morphy Auctions image



DENVER, PA.- During the second session of their June 8-10 Fine & Decorative Arts Auction, Morphy's sold a rare circa 1905-1910 Tiffany Studios "Poppy" leaded-glass table lamp for an astounding $541,200 (all prices quoted include 23% buyer's premium). Based upon their research, Morphy's believes it to be a world-record auction price for a Tiffany lamp in the Poppy motif. Immediately after the hammer fell on the star lot of the opulent $2.8 million event, congratulatory texts and emails started pouring in, said Dan Morphy, founder and president of Morphy Auctions. ... More



Harrington Mann R.P., R.E. (Scottish 1864-1937), Study of Cathleen Mann. Photo: Courtesy Lyon & Turnbull.



EDINBURGH.- A collection of Iona landscapes by the Scottish Colourist F. C. B. Cadell led Lyon & Turnbull's sale of Scottish Paintings & Sculpture in Edinburgh on June 16. Also finding favour amongst international and competitive bidders were paintings by fellow Colourist George Leslie Hunter and leading Scottish women artists such as Anne Redpath and Dorothy Johnstone. The flagship auction exceeded it pre-sale estimate to realise £1.08m. Cadell, the youngest of the four artists known as the 'Scottish Colourists', visited the Hebridean island of Iona for the first time in 1912. He found such inspiration in its light, natural beauty and expansive views that he returned regularly until the 1930s.
Many of the works made by Cadell away from his Edinburgh studio were painted on easily transportable boards measuring 15 by 18in. A fine example is Iona, East ... More

One Hundred Years of James Joyce's Ulysses

Flashback
On a day like today, Italian architect Domenico Fontana died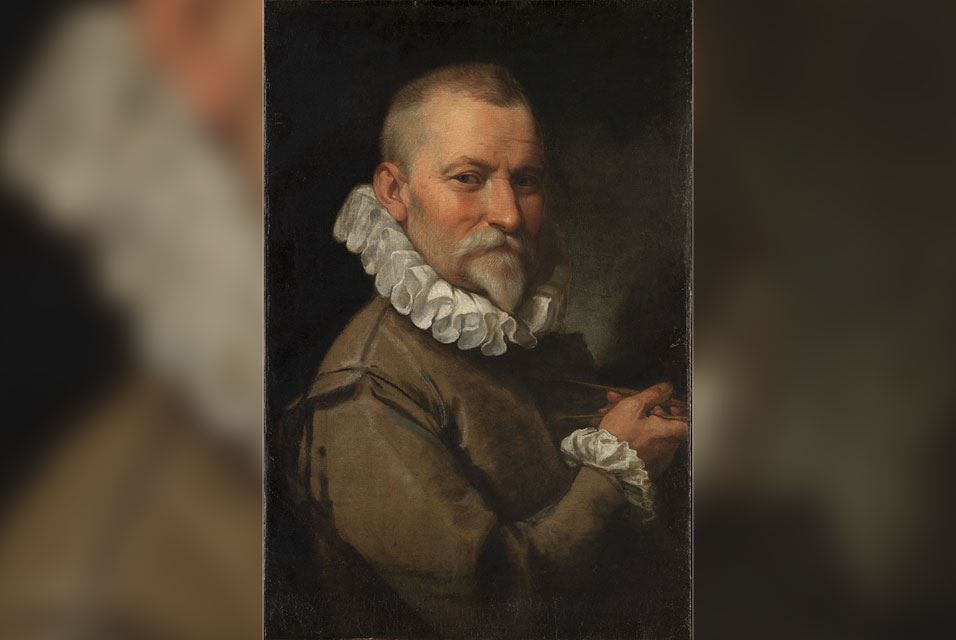 July 28, 1607. Domenico Fontana (1543 - 28 June 1607) was an Italian architect of the late Renaissance, born in today's Ticino. He worked primarily in Italy, at Rome and Naples. In 1586 he erected the 327 ton obelisk in the Square of St. Peter's. This feat of engineering took the concerted effort of 900 men, 75 horses and countless pulleys and meters of rope. In this image: Domenico Fontana by Federico Zuccari.
---

Museums, Exhibits, Artists, Milestones, Digital Art, Architecture, Photography,
Photographers, Special Photos, Special Reports, Featured Stories, Auctions, Art Fairs,
Anecdotes, Art Quiz, Education, Mythology, 3D Images, Last Week,

.
---
Royalville Communications, Inc
produces: