Do museums need a shopping network for art donations?
Michael Darling, Museum of Contemporary Art Chicago. Photo: Nathan Keay, © MCA Chicago.
NEW YORK
(NYT NEWS SERVICE)
.-
For art collectors interested in donating a work, one worry has long been that their gift, a valuable, possibly beloved, painting would end up in a museum basement, where many items from permanent collections reside, unseen. For museums, who depend on the generosity of donors, the concern has been that it's difficult to compete for works against the most prestigious and popular of their kind. "People know about major museums like the Whitney, the Met and the Guggenheim," said Carter E. Foster, a curator at Blanton Museum of Art in Austin, Texas. "But they don't know us." So curators like Foster and collectors, like Michael Straus, are cautiously optimistic about the potential of a new venture, the Museum Exchange, a subscription online catalog of works up for donation that aims to put collectors looking to find homes for their possessions in touch with museums looking for items that support their mission. "It's really most valuable for me to dona ...
More
The Best Photos of the Day
Finally in 3-D: A dinosaur's all-purpose orifice
Sperone Westwater opens it first exhibition with Peter Sacks
Kasmin opens an exhibition of work by American painter Jane Freilicher


An image provided by Paleocreations.com shows a reconstruction of Psittacosaurus, showing how the cloacal vent might have been used for signaling during courtship. Bob Nicholls/Paleocreations.com via The New York Times.

by Katherine J. Wu



NEW YORK (NYT NEWS SERVICE).- The world's oldest known all-purpose orifice sits in a fossil display case in the Senckenberg Natural History Museum in Frankfurt, Germany, so close to the glass that enshrines it that you can "put your face up to it, like this," said Jakob Vinther, a paleontologist at the University of Bristol in England, holding his hand a couple inches from his nose. It belongs to a Psittacosaurus, a beaked, dog-size, leaf-munching dinosaur that lived more than 100 million years ago. And it's not technically an anus, even though it sometimes functioned like one. It's a cloaca: a multifunctional outlet named for the Latin word for "sewer," through which some animals — including ... More



Peter Sacks, Without Title, 2020. Mixed media on canvas, 84 x 84 inches (213,4 x 213,4 cm).



NEW YORK, NY.- Sperone Westwater is presenting Peter Sacks's first solo exhibition at the gallery, titled after his epic narrative, Republic. Additional related paintings will be on view, including the series Above Our Cities, and the Sangoma works on paper. A catalogue, with an essay by Emily Braun, Distinguished Professor of Art History at Hunter College and the Graduate Center of the City University of New York, will document the exhibition. Recently described in the pages of The New Yorker as "one of the most exciting painters in America." Sacks utilizes diverse, work-a-day materials like cotton, burlap, lace, wood and cardboard, some fleetingly imprinted with poetic texts typed on the cloth by the artist using a manual typewriter. The artist also composes with fragments of Indian textiles, indigo blue cottons from South Africa, antique kimonos from Japan and embroidered linen from Normandy. The twisted, torn and joyful ... More



Jane Freilicher, Parts of a World, 1987. Oil on linen, 68 1/2 x 53 inches, 174 x 134.6 cm. Courtesy of the Estate of Jane Freilicher and Kasmin Gallery.



NEW YORK, NY.- Kasmin opened a new exhibition of work by American painter Jane Freilicher (1924–2014). Parts of a World is on view at 297 Tenth Avenue from January 21–February 27, 2021, comprising some 15 still lifes spanning the artist's career from the 1950s to the early 2000s. Together, these works illuminate Freilicher's interior world, tracing her steadfast attention to the intimate domestic subjects that characterize her scenes—flowers, drapery, and New York backdrops—rendered in the artist's distinctive style of painterly representation. This is the second solo exhibition at Kasmin since the gallery began representing the Estate in 2017, and the first ever to focus on the artist's still lifes. Freilicher's light-swept canvases are instantly recognizable for their framing of everyday objects within the context of the order, or casual disorder, of the artist's ... More
London to remove two statues over links to slavery
Major Damien Hirst exhibition to open in St. Moritz
Lizzie Borden's notoriety is this home's selling point


William Beckford (baptised 19 December 1709 – 21 June 1770) was a well-known political figure in 18th-century London, who twice held the office of Lord Mayor of London (1762 and 1769).



LONDON (AFP).- The local authority that runs London's historic financial district is to remove the statues of two British colonial-era politicians over their links to the slave trade. The City of London Corporation voted on Thursday to remove the statues of two 17th and 18th century figures because they had accrued wealth through the slave trade. The monuments to William Beckford, a former London mayor who drew his wealth from plantations in Jamaica that used slave labour, and John Cass, an MP and major figure in the Royal Africa Company that facilitated the transatlantic slave trade, will be re-sited. The corporation launched a public consultation on monuments connected to slavery in September in the wake of Black Lives Matter protests that swept Britain and Europe following the death in US police custody of an unarmed black man, George Floyd, months earlier. The demonstrations, which culminated ... More



Fidelity, 1995. Photographed by Prudence Cuming Associates © Damien Hirst and Science Ltd. All rights reserved, DACS 2021.



ST. MORITZ.- A major exhibition of over 40 works by Damien Hirst will open in St. Moritz, Switzerland, across four locations from 23 January – 28 February 2021. Titled Mental Escapology and organised with the assistance of the city of St. Moritz, the exhibition will be presented in multiple venues including two historical buildings: the neo-classical Forum Paracelsus in St. Moritz Bad and the Protestant Church in the centre of St. Moritz. A highlight of the exhibition will be two large-scale outdoor sculptures. Hirst's 12-foot-high sculpture The Monk will be exhibited in the centre of the frozen Lake St. Moritz, with Two Figures with a Drum installed on the north-eastern edge of the lake. The works were last seen in Hirst's monumental 2017 exhibition Treasures from the Wreck of the Unbelievable in Venice. The installation of The Monk represents the first time an artwork has been exhibited on the lake itself. Additionally, Mental Escapology will be Hirst's first public exhibition ... More



A photo of Lizzie Borden at the Lizzie Borden Bed & Breakfast in Fall River, Mass., on Dec. 27, 2013. Bryce Vickmark/The New York Times.

by Concepción de León



NEW YORK (NYT NEWS SERVICE).- The morning after Andrew Borden and his wife, Abby, were hacked to death in their home on Second Street in Fall River, Massachusetts, in August 1892, 1,500 people gathered in front of the house, drawn by news of a grisly crime in their quiet town. The case would become more enthralling: Andrew Borden's 32-year-old daughter, Lisbeth A. Borden, known as Lizzie, would be put on trial for the murders. She was acquitted in 1893. For more than a century, her story has inspired dramas on stage and screen, countless books, an opera and a ballet. And the allure of the unsolved crime continues to draw people to the Borden house to this day. Now the house, a bed-and-breakfast and museum, is listed for sale at $2 million. Suzanne St. John, the real estate agent, said the price accounts for its historical value and what had been a ... More
Christie's Americana Week auctions achieve $9,202,500
Pre-historic Europeans used bronze objects as currency: study
Ancient coins returned after Italy church confession


Charles Peale Polk (1767-1822), Possibly in Collaboration with Charles Willson Peale (1741-1827), George Washington. Estimate: $200,000-300,000. © Christie's Images Ltd 2021.



NEW YORK, NY.- Christie's week of Americana sales totaled $9,202,500 and established five auction records. A rare contemporary 1776 broadside edition of the Declaration of Independence from the Collection of Ambassador J. William Middendorf II sold for $990,000, achieving the top price across the series of sales. "What an extraordinary week during extraordinary times," said John Hays, Deputy Chairman, Christie's America. "Record prices were paid in every category sold this week—most notably the portrait of George Washington, by James Sharples and a contemporary broadside of the Declaration of Independence. This auction demonstrates the continued strong interest Americans have in their art and culture—from Native American basketry, silver, furniture and Outsider Art. It was an honor for Christie's to represent the owners of these ... More



Bronze axes and rings were apparently used as prehistoric means of payment, according to research.



WASHINGTON (AFP).- Central Europeans of the Bronze Age used bronze rings, ribs and axe blades that were roughly standardized in their shape and weight as an early form of "euros," according to a new study. The paper by researchers at Leiden University in the Netherlands appeared in the journal PLOS ONE on Wednesday. Money is a defining aspect of modern life, and standardization of currency is one of its key features. But since ancient people lacked precise forms of measurement, archaeologists had disagreed about whether bronze items discovered in "hoards" in modern day Germany, Austria, the Czech Republic and other places were really currency, or just metal blocks for melting into other products. These objects date back to around 4,000 years ago, when Central Europeans lived in farming societies characterized by the use of bronze tools, weapons, armor, building materials and more. Lead author Maikel Kuijpers, ... More



Image by Harry Strauss from Pixabay



ROME (AFP).- More than 200 ancient coins were returned Thursday to a museum in southern Italy by a priest who was told about the theft in confession. The unnamed penitent, presumed to be the thief himself, asked the priest to return the loot to the Paestum archaeological park near Naples. He insisted the coins had to be given personally to the site's director Gabriel Zuchtriegel, the park said in a statement. "It's the latest restitution by someone who feels remorseful" for stealing things, the statement added. Of the 208 coins returned, seven were fakes but most of the others date from as early as the third century BC, running up to the end of the 4th century AD. Paestum, originally a Greek colony that was later conquered by the Romans, boasts three of the best preserved Greek temples in the world. It is not unheard of for people to return artefacts stolen from Italian archaeological sites, sometimes after decades. The former manager of Pompeii, the ancient Roman city, has said that ... More
Virus threatens future of UK museums: Art Fund
New Curator of Old Masters for Boijmans
Almine Rech opens an exhibition of works by Madelynn Green


Science Museum. Photo: © Marc Atkins.



LONDON (AFP).- Six out of 10 museums in Britain fear they may have to close because of the coronavirus pandemic, a national charity said Friday, warning venues faced a fight to survive. The Art Fund based the numbers on a survey of British museums conducted at the end of 2020, but said a third national lockdown which came into force in January was "likely to significantly increase this figure". Some museums were likely to close their doors permanently because of the pandemic and among those facing closure, small institutions were "likely to suffer the most". "The pandemic has left us on our knees," said David Green, the director of London's Florence Nightingale Museum. The museum to one of the founders of modern nursing has already had to cancel its bicentennial celebrations in 2020 because of Covid restrictions. "But if the situation becomes long-term, we m ... More



Ruben Suykerbuyk. Courtesy Museum Boijmans Van Beuningen.



ROTTERDAM.- Ruben Suykerbuyk becomes the new Curator of Old Masters at Museum Boijmans Van Beuningen. Suykerbuyk succeeds Friso Lammertse who moved to the Rijksmuseum in April 2020. In April 2021, Ruben Suykerbuyk (Antwerp, 1989) joins Museum Boijmans Van Beuningen as curator of old art. The field of expertise of the Belgian art historian and current post-doctoral researcher at the University of Ghent is old art from the Low Countries from the fifteenth to the seventeenth century and he knows the Boijmans collection well. In the museum and depot in Rotterdam the new curator will be occupied with research and the stewardship of the collection of Old Masters, which includes works ranging from Van Eyck, Bosch, Bruegel and Titian to Rembrandt and beyond. His predecessor Friso Lammertse ... More



Madelynn Green, installation view. Almine Rech, Paris, January 16 - February 27, 2021 © Madelynn Green. Photo: Rebecca Fanuele. Courtesy of the Artist and Almine Rech.



PARIS.- For her first solo exhibition, Birth of a Star, Madelynn Green shares a body of work that acts as a portal into the frequencies of what Black life and visuality can be. Green explores notions of stardom in relation to Blackness as central motifs from the Black imagination, the significance of the North Star during slavery, to the prevalence of stardom in contemporary music and culture. Green's process refuses traditional conventions of painting; each work is built slowly from a black background. This body of work explores temporality, visuality, and materiality, in order to define how or where we might see the future. As a body of work Birth of a Star emphasizes the significance of music in Black culture as a generative space of refusal ... More

Rembrandt van Rijn | Why the Dutch Master Remains Relevant

Flashback
On a day like today, French painter Édouard Manet was born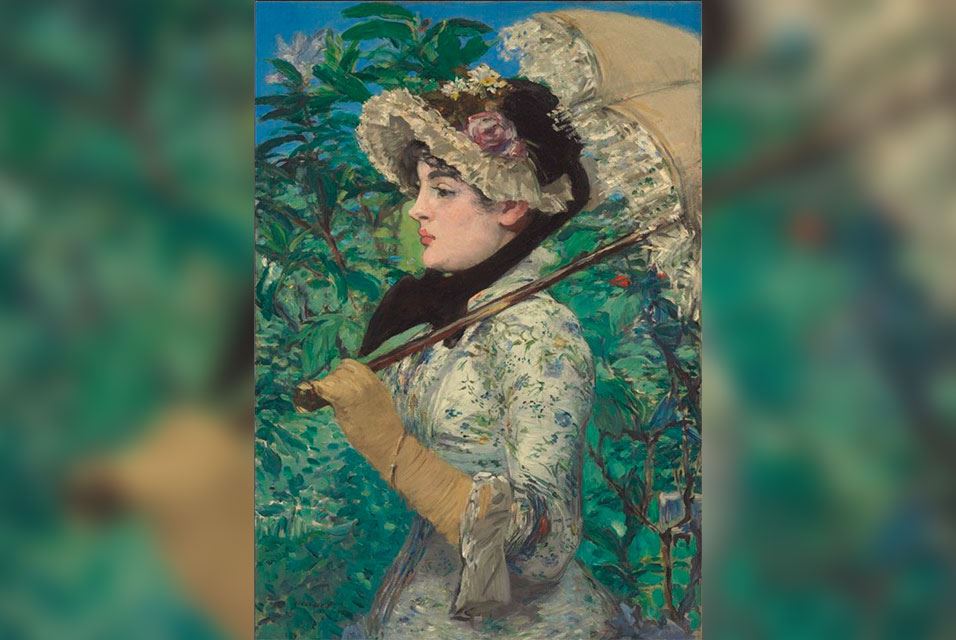 January 23, 1832. Édouard Manet (23 January 1832 - 30 April 1883) was a French painter. He was one of the first 19th-century artists to paint modern life, and a pivotal figure in the transition from Realism to Impressionism. In this image: Edouard Manet (1832-1883), Le Printemps oil on canvas, 29 1/8 x 20 1/4 in. (74 x 51.5 cm.), painted in 1881 Estimate: $25-35 million. Photo: Christie's Images Ltd 2014.
---

Museums, Exhibits, Artists, Milestones, Digital Art, Architecture, Photography,
Photographers, Special Photos, Special Reports, Featured Stories, Auctions, Art Fairs,
Anecdotes, Art Quiz, Education, Mythology, 3D Images, Last Week,

.
---
Royalville Communications, Inc
produces: