Egypt Comes To New York
Beni-Souef, Egypte, measuring 16 x 24.5 inches, is a magnificent example of Charles-Théodore Frère's Nile River scenes, giving the viewer a small glimpse into 19th-century Middle Eastern life.
NEW YORK, NY
.-
Rehs Galleries Inc.
, New York's leading gallery specializing in 19th- and 20th-century works of art, has recently acquired an important painting by the 19th-century French Orientalist artist Charles-Théodore Frère (1814-1888). Beni-Souef, Egypte, measuring 16 x 24.5 inches, is a magnificent example of the artist's Nile River scenes, giving the viewer a small glimpse into 19th-century Middle Eastern life. Charles-Théodore Frère received his formal training at the École des Beaux-Arts under Jean-Léon Cogniet (1794-1880) and Camille Roqueplan (1802-1855), and exhibited his first painting at the Paris Salon of 1834 titled Vue des Environs de Strasbourg. In the late 1830s, Frère spent about two years in Algeria and soon became one of the first-generation artists committed to the Orientalist theme, immersing himself in this study throughout his lifetime. During the 1850s, he spent several years in Egypt, traveling down the Nile numerous time ...
More
The Best Photos of the Day
Tupperware's unexpectedly beautiful art collection is so much more than leftovers
Art with a bite: The CoBrA sale comes to Bonhams network
2 years after racism outcry, Indianapolis embraces Black artists


Darin Roney reviews the catalog for Palm Beach Modern Auctions' December 3rd auction. Depicted works from the Tupperware Corporate Collection include large canvases by Robert Natkin and Paul Jenkins.



LAKE WORTH BEACH, FLA.- When Palm Beach Modern's auctioneer Rico Baca stepped foot on the Tupperware Brands campus, he knew he was there to look at art that could be sold to the advantage of both firms. What he didn't expect was the magnitude and importance of the collection. "There was art everywhere," says Baca. "Paintings lined hallways, conference rooms and climate-controlled storage units. I recognized many of the artists immediately. Who knew that this iconic name in housewares held an art collection representing some of the most noteworthy names in modern art? Not just big names, but big colorful paintings, any one of which would be joyful to own. It was stunning." From that initial meeting, the timetable was quick. The tour was followed by conferences, contracts and a second trip to Orlando…this time with admin staff and a team of movers to transport the art to the auction house Lake Worth Beach ... More



Asger Jorn, "Together but not content", Oil on canvas. 54 x 45 cm. Estimate: € 50,000 - 60,000/ 400,000 – 500,000 DKK. Photo: Bonhams.



COPENHAGEN.- The Danish auction house Bruun Rasmussen, part of the Bonhams network, presents CoBrA: Powerful Voices of Post-War Europe – a sale of works from the c movement, a collection of artists based in Copenhagen, Brussels and Amsterdam. This 122-lot sale will take place at Bruun Rasmussen in Copenhagen on 6 December. The CoBrA group was created by the Danish artists Asger Jorn and Carl-Henning Pedersen, Dutch artists Karel Appel and Constant Anton Nieuwenhuys as well as Belgians Corneille, Pierre Alechinsky and Christian Dotremont. The group was founded in November 1948 in Paris, at the café of the Hotel Notre Dame. The French artists, Jean-Michel Atlan and Jacques Doucet, soon became members as well. Together, the CoBrA group wanted to go beyond the academic art teachings of the time, and they found the prevailing movements, such as Abstract Art, too rigid and rational. These artists advocated spontaneous and experimental ... More



Colette Pierce Burnette, president and chief executive of the Indianapolis Museum of Art at Newfields, at the Butter fine art fair in Indianapolis, Sept. 3, 2022. (Cheney Orr/The New York Times)

by Sarah Bahr



INDIANAPOLIS, IN.- Inside a former car factory, some 8,000 visitors to a local art fair strolled among two halls of work by Black artists, including a glittering Bob Marley portrait and a caution sign reading "We're too big to fit in their small minds." During four days in September, fairgoers sipped "Faith Ringgold" and "Basquiat" cocktails, pausing to talk with the artists as Beyoncé's "Break My Soul" played through the speakers. There were artist talks, workshops, a dance party. The fair, named Butter, was organized by the Indianapolis cultural development firm GANGGANG, a nonprofit with an uphill mission: to showcase the work of Black visual artists here and across the country. Barely 2 years old, it is finding its way into the national art scene, elevating artists of color, maximizing their earnings by giving them all the profit for their work ... More
Eli Wilner & Company restores the period frame for a Manet for the Rhode Island School of Design Museum
Hayashi Kaku's international debut opens at Joan B Mirviss LTD
New online exhibit "Cost of Revolution: The Life and Death of an Irish Soldier" now available


Edouard Manet's Le Repos, in the collection of the RISD Museum, with its period frame restored by Eli Wilner & Company.



NEW YORK, NY.- Eli Wilner & Company recently completed the restoration of the frame for Edouard Manet's, Le Repos, in the collection of the RISD Museum. With its newly restored frame, the painting will be lent to an exhibition at The Metropolitan Museum of Art and the Musee d'Orsay in 2023. One of the most important avant-guard French painters in the 19th century, Edouard Manet was a key figure in the early development of Impressionism. In his 1871 painting Le Repos, Manet portrayed the artist Berthe Morisot, another of the most important Impressionist painters working in Paris, and wife of Manet's younger brother Eugène. At the end of the 19th century, the eminent art dealer Paul Durand-Ruel sold the painting to George W. Vanderbilt, who hung it at Biltmore, his estate in Asheville, North Carolina. It passed to his wife Edith, and from Edith (who remarried and settled in Providence) to the RISD ... More



Hayashi Kaku (b. 1953), Inori - Rekishi wo hiraku; Prayer - Page of the Day, 2022. Glazed stoneware, 12 1/4 x 9 7/8 x 12 1/4 in. Photo by Richard Goodbody. Courtesy of Joan B Mirviss LTD.



NEW YORK, NY.- Eternal Currents marks the first solo exhibition outside Japan for highly respected and influential ceramic artist Hayashi Kaku. After decades of exploring clay's malleability, Hayashi has created confidently formed sculptures covered in strongly contrasting glazes that express the elemental force of Nature. Her latest dynamic series, created exclusively for this exhibition, draw inspiration from the majestic and spiritually significant Kegon waterfall in Nikko that has been celebrated by Japanese artists since antiquity. Located near her home and studio in Tochigi Prefecture, the waterfall and surrounding landscape have long been a source of inspiration for her artistic practice. More recently, she has imbued these works with a renewed vigor despite the isolation and uncertainty of the past few years. ... More



Installation view.



PHILADELPHIA, PA.- The Museum of the American Revolution's award-winning 2019-2020 special exhibition Cost of Revolution: The Life and Death of an Irish Soldier is now available to virtual visitors from around the world through a robust online experience. The online exhibit is free and accessible to anyone with an internet connection. The online exhibit is adapted from the Museum's Cost of Revolution special exhibition, which ran from September 2019 – March 2020 and was critically and publicly acclaimed for its fresh scholarship and evocative storytelling. It explores the story of Richard Mansergh St. George, an Irish soldier and artist whose personal trauma and untimely death provide a window into the entangled histories of the American Revolution and the ensuing Irish Revolution of 1798. The online exhibit chronicles St. George's dramatic journey using audio and video elements as well as high-resolution images and information ... More
The Museum of Broadway is open. Here are 10 highlights.
Now arriving: Yayoi Kusama and Kiki Smith's Grand Central Madison Mosaics
Pop culture rarities drive Hake's auction to strong $2.4M finish


A puppet from the musical comedy "Avenue Q," in the Museum of Broadway at Times Square in New York, Nov. 22, 2022. (Sara Krulwich/The New York Times)

by Sarah Bahr



NEW YORK, NY.- When a Broadway show closes, the next stop for the hundreds of costumes, setpieces and props is often … the dumpster. "The producers often stop paying rent in a storage unit somewhere, which is heartbreaking," said Julie Boardman, a founder of the Museum of Broadway, which opened in Times Square this month. Boardman, 40, a Broadway producer whose shows include "Funny Girl" and "Company," and Diane Nicoletti, founder of a marketing agency, are looking to reroute those items to their museum, a dream five years in the making. "We see it as an experiential, interactive museum that tells the story of Broadway through costumes, props and artifacts," Nicoletti, 40, said of the four-floor, 26,000-square-foot space on West 45th Street, next to the Lyceum Theater. The museum was a self-funded project at the start, Nicoletti said, as they drew from Boardman's connections to secure meetings with major players in the New York theater industry, ... More



Kiki Smith stands in front of her mosaic "River Light," in the new Grand Central Madison station in New York, Nov. 10, 2022. Beach scenes, wild turkeys and fantastic abstract forms in glass grace the MTA's new Long Island Rail Road terminal, with works by other artists. (Vincent Tullo/The New York Times)



NEW YORK, NY.- As workers busily finished construction of the brand-new train station Grand Central Madison in November, artist Kiki Smith was standing in front of her new mosaic "River Light," an abstracted, blue-and-white depiction of glinting sunshine on the East River. "I've never made a mosaic before," she said, pausing to touch the varied surfaces of the small and colorful glass pieces making up the composition. She added, "I've also never made anything so big in my life." The 80-foot-long work is on the Madison Concourse level of Grand Central Madison, the 700,000-square-foot, $11.1 billion Long Island Rail Road terminal set to open in December. The terminal is the Metropolitan Transportation Authority's largest project yet. At a time of increased concerns over safety and with subway ridership still recovering, some may question the MTA spending money on art, though the art program's cost, $1.4 million, is only .01% ... More



Hand-colored stat paper sheets for the 1987 'Marvel Masterworks' #1 hardcover book that reprints the 1963 'Amazing Spider-Man' Volume 1, #1 comic which features the second-ever appearance of Spider-Man by Steve Ditko. From the archives of colorist Andy Yanchus. Sold for $14,437 against an estimate of $700-$1,000.



YORK, PA.- Financial markets may be taking a breather, but there's never a time out for those who pursue investment-grade vintage collectibles. Hake's, the auction house that lit the fire for America's pop culture obsession 55 years ago, rang up yet another high-flying auction total on November 15-16, achieving excellent prices across many specialty categories and closing the books at $2.4 million. The force remained with Star Wars collectibles, which were led by an extremely rare encased Star Wars (1978) 3.75-inch Ben (Obi-Wan) Kenobi 12 Back-A double-telescoping lightsaber action figure. It was only the third carded specimen of its type ever to pass through the doors at Hake's. A SKU on the card's footer identified it as an earlier production, and with an AFA grade of 75 Ex+/NM to excite collectors, it flew to greater heights, finally stopping at $79,178. A Star Wars: ... More
David Richard Gallery opens an exhibition of paintings 1963-1965 by Ronald Davis
König Galerie now represents Zhanna Kadyrova
French painting plus Nordic landscapes, the Düsseldorf School and an actor's eye shape Heritage event


Ronald Davis, First Bent Beam, 1964. Acrylic on canvas, 59 x 29 x 3.5" © Dean Fleming, Courtesy David Richard Gallery. Photos by Yao Zu Lu.



NEW YORK, NY.- David Richard Gallery is presenting Optical, Shaped and Color Abstractions: Paintings 1963 – 1965 by Ronald Davis in his first solo exhibition with the Galley and first solo exhibition in New York since the presentation of his 1960s Monochrome Paintings at Franklin Parrasch Gallery in 2010. This presentation includes 8 geometric, hard-edge, and color-based abstract paintings from 1963 to 1965, all acrylic on canvas and created in California, and 4 drawings from 1966, 1975 and 1977. Together, these paintings and drawings map Davis's early explorations of illusory space and optical effects in the two-dimensional picture plane: starting from the early 1960s paintings in this exhibition and minimalist monochrome paintings from 1965; to his very well-known large scale shaped dodecagons, ... More



Zhanna Kadyrova © photo: Francesco Galli.



BERLIN.- König Galerie announced that Zhanna Kadyrova has joined our program. The Ukrainian artist Zhanna Kadyrova was born in 1981 in Brovary, Ukraine, and is a founding member of the artist group, R.E.P. (Revolution Experimental Space). She graduated from the Sculpture Department at the Taras Shevchenko State Art School in Kyiv, and among her many accolades are the Kazimir Malevich Artist Award, the Grand Prix of the Kyiv Sculpture Project, Future Generation Art Prize of the Pinchuk Art Centre. Kadyrova is an artist whose works engage with the specificity of local contexts, most notably in her native Ukraine, where she continues to produce work and organise exhibitions under the immediate threat of the Russian invasion. Her projects range in scale and scope, from large public installations to stickers of rockets and cloud explosions that can be placed on windows anywhere in the world as a stark reminder ... More



David de Noter (Belgian, 1825-1892), A woman with lapdogs in a lavish interior, 1852. Oil on panel, 26-1/4 x 21 inches. Estimate: $10,000 - $15,000.



DALLAS, TX.- This December's Fine European Art Auction is the largest sale of European art Heritage has offered in more than 15 years. Comprised of paintings, drawings, and old master prints, the sale is richly diverse in subject matter, media, national schools, period, style, and price point. French painting is at the core of this auction, with works by such luminaries as Eugène Boudin, Fauvists André Derain and Louis Valtat, and School of Paris figures including Raoul Dufy, Jean-Pierre Cassigneul and Le Pho leading the offerings. But some unusual collections give this auction an extra dimension. "An outstanding feature of the event is the carefully curated selections of artwork drawn from three private American collections," says Dr. Marianne Berardi, Heritage's Senior Specialist for European Art. "The first is drawn ... More

Texture and Tactility: 20th Century & Contemporary Art | Hong Kong | December 2022

Flashback
On a day like today, American architect Minoru Yamasaki was born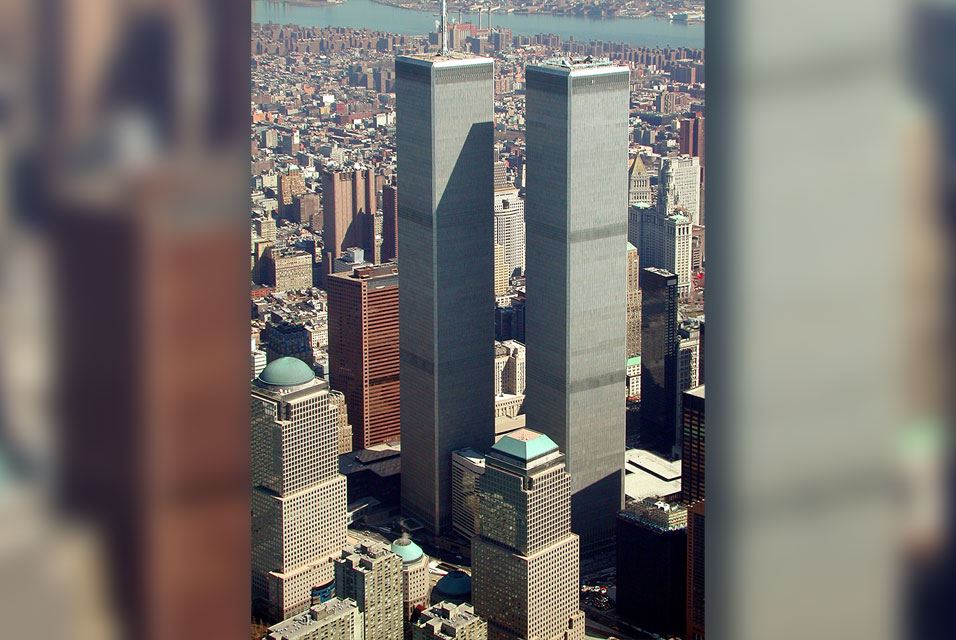 December 01, 1912. Minoru Yamasaki (December 1, 1912 - February 6, 1986 was an American architect, best known for designing the original World Trade Center in New York City and several other large-scale projects. Yamasaki was one of the most prominent architects of the 20th century. He and fellow architect Edward Durell Stone are generally considered to be the two master practitioners of "New Formalism". In this image: The original complex in March 2001. The tower on the left, with antenna spire, was 1 WTC. The tower on the right was 2 WTC.
---

Museums, Exhibits, Artists, Milestones, Digital Art, Architecture, Photography,
Photographers, Special Photos, Special Reports, Featured Stories, Auctions, Art Fairs,
Anecdotes, Art Quiz, Education, Mythology, 3D Images, Last Week,

.
---
Royalville Communications, Inc
produces: