Whitney Museum sells Breuer Building to Sotheby's for about $100 million
The Whitney Museum's 1966 Brutalist-style building by Marcel Breuer, which the museum has sold to Sotheby's auction house, in New York, Dec. 23, 2014. The auction house will move its Manhattan headquarters to the architectural icon on Madison Avenue in 2025. (Richard Perry/The New York Times)

by Robin Pogrebin
NEW YORK, NY
.-
Confirming rumors that had the art world abuzz this spring, Sotheby's said Thursday that it has purchased the Whitney Museum of American Art's 1966 brutalist building by Marcel Breuer on Madison Avenue and will move its headquarters there from York Avenue in 2025. The purchase price of the Breuer building was not disclosed, but two people involved in the deal, who asked not to be identified because they were not authorized to publicly discuss it, put the figure at about $100 million. "It's bittersweet," Adam D. Weinberg, the Whitney's director, said about parting with the building permanently. "I know every square inch of it and think it's one of the great art monuments out there. It's a masterpiece of modern architecture." Charles F. Stewart, Sotheby's CEO, called the Breuer building "a once-in-a-lifetime opportunity that we couldn't pass up," adding that "the location couldn't be more ideal for our clien ...
More
The Best Photos of the Day
In Samuel Fosso's photos, 'You can see evil, you gan see God'
X-ray vision brings new life to a fossil flattened by time
Carlos Cruz–Diez presents 'The Euphoria of Color' on view at Galleria Continua


Samuel Fosso at his exhibition "Tati 1997" at Galerie Christophe Person in Paris, May 16, 2023. (Matthew Avignone/The New York Times)

by Scott Reyburn



PARIS.- In February 2014, in the war-torn Central African Republic, Christian fighters were rampaging through a predominantly Muslim district in the capital, Bangui. Renowned Cameroonian-born portrait photographer Samuel Fosso had already fled. While looters stripped the corrugated iron roof off Fosso's vacated studio, three men tried to save his abandoned archive. "It was very chaotic," said one of them, Peter Bouckaert, a Belgian environmental activist who was working for Human Rights Watch at the time. "I remember going up to a bunch of guys to tell them to go away, and then seeing one had grenades in his hand. So I decided to leave them alone." During the previous day of mayhem in the city, Jerome Delay, a French-born photographer working for The Associated Press, had recognized some prints from Fosso's 2008 "Africa Spirits" series, in which the artist portrays himself as Malcolm X, Angela Davis, Muhammad Ali and other inspirational figures of Africa ... More



An undated photo provided by Engelschiøn et al. PLOS ONE shows the fossil of a 240 million-year-old ichthyosaur found in Svalbard, Norway. Scientists were able to unlock the identity of an ichthyosaur that had been reduced to a two-dimension jumble of bones. (Engelschiøn et al. PLOS ONE via The New York Times)

by Jack Tamisiea



NEW YORK, NY.- While exploring an Arctic mountaintop in 2008, paleontologists unearthed a small skeleton that resembled a coiled sea serpent imprinted into a slab of 240 million-year-old rock. The remarkably complete skeleton, nicknamed Oda, was deposited in the collection of the University of Oslo's Natural History Museum. It was clear that Oda was an ichthyosaur, but no one could say if it was a known species of the marine reptiles, which were like a mashup of a crocodile and a dolphin. While most of its skeleton remained, eons under a muddy seafloor had squeezed Oda into a two-dimensional jumble of bones. To identify the reptile, paleontologists stuck the perplexing patient under an X-ray machine to piece together the petrified puzzle. In a paper published Wednesday in the journal PLoS One, the researchers described ... More



Carlos Cruz-Diez, L'Euforia del Colore vedute della mostra Galleria Continua, San Gimignano exhibition views Galleria Continua, San Gimignano. Photo by: Ela Bialkowska OKNO Studio. Courtesy: the artist and GALLERIA CONTINUA. Copyright Line: © Carlos Cruz-Diez / Bridgeman Images 2023.




SAN GIMIGNANO.- Carlos Cruz-Diez is one of the main protagonists of contemporary art. His work and his writings make him the last great thinker of the 20th century in the field of colour. On the occasion of the centenary of his birth, Galleria Continua welcomed, for the first time in its exhibition spaces in San Gimignano, a solo exhibition by the French-Venezuelan artist, which will end on September 10th. Pioneer of kinetic art and undisputed master of colour, he proposed the latter as an autonomous and evolutionary reality in which the implication of our senses reveals chromatic events as they develop. "The Euphoria of Colour", as the title of the exhibition, presents the highlights of the artistic career of Carlos Cruz-Diez, exploring the artist's colour theory, through some of his most iconic works, including an installation in San Gimignano's historic city centre. A rich ... More
With Hannah Gadsby's 'It's Pablo-matic,' the joke's on the Brooklyn Museum
Florence Griswold Museum is exclusive venue for Princeton University Art Museum traveling exhibition
The Whitney Museum appoints Drew Sawyer as Sondra Gilmann Curator of Photography


Marie: Nude Black woman lying on a couch (Marie: Femme noire nue couchée)" by Mickalene Thomas on display at "It's Pablo-Matic: Picasso According to Hannah Gadsby," at the Brooklyn Museum, May 30, 2023. Picasso and his complicated legacy, according to the Australian comedian-turned-curator Hannah Gadsby. (Vincent Tullo/The New York Times)



NEW YORK, NY.- If you studied art history or another of the humanities in the 1990s or 2000s — say, if you are around the age of the Australian comic Hannah Gadsby, 45 — you may remember the word "problematic" from your long-ago seminar days. Back then it was a voguish noun, borrowed from French, that described the unconscious structure of an ideology or a text. Soon, though, like so many other efforts to think critically, "the problematic" got left behind in this century's great shift from reading to scrolling. These days we encounter "problematic" exclusively as an adjective: an offhand judgment of moral disapproval, from a speaker who can't be bothered by precision. A whole cast of professional art workers — conservators, designers, ... More



Mary Cassatt (1844–1926; born Allegheny City, PA; died Le Mesnil-Theribus, France), Little Girl in a Large Red Hat, ca. 1881. Oil on canvas; 43.8 × 38.7 cm. Princeton University Art Museum. Museum purchase, Fowler McCormick, Class of 1921, Fund (2021-12).



OLD LYME, CONN.- This summer, from June 3 through September 10, 2023, the Florence Griswold Museum in Old Lyme, Connecticut, presents a traveling exhibition organized by the Princeton University Art Museum. Object Lessons in American Art: Selections from the Princeton University Art Museum presents more than seventy examples of Euro-American, African American, and Native American art created between the eighteenth century and today. Together these works pose fundamental questions about artistic significance and how meaning changes across time, place, and context. "We are thrilled to be one of only three stops in the country, and the only one in the northeast, for this inspiring show," states Executive Director Joshua Campbell Torrance. "It's a unique opportunity for our audiences to see works by these marquee ... More



Drew Sawyer, Sondra Gilman Curator of Photography. Photo Courtesy of The Whitney Museum.



NEW YORK, NY.- The Whitney Museum of American Art has appointed Drew Sawyer as the Sondra Gilman Curator of Photography to oversee the Museum's collection of photography from 1900 to the present and lead its photography acquisition committee. In his new role, Sawyer will organize exhibitions, write accompanying scholarly publications, cultivate relationships with artists, and develop ways in which artworks and archives can be interpreted through exhibitions, publications, events, and digital channels. Sawyer begins his new position in July 2023. In addition to directing the Whitney's photography program, Sawyer will collaborate with members of the Museum's curatorial team broadly across mediums and disciplines. He will partner with Kim Conaty, the Steven and Ann Ames Curator of Drawings and Prints, for the program of the Sondra Gilman Study Center, which houses the majority of the Whitney's over 19,000 prints, drawings, and photographs. ... More
Broadway musicians object to David Byrne's 'Here Lies Love'
Bonniers Konsthall presents: Tarik Kiswanson, Becoming
Get lost in clay, even if it's just for the weekend


Conrad Ricamora in "Here Lies Love," in New York, April 30, 2014. A labor union representing musicians is challenging David Byrne's next Broadway show, "Here Lies Love," saying it opposes plans to stage the production with recorded instrumental tracks instead of a live band. (Sara Krulwich/The New York Times)

by Michael Paulson



NEW YORK, NY.- A labor union representing musicians is challenging David Byrne's next Broadway show, "Here Lies Love," saying it opposes plans to stage the production with recorded instrumental tracks instead of a live band. The musical — an immersive, dance-driven spectacle about Imelda Marcos, the former first lady of the Philippines — is scheduled to start previews June 17 and to open July 20 at the Broadway Theater. Byrne co-wrote the music with Fatboy Slim. The musical has previously been staged off-Broadway, in London and in Seattle, each time with a singing cast accompanied by recorded music. There are a few ... More



Tarik Kiswanson, Respite, 2020. Photo: Walid Rashid.



STOCKHOLM.- Bonniers Konsthall is currently presenting until June 18th the artist Tarik Kiswanson's largest solo exhibition in Sweden to date. In the last few years, Kiswanson has emerged as a seminal voice on the international art scene. In January 2023 he was nominated for the prestigious French Marcel Duchamp Prize. Despite his international presence, Kiswanson's art has not been acknowledged here in Sweden until recently. The exhibition Becoming at Bonniers Konsthall presents Tarik Kiswanson's exceptionally multidimensional practice, which employs sculpture, writing, drawing, performance, and video to explore subjects relating to memory, heritage, time and belonging. Notions of rootlessness, regeneration and renewal form the core of his art, subjects that he constantly comes back to regardless of expressive means. A central theme in the exhibition, which features several new works, is the idea of levitation, which he expl ... More



A photo provided by Claire Brassil/Watershed Center for Ceramic Arts shows a pottery workshop last month at the Watershed Center for Ceramic Arts in Newcastle, Maine. (Claire Brassil/Watershed Center for Ceramic Arts via The New York Times)



NEW YORK, NY.- The challenge: Make 10 small clay objects in 18 minutes — one minute each for the first five pieces, two minutes for the next four and five for the last one. Ariela Kuh, a ceramic artist with a bright demeanor and a yellow apron, set a timer on her iPhone as she explained the drill to the 14 of us attending her workshop in April at the Watershed Center for Ceramic Arts in Newcastle, Maine. "Remember what it was like to touch clay as a kid," she advised. As I prepared 10 tangerine-size balls of clay, images from childhood flashed through my mind: the blue shelves at my after-school pottery program, the bulbous terra-cotta vase my mom made at one of the countless cancer facilities in the months before her death, the small elephant at the center of a red ceramic plate that my tiny hands had ... More
Figure Telling: Contemporary Bay Area Figuration now opening at di Rosa
Modern Women/Modern Vision: Photography from the Bank of America Collection
BMA selects Raúl de Nieves as second Meyerhoff-Becker Artist for East Lobby Commission


Craig Calderwood, How's Your Jesus Christ Been Hanging?, 2018. Dimensional paint, thread on upholstery fabric. Image courtesy the Artist and George Adams Gallery, New York.



NAPA, CA.- Figure Telling, on display at di Rosa Center for Contemporary Art from June 3 - September 17, 2023, highlights an intergenerational group of Bay Area artists using the human figure to produce works grounded in narrative, storytelling, and personal memory. Northern California artists have once again embraced the figure – but contemporary Bay Area figuration has a radically different feel. In the last decade, figuration has roared onto the local art scene, with human figures inundating Bay Area galleries and art fairs. This exhibition highlights six local artists – Sydney Cain, Craig Calderwood, John Goodman, Afsoon Razavi and Heather Wilcoxon – who use the figure to tell stories that are distinctly personal and honest. Working in a variety of media from graphite and paint to textile, pen and ink, they use figuration to evoke individual, family, and community histories. "These artists use visual storytelling to convey ... More



Dorothea Lange (American, 1895–1965), Migrant Mother, Nipomo, California, 1936, 1936 negative; posthumous print 1967, gelatin silver print. Bank of America Collection.



CINCINNATI, OHIO.- The Taft Museum of Art welcomes a bold exhibition that explores the diverse perspectives of women since photography's inception, from early pioneers to photographers still working today. On view June 3 to September 10, 2023, Modern Women/Modern Vision: Photography from the Bank of America Collection features approximately one hundred radically inventive photographic images at each phase of modern history, on loan through the Bank of America Art in our Communities® program. Though not always credited, women have played a vital role in framing the modern experience through the camera lens. Histories of photography have long ignored or underrepresented women's contributions to the medium's development as both fine and applied art. Photography has been one way women have negotiated waves of social, political, and economic change. Challenging longstanding constraints placed on social behavior and gender ... More



Raúl de Nieves. Communidades Visibiles: The Materiality of Migration installation at Albright-Knox Northland (2021). Courtesy of the artist and Company Gallery, New York.
Headshot photography by Rafael Martinez.



BALTIMORE, MD.- The Baltimore Museum of Art (BMA) has named Raúl de Nieves (b. 1983, Michoacán, Mexico) as the second artist to receive the Robert E. Meyerhoff and Rheda Becker Biennial Commission. The commission was established in 2018 to foster the creation of new works by international contemporary artists, cultivate aspiring curators from underrepresented backgrounds through a parallel fellowship, and activate the BMA's two-floor East Lobby with publicly accessible art. De Nieves is a multimedia artist, performer, and musician who often creates joyful, interactive installations that investigate notions of beauty and transformation. His new work for the BMA will engage with ideas of metamorphosis in the natural world through a 27-pane faux stained-glass window, a multi-tiered chandelier, light box installations, and opulently decorated figurative sculptures. Together, these vibrant works will immerse audiences in de ... More

The Sounds of the Astor Chinese Garden Court, 1981 | Met ASMR

Flashback
On a day like today, French painter Raoul Dufy was born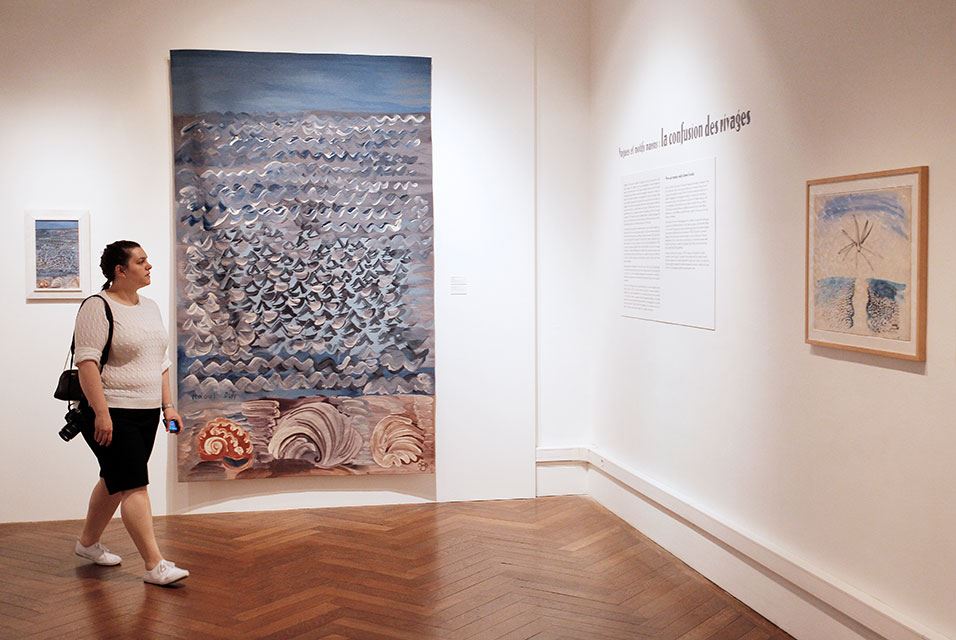 June 03, 1877. Raoul Dufy (3 June 1877 - 23 March 1953) was a French Fauvist painter, brother of Jean Dufy. He developed a colorful, decorative style that became fashionable for designs of ceramics and textiles, as well as decorative schemes for public buildings. He is noted for scenes of open-air social events. He was also a draftsman, printmaker, book illustrator, scenic designer, a designer of furniture, and a planner of public spaces. In this image: A woman looks at artworks by late French painter Raoul Dufy (1877-1953) exhibited at the Beaux-Arts museum of Nice, on June 18, 2015, as part of the cultural event "Nice 2015. Promenade(s) des Anglais".
---

Museums, Exhibits, Artists, Milestones, Digital Art, Architecture, Photography,
Photographers, Special Photos, Special Reports, Featured Stories, Auctions, Art Fairs,
Anecdotes, Art Quiz, Education, Mythology, 3D Images, Last Week,

.
---
Royalville Communications, Inc
produces: