After 75 years and 15 claims, a bid to regain lost art inches forward
An image provided by the Herzog Family Archive shows Camille Corot's "Portrait of a Woman," one of the paintings the heirs of Baron Mor Lipot Herzog are seeking to recover. Heirs of Herzog, a Hungarian banker whose collection of masterpieces was seized by the Nazis, are still pursuing its return. Herzog Family Archive via The New York Times.

by Milton Esterow
NEW YORK
(NYT NEWS SERVICE)
.-
The judge presiding over perhaps the longest-running art restitution dispute had not been born when the family of Baron Mor Lipot Herzog, one of Hungary's most prominent bankers, filed a claim in Budapest in 1945 for a collection of 2,500 artworks, Renaissance furniture and tapestries. After 75 years, the case files from the still unresolved claim hold hundreds of thousands of pages in English, Hungarian, Russian, Polish, French, Italian, German, Spanish, Portuguese and Dutch. There have been 11 court decisions, five appeals and 15 claims by roughly 30 lawyers in the United States, Hungary, Russia, Poland, France, Germany and Switzerland. The vast majority of works from a collection that once included 10 El Grecos and paintings by Francisco Goya, Diego Velázquez, Frans Hals, Gustave Courbet, Anthony van Dyck, Jean-Baptiste-Camille Corot, Pierre-Auguste Renoir, Claude Monet and Paul Gauguin are still missing, and the Herzog family believes that many are in Russia, Poland, France and man ...
More
The Best Photos of the Day
Art Garden in the Park, a sculptural installation by Tom Holmes, debuts in New City
From Old Master paintings to Contemporary art: Dorotheum announces major auction
The legendary Alfa Romeo B.A.T. cars join Sotheby's October Contemporary Art Evening Auction


Art Garden in the Park represents the artist's vision of a welcoming and serene space for the public to experience the surrounding landscape and the setting's flora and fauna.



NEW CITY, NY.- The Rockland County Art in Public Places Committee announced the dedication of Art Garden in the Park, a sculptural installation by Tom Holmes, situated at the entrance to Zebrowski-Morahan Demarest Kill Park at 57 New Hempstead Road in New City. A dedication ceremony, presided over by Rockland County Executive Ed Day, will take place on Monday, October 19th at 11:00 a.m. at the site. Comprised of nine works, with a 20-foot high enameled-steel sculpture as the focal point, Art Garden in the Park represents the artist's vision of a welcoming and serene space for the public to experience the surrounding landscape and the setting's flora and fauna. Two benches and a chess table with small stools, all made of bluestone and steel, are anchored by a pair of burnt wood lanterns and a larger tower lantern which are made of steel and cedar using an ancient ... More



Bicci di Lorenzo (c. 1368 - 1452) A scene from the life of Saint Nicholas: The miracle of the child restored to his parents, tempera on panel, 31.5 x 27.5 cm, estimate € 150,000 - 200,000.



VIENNA.- From Bicci di Lorenzo to Eugen von Blaas, from Chaim Soutine to Lucio Fontana — November at Dorotheum offers art lovers and collectors a vast range of genres from the Middle Ages to the present day. Works of art, Old Masters and 19th century paintings will be the first items to be presented during Classic Week (5-10 November 2020). The end of the month, from 24 to 30 November 2020, will be dedicated to Contemporary Week comprising modern and contemporary art. Rounding off this stellar auction week are jewels and wristwatches. The Florentine Renaissance will be highlighted in the Old Master Paintings sale on 10th November, including the front of a wedding chest, an exquisitely painted and decorated panel which once made up part of a marriage chest, known in Italian as a cassone. These chests were often included in a bridal dowry between the 14th and 16th ... More



1955 B.A.T 9 - Ron Kimball, 2020. Courtesy of RM Sotheby's.



NEW YORK, NY.- RM Sotheby's, in association with the Sotheby's Fine Art Division, announced that it will offer the Alfa Romeo Berlina Aerodinamica Tecnica Concepts, a trio of incredible automotive and sculptural design that were produced by Bertone for the Turin auto salons across 1953, 1954 and 1955. The vaunted trio of Alfa Romeos will be offered as a single lot at the forthcoming Contemporary Art Evening Auction on 28 October. Regarded by many as the seminal vehicle designs of the 20th century, B.A.T. 5, 7, & 9 were presented to the public over three consecutive years and have firmly lodged themselves amongst the most spectacular and memorable automotive designs ever produced. The three cars were more than just design studies and a showcase of what world's best panel beaters and craftsmen could create; they were also an incredibly effective demonstration of forward-thinking design engineering and advanced aerodynamics. Although ... More
Rhonda Fleming, movie star made for Technicolor, dies at 97
Taylor Swift's Gibson acoustic guitar joins Dolly Parton's dulcimer in star-studded country music auction
Norman Rockwell Museum presents "Norman Rockwell: Imagining Freedom"


Rhonda Fleming was the love interest of Wyatt Earp (Burt Lancaster) in "Gunfight at the O.K. Corral" (1957).



NEW YORK (NYT NEWS SERVICE).- Rhonda Fleming, the red-haired actress and sex symbol in Hollywood Westerns, film noir and adventure movies of the 1940s and '50s, died Wednesday at Providence Saint John's Health Center in Santa Monica, California. She was 97. Her death was confirmed by Carla Sapon, her longtime assistant. Fleming's roles included those of a beautiful Arthurian princess in the Bing Crosby musical version of Mark Twain's novel "A Connecticut Yankee in King Arthur's Court" (1949); a gambler and the love interest of Wyatt Earp (Burt Lancaster) in "Gunfight at the O.K. Corral" (1957); an amorous duchess in Bob Hope's comedy "The Great Lover" (1949); and the somewhat less bad sister of Arlene Dahl's bad-girl character in "Slightly Scarlet" (1956), which might be described as a Technicolor noir. In Jacques Tourneur's "Out of the Past" (1947), she played a supporting role as a nervous secretary, alongside ... More



A stunning black 2018 Gibson acoustic guitar personally inscribed and dated by global superstar Taylor Swift. Estimate: $25,000-40,000. © Christie's Images Ltd 2020.



NEW YORK, NY.- Christie's announces the full star-studded Country Music line-up for the online auction entitled "Nashville: An Auction to Benefit ACM Lifting Lives® COVID-19 Response Fund" open for bidding October 15-29. In addition to the previously announced Swarovski-crystal bedazzled four-string dulcimer owned by Dolly Parton for 30 years, the sale features a stunning black 2018 Gibson acoustic guitar personally inscribed and dated by global superstar Taylor Swift (estimate: $25,000-40,000). The lot includes the original hard-shell case, embroidered Levy guitar strap (pictured) and plectrum caddy containing five personalized Taylor Swift custom guitar picks including one commemorating her 2017 sixth studio album reputation and her record-breaking stadium tour and four commemorating her 2019 seventh studio album ... More



Norman Rockwell (1894-1978), Freedom of Speech, 1943. Oil on canvas, 45 ¾" x 35 ½". Story illustra􀆟on for The Saturday Evening Post, February 20, 1943. Collec􀆟on of Norman Rockwell Museum. ©SEPS: Cur􀆟s Licensing, Indianapolis, IN. All rights reserved. www.cur􀆟slicensing.com



STOCKBRIDGE, MASS.- Returning to New England this fall after a 6-city international tour is the first comprehensive exhibition devoted to Norman Rockwell's iconic depictions of Franklin D. Roosevelt's Four Freedoms—Freedom of Speech, Freedom of Worship, Freedom from Fear, and Freedom from Want. Norman Rockwell: Imagining Freedom explores how the 1943 paintings came to be embraced by millions of Americans, providing crucial aid to the War effort and taking their place among the most indelible images in the history of American art. The power of images to shape cultural narratives is revealed in this exhibition, which invites viewers to trace the origins and legacy of the Four Freedoms from the trials of the Great Depression and World ... More
2020 Rijksstudio Award winners announced
Regen Projects opens an exhibition of recent photographs by James Welling
Solo exhibition of work by Titus Kaphar opens in a deconsecrated Church in Brussels


Winning entry, The Book, re-imagines Rijksmuseum masterpieces in braille.



AMSTERDAM.- Alemeh M. Yengiabad is the winner of the 2020 Rijksstudio Award, the Rijksmuseum's international design competition, for her design of The Book. This meticulously designed book presents masterpieces from the Rijksmuseum in braille, ensuring that the Rijksmuseum collection is now also accessible to people with a visual impairment. Alemeh M. Yengiabad received the prize of €7,500 from the professional international jury. SKATE BORD by Floris van Opstal and Head in the Clouds by Monique & Harmony Pfeiffer & van Barneveld claimed second and third place, respectively. Jury comments on the winning entry: This beautiful design testifies to an ambition to make art accessible to visually impaired people all over the world. We hope that the financial support will enable Alemeh M. Yengiabad to explore the production process so that the book can truly meet the wishes of the target group. The 2020 winner of both the Public Award and ... More



James Welling, Julia Mamaea, 2018. Gelatin dichromate print with aniline dye, 14 x 11 inches (35.6 x 27.9 cm) Framed. Dimensions: 20 1/4 x 17 1/2 inches (51.4 x 44.5 cm). © James Welling, Courtesy Regen Projects, Los Angeles.



LOS ANGELES, CA.- Regen Projects is presenting Archaeology, an exhibition of recent photographs by James Welling. This marks the artist's tenth solo exhibition at the gallery. The works in this exhibition reflect Welling's long-standing interest in the history and technological processes of the photographic medium, propelling forth a decades long career driven by relentless experimentation. Through a series of distinct printing processes, Welling employs his findings to create images that revive the ancient world. In describing the genesis of this project, Welling said, "I first photographed Greek and Roman antiquities on a fateful visit to the Metropolitan Museum in 2018. The most haunting of the photographs I took that day was of a defaced bust of Julia Mamaea, a third-century Syrian noblewoman, the mother and regent of Emperor ... More



Titus Kaphar, Jesus Noir, 2020, oil on canvas, duct tape. Courtesy of Maruani Mercier and the artist.



BRUSSELS.- Maruani Mercier announces a solo exhibition of new and recent paintings by Titus Kaphar (b. 1976, Kalamazzo, MI, USA) at L'Église du Gesú, Brussels. Known for reinterpreting historic images from American and European art, in the exhibition, entitled The Evidence of Things Unseen, Kaphar addresses the representation of race in Renaissance Christian iconography. Presented in Belgium, home to Northern Renaissance masters such as Jan van Eyck and Peter Paul Rubens, Kaphar introduces this body of work to the context he is subverting in a building emblematic of a threatened supremacy. L'Église du Gesú, a deconsecrated church, was formerly a place of worship for the Jesuit community and is now externally defaced with graffiti. The Evidence of Things Unseen is Kaphar's latest intervention in the historical representation of race. Christianity is deeply rooted in Renaissance art. The principal patron of art at the time was ... More
First auction dedicated to Shepard Fairey's OBEY and 30-year career opens at Heritage Auctions
Exhibition at Musée des Arts Décoratifs explores perceptions of luxury through the ages
Your local bookstore wants you to know that it's struggling


Shepard Fairey (b. 1970), Castro Collage, 2003. Screenprint in colors on paper, 48 x 36 inches.



DALLAS, TX.- Heritage Auctions has launched its first sale dedicated to contemporary artist Shepard Fairey. Shepard Fairey: 30 years of OBEY celebrates the American contemporary street artist, graphic designer, activist, illustrator and founder of OBEY Clothing who emerged from the skateboarding scene. The auction is the first dedicated to works from Fairey's varied OBEY campaigns, with original art and signed, limited prints. Each work in the auction casts a spotlight on important social issues dating back to the late 1980s. This is the first auction in a new series of auction that the Urban Art Department at Heritage has announced focusing exclusively on a single artist. This sale will be followed by auctions dedicated solely to Banksy in January 2021, Invader in February and Murakami in March. "Fairey stayed true to his roots as an influential street artist and carried that approach through three decades, even though his graphic artwork has been elevated for use in national political campaigns," ... More



Headdress — China, Qing Dynasty (1644-1912), 19th century Wickerwork, kingfisher feathers, gemstones, glass, paper, metal wires, textile fibers © Musée des Arts Décoratifs, Paris / Jean Tholance.



PARIS.- Following the acclaim of the exhibition 10,000 Years of Luxury at the Louvre Abu Dhabi in 2019, curated by the Musée des Arts Décoratifs Museum Director Olivier Gabet, the Musée des Arts Décoratifs presents Luxes from October 15, 2020 to May 2, 2021. The exhibition explores perceptions of luxury through the ages and from all corners of the world. Showcasing over-100 objects, the majority of which come from the permanent collections of the Musée des Arts Décoratifs, loans come from the Musée du Louvre, the Louvre Abu Dhabi, the Bibliothèque Nationale de France, the Musée du Quai Branly, as well as from some of France's most prestigious design houses. Devising and curating an exhibition on luxury through just over 100 objects involves intense scrutiny. This becomes even more evident when considering that the Musée des Arts Décoratifs, an institution that has celebrated the relationship between art and industry since its founding in ... More



Jamie Fiocco, the owner of Flyleaf Books, at her store in Chapel Hill, N.C., Oct. 8, 2020. Fiocco never expected she would be spending tens of thousands on cleaning products, postage and other necessities in 2020. Jeremy M. Lange/The New York Times.

by Elizabeth A. Harris



NEW YORK (NYT NEWS SERVICE).- The signs started appearing in bookstore windows this week. "Buy books from people who want to sell books, not colonize the moon." "Amazon, please leave the dystopia to Orwell." "If you want Amazon to be the world's only retailer, keep shopping there." The message: Buy from these shops, or they won't be around much longer. According to the American Booksellers Association, which developed the campaign, more than one independent bookstore has closed each week since the pandemic began. Many of those still standing are staring down the crucial holiday season and seeing a toxic mix of higher expenses, lower sales and enormous uncertainty. Even though book sales have been a bright spot in an exceedingly grim national economy — they rose more than 6% so far this year compared with ... More
Quote
I try to apply colors like words that shape poems, like notes that shape music. Joan Miró
---

Yoshitomo Nara's Ceramic Works
---

Flashback
On a day like today, Flemish painter Jacob Jordaens died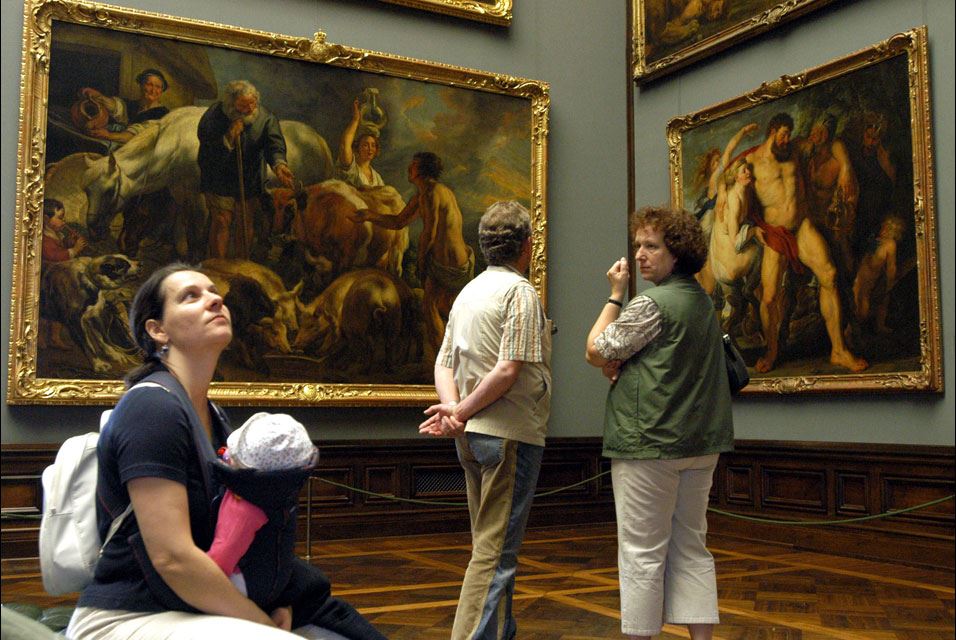 November 18, 1678. Jacob Jordaens (19 May 1593 - 18 October 1678) was one of three Flemish Baroque painters, along with Peter Paul Rubens and Anthony van Dyck, to bring prestige to the Antwerp school of painting. Unlike those contemporaries he never traveled abroad to study Italian painting, and his career is marked by an indifference to their intellectual and courtly aspirations. In fact, except for a few short trips to locations in the Low Countries, he remained in Antwerp his entire life. As well as being a successful painter, he was a prominent designer of tapestries. Like Rubens, Jordaens painted altarpieces, mythological, and allegorical scenes, and after 1640---the year Rubens died---he was the most important painter in Antwerp for large-scale commissions and the status of his patrons increased in general.
---

Museums, Exhibits, Artists, Milestones, Digital Art, Architecture, Photography,
Photographers, Special Photos, Special Reports, Featured Stories, Auctions, Art Fairs,
Anecdotes, Art Quiz, Education, Mythology, 3D Images, Last Week,

.
Royalville Communications, Inc
produces: